A year ago, we had no Ultra Low-Cost Carriers (ULCCs) at all in Canada, and now we're seeing intense competition between Swoop and Flair to attract budget-conscious fliers in Canada (and that's great news for all travelers).
You probably know, our main focus here at Flytrippers is spotting great flight deals from 9 Canadian cities, most of which are on regular airlines.
But we also have plenty of travel tips here on our blog, including a lot of information about Ultra Low-Cost Carriers, as they are finally here in Canada (they've been lowering the price of travel for fliers all over the world for decades already).
WATCH: My Interview On CTV About Swoop's Launch
Canada's ULCCs
Flair and Swoop are Canada's two ULCCs, and up until this week only offered a few domestic routes.
By the way, you can see all the ULCC routes available from your city here:
On Thursday, Swoop announced 7 new US routes, giving Canadian travelers in 3 specific markets access to great low fares to sunny leisure destinations south of the border.
Well, it didn't take long for competitor Flair Airlines to try and get into that spotlight as well…
They teased the following image late Thursday: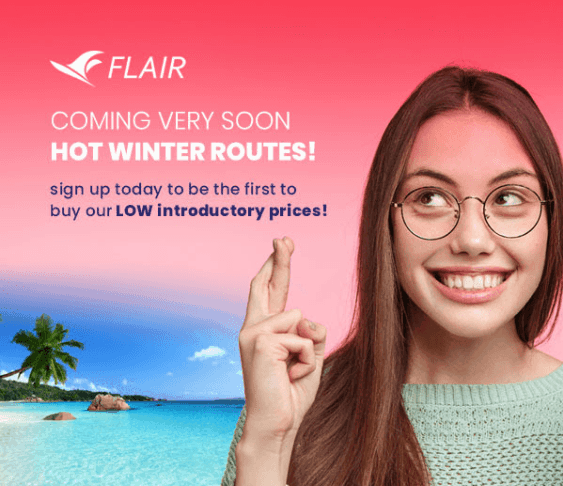 I don't know where that beach picture is from, but it sure doesn't look like Canada!
So we will probably be getting even more international ULCC routes quite soon, which is great news for Canadian travelers of course. More competition always leads to lower prices and a better offering!
Flair currently serves Halifax, Hamilton, Toronto, Winnipeg, Edmonton, Calgary, Vancouver, Abbotsford, Kelowna and Victoria (detailed routes in the bullet point links above for each city).
We'll be on the lookout for more info of course, to let you know as soon as these new routes are announced… and which lucky cities get more cheap flights! Make sure you subscribe to our free travel newsletter, to get all the latest travel tips and travel deals in your inbox!
But always keep in mind: no airline (not even Ultra Low-Cost Carriers) can be the cheapest option 100% of the time... airfares are simply too complicated for it to be that easy. Always use a search tool to compare all airlines or if you want to perform advanced searches (finding the cheapest dates for your destination or the cheapest destination for your dates), read our tips on how to find the best price.
And of course, check out our flight deals, updated daily on our main page for 9 Canadian cities!
Bottom Line
The competition for budget-conscious Canadian fliers is heating up, and Flytrippers will be here to keep you informed of all the latest developments… to help you travel more, for less!
Have you ever tried Ultra Low-Cost Carriers? What would you like to know about this new business model?
Help us spread the word about our flight deals and travel tips by sharing this article and most importantly bookmark Flytrippers so we can help you navigate the world of low-cost travel!
Advertiser Disclosure: Flytrippers receives a commission on links featured in this blog post. We appreciate if you use them, especially given it never costs you anything more to do so, and we thank you for supporting the site and making it possible for us to keep finding the best travel deals and content for you. In the interest of transparency, know that we will NEVER recommend a product or service we do not believe in or that we do not use ourselves, as our reputation and credibility is worth far more than any commission. This principle is an essential and non-negotiable part of all our partnerships: we will never give any third-party any control whatsoever on our content. For more information on our advertiser disclosure, click here.
Share this post to help us help more people travel more for less: