There is a sale going on that is unlike anything what we're used to seeing here in Canada. In theory, kids fly "free"… although it's a bit more complicated than that. It could still be a good deal for some you though!
As you probably know, usually the great thing about our cheap flight deals page is that all the cheap dates for every destination on sale from you home airport are curated and provided in a turnkey way… to make it easy for you.
No need to search for dates, we do it for you (although there are often even more date combos available if you do want to play around manually).
Sometimes airlines throw us a curve ball, by requiring certain deals to be booked only on their own website (in 99% of cases, it's the same price—or cheaper—to buy via our flight booking partners and we appreciate when you do, since it supports us and helps us to keep finding great deals for Canadians… at no cost to you).
This sale is different, and of course we still share it with you even if we can't earn a commission since our first and only priority will always be to help you fly more, for less! Make sure you are subscribed to our free newsletter to never miss a great flight deal from your city.
Kids Fly "Free"
This airline actually had an actual "Kids Fly Free" promotion a few weeks back, but I'm guessing they had a bit of legal issues with that… because now they specifically say that they're not allowed to say that "kids fly free"…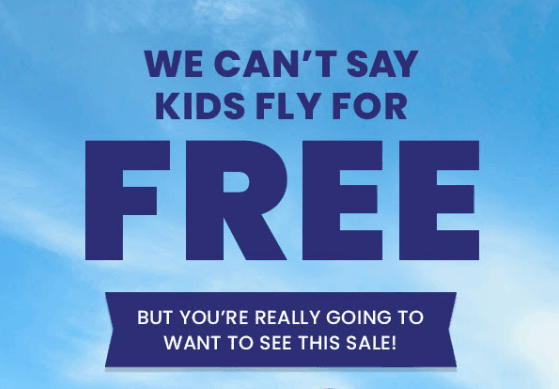 As opposed to the last time they advertised their sale…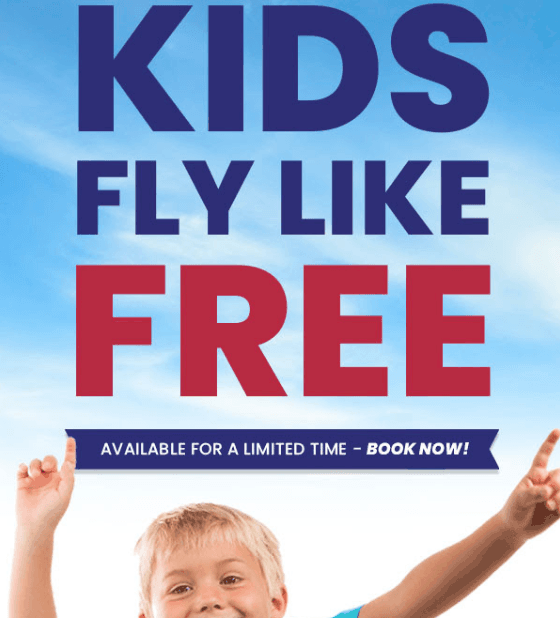 Why Airline Sales Events Are (Almost) Never A Good Deal
Thing is, there's a big problem with any airline "sale" (even with WestJet or Air Canada). They can never discount the taxes and fees on any ticket, which means the "base fare" is the only part that is actually discounted.
Taxes and fees on airplane tickets in Canada are among the highest in the world, so that's why we tell you that these sales are usually not even worth your time, unless you were already planning to travel and were going to pay full price (as opposed to the deals we spot, which are so heavily discounted that they're often worth taking an impromptu trip… that's the big difference).
Because the discount only applies to a small portion of the actual price, it's not a huge discount. 20% off isn't actually 20% off, it's actually closer to 10%. And that's why they can't say "Kids Fly Free", it's not free. Only the base fare is free.
That's why formal airline sales are more about marketing than anything else, and rarely—if ever—will you find a really great deal.
There is one exception we mentioned in our article are airline sales really worth it? (which will give you a lot more details on the topic): Ultra Low-Cost Carriers (ULCCs).
ULCCs are great for those who want to travel more, and since their fares are often very low to begin with, their formal sale events can be worth it. Often it is during these sales that many discounted dates pop up on our deals page, even if you don't know it's a formal sale because we do all the work.
But sometimes, you have to book on their website for a special sale (or with a promo code), as is the case today.
Today's Sale
Flair Airlines, one of the two domestic ULCCs in Canada, is offering a promo where kids fly "free" in August, in the sense that they don't pay any base fare (Flair will not make one cent on those tickets).
But taxes and fees will apply, meaning the ticket isn't actually free for you… but it's still a good deal.
You need to hurry up though, this promo ends tonight at midnight, Central Time (CST).
Again, we apologize for not being able to provide the specific dates on sale like we usually do. The requirement of booking on their website blocks our ability to search automatically and makes it harder to find the corresponding low-price returns to go with the cheap outbound flights. Airlines hope you end up paying more that way! Now you understand the usefulness of our usual pages with pre-searched date combinations?.
You can still find some good deals manually by visiting Flair Airlines' website (again, you must book before tonight).
To see Flair Airlines destinations from your city specifically, you can click here to see our detailed overview of ULCCs in your city: Toronto, Vancouver, Calgary, Edmonton, Halifax, Winnipeg, Ottawa, Montreal.
Fine Print
Here are a couple of useful details about the promo:
Kids must be under 12
Flights must be between August 1 and August 31
One adult per kid required to apply discount
Discount will show as 50% off the base fare for both the kid and adult
Like any sale, seats are limited
Max 3 kids and 3 adults per booking
If one kid for 2 adults, the discount will show as 33% off all 3
Ends at Midnight CST on July 6
This could be a potentially interesting deal if you have kids and plan to fly this summer. Have any questions? Ask them in the comments below.
Help us spread the word about our flight deals and travel tips by sharing this article and most importantly bookmark Flytrippers so we can help you navigate the world of low-cost travel!
Advertiser Disclosure: Flytrippers receives a commission on links featured in this blog post. We appreciate if you use them, especially given it never costs you anything more to do so, and we thank you for supporting the site and making it possible for us to keep finding the best travel deals and content for you. In the interest of transparency, know that we will NEVER recommend a product or service we do not believe in or that we do not use ourselves, as our reputation and credibility is worth far more than any commission. This principle is an essential and non-negotiable part of all our partnerships: we will never give any third-party any control whatsoever on our content. For more information on our advertiser disclosure, click here.
Share this post to help us help more people travel more for less: