How about a free flight to Hong Kong? Who wouldn't enjoy that? Well, if you read the headlines in the media, it will soon be your chance: over half a million plane tickets will be given out for free starting in March! But in reality, it might not be free at all…
That's right; the Hong Kong government (China applies the "1 country, 2 systems" principle in Hong Kong) says it is handing out 500,000 free flights to/from Hong Kong and many media outlets have covered this.
It's to lure back travelers after the pandemic. Government restrictions in Asia have been way more strict than elsewhere, so travel hasn't resumed as fast over there (and that's why prices for transpacific flights are currently high).
It's an initiative no one else in the world has done! It could be amazing, especially since Hong Kong was one of my favorite cities in the world.
Here's what you need to know.
Overview of the Hong Kong free flights giveaway
Here are the highlights of the Hong Kong free fights giveaway:
500,000 plane tickets will be "given away"

Some will be given out in draws
Some could be given out as "buy 1, get 1"

Flights will not be completely free

It's certain that you'll need to pay taxes/surcharges
It's not so certain that they will all be almost free

Giveaway will last for about 6 months
Eligible routes will launch in phases

March: Southeast Asia
April: China
May: Worldwide

Tickets will be on Hong Kong-based airlines
2 Canadian destinations are served

Toronto (YYZ)
Vancouver (YVR)

5 American destinations are also served

Boston (BOS)
Chicago (ORD)
Los Angeles (LAX)
New York City (JFK)
San Francisco (SFO)

The goal is to attract travelers post-pandemic

It's an initiative offered by the government itself
It's led by the airport's management (HKIA)

More details will be announced soon
To make sure you are among the first to participate (to increase your chances), sign up for Flytrippers' free newsletter, and we'll alert you as soon as the Hong Kong free flights giveaway opens up to Canadians and Americans.
(Everyone should be interested no matter where they live, because it's worth positioning to 1 of those 7 North American cities if the flights to Hong Kong are really free!)
This post here will also be updated as soon as more information about the Hong Kong free flights giveaway is released.
Here are the details of what we know so far, starting with whether or not these flights to Hong Kong will even be free.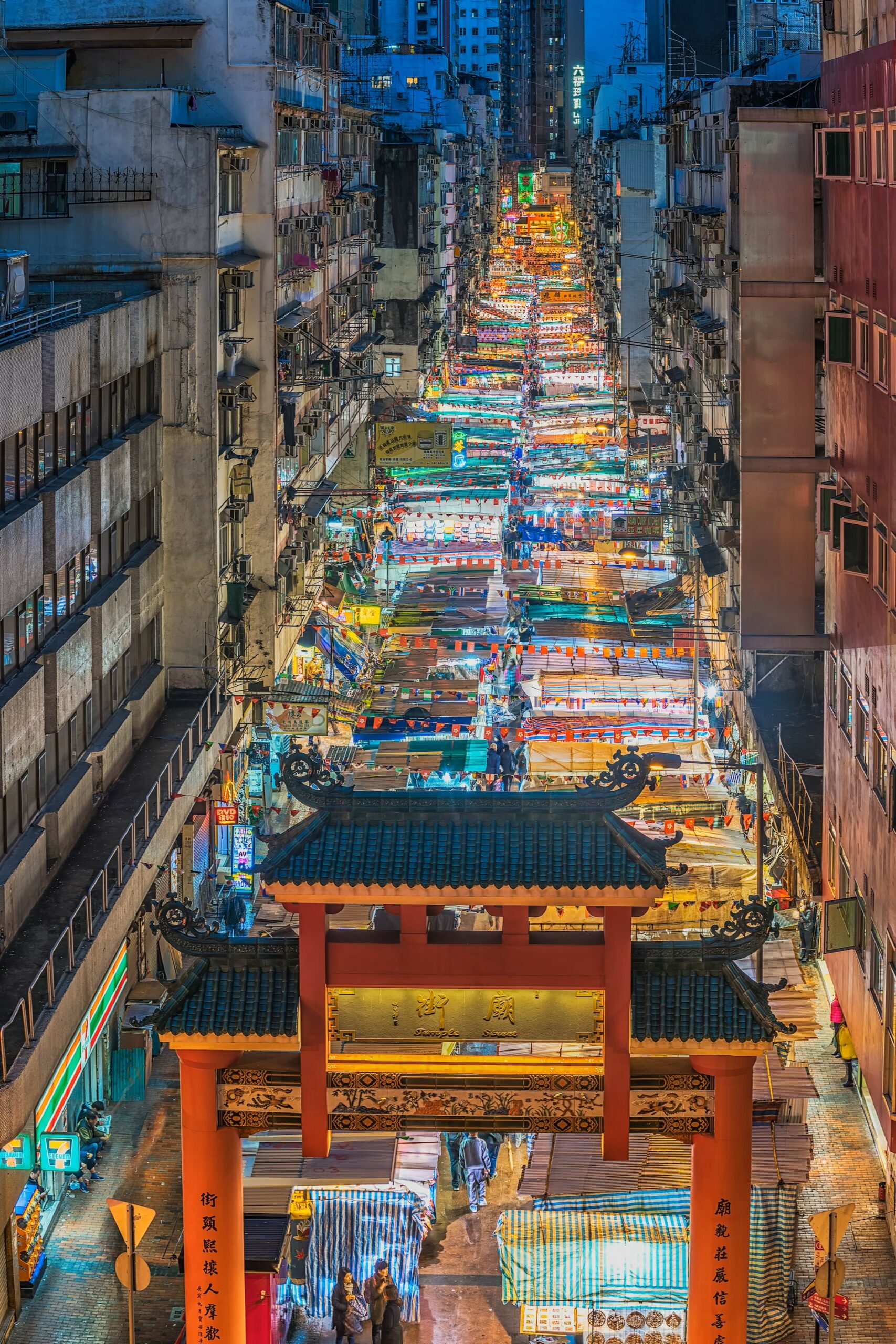 Confusion about the Hong Kong free flights giveaway
Free… or not free?
Reading the headlines in several media, it seems clear that there will be 500,000 free flights in Hong Kong.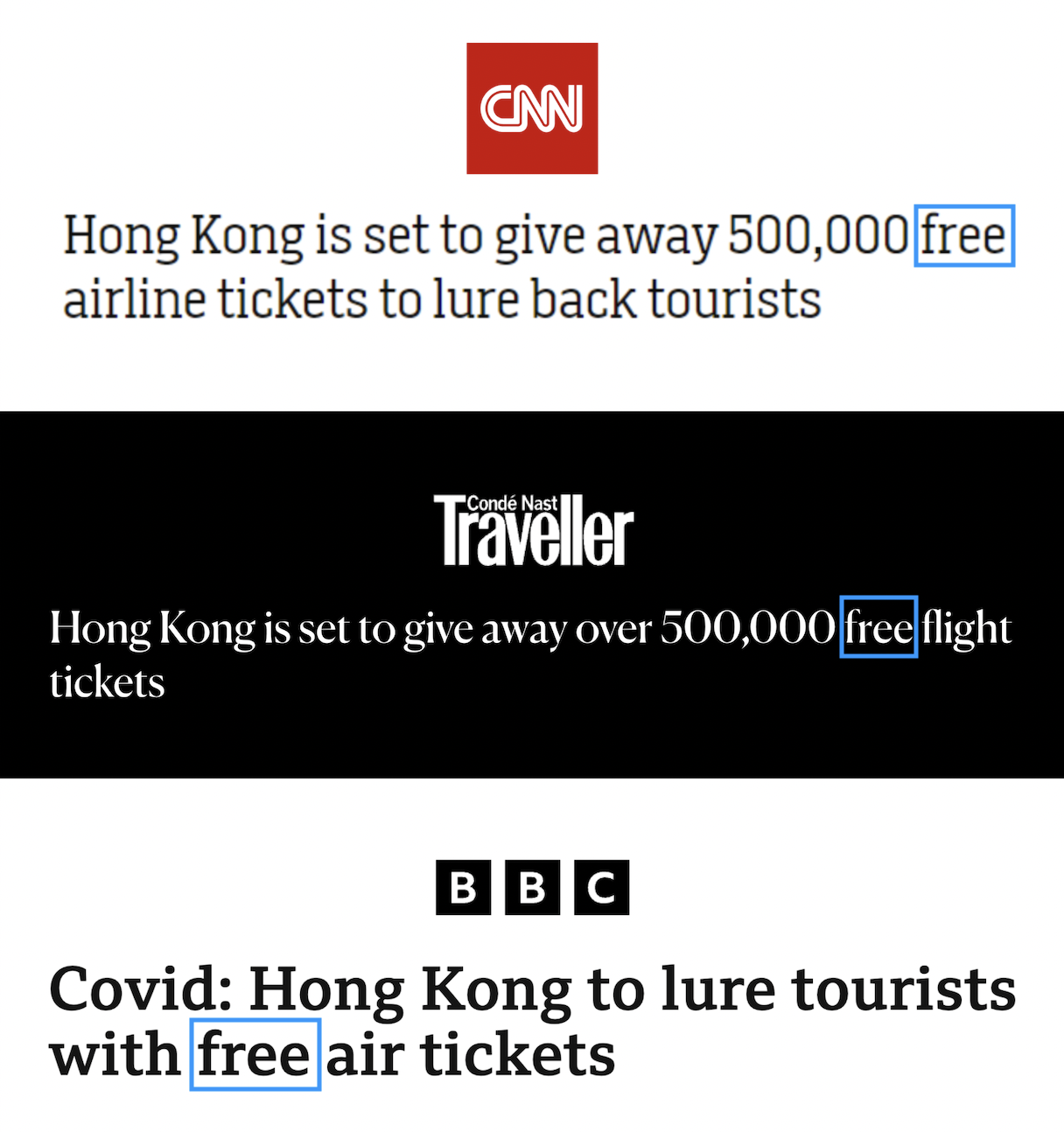 But it's always good to look at the facts and do a little digging.
The short version is that it's definitely not going to be completely free flights.
They're almost free flights, which is still great! Because the big chunk you save, yeah, that's free travel, travel dollars saved. So far, so good.
But we don't know how many almost-free flights will actually be given away here in Canada without you having to buy one (one that is definitely not free). That's yet to be determined.
So there are 3 elements:
The taxes to pay (not so bad)
The surcharges to pay (that's starting to be unpleasant)
The quantity of tickets really given away (not as a "2 for 1")
We did a little investigating for you while we wait for them to give more details about the giveaway.
The taxes to pay
On any flight search website, the plane ticket price you see always includes 100% of the price (unlike accommodation). All the fares, taxes, fees, and surcharges that are mandatory are included in the 1st price you see, always. So maybe you don't care about the details and the breakdown.
But it's good to know the basics. Airline ticket prices have 2 components that are always there:
Base fare (what goes to the airline)
Taxes and fees (what does not go to the airline)
However, there is sometimes a 3rd component:
Surcharges (also goes to the airline)
So first, the winners of the Hong Kong free flight giveaway will have to pay taxes and fees (government taxes, airport fees, etc.) on the tickets.
It's common for taxes to be separate when it's an initiative led by an airline.
(It's why we've been telling you for 6 years that their sales are pretty terrible compared to the flight deals they don't promote! When they offer "30% off", it's 30% off just the base fare, not the taxes — which are a huge portion of the price in Canada, one of the countries that love taxes on flights the most!)
But it's a little disappointing for taxes to be separate when it's an initiative led by a government (as in this case).
Because the government could easily not charge taxes — which go to the government — to make it really free… especially when the government keeps patting itself on the back by saying it's offering "free" flights!
To be clear, it's okay to have to pay taxes when you get a free ticket!
(That's also true with the extremely valuable Aeroplan points: with the TD Aeroplan Visa Infinite Card or American Express Aeroplan Card, you get 53,000+ points worth hundreds of dollars and if you know how to do math, it's better to save ≈ $800 with that despite some taxes than to get points that save you just $500!)
So for a Toronto-Hong Kong flight, taxes are $122 roundtrip.
That's nothing! Don't deprive yourself of a flight to Asia just because you have to pay $122! That's not rational or logical.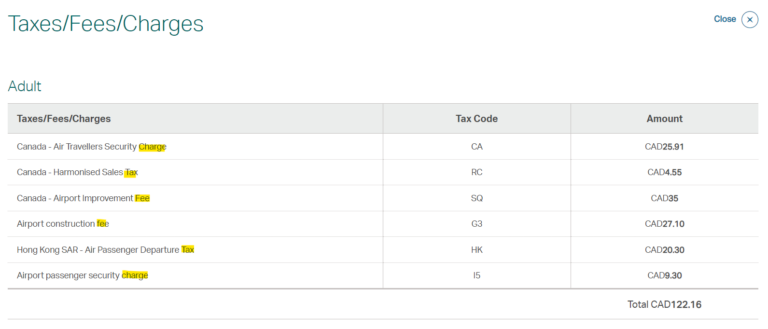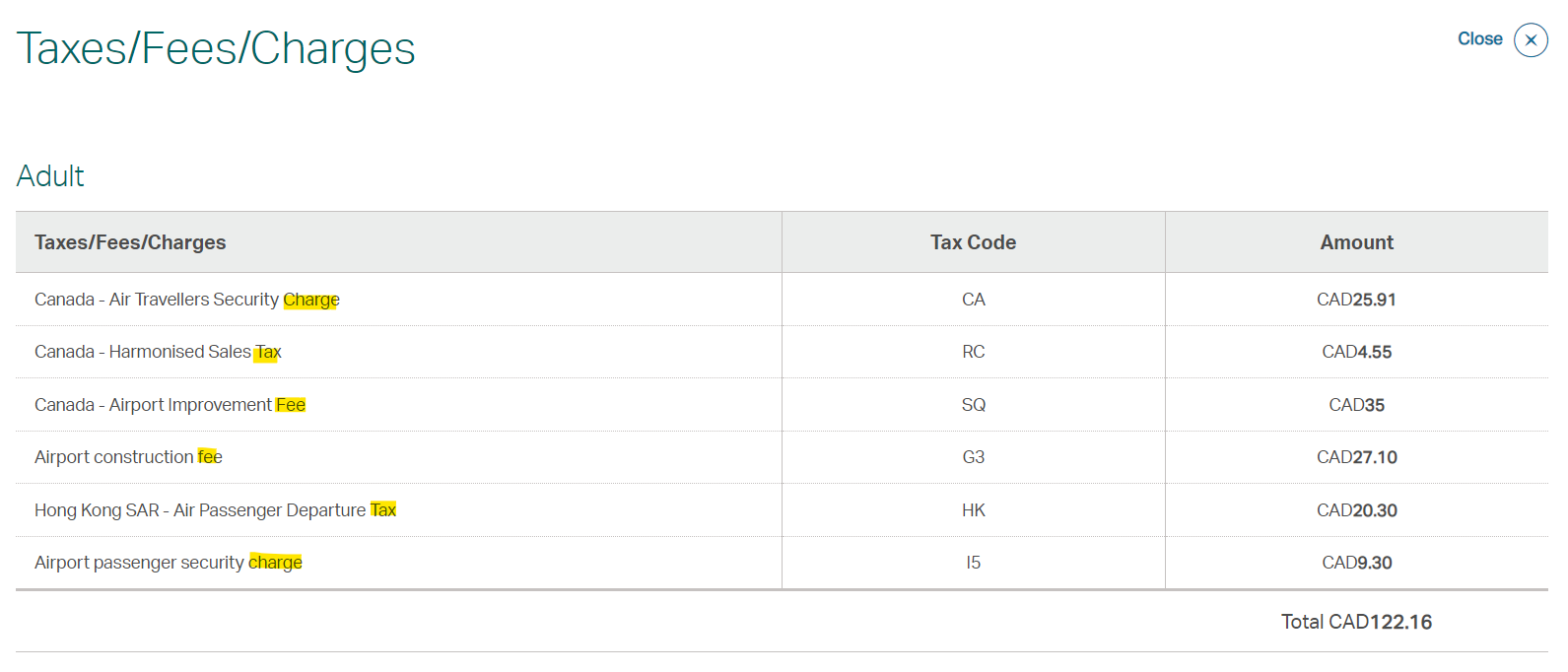 But the problem with the Hong Kong free flight giveaway is that it's not just the taxes you have to pay…
There are also surcharges (which is not the case with reward flights that you get with your Aeroplan points).
According to the official terms and conditions (I'll tell you how to find them in a few seconds), it does say that winners have to pay the surcharges too.

The surcharges to pay
It's already a long demonstration, so I'll spare you the details of the surcharges. It's a way for airlines to make more money, in short.
And it's really stupid to charge those when it's a "free" flight giveaway. Taxes, okay that's tolerable, but surcharges…
Cathay Pacific, the only Hong Kong-based airline that flies to North America and therefore the one that will manage the Hong Kong free flight giveaway for us here, is a very very very expensive premium airline!
This means that on the average Toronto-Hong Kong ticket on Cathay Pacific, which costs $2404 in cash, there is a large portion that the winners of the trip will have to pay.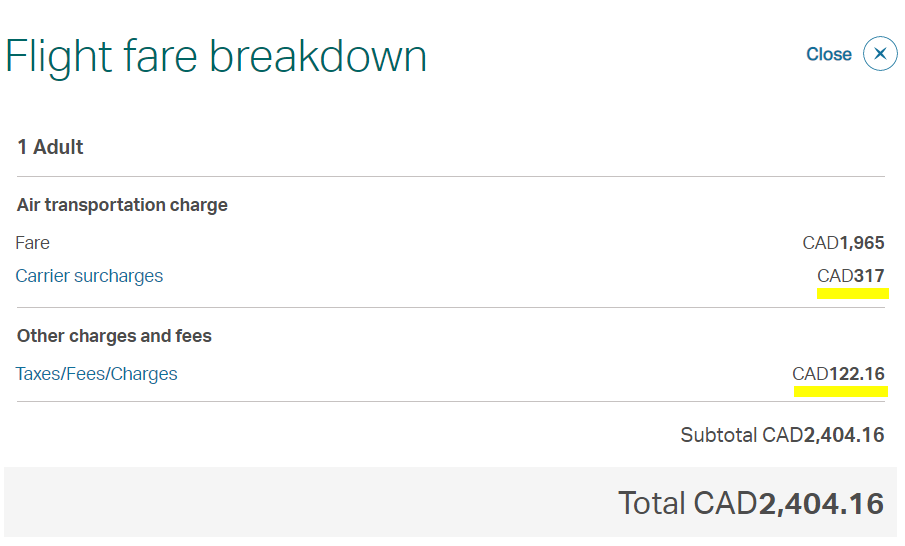 It's $439 total for taxes and surcharges.
When I went to Hong Kong precisely, I paid $499 roundtrip without any "free" flight at all, just with a good deal we spotted (it was to Guangzhou airport on the other side of the border, but you get the idea).
If the ticket is really free, obviously paying $439 roundtrip to go to Asia is still excellent.
Very good.
But how many free (or rather almost free) flights are going to be given away without having to pay for one that isn't free at all?
The "2 for 1" tickets
How many of the 500,000 flights to Hong Kong are really going to be free and how many are going to be part of a "2 for 1" promo? And are all routes and countries going to be offered for free?
I'll show you a quick and easy example of how to go about finding information yourself. Very useful in the world of travel.
(Knowing how to plan and prepare your trip yourself — and just doing everything yourself like a grown-up — is 1 of the top 7 pro tips to travel for less, as featured in Flytrippers' free ebook with 100+ travel tips!)
So we'll refer to the official website, as you should always do if you want to double-check any information.
Their graphic upon arriving on the page doesn't mention the word free, it just vaguely says that it's a ticket "giveaway" and also that the tickets are going to be "given out" (I underlined that in the image).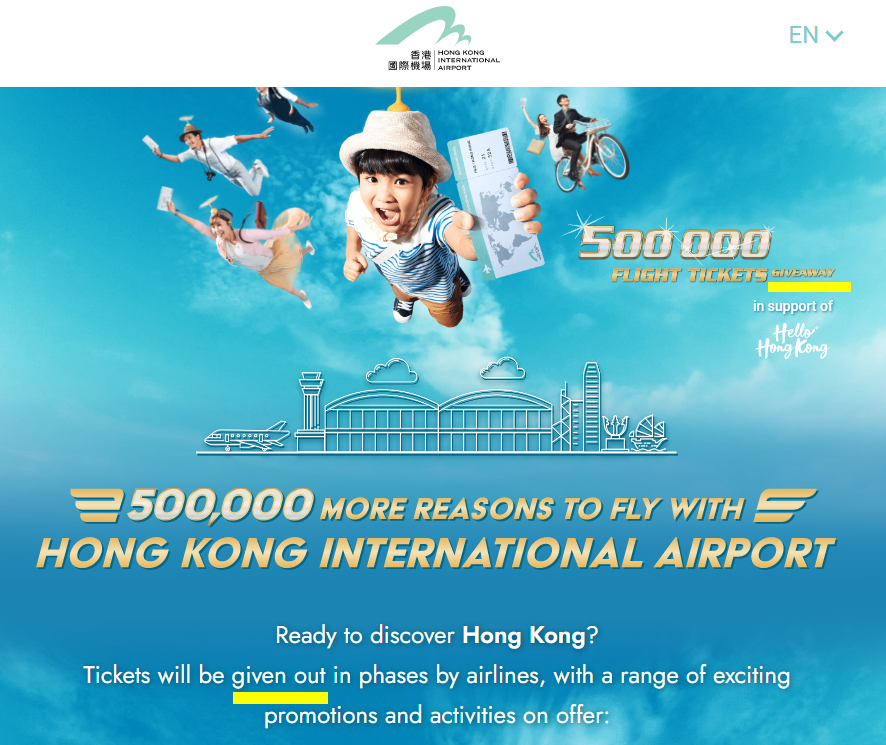 Well, nothing says it's not free. But the word "free" does not appear on the page.
The only sentence that's on the page casts some doubt on the fact that the 500,000 tickets will be free: "a range of exciting promotions and activities on offer."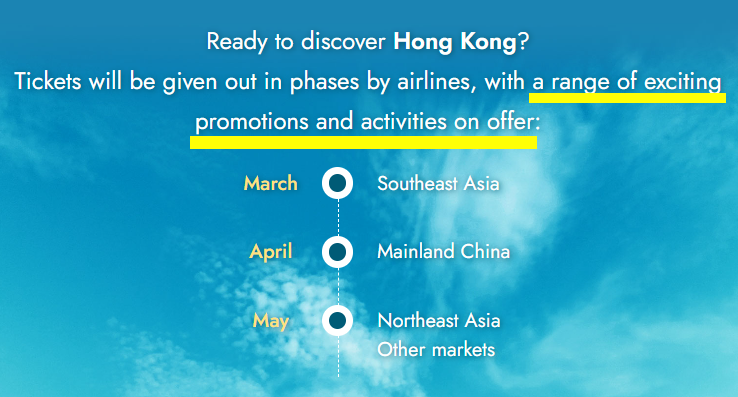 To find out more, offers and promotions (of all kinds) pretty much always have a list of official terms and conditions that usually have more specific details.
When accessing the one for this Hong Kong free flights giveaway, we do indeed finally see the 1st mention of the word "free".

Great, it's settled!
Wait a minute. There's the phrase "in main markets" right after.
That could just be a way of saying that the main markets are the markets served by Hong Kong airlines. And therefore all routes are included and all routes will get free flights.
But it could also mean that the flights to the main markets (the closer countries, necessarily; i.e., the shorter and cheaper flights) will be free. And therefore the non-main markets (which are not defined anywhere in the conditions) are excluded from the free flights.
So it's not clear and definitive at all that all tickets are free.
And the section right below confirms that it is definitely not the 500,000 tickets that are going to be given away without the need to buy a ticket that is not free at all.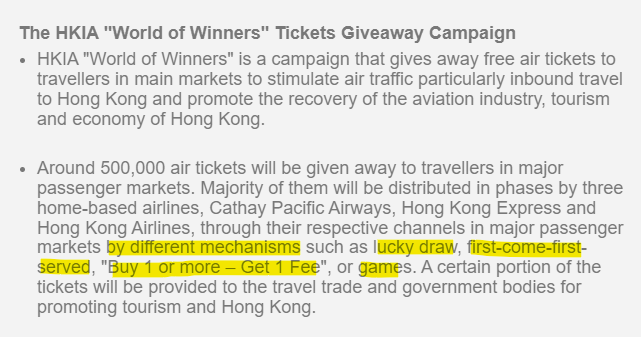 At least it mentions a "lucky draw". But what's more worrisome is the "Buy 1 or more – Get 1 Free (sic)". That is really not that interesting, as I'll show you.
How many tickets will be like that? It's impossible to know.
When you read the official Cathay Pacific website, the Canada version, it says very clearly that the tickets are "limited".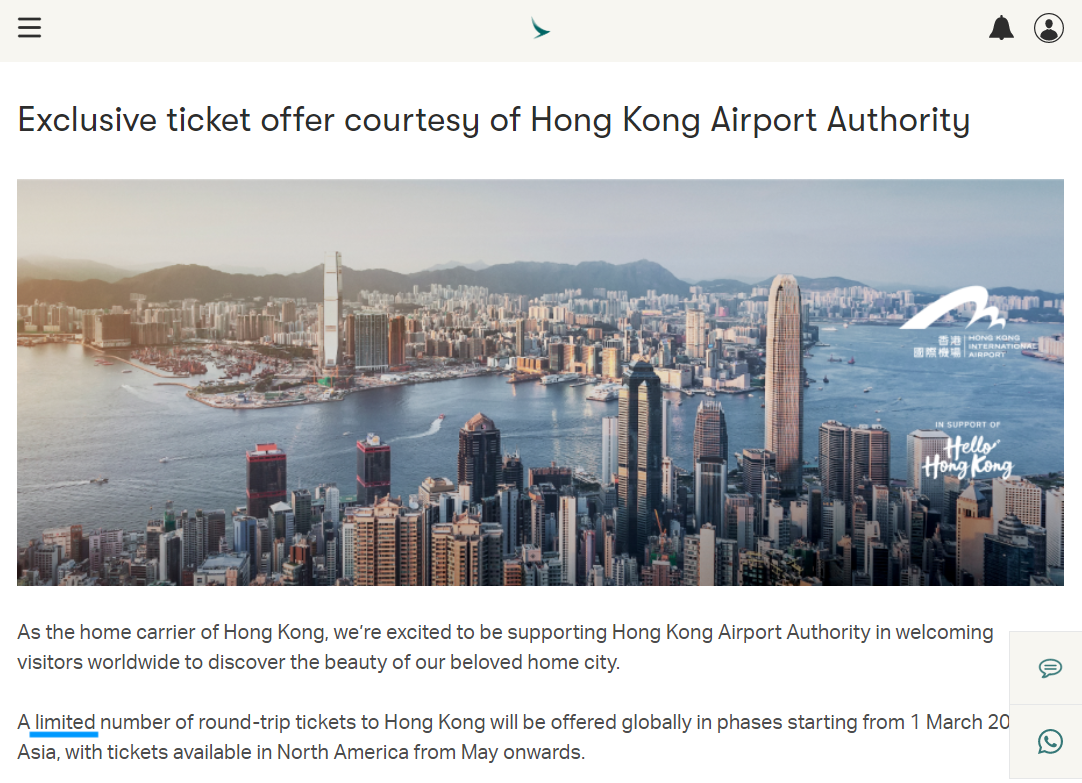 However, on the Cathay Pacific page, the Singapore version, everything is the same, except for that wording.
The tickets are not limited there.

Even stranger: at the beginning (a few days ago), the wording was even more different on the Canada version of the website, but they already updated it to what I showed you.
Before, they explicitly specified that the tickets were "generously discounted" (which is not the same as free).

The Singapore page didn't say anything about a generous discount, that one hasn't been changed.
It could be nothing. They might've meant that as a way to say you have taxes/surcharges to pay.
Still, subjectively, it doesn't give me the impression that there are going to be a lot of tickets that are really given away for free, at least not on long and expensive flights like here.
Technically, it's true that the ticket is still free, even if they give it to you when you buy 1 ticket at full price. But Cathay Pacific is a very very very expensive premium carrier as I said!
Do you find your free ticket is really free if you have to buy a $2404 ticket to get it?

(It's actually why a welcome bonus that's worth ≈ $780 entirely in points — like with the RBC Avion Visa Infinite Card — is better than a welcome bonus that's worth $405 in points but gives you a 2-for-1 companion ticket — like with the WestJet RBC World Elite Mastercard — because real points don't force you to buy a ticket with cash in order to enjoy your free travel!)
Okay, it's $2404 for the ticket and they give you 1 free, that's still just $1202 per person.
Not soooo bad!
Wait a minute. That's not it at all.
There are the taxes and surcharges of $439 that we just saw! That's $2404 + $439, so $2843 total. That's $1422 each.
That's not a deal at all. If I look today, it's easy to go to Asia for $1200 roundtrip, for example Montreal-Jakarta.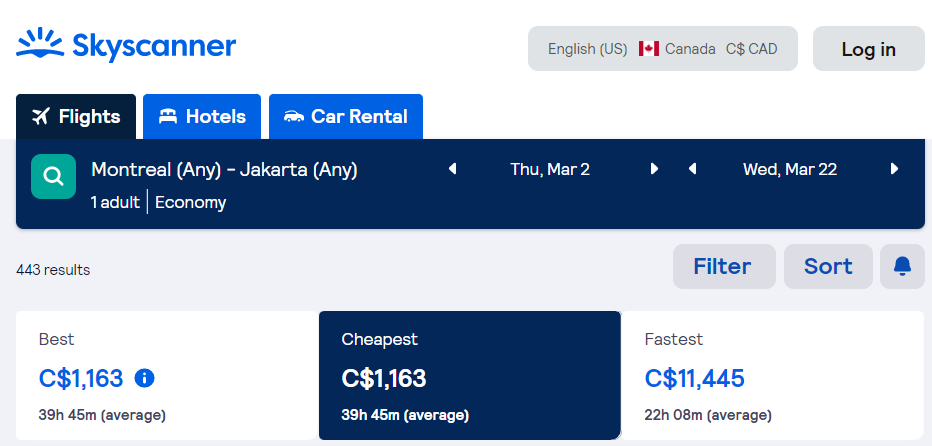 It's not nearly as cheap as flights before the pandemic obviously, but it's much better than $1422 per person for a "free" flight to Hong Kong.
Especially since the total cost of your trip will be extremely lower too, since Indonesia is so affordable once you're there and Hong Kong is very developed and expensive!
You won't have to take a test to enter or wear a mask even outside either, unlike in Hong Kong (which still requires all that in 2023 unfortunately; no wonder travelers haven't come back in large numbers…)
Details of the Hong Kong free flights giveaway
Here are all the known details.
Airlines participating in the Hong Kong free flights giveaway
Under the new tourism campaign with the slogan "hello Hong Kong," the government will be distributing a total of half a million plane tickets between 3 local airlines:
Cathay Pacific
HK Express
Hong Kong Airlines
Only Cathay Pacific flies transpacific, so that's the one that Canadians will want to look into.
It's not as well known, but you can also get reward flights on Cathay Pacific if you don't win the Hong Kong free flights giveaway!
All you need is to get Avios points, and the RBC Avion Visa Infinite Card and HSBC World Elite Mastercard both have huge welcome bonuses that can be transferred to the Avios program, 1 of the essential rewards programs for Canadians who want free travel!

Routes available in the Hong Kong free flights giveaway
Cathay Pacific flies to 2 Canadian airports:
Toronto (YYZ)
Vancouver (YVR)
If you live elsewhere, it's most certainly worth positioning to one of those airports for a free flight to Hong Kong! Especially given the current prices for flights to Asia.
(Flytrippers sure misses the $500 roundtrip flights to Asia we frequently spotted before the pandemic!)
With that in mind, it's also worth considering the 5 American cities served by Cathay Pacific:
Boston (BOS)
New York (JFK)
Chicago (ORD)
San Francisco (SFO)
Los Angeles (LAX)
Positioning for flights is one of the many tips Flytrippers' co-founders will share in their next free webinar on how to find cheap flights.
Depending on the dates of your trip to take advantage of free flights to Hong Kong, it might be cheaper to fly to the USA than to Toronto or Vancouver. Plane ticket prices vary all the time.
And depending on the logistics of the Hong Kong free flights giveaway, being open to more departure airports might increase your chances of winning. In general, being flexible is one of the absolute best tips to travel for less, as featured in the free Flytrippers ebook with 100+ travel tips.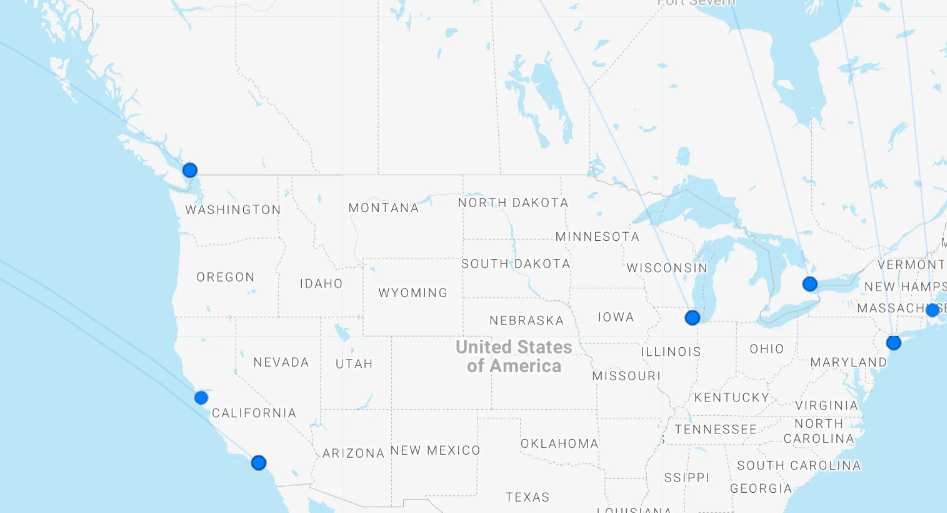 Timing of the Hong Kong free flights giveaway
Starting on March 1st, the giveaway will start for tickets to/from Southeast Asia.
In April, the giveaway will include tickets to/from China.
And finally, in May, other long-distance routes (including Canada) will have free tickets up for grabs.
The giveaways look set to last for around 6 months, so it's worth keeping your eyes peeled for details of the Hong Kong free flights giveaway here.
It's not clear what the deadline to use these free flights will be, but it seems likely that you'll need to take advantage of them quickly, as the goal is to accelerate the recovery. That's now, not in 1 year.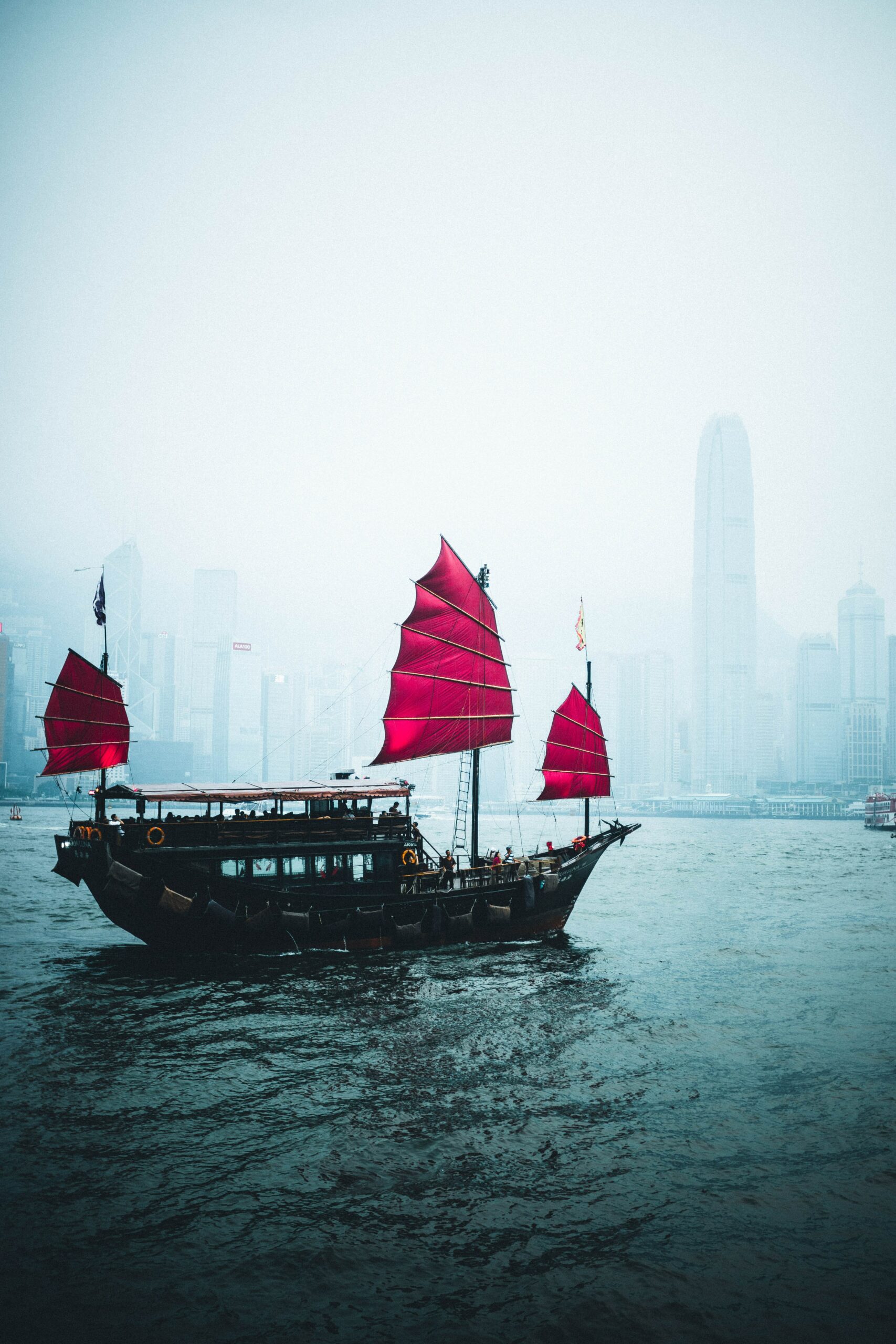 Logistics of the Hong Kong free flights giveaway
Each airline will have a page to win tickets online. The random drawings are the most promising.
But aside from those, the airlines will offer other ways to get free flights to Hong Kong, such as buy-one-get-one-free promotions and other digital games and prizes.
Once the giveaway starts for Southeast Asia routes in just a few weeks, we should have a better idea of the logistics.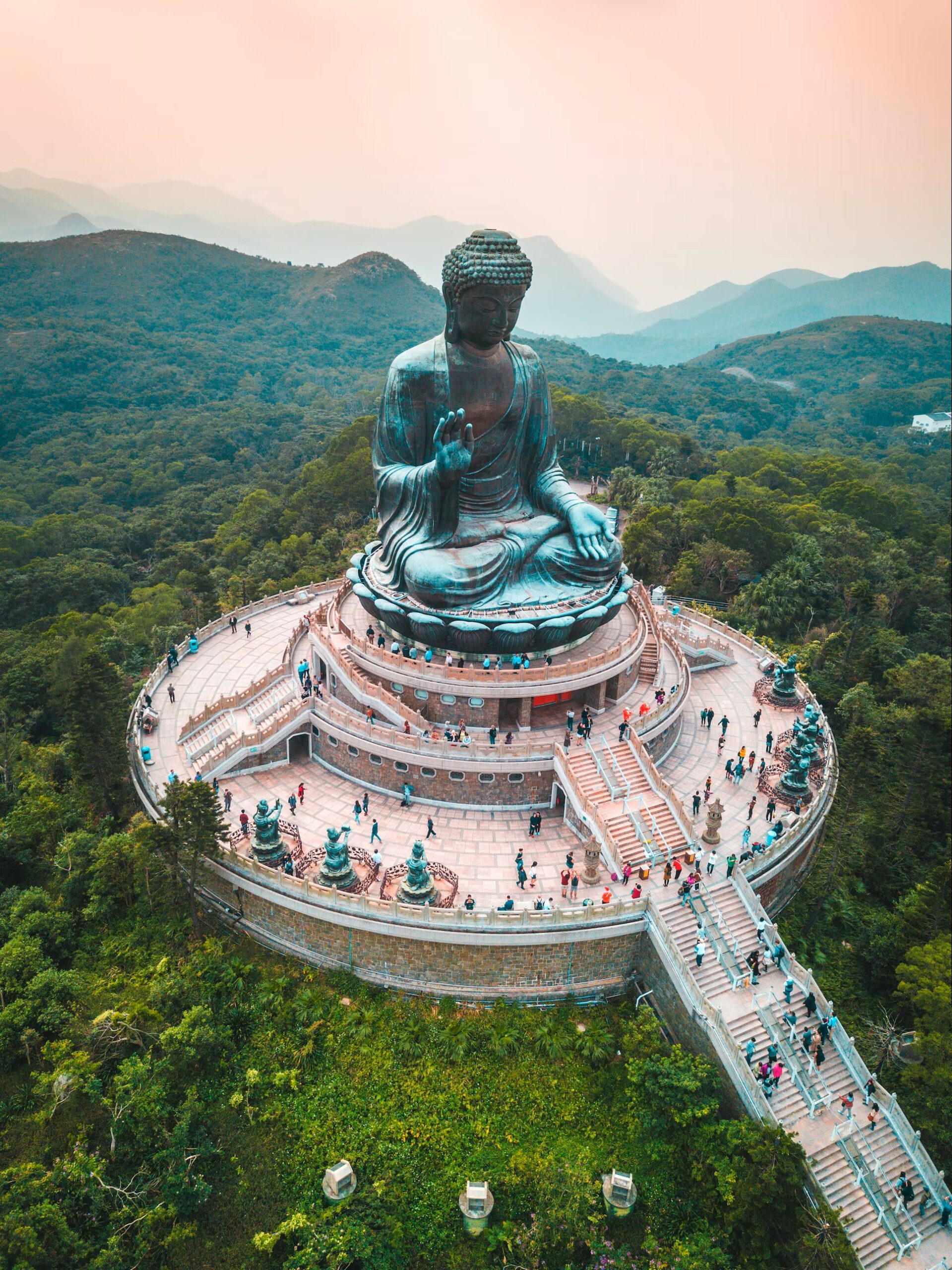 Official name of the Hong Kong free flights giveaway
The official name of the government initiative is "World of Winners."
The official slogan of the tourism campaign is "Hello Hong Kong."
Objective of the Hong Kong free flights giveaway
While it might sound shocking that the government is giving away 500,000 free tickets, it's actually not a surprise. The government bought these tickets during the height of the pandemic as a way to financially support the airlines.
For comparison, in Canada, the government gave taxpayer money to a few airlines, but no one got free flights (or even discounted flights) out of it. Same thing in other countries. Hong Kong's approach sure is innovative.
Previously, the government also bought tickets from another Hong Kong airline, Cathay Dragon, which is now defunct. The reasoning is that without help, more airlines would have gone under too.
Despite the fact that Hong Kong has started slowly lifting its remaining COVID-19 restrictions, making it easier to visit, traveler numbers are still way down. Estimates suggest that its 2022 tourism is just 1% of its pre-pandemic numbers.
The 2019-2020 Hong Kong protests also hit tourism pretty hard just before, so it's been a rough period. And Hong Kong relies heavily on tourism, as it's a tiny territory. In 2019, it hosted 24 million travelers, which is 3 times its population of 7 million (for comparison, Canada hosted 22 million travelers for a population of 38 million).
You can read our post about the difference between China, Taiwan, Hong Kong, and Macao for more details and context.
The government giving away tickets is a great incentive for people to visit Hong Kong and hopefully increase the number of travelers, giving the city a much-needed financial boost. The government has also hinted that there may be other benefits and special offers to bring in more travelers.
If you've ever wanted to visit Hong Kong, now is perhaps the best time to make that dream come true!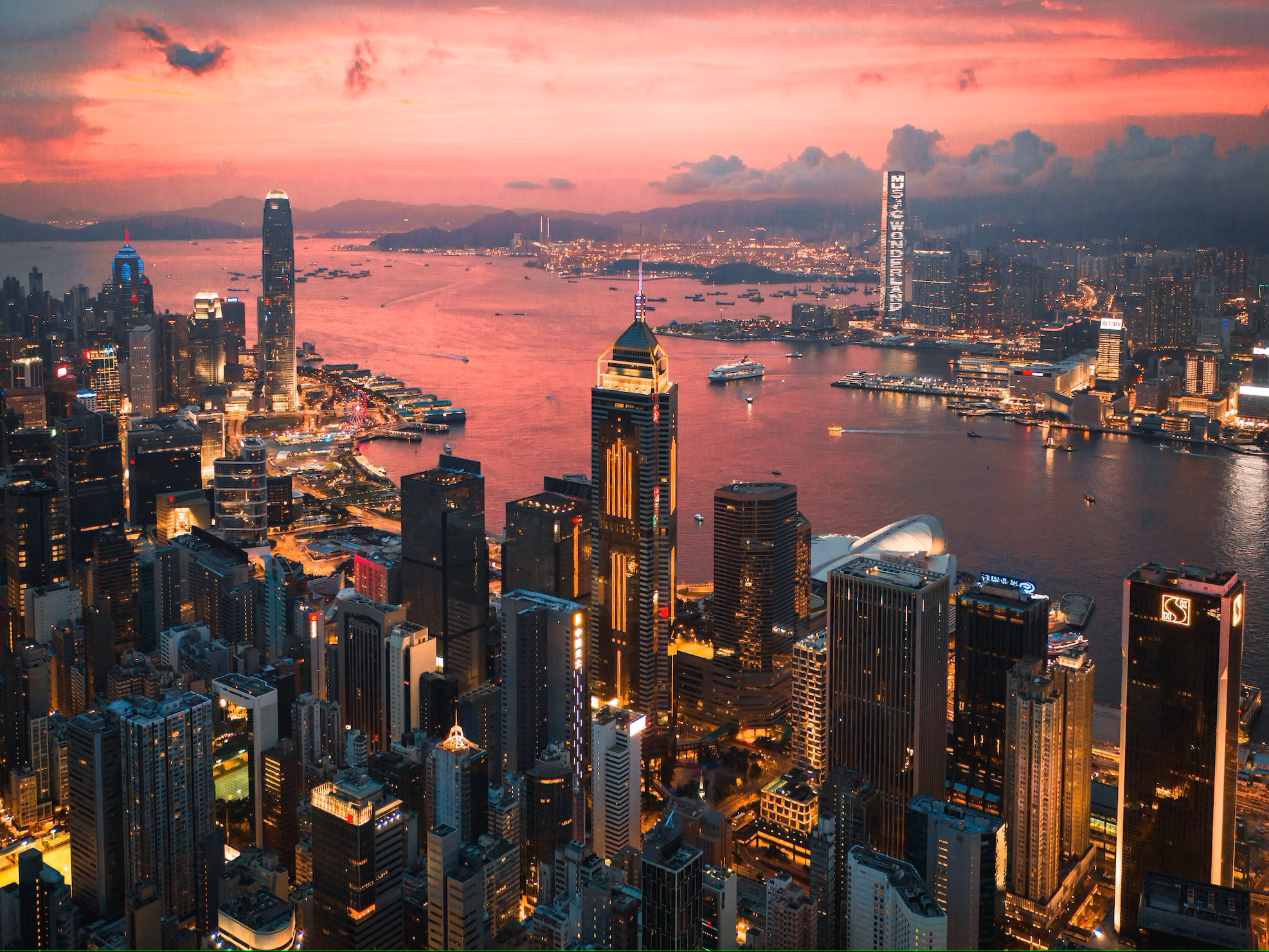 What to do if you win the Hong Kong free flights giveaway
Given this really interesting initiative, Flytrippers will share more content about Hong Kong.
It's one of my favorite cities in the world, and I already wrote about my first impressions of Hong Kong if you want to read more in the meantime.
Want more help saving money on flights?
Summary
The Hong Kong free flights giveaway is a very innovative initiative to encourage travelers to visit the Asian territory to accelerate the tourism industry's recovery post-pandemic. It'll be interesting to see more details in the coming weeks.
What would you like to know about free flights to Hong Kong? Tell us in the comments below.
See the deals we spot: Cheap flights
Explore awesome destinations: Travel inspiration
Learn pro tricks: Travel tips
Discover free travel: Travel rewards
Featured image: Victoria Peak in Hong Kong (photo credit: Florian Wehde)
Share this post to help us help more people travel more for less: