Modes of travel differ depending on where you're going—you might be on the road, in the air, or on water. But when you want to be on the road, and also be above ground or water, the answer is obvious: bridges. These human-made marvels represent a world of possibilities that connect you, literally, from one place to another.
"Bridges become frames for looking at the world around us."

– Bruce Jackson
As a former structural engineer, I probably like bridges more than the average person. But for all of us travelers, when discovering a new place, certain bridges are often an unmissable landmark.

In this article, I'll give you an insight into the world's longest bridges—all of which are impressive displays of human-made infrastructure.
All 5 are the longest, so I'll classify these bridges into the following categories (kind of like Andrew did with best waterfalls):
longest bridge

longest road bridge

longest continuous bridge over water

longest non-continuous bridge over water

longest suspension bridge

a bonus bridge
Now, let's look at the longest bridges in the world and what makes each unique!
1. Danyang–Kunshan Grand Bridge (China)
Claim to fame: It's the longest bridge in the world.
Length: 165 kilometers
Where is it?
You can find this bridge, which is in fact mostly over land (not water), spanning between the northwestern area of Shanghai to near Nanjing, in the densely-populated central part of China's East Coast.
Which places does it link?
It carries the Beijing-Shanghai High-Speed Railway. The bridge itself begins in Danyang, then goes through Changzhou, Wuxi, and Suzhou then ends in Kunshan.

Why is it special?
In June 2011, this bridge gained the title of the world's longest bridge according to the Guinness World Record. That's pretty special in and of itself. The longest in the world.
For comparison, at 165 kilometers, it is over 4 times longer than the world's longest bridge over water. Another noteworthy point about this bridge is that it has a section 9 kilometers long above the sprawling and ever-flowing waters of Suzhou's Yangcheng Lake.
2. Bang Na Expressway (Thailand)
Claim to fame: It's the longest road bridge in the world.
Length: 54 kilometers
Where is it?
Just east of Bangkok, the capital and largest city of Thailand, approximately in the middle of the country.

Which places does it link?
The Bang Na Expressway, also known as the Burapha Withi Expressway, begins just outside of Bangkok in Bang Na near the Bangkok Suvarnabhumi Airport (BKK), then continues southeast ending in Chon Buri, a city midway between Bangkok and Pattaya, the popular resort town.

Why is it special?
This impressive road bridge, which is 54 kilometers long and six lanes wide, is in fact an elevated tolled highway that sits directly above another non-tolled highway. It was seen as a solution to Bangkok's perennial problem of traffic congestion.
Despite its unique spot as the longest road bridge, it is just the sixth-longest overall bridge in the entire world (spots 1 to 5 are all rail bridges in China/Taiwan, and in fact 16 of the top 25 longest bridges are in China/Taiwan).
3. Lake Pontchartrain Causeway (USA)

Claim to fame: It's the longest continuous bridge over water.
Length: 38.42 kilometers
Where is it?
In the southeastern US state of Louisiana, just north of New Orleans, over Lake Pontchartrain.
Which places does it link?
The causeway connects Metairie, a northern suburb of New Orleans, with Mandeville. If you look at the map, it looks pretty useless given Mandeville is tiny, it's not a shortcut to anywhere at all, and there are other highways on each side of the lake.

This is where you might expect me to say "well no, it isn't useless because…" but no, I have nothing to add. At least the bridge was useful after Hurricane Katrina as only 17 of its spans were damaged, compared to the nearly 500 spans damaged on the I-10 bridges to the east!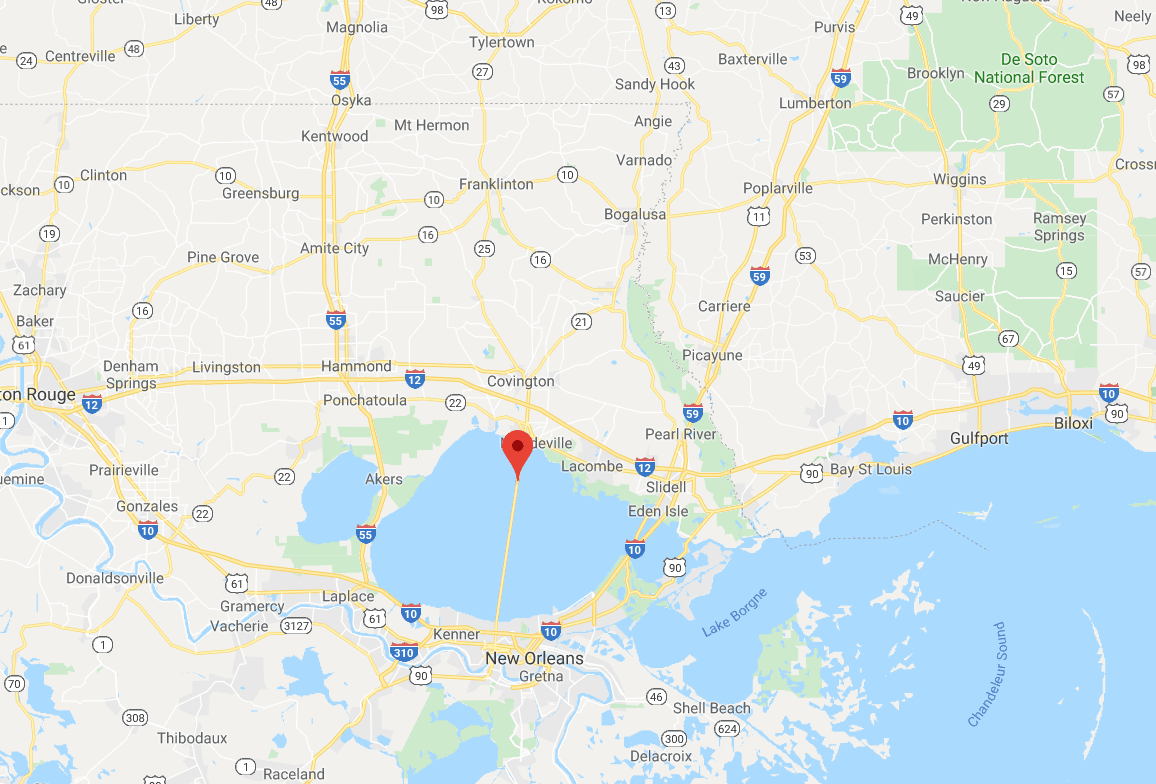 Why is it special?
This bridge is, in fact, two parallel bridges that run uninterrupted for 38 kilometers (or about 38 minutes non-stop if driving the speed limit). Flytrippers' other co-founder Andrew says it's a unique experience: in the middle of the bridge, you can look in every direction and see nothing but water on all sides.
He actually likes bridges as much as I do: as a teenager he had his parents take a detour during the family trip because he wanted to travel on (what was at the time) the undisputed longest bridge in the world over water. It still is, unless you count the total length over water (non-continuous)…
4. Hong Kong–Zhuhai–Macau Bridge (China)

Claim to fame: It's the longest non-continuous bridge over water.
Length: 55 kilometers total (main span is 23 kilometers)
Where is it?
The Hong Kong–Zhuhai–Macau Bridge is in Southeast China, right amid the Pearl River Delta in the South China Sea.
READ ALSO: The difference between China, Hong Kong, Macau… and the other China (Taiwan)
Which places does it link?
This recently inaugurated bridge-tunnel (it is just one year old) links Hong Kong with Macau and Zhuhai (China), important hubs in the world's largest mega-region (over 50 million people live in the Pearl River Delta).
It used to take over 2 hours to drive between these places (or a ferry ride like Andrew took), so they built a series of bridges, tunnels and artificial islands to link them directly across the sea. It is so new that even Google Maps doesn't even show it yet (probably related somehow to the censorship issue).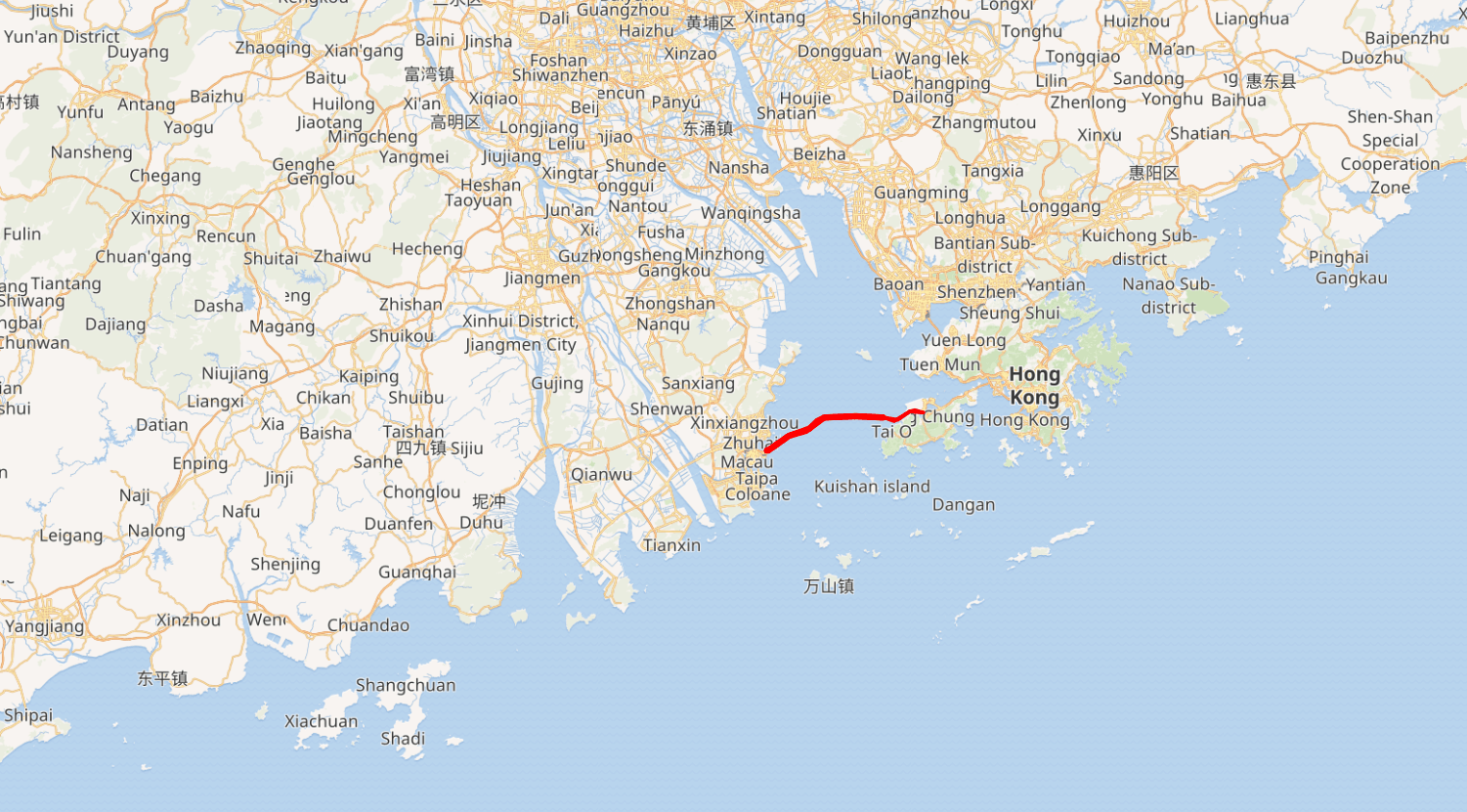 Why is it special?
At 55 kilometers, this is the longest aggregate bridge over water (it's just not one continuous bridge): that's a very long drive over water. But most importantly, the bridge is over the sea; in other words, it's the longest fixed-link sea crossing. The infrastructure also incorporates a tunnel 6.7 kilometers long—the first completely submerged offshore tunnel in the country.
It connects to the Hong Kong highway near the airport, which is also a feat of engineering as the whole airport is built on entirely reclaimed land in the sea. You could check it out for yourself with the affordable plane tickets we spot to Hong Kong on our cheap flight deals page. If you don't mind a few protests, you might even get great deals on hotels now… or you can wait a bit if you prefer.

5. Akashi Kaikyō Bridge (Japan)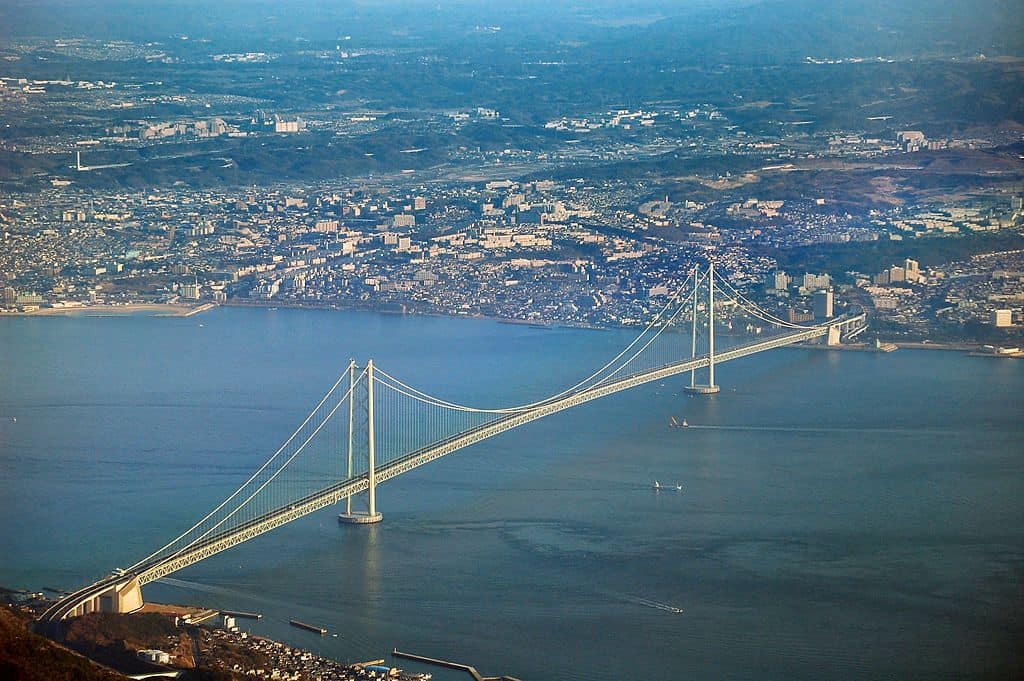 Claim to fame: It's the longest suspension bridge in the world.
Length: 1.991 kilometers
Where is it?
This suspension bridge just west of Kobe, in the Osaka-Kobe-Kyoto metropolitan area.

Which places does it link?
It carries a highway from that densely populated region to the small Awaji Island and the bigger Shikoku Island.
Why is it special?
There is something inherently special about suspension bridges. All the longer bridges are types of bridges that have multiple spans, but this one is the longest suspension bridge. In other words, the longest bridge span between support pillars. For comparison, it is 50% longer than the Golden Gate Bridge's main span.

Sadly, this bridge will soon lose its title of the world's longest suspension bridge. Turkey, where I was last month and where Andrew is landing today after his weekend in Miami, is currently completing the Çanakkale 1915 Bridge, which will be the first to surpass a 2-kilometer long main span. But Japan shouldn't be ashamed of being in 2nd place!
Bonus: George Washington Bridge (USA)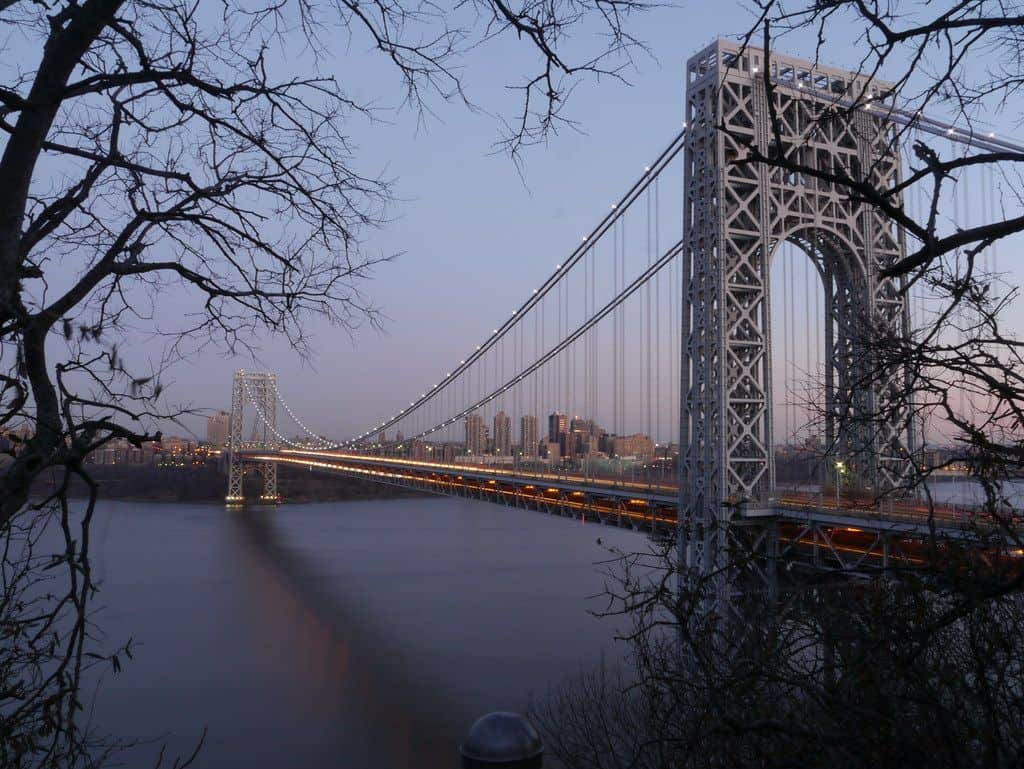 Claim to fame: It's the busiest motor vehicle bridge in the world.
Yearly traffic: 103 million vehicles
Where is it?
This double-deck suspension bridge is in the northern end of Manhattan, in New York City.

Which places does it link?
It's perched above the Hudson River and connects the Washington Heights neighborhood in Manhattan, to the Fort Lee borough, in New Jersey. It is the main entry point to the USA's largest city for many motorists from the north and west.
Why is it special?
This article is about the longest bridges, but the purpose of any bridge is to carry people. And this one carries the most!
The George Washington Bridge has two levels. A double-decker bridge? No wonder it sees the most traffic! But what is even more unique, is that the first level was built all the way back in 1927 and they then added an extra level 32 years later! It now has a total of 14 traffic lanes.
One of our first trips as friends (before we were Flytrippers co-founders) was a roadtrip to NYC and it's quite impressive to drive on the GWB, as it's called by locals. Not to mention driving in Manhattan and in Times Square, which isn't necessarily the best way to visit NYC in retrospect: it's much more fun if you don't drive into the city.
Want more content to explore the world?
Summary
The longest bridges in the world come in all lengths and categories. We think the bridges in this list are an impressive way to get from one place to the next.
Which of the longest bridges in the world attracts you the most? Have you traveled on any of them? Let us know in the comments below!
Want to see our current discounted plane tickets?
Click here to see our flight deals
Want more travel tips and inspiration?
Click here to see the blog homepage
You'll probably enjoy this article:
Travel Hacking: Free Travel (really)
Help us spread the word about our flight deals and travel tips by sharing this article and, most importantly, bookmark Flytrippers so we can help you navigate the world of low-cost travel!
Featured image: Akashi Kyokō Bridge, Japan (Photo Credit: Wikicommons)
Advertiser Disclosure: Flytrippers receives a commission on links featured in this blog post. We appreciate it if you use them, especially given it never costs you anything more to do so, and we thank you for supporting the site and making it possible for us to keep finding the best travel deals and content for you. In the interest of transparency, know that we will NEVER recommend a product or service we do not believe in or that we do not use ourselves, as our reputation and credibility is worth far more than any commission. This principle is an essential and non-negotiable part of all our partnerships: we will never give any third-party any control whatsoever on our content. For more information on our advertiser disclosure, click here.
Share this post to help us help more people travel more for less: