The United States has precisely 61 beautiful National Parks to explore; however, some stand out among the rest. With their unrelenting mystery, abundant wildlife, and peaceful atmosphere, you won't want to miss them on your next trip to the USA.
Did you know that the United States was the first country to create and recognize a National Park? Yes, Yellowstone National Park is considered the first in the world (it's the one pictured above, because yes, that iconic park is among the most visited). Preserving the natural beauty and wildlife in this world has since become an important mindset.
While the US pioneered this idea of having national parks, other countries like Canada have followed suit, as Flytrippers' other co-founder Kevin showed you in his post about the 10 Most Visited National Parks In Canada.
On your next trip to the United States, you should consider visiting one (or more!) of the National Parks in the country. I was surprised to realize that I've only been to 10 of the 61 despite having been to 46 States, so there's still a lot more to see even for me!
To help you with your planning, I have compiled the list of the 10 most visited national parks in the US, why they're at the top of the list, and what you can do in each one. This is Part 1.
1. Great Smoky Mountains National Park (North Carolina/Tennessee)
As America's number one most visited National Park, Great Smoky Mountains is synonymous with endless hiking trails, breathtaking scenic outlooks, crisp colors in every season, and so much more.
If you find it a bit surprising that this is the most visited, keep in mind that many of the more famous ones are out West, while a majority of Americans live on the East Coast. And if you choose to join the millions of people who visit this park every year, you'll have no trouble finding something to do.
One must-see is Clingman's Dome, which rises to 6,643 feet (2025 meters)! It offers its visitors beautiful views of the valleys below and starry skies at night. When the leaves start changing color in the fall, one of the main attractions of this National Park is, in fact, its gorgeous autumn colors with orange, yellow, and reddish hues for miles upon miles.
There are also over 100 waterfalls found here. You should see Grotto Falls, Laurel Falls, Abrams Falls, and Rainbow Falls. Avid hikers could get their adventure fix on the Appalachian Trail. If you're feeling adventurous, you can take a months-long hike that will lead you from Georgia up to Maine.
Lastly, history is rich in these parts because many pioneers settled here in the early days of the United States becoming its own nation. Explore old farms, barns, mills, and churches in Cades Coves for a day.
If you want to combine with other attractions, a city I loved visiting is relatively close: Nashville, the Music City. Or on the other side, you can take advantage of the North Carolina coast and visit the famous Outer Banks.
Nearest airports: Knoxville (TYS) and Asheville (AVL)
2. Grand Canyon National Park (Arizona)
Reigning as one of the largest canyons on Earth, the mile-deep (1.6 kilometers), and 227-mile long (365 kilometers) Grand Canyon is beautiful at every turn and corner.
I was expecting the Grand Canyon to be very beautiful, but seeing it with my own eyes was so much more impressive than the pictures. Just keep in mind that it gets cold up there (that'll be a funny travel story for another post).
Unsurprisingly, the Grand Canyon has a lot of breathtaking views and hidden paradises that only the adventurous may find. A prime example is the Havasu Falls—a surreal desert oasis with roaring waterfalls of turquoise waters. The catch is that you must hike 10 miles (16 kilometers) to experience its beauty.
Fret not, though; there are more easily accessible sights to see: the Skywalk, Grand Canyon Village, rafting in the Colorado River, and the Parashant National Monument.
The Skywalk, which has transparent glass floors, juts out at 4,000 feet (1,219 meters) from the bottom of the canyon; in short, you'll be amazed (or terrified, depending on your level of comfort with heights!).
You could go rafting in the rapids of the Colorado River, even as a beginner. The Park offers various options for calmer or more intense waters for experienced and inexperienced rafters.
Lastly, it's worth the time to check out the Parashant National Monument in northern Arizona to connect deeply with nature. No crowds, no cellphone service, just pristine beauty, and starry-night skies above when you camp.
You can read my post about my Arizona roadtrip, it's really one of the best states to visit. You can easily combine the Grand Canyon with a more relaxed vacation in the southern part of the state, or with a trip to neighboring Utah with its own amazing national parks, or with a trip to Vegas for a very different experience.
Nearest airports: Phoenix (PHX) and Las Vegas (LAS)
3. Rocky Mountain National Park (Colorado)
In Colorado, you'll can't miss the epic mountain range around you: the Rockies. With timeless vistas, over hundreds of miles of streams, pine forests, and snowy tundra, you'll happily be lost within.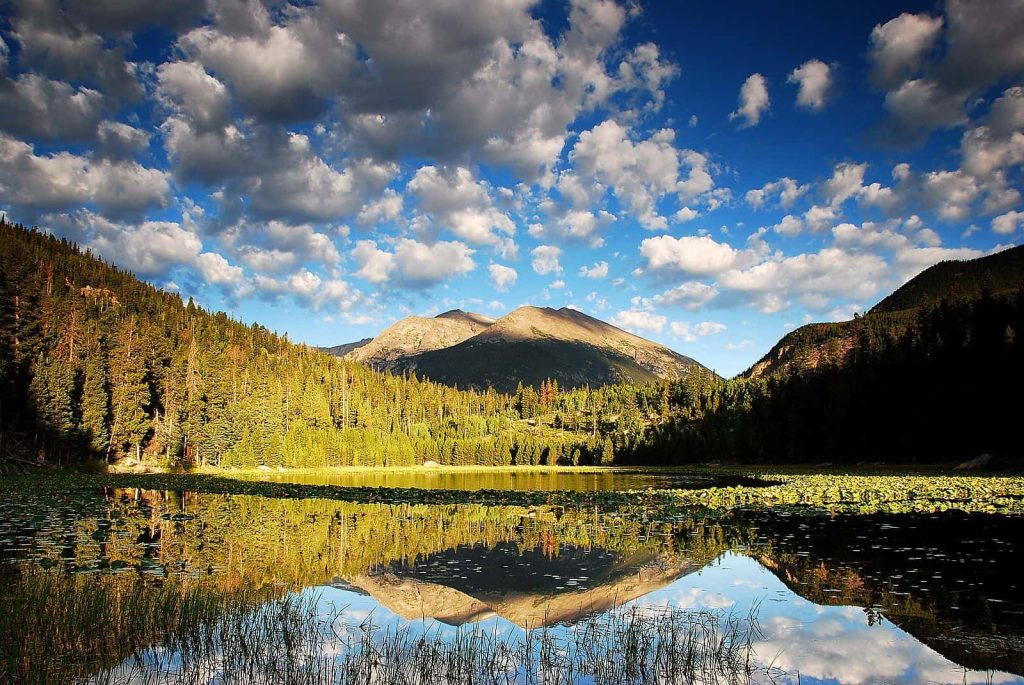 This National Park is perfect for viewing wildlife, camping, fishing, horseback riding, and, of course, hiking!
The Rockies have over 355 miles (571 kilometers) of trails to explore for beginners and long-time hikers. You may also see plenty of wildlife along the way, such as elk, bighorn sheep, and elk. Horseback riding within this gorgeous scenery is also a possibility to give you a unique experience.
There's a reason Colorado is considered one of the very best states for those who love the outdoors and nature. It's stunning and even though I've only been to Denver, even from the city you can enjoy the view of the massive mountains around you.
Nearest airports: Denver (DEN) and Northern Colorado (FNL)
4. Zion National Park (Utah)
Utah is arguably the best state for outdoorsy travelers. It has a whopping 5 National Parks (they call them the "Mighty Five"). Zion is the most-visited, and you'll be enamored by its rock towers, sandstone canyons, and sharpest cliffs.
The high mountains fall into craggy canyons flowing into beautiful rivers. Zion, like the other parks, has a ton of beauty and adventure to offer its visitors, so much so that it's difficult to tell you all about it here. (Go see for yourself!)
By the way, you can take a look at this content about Utah:
First and foremost, the Zion-Mt. Carmel Scenic Highway is a must-do, maybe even a few times over. You'll be enamored by the towering cliffs around you, undoubtedly. Along the way, you'll have the chance to see Checkerboard Mesa—the beautiful scenic overlook from atop is gorgeous, and the view will explain how it got its name.
The Narrows is next as you follow the Virgin River through a canyon of cliffs around you. Keep in mind that this trail is 10 miles (16 kilometers) long, so it takes a while. Plan to either do it all responsibly or go only halfway and then turn around.
Lastly, visitors would be remiss without seeing the Weeping Rock and the Grotto. The first is an overhang with a constant supply of spring water that allows for the growth of lush hanging gardens in the summer and spring. The second has an epic view for any aspiring photographers. The hike is 2.7 miles (4.3 kilometers) long, which might seem easy, but it's quite strenuous with steep hills and dangerous heights—be alert and responsible.
Nearest airports: Las Vegas (LAS) and Salt Lake City (SLC)
5. Yellowstone National Park (Wyoming/Montana/Idaho)
As the world's first-ever National Park, Yellowstone remains in the heart of many Americans and citizens of the world.
And there's no doubt why.
Teeming with wildlife, geysers, hot springs, waterfalls, valleys, and splashes of color, the incredible Yellowstone is something to write home about. I've only had a short glimpse by driving through on one of my roadtrips, and I can't wait to go back.
The biggest attractions are surely Old Faithful Geyser, Grand Prismatic Spring with its exuberant colors, the steamiest hot springs, and the Grand Canyon of Yellowstone with scenic points and the Upper and Lower Falls. Each has a distinct quality, which together, make this park special.
Another attraction is Caldeira of Yellowstone, aka the Super Volcano. Not far under the earth is a pocket of magma that makes up this natural sight. You'll feel its intense heat and notice the constant steam released from the soil.
Lastly, you should visit Yellowstone Lake, Lamar Valley for bison, and Hayden Valley. Be on the lookout for bears, sheep, moose, and wolves as they are this area's main animals.
Nearest airports: Yellowstone (COD) and Jackson Hole (JAC)
6-10: Want to see the next parks?
Summary
Breathtaking, right? The US National Park Service does a fantastic job of mitigating human impact on these places: they preserve and protect wildlife and create marked paths for hikers to avoid disturbing the surroundings. Keep in mind that you are a guest in nature's household and that you should respect it.
I do not doubt that whichever park you decide to go to, you'll have an unforgettable experience. And, we're here to make it easier for you by offering cheap flight deals to nearby cities in the US. Deals to Denver, Las Vegas, or Phoenix often come up, so keep an eye for low prices that could make your next trip just that much cheaper! Once you get there, you can rent a car and check out some of these stunning National Parks.
And don't miss Part 2 soon.
Have you already been to a US National Park? If so, which one? If not, which from this list are you just craving to see? Tell us your stories and give us some tips on the national parks in the States. We would appreciate it!
Want to see our current discounted plane tickets?
Click here to see our flight deals
Want more travel tips and inspiration?
Click here to see the blog homepage
You'll probably enjoy this article:
Travel Hacking: Free Travel (really)
Help us spread the word about our flight deals and travel tips by sharing this article and, most importantly, bookmark Flytrippers so we can help you navigate the world of low-cost travel!
Featured image: Yellowstone National Park (Photo Credit: Stephen Walker)
Advertiser Disclosure: Flytrippers receives a commission on links featured in this blog post. We appreciate it if you use them, especially given it never costs you anything more to do so, and we thank you for supporting the site and making it possible for us to keep finding the best travel deals and content for you. In the interest of transparency, know that we will NEVER recommend a product or service we do not believe in or that we do not use ourselves, as our reputation and credibility is worth far more than any commission. This principle is an essential and non-negotiable part of all our partnerships: we will never give any third-party any control whatsoever on our content. For more information on our advertiser disclosure, click here.