Discovering beautiful natural landscapes is one of the top reasons to travel for many of you, and while traveling in the US is expensive due to the high cost of living, for shorter trips it makes sense to take advantage of the proximity and the cheaper flights.
Recently, we shared the 5 most visited national parks in the US (and also the 10 most visited national parks in Canada).
Here is part 2 with the rest of the top 10 most visited to inspire your next US trips, including 3 of my own favorites. You can also see the full top 10 list at the end of the post.
6. Yosemite National Park (California)
A Californian wonder and natural "temple," according to famed naturalist John Muir, Yosemite National Park, is unique and compares to no other.
In this national park, you'll have plenty of opportunities to scale heights and walk through low valleys. This park isn't the largest; however, its scenery of evergreens, stark grey stone façades, and jagged cliffs attract visitors year-round.
Starting with Yosemite Valley, this is where most of the park's visitors go. You can then visit the Yosemite Falls and the Glacier Point Overlook from here.
You can also enjoy watching the wildlife that lives there, go backcountry camping, go rock climbing (but be safe), and visit Half Dome village.
The famous Death Valley is nearby too, if you want to combine. There's also Vegas that is relatively close, as is the California coast.
Nearest airports: Mammoth Lakes (MMH), Fresno (FAT), Merced (MCE) or even Oakland (OAK) and San Francisco (SFO)
7. Acadia National Park (Maine)
This is probably my favorite, if only because it's so close and accessible (I've been many times). Found on Mount Desert Island, this mountainous park meets the frigid Atlantic. Located in eastern Maine on the coast, Acadia National Park attracts many visitors for its hiking paths, history, and rocky shores.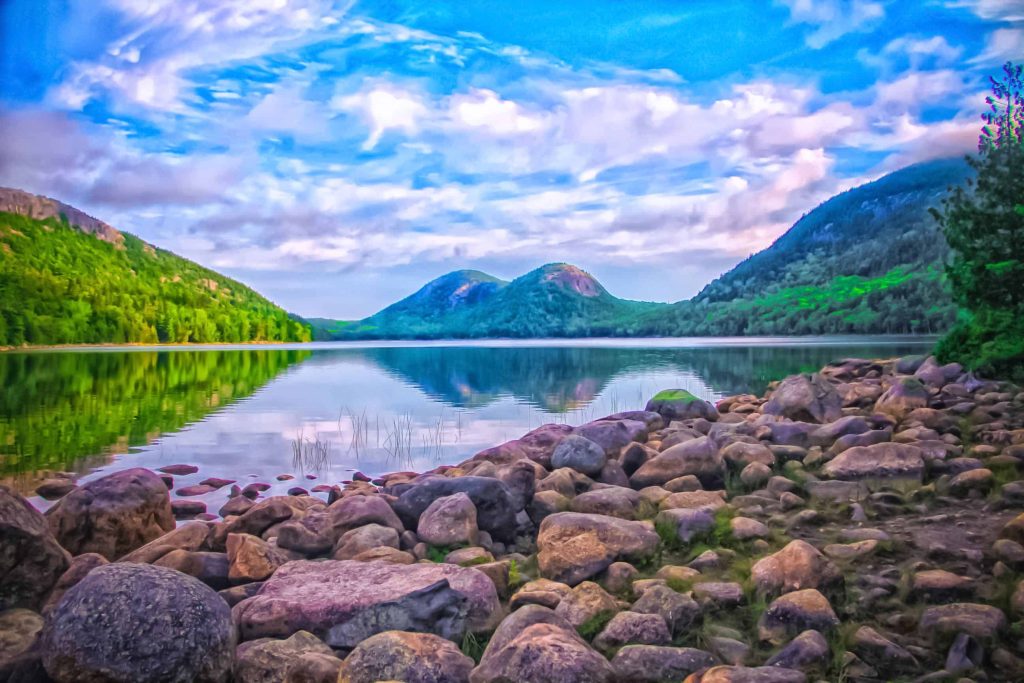 The most famous mountain in the park is Mount Cadillac, where all hiking is open to the public.
Jordan Pond is another must-see where you can stroll under evergreen trees, on the shore lined with stones, and next to crystal-clear waters.
The very pretty small town of Bar Harbor nearby has a typically "New England" feel and can also warm you up in the colder months with cozy restaurants with fresh seafood and tea rooms. I highly recommend the Bar Harbor Inn, the iconic waterfront hotel (detailed review to come too).
Then, there's the 19th-century Bass Lighthouse built on a cliff's edge and Schoodic Point where visitors can climb the rocks, feel the fresh mist, and hear the waves come crashing down.
Nearest airports: Portland (PWM) and Bangor (BGR)
8. Grand Teton National Park (Wyoming)
In Wyoming, the Teton Range scales nearly 7,000 feet (2,134 meters), making them some of the tallest mountains in the Rockies. They were impressive from afar across the state line when I was roadtripping in Idaho, so I can only imagine how beautiful they are from up close.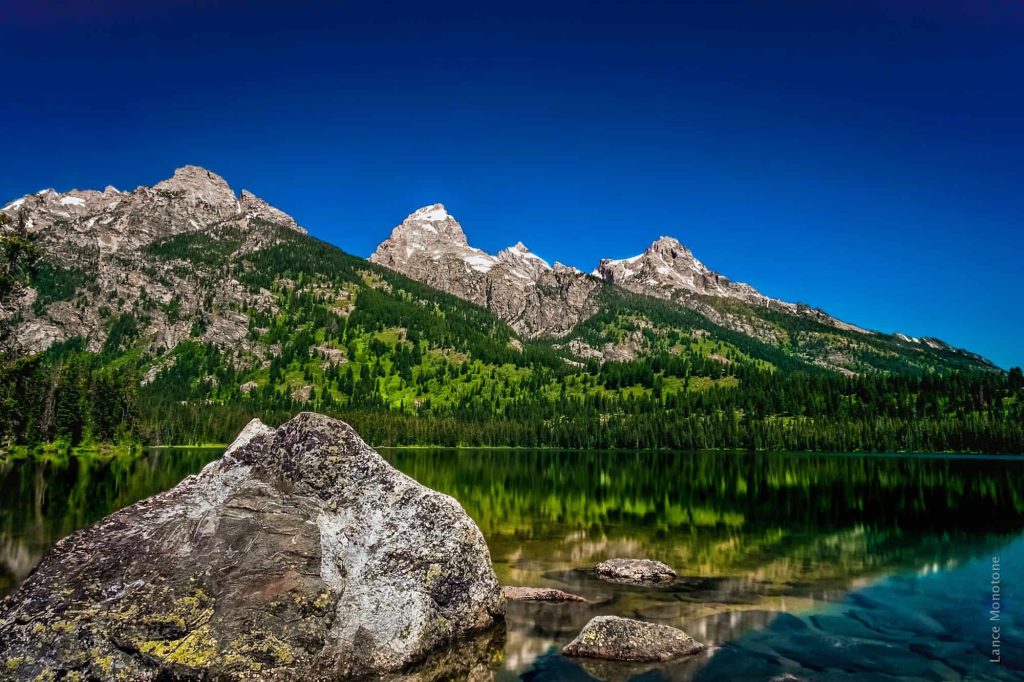 Just south of Yellowstone (#5), you can definitely visit both parks during the same trip. In the photo above, you'll see the immense beauty you could experience at Taggert Lake and Grand Teton Mountain. Grand Teton National Park is perfect for scaling and hiking, especially around this gigantesque monument of natural power.
The park is also notable for its jewel-like lakes and bluish-white glaciers. Jackson Hole is a city within the park where, in the winter, visitors can ski among the wilderness and get some epic views at the same time. Then, Jackson Lake is a prime example of the park's gems, which is perfect for kayaking and capturing your reflection in its pristine, calm waters.
Nearest airport: Jackson Hole (JAC) and Yellowstone (COD)
9. Olympic National Park (Washington)
Olympic National Park is composed of 3 distinct ecosystems: temperate rain forest, subalpine forest, and a wildflower meadow with a jagged shoreline. I found it absolutely beautiful, as I love national parks that are near the ocean.
I only spent a short time in the park, but I hope to go back, and I definitely recommend visiting this stunning peninsula west of Seattle, just across from BC's Vancouver Island.
Olympic National Park is definitely at the top of my list because of its lovely mix of coastal views and deep wilderness. What stands out is its lack of roads. Whether you're looking to camp in the backcountry or lounge in the warmth of a rustic lodge, Olympic has perfect opportunities awaiting you.
Crescent Lake is one of many stunning lakes. You can step back in time by staying at the Lake Crescent Lodge that was built in 1915. Then within the Sol Duc Valley, take some time to discover Sol Duc Falls and its hot springs. It has plenty of hiking trails and wilderness to explore.
Towards the coast, definitely pay a visit to Ruby Beach, which stretches for 135 miles (217 kilometers). The area serves as a sanctuary for marine life like the bird species of common murres and tufted puffins. My favorite part, however, is the rugged shoreline with pine trees galore and stand-alone stone towers that have been battered by endless waves.
Another well-known beach in the area is in La Push; it was made famous by the Twilight movies, in case you care about that unlike me.
Nearest airport: Seattle (SEA), Everett (PAE) and even Victoria (YYJ) or Vancouver (YVR)
10. Glacier National Park (Montana)
Its name says it all: a park full of gorgeously frigid glaciers. Found in Montana, many people go specifically to drive aimlessly along Going-to-the-Sun Road. That drive was one of my favorites ever.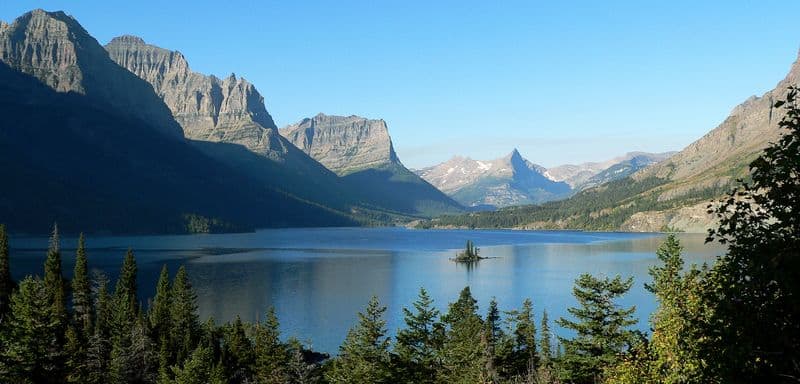 This road, which traverses the entire park, was paved in 1932 and has attracted many visitors ever since. It's the only road in the US to cross a national park in its entirety. It highlights the park's mountainous peaks and low-lying valleys, but be prepared to drive for at least 2 hours. Also, have a full tank of gas because there aren't any gas stations along the way!
Glacier National Park also has lovely lakes to hike around and go boating, like St. Mary Lake above, Grinnell Lake, and Avalanche Lake.
Also, if you want to see an actual glacier while in Glacier National Park, some famous ones to visit would be Jackson Glacier on Mount Jackson, which you can see from Going-to-the-Sun Road and Grinnell Glacier at Grinnell Lake.
Sadly, only about 35 of the original 150 glaciers remain. Plus, many scientists predict that by 2030, only a few will remain that can be classified as glaciers. So, if you want to see them, it's best to go very soon!
Lastly, if you are a hiker, the Highline Trail, or "Crown of the Continent" is a must-do if you can! Like the Road, this trail offers spectacular views of the park. It's about 11 miles (18 kilometers) long and known to be a bit strenuous, so be prepared and make sure you have the appropriate fitness level.
By the way, this park is not to be confused with Glacier National Park in Canada, which is in BC. The US Glacier National Park is, however, one of the only bi-national parks in the world, as it continues into Canada as Waterton Lakes National Park, as we explained in the post about Canadian parks.
Nearest airport: Kalispell (FCA) and Calgary (YYC)
Want to get our next inspiration article?
Top 10 Most-Visited National Parks In The US
Great Smoky Mountains
Grand Canyon
Rocky Mountain
Zion
Yellowstone
Yosemite
Acadia
Grand Teton
Olympic
Glacier
Summary
I do not doubt that whichever park you decide to go to, you'll have an unforgettable experience. And, we're here to make it easier for you by offering cheap flight deals to nearby cities in the US. Keep an eye for low prices that could make your next trip just that much cheaper! Once you get there, you can rent a car and check out some of these stunning National Parks.
Have you already been to a US National Park? If so, which one? If not, which from this list are you just craving to see? Tell us your stories and give us some tips on the national parks in the States. We would appreciate it!
Want to see our current discounted plane tickets?
Click here to see our flight deals
Want more travel tips and inspiration?
Click here to see the blog homepage
You'll probably enjoy this article:
Travel Hacking: Free Travel (really)
Help us spread the word about our flight deals and travel tips by sharing this article and, most importantly, bookmark Flytrippers so we can help you navigate the world of low-cost travel!
Featured image: Yosemite (Photo Credit: Aniket Deole)
Advertiser Disclosure: Flytrippers receives a commission on links featured in this blog post. We appreciate it if you use them, especially given it never costs you anything more to do so, and we thank you for supporting the site and making it possible for us to keep finding the best travel deals and content for you. In the interest of transparency, know that we will NEVER recommend a product or service we do not believe in or that we do not use ourselves, as our reputation and credibility is worth far more than any commission. This principle is an essential and non-negotiable part of all our partnerships: we will never give any third-party any control whatsoever on our content. For more information on our advertiser disclosure, click here.
Share this post to help us help more people travel more for less: