There's no doubt that a lot of people on earth enjoy a nice drink now and then—especially an alcoholic one. But if you've traveled a bit, you've noticed that each country has its own preference when it comes to what's in the glass.
After the Holiday season, there's no better time to talk about alcohol. It has existed for a long time, and centuries of international travel and trade, as well as historical events, have impacted cultures around the world… in every facet of daily life, like which alcohol each country prefers.
There are 3 main types of alcohol:
Having been to Germany, I know how much they love their beer. I've also seen the sub-€1 bottles of wine in France. And I've seen grocery stores in Transnistria (a country that "doesn't exist" with strong ties to Russia), where there are as many vodka bottles as water bottles (and the price is surprisingly similar).
Each country is different. It's interesting to see a map of what everyone around the world drinks.
The Map
Here's the map that shows what is the most popular alcohol everywhere: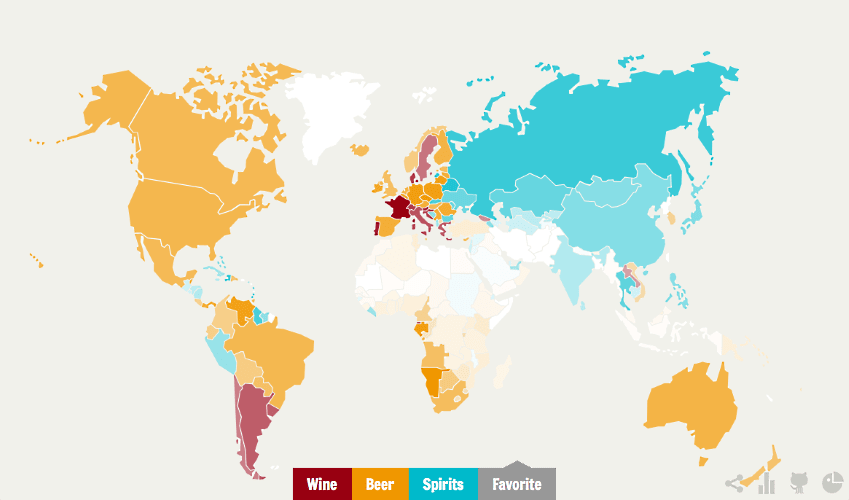 If you want to dive even further into the map and its details, check out the interactive map on Ghost in the Data's website. It's pretty cool: just hover over any country to see its booze preferences! We'll show you below what it looks like for a few main countries.
But first, the details: in 2014, a map of drinking preferences of the world was created by Ghost in the Data with data from the World Health Organization (WHO) about how much wine, beer, and liquor is consumed on average by one person (15 years and older) in one week in each country.
The one consumed the most is then noted as the nation's preference. Now, keep in mind that this map and its data could never 100% characterize an entire country and its peoples' drinking preferences, but it gives us a general idea.
Overall, though, it seems to be that each country's preference is based on whatever they produce well and make the most of: France and Italy with their wines; Germany and the US with their beers; and Russia and Cuba with their spirits.
Who's Drinking What?
If we look at the graphic at the top for Canada, it appears that it's quite evenly spread out. But beer barely takes the top spot!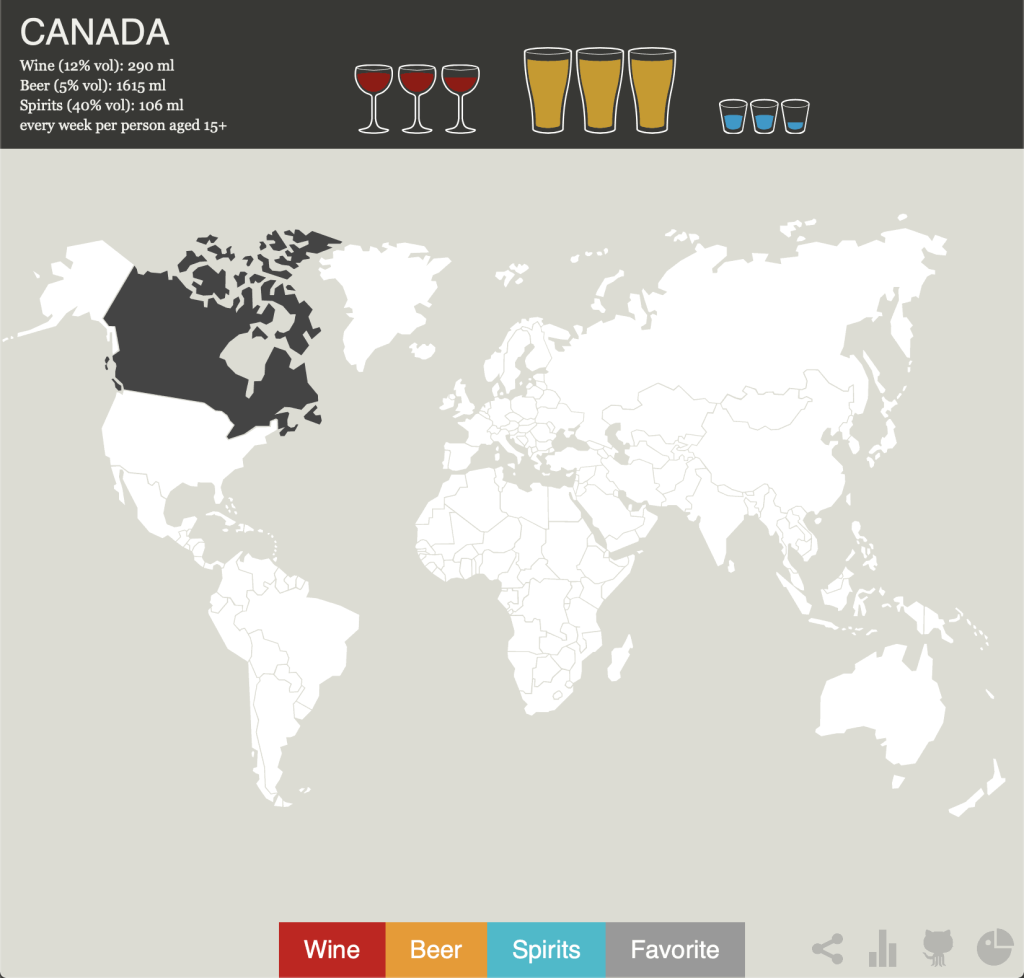 Looking at the United States, they seem to be about the same, with beer as #1. Although they drink a tad bit more than their neighbors to the north (except for wine).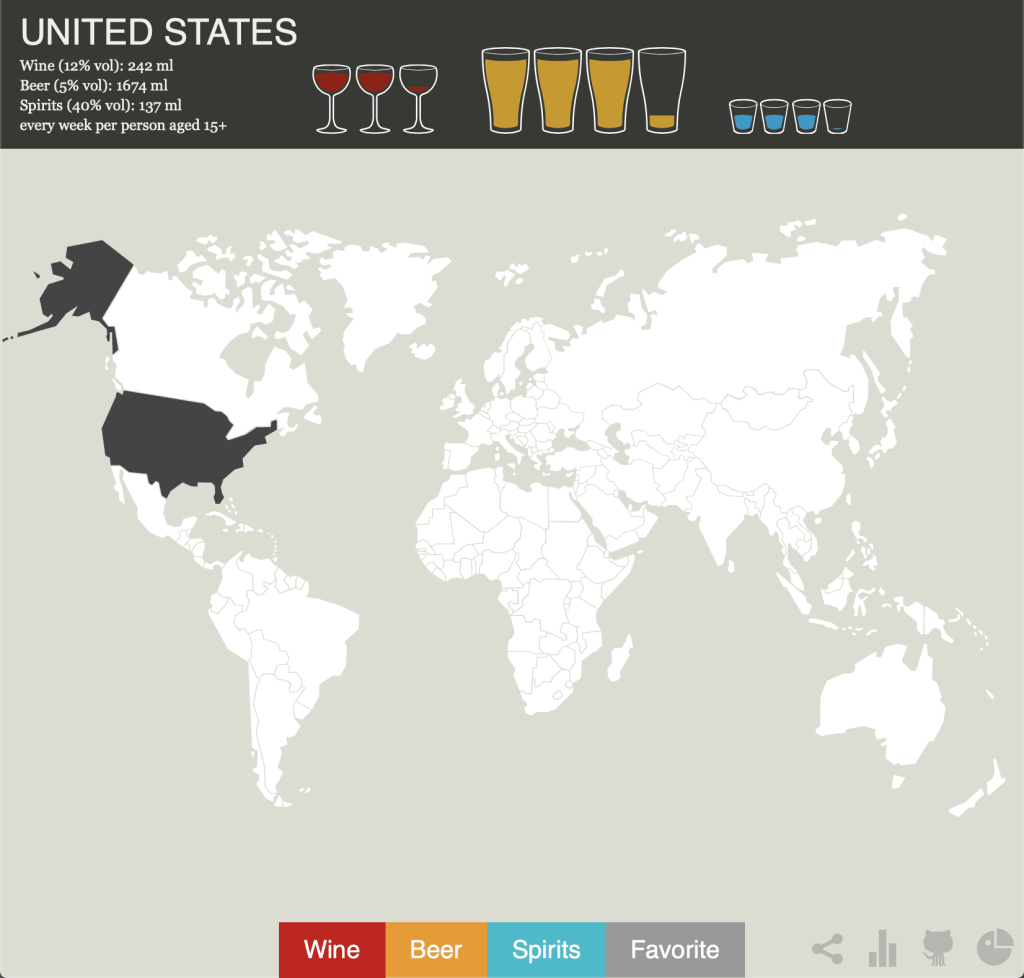 However, Germany rises to the top in drinking the most beer, with an average of 4 and a half glasses a week!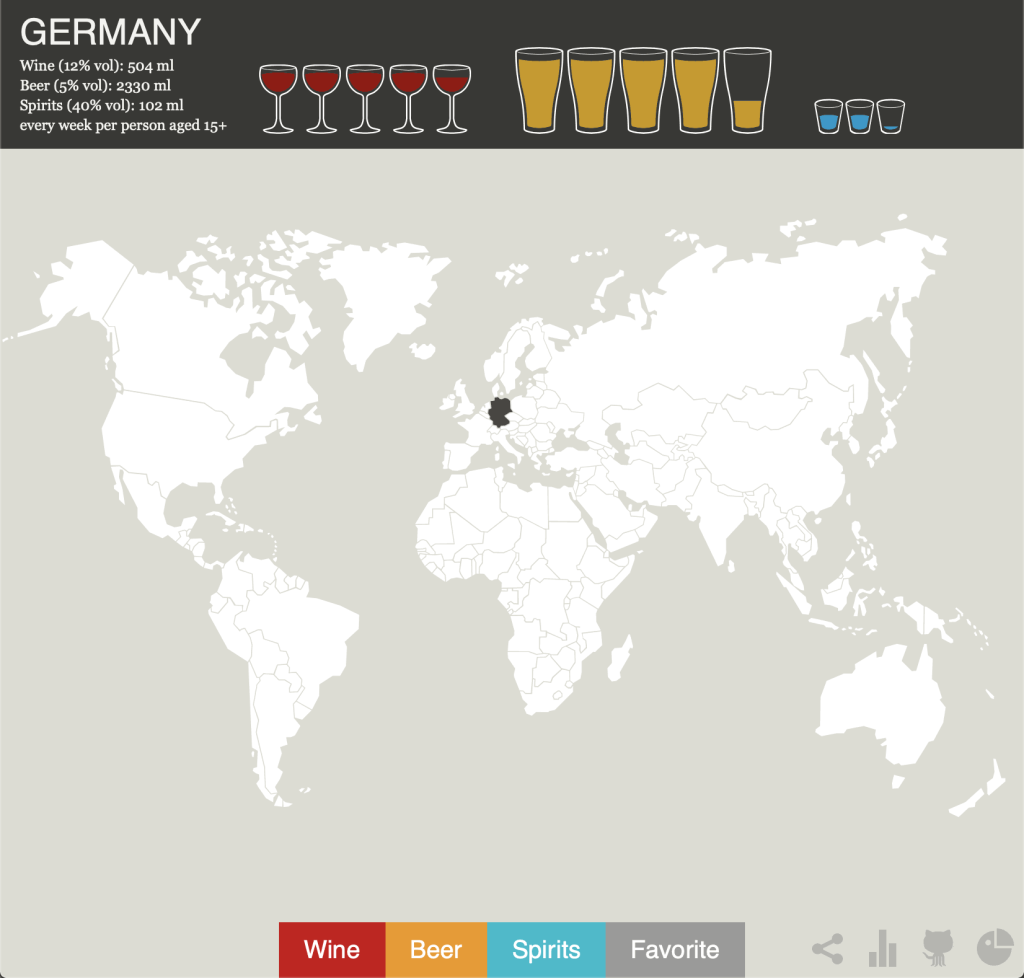 When it comes to drinking wine, it's probably obvious who wins this one: France! Can you believe, on average, a French person will drink 10 glasses of wine a week!?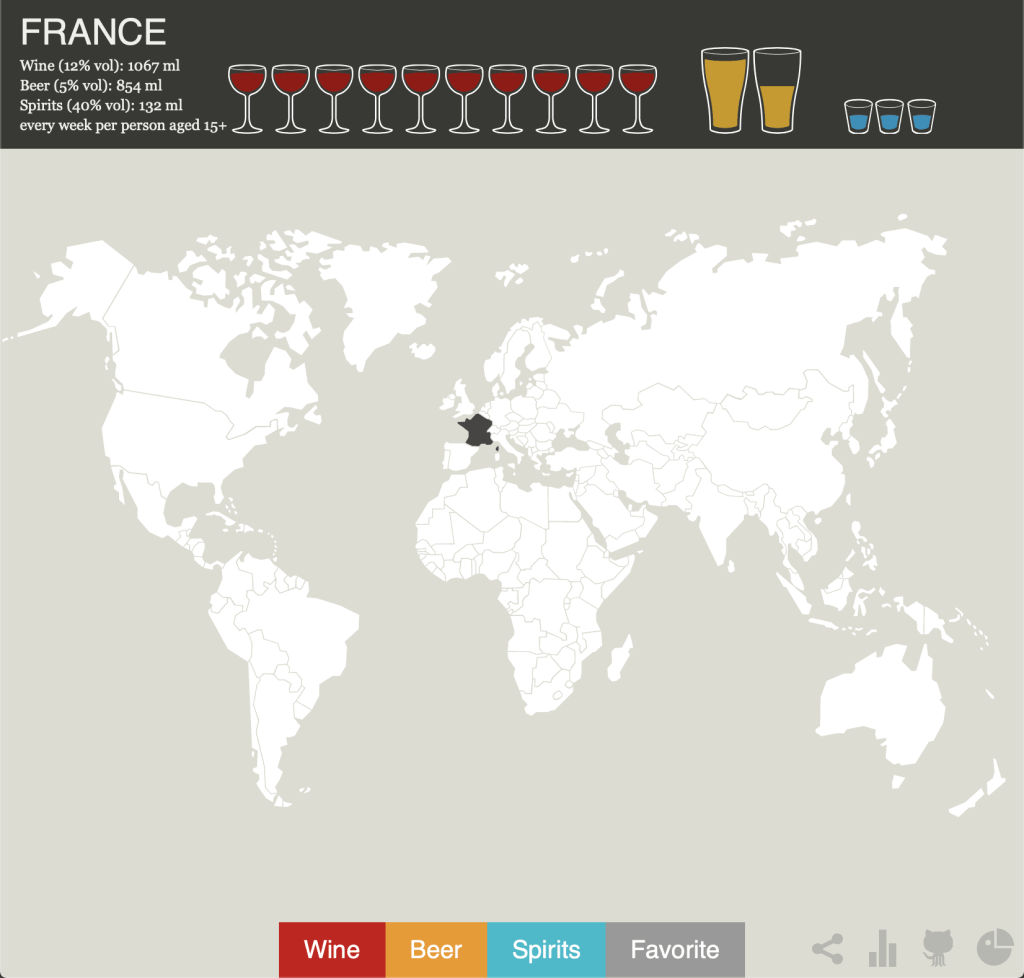 Then, Russia takes the cake in terms of drinking the most spirits, particularly vodka. They drink over 6 glasses a week on average!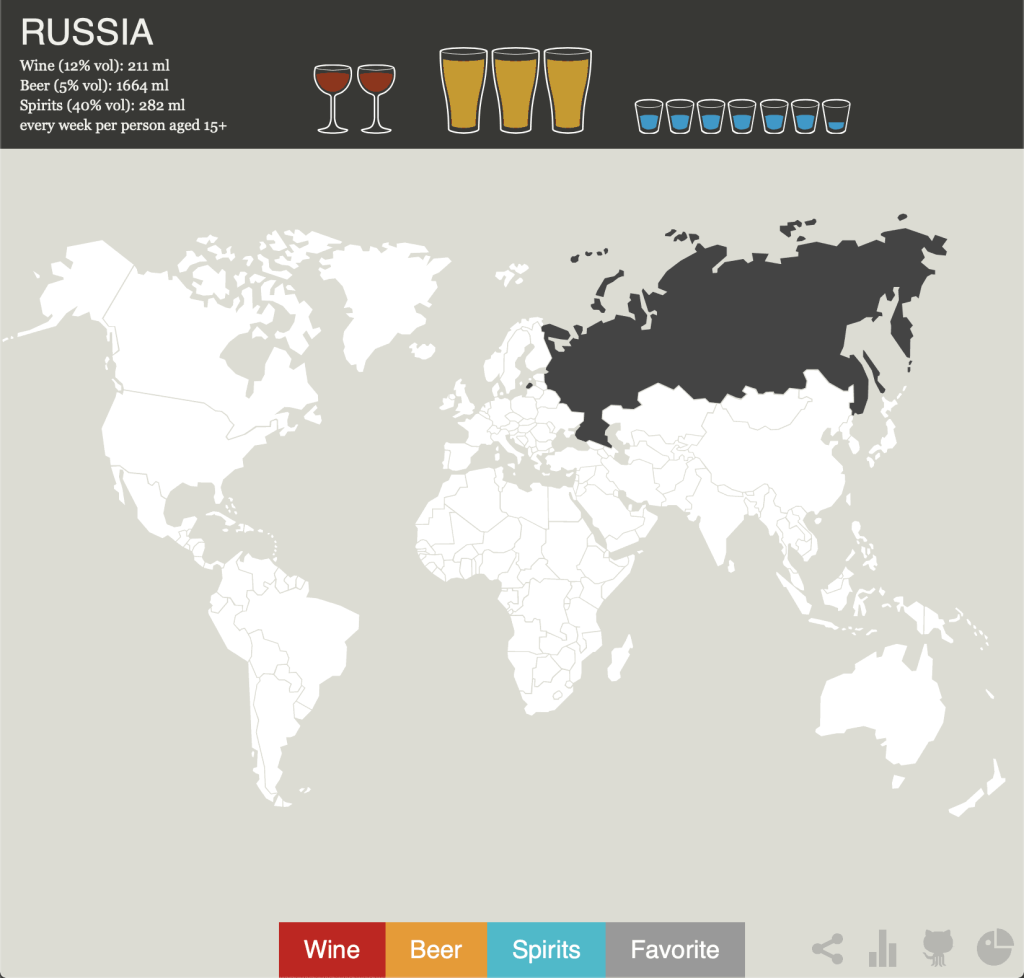 Preferences By Region
In general, geographic proximity implies similar tastes, but it's far from always being the case.
North America
Beer dominates everywhere.
Central America and Caribbean
Spirits dominate, with a few exceptions where beer is more popular. One surprising exception is the Dominican Republic, given their local rum. Costa Rica and Panama close to South America are also beer drinkers, as is Trinidad-and-Tobago just off the coast of South America.
South America
Here too, beer is the most popular in most countries. Exceptions are in the Southern part of the continent, where wine is the most popular in Chile, Argentina and Uruguay. Finally, in Peru, Guyana, and Suriname, spirits are #1.
Europe
Wine dominates in the Southern part of Europe (Portugal, Italy, Greece), with the notable exception of Spain, where beer wins. Wine also is the most popular in France and Switzerland in the West, in Sweden and Denmark in the North, and in Slovenia and Croatia next to Italy. Beer dominates everywhere else, apart from the very East where Russia, Belarus, Ukraine, Bulgaria, Slovakia, Bosnia-Herzegovina and Albania prefer spirits.
Middle East and Northern Africa
The Muslim world is lighter on the map, as there is a lot less data available and consumption is a lot lower. Where there is data, it's either beer or spirits that are the most popular, but it's all relative.
Central and Southern Africa
Beer is the most popular on the continent, apart from rare exceptions for spirits (and one for wine in Equatorial Guinea).
Asia
Spirits win almost everywhere in Asia. The few exceptions for wine are in Georgia in the Caucasus (although that could be considered Eastern Europe) and Laos. Beer is the most popular in Vietnam and South Korea.
Oceania
Beer is the most popular in Australia and New Zealand.
Want more cool maps sent right to your inbox?
Summary
Well, for one, it can be said that the world loves its alcohol, and this won't be changing anytime soon. But what changes from one country to another is what type of alcohol people prefer. Beer, wine, or spirits, there is a countless variety of alcohol to drink and be shared with new friends you've just made while traveling!
Do you think that this map accurately portrays the world and its preferences? Do you have any relevant stories to share? Tell us in the comments section below!
Want to see our current discounted plane tickets?
Click here to see our flight deals
Want more travel tips and inspiration?
Click here to see the blog homepage
You'll probably enjoy this article:
Travel Hacking: Free Travel (really)
Help us spread the word about our flight deals and travel tips by sharing this article and, most importantly, bookmark Flytrippers so we can help you navigate the world of low-cost travel!
Featured image: Map of alcohol preferences around the world (Photo Credit: Ghost in the Data)
Advertiser Disclosure: Flytrippers receives a commission on links featured in this blog post. We appreciate it if you use them, especially given it never costs you anything more to do so, and we thank you for supporting the site and making it possible for us to keep finding the best travel deals and content for you. In the interest of transparency, know that we will NEVER recommend a product or service we do not believe in or that we do not use ourselves, as our reputation and credibility is worth far more than any commission. This principle is an essential and non-negotiable part of all our partnerships: we will never give any third-party any control whatsoever on our content. For more information on our advertiser disclosure, click here.
Share this post to help us help more people travel more for less: