The world is full of weird food. Some things we're willing to try and others we wouldn't touch with a ten-foot pole. But that's part of the fun of traveling!
A while ago we asked our followers on our Facebook pages what were the weirdest meals that they had tried during their travels.
You delivered some surprises! Some of your stuff was low-key while some of it seemed absolutely disgusting… but most of you surprisingly liked it!
I took the time to sift through your submissions and I've listed 17 weird meals, for Part 1 of this article.
Have a look and ask yourself: "Would I eat this?" then let us know in the comments what you'd like to try! And send us your own weird meals seen during your travels and we might include them in Part 2.
Weirdest Meals Around The World
I'll start with Flytrippers' other co-founder Andrew's submission since it's recent and most importantly it's nothing disgusting, just somewhat original. Not to start things off too rough (fair warning; it will get a lot worse).
We always add bonus points to our list since we like giving you more for your money, this time we'll do at the beginning.
Bonus. Crocodile Ribs (Zambia)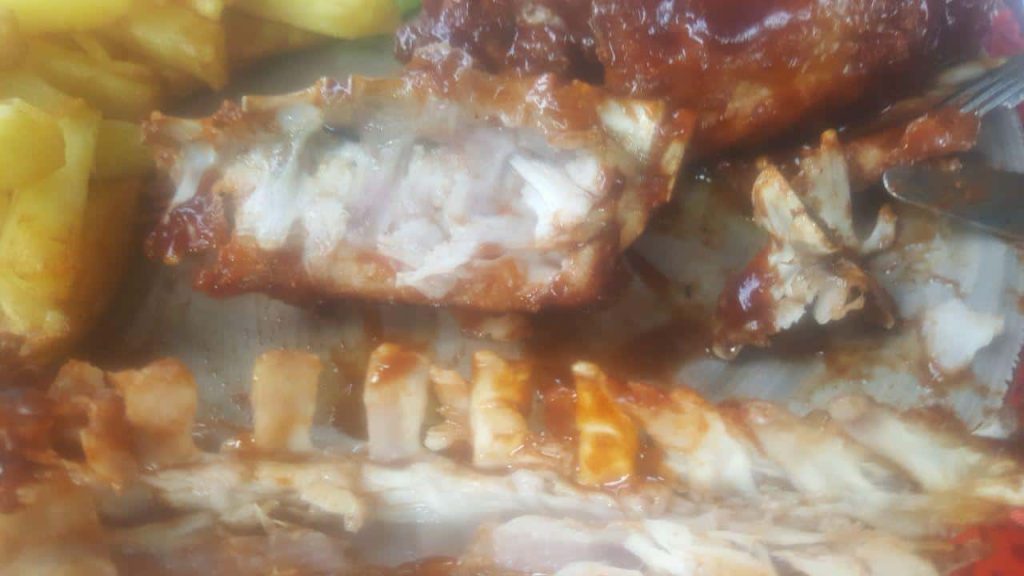 "Even better than our usual ribs, and definitely more exotic. It's white meat that looks like chicken but tastes unlike any other type of meat I've ever tried" – Andrew D.
You can read Andrew's two posts about his Southern Africa trip:
1. Guinea Pig/Cuy Cuy (Peru)
"Guinea pig that I caught, choked, skinned, gutted, washed, prepared with herbs as the Mayans did, and cooked in a communal oven." – Guy-Anne C.
"Cuy Cuy in Peru, which is guinea pig it seems. It looks like a rat with its teeth and it was half furry. It's served whole! Not very tempting, but especially not very good!" – Lydia S.
"Without a doubt, guinea pig in Peru… with teeth and claws still intact on the feet. If not that, then soup with cow or chicken eyes… it's really bad. It's just disgusting to look at!" – Catherine M.
"The guinea pig in Peru was solid." – Jean-Sebastien F.
"The whole guinea pig spread out on a platter that felt like it was looking at us." – Kim M.
2. Insects Of All Sorts (DR Congo, Cameroon, China, Thailand, Cambodia, Ecuador)
"Eating fried caterpillars in the Democratic Republic of the Congo… a crusty exterior, a soft interior… the first and last time that I ate that." – Steve F.
"A sauté of big palm larvae in Cameroon. We wanted to please our hosts by buying these luxurious larvae only to discover that it's only the elders who like those. The other members of the family looked at us and just laughed!" – Gabrielle B.
"Cockroach skewers grilled on a wood fire in the streets of Beijing." – Sandra B.
"In Cambodia: cockroaches, ants, crickets, etc." – Briania L.
"Big Amazonian larvae in Ecuador." – Daphné G.
3. Duck Embryo/Balut (Vietnam, Philippines)
"Balut. Duck embryo, hard-boiled. Strange AF, but very tasty…" – Keith H.
"A duck fetus in Vietnam." – Amanda D.
"My boyfriend has Filipino employees who always talk about balut, a chicken fetus, a meal they like a lot." – Kathleen C.
4. Camel (Tunisia)
"I just got back from Tunisia, and we ate some camel." – Johanne A.
5. Haggis (Scotland)
"There is always the classic haggis in Scotland, which is generally a blend of sheep lung, liver, and hearts encased in its stomach. Even if it's served with potatoes and rutabagas… it's still a horrible texture." – Mathieu B.
6. Cow Udders (Peru)
"Cow udders in Peru. Not to mention all the times I ate something that I didn't know what it was… there was probably some interesting things in there." – Kim M.
7. Sheep Eye And Tongue (Iceland)
"The strangest food I ate while traveling was a sheep's eye and tongue in Reykjavík, Iceland. However, it was one of my best experiences to try local food with a couple who lived in the city. In addition, I had an opportunity to learn how to cook their dessert and drink one of their popular beverages called Malt og Appelsín." – Alexxandre C.
8. Egg Beer (Vietnam)
"I tried egg beer in Hanoi, Vietnam, and it was really bad. The locals must laugh when they see the look of disgust on travelers' faces." – Hélène M.
9. Dog And Cat (Thailand, Vietnam, China, Ghana)
"Pretty much all kinds of animals in Asia: dog, cat, hahaha." – Jean-Sebastien F.
"In China, we had some cat. In Vietnam, we saw dog on the menu, but we didn't eat it." – Johanne A.
"Dog in Ghana." – Kim M.
10. Escamoles (Mexico)
"Mexico: escamoles, which are ant larvae, a kind of Earth caviar and some Maguey worms (or chinicuiles)." – Sam G.
11. Banana Spaghetti (Kenya)
"Spaghetti in tomato sauce with banana pieces (not plantains, but regular sweet bananas) in Kenya (but it's mostly eaten by Somalians)." – Marijo D.
12. Rat (Vietnam)
"I ate some rat in Vietnam. It was surprisingly good; it tasted like chicken but it had tons of little bones so I ate the bones, too, or else it would have been too complicated." – Cindy T.
13. Cricket Tacos (Mexico)
"I ate cricket tacos in Mexico City. They are called chapulinés there. Took me about 5 minutes and a lot of cringing before I took my first bite. Taste was okay. Kind of like dried salted crunchy little shrimp. Goes well with the beer." – Natalia B.
14. Scorpion (China, Cambodia, Thailand)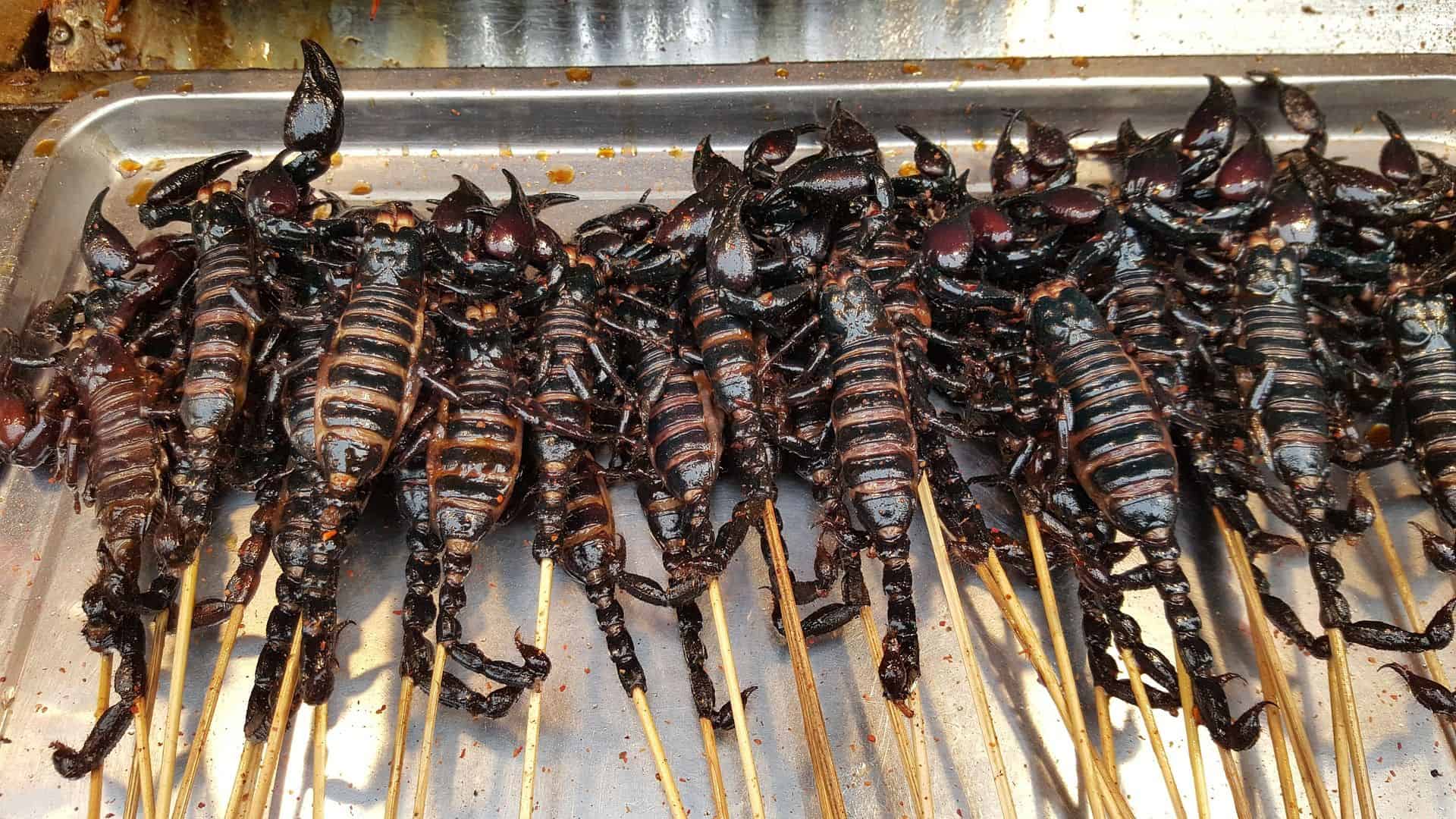 "The little fried scorpions in Thailand." – Jean-Sebastien F.
"Scorpions skewers also grilled on a wood fire in the streets of Beijing." – Sandra B.
"Also in Cambodia: scorpions." – Briania L.
15. Hákarl (Iceland)
"Hákarl—smoked shark in Iceland. Eaten in 2015. It was so strange that I still don't know if I liked it or not." – Haroosha L.
16. Beef Tongue (Guatemala)
"In Grade 11, I went on a humanitarian aid trip to Guatemala. We took a 9-hour bus trip to visit the ruins of Tikal. It was 3 PM when we stopped for lunch. I asked for a meal off the menu and they told me that I had to choose between the 3 meals of the day. I randomly chose one… and I ended up with the beef tongue on rice. The meat was good, but the texture… I'd rather not discuss hahaha." – Jean-Philippe G.
17. Bull Testicle Soup (Nicaragua)
"Bull testicle soup in Nicaragua. It didn't taste bad, but the texture was… spongey"! – Marie-France T.
Do you want to make sure you get the 2nd part of the list in your inbox?
Summary
So there's the first part of the roundup of the weirdest foods that our Flytrippers' readers have tried. We are sure there are many more you'll discover as you keep traveling the world! Did you see your comment in the thread? We hope you did, if not it might be in Part 2! Send us more if you haven't already, we love hearing from our readers!
What are your thoughts? What's the weirdest in your opinion? Let us know or add your own weirdest food experience in the comments!
Want to see our current discounted plane tickets?
Click here to see our flight deals
Want more travel tips and inspiration?
Click here to see the blog homepage
You'll probably enjoy this article:
Travel Hacking: Free Travel (really)
Help us spread the word about our flight deals and travel tips by sharing this article and, most importantly, bookmark Flytrippers so we can help you navigate the world of low-cost travel!
Featured image: Chapulinés (cricket tacos) (Photo Credit: T. Tseng)
Advertiser Disclosure: Flytrippers receives a commission on links featured in this blog post. We appreciate it if you use them, especially given it never costs you anything more to do so, and we thank you for supporting the site and making it possible for us to keep finding the best travel deals and content for you. In the interest of transparency, know that we will NEVER recommend a product or service we do not believe in or that we do not use ourselves, as our reputation and credibility is worth far more than any commission. This principle is an essential and non-negotiable part of all our partnerships: we will never give any third-party any control whatsoever on our content. For more information on our advertiser disclosure, click here.
Share this post to help us help more people travel more for less: