Victoria Falls are an impressive sight—they are the largest falls in the world (by total size). But swimming at the top, just a few feet from the massive drop at the edge of the falls. It's called Devil's Pool, and it's one of the coolest things I've ever done.
I didn't even know it was possible to swim at the edge of Victoria Falls, one of the 7 Natural Wonders of the World.
Words (and even images) can't do justice to the incredible experience of swimming an arm's length away from a 108-meter waterfall, which is more than twice as high as Niagara Falls for comparison. But I'll try anyway.
Last year, Flytrippers spotted a fantastic deal for $550 roundtrip from Montreal to South Africa. That's a phenomenal price, one of the many we spot on our cheap flight deals page (if you missed the deal, join 55,000+ Canadians and sign up to our free newsletter to get the next ones).
I didn't plan to go to South Africa, but that's one of the ways I get to travel so much: I don't choose a destination first like most people who believe in the myth that travel is expensive do; I choose destinations based on the deals that are available. That way, I save half the price on the plane ticket and get to go on 10 trips every year!
That's a common mistake made by those who want to travel more: they don't prioritize traveling more in their decisions. Be flexible and you can save a lot of money. We'll share more tips on how to travel more in the coming weeks.
So I bought the deal, and from Johannesburg, I made my way to Victoria Falls. I'll share the logistical details in a separate article for those who are interested, as well as other stories from the trip. I'm still on a roadtrip in Lesotho as we speak (my 58th country overall), and it's been a great trip up to now.
Now, let's jump right into the famous Devil's Pool.
Experiencing Devil's Pool
It seems crazy when you think about it, swimming at the very edge of the world's largest falls.
It's a bit insane, but it was absolutely thrilling.
To give you an idea of what it's all about, I'll start with two generic aerial pics before sharing my own pics and videos (I didn't do the helicopter tour; I'm a budget-traveler after all).
Here's a picture of Victoria Falls during the wet season.
It's huge, right? Almost 2 kilometers wide.
And here's where Devil's Pool is located.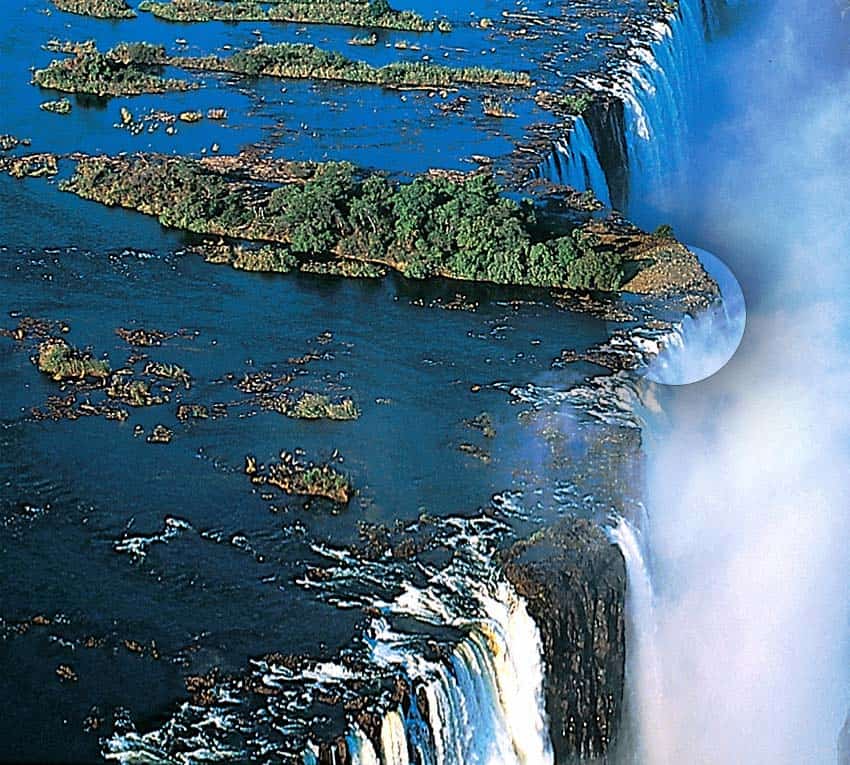 Yes, you can really swim right there.
But you can only do it during the dry season. The falls look very different then (less wide), but the fact the water level is lower is what makes it safe to swim in Devil's Pool.
Here's what that middle section of the falls looked like last week when I went (apologies for the low quality of this one, I had to zoom in so you could see the people). If you look closely in the middle, you'll see them at the top of the falls. That's Devil's Pool.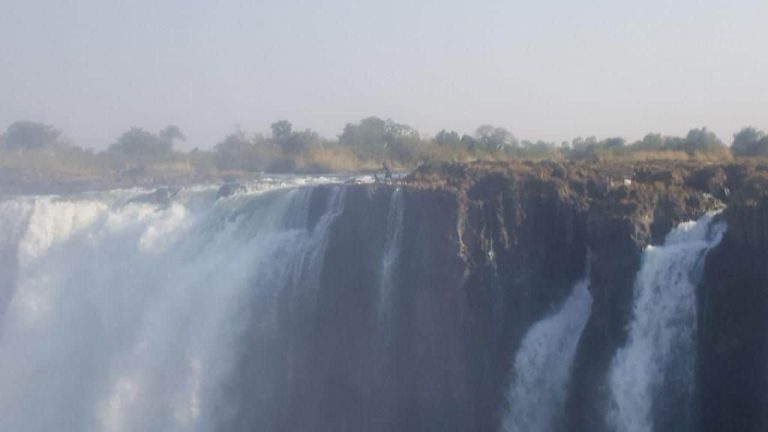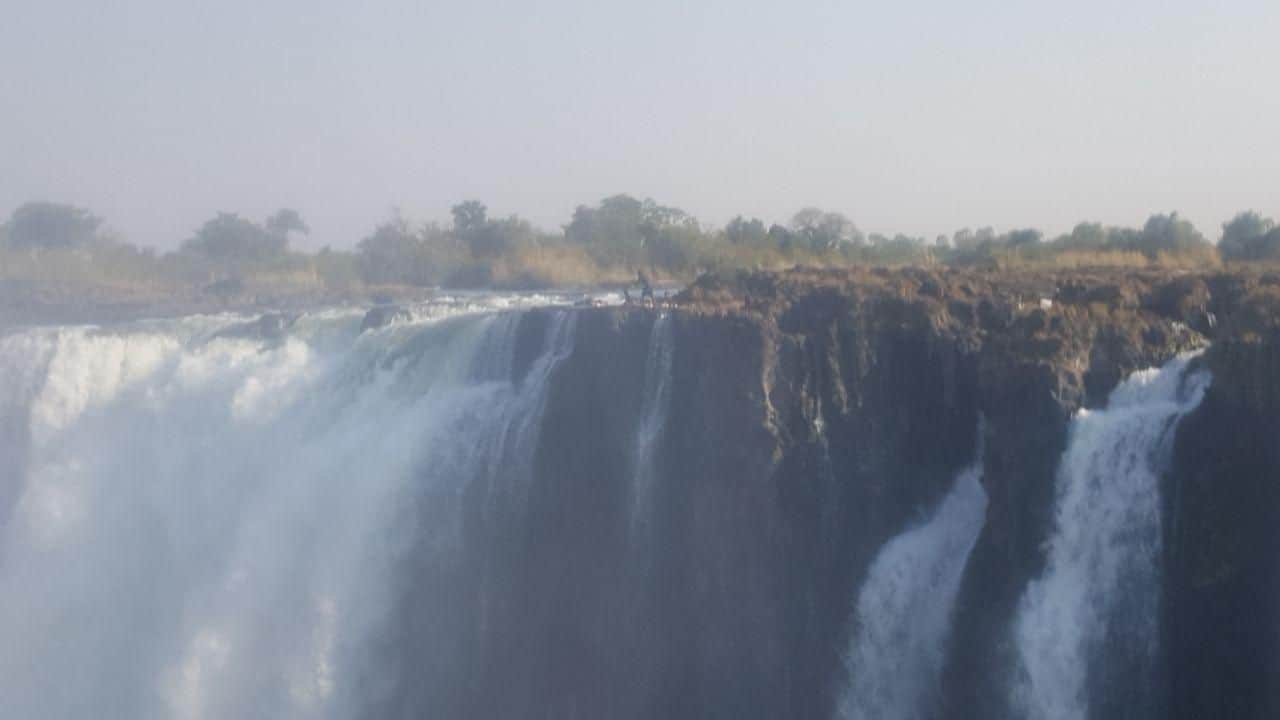 So even though the falls aren't as wide right now, it's still 108 meters high, and it's still a really steep drop. That doesn't change. And yes there is less water, but as you can see above and as you'll see in my videos, there's still a pretty strong current!
I've always enjoyed infinity pools, but artificial ones have got nothing on Devil's Pool.
Isn't this the most amazing infinity pool ever?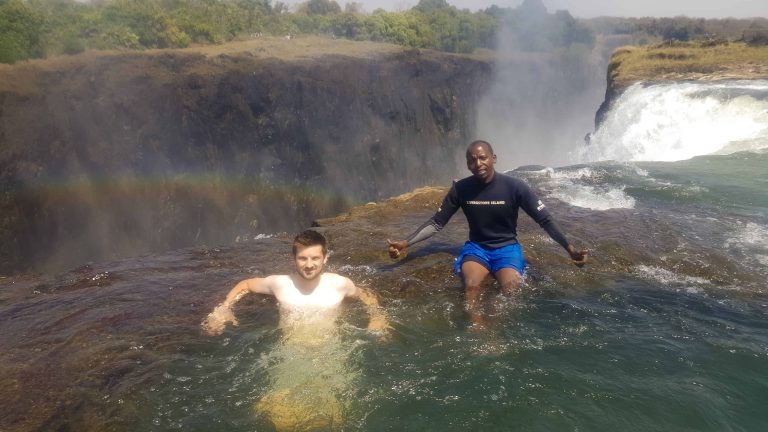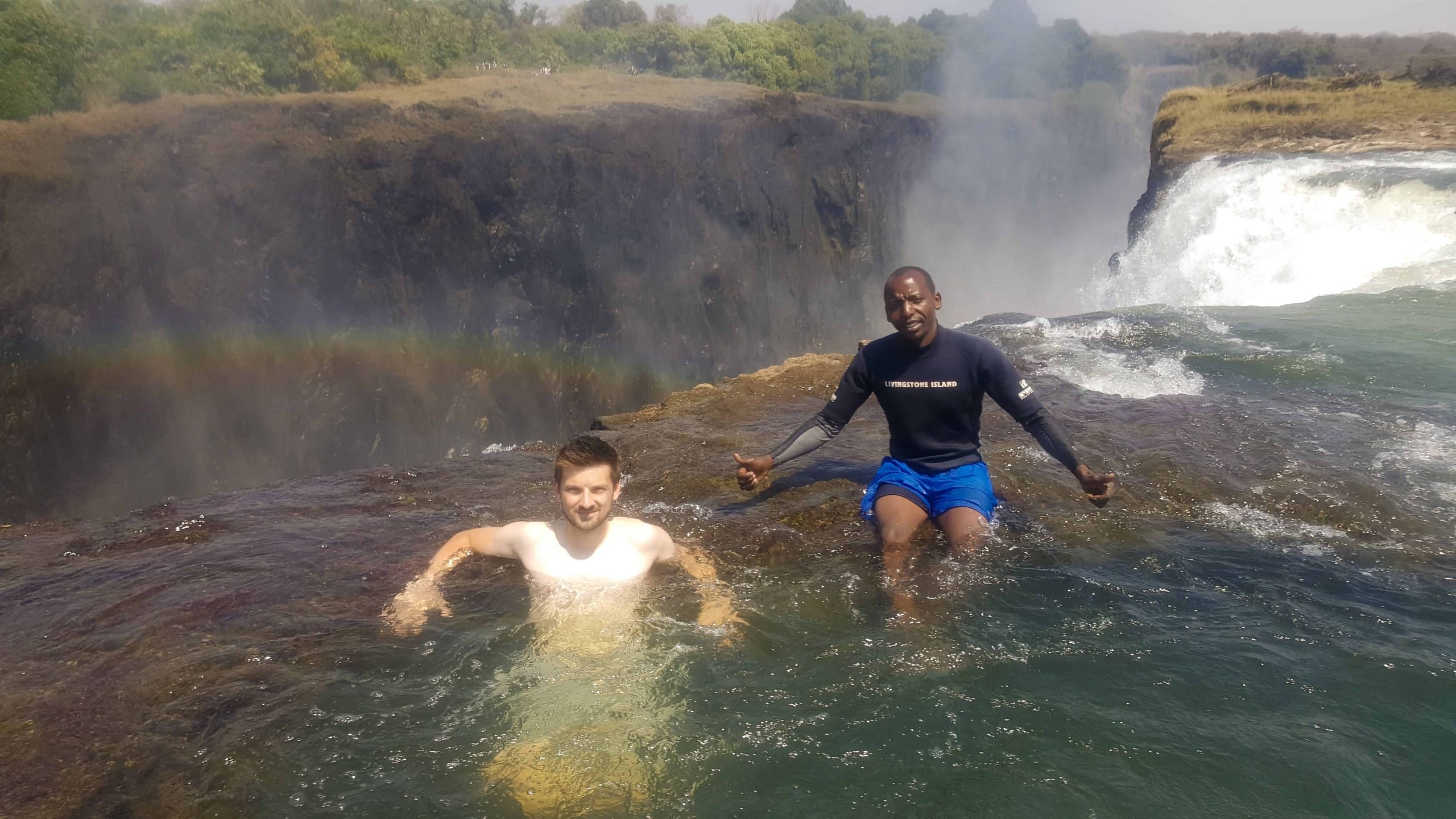 As if chilling in the water a meter away from an insane drop wasn't cool enough, the guides also let us climb on the edge.
I could look down and see the bottom of the falls from the edge. It's an indescribable feeling.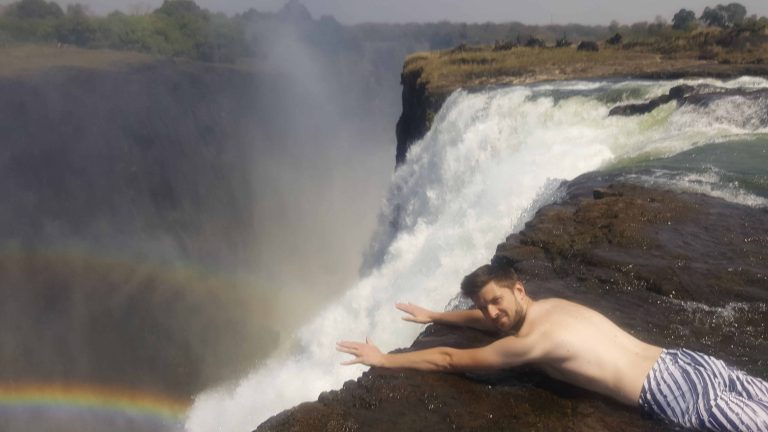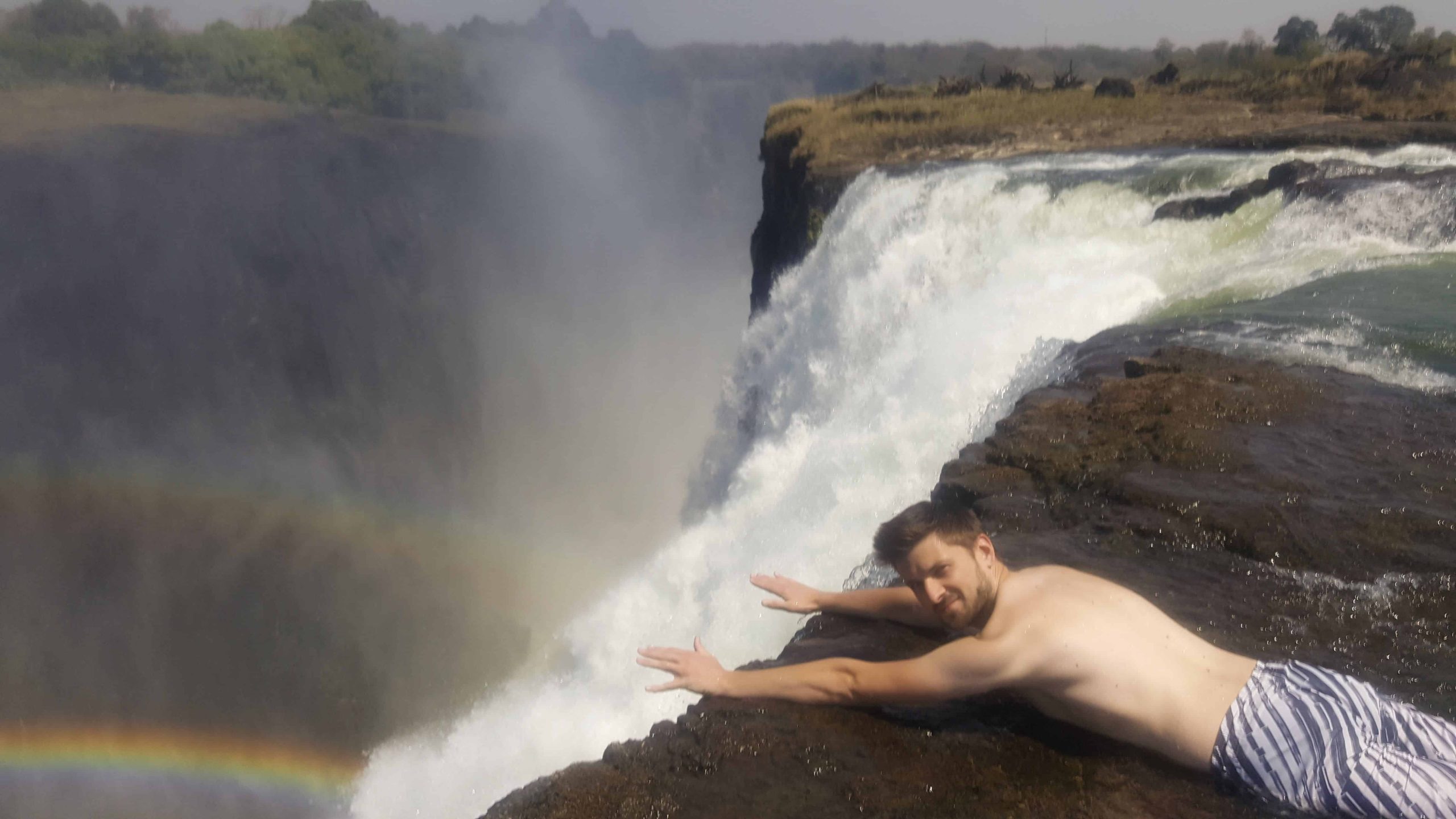 The powerful rumbling of the massive falls and seeing the bottom of the gorge 108 meters below—it was sensational. The famous falls' rainbows are impressive too.
By the way, 108 meters high is reallyyyy high. Imagine laying down at the edge of a 33-story building (that's the height) looking down… but add water flowing all around you and a huge waterfall that you can very clearly hear and see all the way down.
I shot this video from further away, so imagine from even closer to the falls (our guides didn't let us use our devices in the water).
Not sure if this attraction would pass safety regulations in Canada, but I couldn't care less. It was one of the most exciting activities I've done, ever. Maybe not as extreme as skydiving from a very old Russian plane at 12 years-old (that'll be for another post), but pretty exciting nonetheless!
They even warn us that the activity is at our own risk…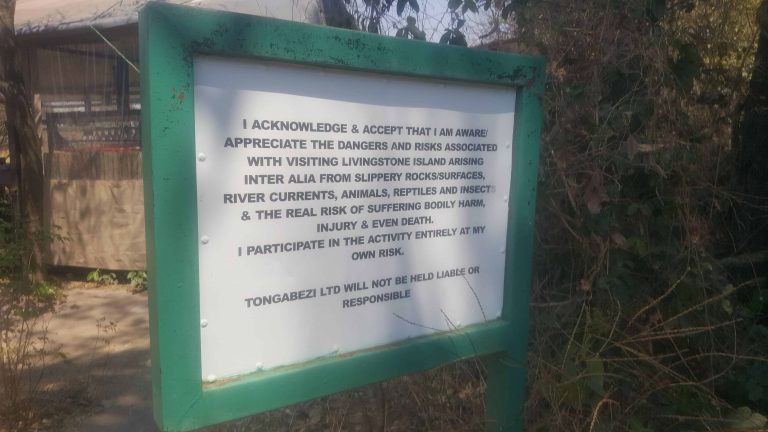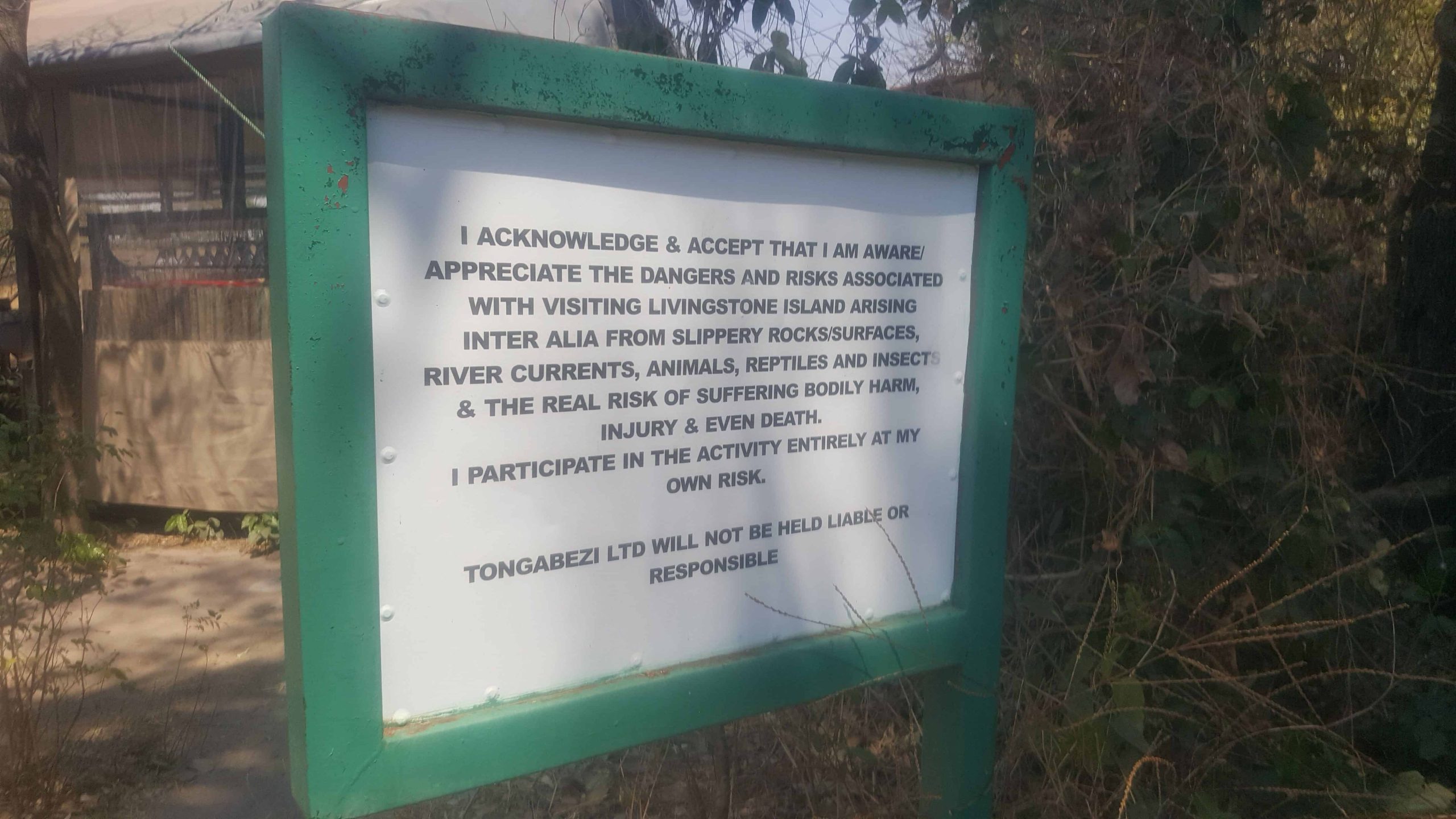 … but no worries: literally no one was ever died here. It's never happened.
After about a half hour swimming in Devil's Pool, we got to walk to the very edge and admire the view of the falls from a unique perspective. It was very different from seeing it from the other side, as most people do.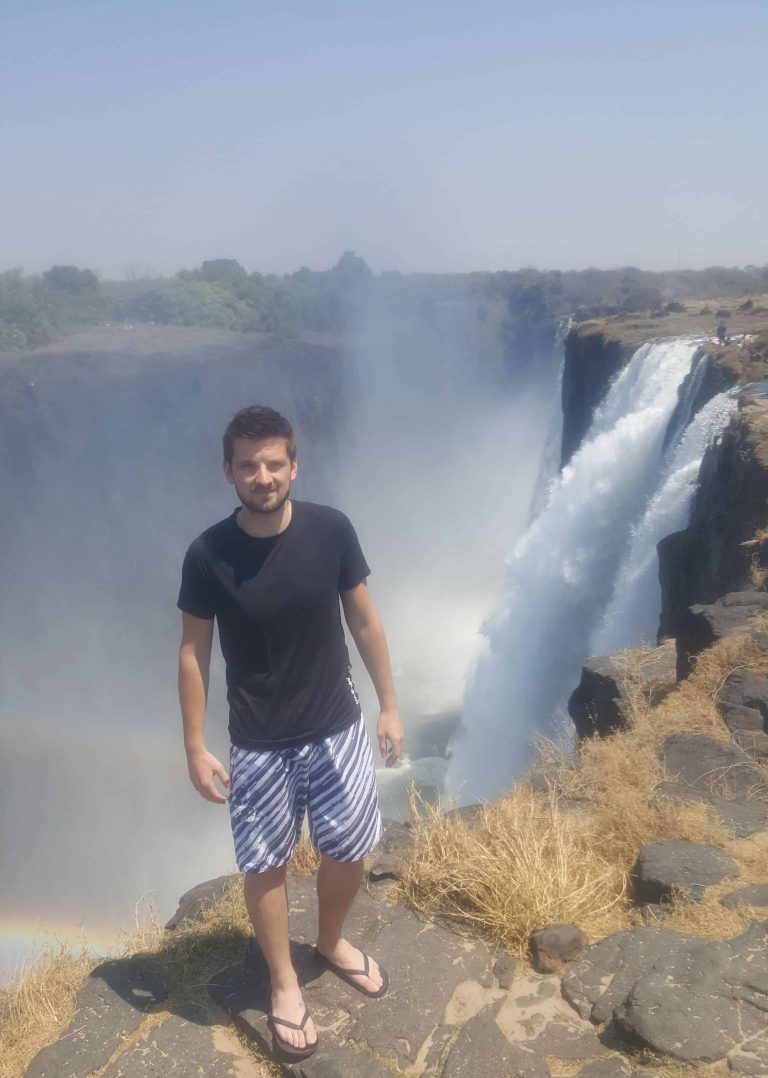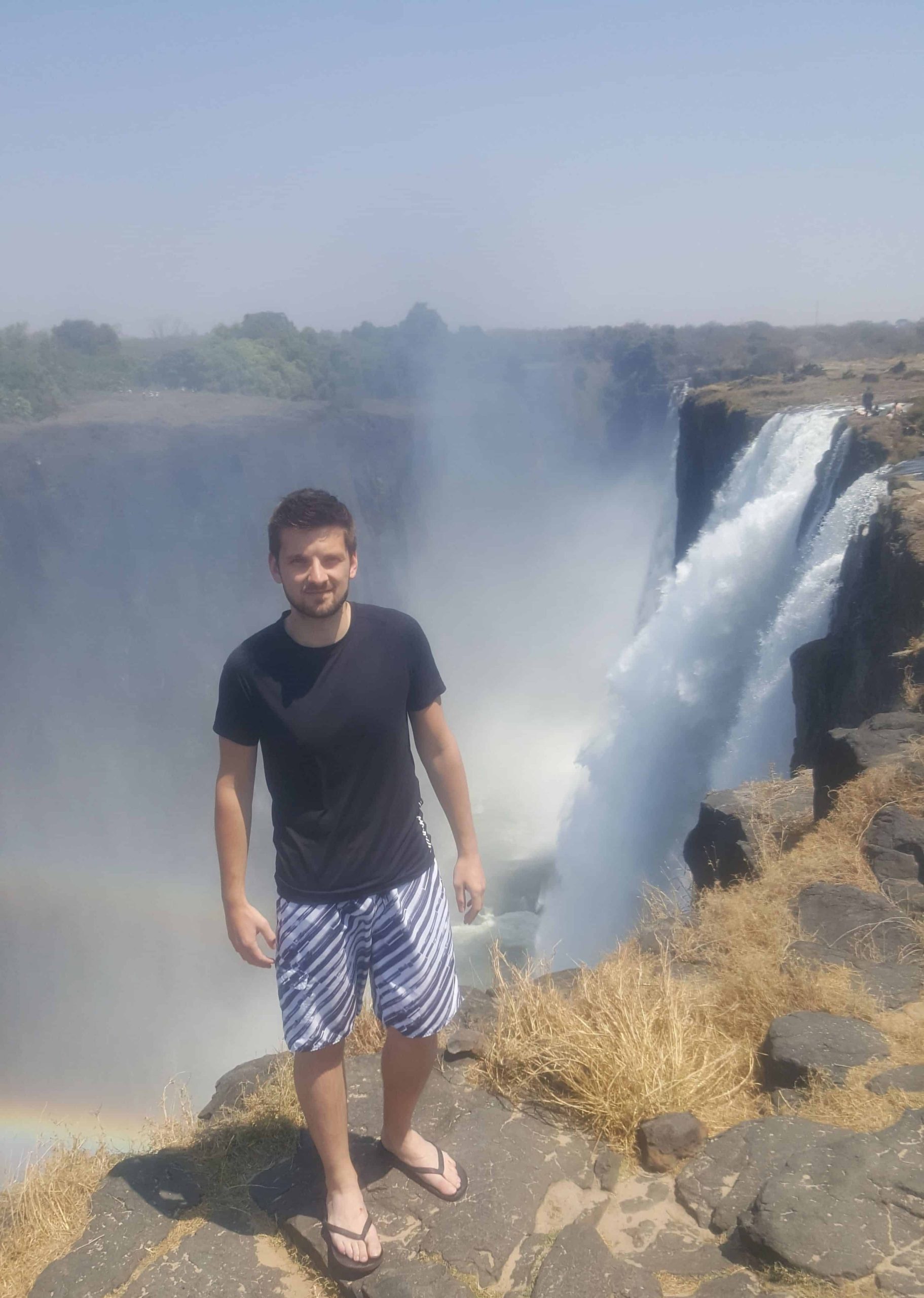 Getting to the pool is quite the adventure itself. We had to walk on rocks and swim across a part of the Zambezi River to make our way to the edge. (There weren't any strong currents during this period, thankfully.)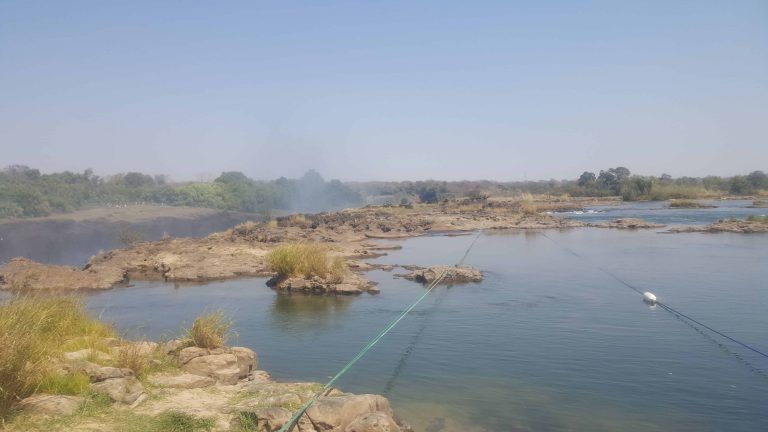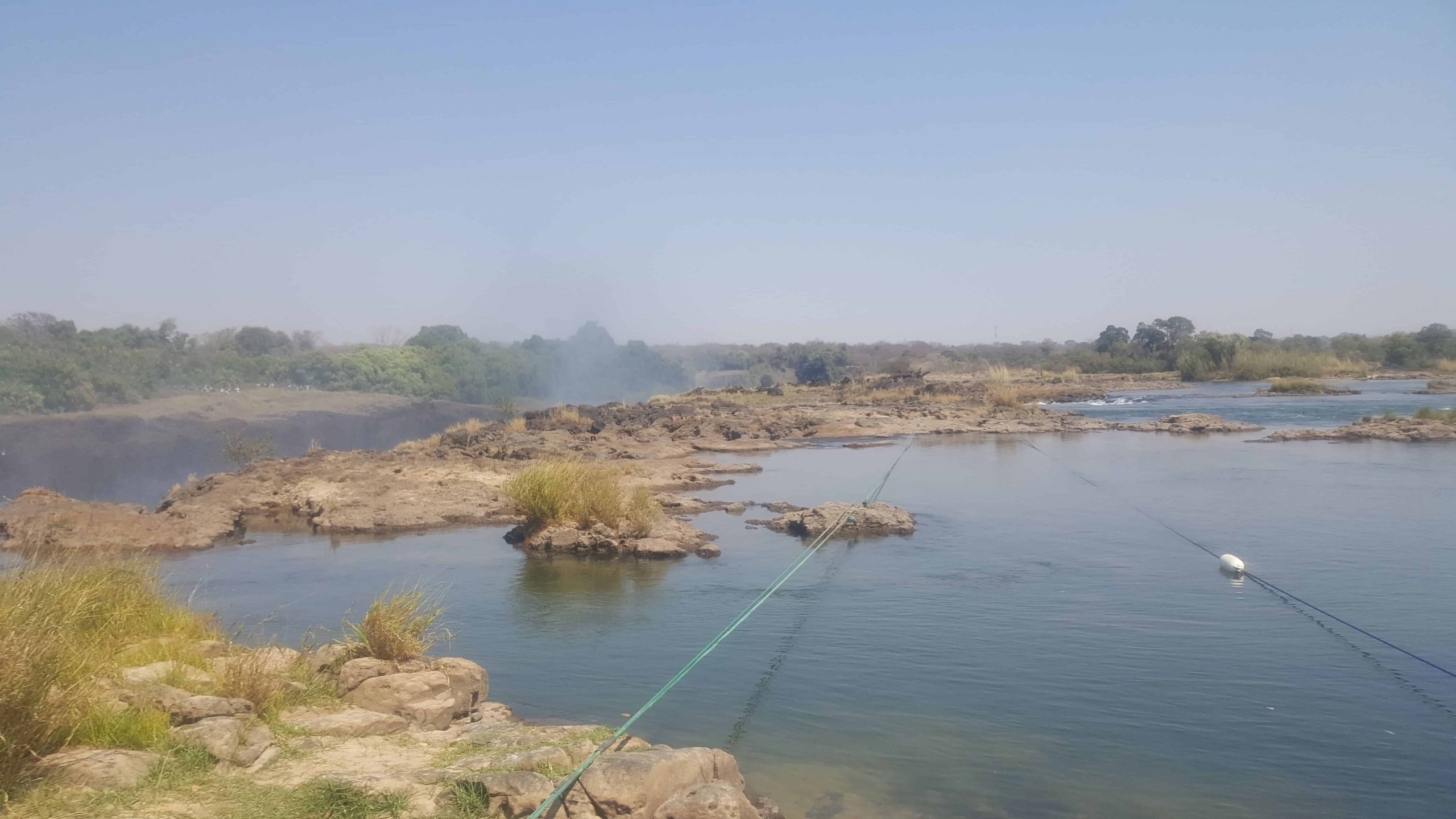 It's surprisingly calm considering it's so close to a massive waterfall.
Before that, we had to take a speedboat ride to Livingstone Island, where you find Devil's Pool, continuously zig-zagging to avoid the rocks.
The downside of visiting Victoria Falls during the dry season is that over 50% of the fall's width is entirely dried up (the part on the right in the very first aerial picture I showed you).
But it was a tradeoff I was willing to make because I was eager to swim in Devil's Pool.
You can't have both. And seeing waterfalls is impressive, but swimming at the top is a unique opportunity. And the Chobe safaris nearby are better in the dry season.
It's still breathtaking to see the massive 90-degree cliff wall that seems to go on forever; I can only imagine how majestic the waterfalls must be during the wet season when they cover the entire length of the canyon.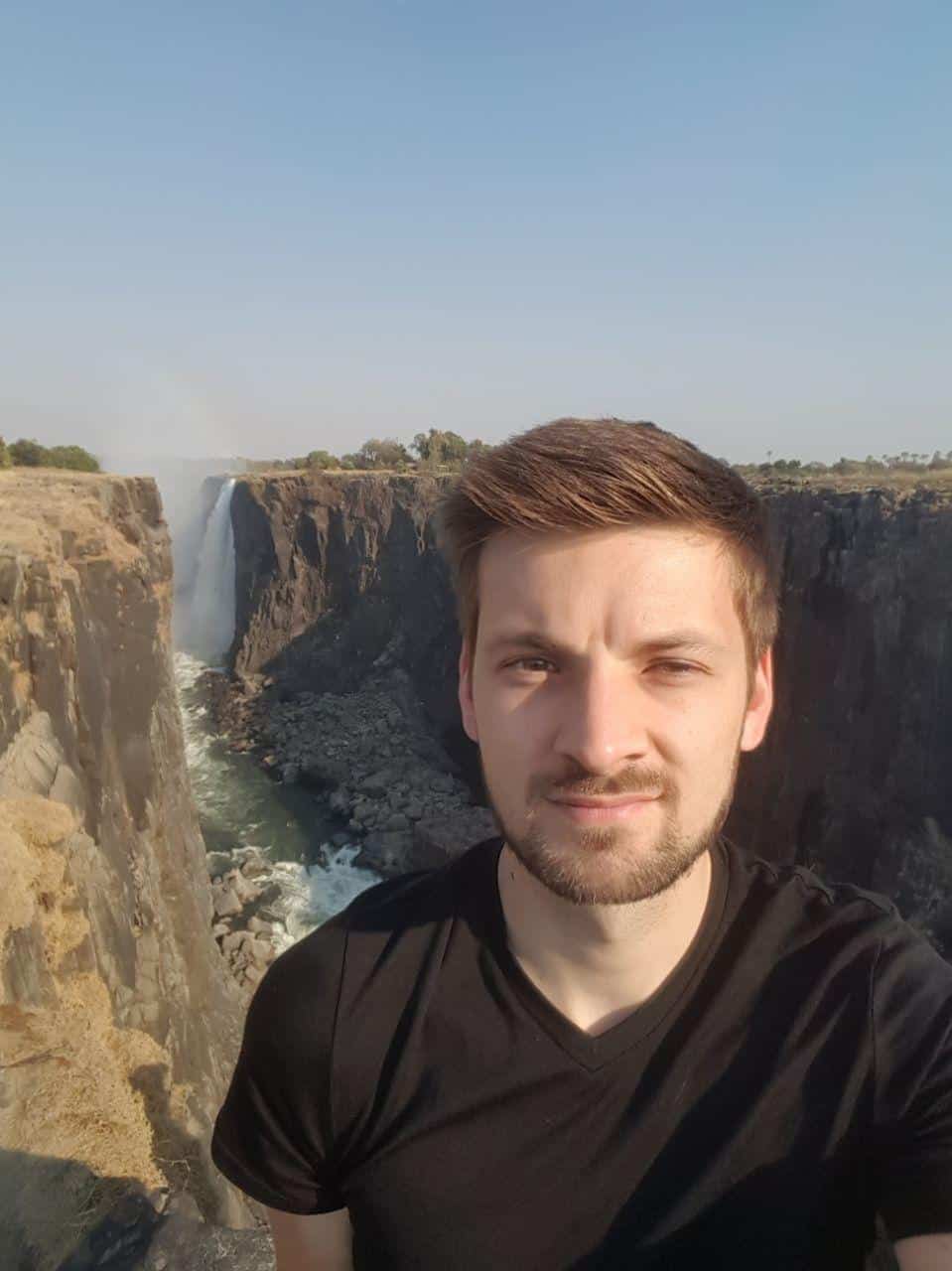 An authentic Zambia breakfast on Livingstone Island wrapped up our time there. But no, it was not crocodile ribs; those are for dinner usually (and they're delicious).
The activity costs US$105 (C$133), which isn't cheap, but it was well worth it.
And also, it's illegal to go there without a guide. I don't usually pay for an organized tour (because I want to travel more), but there was literally no other option in this case.
I'll soon share more about this trip, including:
my boat safari and game drive in Chobe National Park in Botswana, where over 120,000 elephants live
my 1,000-kilometer, 30-hour train journey across Zimbabwe and Botswana, including sleeper-trains 2 nights in a row
my visit on the less insane side of the Victoria Falls, for those who are less adventurous or go during the wet season
my great free hotel stays in Marriott hotels (Southern Africa is one of the best destinations to maximize your free nights)
my trip to Mozambique, a country I predict will be very trendy in 10 years with its amazing beaches and islands
my stay in Eswatini (formerly known as Swaziland; Czechia isn't the only country that changed its name recently)
my roadtrip from Johannesburg to Lesotho, my first time driving in Africa
my incredible visit to the mountain kingdom of Lesotho, one of the most underrated travel destinations with such beautiful landscapes
my flights on small Southern African airlines Air Botswana and LAM Mozambique Airlines
my flights on Air Canada, Alitalia and British Airways
my one-day Rome layover on the way to Africa (long layovers are amazing; there are worse things in life than spending a day in Italy right?)
Summary
Swimming in Devil's Pool was one of the most fun activities I've ever done, whether it's while traveling or not. There's nothing quite like swimming a few feet away from a huge waterfall and seeing the bottom far below. I definitely recommend it if you go to Southern Africa.
Do you want to go to Devil's Pool? What do you think of this experience? Tell us in the comments below!
Help us spread the word about our flight deals and travel tips by sharing this article and, most importantly, bookmark Flytrippers so we can help you navigate the world of low-cost travel!
Featured image: Swimming in Devil's Pool (Photo Credit: Andrew, Flytrippers co-founder)
Advertiser Disclosure: Flytrippers receives a commission on links featured in this blog post. We appreciate if you use them, especially given it never costs you anything more to do so, and we thank you for supporting the site and making it possible for us to keep finding the best travel deals and content for you. In the interest of transparency, know that we will NEVER recommend a product or service we do not believe in or that we do not use ourselves, as our reputation and credibility is worth far more than any commission. This principle is an essential and non-negotiable part of all our partnerships: we will never give any third-party any control whatsoever on our content. For more information on our advertiser disclosure, click here.
Share this post to help us help more people travel more for less: