Bryanna is a guest-blogger at Flytrippers. Read her bio at the bottom of this page.
In June I visited a Canadian National Park with the reputation of being wild and mostly untouched by humans. From melting glaciers to forests devastated by a native beetle, I was able to see Jasper in a way future generations will never be able to. I realized through this visit that nature has its own time-table and we have to seize moments while we still have the opportunity.
After visiting Kootenay and Banff National Park, we drove northwest toward Jasper, making many scenic stops along the way.
The following are highlights of the world-renowned road called the Icefields Parkway or 93 and the beautiful spots to see in Jasper. The National Park is located west of Edmonton and northwest of Calgary (where you can often find cheap flights to on Flytrippers' cheap flights deals page).
Athabaska Glacier
After leaving our campground in Lake Louise, we drove to Peyto Lake, where a lightning storm interrupted our scheduled hike to Bow Summit. In every trip there needs to be room for unplanned events. In our case, we just continued driving northwest.
We wanted to hike Parker Ridge, but it was still snowed in so we changed our plans again and continued until we reached the Icefields Center in Jasper. This is where you can ride a monster truck or go on a guided hike on the famous Athabaska Glacier. Be warned that it is not only cold and wet, but also terribly windy. Unfortunately, we did not go on any tours but we do regret that now and recommend at least the guided hike.
As we had lots of time on our hands we parked our RV in an overnight parking directly at the Icefields Parkway (for a very inexpensive price – no services though) and went to explore the glacier on foot. We could not actually go on the glacier, but it's worth the effort to get as close as authorized. As you walk up to it, there are signs that show how much the glacier has melted through the years.
It was the first time that I could see hands-on the effects of global warming on such a big scale. After warming up, we decided to hike Wilcox Pass. It took us to an overview of the glacier and we enjoyed seeing both perspectives (near and far). But the wind was blowing with fury. In the evening, we went to the Icefields Center where I was delighted to find Free WiFi (I know, typical teenager).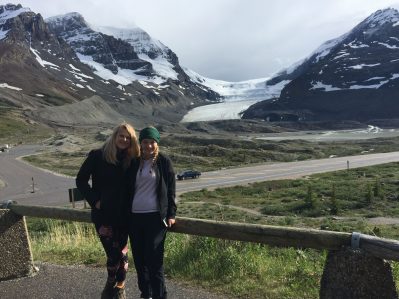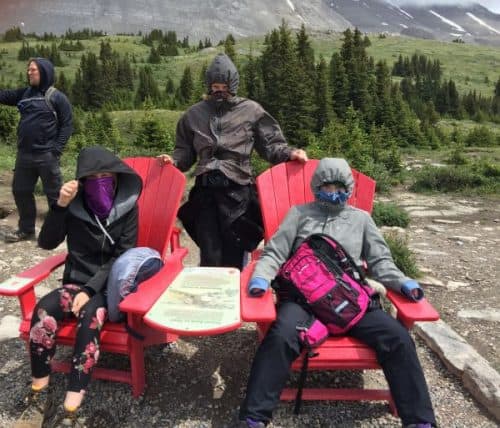 Goats and Glaciers
The next morning we starting driving bright and early with the goal of stopping at every scenic stop on the way to Jasper. One of them was a look-out called Goats and Glaciers. It's a nice view-point but we were very disappointed not to see any goats…or glaciers for that matter.
Sunwapta Falls
This is a 2.8 km hike to nice waterfalls. They don't compare to other falls like Johnston Canyon, but it felt good to stretch out and walk a little.
Athabasca Falls
This is a short but rewarding stroll through canyons to get to see falls from different angles. Definitely worth the half-hour! Our campground (Wabasso) was near this stop so we checked in. We all sort of gasped when we entered the campground. Most of the trees are still standing but they are dead, killed by a local beetle that has proliferated because of global warming and protection from forest fires. This was just the beginning. Most of Jasper's trees are dead.
That afternoon, and for the next two days, we were ready to explore the rest of Jasper. We were too pressed for time to drive all the way to Miette Hotsprings but we did see some popular and less popular sights that I want to share with you.
Jasper Stables
Jasper Stables offers horseback riding tours. 13 years ago when I was just 2 years old, we had taken pictures at the same stable and, according to my parents, it hadn't changed a bit. This time we took a one-hour tour (you can have longer tours). The guide explained why most trees in Jasper look dead: they are dead, like standing matches waiting to be lit up.
Because man tried to halt fire and because winters are milder, a native beetle's population has blown out of proportion and is eating all the trees. The residents need evacuation plans in case a fire begins…and it is sure that one will eventually start. When this happens, it won't be possible to stop it and Jasper will be changed for a long time.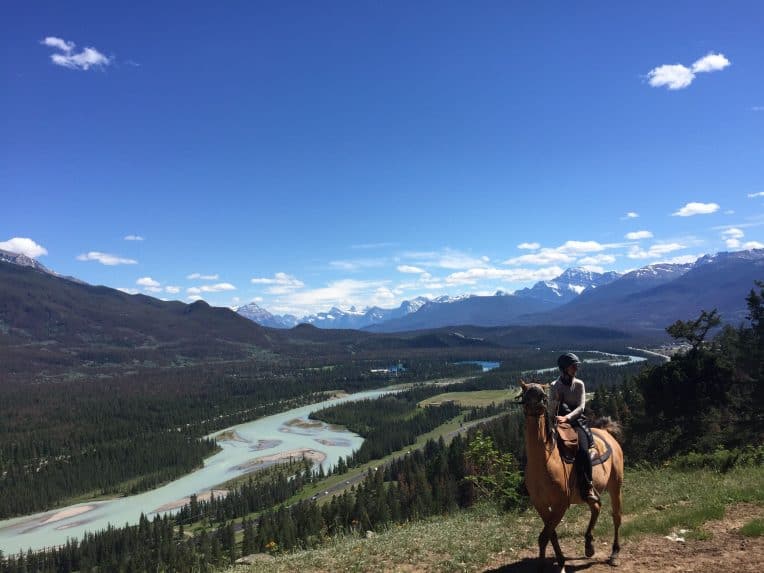 Maligne Lake
Although Maligne Lake is nice, I think it's overrated. There are boat rides to a tiny island called Spirit Island. It's quite expensive for what you get. We had been so spoiled by the beauty of Lakes Louise and Moraine that we didn't feel the need to do it.
Don't get me wrong, Maligne is beautiful but hiking around it was enough for me. The trail we were supposed to do (Mary Schaffer Loop) was closed because of bear activity, so we kept to the short trails around the lake. Maligne Canyon and Medicine Lake are really worth stopping at. Medicine Lake is calm and serene and Maligne Canyon is a narrow canyon with rushing waters.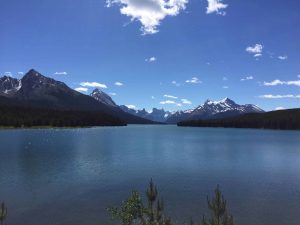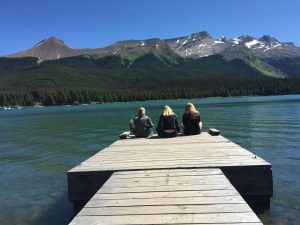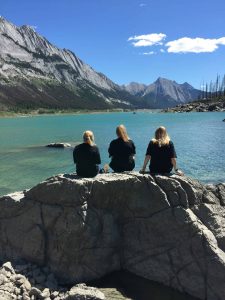 City of Jasper
The city of Jasper is a cute little town where you can buy souvenirs, restock your groceries, do your laundry or sit by the railroad and stare at the amazing cloud formations. It is laid back and has everything a tourist-town should offer.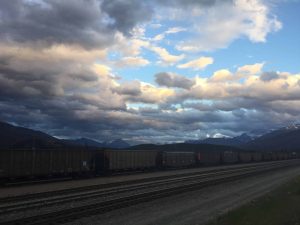 Lake Edith and Annette
In the official Visitor Guide of Jasper, Maligne Lake takes all the attention but there are two gems that need to be discovered: Lake Edith and Lake Annette.
The water in lake Edith is crystal clear; there's a nice beach that isn't overpopulated with tourists and you can rent paddle boards for a reasonable price. Fun fact about Lake Annette: there's a glass shark somewhere at the bottom that scuba divers try to find when they want to practice. Here, we felt like locals instead of tourists lined up to see the same view or take the same picture – it felt authentic.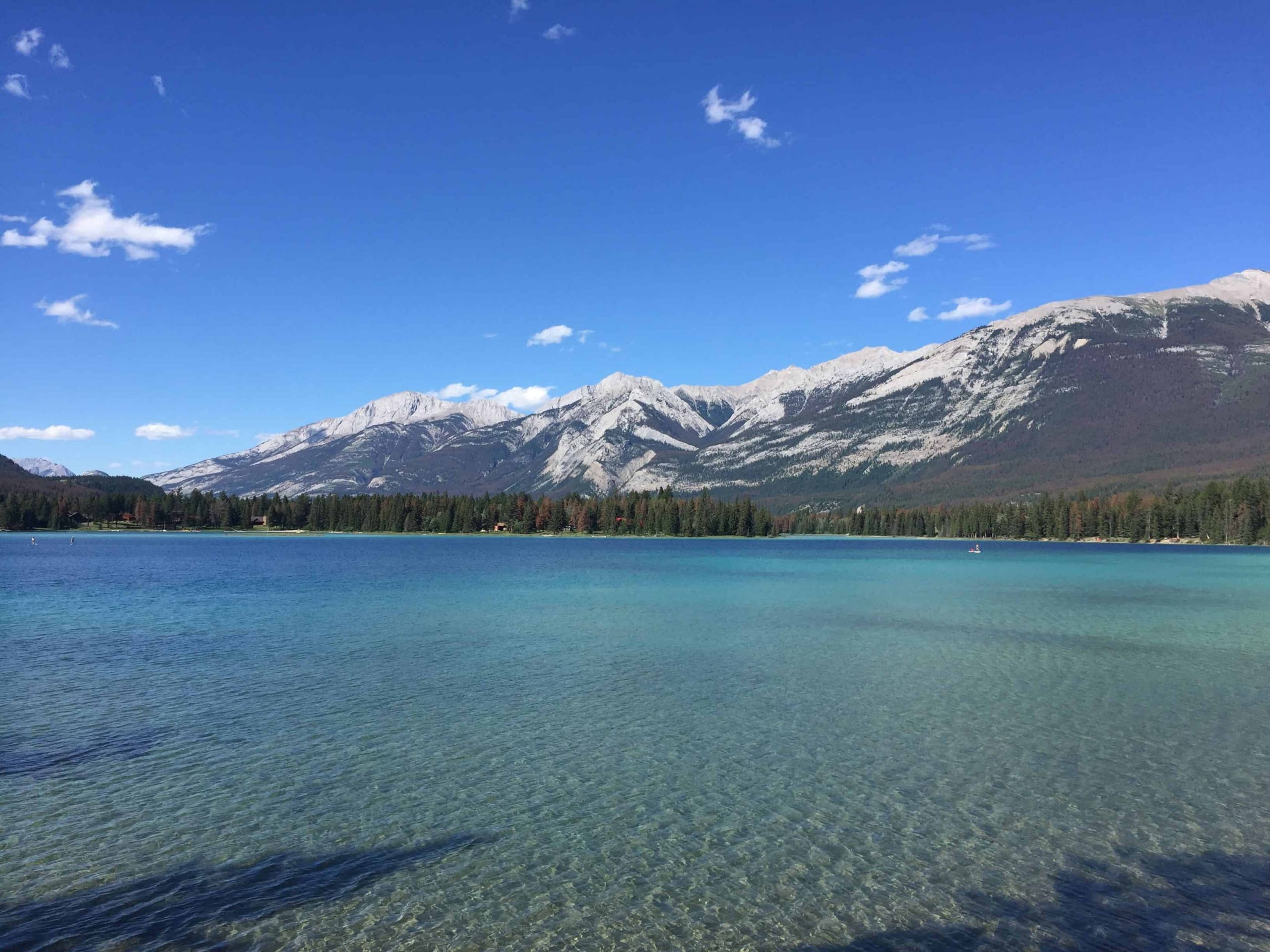 Valley of Five Lakes
As you may have guessed, this 4.5km loop trail winds through the forest and leads us to 5 different lakes, each one unique. Beware though, the trail is not well indicated and you could end up going in circles.
For this hike I suggest you bring a map and bug spray. On lake 4 we had the privilege of seeing some loons playing in water so clear that we could follow them with our eyes when they dove underwater.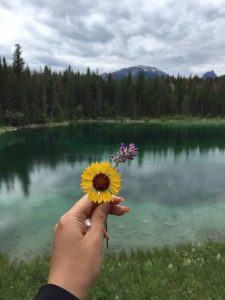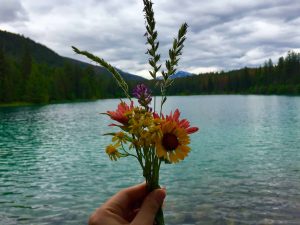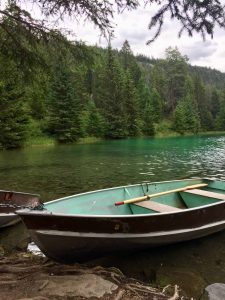 Bottom Line
Jasper is a spectacular national park, but its ecosystem may change in the near future. Within the last ten years it has already changed so much. So don't delay, and visit while you still can.
Ever been to Jasper? Alberta? Tell us about it!
Help us spread the word about our flight deals and travel tips by sharing this article and most importantly bookmark Flytrippers so we can help you navigate the world of low-cost travel!
Advertiser Disclosure: Flytrippers receives a commission on links featured in this blog post. We appreciate if you use them, especially given it never costs you anything more to do so, and we thank you for supporting the site and making it possible for us to keep finding the best travel deals and content for you. In the interest of transparency, know that we will NEVER recommend a product or service we do not believe in or that we do not use ourselves, as our reputation and credibility is worth far more than any commission. This principle is an essential and non-negotiable part of all our partnerships: we will never give any third-party any control whatsoever on our content. For more information on our advertiser disclosure, click here.
Share this post to help us help more people travel more for less: