Have you ever dreamed of traveling all across the United States? It's a huge country and the climate varies a lot. But you can see almost the entire country while staying at a constant comfortable temperature, perfect if you don't want to freeze and if you don't want to be sweating the whole time either.
Okay, we know it's unlikely you'll leave everything behind and leave on a year-long roadtrip, even though everyone wishes they could do something like that (although if you subscribe to our free newsletter, in the coming weeks we'll share our plan to at least help you make your New Year's resolution to travel more a reality).
But the weather data on this map could at the very least help you plan your US trips. Because yes, it's possible to go on a year-long US trip that will allow you to experience some of the most beautiful parts of the country while keeping mild conditions that most people are comfortable with: a constant 70°F (≈ 21°C).

A climatologist from Alaska, Brian Brettschneider, has tracked the temperature patterns moving around the US so that anybody looking to explore the country can do so without being exposed to excessive cold or unbearable heat.
Based on these patterns, Brettschneider created an itinerary for a 12-month journey that covers 30 of America's 50 states, for a total of 9,125 miles (around 14,685 kilometers). This is almost as cool as the itinerary to visit all 48 contiguous US States we shared before.
The Itinerary
It's not an itinerary that you should follow to a T, because all it does is precisely follow weather patterns to always be at 70°F… if you do go on this trip (or parts of it), you can be a little flexible around the "route" to see many more interesting attractions.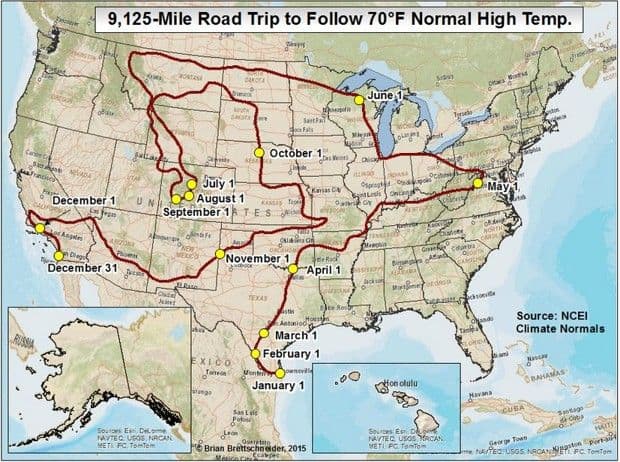 We'll soon share the highlights that are directly on the meteorological routing (and a few worthwhile detours) in Part 2 of this article.
To help you discover your own country, one that offers a lot of variety and remains an interesting option for shorter trips, since it is the closest you can go.
Want more awesome roadtrip ideas like this straight to your inbox?
Summary
With this temperature-driven itinerary in mind, you can customize and personalize the ideal warm-weather roadtrip. You can find comfortable constant weather conditions year-round in the contiguous United States!
Does warm weather year-round appeal to you? What kind of weather do you prefer for your trips? Have you ever been on a US roadtrip? Let us know in the comments!
Want to see our current discounted plane tickets?
Click here to see our flight deals
Want more travel tips and inspiration?
Click here to see the blog homepage
You'll probably enjoy this article:
Travel Hacking: Free Travel (really)
Help us spread the word about our flight deals and travel tips by sharing this article and, most importantly, bookmark Flytrippers so we can help you navigate the world of low-cost travel!
Featured image: Southern California (Photo Credit: Matt Howard)
Advertiser Disclosure: Flytrippers receives a commission on links featured in this blog post. We appreciate it if you use them, especially given it never costs you anything more to do so, and we thank you for supporting the site and making it possible for us to keep finding the best travel deals and content for you. In the interest of transparency, know that we will NEVER recommend a product or service we do not believe in or that we do not use ourselves, as our reputation and credibility is worth far more than any commission. This principle is an essential and non-negotiable part of all our partnerships: we will never give any third-party any control whatsoever on our content. For more information on our advertiser disclosure, click here.
Share this post to help us help more people travel more for less: