The Las Vegas Sphere has been very popular in my stories on my personal Instagram account last week. I'm guessing it's either because many just didn't know this big ball existed or didn't realize how huge the big ball is. It's downright the biggest sphere in the world.
I personally don't find Las Vegas a very attractive destination (so much so that I want to make that explicitly clear). But I was there for the When We Were Young music festival this year (as I was last year) to see Blink-182, Yellowcard, All Time Low and literally 50+ other bands. As an architecture fan, I went to see the Las Vegas Sphere both time.
So here are all the details on the Las Vegas Sphere, including my photos/videos from last week (and a few from last year while the big sphere was under construction).
Las Vegas Sphere — Basics
The Las Vegas Sphere is a rather unique venue for shows and events.
Its clever name comes from the fact that it's shaped like a sphere (as you've no doubt deduced if you have the slightest shred of awareness). Officially, the name is just "Sphere" but the website is TheSphereVegas.com, so it's not clear.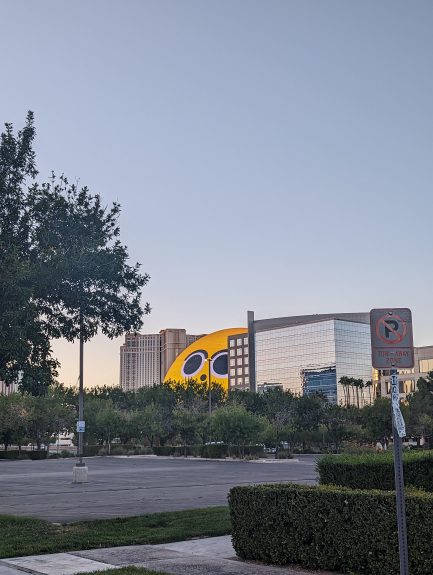 The Las Vegas Sphere has nearly 19,000 seats (a capacity similar to the Golden Knights' T-Mobile Arena a few blocks away) and cost over $3 billion to build (an even higher price tag than the Raiders' Allegiant Stadium a little further down the road).
In marketing verbiage, the owners describe the Las Vegas Sphere as being "at the intersection of art and technology."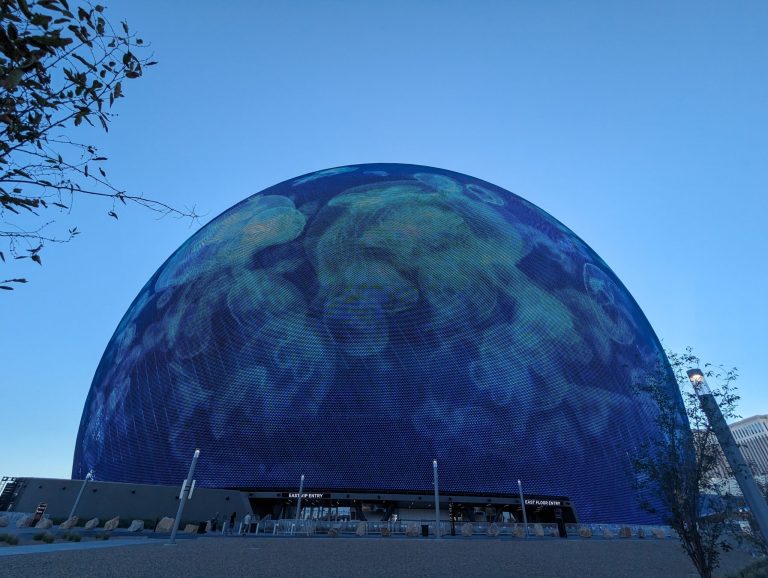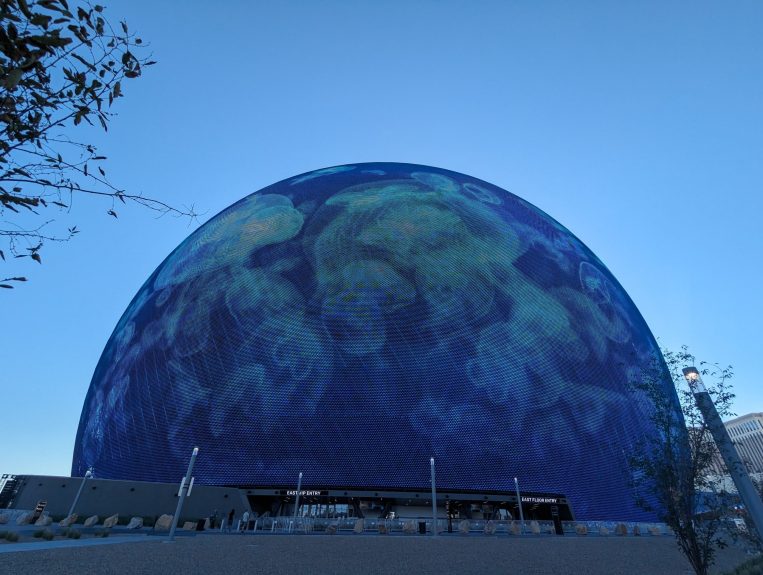 In short, it's a big ball. The world's largest spherical building.
At first glance, it's very Vegas. A typical Vegas attraction — tacky and flashy, like almost everything else in the area.
That said, some have called it the best amphitheater in the world. The Las Vegas Sphere has the world's largest, highest-resolution high-definition LED screen (designed by a Canadian firm, by the way).
On the way back from the festival, we even got a pretty apocalyptic view of the big ball at the end of the street.
Ver essa foto no Instagram
For quite some time now, the Las Vegas Sphere has been going viral for the strange images of having a big video sphere in the city.
Especially since, on social networks, so many people had shared their views of being in one of the thousands of hotel rooms in Las Vegas and seeing a giant emoji staring back at them through their window.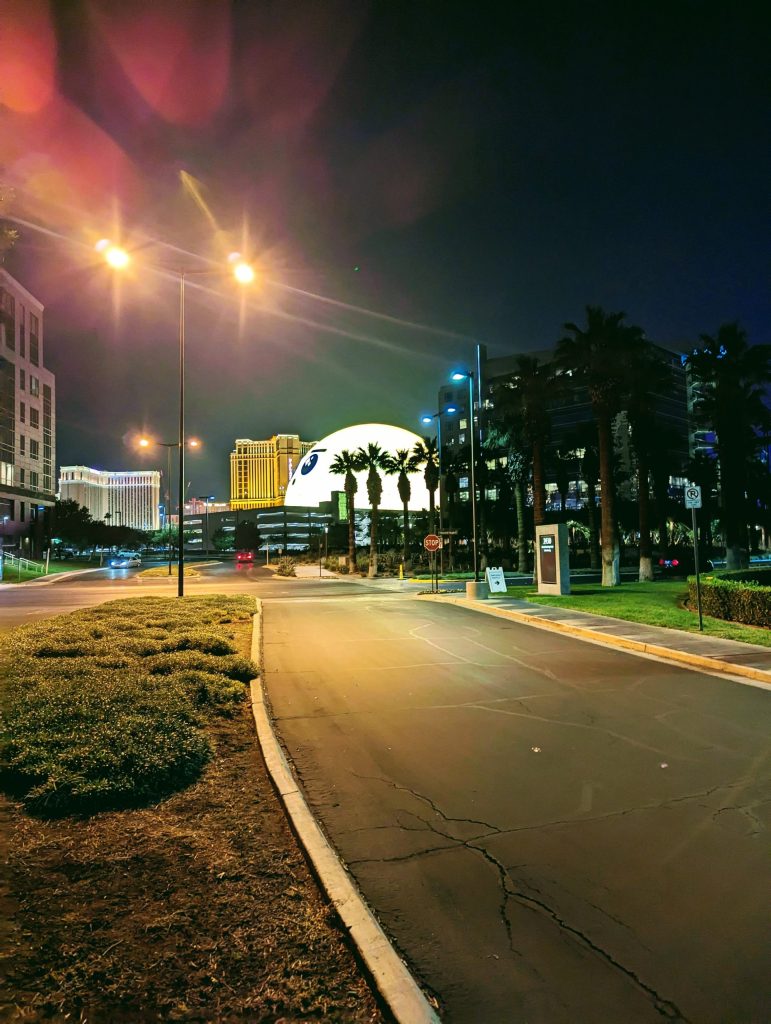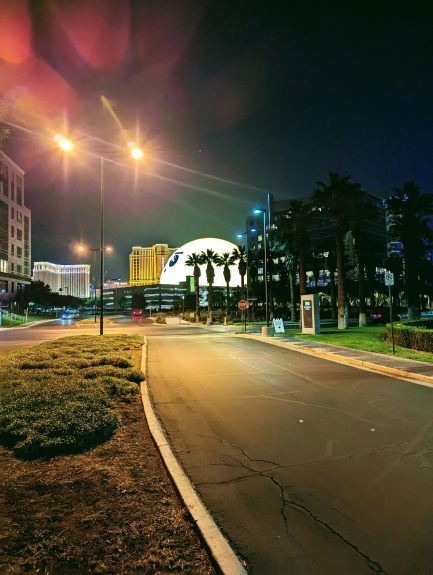 You'll see even more soon, since Las Vegas will host Formula 1 in a few weeks. It will be the 1st-ever night race in North America, the last of the record-high 5 F1 Grands Prix in North America in 2023.
Anyway, people usually love this kind of unique, out-of-the-ordinary thing. So much so, in fact, that the owner even wants to build more Spheres in other cities. London is supposedly the next city to be graced with a giant ball, but construction hasn't started yet, so it's far from official.
Las Vegas Sphere — Location
I'd like to specify that the Sphere is not in Las Vegas in the sense of the municipality/city of Las Vegas. Literally no part of the famous Strip is located in Las Vegas either.
I like to make you learn about our world, so here you go, now you know that everything everyone thinks of as "Las Vegas" (like resorts, casinos, and the "Welcome to Las Vegas" sign) aren't in the city of Las Vegas. It's actually the towns of Winchester and Paradise.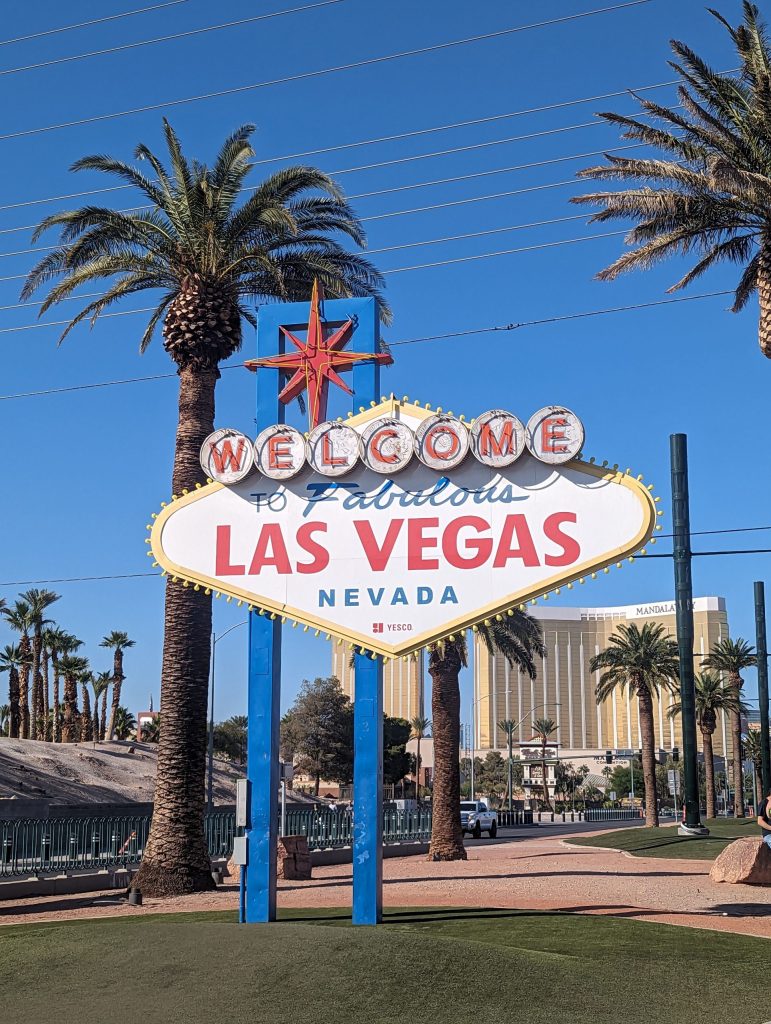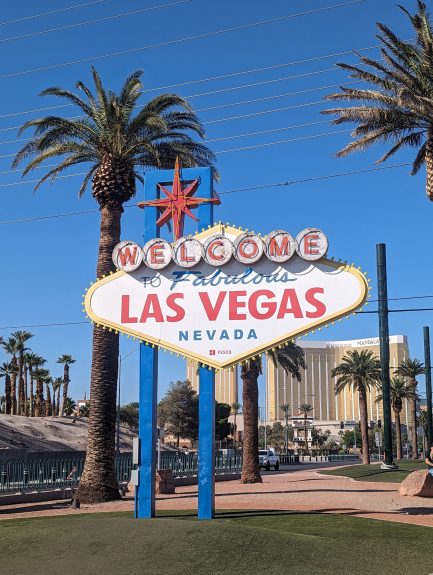 It's why I always tell you that the term "city" should always really just mean the urban and metropolitan area. The arbitrary imaginary lines of municipal bureaucrats and politicians are really irrelevant.
Anyway, the Las Vegas Sphere is located 1 block behind the Strip, behind the famous The Venetian Resort (and its adjacent sister property The Palazzo at The Venetian), which provided the land. It's about in the middle of the Strip, on the edge of what's called the north side of the Strip.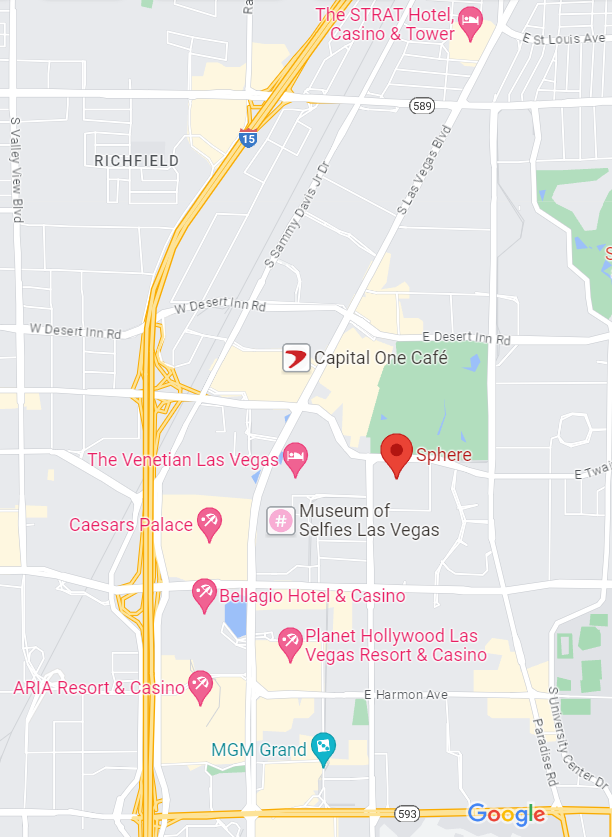 It's a shame, though, that the Las Vegas Sphere isn't directly on the Strip, it seems to me like a bit of a missed opportunity. A flashy thing like that would fit in well with the rest on the Strip.
But okay, considering the value per square foot on one of the world's most prestigious thoroughfares, it's understandable. At least the Las Vegas Sphere is partly visible from the Strip.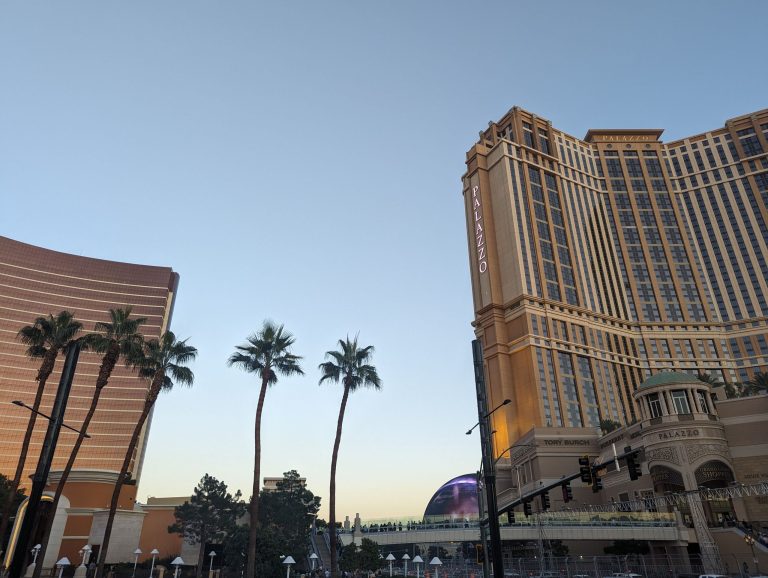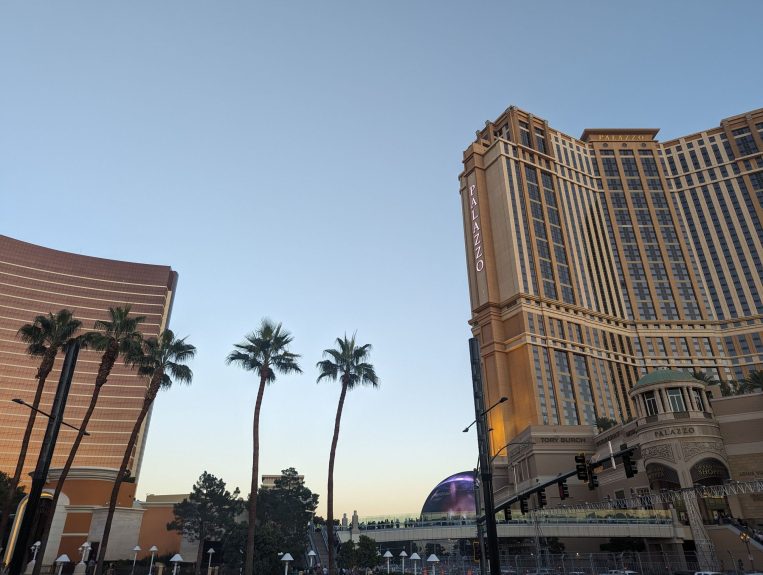 Here's my view from my plane taking off from Las Vegas Airport (LAS) last year to show you how close the Las Vegas Sphere is to the Strip (the black sphere that is towards the right of this series of buildings).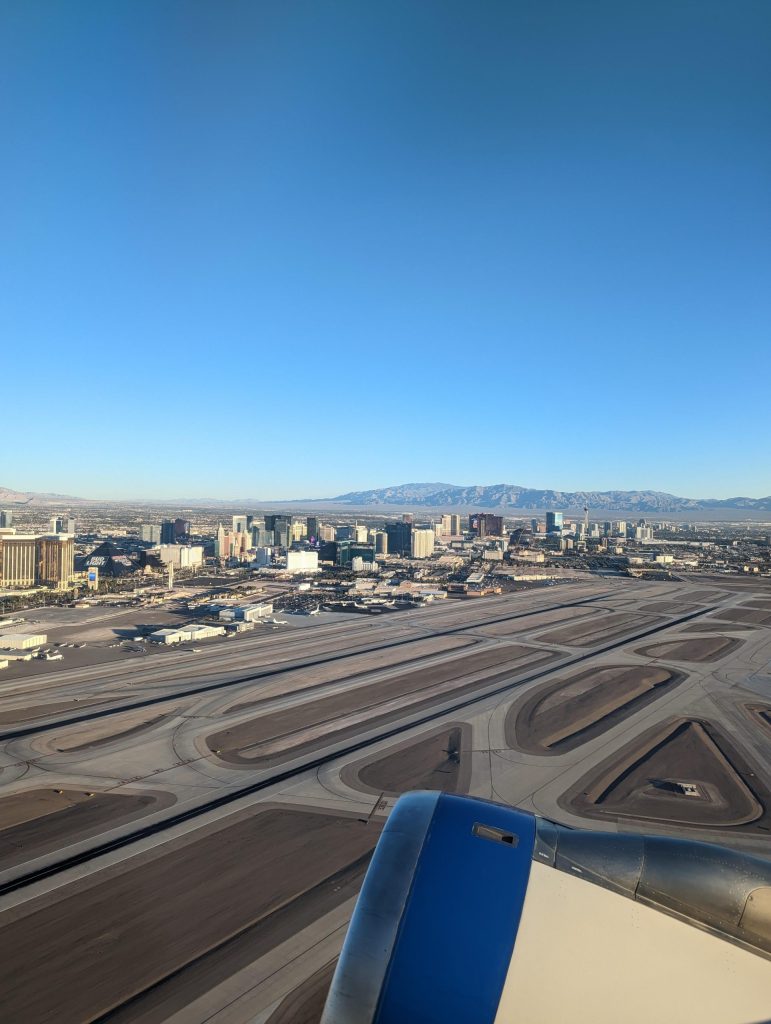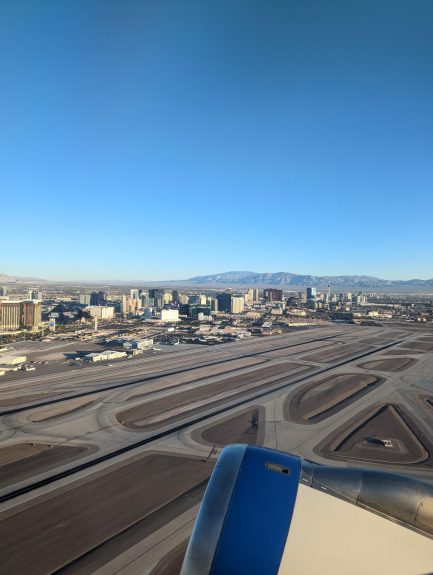 And finally, to give you a good idea of where the Las Vegas Sphere is located, here's the view of the black sphere pretty much in the middle, from a little higher up (in addition to contextualizing its size; you can see that the ball is quite similar in size to the huge towers of the Strip's resorts).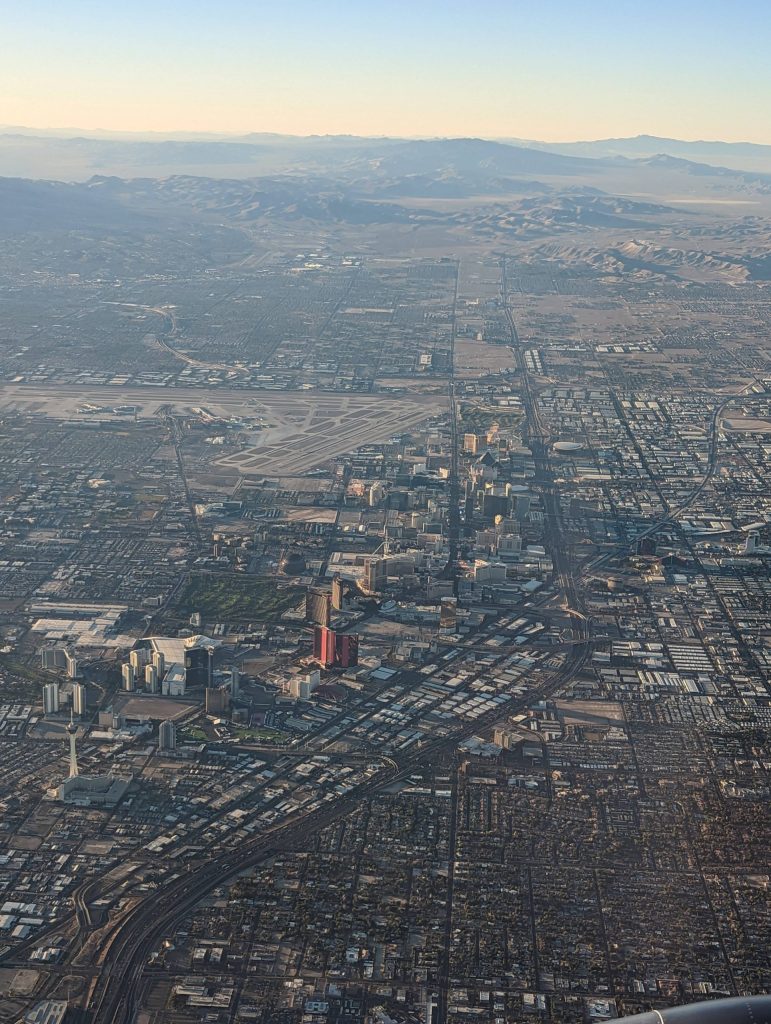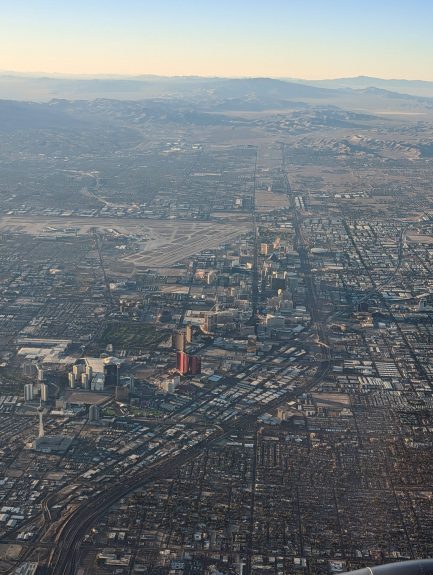 Las Vegas Sphere — Exterior
The Las Vegas Sphere is 112 meters high (equivalent to around 34 stories) and 157 metres in diameter.
If you've ever been, it's about twice as big as the Biosphère in Montréal, which was also originally another American Think Big thing (it was built by the US as their pavilion for Expo 67).
You can see the people walking in the foreground; I took this video so you can get a good idea of the size of the Las Vegas Sphere.
I like architecture and engineering, but even if you don't, I think it's an interesting thing to see.
To visit the modern architecture from the outside, it's obviously free and worth the very short detour if you're on the Strip anyway.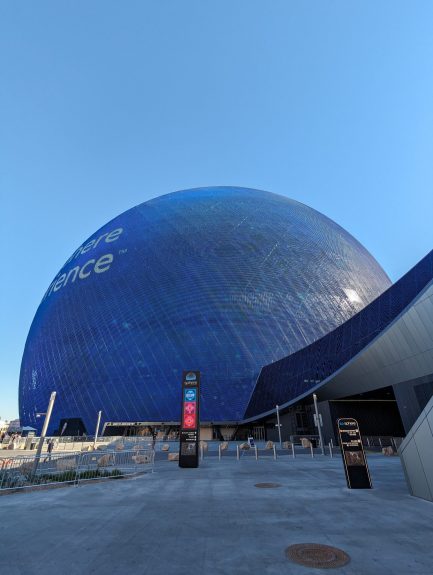 Aside from the unique exterior screen, it's impressive in size too, that's for sure.
It's hard to miss the Las Vegas Sphere in the distance.
Obviously, the fact that the entire exterior is covered in screens is what fascinates people most about the Las Vegas Sphere.
The LED screens cover 580,000 square feet (a standard grocery store has around 30,000 square feet of floor space to give you some context).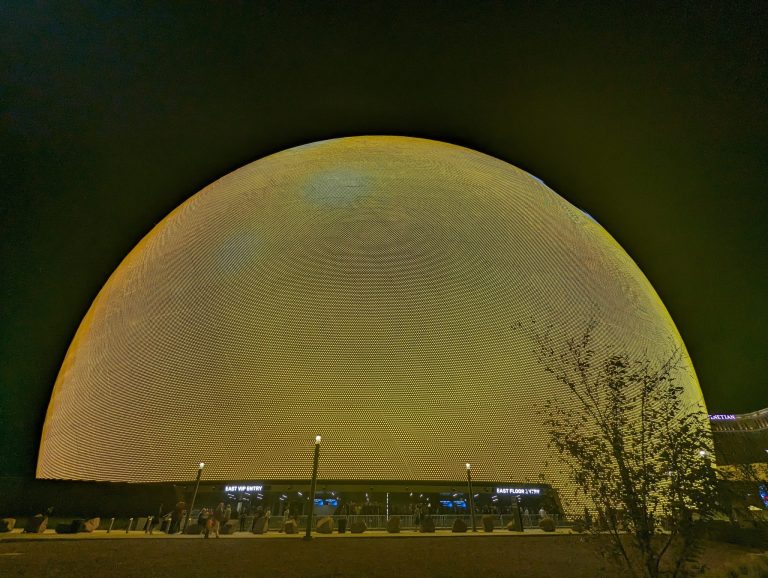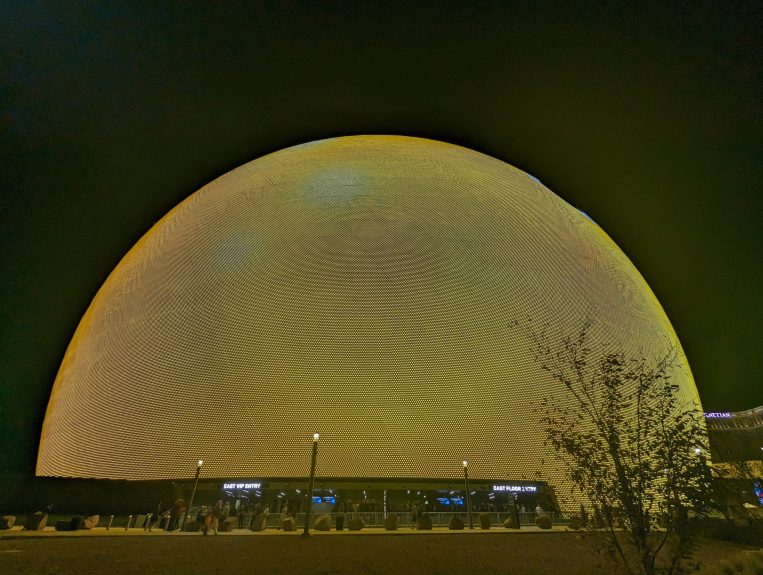 It's rare to see sphere-shaped buildings in general, but especially ones that are this big.
It also serves as a giant billboard.
Las Vegas Sphere — Interior
Apparently going inside the Las Vegas Sphere is exceptional and is a unique immersive multi-sensory experience.
I didn't even go inside, so I didn't think it was so relevant to share this article just for the outside… but I've received so many questions following my photos and videos that it's more simple to put it all in an article — and I researched the interior for you.
The main attraction is of course the gigantic curved 16K resolution indoor screen that goes all the way around the wall/ceiling (270 degrees) and is as big as about 4 football fields (American football, or handegg if you prefer).
Ver essa foto no Instagram
Sound quality is supposed to be excellent. There are 167,000 speakers with Beamforming and wave field synthesis, which I can't explains since I don't know anything about this…
But in short, it's the cutting edge of acoustic technology.
Ver essa foto no Instagram
But there are also 4D special effects (odor and wind) and more than half the seats have haptic devices (forces, vibrations, and movements).
There are AI-powered robots and lots of other "22nd century" technologies, according to the same marketing verbiage I quoted earlier.
Ver essa foto no Instagram
Las Vegas Sphere — Programming and prices
There are 2 programming options at the moment in the Las Vegas Sphere.
Firstly, there will be a series of shows by musical artists in residence. The current initial residency is that of the U2 band. The show is called Achtung Baby, with 36 dates until February 18, 2024.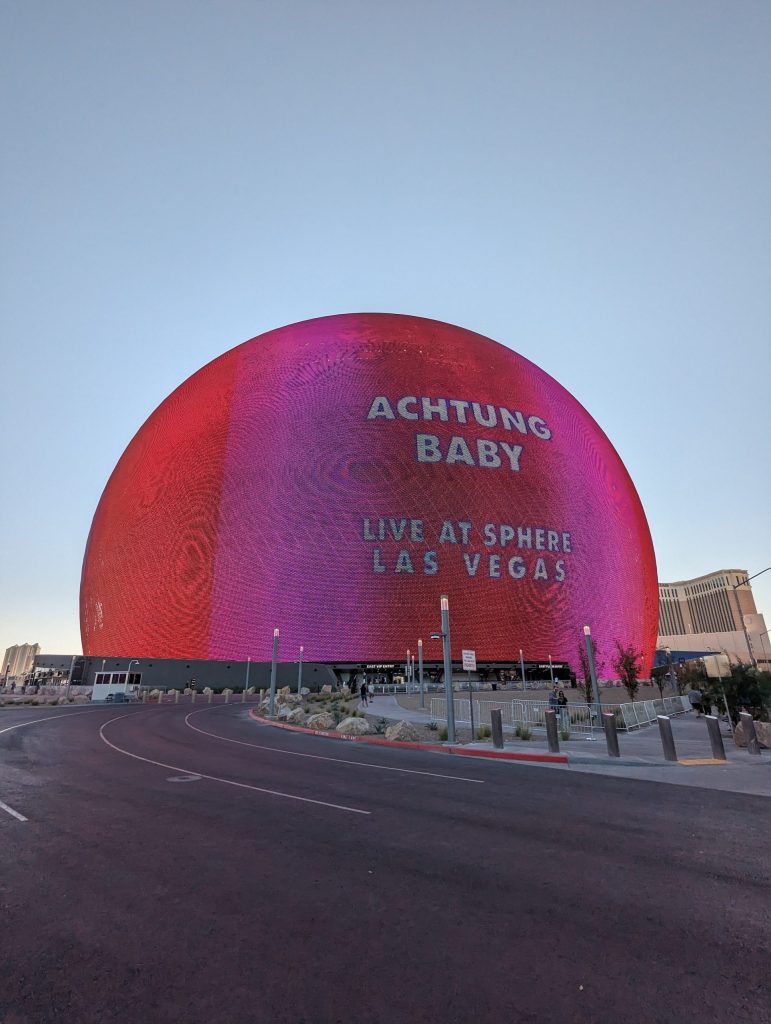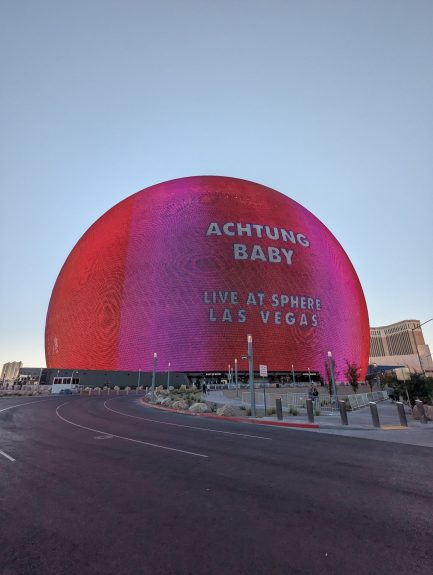 Personally, I'm not a U2 fan at all (for their music and for the fact that as a very pro-choice person, I still resent them for forcing me to have their damn album in my iTunes in 2014 when I clearly didn't want it… I've been pro-Spotify and pro-Android ever since too).
Joking aside, I therefore didn't go. But that said, I would be willing to pay just for to experience the inside of the Sphere, which looks incredible.
The amount I'd be willing to pay for that experience alone is about $50-$100 by my rough estimates… and the amount I'd be willing to pay to see U2 is exactly zero dollars. So that's a total of $50-$100 for my budget. And the prices for U2 aren't $50-100 at all.
It's more like US$355 per ticket with a limited view on the edge for a middle-of-the-week date, and often double that for weekends.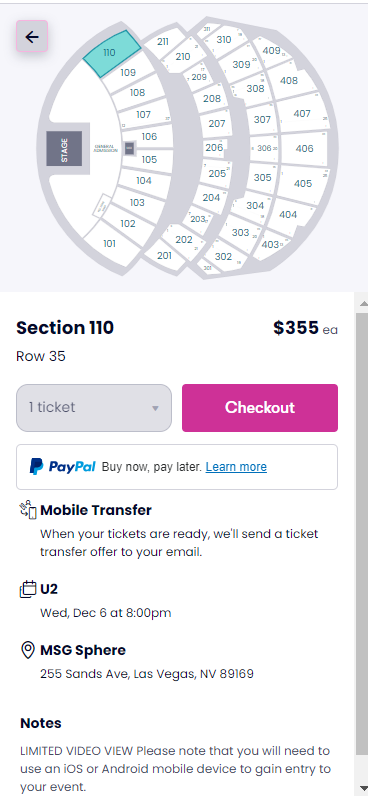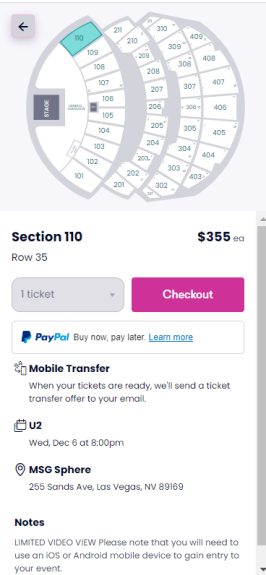 It's literally more than you'd need for 16 full, all-expenses-paid days in 40 affordable countries, just to remind you that saving money obviously helps you travel more.
So I'm rational and I don't spend money recklessly: it's how I'm able to travel 10+ times a year, it's a pretty simple concept — especially when you know the pro tips for traveling for less too.
Secondly, there's also a documentary film that's shown in the Las Vegas Sphere several times a day. It's called Postcard from Earth, and it was filmed and designed specifically for screening in the Las Vegas Sphere.
Ver essa foto no Instagram
It's a film by acclaimed director Darren Aronofsky which, according to some critics, has a few of the alarmist/catastrophic/apocalyptic tendencies typical of the era.
That was $140 per ticket, for my dates at least (and the ones I see randomly now).
I'm not much of a movie fan personally, so I'm going to hope for a music show that appeals to me more than U2, although I don't think that's going to happen since it's probably always going to be mainstream artists and there are very few I like (so I'll at least hope for a music show that isn't at insane prices).
Las Vegas Sphere — Food
As with literally any place where you're captive, of course if you're savvy you should eat and drink before or after if you want to save money.
Many are shocked that a beer inside the Las Vegas Sphere costs US$18 (plus tax, plus tip), as that went viral too… but it really shouldn't be that surprising.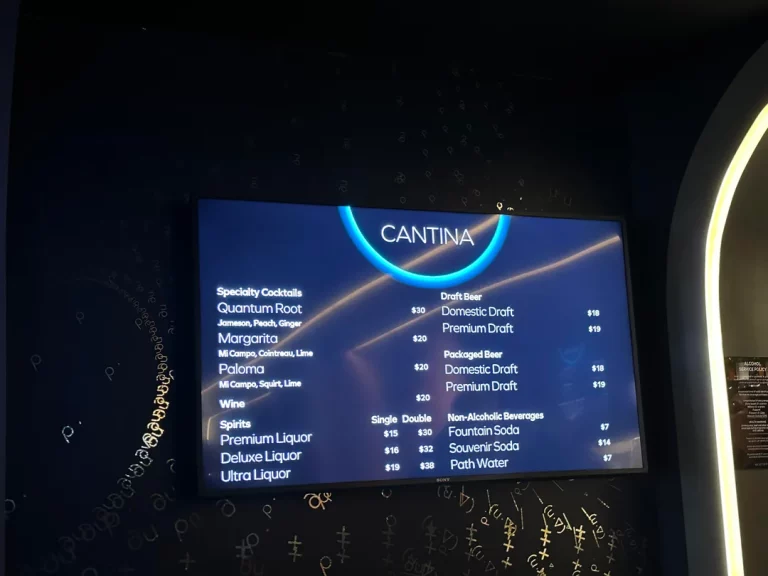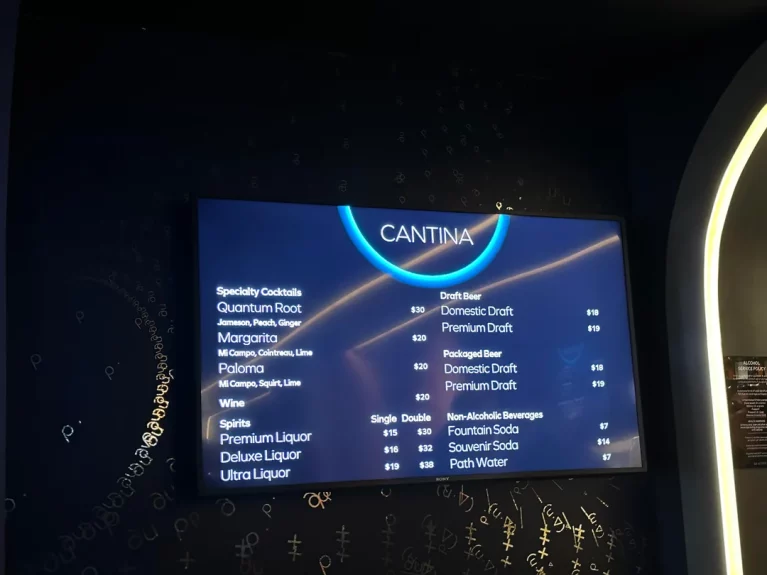 Food is also at the typical prices for these kinds of events. It's just a few hours, so it's not that complicated logistically to plan at least the meals before or after.
Las Vegas Sphere — Construction
The construction itself was quite complex as you can imagine. It required over a thousand workers, the world's 4th-largest crane and took over 4 years.
Construction started in 2019 and it was supposed to be finished when I went to the 1st edition of When We Were Young in Las Vegas in October 2022.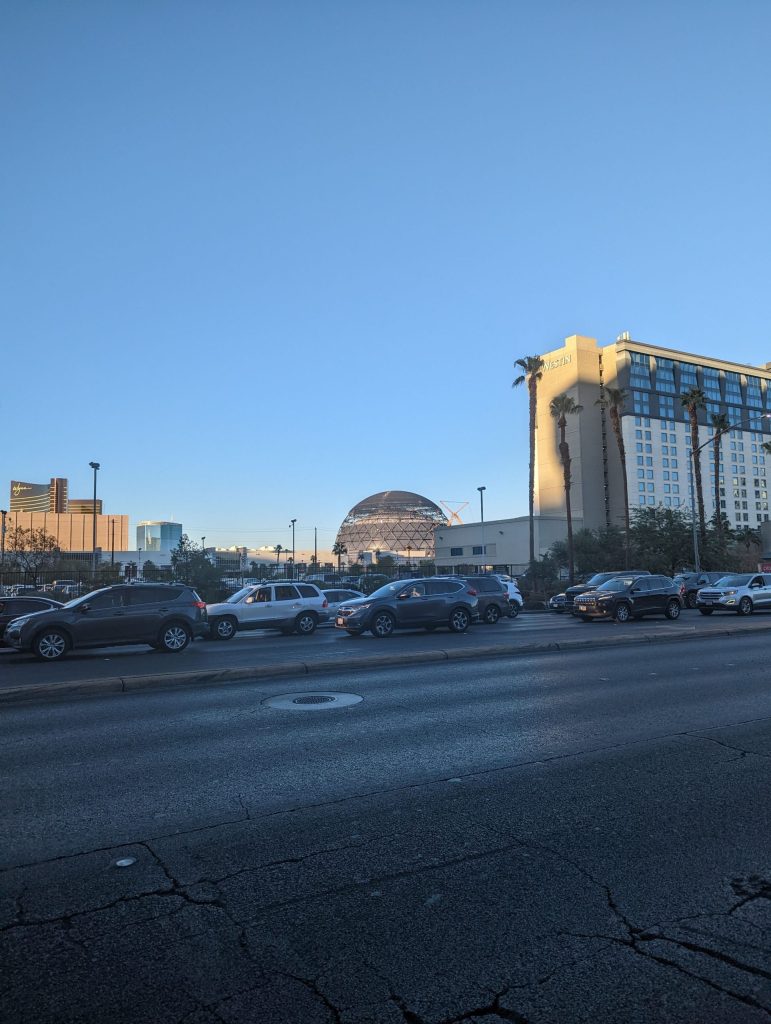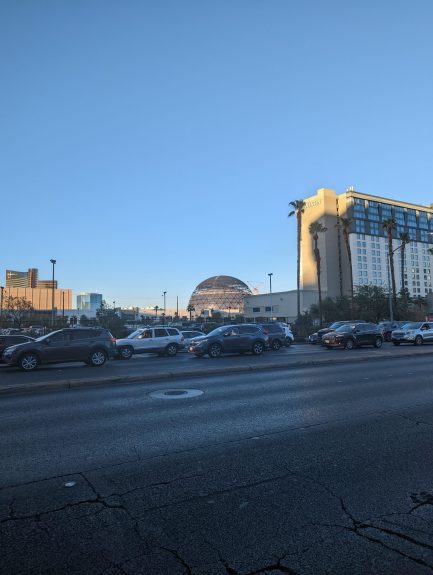 But as I can attest to very well as someone who had a house built in 2021 in the middle of the pandemic, there have been many disruptions to construction supply chains due to the pandemic the governments' extreme reaction to the pandemic.
So during my visit last year, I still went to see the Las Vegas SPhere, even though it wasn't quite finished yet.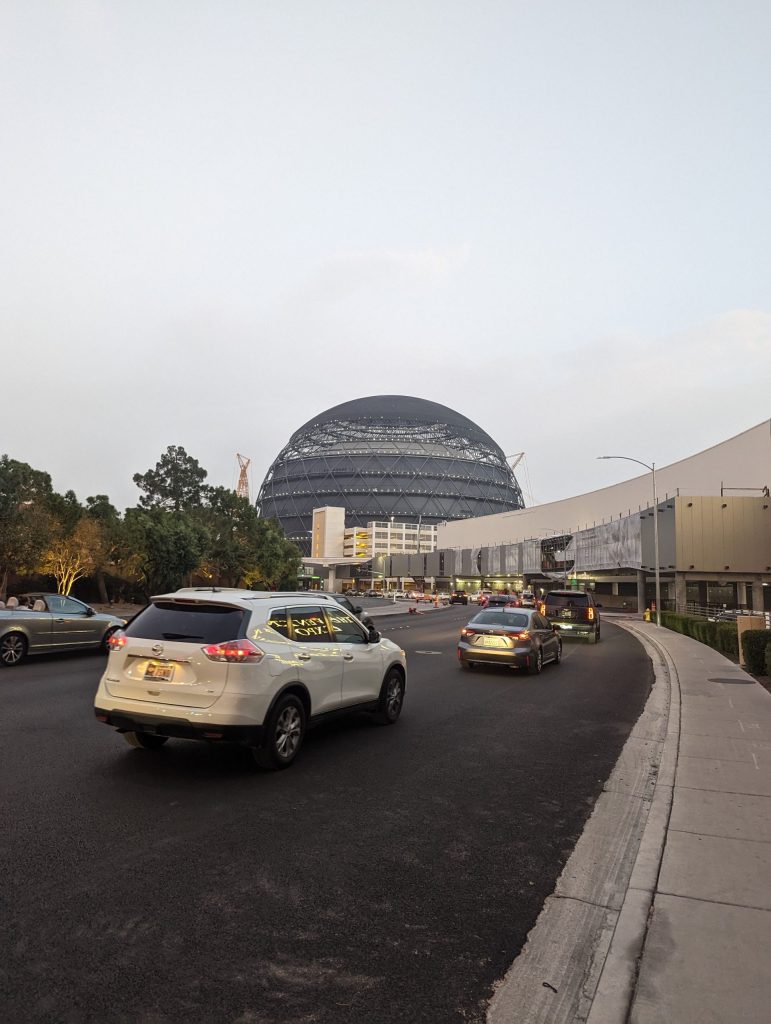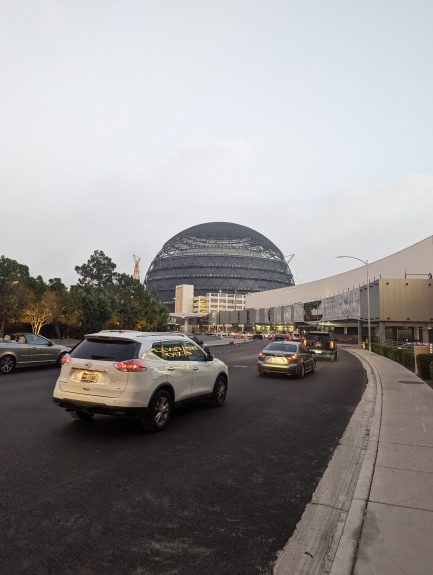 While the exterior wasn't completed at all about 1 year ago, it's impressive that they were able to finish everything relatively quickly considering the scale of the project.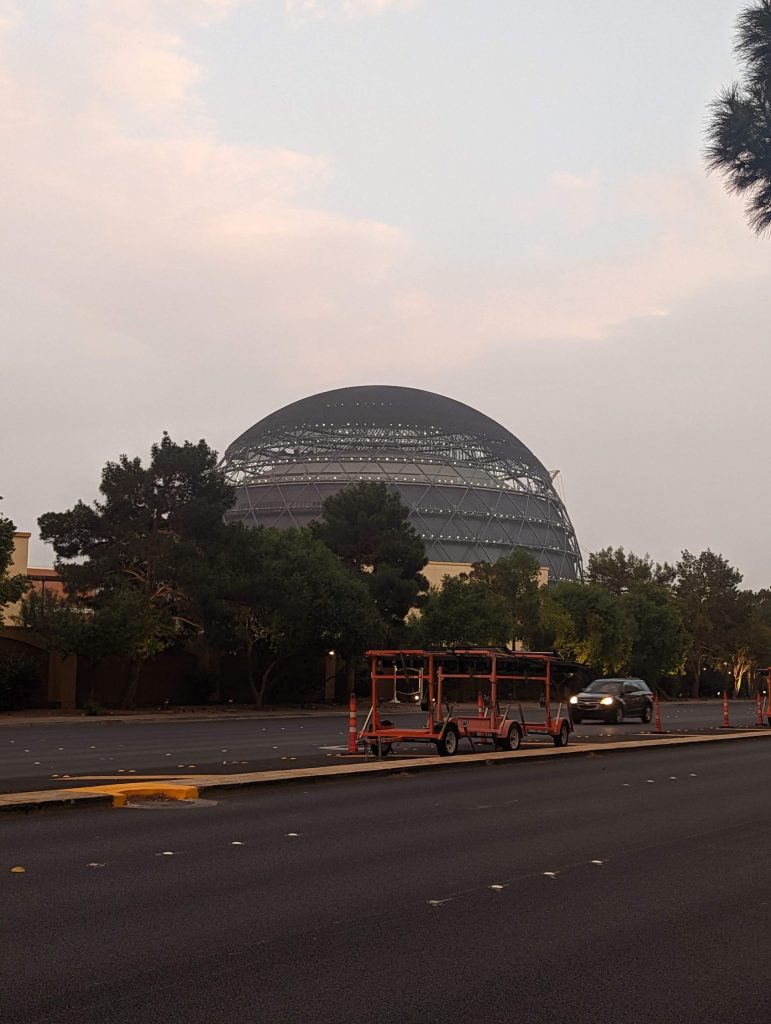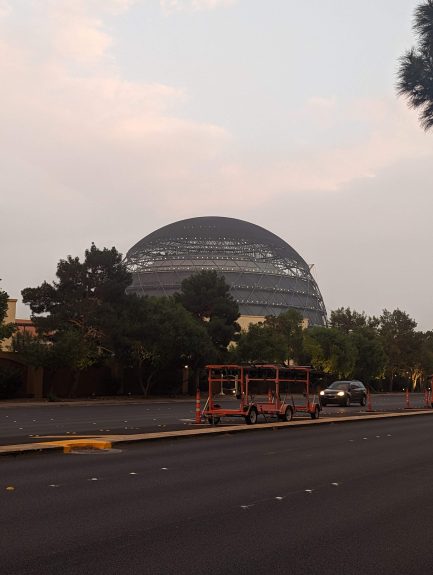 The Las Vegas Sphere finally opened on September 29, 2023, less than 1 month before my most recent visit for the festival.
Las Vegas Sphere — Getting around
To get to the Las Vegas Sphere, the whole Strip is very walkable, of course.
But for longer distances, The Deuce 2-story buses run every 15 minutes all along the Strip, which is extremely cheaper than taxis and Ubers, obviously. And you can pay with their RideRTC app.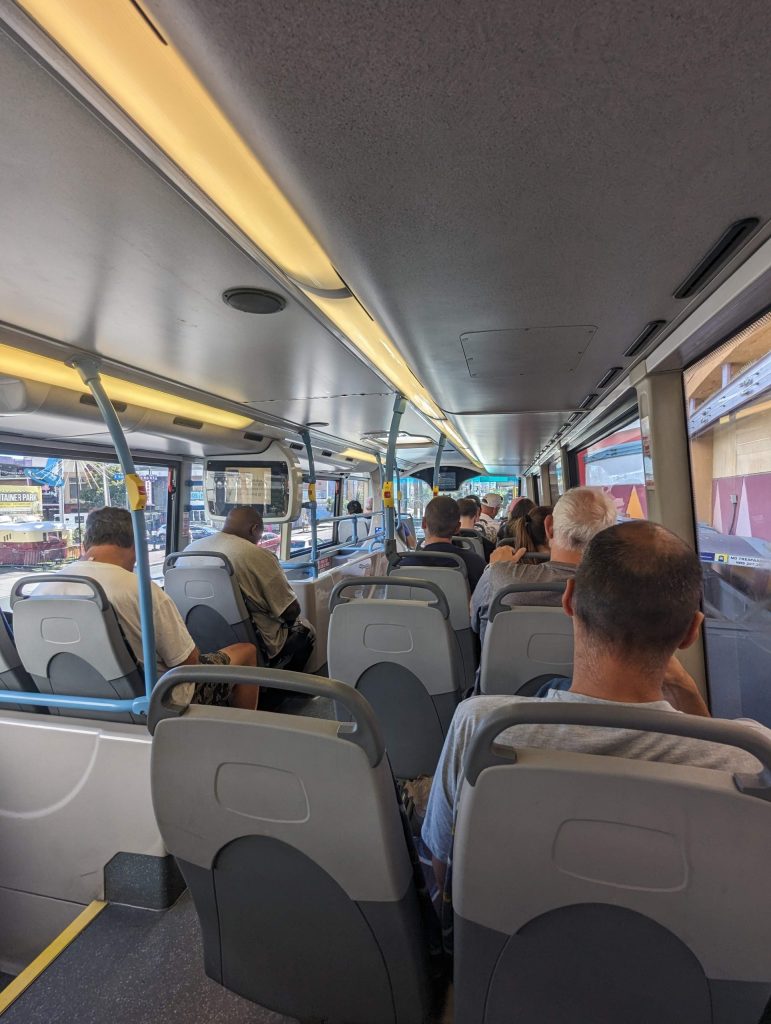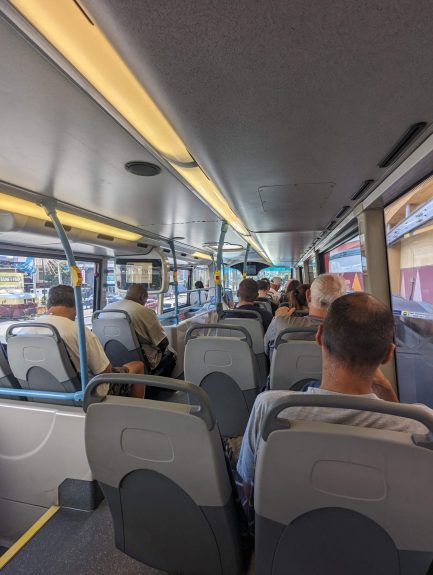 Traffic this year was terrible because of preparations for the Formula 1 urban circuit that is directly on Las Vegas Boulevard, and neighboring streets.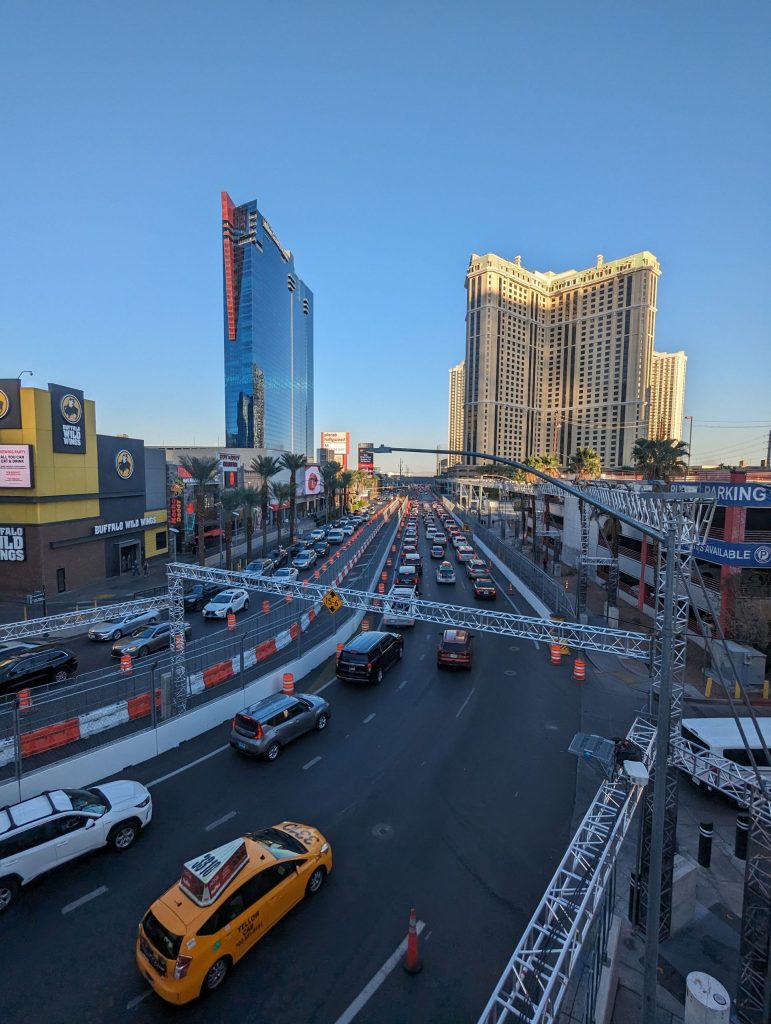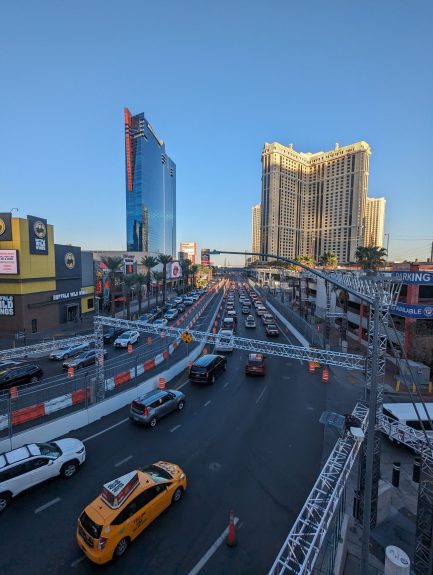 Finally, Las Vegas has a monorail that is pretty useful too, but it's often overlooked since it's mostly a block behind the Strip, running parallel to the Strip. The Deuce bus is usually more practical (and it's cheaper).
There are talks of adding a station at the Las Vegas Sphere, but that's not going to happen for a while (if ever).
Las Vegas Sphere — Getting there
For just about everyone, flying is the only realistic way to get to Las Vegas. Even if you live in Western Canada, it would be a long roadtrip (but it would be a beautiful one).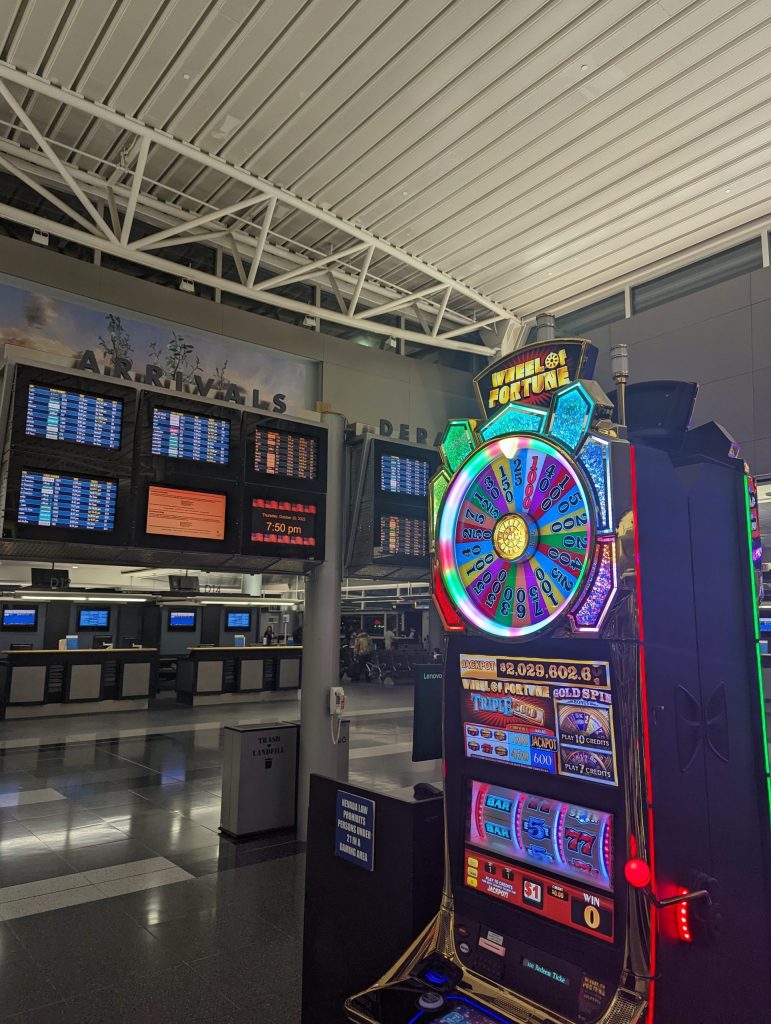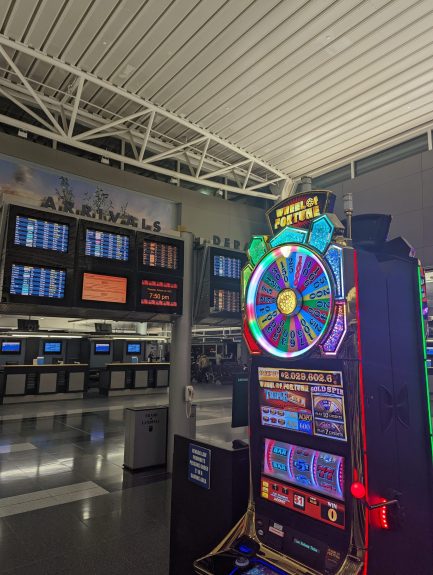 As we mentioned recently, Canadian ultra low-cost carriers (ULCC) Flair and Lynx Air have just begun flights from many Canadian cities to Las Vegas. It's as little as $228 roundtrip. It's amongst the many new international ULCC routes in Canada.
In my case, I was giving a few talks at a travel rewards conference in Chicago just before, so I paid $160 (US$115) for a one-way flight from Chicago-Midway (MDW) to Las Vegas (LAS).
It's a bit expensive but I purchased it the day before the flight (I was initially thinking I'd stay in Chicago because it's much better city than Vegas… but it was cold). Buying the flight the day before is obviously not often a good idea for prices, so I applied a travel rewards tip that could interest those who travel in the US often. Don't miss this article soon.
For my return flight from Las Vegas to Canada, I applied a tip that's so simple and that saved me literally $500+ so easily. I'm going to do an article just on that to explain it. Sign up for our free newsletter to receive all our content, just like almost 100,000 savvy Canadian travelers do!
Let me remind you that it's really very simple to save on flights: try out our 31 tips for saving on plane tickets one by one, and some of them are bound to work. You just need to know about them and take the time to try them out. Being flexible on everything helps enormously too, of course, as with everything in travel.
Las Vegas Sphere — Lodging
My hotel was pretty close to the Las Vegas Sphere, as are pretty much all hotels near the Strip.
I stayed at the Residence Inn Las Vegas Hughes Center with my Marriott points for a few reasons.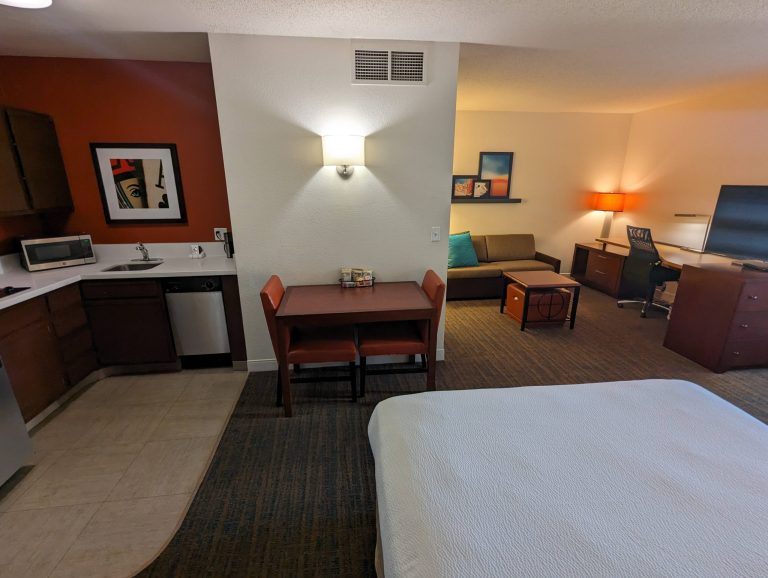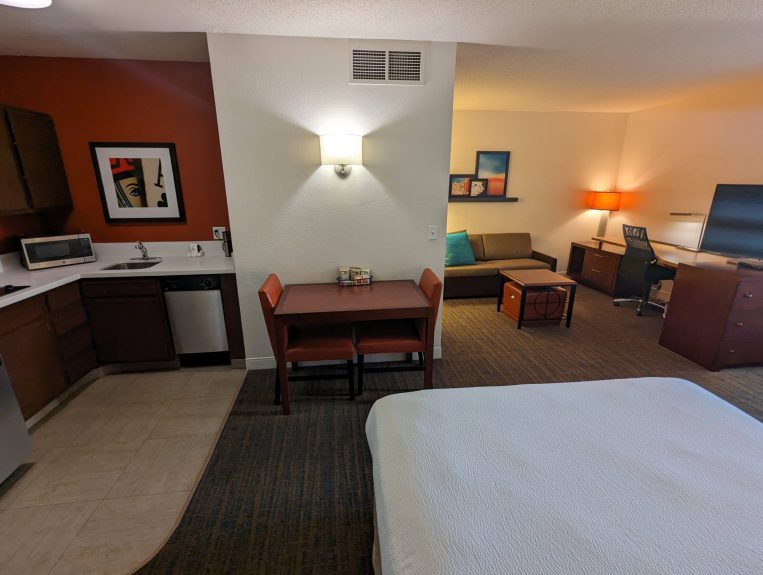 Firstly, I personally try as much as possible to boycott the infamous resort fees, one of the worst legacies Las Vegas has offered humanity. Be careful with this, of course, if you've never booked a hotel in Vegas.
Secondly, I wanted to have a bigger suite to share with my friends who came to join me for the festival and a kitchen too.
Thirdly, I love free hotels of course. I'll remind you that redeeming Marriott points in the US usually gives you terrible value, but it depends on the price in cash! Redemptions that are more valuable, like Marriott points, have a variable value! It depends on the price in points and the price in cash. More guides on the subject coming soon thanks to our 7 new team members.
In short, prices were $600+ per night in town that weekend because of the festival which drew an about 180,000 people, because of the Twitchcon video game fan convention in town that same weekend, and because of U2 in the Las Vegas Sphere.
So obviously this was a good redemption of Marriott points because I had booked 1 year ago to take advantage of the (relatively) low price in points when you book in advance in Las Vegas (hotels paid in points are fully refundable if you change your mind so it's always good to book them just in case).
In terms of Vegas lodging options with Marriott, by far the best hotel rewards program for Canadians, there's good news: MGM's 17 iconic casino resorts will join the 30+ other brands in the Marriott Bonvoy program as of January 2024.
So that'll give more opportunities to redeem points — or to earn points by paying with cash if it makes more sense (which happens often in Vegas).
If you want more choice, there are obviously plenty of options in Las Vegas.
Always use 1 of our 2 favorite tools for booking (not for researching, which is always a separate step but which many people confuse):
In the days before the festival this year, I stayed in a hotel in downtown Las Vegas, which is a slightly less touristy area and is the old-school place in Vegas. It's also close to the Arts District, which is probably the best part of this whole urban area (it's the locals' favorite spot) and the most authentic you can get in this sea of artificiality.
It was the El Cortez Hotel & Casino booked on Hotwire at a very low price, it was very basic but nice and clean and well located for exploring downtown. I probably wouldn't stay again though, unless I know for sure I get a room in the newer tower.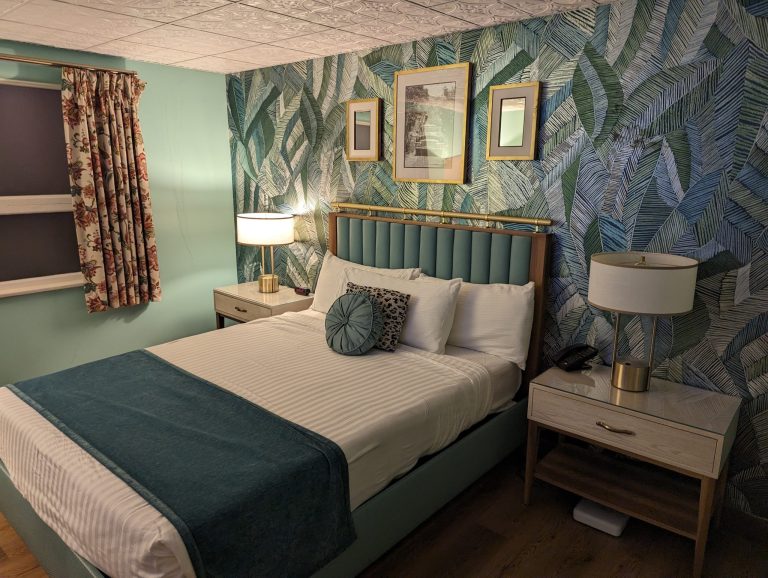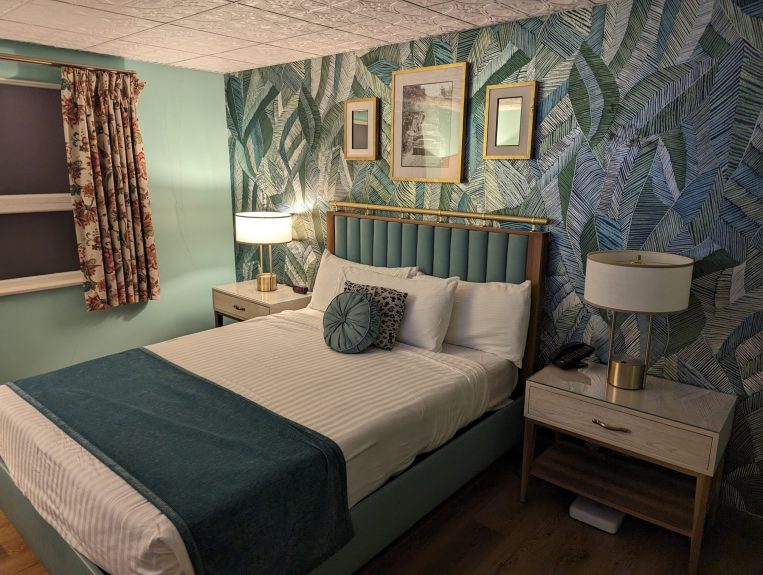 I also tried a few nights at The STRAT Hotel, Casino & Tower (formerly the Stratosphere) for the more typical casino-resort experience, which I also booked at a discount on Hotwire.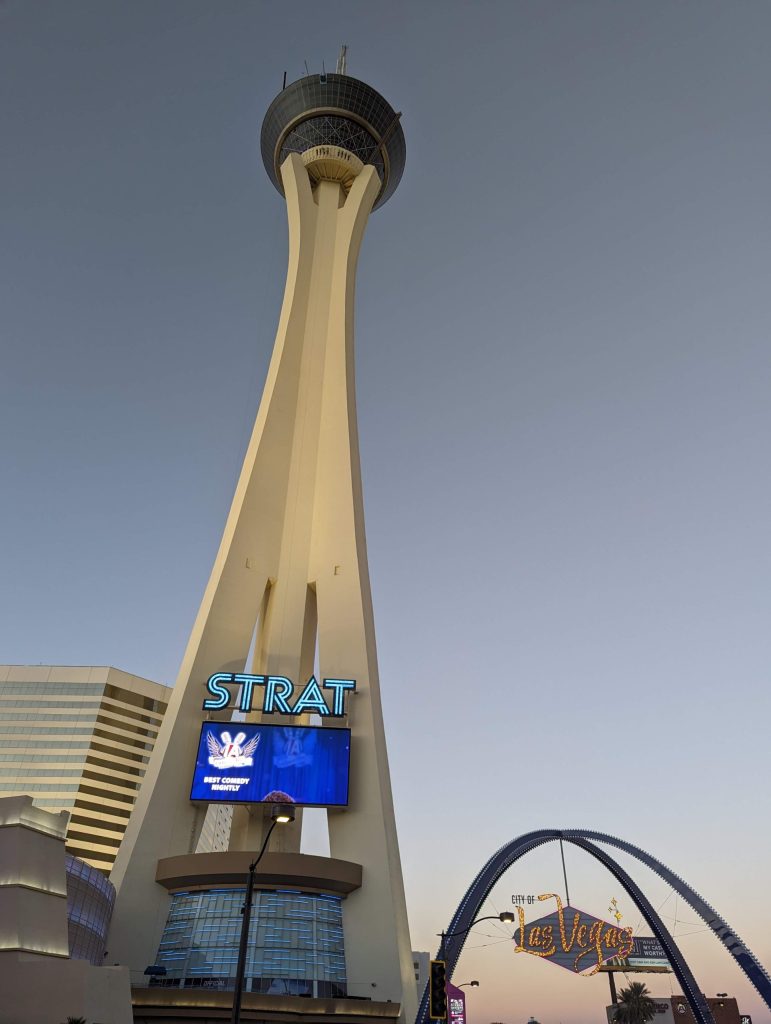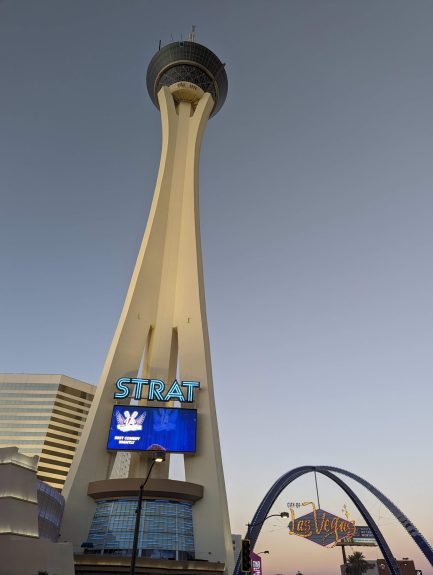 Resorts-casinos are a good option in Vegas if you are like many who are fans of:
Losing your money by gambling
Rides and other tourist traps
Shopping
Random shows
Nightlife
Swimming pools
Buffets
Overpriced-because-they're-in-a-hotel restaurants
The STRAT Hotel, Casino & Tower was honestly very good for the price, if you don't mind being on the northern border of the Strip. It's a great location if you want to visit both the Strip and downtown, since it's in the middle of both.
It's also very close to the Las Vegas Festival Grounds, which hosts several festivals, and the Las Vegas Convention Center, which hosts several conventions (and where you can try out the prototype of the futuristic Hyperloop tunnels).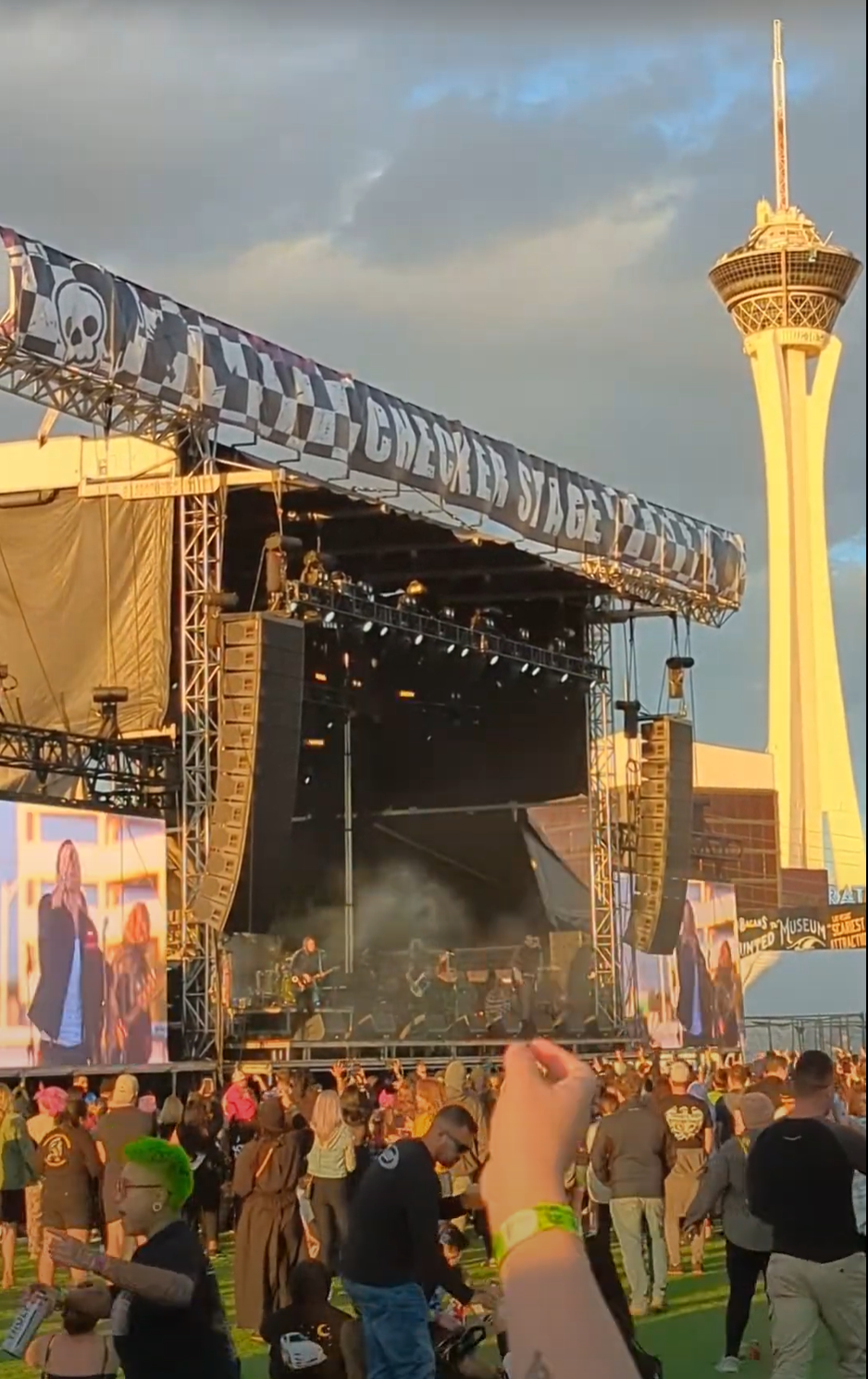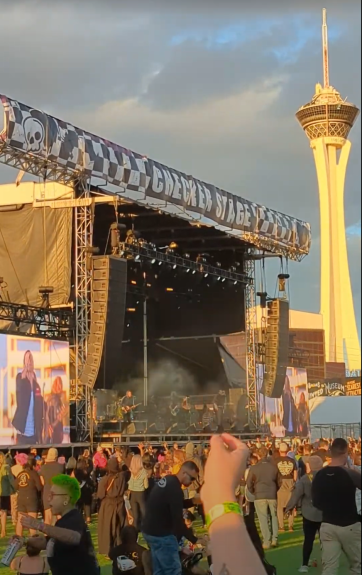 But it's definitely far from the rest of the Strip and less glamorous and chic as a neighborhood. For example, I saw a woman who seemed to be homeless naked in front of McDonald's in the middle of the afternoon (ironically, part of the neighborhood is called Naked City). But well, it's a bit like many urban neighborhoods in the US basically.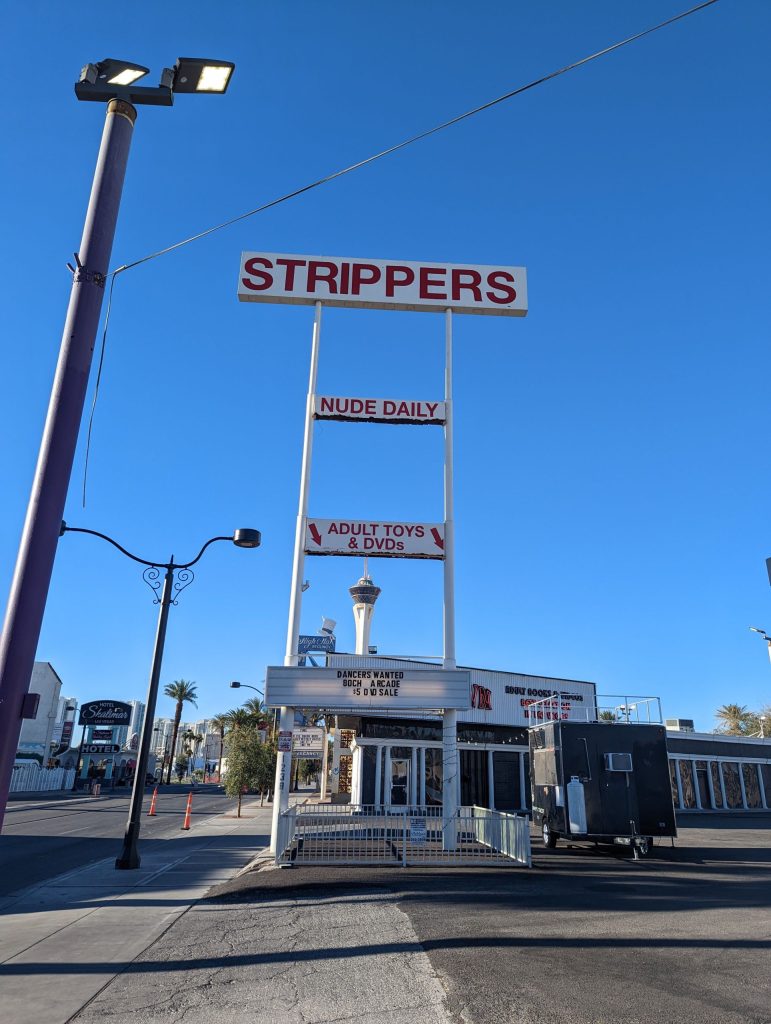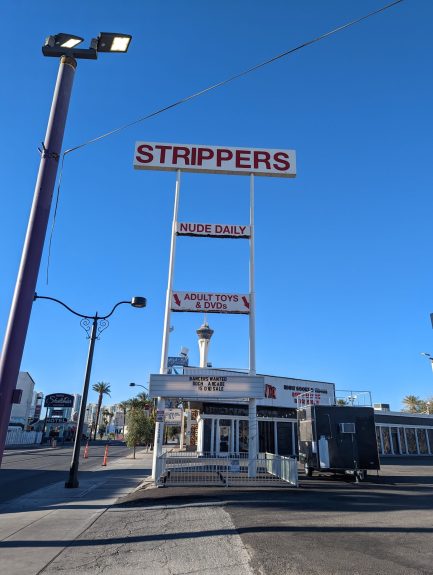 For those who want to save money, I also tried 2 of the only 3 hostels in Las Vegas (the US isn't generally well-equipped in terms of hostels, in case you didn't know).
I stayed at the Sin City Hostel and the Bungalows Hostel, which are located almost next to each other (the 3rd one is across the street), near the Arts District and downtown.
The Sin City Hostel is a bit more like a motel turned into a hostel, but it was clean and the atmosphere was great (it helps that everyone who was there were fans of good music who were going to the festival too).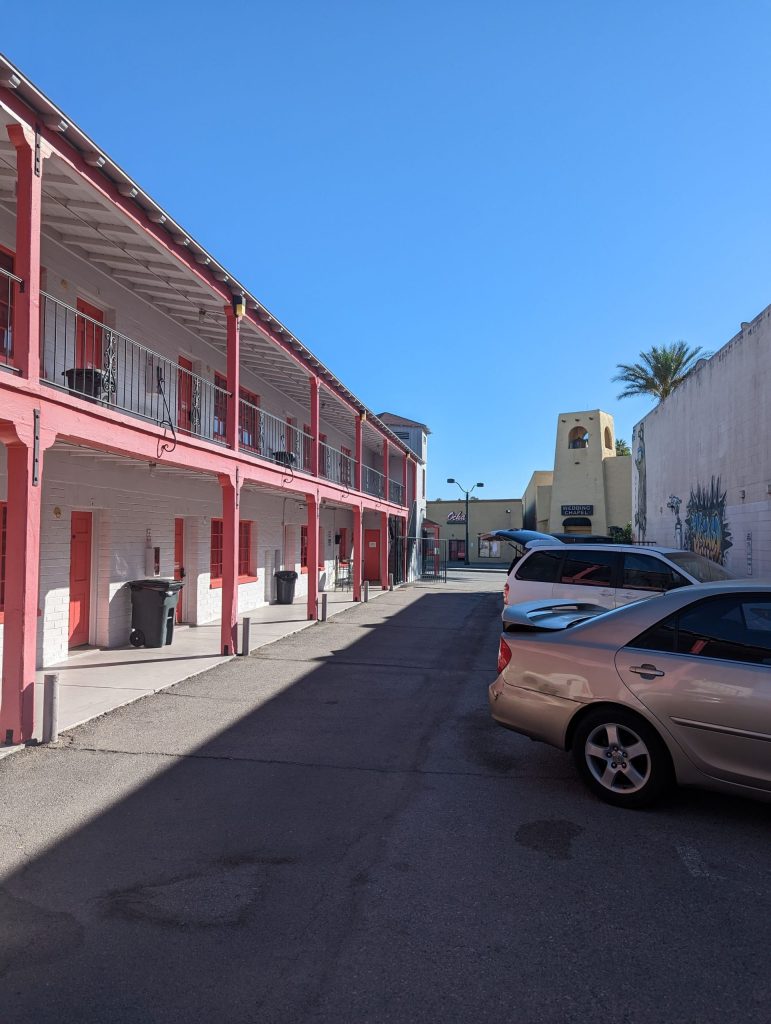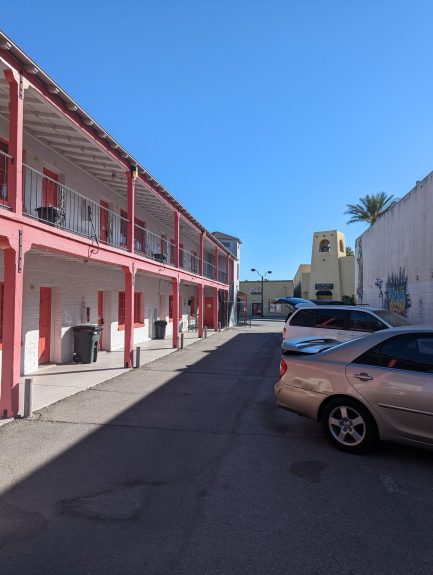 The Bungalows Hostel is also a bit unique, it's actually several bungalows converted into dorms. It looks cheaper, but in fact it's probably the only hostel in the world that charges those famous resort fees, so don't be fooled and always look at the full final price, as you should always do for everything (except flights, which always include all mandatory fees and taxes in the initial price).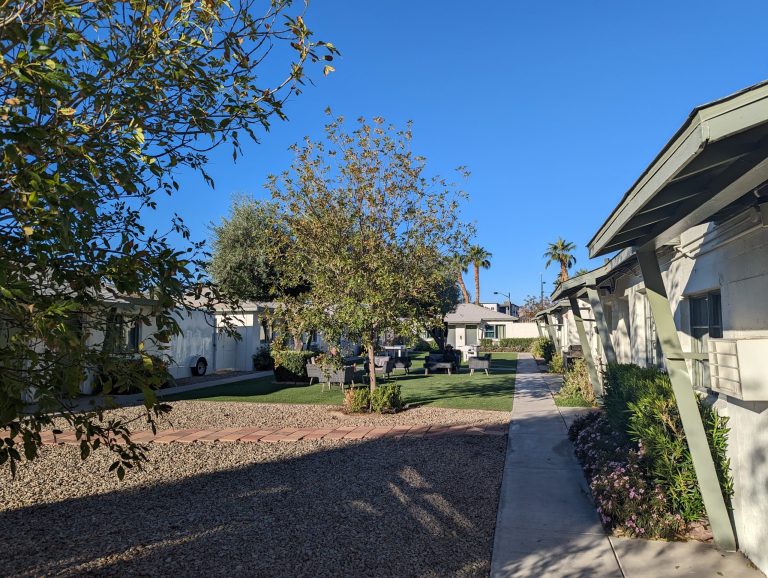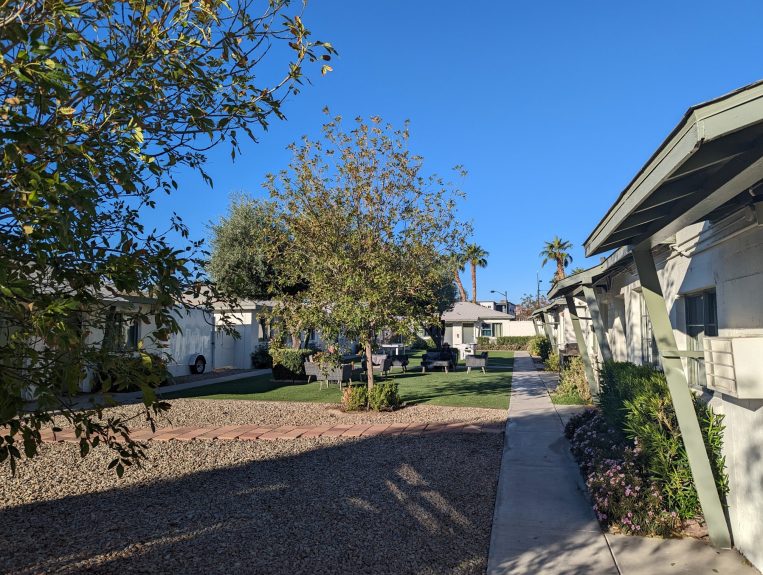 Finally, I also stayed at the Courtyard Las Vegas Henderson/Green Valley for a work retreat in the suburbs of Las Vegas last year, but unless you want to do that and/or need cheap nights to requalify for Marriott elite status like me, there's really nothing interesting outside the Strip and downtown area (unless you really get out of the city of course, like to the famous Red Rock Canyon a few minutes away or the Grand Canyon a few hours away).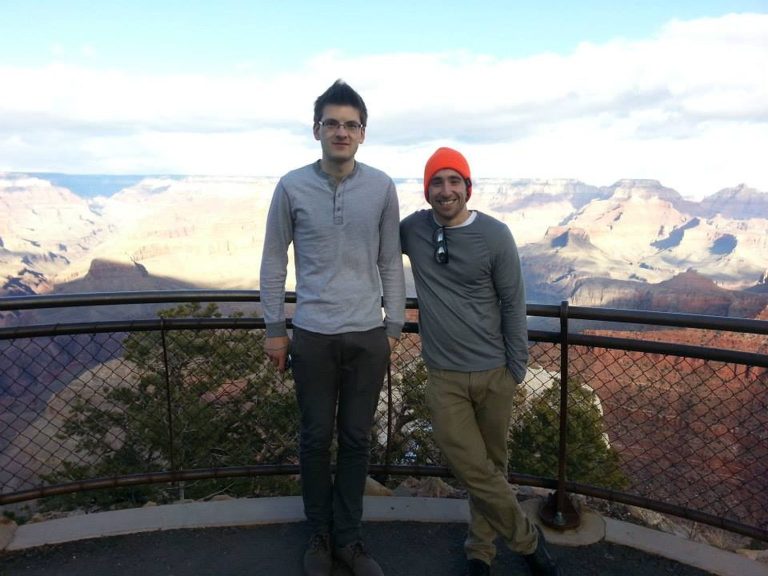 Want to get more content about our trips?
Summary
The Las Vegas Sphere is an attraction that's worth a detour if you want to see some pretty unique modern architecture. With a more interesting show inside, I'll definitely try to experience going inside the big sphere in the future.
What would you like to know about the Las Vegas Sphere? Tell us in the comments below.
See the deals we spot: Cheap flights
Explore awesome destinations: Travel inspiration
Learn pro tricks: Travel tips
Discover free travel: Travel rewards
Featured image: Las Vegas Sphere (photo credit: Andrew D'Amours/Flytrippers)
Share this post to help us help more people travel more for less: