It's the 1st Sunday of the 2023 NFL season and many football fans in Canada will be planning a trip to see a game over the next few months (or certainly should do so). So I'm sharing my experiences attending 5 NFL games in Miami, Tampa, and New Orleans.
I'm not even such a big fan of sports. But attending events we don't have here (whether musical, sporting, or otherwise) is increasingly one of my favorite reasons to travel. These are unique experiences.
(And it's so easy to travel more with our tips, especially with travel rewards!)
Here's what it was like to attend NFL football games (and maybe later I'll share my 3 experiences at American college football games too, which is a rather different experience).
My 5 NFL football games
I haven't been to games in the cities where Canadians usually go to see the NFL (Buffalo, Boston, New York, Seattle, etc.) but I don't really like the cold, so the games are a good excuse to go to slightly nicer destinations (unlike my 8 cities where I went to see NHL hockey when I was younger, which are more varied and all over the continent).
I have however visited 20 of the 30 NFL cities (there are 32 teams, but NY and LA both have 2) and honestly, all of them are great to visit. And an in-person NFL football games is infinitely better than on television.
Dolphins games in Miami
As someone who has been to Miami 30+ times and whose grandparents spent their entire winters there throughout my teenage years, the Dolphins are my favorite team (poor me, I know). So I've been to 3 home games (not that often, because I mostly go between January and March when our shitty Canadian winter is even shittier).
As expensive as Miami is as a city for normal travelers, for budget-travelers it's the best city in the US. Flights are often under $200 roundtrip on our cheap flight deals page, and the hostels there are quite affordable and very well located!
Hard Rock Stadium is located in Miami Gardens, a suburb north of downtown. It's frankly not the best location and transport to get there was almost non-existent, so once I went with a rental car, and the other 2 times by Uber/Lyft. But a new train has been launched (Brightline) and I'm going to attempt to try it next time.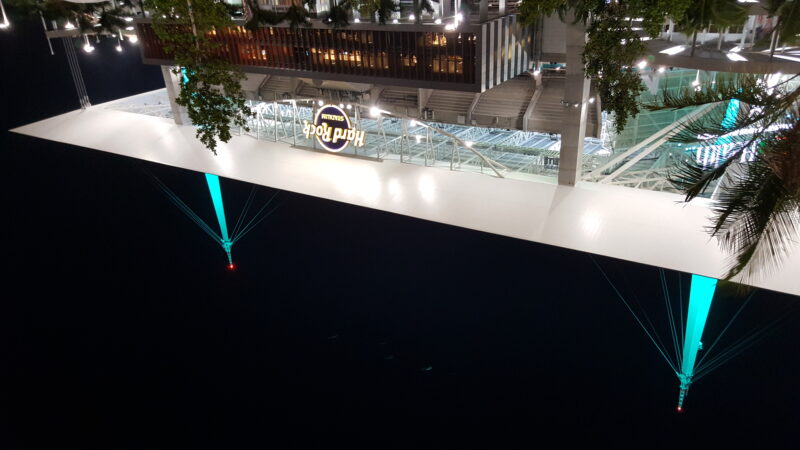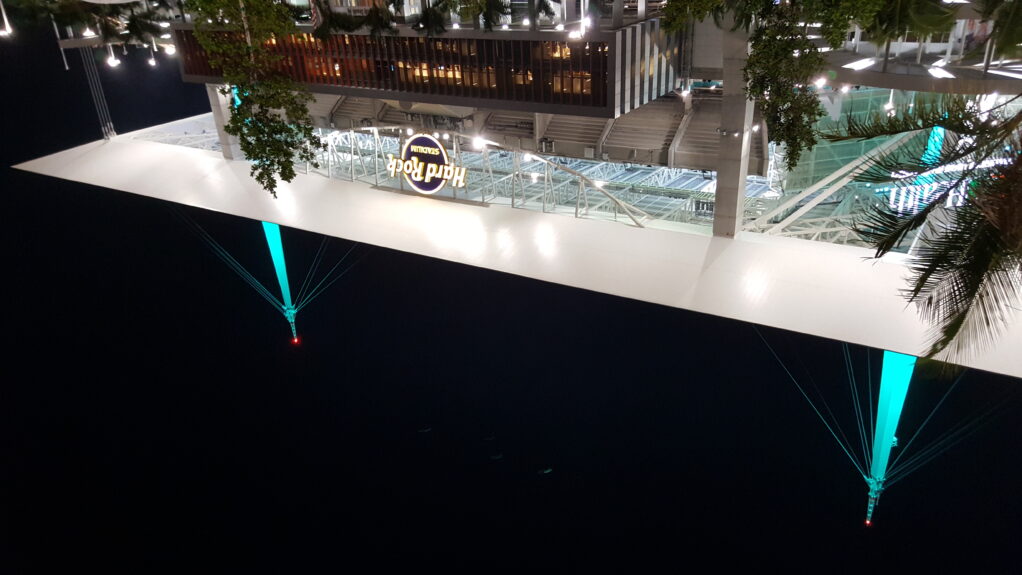 The tailgating isn't known for being the best, as Miami sports fans aren't generally recognized as the most passionate in general.
But it's still a fun atmosphere.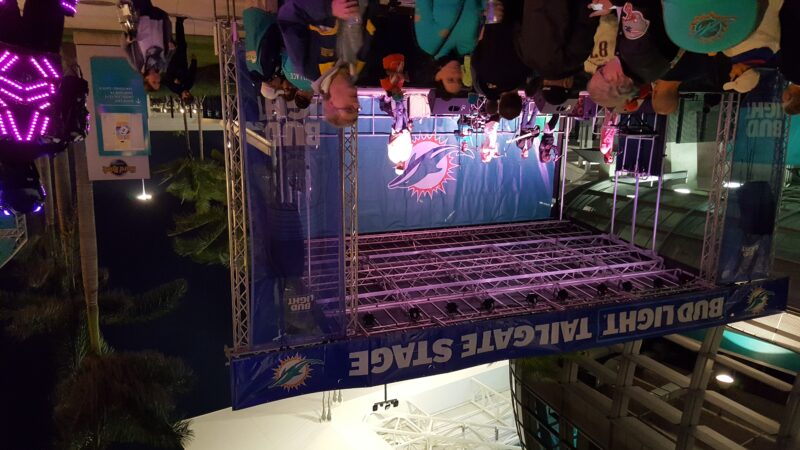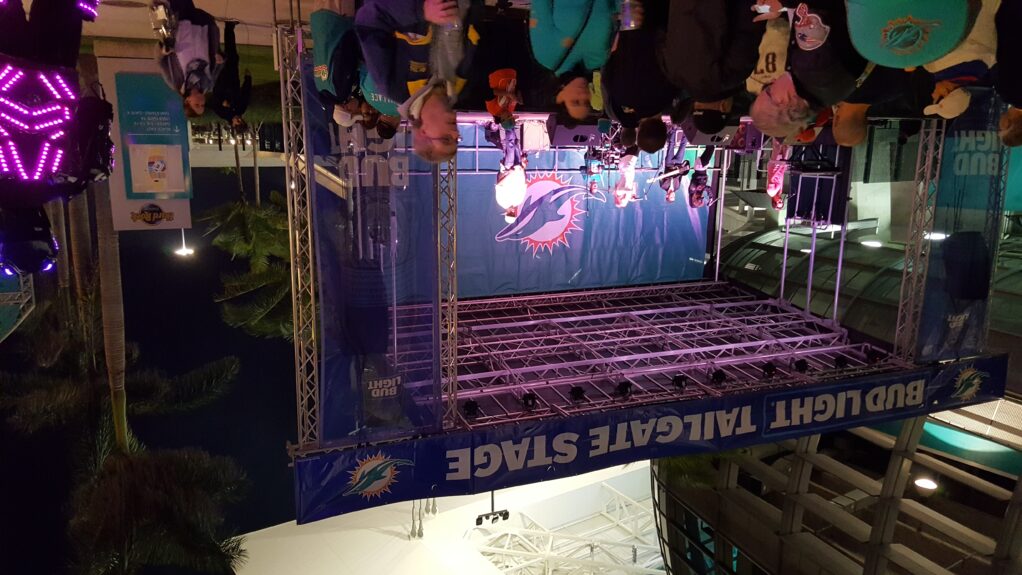 The more enjoyable matchup was the December 2017 Monday Night Football game where the Dolphins beat the Patriots (whom I strongly dislike, of course), while Tom Brady's team was obviously favored as always.
It was a father-son trip and my dad had splurged on excellent seats a few rows from the field.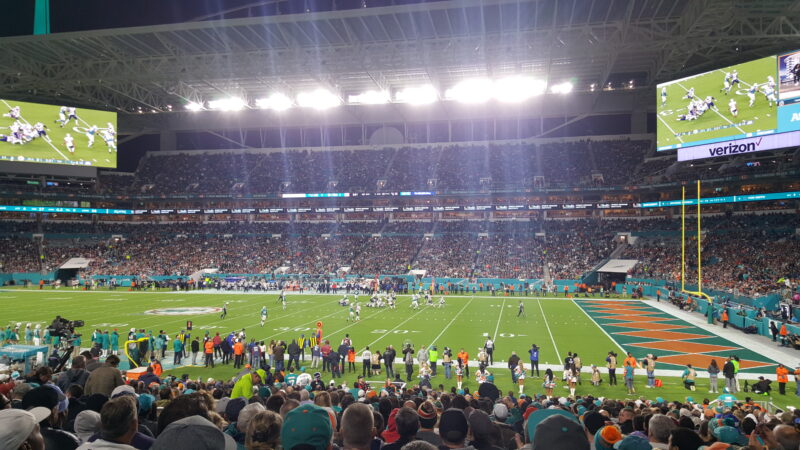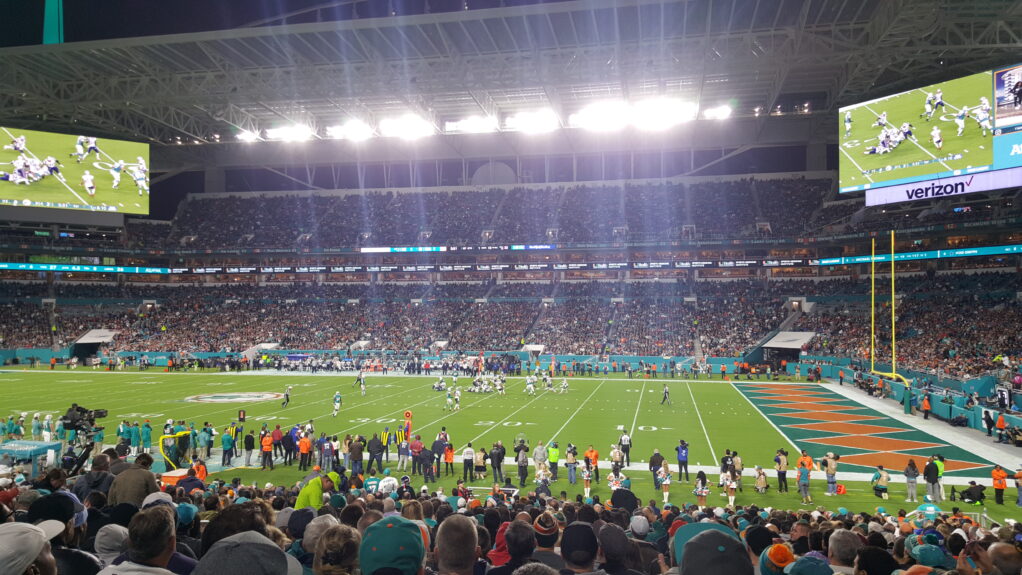 Note that it was extremely cold. Even in the only US city with a tropical monsoon climate classification, in late evenings in December… it can be chilly in an outdoor stadium, don't forget.
(Special mention to the following year when I was in Miami and came close to going to the game, but decided to take advantage of the good weather instead because I was traveling solo… and the famous Miracle in Miami happened. I kind of regretted not going, I admit it!)
The other games I saw were both against the Baltimore Ravens (a coincidence), in December 2014 and December 2015. The 1st was a Dolphins loss and they got their revenge the following year (and we had good seats to enjoy it again).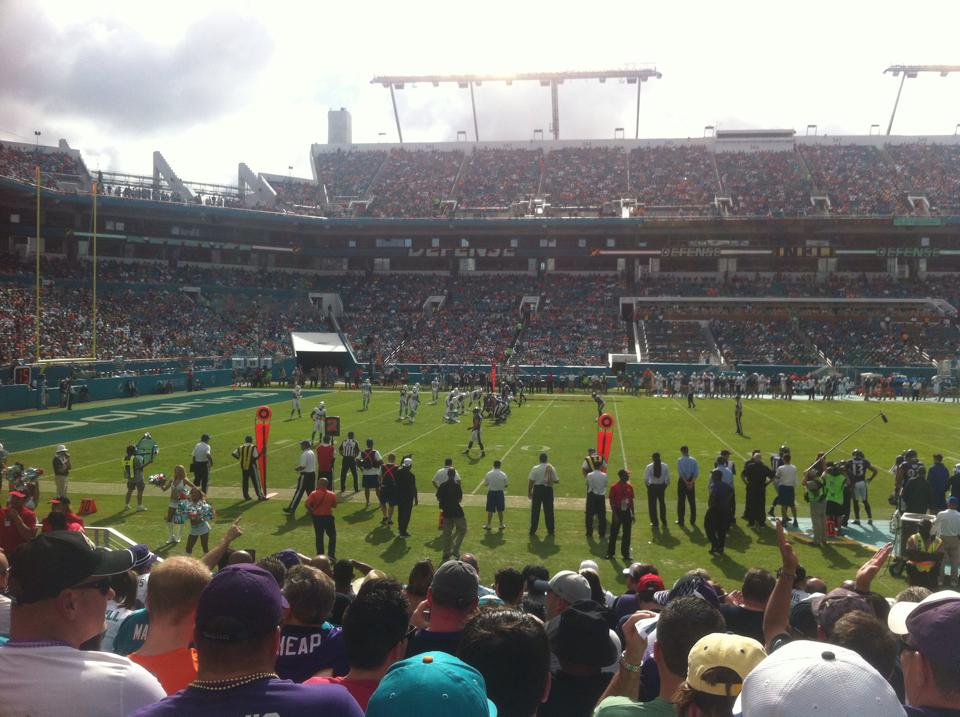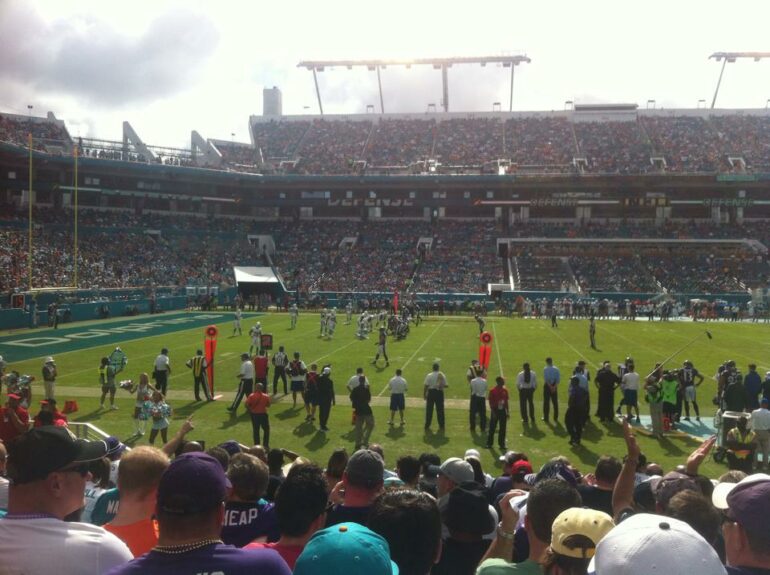 During those games, the temperature was just the opposite. It was much warmer because it's in the middle of the afternoon (and this was before the stadium's semi-roof that provides shade was installed during the renovations).
With Miami being such a nice city, it's a great place to go and go see some football. Especially if you're a Patriots, Jets, or Bills fan like many people… they play in sunny South Florida every year!
Buccaneers game in Tampa
To change things up a bit, my dad and I decided to go to the other side of the Florida peninsula in late November 2016 to see a Seahawks away game (they were very good in those years).
And also to discover a bit of the Tampa Bay area. I personally prefer Miami, but we stayed in the Clearwater Beach area and it was very nice (more family-friendly and more quiet, less exotic and less affordable for a budget traveler). Flight prices to Tampa, too, are going to be lower than ever this year from Toronto and Montreal, thanks to ultra low-cost carriers.
Raymond James Stadium is located near the Tampa airport, once again a bit in the middle of nowhere as Americans often like to do. We had a rental car, because the Tampa area is far from being a place you can explore without a car (unlike Miami).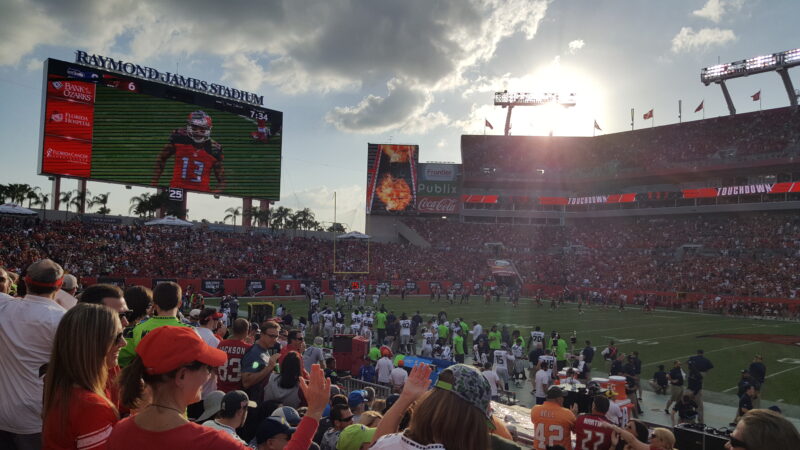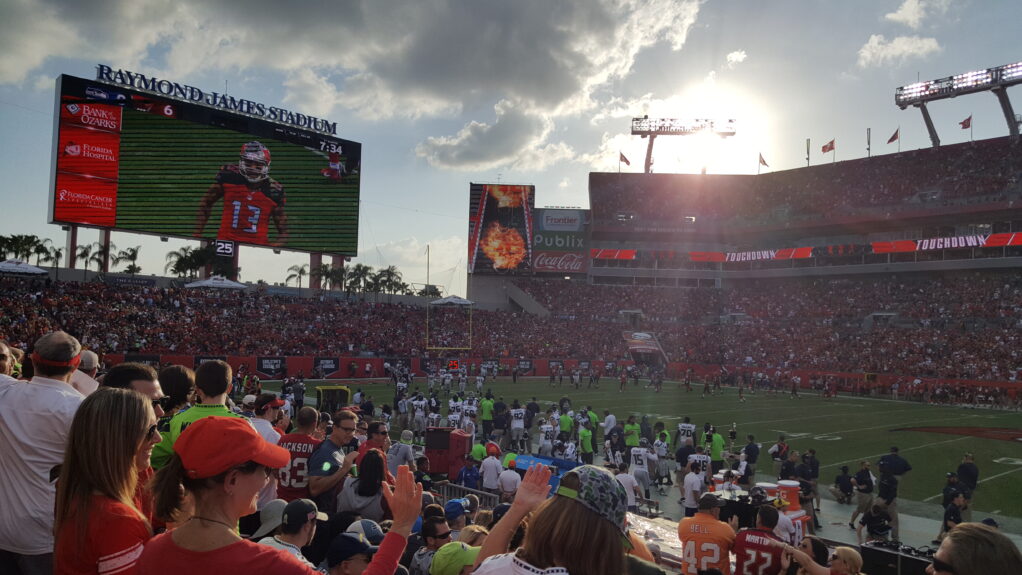 The tailgating was a little livelier than in Miami in my experience, and the game itself is a bit more of a spectacle, with the pirate ship cannon blasting after the home team's touchdowns.
We once again had excellent seats among the very large contingent of fans (the 12s) who had crossed the continent to support their team.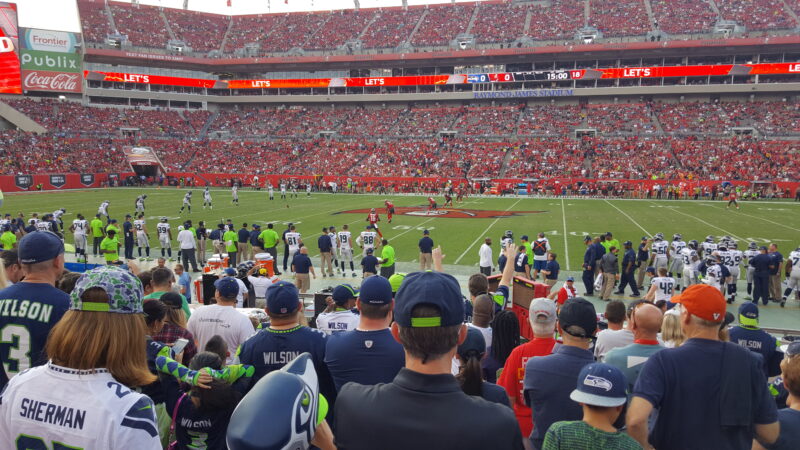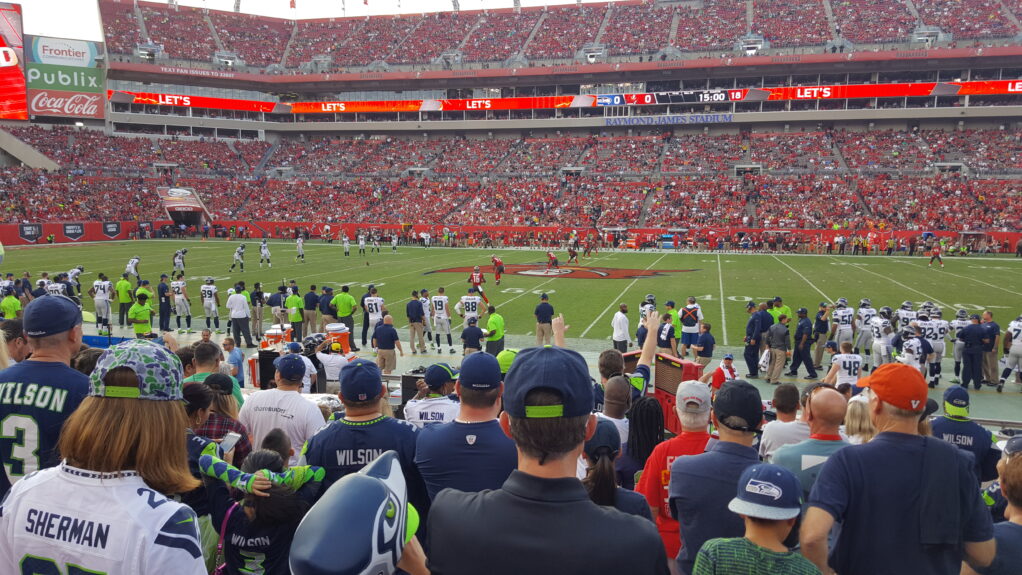 The Seattle Seahawks and Russell Wilson lost in a tight, defensive game worthy of the Legion of Boom era.
The Buccaneers may not be very good in the next few seasons, but it's the 2nd best destination option to see a game and get some heat into December (the 3rd Floridian city with a team, Jacksonville, is quite a bit further north).
Saints game in New Orleans
This one wasn't a football trip at all. The other American city I visited the most after Miami is New Orleans. A city that has something for everyone and is truly unique in the United States.
My girlfriend and I were there at the end of August 2016, so it was the preseason and there was a game going on that weekend. So it doesn't count, the preseason being completely boring. But she'd never seen an NFL game (and tickets were really cheap high up).
The Caesars Superdome (which was called the Mercedes-Benz Superdome at the time) is super conveniently located within walking distance of the French Quarter, so it's super easy to get to.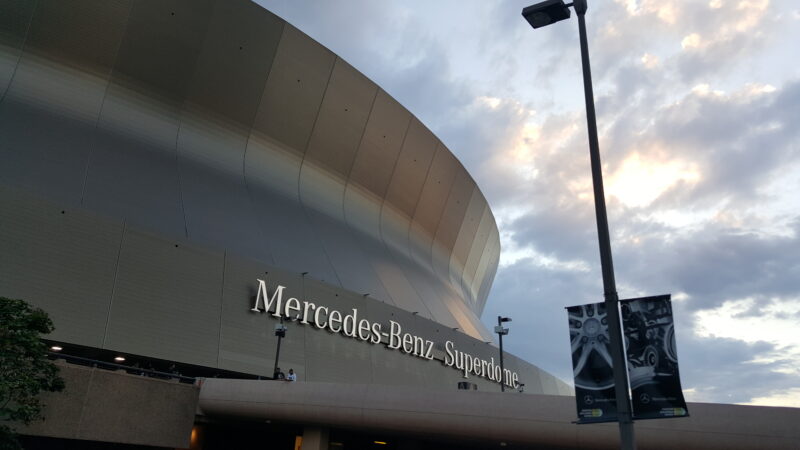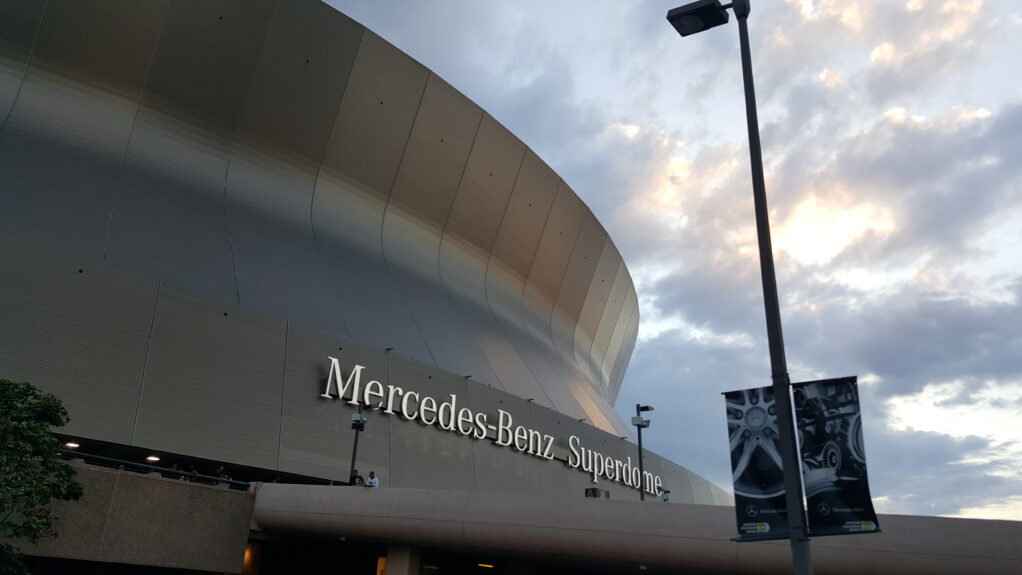 The tailgating was pretty limited, I guess because it's a pointless, meaningless preseason game.
But with the stadium being one of the most iconic in the US (especially with the building's history as a shelther during Hurricane Katrina), it was nice to experience a game inside.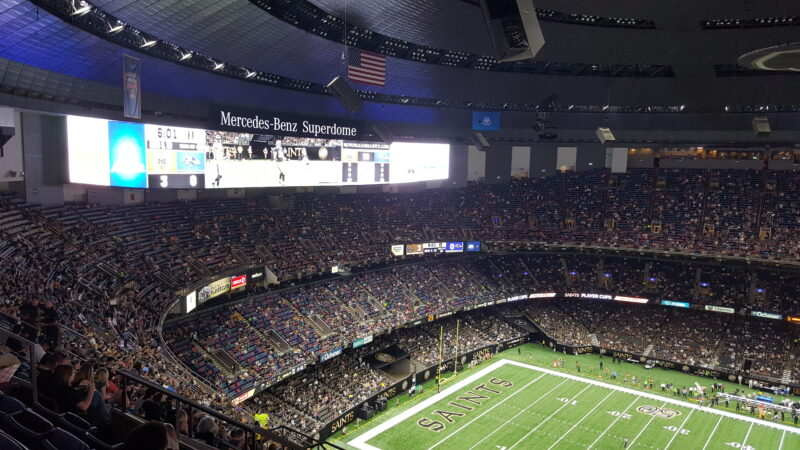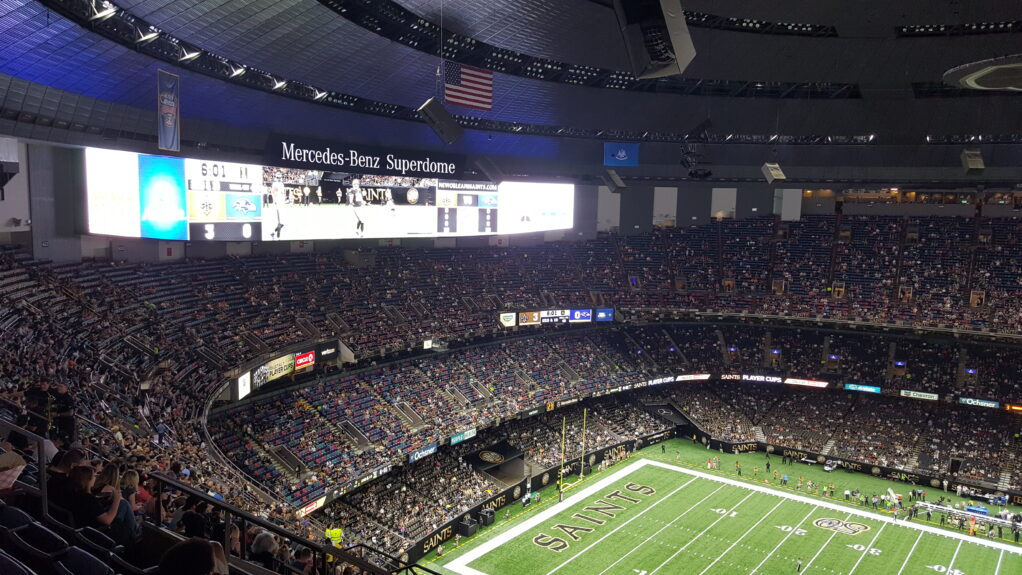 Again, the visiting team was the Baltimore Ravens, or rather the Baltimore Ravens backups (who won, not that it matters).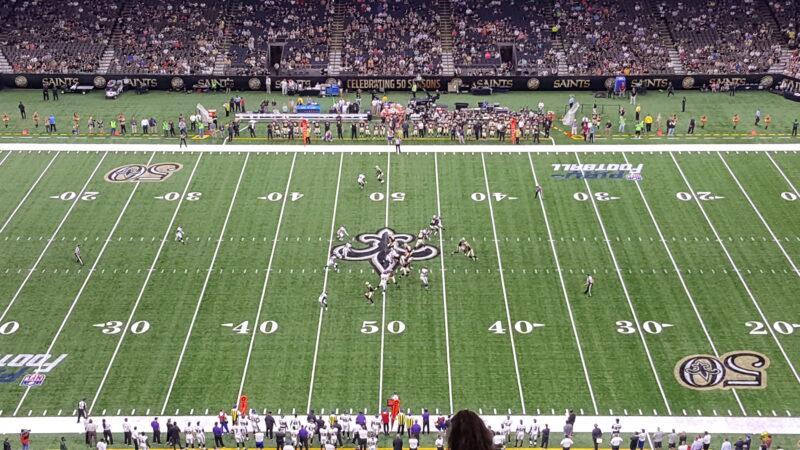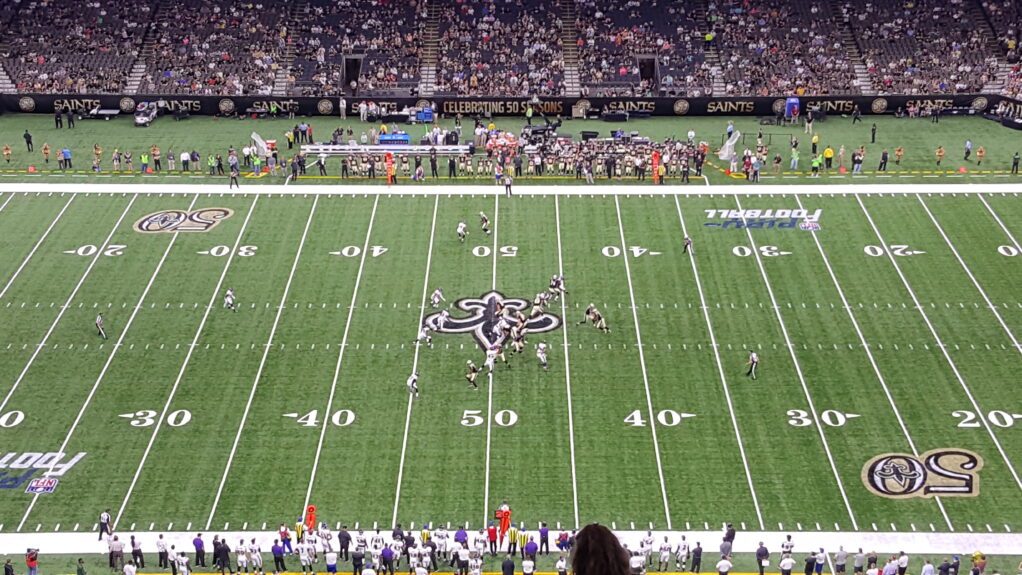 The atmosphere was great with the cavernous sound of the dome, so I can only imagine how fun it must be for a real game. Definitely a great place to go see an NFL game, especially if you unfortunately haven't explored NOLA yet (you should at least once).
Want to get more content to discover awesome destinations?
Summary
Attending an NFL football game in person is a must-do experience for any football fan and I certainly enjoyed my 5 games. I also highly recommend making a trip out of it and going to visit a cool city at the same time. No matter the NFL stadium you choose, it will be a fun activity.
What would you like to know about attending an NFL football game? Tell us in the comments below.
See the deals we spot: Cheap flights
Explore awesome destinations: Travel inspiration
Learn pro tricks: Travel tips
Discover free travel: Travel rewards
Featured image: Buccaneers game in Tampa, Florida (photo credit: Andrew D'Amours/Flytrippers)
Share this post to help us help more people travel more for less: