The fact that Hong Kong is such a distinctive city is not very well known: there are so many huge cities in Asia that many people don't know the difference between them (or think that Hong Kong is like China). But Hong Kong is one of the most unique places in the world.
Since the government will give away 500,000 "free" flights to Hong Kong (good timing, as good prices to all of Asia on our cheap flight deals page are rarer right now), I'm re-sharing my first impressions of my time in Hong Kong in 2017.
Hong Kong is such an incomparable city that every traveler should go and discover it at least once (the city has changed a lot with the events in recent years, though, and I haven't been back since). It's also worth noting they still require mandatory masks right now, even outside (yes, in 2023).
So here is an overview of my experience and some logistical tips to visit this city that I had been dreaming of going to for many years… and that is one of my favorite cities in the world.
Basics of the important context of Hong Kong
You can skip this section if you know the basics of Hong Kong, but I like to give a little context, especially for such a special situation: Hong Kong belongs to China… but is not part of China.
First of all, Hong Kong is located on a few small islands close to the coast of south-east of China.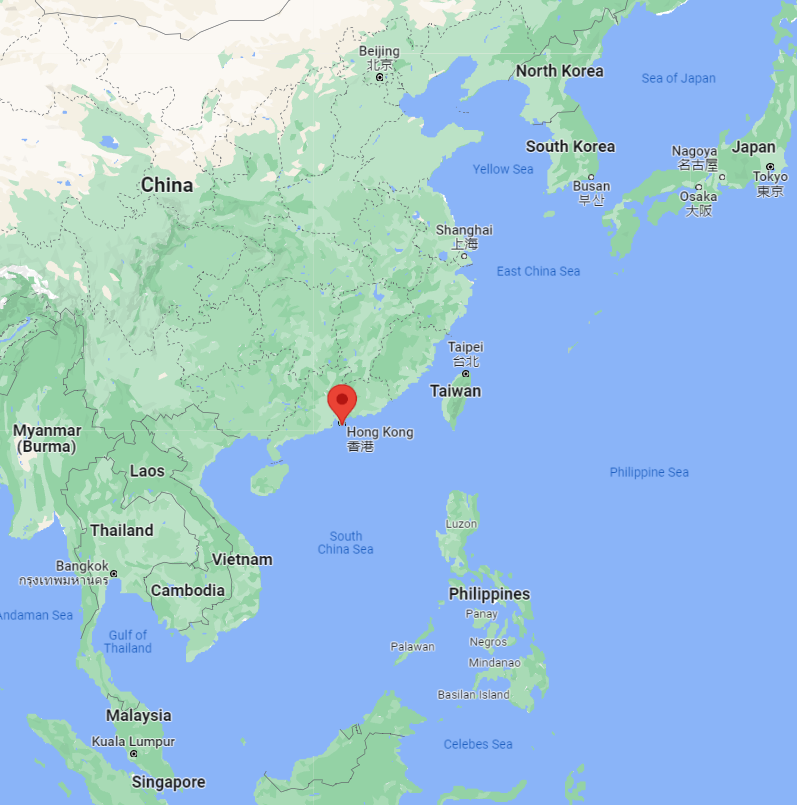 Hong Kong was a British colony until 1997. Think about it, about 25 years ago, it belonged to the UK. That's recent!
Now it belongs to China, but it is a semi-autonomous entity. It's a "special administrative region" (SAR).
It's completely different from China, even if it belongs to the same country.
In short, Hong Kong has:
Its own government (elected, unlike in China)
Its own financial system (capitalist, unlike in China)
Its own currency (Hong Kong dollar, unlike in China)
Its own customs (no visa needed, unlike in China)
Its own laws (Google is not censored, unlike in China)
Its own culture (quite different from China's)
Etc.
You can read my detailed article that explains the difference between China and Hong Kong (and the other regions of "China") for more information.


Introduction to Hong Kong
Here are my impressions of life in Hong Kong and the city of Hong Kong itself.
Life in Hong Kong
Its unique history makes it a unique mix of western and eastern cultures.
It is a haven of cohabitation between many influences and a city where there have been many expatriates who have brought their touch over the decades. And almost everyone understands English, while in China it is quite the opposite as I will explain in my post about my trip to China.
Hong Kong has long been an extremely international city. This is one of the aspects I loved about the city. There is really no place where you feel anything like this, even in other very international cities.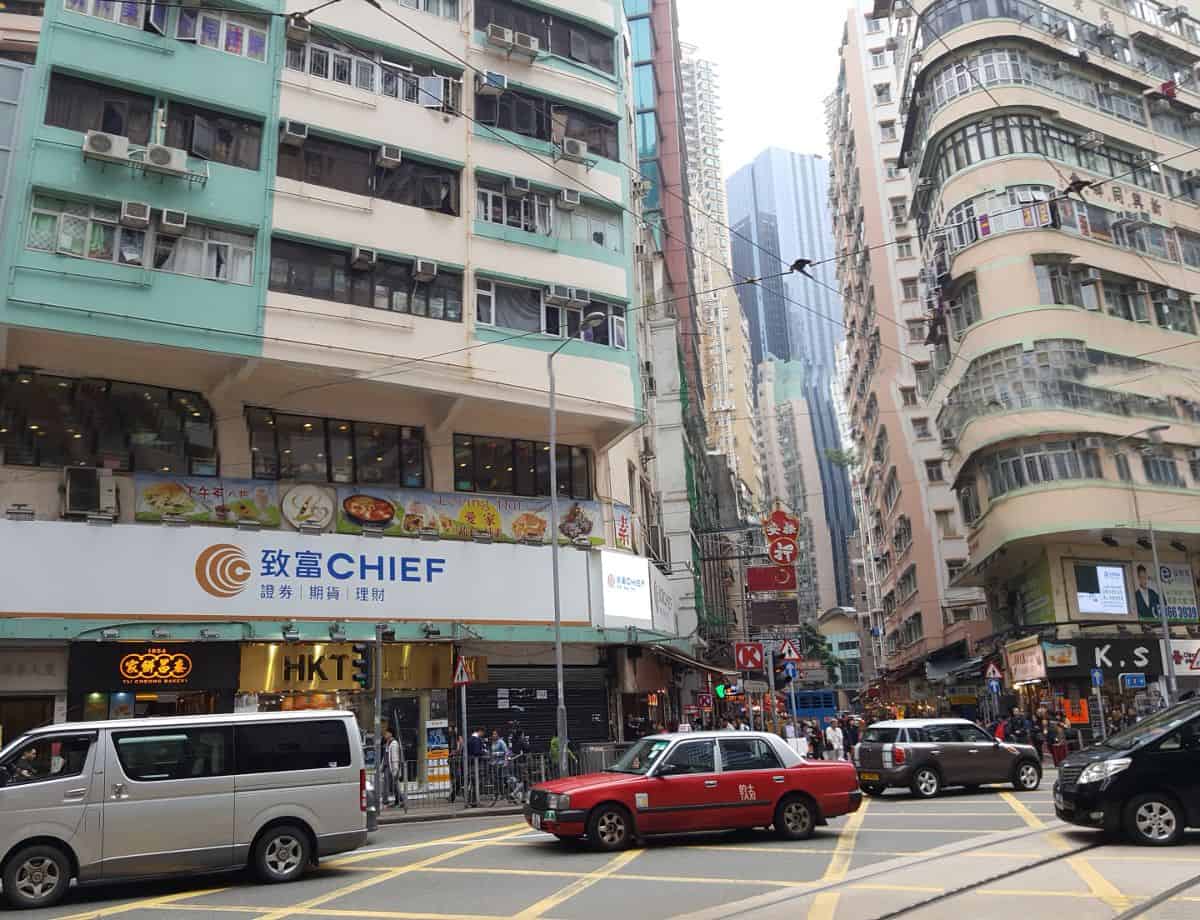 Hong Kong is a global financial capital and has one of the highest standards of living in the world. Its human development index, a measure of the quality of life, is among the highest in the world (and higher than China).
This makes it a perfect place to visit for someone who has never been to East Asia and wants to tame the region more gently (it's less of a shock than China, I can speak from experience).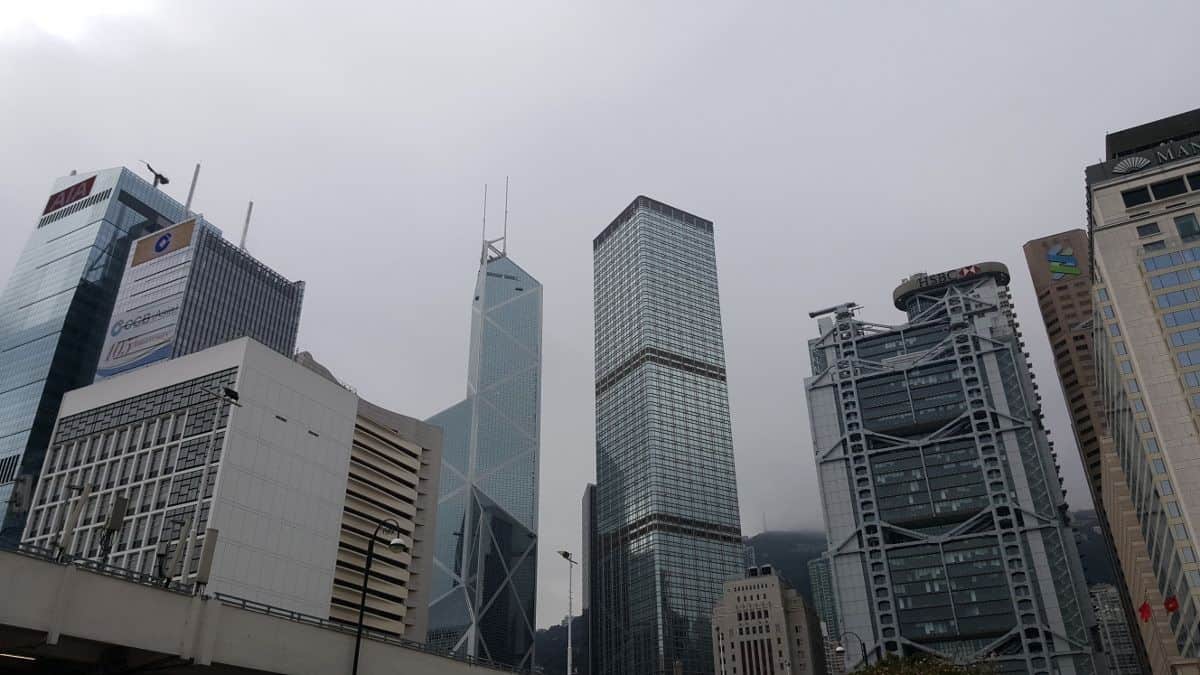 The city of Hong Kong
Hong Kong is one of the densest cities in the world. That's one of the reasons why I love this city and had been looking forward to visiting it for a long time, since I've been a fan of skyscrapers and architecture for a long time.
There are a lot of skyscrapers in Hong Kong. In fact, it is literally the city with the most skyscrapers in the world!
Fun trivia fact, which I love to collect: in Hong Kong, there are more people living on the 14th floor or higher than in any other city in the world. It is therefore often called the most vertical city in the world.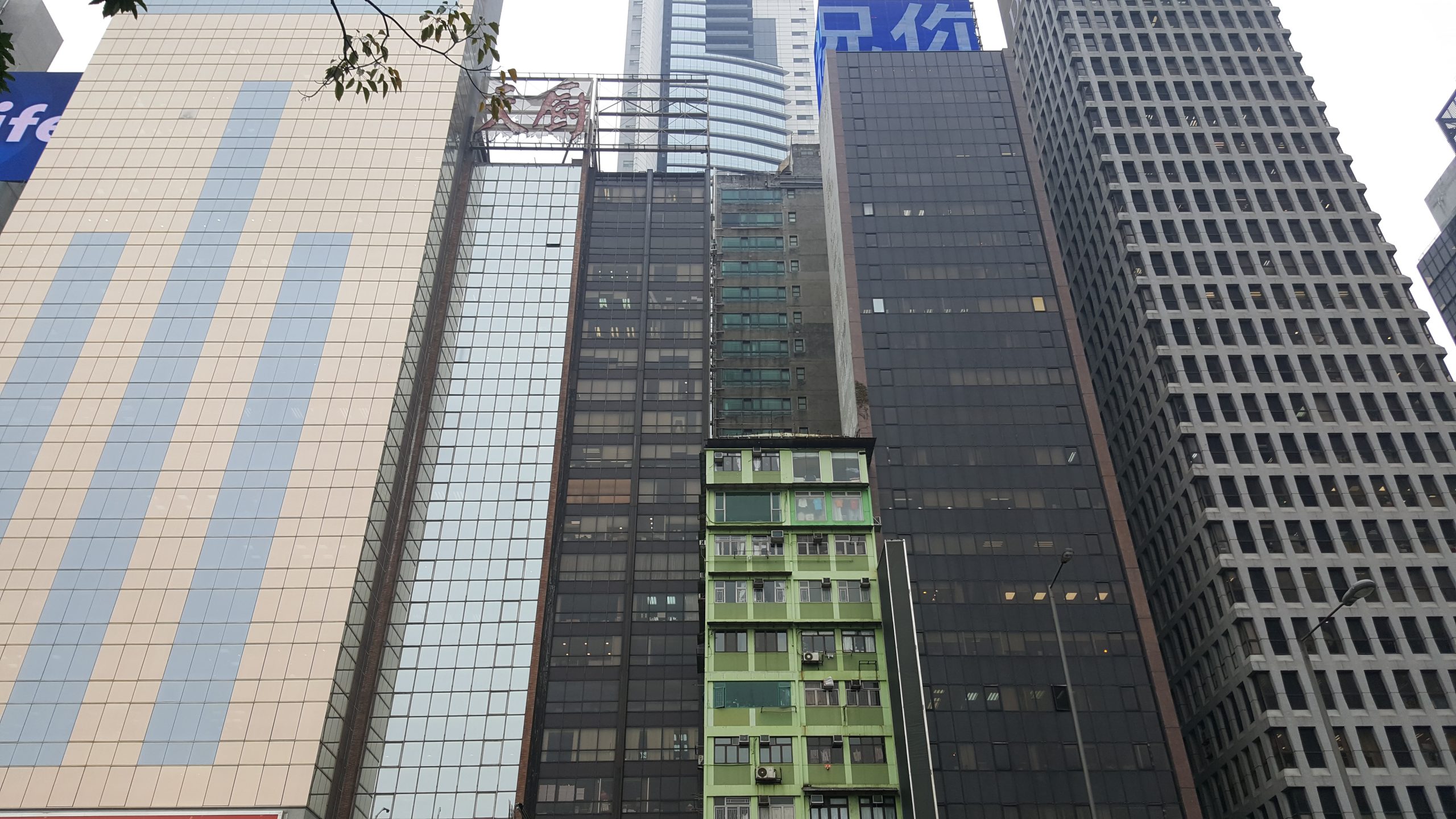 Hong Kong has 7.4 million people (almost the same number as the entire province of Québec) who are, for all intents and purposes, crammed into the equivalent of less than a quarter of the island of Montreal. That's what I mean by dense.
But compared to China's billion inhabitants, Hong Kong's population number is almost nothing. In fact, even just compared to the Chinese area that borders the semi-autonomous territory, it's not very big.
The Pearl River Delta mega-region, which includes Hong Kong and several Chinese cities, already has more than 85 million inhabitants (twice the population of Canada)… in an area that is about the size of half of Nova Scotia. In short, not very big for 85 million people.
But anyway, back to Hong Kong specifically.
There are 3 main parts:
Hong Kong Island
Kowloon
The rest
The focal point is the famous Victoria Harbour, a narrow strait that separates Hong Kong Island and the Kowloon Peninsula, the 2 most important parts of the city of Hong Kong.


The majority of the city is actually located directly on both sides of this body of water.
What is considered Hong Kong's downtown area is on Hong Kong Island, the island in red.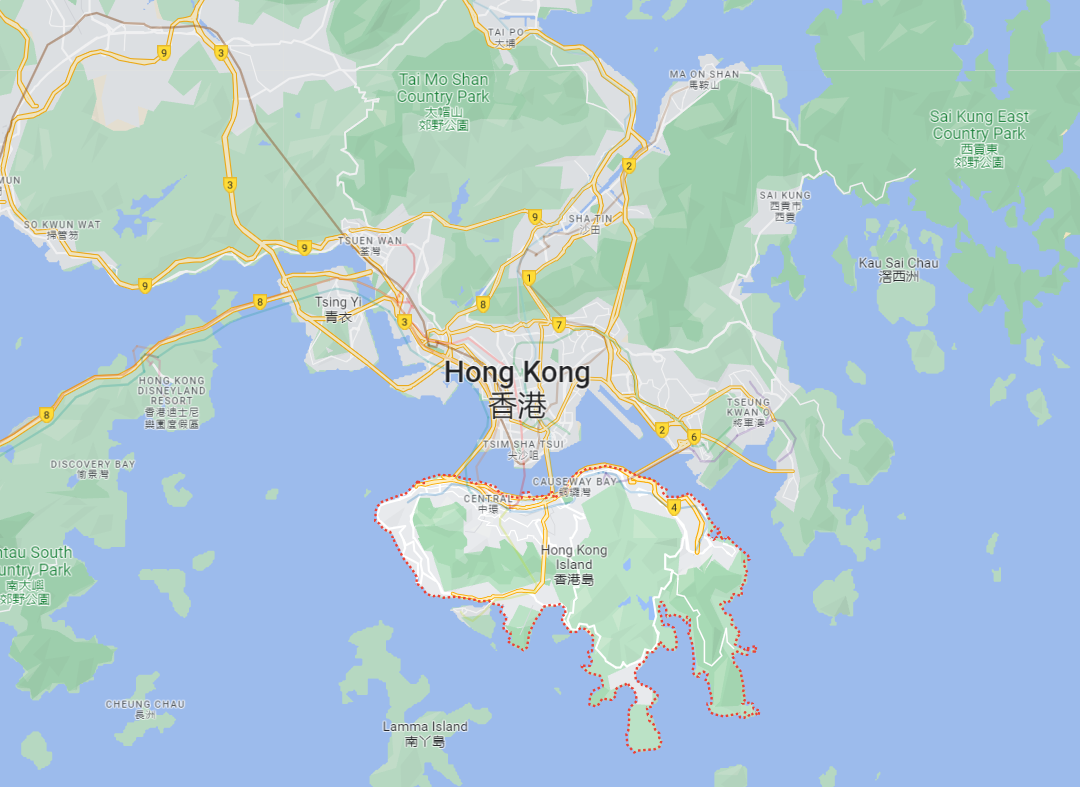 The northern part of Hong Kong Island is extremely dense because the developed area is very narrow. Apart from the downtown area, pretty much all other neighborhoods are quite dynamic.
On the other side of Victoria Harbour is Kowloon. It is the most populated part, but mainly because there is a lot more developed area. This part has its own attractions and its own distinct vibe, a bit more "local."
Apart from these 2 parts, everything around is the rest and there is even a lot of nature and greenery.
In fact, the city is so dense because the islands that make up its territory are quite small to begin with. But most importantly, most of these islands are covered by mountains and there is very little space to build.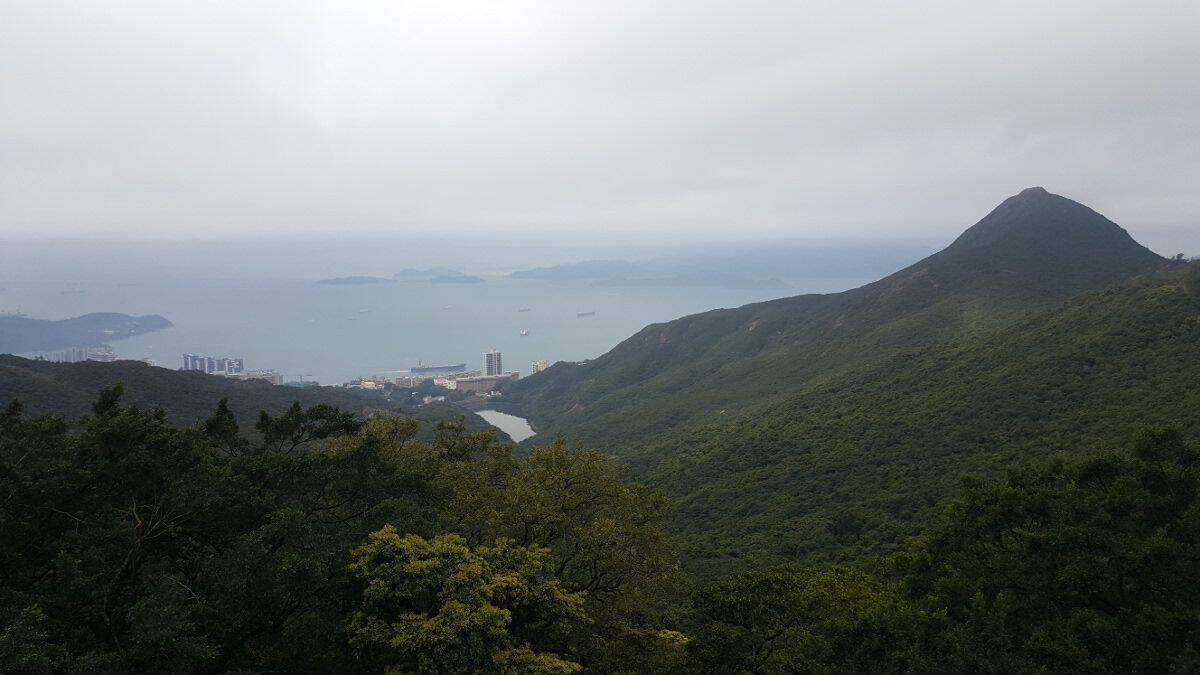 The nature areas look pretty, but I wanted a more urban trip that time.
So I stayed on Hong Kong Island and in Kowloon.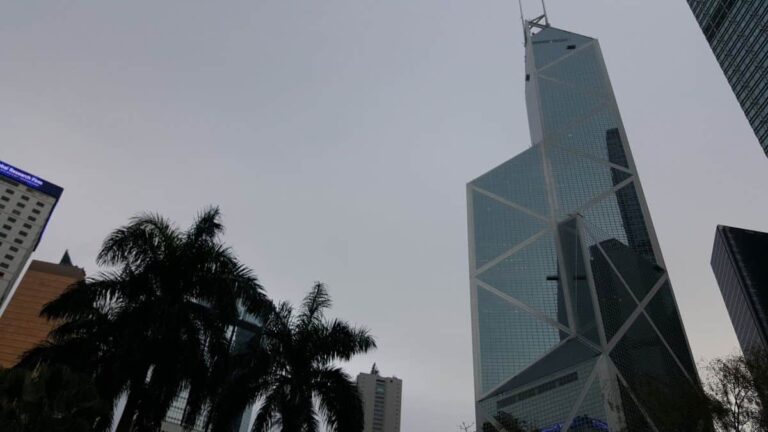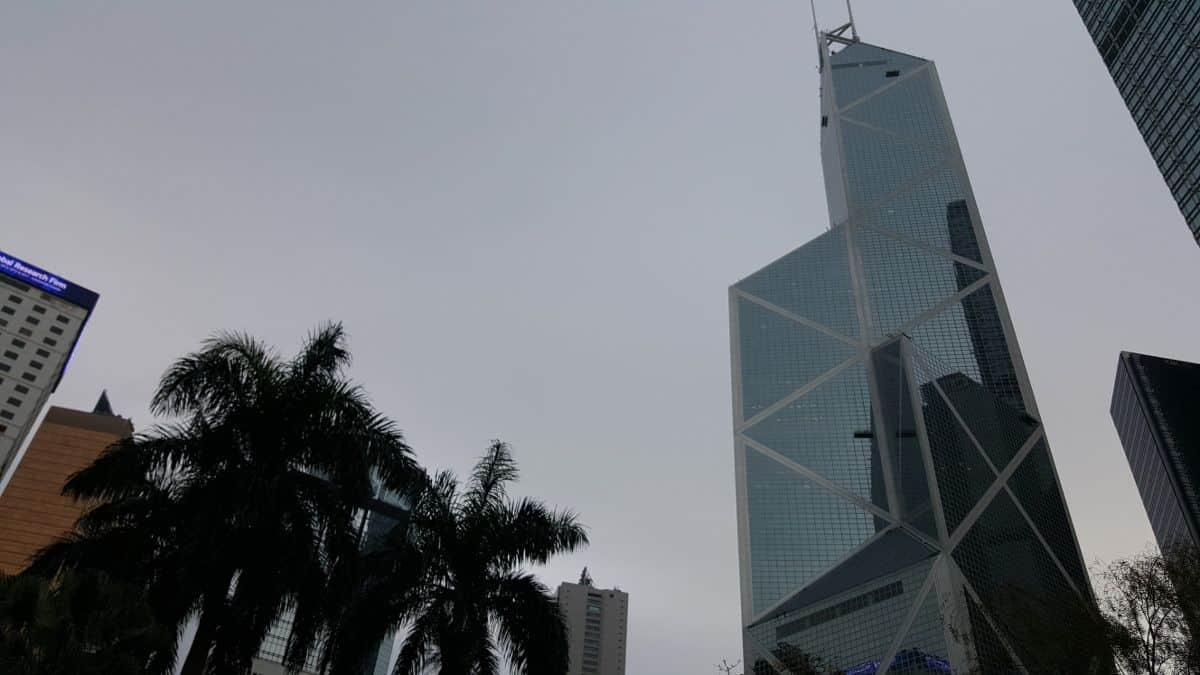 My highlights in Hong Kong
Here are some highlights of my trip.
The view from Victoria Peak
The first place you should visit when you arrive in Hong Kong is definitely Victoria Peak on Hong Kong Island.
It's the most beautiful viewpoint in the city and probably one of my favorites in the world.
It makes for an incredible view, with endless towers around the breathtaking natural estuary, with the mountains in the background.
And even the steep climb to the top of the mountain, in a small old-fashioned streetcar, is an interesting experience!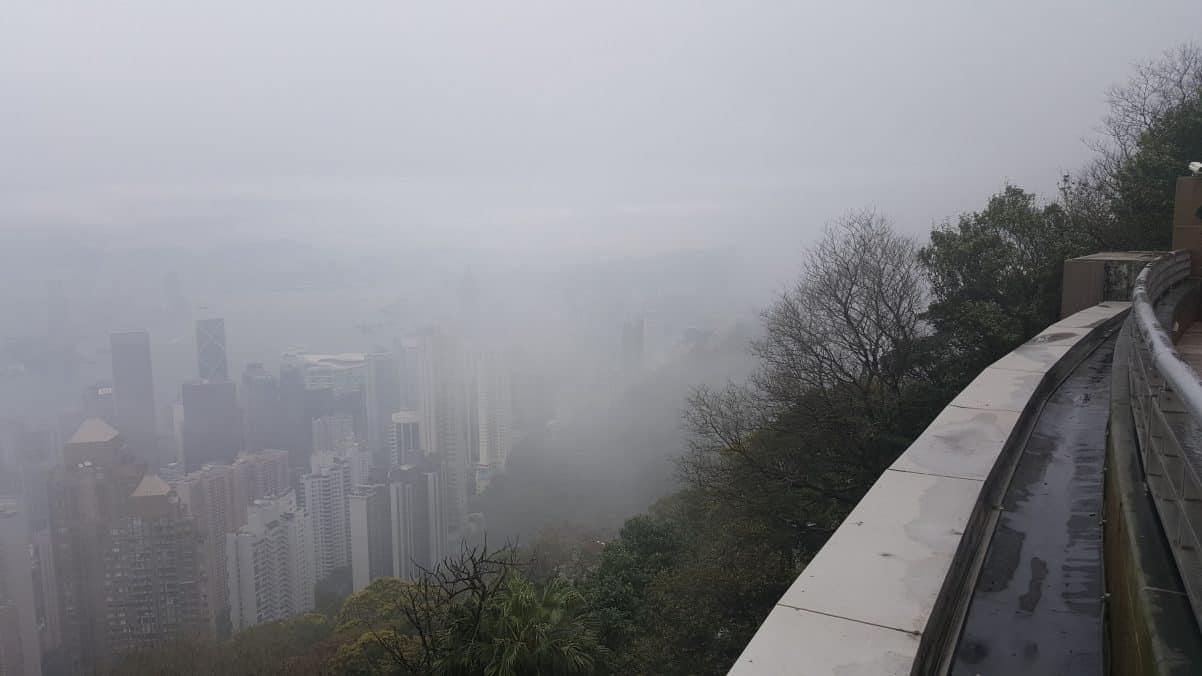 The Wan Chai district
The Wan Chai area is just east of the city center and is one of the liveliest.
This is where I stayed during my stay and it was really nice both during the day and at night and it's close to everything.
The rooftop terrace
I was lucky enough to be put in touch with a Canadian ex-pat who has his law office in Hong Kong, thanks to a mutual friend.
Since he has been living there for years, he was able to show me some very local experiences and some very good spots, like this rooftop terrace in Wan Chai.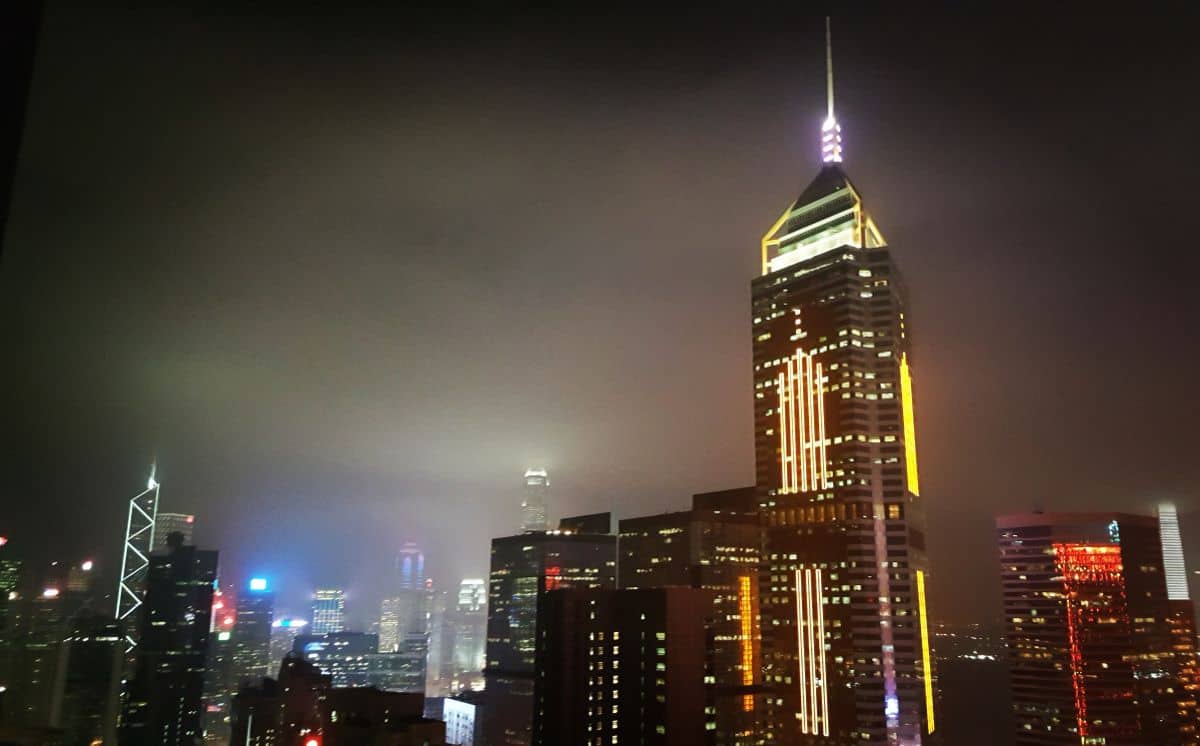 This is the rooftop bar at Wooloomooloo Steakhouse. I love these incredible urban views and being surrounded by lit-up towers on all sides.
And we were just on the 31st floor… the International Commerce Center tower across the water has 112 (literally 3 times as many) and also has a rooftop deck: that must be pretty nice too.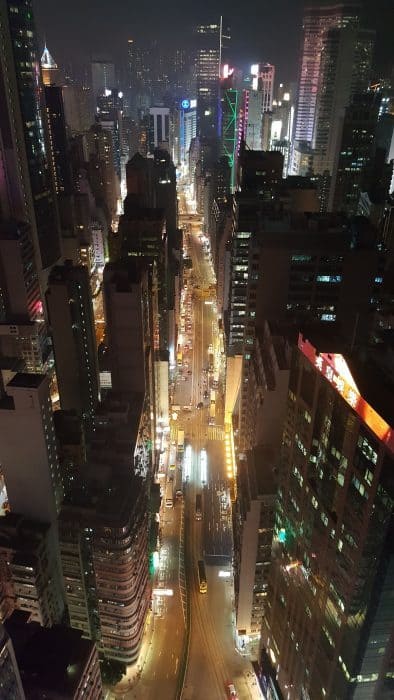 The evening at the Happy Valley Racetrack
I must say that my racetrack experience was quite limited (I visited the Gulfstream in Florida like many Quebecers and that's about it) and I kind of associated it with an activity for people who are at least twice my age.
Either I was wrong or it's a cultural difference in Hong Kong!
Horse racing at the Happy Valley racetrack is one of the favorite activities of young Hong Kong ex-pats! It is really popular there and it was not what I expected with my prejudices.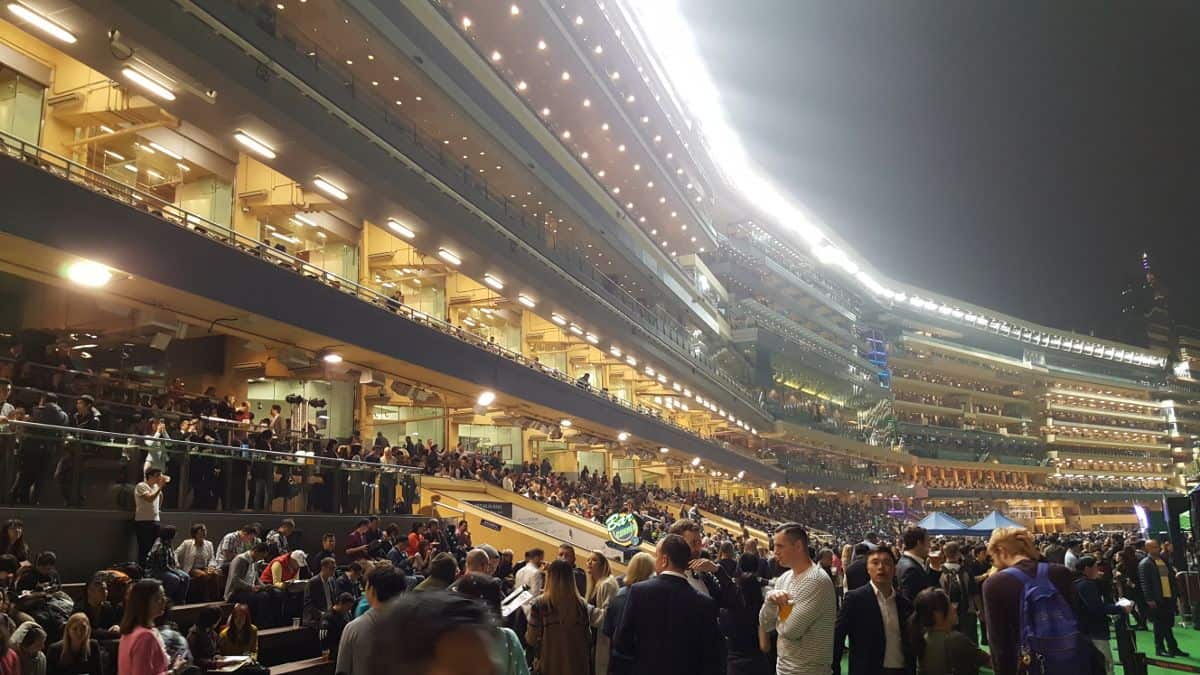 It's the place to go in the evening apparently, which seems strange considering it's a racetrack, but there you go! I was quite impressed by the size of the event. The building was huge… and almost every seat was full!
I didn't expect to see so many people. There were thousands of people and it was very festive, so it's a great evening activity to do whether you like horse racing or not.
As you can see by all the lights on the towers in the background, the racecourse is smack in the middle of the city, right next to Wan Chai.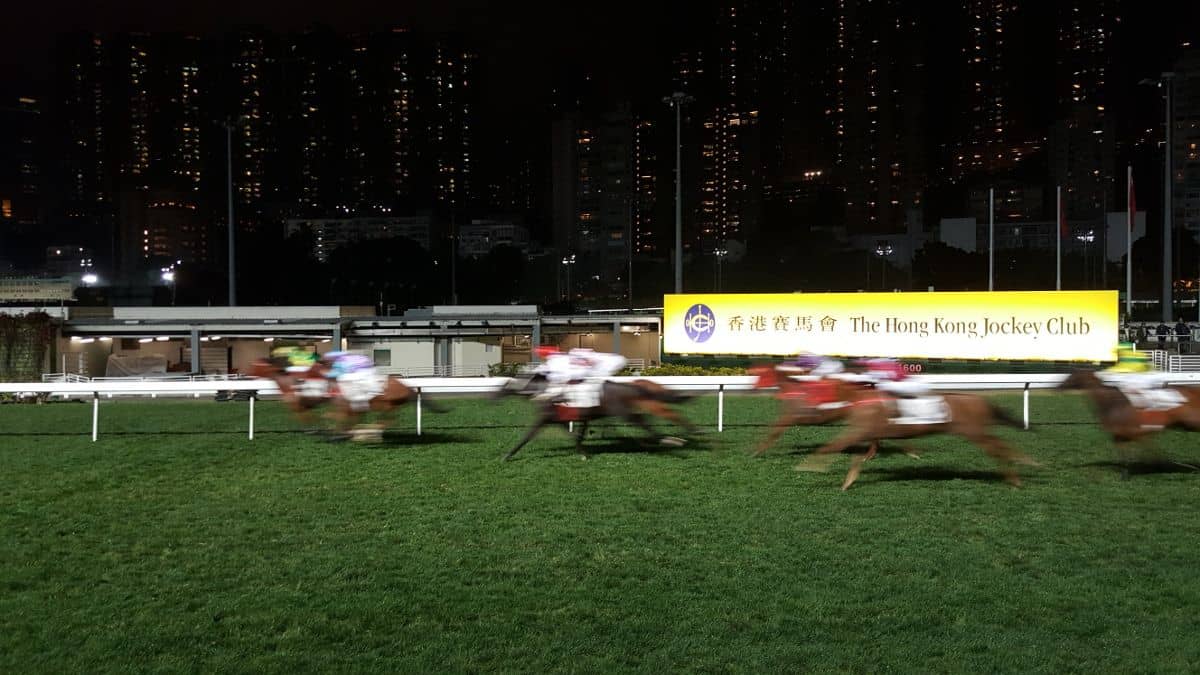 I met people from France, Australia, England, and the United States who all live in Hong Kong… the city is truly a melting pot of expatriates!
The walk in the city
In any city, I love just walking around and seeing how people live and what the city looks like.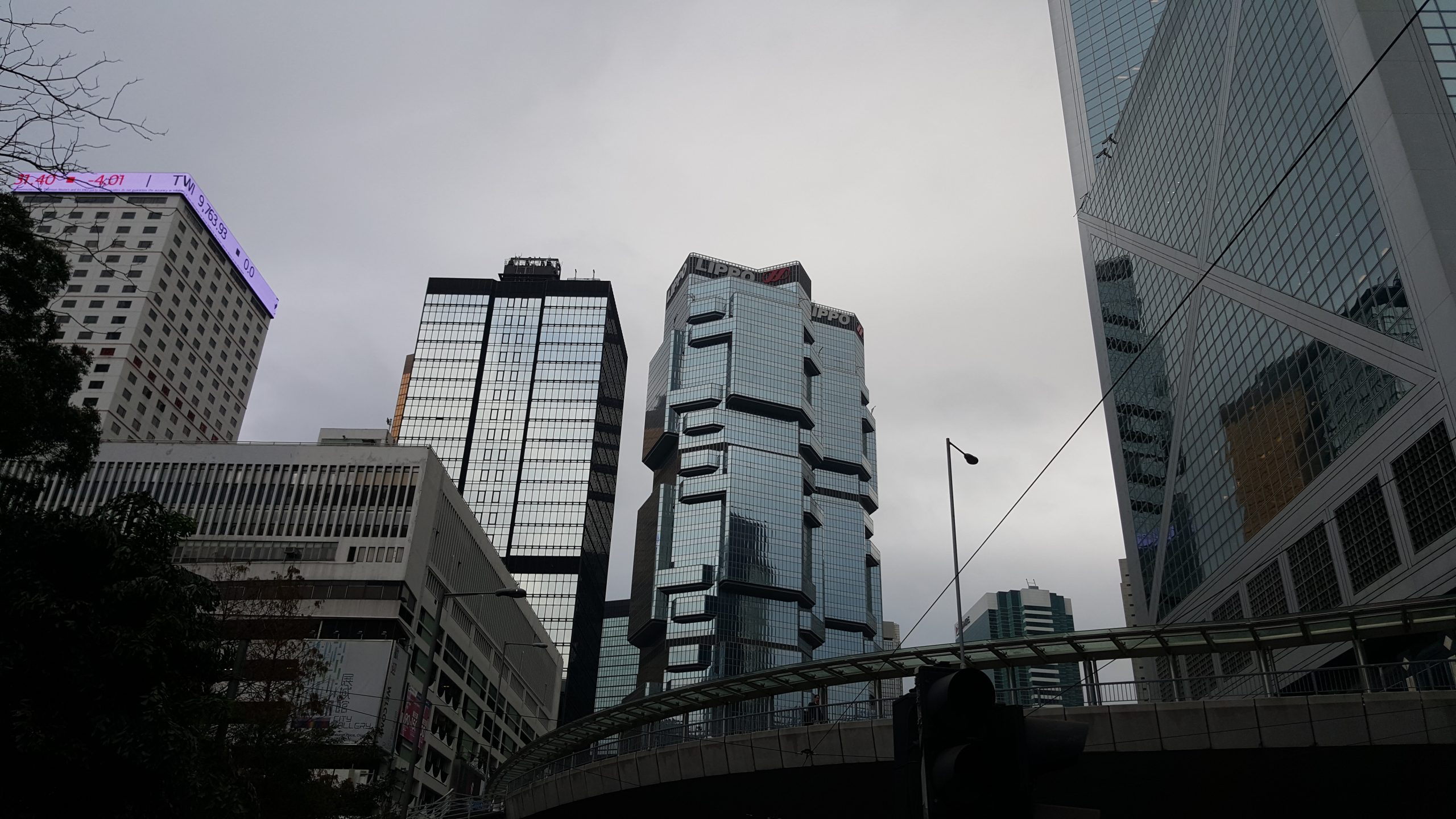 In Hong Kong, there is plenty of modern architecture to admire.
And there is the waterfront which is never far away.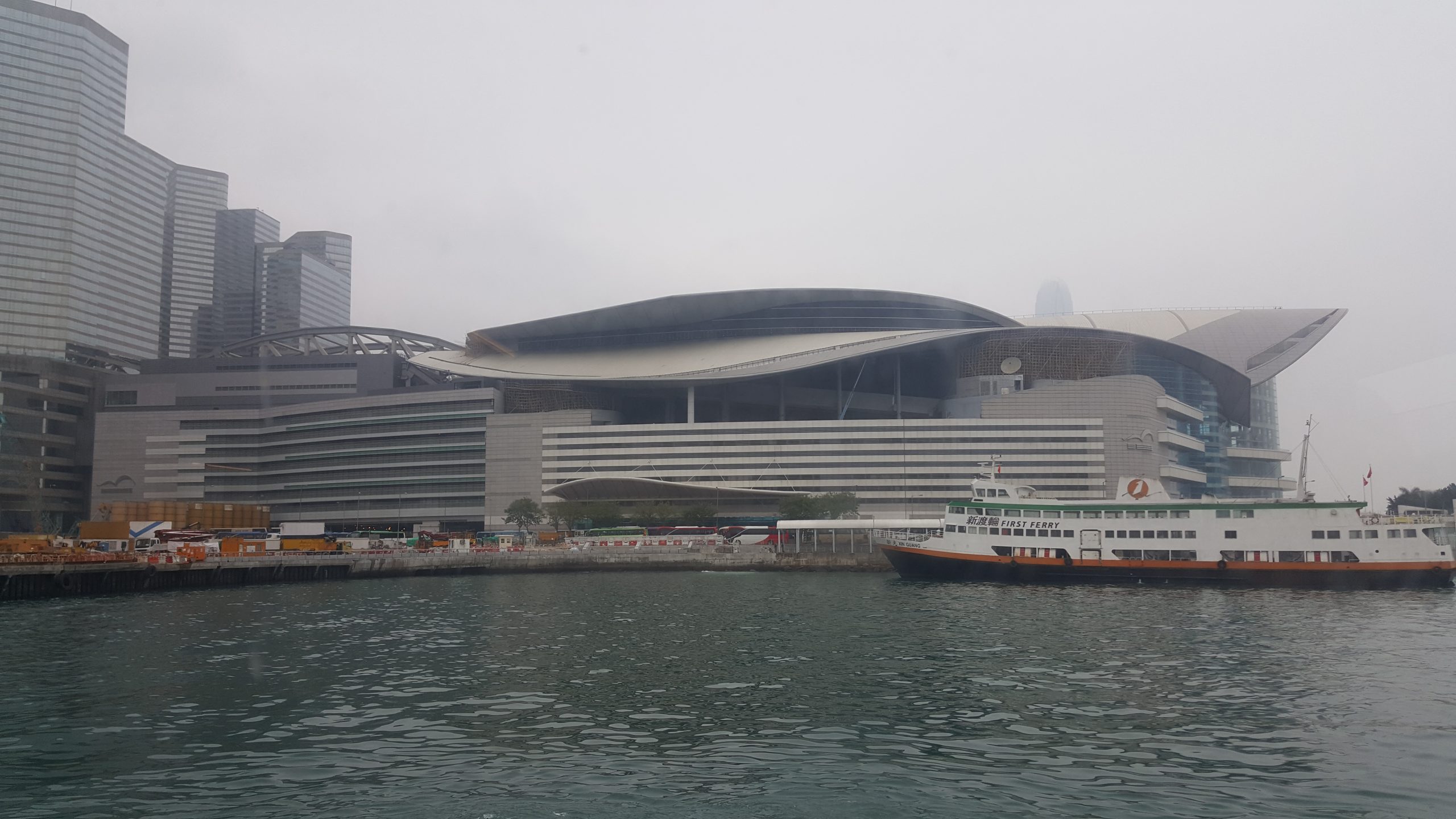 There are markets and many streets to explore in cool neighborhoods. And there are even a few parks to relax in the middle of the city.
I actually stumbled upon a relaxing group course to observe, right in the middle of the skyscrapers.
The Kowloon district
Kowloon is huge, but the most interesting part is the densest part, Yau Tsim Mong. It's a different atmosphere and a bit less international, it's worth spending some time there as I said above, but maybe even basing yourself there.
And I'll talk about this in the transportation section below, but it allows you to take a ferry ride which offers a nice view. And Kowloon offers a great view of the Hong Kong Island skyline.
The daytrip to Macao
It's not directly related to Hong Kong, but it's still something to do while in Hong Kong (and I'd rather talk about it a bit here until I do a separate article on Macao).
It's great, you can take a less than 1-hour boat ride and cross over to the other special administrative region of China, which is Macao.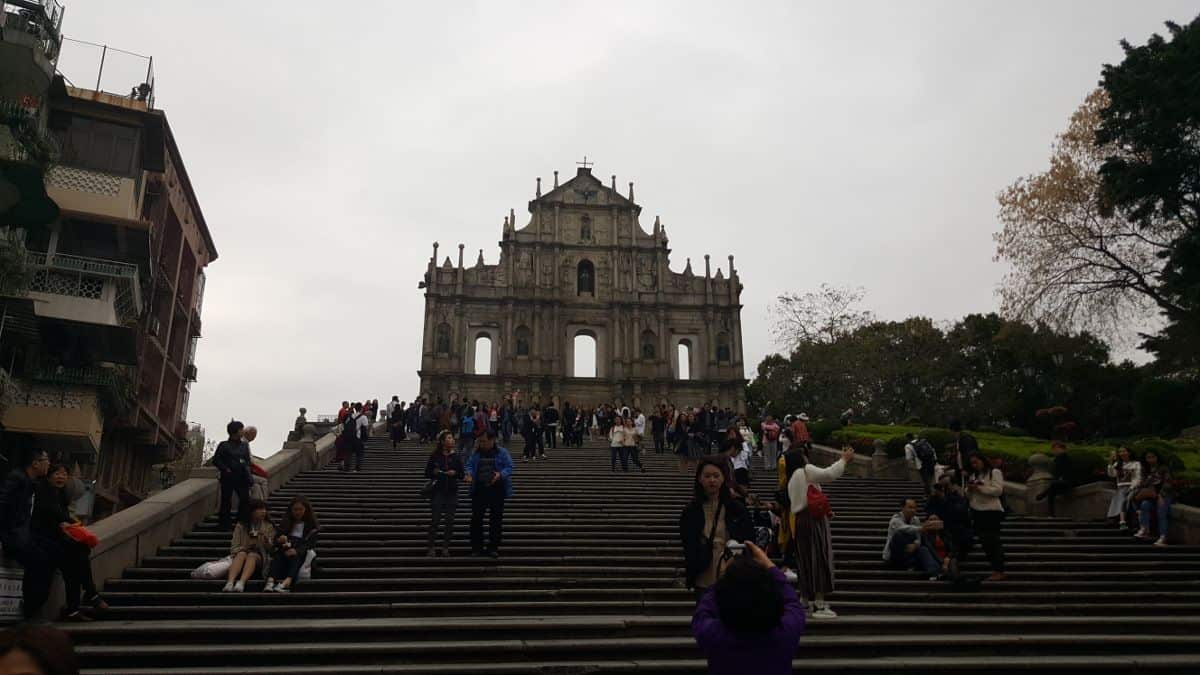 Macao is a former Portuguese colony, so there are some rather unique and surprising monuments to see in the heart of Asia, like the one above, which actually feels more like being in Europe. Not to mention the signs in Portuguese, for example for the street names.
Macao is the "Las Vegas of Asia", with dozens of casinos, and the city's gambling industry generates 7 times more revenue than Las Vegas.
It's definitely worthwhile a daytrip: there's more than just casinos.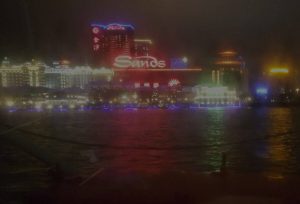 By the way, the longest bridge in the world has just been inaugurated by China, to connect the 2 sides (Hong Kong and Macao) of the delta I was talking about earlier. At 55 kilometers long, it's really impressive (to give you some perspective, San Francisco's Golden Gate Bridge is 3 kilometers long).
Another fun fact: since Hong Kong drives on the left and China drives on the right, the traffic has to be reversed on the bridge!
This bridge gives you a new option to go to Macao by bus. Whether it's this or the ferry, both are much easier than having to deal with a rental car in Asia.
Other attractions
I obviously didn't get to see everything I wanted to as always, but I want to at least highlight 4 other very popular things in Hong Kong: the Tian Tan Buddha Temple, hiking, beaches, and Hong Kong Disneyland.
Tian Tan Buddha Temple is located on Lantau Island and looks beautiful. I would definitely go there on my next visit.
Hiking and nature activities are fairly easy to access, either just outside of the city or even on the other less inhabited islands (which are really close by). There are several places where many monkeys live in the wilderness, just minutes away from the skyscrapers, in these less developed mountainous areas.
Beaches are available not too far away either and given Hong Kong's rather warm climate, you can even combine a more exploratory trip with a few days of relaxation if you like that part more than I do.
Finally, another thing that a lot of people like more than me besides the beaches are theme parks. Hong Kong Disneyland is quite popular.
Travel logistics in Hong Kong
Here are my first impressions of some more practical elements.
Budget in Hong Kong
Hong Kong is definitely not one of the cheapest destinations to travel to. Some things were almost as expensive as here in Canada. Pretty much everything was more expensive than in China right next door too.
I spent just C$50 total per day though, so it's possible to get by at a decent price. The key was the hostel because even if you travel with a buddy and you can split the cost in 2, the hotels are closer to Canadian prices than to prices in affordable countries.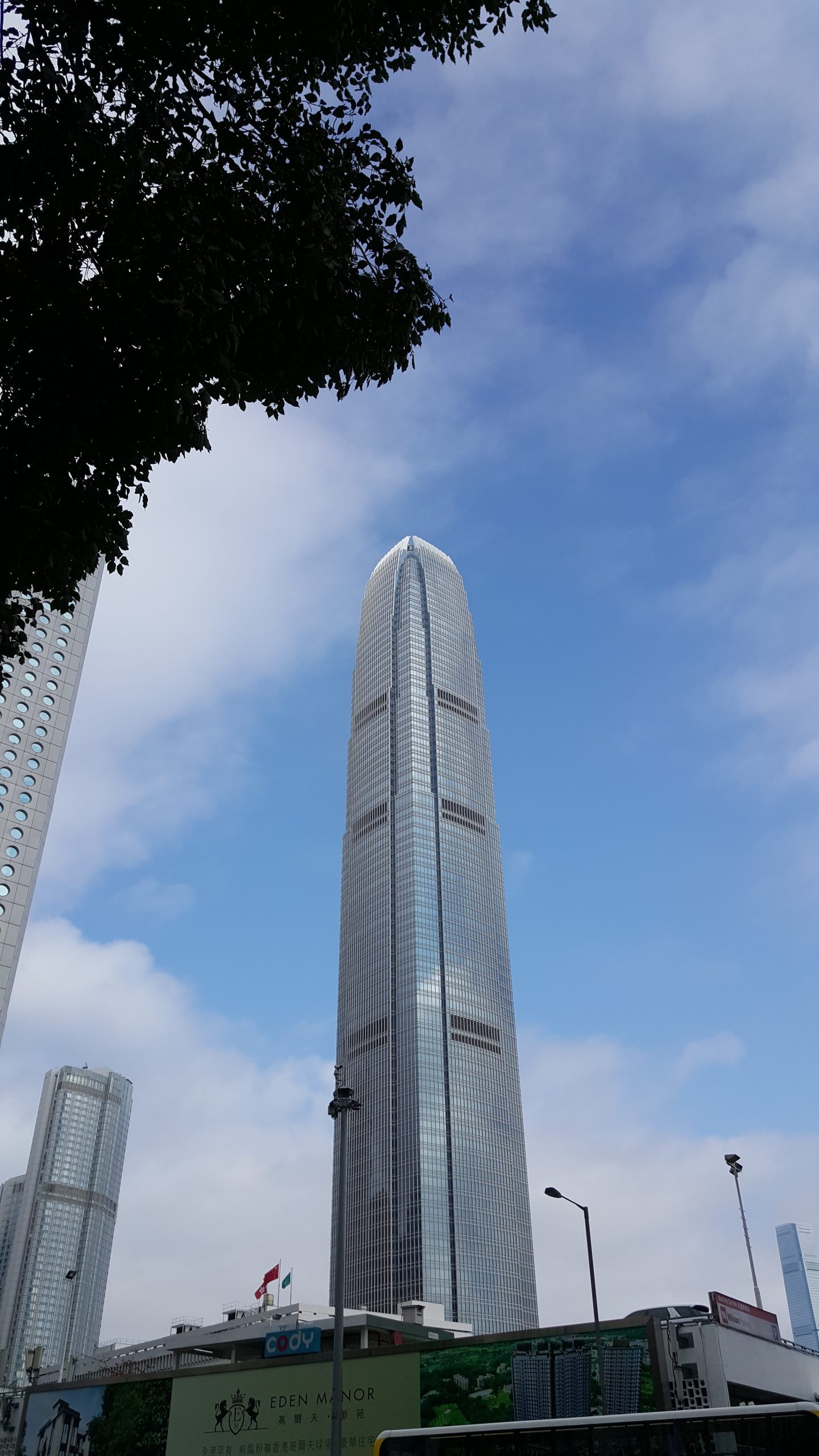 Currency in Hong Kong
The local currency is the Hong Kong dollar, as mentioned in the intro.
This is the only time in 60+ countries that I have seen a currency whose bills are issued by commercial banks directly, with the bank's logo on it. There are Hong Kong dollar bills issued by 3 different banks with their own different designs.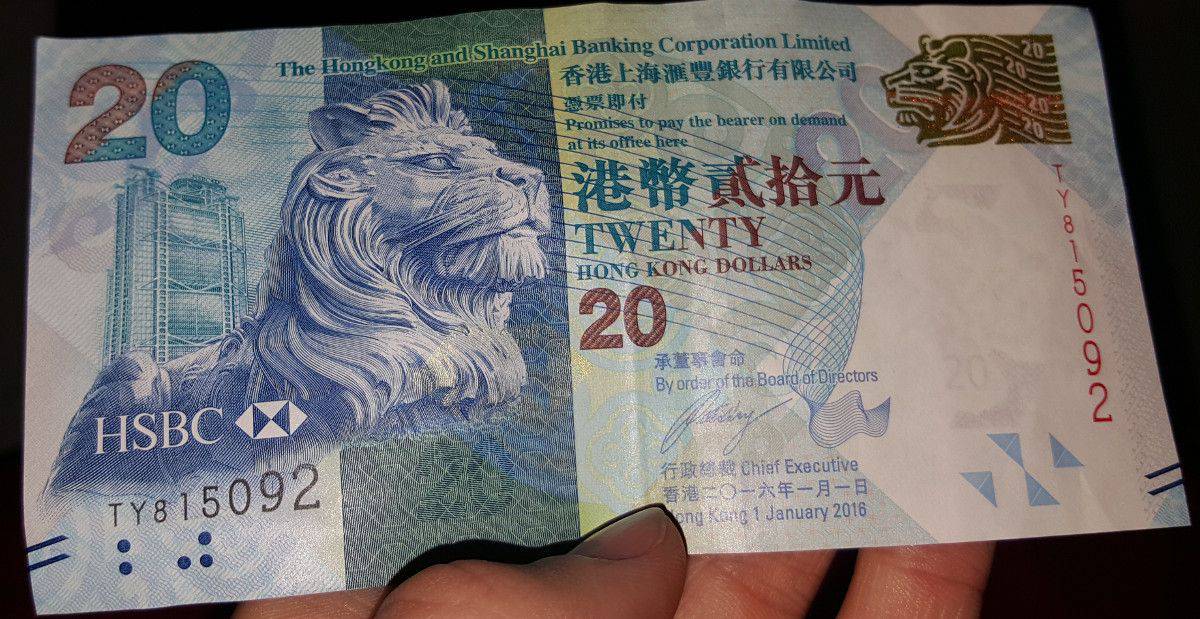 This one has the HSBC logo, one of the world's largest banks and one that was founded in Hong Kong (hence the name; Hongkong and Shanghai Banking Corporation), but it's long been a British company incorporated in England and headquartered in London.
(You may know HSBC from the fact that they have one of the best cards in Canada for travelers, the HSBC World Elite Mastercard, which will save you from paying foreign transaction fees while you're in Hong Kong, or anywhere else!)
Credit cards were quite accepted in Hong Kong, in order to earn points for free travel.
Accommodation in Hong Kong
As mentioned, Hong Kong is a fairly expensive city so hotels can be quite expensive depending on when you visit. You can see all the options and compare them with our favorite accommodation search tools.
If you have Marriott points, it's an expensive city so it's not the best place to maximize your free nights. But the Ovolo Southside Hotel, Hong Kong, a Member of Design Hotels looks great and costs the least amount of points since it's outside the city center, in nature. Another one, the Courtyard Hong Kong Sha Tin is also outside the city center, on a riverfront. The ones in the city are expensive.
On the other hand, being a global city, there are a good number of hostels at very good prices. This is what I chose so I can travel more often, as I often do in expensive cities when I travel solo. I didn't spend much time inside anyway: I was visiting Hong Kong.
The one I stayed in cost me C$19 a night and was great. Clean, and quiet but still had a nice, social atmosphere in the common area, I would definitely go back… but it didn't survive the pandemic.
It was called Yesinn Causeway Bay (there is still the Yesinn YMT which is similar in Kowloon district). There is still the Budget Hostel Hong Kong with a similar price and a rating of 9.4/10, also in the Kowloon district.
Transportation in Hong Kong
First, as in most East Asian metropolises, mass transit in Hong Kong is extremely efficient. The subways (MTR) cover all parts of the city, and are frequent and cheap.
Get a multi-day pass (Octopus card) and move around like that. You will live like a Hong Kong local, because almost nobody owns a car. But transportation is at prices similar to here.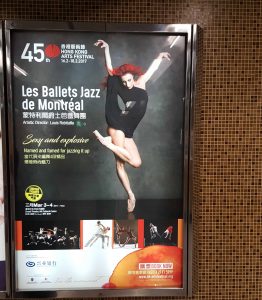 You should definitely experience the typical Hong Kong double-decker streetcar at least once.
It's a tradition that is very typical of Hong Kong that allows you to see the streets and neighborhoods from a different angle.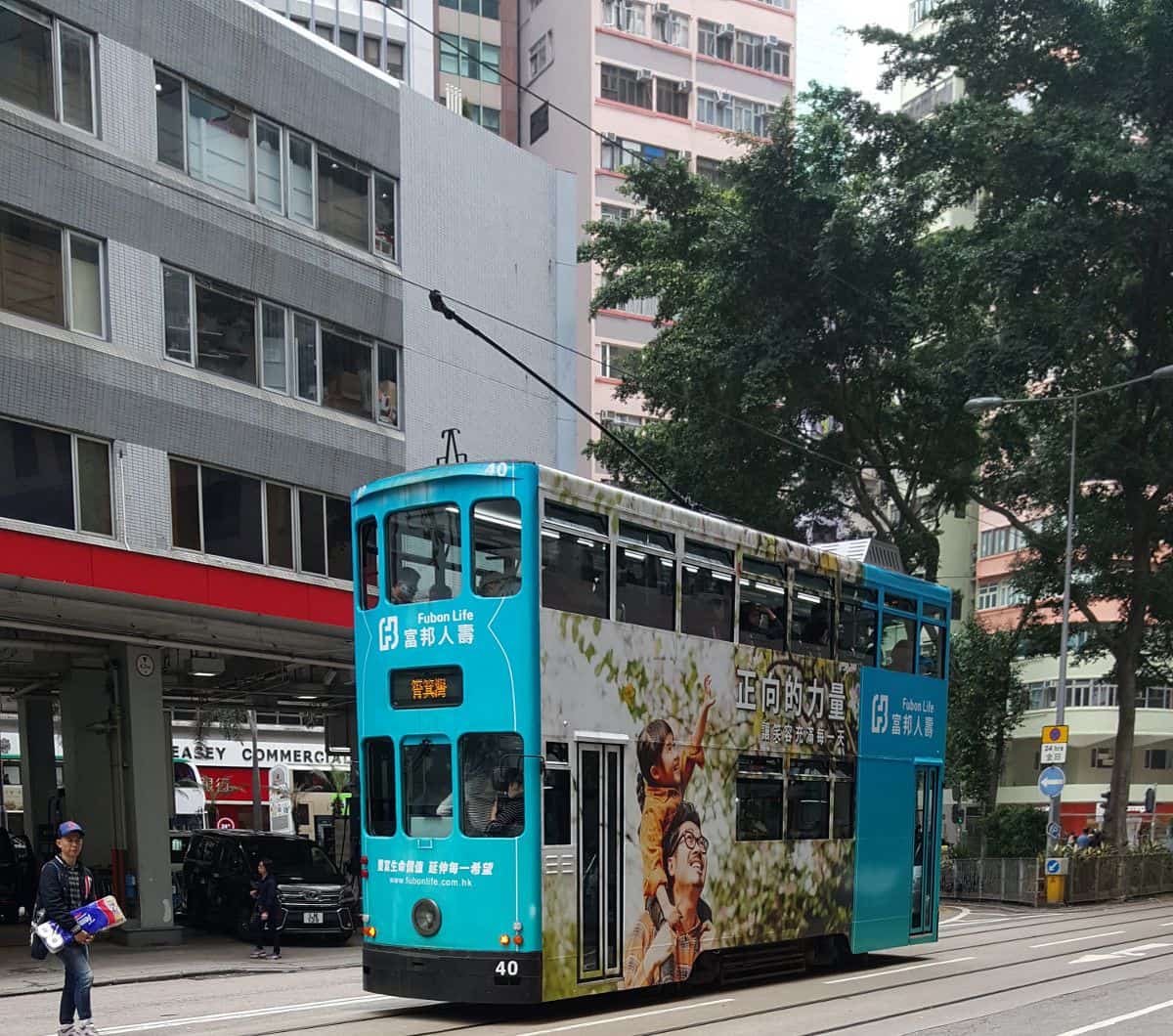 By the way, rest assured: this photo was not taken seconds before a fatal collision for this pedestrian.
Hong Kong was British, so driving is on the opposite direction (and the lines dividing the directions of traffic are white, as in many places in the world). But to avoid being in a fatal collision, you have to be careful crossing the street, because our reflexes are very used to our type of traffic.
And it's not just the streetcars that have 2 levels: there are so many people that it's true even for all the buses too.
Hong Kong ferries are also a classic.
You should cross between the 2 main parts of Hong Kong on the ferry (Star Ferry) to get a great view of all the shores of Hong Kong.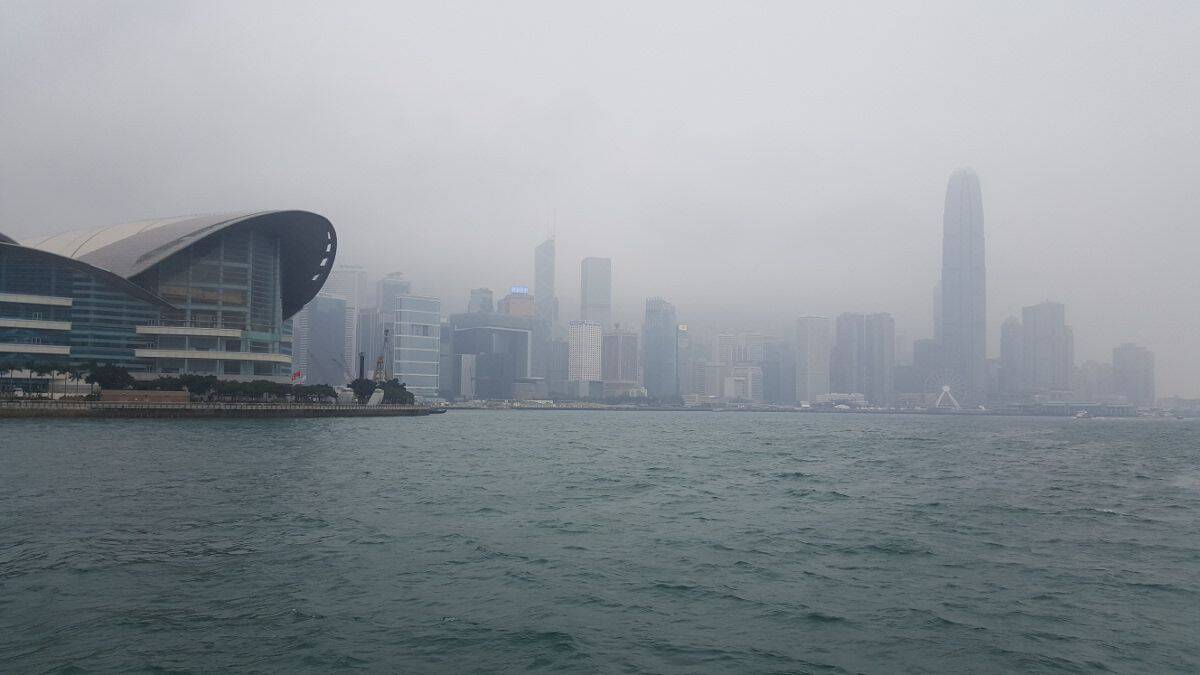 Here is a video of the crossing for those who want to admire the view of the city from the ferry.
(At least as much as possible through the haze there was the day I decided to go to Kowloon!)
Otherwise, the city is so dense that just walking is perfect to really absorb everything!
Food in Hong Kong
I'm not as much of a foodie as most people, but I like a lot of elements of Asian cuisine especially. And Hong Kong is known for its cuisine!
The Hong Kong classics I liked the most are sweet and sour pork, BBQ pork (cha siu), claypot rice, beef fried noodles, and beef brisket noodles.
But there are many other typical dishes such as dim sum, wonton noodles, steamed rice rolls (cheung fun), Chinese fondue, and egg tarts.
Perhaps the most famous Hong Kong dish is the pineapple bun, which to my surprise doesn't even contain pineapple!
It cost me $15 a day to eat, by eating where the locals eat, so by going to the small canteens and eating street food and by not always going to expensive restaurants.
Climate in Hong Kong
Hong Kong is opposite the southernmost part of China, so it is really beautiful all year round.
The coldest month is January and the temperatures are between 15 and 18 degrees, so you can visit in winter without any problem. It's even better maybe, because in the summer there can be a bit more rain.
I was there at the end of February and it was really nice temperature, even in the evening. It was a bit foggy during many of the days, but it's not the end of the world.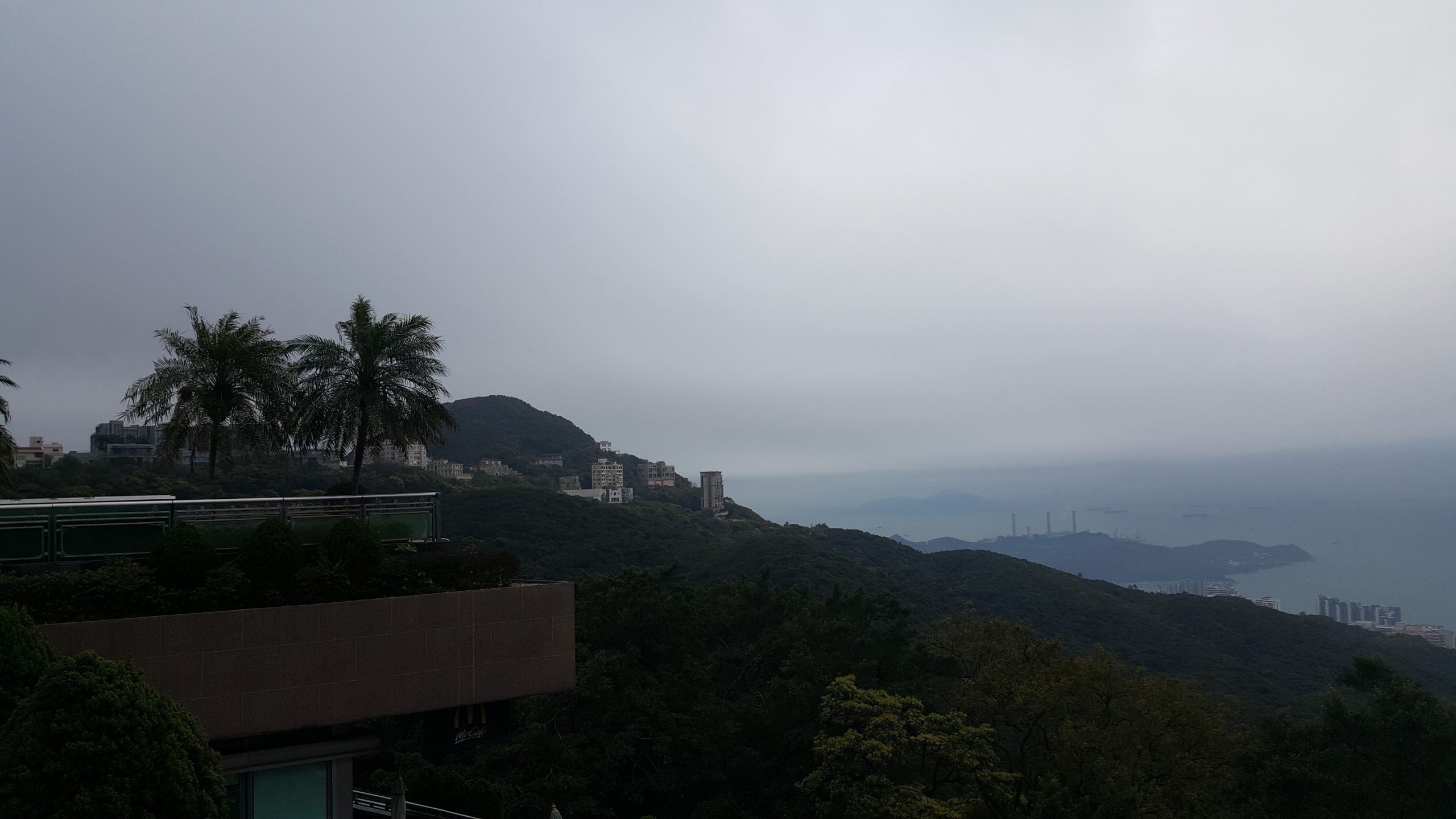 Getting to Hong Kong
If you take advantage of a good price to Hong Kong airport (HKG) directly, unlike me, you will have the chance to land at the new airport, one of the most unique in the world.
It's built on an artificial island in the sea a few kilometers from the city center, so landing there seems to be a pretty special experience in itself (at least for an aviation geek like me)! This is the only picture that is not mine because you really have to see it from above!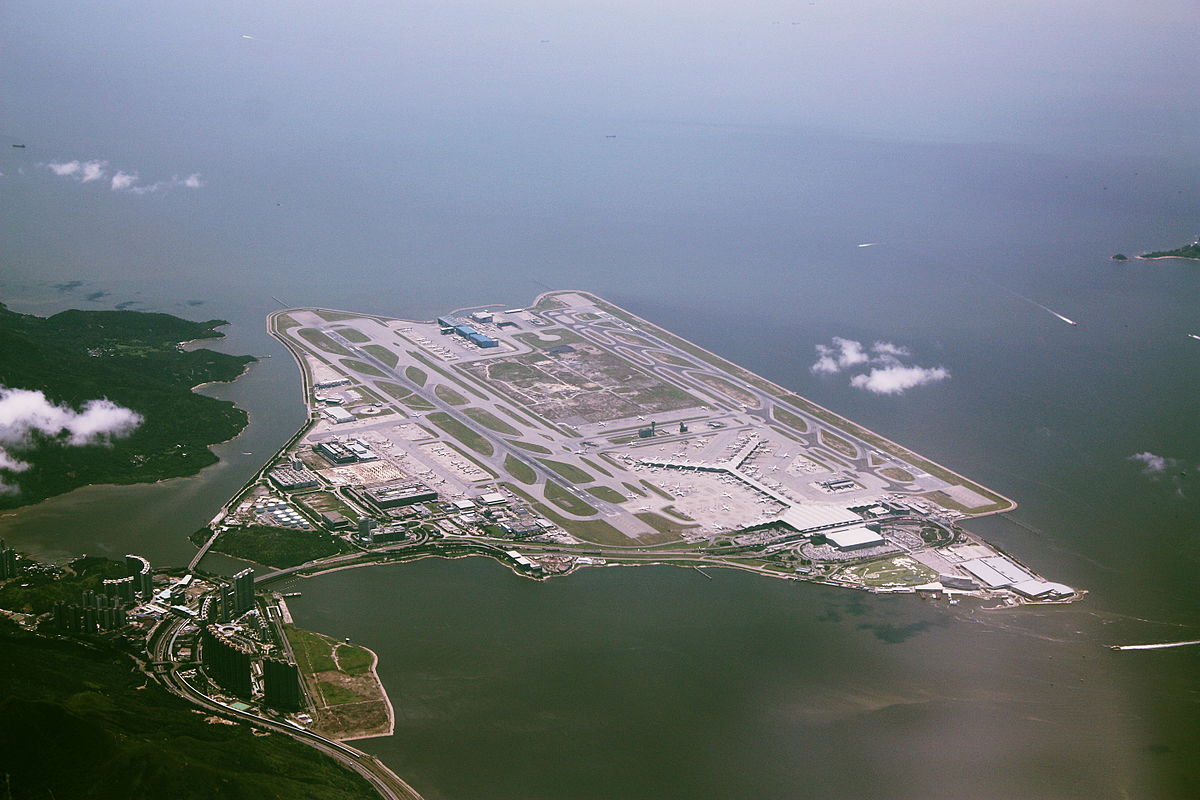 Here is an unusual story about Hong Kong: the old airport was long considered one of the most dangerous in the world. Pilots had to fly between mountains and skyscrapers to land in the middle of a dense urban area (with a sharp turn at a low altitude in the middle of the city just before the runway). The reason is that there is no more room in this dense city.
Solution? They dumped sand in the sea until there was enough to build an airport on it!
Otherwise, you have 3 other airport options that are all relatively close that sometimes save money:
Macao (MFM)
Shenzhen (SZX)
Guangzhou (CAN)
But in the case of Shenzhen and Guangzhou, it requires a visa, because they are airports in China. So that's only recommended if you visit China and Hong Kong at the same time as I did.
I jumped on a deal from Montreal to Guangzhou for $499 roundtrip that we spotted on our deals page!
I was able to visit the 3rd largest city in China, then I took a train to Zhuhai and walked across to Macao to visit this other unique city. Then I took the ferry from there to Hong Kong (but there is now a bus on the new bridge as mentioned).
To go back to visit Hangzhou, Shanghai, and Beijing, I took the subway from Hong Kong back to China and left from Shenzhen airport, after briefly visiting the 2nd largest city in China. Lots of different modes of transportation to cross borders!
Want to receive more content to discover great destinations?
Summary
Hong Kong is one of the most unique cities in the world. The mix of western and eastern cultures and the particular history of this territory give a very singular atmosphere that I absolutely loved.
What do you want to know about Hong Kong? Tell us in the comments below.
See the deals we spot: Cheap flights
Explore awesome destinations: Travel inspiration
Learn pro tricks: Travel tips
Discover free travel: Travel rewards
Featured image: Hong Kong's iconic skyline (photo credit: Andrew D'Amours/Flytrippers)
Original publication date: July 15, 2017
Share this post to help us help more people travel more for less: