Summer has arrived here in Brazil, and with it comes one of my favorite times of the year: Rio de Janeiro's world-famous Carnaval. While living in a touristy city might have its downfalls, being able to experience this event often is definitely a plus.
Brazilians celebrated one of their biggest events this last week — from the 17th to the 22nd of February — the Carnaval. And while Carnaval is a national holiday that is celebrated in many states in this country, in Rio de Janeiro, the event takes massive proportions.
I was there for the first weekend of this national holiday, so let me walk you through what it's like experiencing the Carnaval in Rio de Janeiro.
The event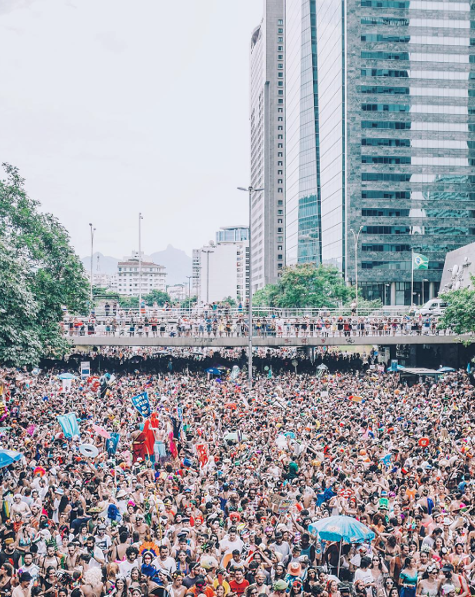 I've written about Carnaval before in my favorite things to do in Rio post, but let me do a quick recap for the ones who missed it: Carnaval is an annual national holiday that starts from Friday afternoon to noon of Ash Wednesday, marking the beginning of Lent (the 40-day period before Easter).
Since Lent is the time Christians believe to be for soul clearing, Carnaval takes up this position of being a time to let go of inhibitions and have the most amount of fun you possibly can.
Different states will celebrate it in their own ways, but in Rio, there are 2 main events taking place at the same time:
"Official" festivities
Street parties and parades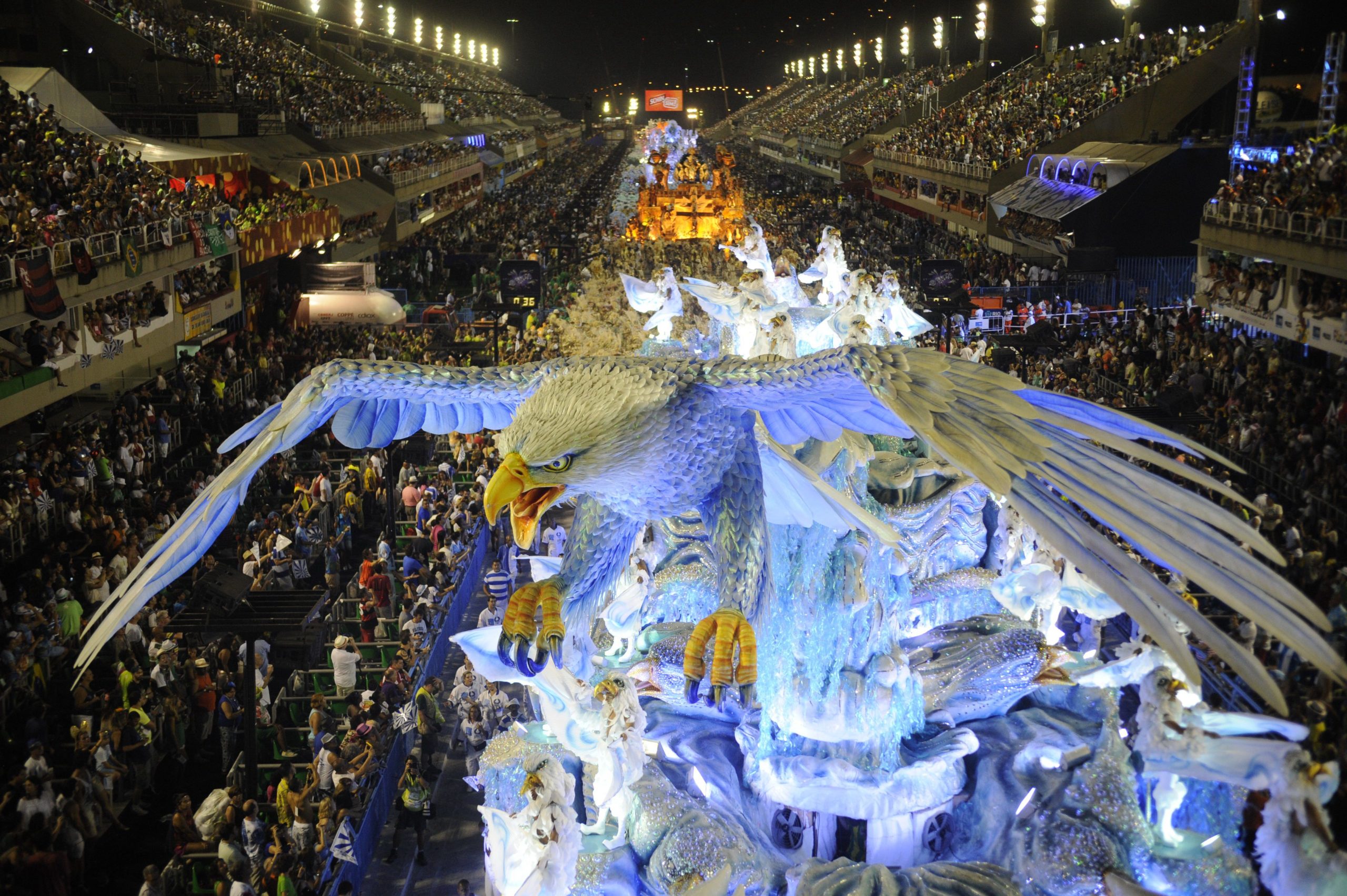 At the Sambadrome Marquês de Sapucaí the "official" festivities happen. The best qualified samba schools perform at the samba parades — they each have a theme and at the end of the festivities, a winner is selected by official judges. You can buy tickets to watch the parades for as low as R$118 (≈ C$30).
But the highlight is the second type of event: the street parties/parades, officially called Blocos de Carnaval (Carnival Blocks in English).
Basically, for the 5 days of the Carnaval — and really for a bit longer before and after that, but I'll focus on the official dates — the entire city adapts.
There are official and unofficial parades happening in every neighborhood at all times. Those usually consist of a music source: sound truck, percussion band, fanfare, etc. — and us, the people in various costumes partying around it.
The parades are all free and open to anyone. Usually, a couple of days before the holiday, official city media will release all the information you need about it.
You can also rely on Instagram, Telegram groups, word of mouth, or just walk around the city center and south zone (zona sul in Portuguese) hoping to find a parade happening. But if you think that sounds like an impossible mission, rest assured there will always be a crowd of foliões in costumes to follow to the next party.
Trust me, they're very easy to spot.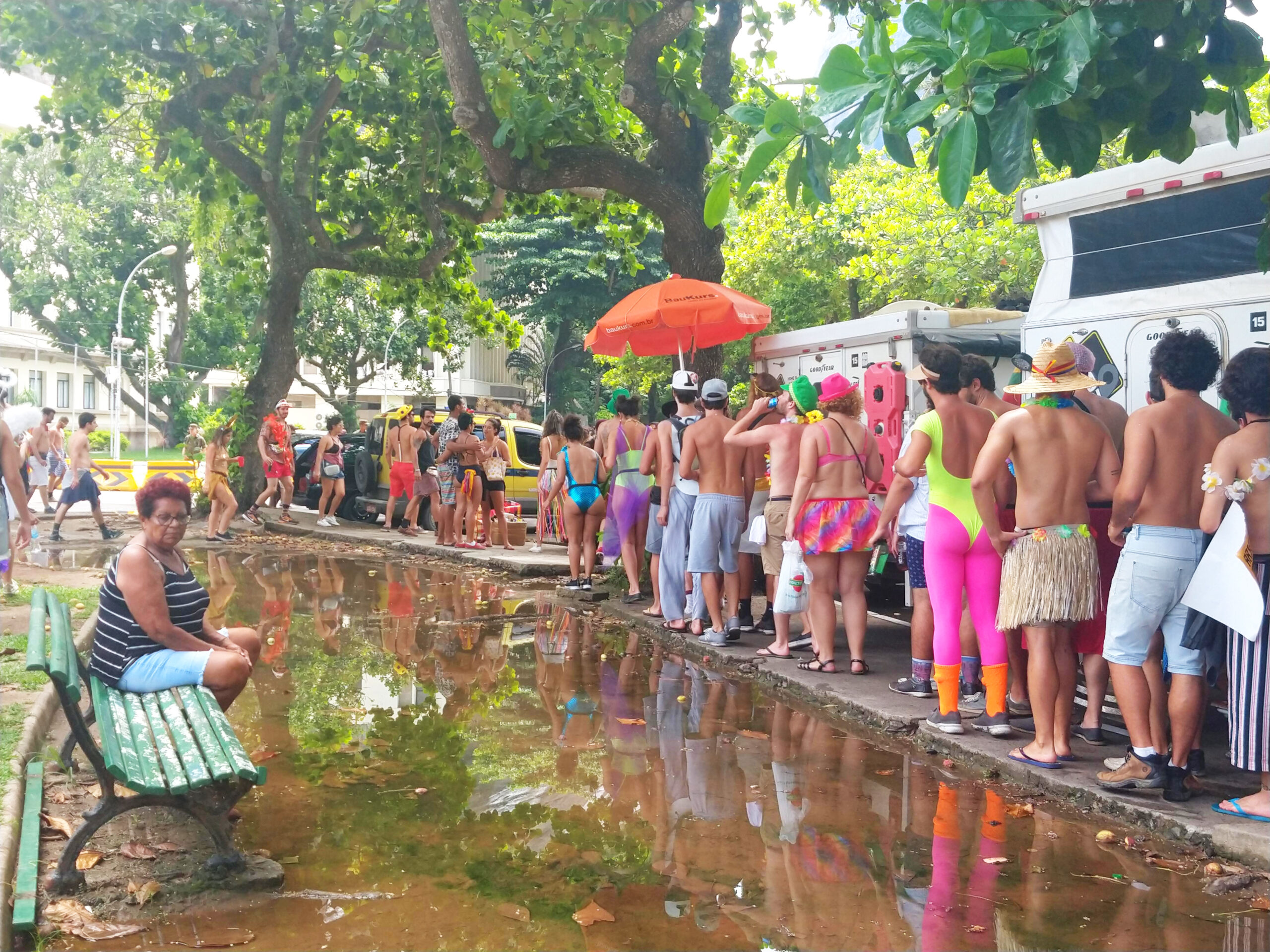 I'll write another post focusing solely on tips to ensure you can enjoy Carnaval at its best if you decide to come, but for now, let's talk about my experience this last weekend.
First of all, let me just point out that when I say the parades happen all day long for 5 days, I mean it. So the first executive decision I made was that I would enjoy Carnaval for one weekend through the morning and afternoon, but come back home early at night so I could rest for the next day.
You don't have to do that. You can spend the entire 5 days jumping from one parade to the other if you so wish, but I am an old lady at heart and decided to spare myself.
Parade #1: Prata Preta (Black Silver)
The Prata Preta (Black Silver in English) parade is a traditional one among the non-official parties that happen in Rio every Carnival — and this year, for the first time, it became an official parade.
It's characterized by the big puppets that mark where the band is located among the crowd, and the live samba music from brass wind instruments.
It starts at Praça da Harmonia (Harmony Square in English), officially known as Praça Coronel Assunção, at the Gamboa neighborhood in the city center, at 8 AM on Saturday.
And then, it moves around the narrow and historical streets of Gamboa for the next couple of hours.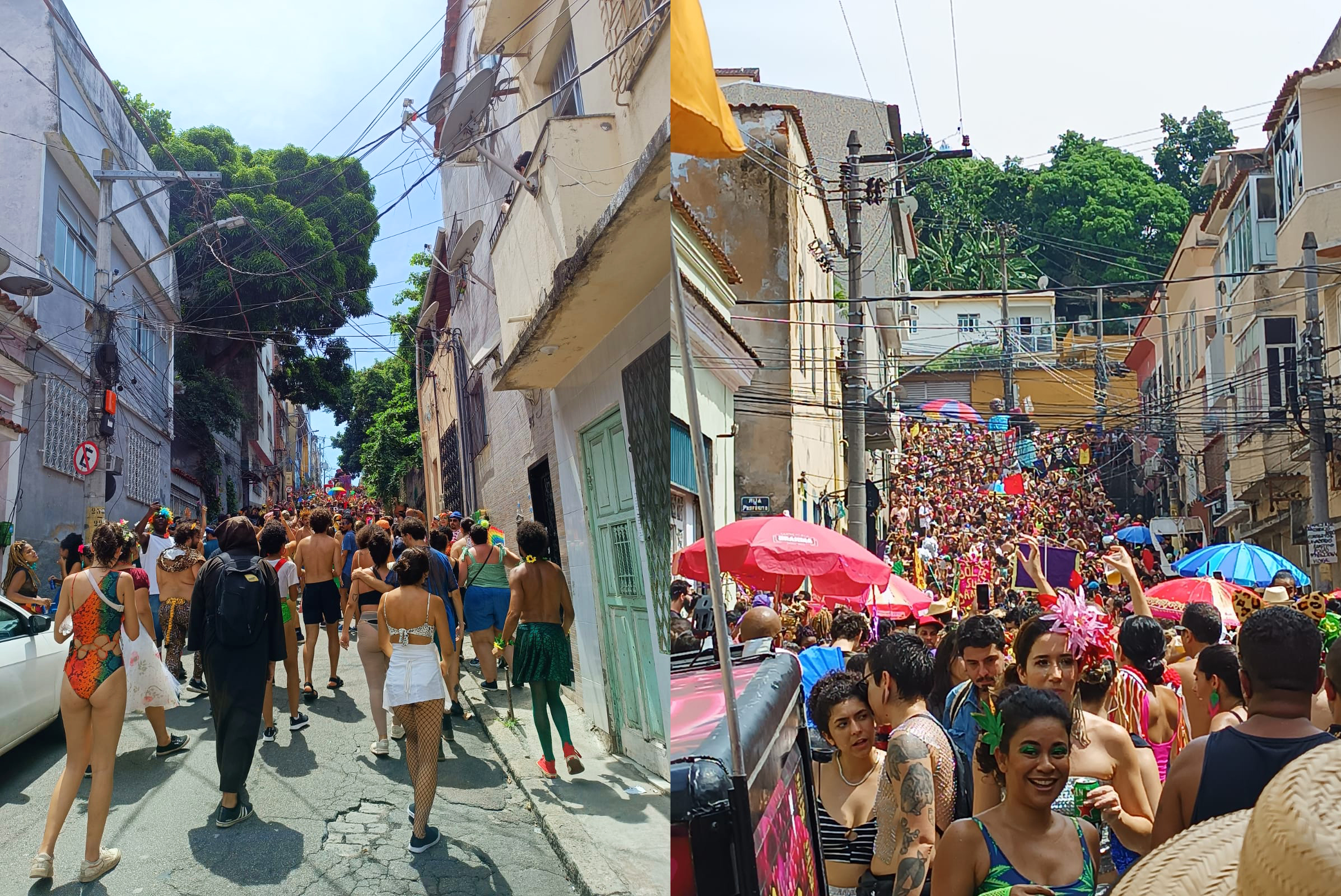 Now let me warn you: this one is not for the claustrophobic.
Gamboa streets are full of ups and downs and notably narrow, so it can get really tight. I assure you it is safe; we have never had any cases of stampedes during Carnaval. But still, if you're not comfortable with it, just skip it and hang out around the crowd until it reaches a larger space, no harm done.
We walked around 1.3 km, before ending back at Praça da Harmonia.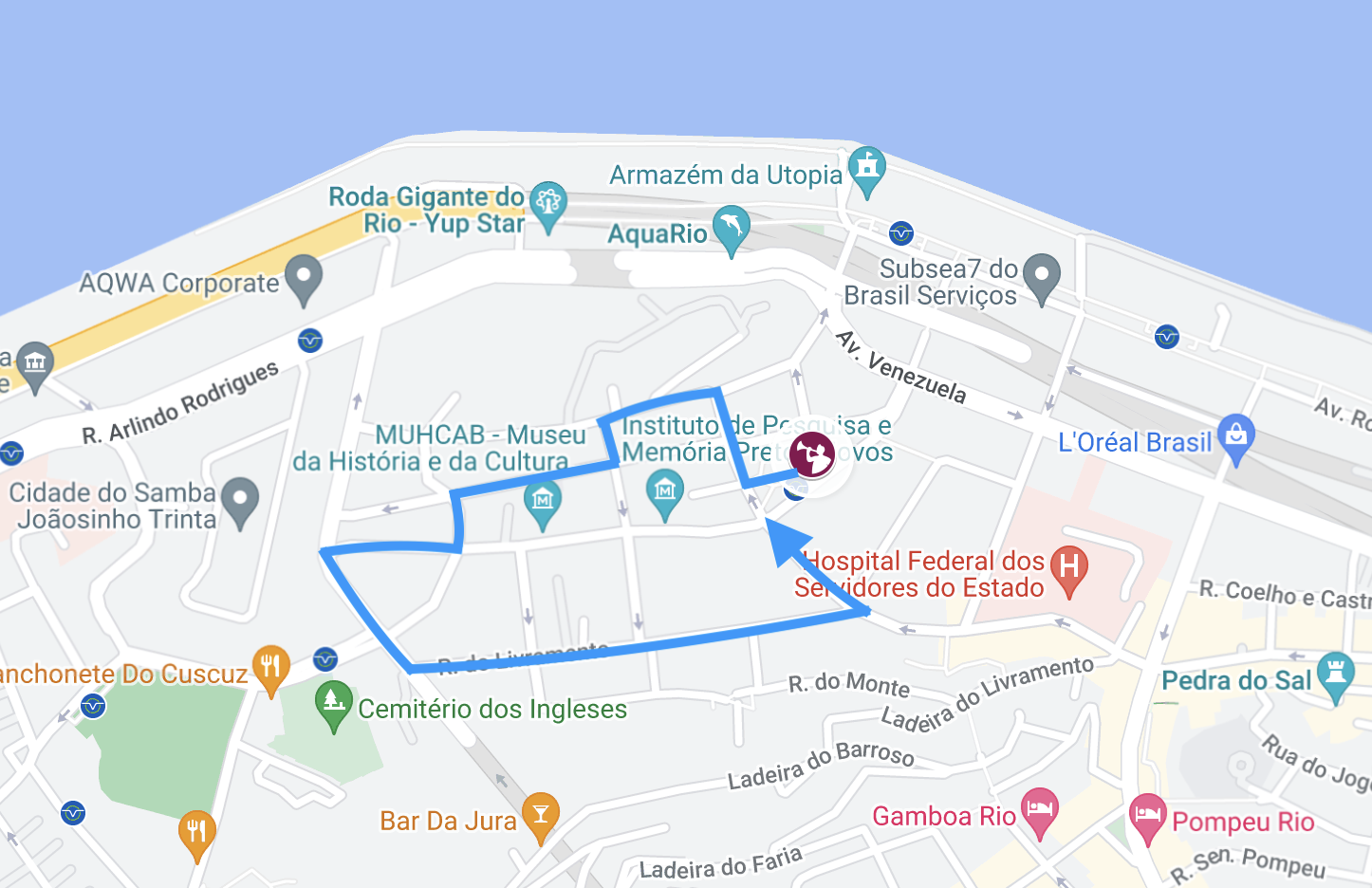 Parade #2: Batuquebato (Drumming Hits)
After Prata Preta, we had a big gap between parades. The next one we heard of only started at 5 PM. So, in the meantime, we decided to head to Batuquebato, another party happening nearby.
Batuquebato is a "still" parade. That means that unlike Prata Preta it did not move around. It started and remained in Praça XV, a heavily populated square, located at a strategic place in the city center that serves as a connection point to a lot of mass transit routes in Rio.
Music varied a lot, from the famous Marchinhas de Carnaval — a common genre of music in Brazil composed of tunes with simple melodies and quirky repetitive lyrics that are made specifically for Carnaval — and just popular party songs in general.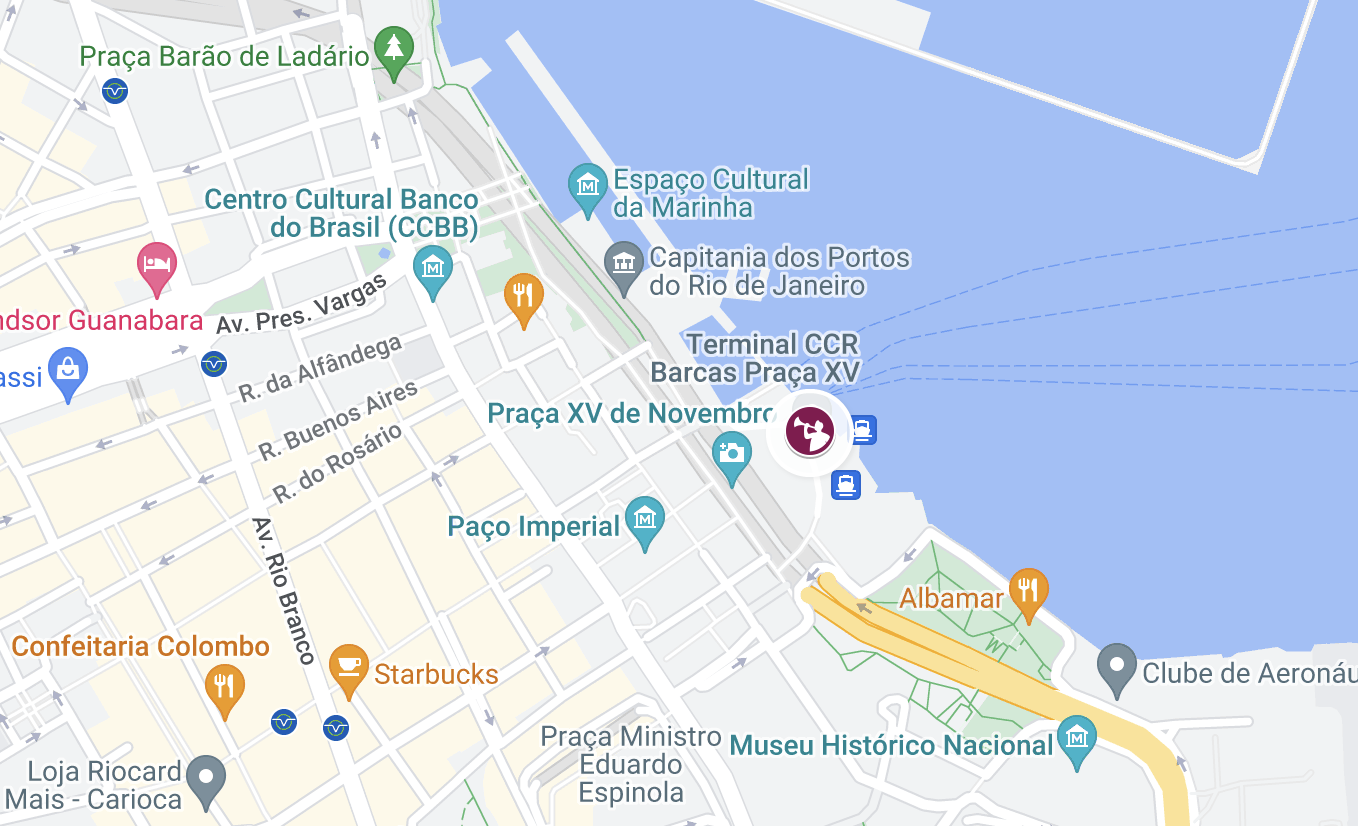 Parade #3: Pomba Idosa (Elderly Dove)
Batuquebato was scheduled to finish at 5 PM, but we decided to leave a few minutes before to reach the next parade, Pomba Idosa (Elderly Dove in English), before it started and secure a good position near the band.
The Pomba Idosa parade, like Batuquebato, was a "still" party/parade. It happened at Buraco do Lume (Lume's Hole in English), a square that got its name from the hole left behind by the unfinished construction of an electricity company named Lume. The place is officially known as Praça Mário Lago, but nobody calls it that.
The band, composed of wind instruments musicians, played from that above-mentioned hole, and the crowd gathered around it to listen.
It was the first year of this parade, but I can tell it's going to be a new tradition.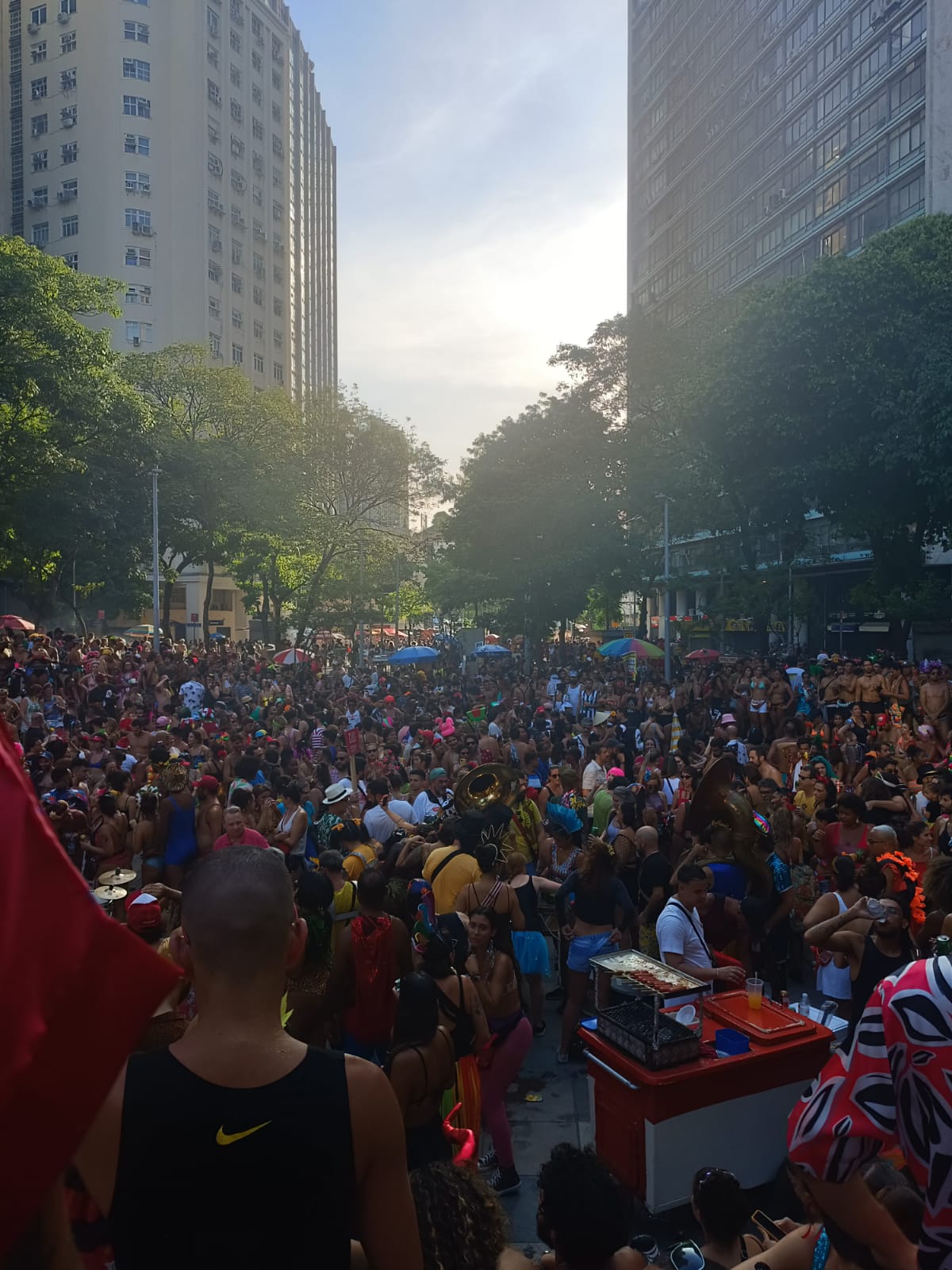 Parade #4: Love Songs
Sunday at 8 AM, it was time for the Love Songs parade. I had been to this one the last time I spent Carnaval in Rio, and was really excited for it.
It's one of the parades with the funniest concept (you might have noticed they all have a sort of theme from their unusual names). Love Songs starts at the Glória neighborhood, more specifically in front of the Love Time Hotel.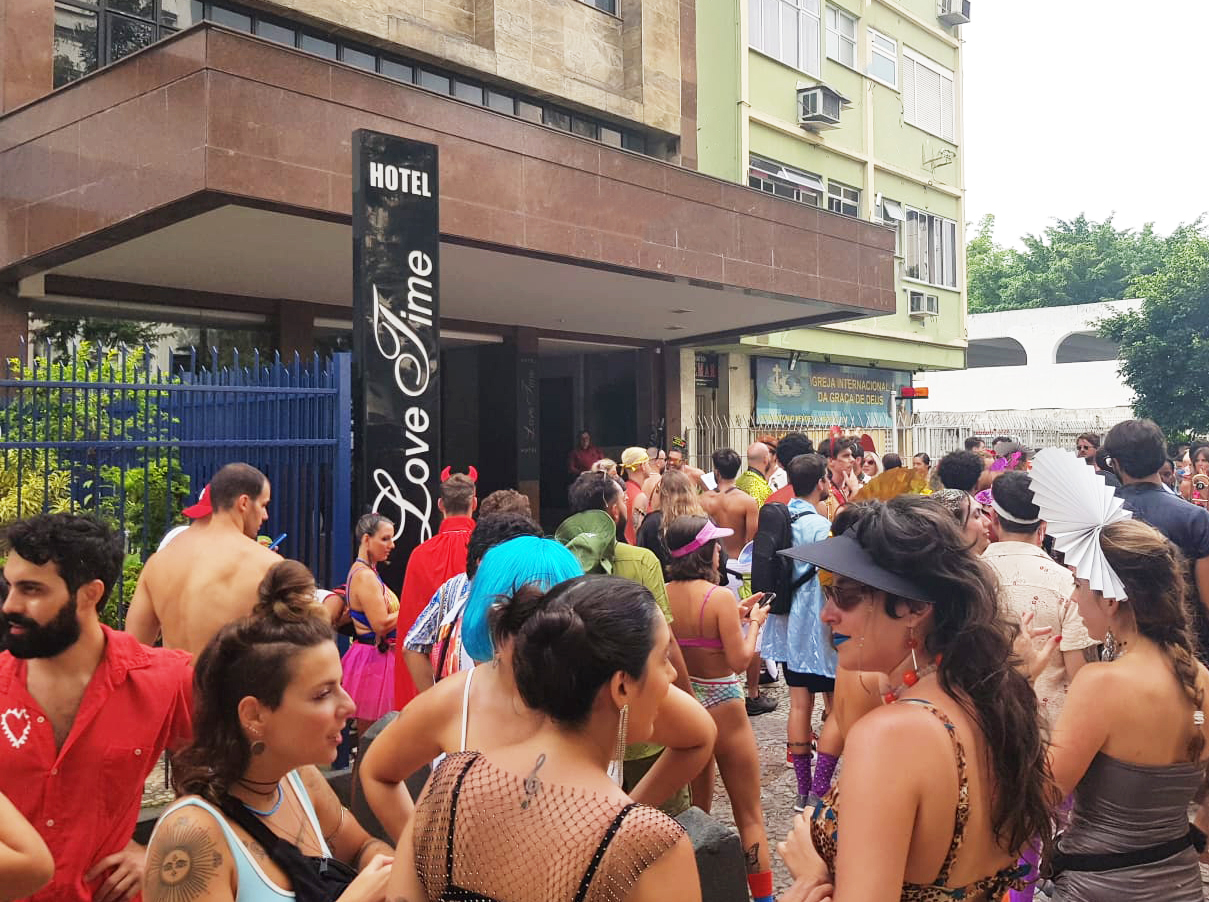 For those who don't know, here's a fun fact: Brazil has this unusual culture of having hotels specifically and explicitly for one-night stands; you pay by the hour, and the rooms are usually customized for that goal. They are called "motels" or "adults-only" hotels.
Love Time Hotel is a very traditional one in Rio, so the parade starts there. And their live band, all dressed up with different heart-shaped accessories, only plays instrumental versions of really cheesy love songs. Expect to hear a lot of Kenny G, N'SYNC, and Bonnie Tyler among others. It's hilarious and really fun.
Love Songs is a moving parade, so we walked from Glória to Aterro do Flamengo, about 2.3 km.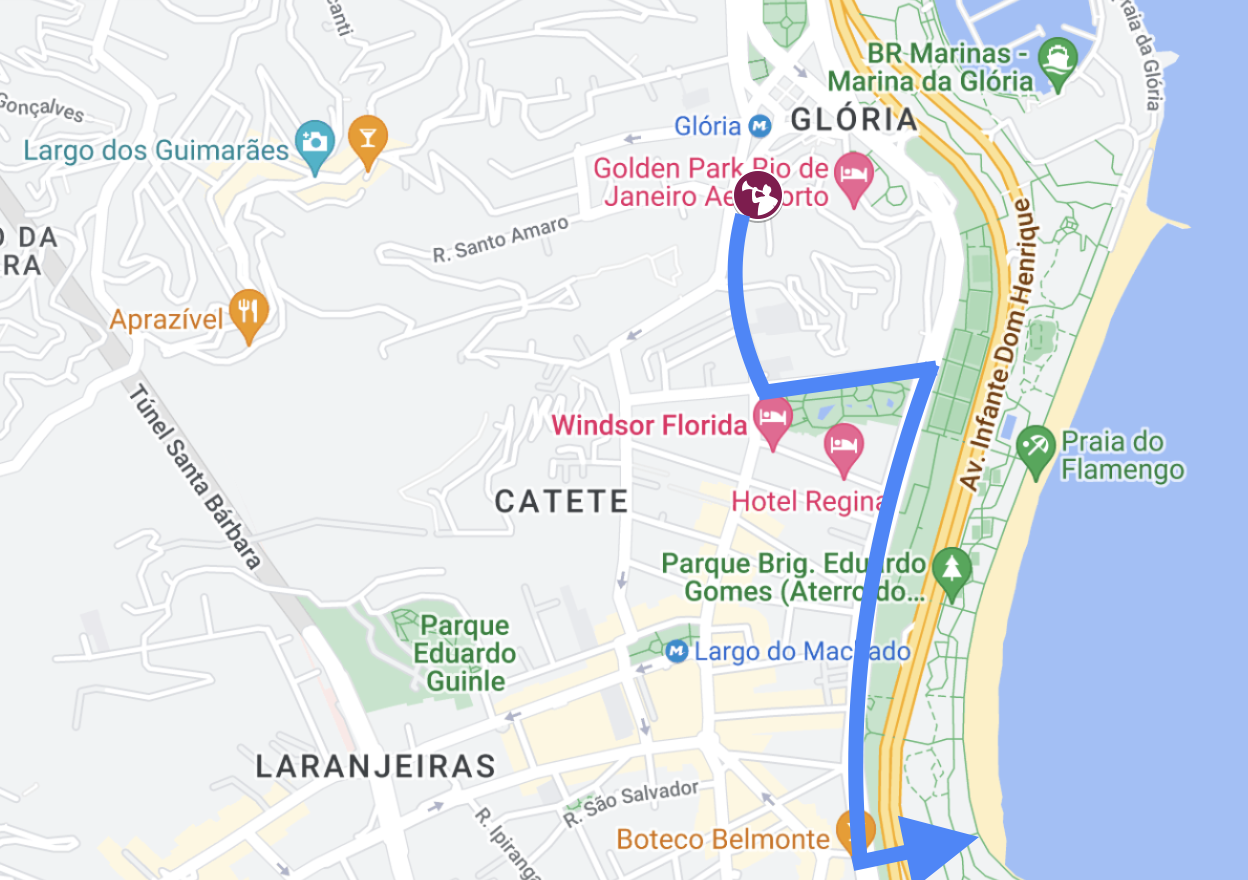 Parade #5: Boi Tolo (Fool Bull)
Boi Tolo (Fool Bull in English) started as an alternative parade, but it's now an official one. We were in this one very quickly and almost by accident, since it sort of caught up to us once Love Songs ended in the Aterro do Flamengo.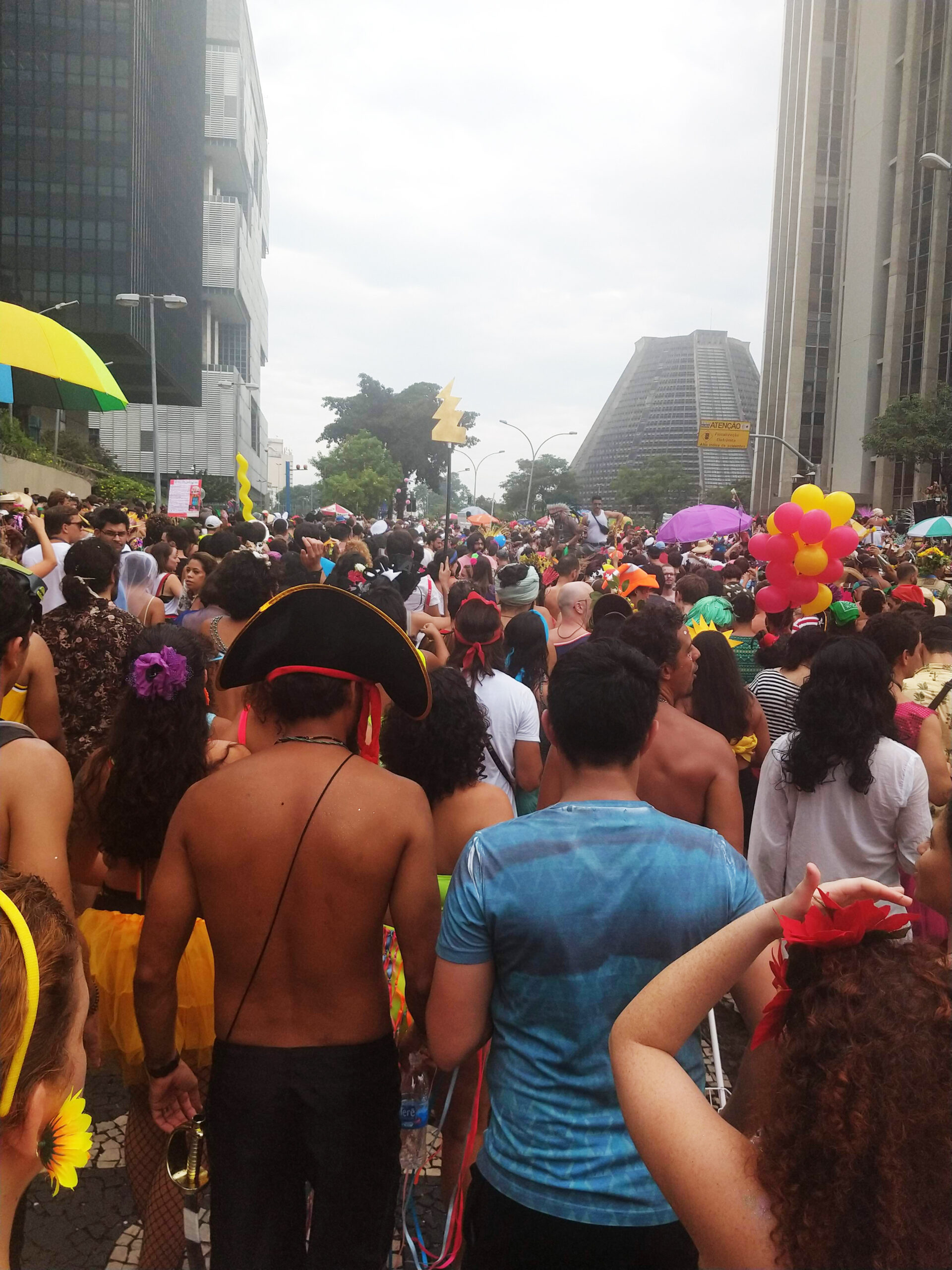 Boi Tolo started at 8 AM in the city center, and it is the parade with the longest walking route, about 11 km, moving around the city with no scheduled time to end.
Its crossing of the tunnel to reach Copacabana is one of the most anticipated times of Carnaval for many people.
I didn't do it this year, but here's a video of what it was like back in 2019.
Here's an approximate map of the route it takes (approximate because it changes every year).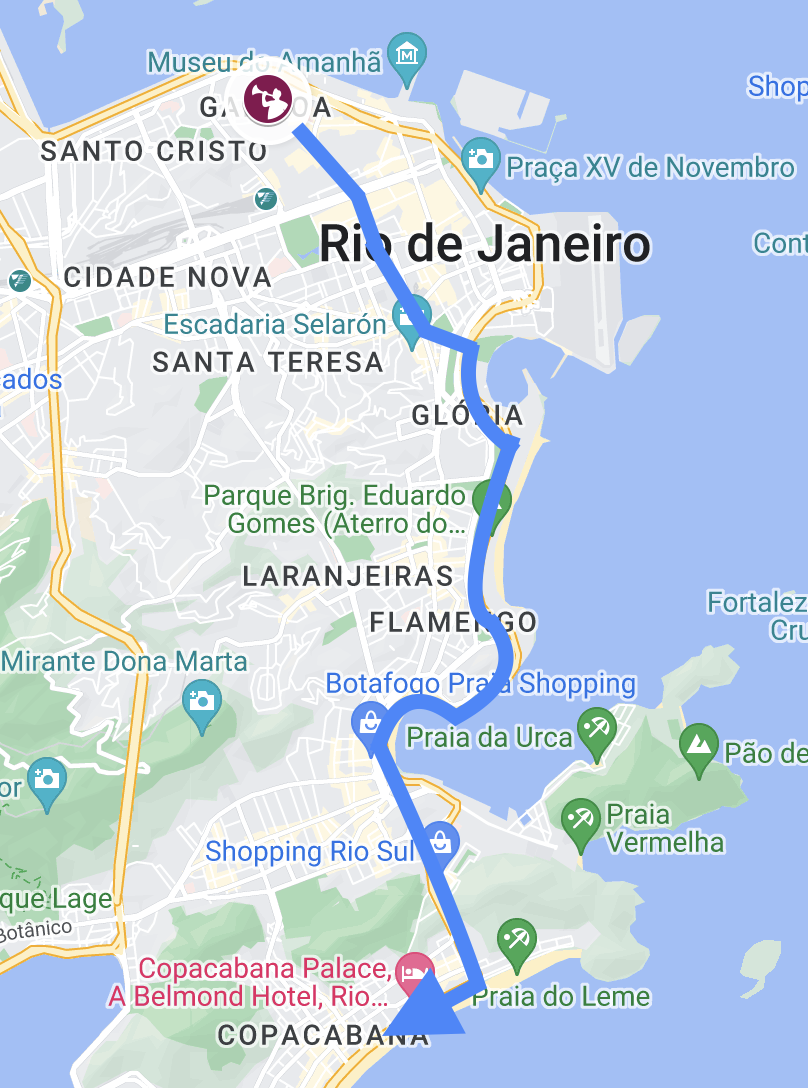 Parade #6: Filhotes Famintos (Hungry Puppies)
Instead of continuing towards Copacabana with Boi Tolo, we decided instead to have lunch and head to a new parade starting this year: Filhotes Famintos (Hungry Puppies in English).
Since we had some time, we managed to have a nice lunch for once at a historical restaurant in the Flamengo neighborhood, Café Lamas. There were 3 of us so the price was really good, about R$100 (C$30) for the whole table. And let me tell you, food in Brazil is well served.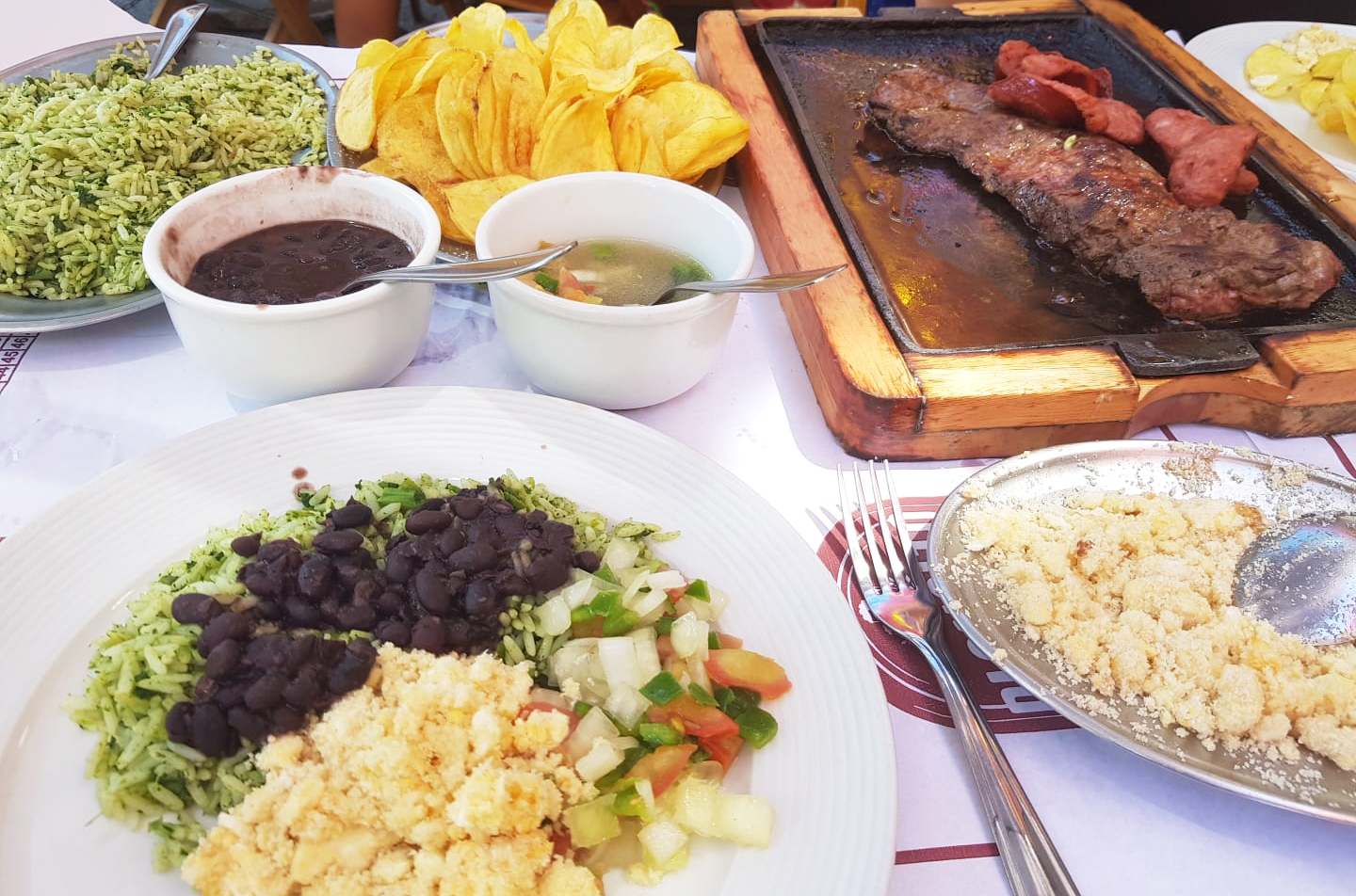 After the meal, we headed to the city center again for the Filhotes Famintos parade scheduled to start at 3 PM (spoiler alert: nothing ever starts at the time it's scheduled to start in Rio de Janeiro), at Senado Street.
We got a bus there and on the way, while stuck in traffic, the bus driver literally opened the door of the moving vehicle to let people use the public bathrooms of the park we were passing by, and then they walked back in on the next block.
Carnaval is a curious time indeed.
Filhotes Famintos ended up starting only at 4 PM, but it was very worth the wait. The live band was amazing: they had wooden leg performers fronting the parade the entire time (don't ask me how these people do it), and the percussion almost never stopped playing traditional Carnaval tunes.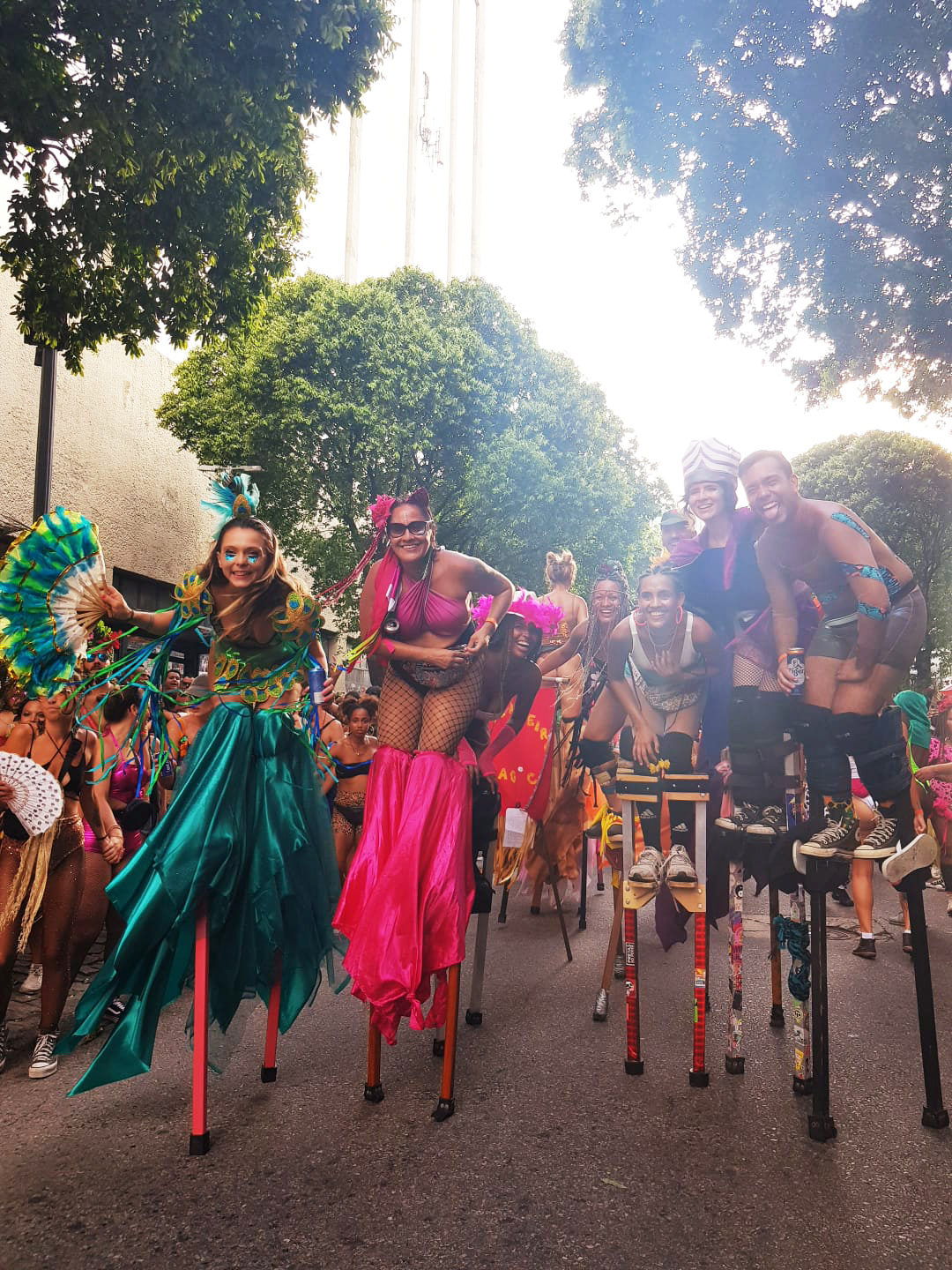 It got really crowded really fast. My friends and I were at a privileged position though, since at some point during the parade we become part of the "human rope" that protected the band — that's a usual custom in Carnaval for unofficial parades, since they don't have security ropes going around the band and artists, they'll ask the nearby crowd to join hands and make a human belt around it.
It's exhausting (not going to lie), but it also guarantees that you are never swallowed by the crowd.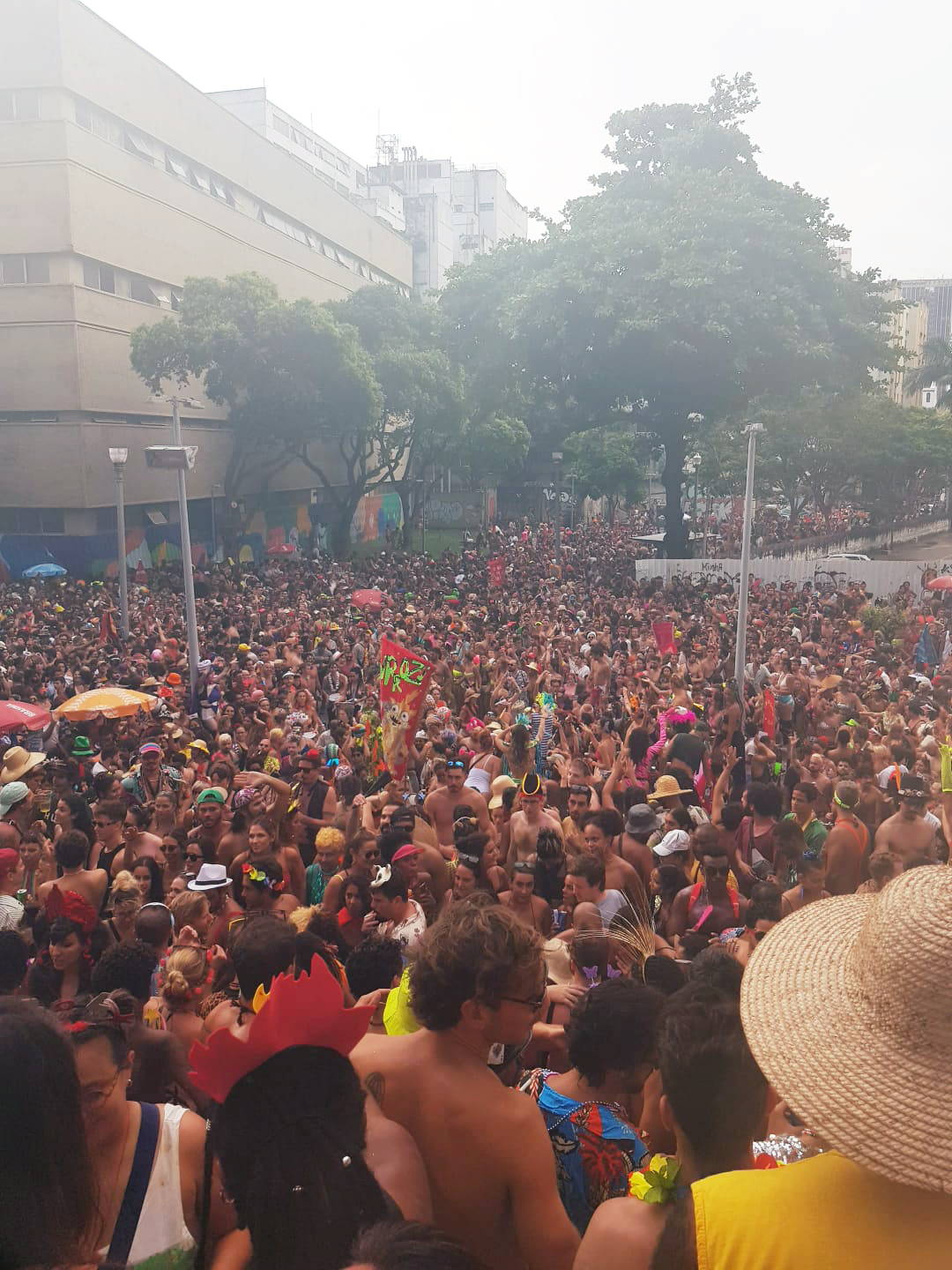 According to my Google data, we ended up walking about 14 km that day.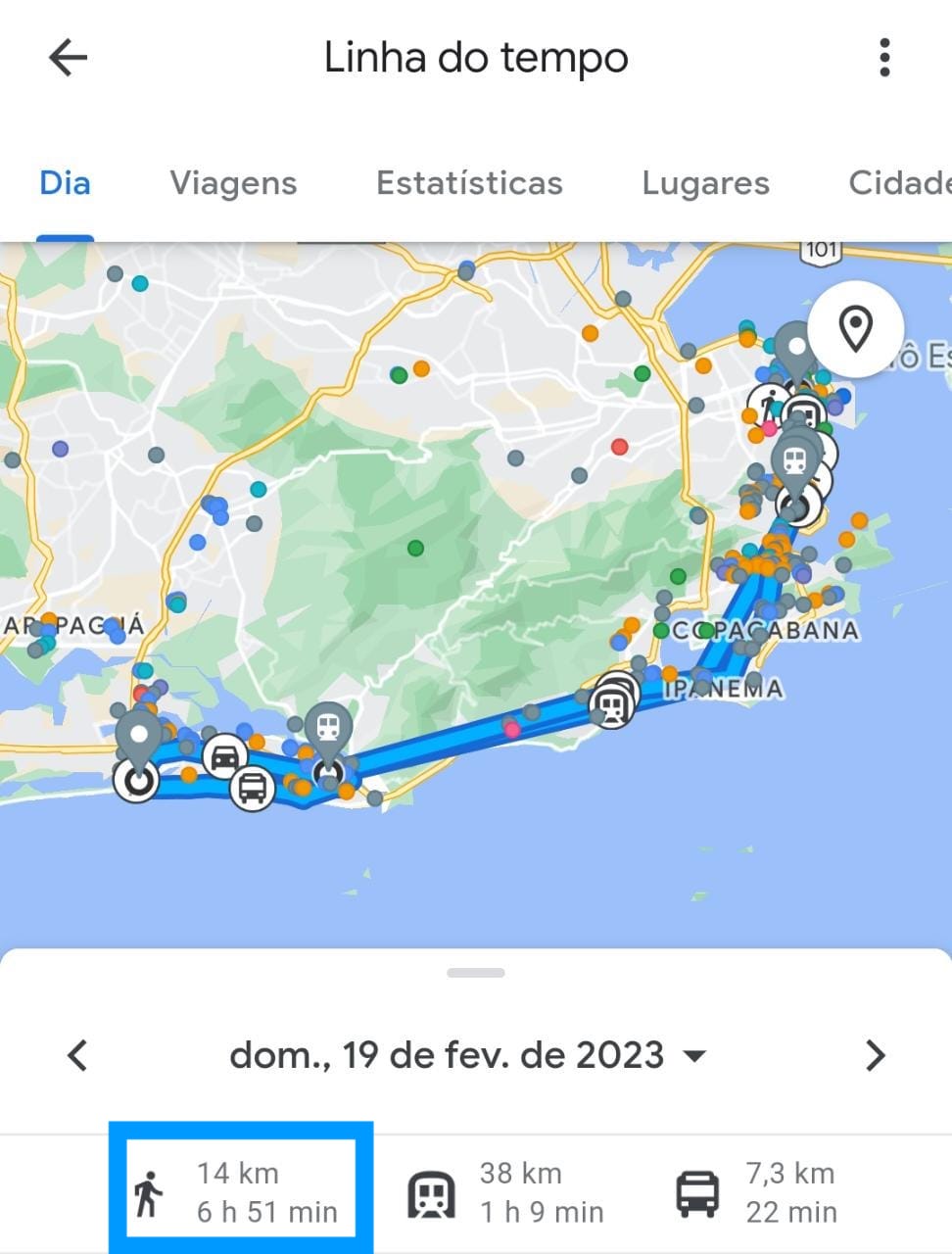 And with that, I was finished with my Carnaval time.
It did follow me home though; here's the view from my apartment's window that Sunday night.
I cut it short, but I assure you there's a lot more to know about this huge event.
I'll soon be writing an article with tips on how to survive the crowds and heat to have the best time here. Let me know if there's anything you're particularly curious about, and I can try and answer that as well.
For now, all I can say is it's a fantastic experience, even if it's a bit of a wild one. I really couldn't recommend it more.
Want to receive more travel inspiration about destinations around the world?
Summary
This last week marked the beginning of Rio's biggest festivity: the Carnaval. I was there for the first weekend of it all, and I can't recommend experiencing this unique event enough. Rest assured, Carnaval is amazing for everyone who enjoys a nice party. Don't miss my tips post soon!
What would you like to know about Rio de Janeiro? Tell us in the comments below.
See the deals we spot: Cheap flights
Explore awesome destinations: Travel inspiration
Learn pro tricks: Travel tips
Discover free travel: Travel rewards
Featured image: City center during Carnaval (photo credit: @savage_view)
Share this post to help us help more people travel more for less: