I've said it many times before: Carnaval in Rio de Janeiro is a once-in-a-lifetime experience. Advertised as "the greatest show on earth," the event is a fun experience of massive proportions, but it does come with its challenges.
As I said in my last post about my Carnaval experience in Rio de Janeiro last weekend, Brazilians celebrated this iconic national holiday from the 17th to the 22nd of February.
It's an event I'm particularly fond of, but even so, I can admit it can be challenging and overwhelming for those who aren't used to it.
Here are 10 tips from a local to help you have the best possible time if you decide to celebrate Carnaval in Rio.
1. Plan ahead, but be flexible
I know those 2 seem like opposite ideas, but I couldn't put it any other way.
Here's the thing: Carnaval is an event that thrives on its spontaneity.
You'll be at a parade, only for the people there to inform you there's a better one happening at the next corner; you'll head out to that one only to find a new group chasing a secret party on the other side of the city.
Here's an example of a list of some of the parades happening during Carnaval (and those are only the official ones!).
As you can see, there are many, and that's not nearly all of it. So if you come entirely unaware of what's happening, you'll be easily overwhelmed. But if you try too much to solely stick to your plans, you'll probably end up too stressed out.
I'd compare it to a trip to Disney World in Orlando. Come prepared, but be ready to have your plans fall through. It's part of the charm, so just relax and have fun.
Here are a couple of sources that can help you with the planning ahead part: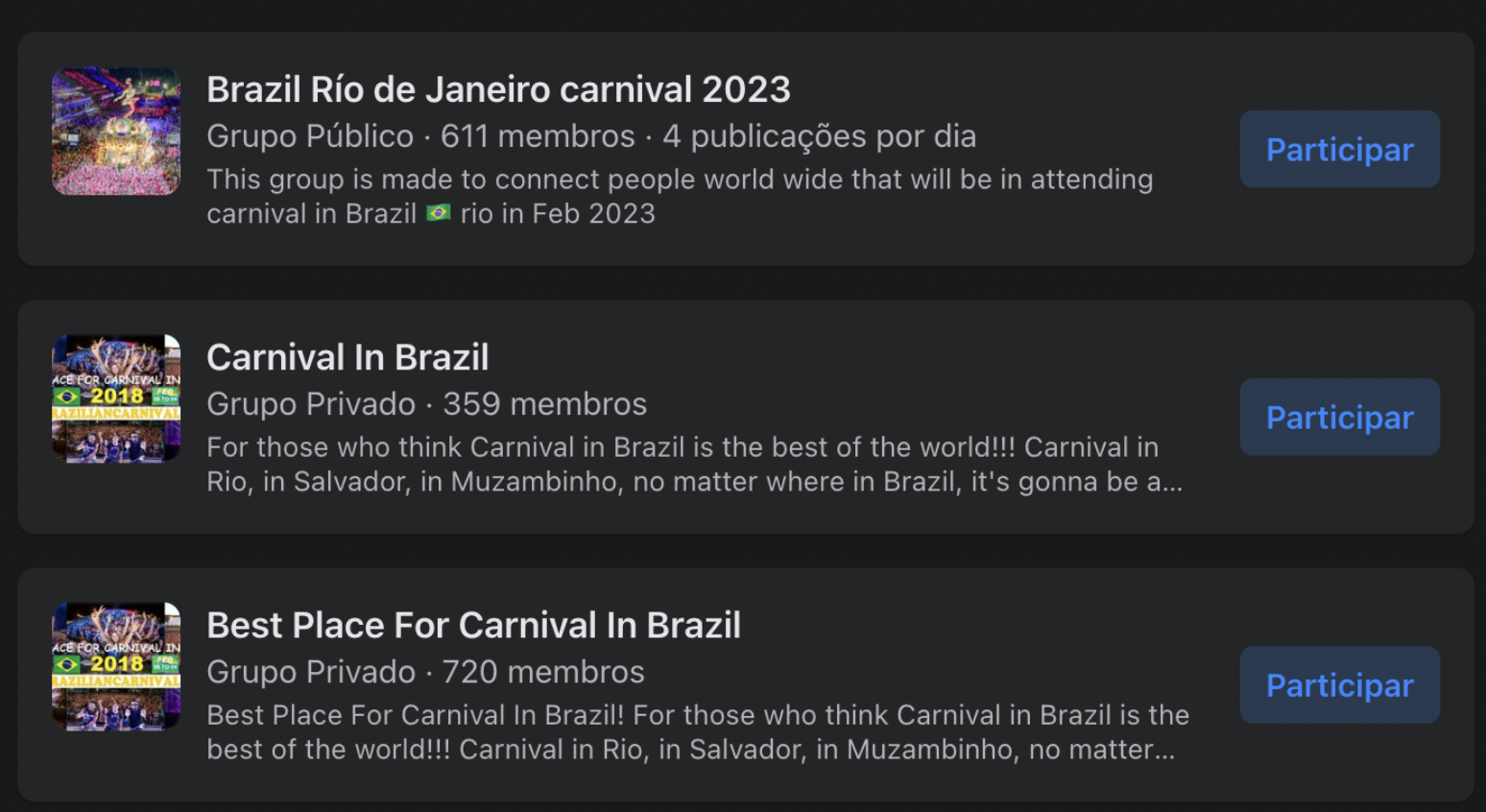 Telegram groups: Same as Facebook. Every year there are many options popping up.
Hostels/Hotels: This is a given, but I'll still reiterate it. If you're at a new place, don't leave without asking your accommodation staff about your plans. Hostels especially are usually staffed by young locals with a lot of inside knowledge. Always good to ask.
As for getting to Brazil, don't wait until the last minute to book: Carnaval is the peak season for this destination. Flytrippers has been starting to see more of the Brazil deals in the $600s roundtrip like there was before the pandemic, so that's a good sign.
If flights are expensive to Rio itself, the self-transfer tip Flytrippers teased this week can work here too, since Belo Horizonte, Brasília, or other cities can be cheaper. Domestic flights in Brazil are often very cheap, as I told you in my post about my trip to the state of Minas Gerais.
2. Keep hydrated and wear lots of sunscreen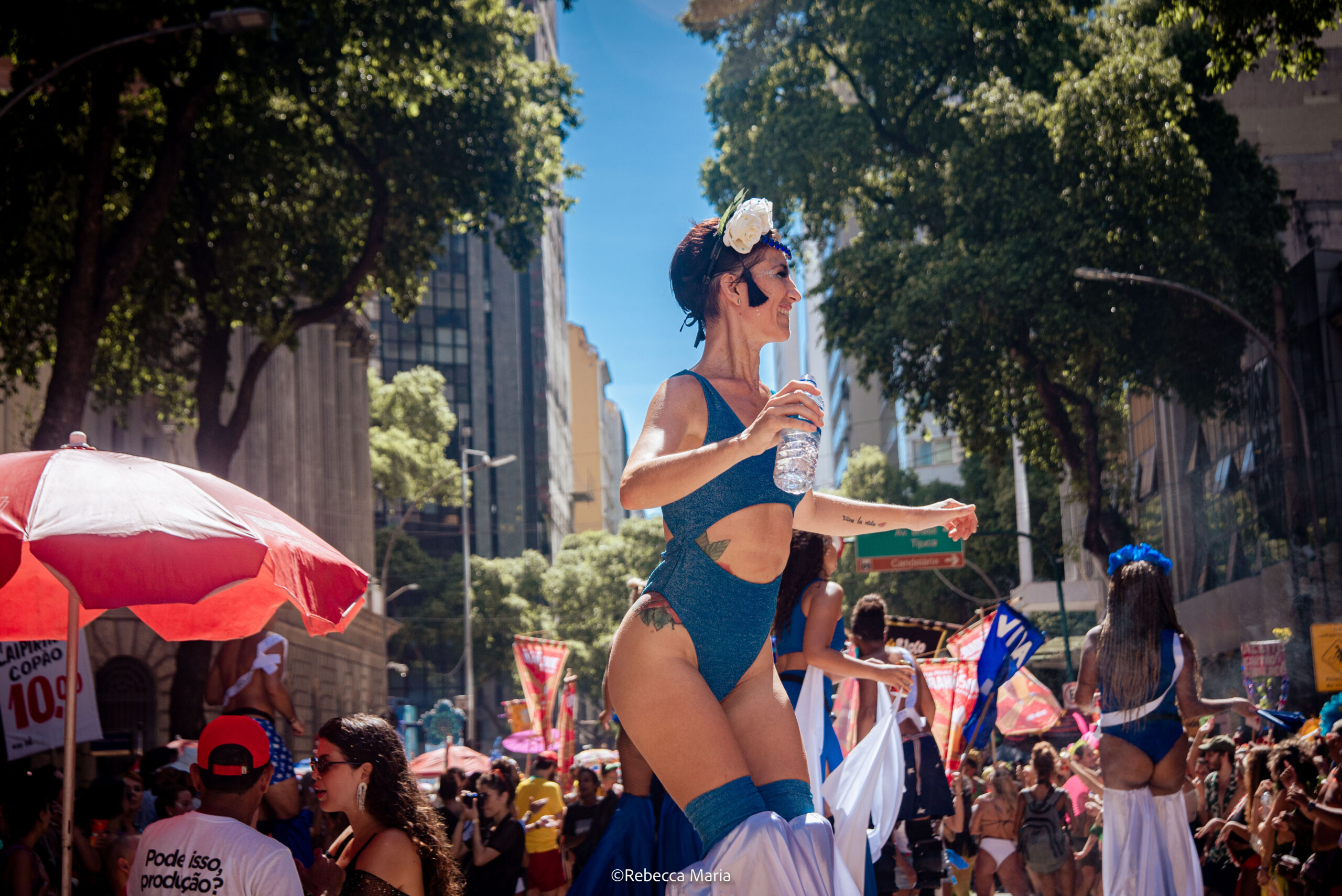 This year the temperatures really skyrocketed, and it's probably not getting much better from now onwards. The hottest day of Carnaval reached a "feels like" temperature of 50ºC, and in the middle of a parade, under the sun, with people all around you, that's bound to feel even worse.
So, reapply sunscreen at all times and drink lots of water.
People will be selling it everywhere, from R$3 to R$6 (up to C$1.50) and most street vendors take credit cards (use one with no foreign transaction fee or one you are unlocking a welcome bonus on; don't take for granted those great rewards Brazilians can't get).
Also, goes without saying, but this is a tropical country, so you can enjoy some fresh fruit juice, coconut water, tapioca crepes, and açaí bowls (at a very cheap price too). Those are definitely good light meal options that will keep you nourished for a while.
Some extra tips: drink bottled water (tap water is not drinkable in Brazil), but don't drink from other people's bottles, and make sure everything you buy is sealed before opening it.
3. Take public transportation
I know it's much more comfortable to use private transportation apps or taxi services once you're in a foreign country, especially if you don't speak the language. But I assure you, Carnaval is not the time to be inside a car.
The traffic is often cut by unplanned parades, and it can get impossible to move even for short distances.
Rio de Janeiro's public transportation is not hard to learn; our subway line only runs in 2 different directions. Simpler yet, the parades tend to concentrate on a specific region, and most of them will start near a subway station precisely to make it easier for people to reach it.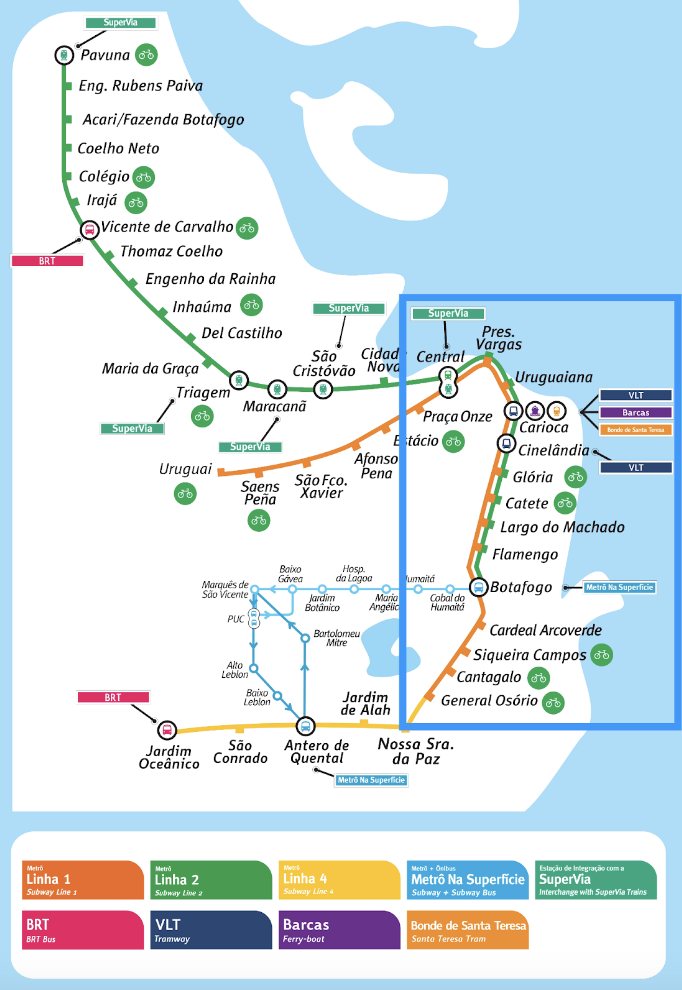 A subway ticket will cost you R$6.50 (C$1.50), and you can use contactless credit cards to pay for it directly at the entrance. You can also purchase a RioCard at any subway station. It will allow you to add an unlimited amount of money and it can be used for all public transportation in Rio (bus, light rail, subway, ferry, etc.).
4. Wear a money belt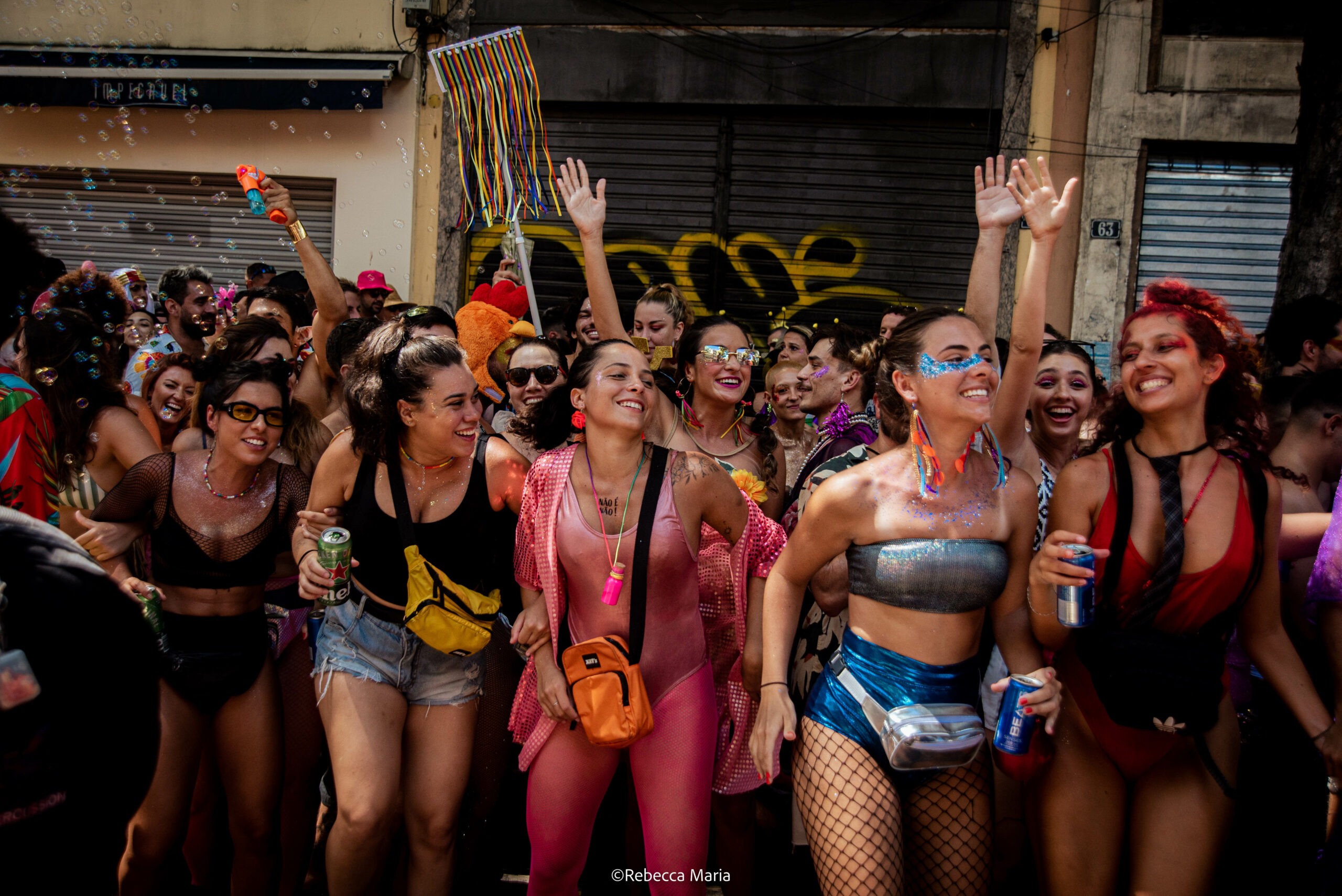 There are sadly a lot of pickpockets running around during Carnaval.
So, do not bring large amounts of money, and keep all your personal items inside a money belt. That includes your cell phone, of course.
What locals usually do is have a money belt under our clothes with money, cards, and cell phones. And a nicer, more stylish waist bag with other necessities of no value (lipstick, sunscreen, etc.) in front of the money belt, on top of our clothes.
I know it can be a bit of a hassle to take your card out of a money belt in the middle of the streets with people flocking about, but trust me, it's worth it to have peace of mind.
5. Wear a comfortable costume
Now, when you see people walking around in subways and restaurants with revealing costumes or decorated swimsuits, it might seem like a bit of a culture shock at first. But you'll quickly understand why.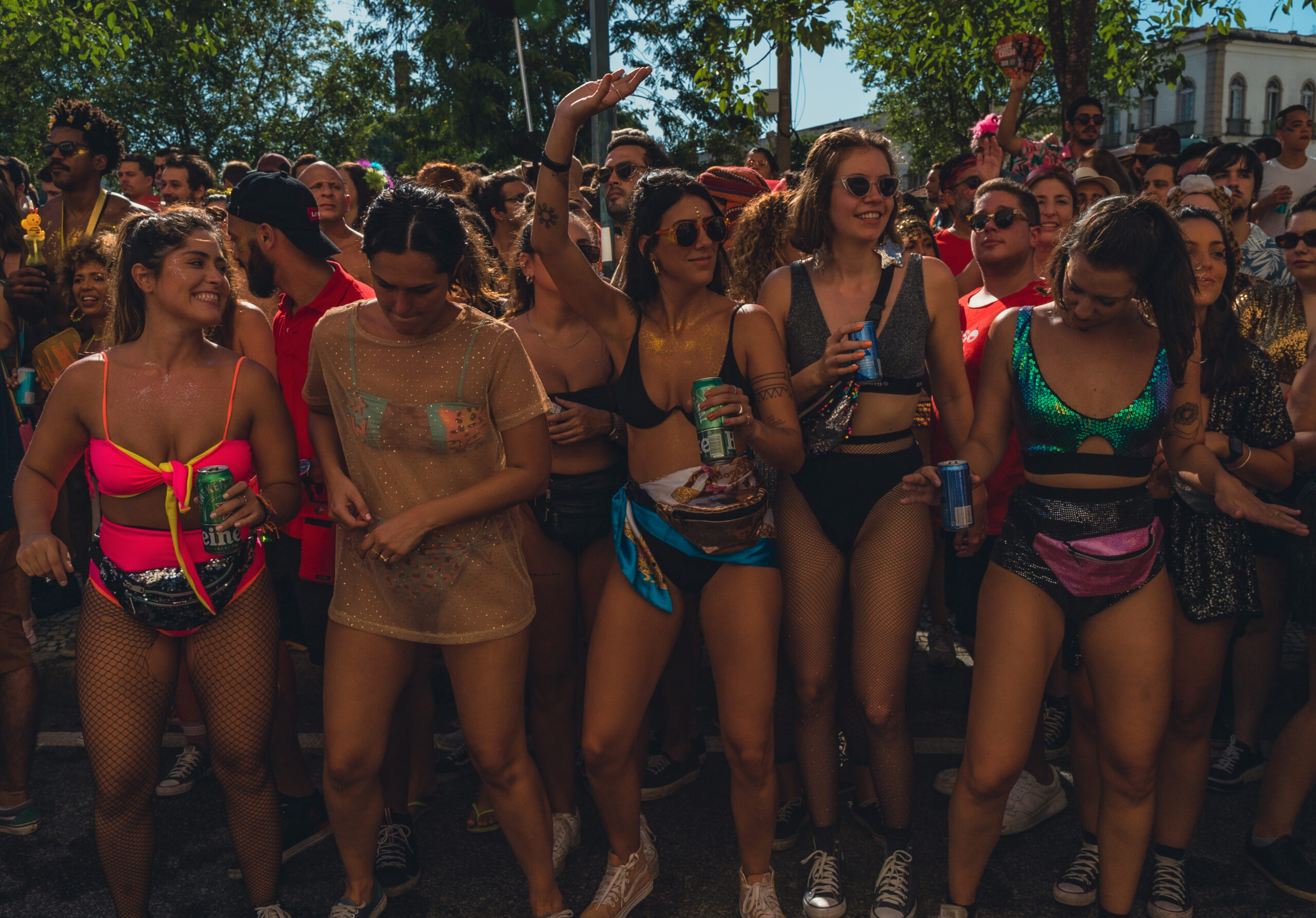 As I mentioned before, it can get very hot, so people will always adapt their costumes to something shorter with less fabric — but footwear must be comfortable shoes.
Some people will adapt their costumes with really useful things. I've seen people carrying water pistols so they could refresh themselves, others will adapt some sort of pole into their outfits so their friends can always spot them in the crowd.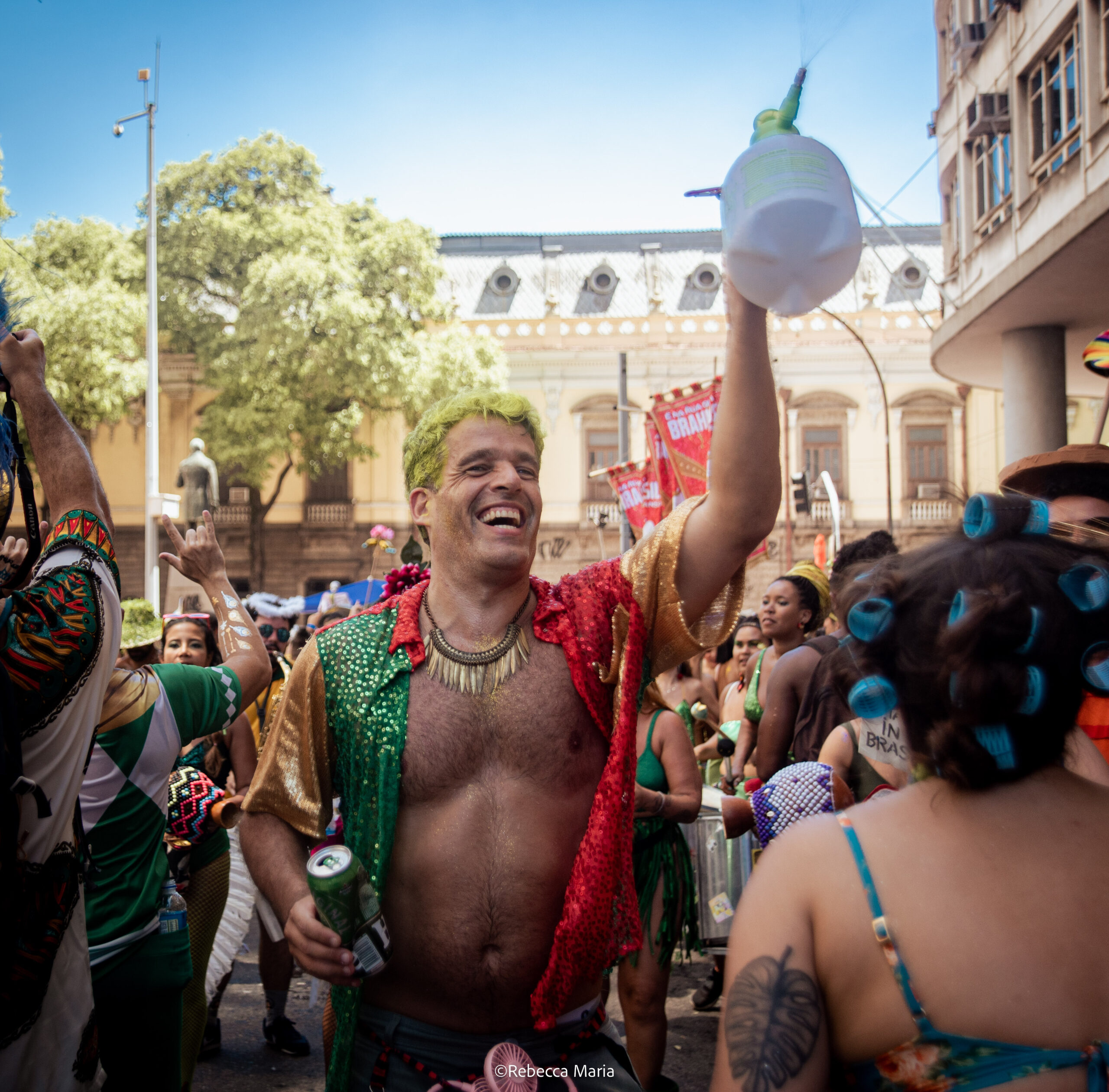 Above all: if you want, get creative and have fun.
There's nothing you can do wrong with a comfortable Carnaval costume.
When in doubt, a bikini top with shorts and a lot of glitter will certainly do. If you're not comfortable with that, just wear light clothes. No one will really care. This is a judgment-free zone.
(Do not come in heels though, I'll judge you even if no one else does 😂!)
6. Stay near the music source or in front of it if you're not a fan of crowds
This one is very important if you, like myself, are not a fan of huge crowds.
It might seem counterintuitive since most of the crowd will gather around the music source/band. But here's the thing, there will always be a line separating the crowd from the music.
Sometimes that line will be a literal rope, sometimes you'll be asked to form a human belt around the band by joining hands with other people. If you manage to be in that spot, you'll definitely not be in a tight place.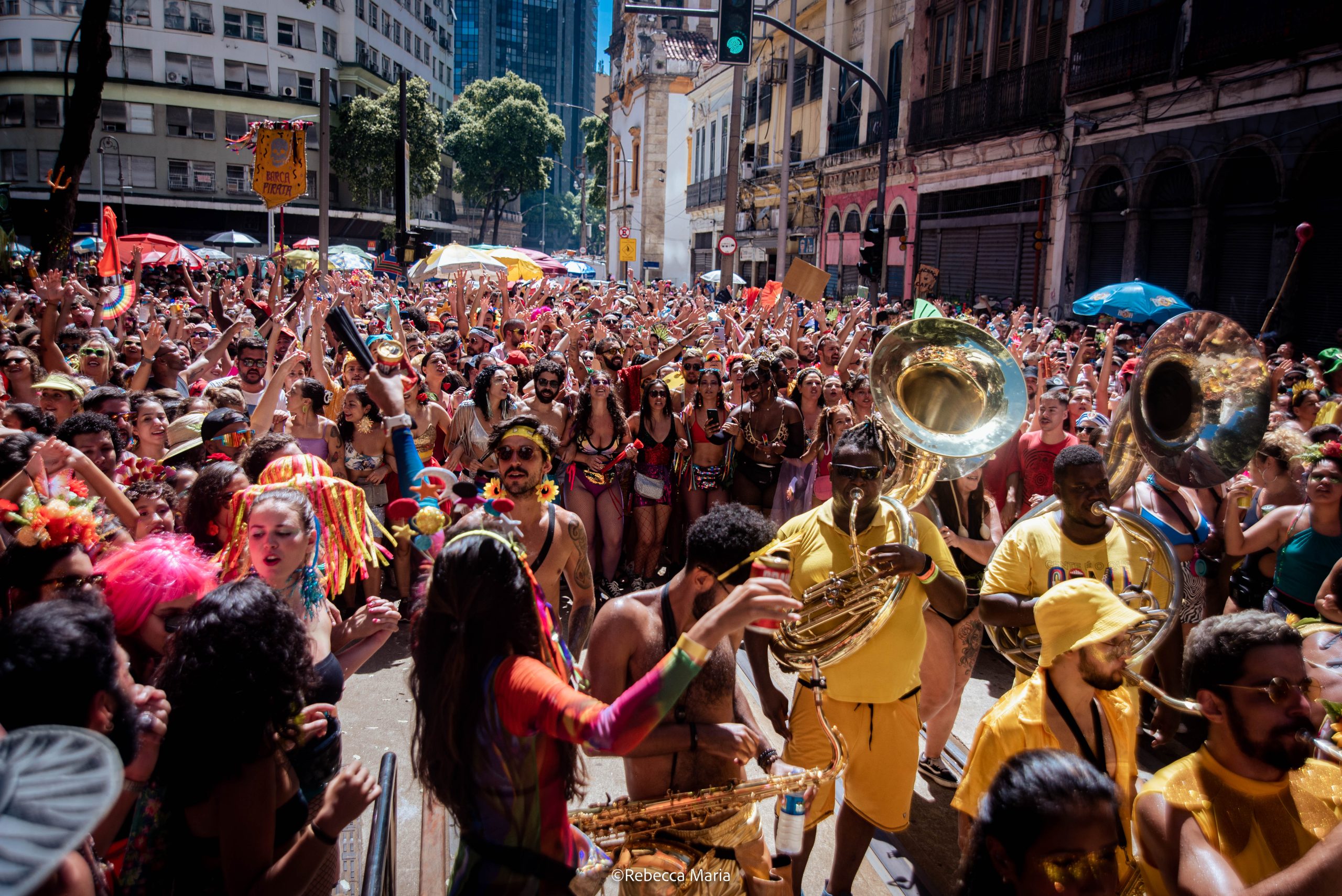 I usually go to the next level and position myself in front of the band — that's the place most people will avoid, since you need to keep moving in order not to block the parade, and people are usually very slow 😂!
Now, if you don't have a problem with crowds and want to be at the epicenter of the party, try to get to the parade early, and stick at the side of the band, but not glued to it. That's usually where the crowd goes wilder.
7. Avoid the big official parades: mega blocos
Since the parades have been happening for many years, some of them have evolved into huge events on their own. Here in Brazil, we call those: mega blocos.
I would genuinely recommend avoiding it if it's your first time in Rio.
Here's a video of the mega bloco 'Bloco da Anitta' ("Anitta's Block", in English) so you understand what I mean.
Basically, mega blocos are the most popular street parades, attracting hundreds of thousands of people that usually gather around a sound truck. And that's all good if that's your thing, but be aware: at this point, they are very much a "tourist parade", which means higher prices, more trash, more violence, and loads of chaos.
You can use the channels I mentioned before to find more local, smaller parades. Those tend to be calmer and way more in tune with the roots of Carnaval. Having live bands especially is a good sign for a parade.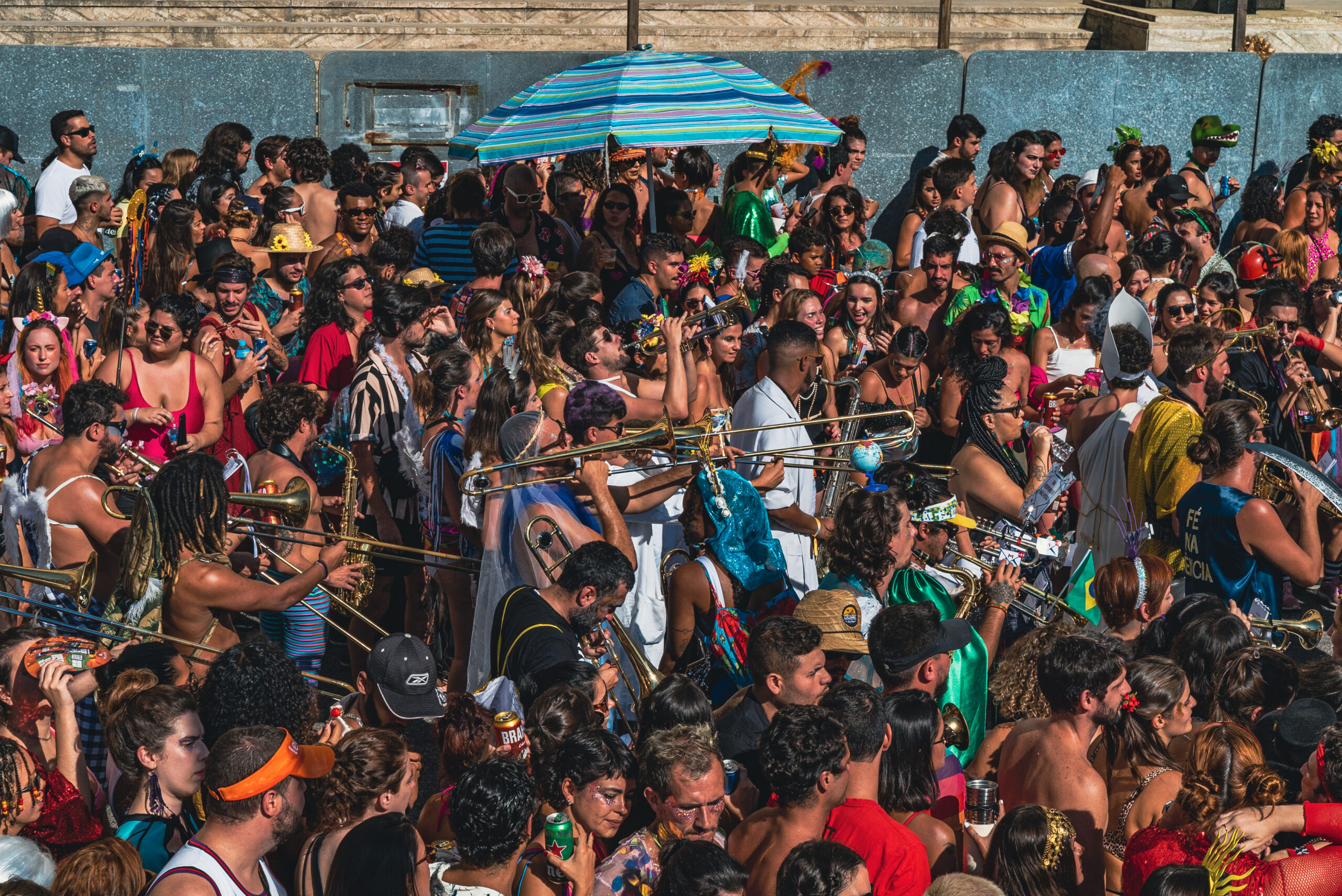 Here are some of the biggest mega blocos if you wish to avoid them or maybe if you want to know what the fuss is all about:
Cordão do Bola Preta
Banda de Ipanema
Fervo da Lud
Bloco da Anitta
Monobloco
8. Go the Sambadrome Marquês de Sapucaí
The parties are not only happening on the streets during Carnaval. In fact, the main event is considered to be the parades at the Sambadrome Marquês de Sapucaí.
There, the best qualified samba schools perform at a samba parade — they each have a theme and at the end of the festivities, a winner is selected by official judges.
You'll have to sacrifice a weekend evening in order to go watch the parade, but it's definitely worth it if it's your first time in Rio. You'll have plenty of opportunities also, since the parades happen on a couple of different days.
It's a gorgeous and unique event, and you can get tickets to it for as low as R$118 (≈ C$30)!
9. Choose accommodations at zona sul (south zone)
When picking a place to stay in Rio de Janeiro, you should definitely focus on neighborhoods in the south zone (zona sul, in Portuguese) of the city — that's the safest spot to be. The Copacabana neighborhood being the one with the lowest prices.
For a low-budget experience, I'd recommend hostels for solo travelers or the average group size of 2, 3, or 4. But if you're coming with many friends, I'd say trying to rent out an Airbnb or Vrbo might be a good option.
By the way, that tip only applies to the place you're staying; it does not mean you should spend all your Carnaval in the south zone. On the contrary, some of the best parades usually happen at the city center or the Santa Teresa neighborhood — and I assure you they will be equally safe compared to the ones in the south zone.
10. Enjoy the mornings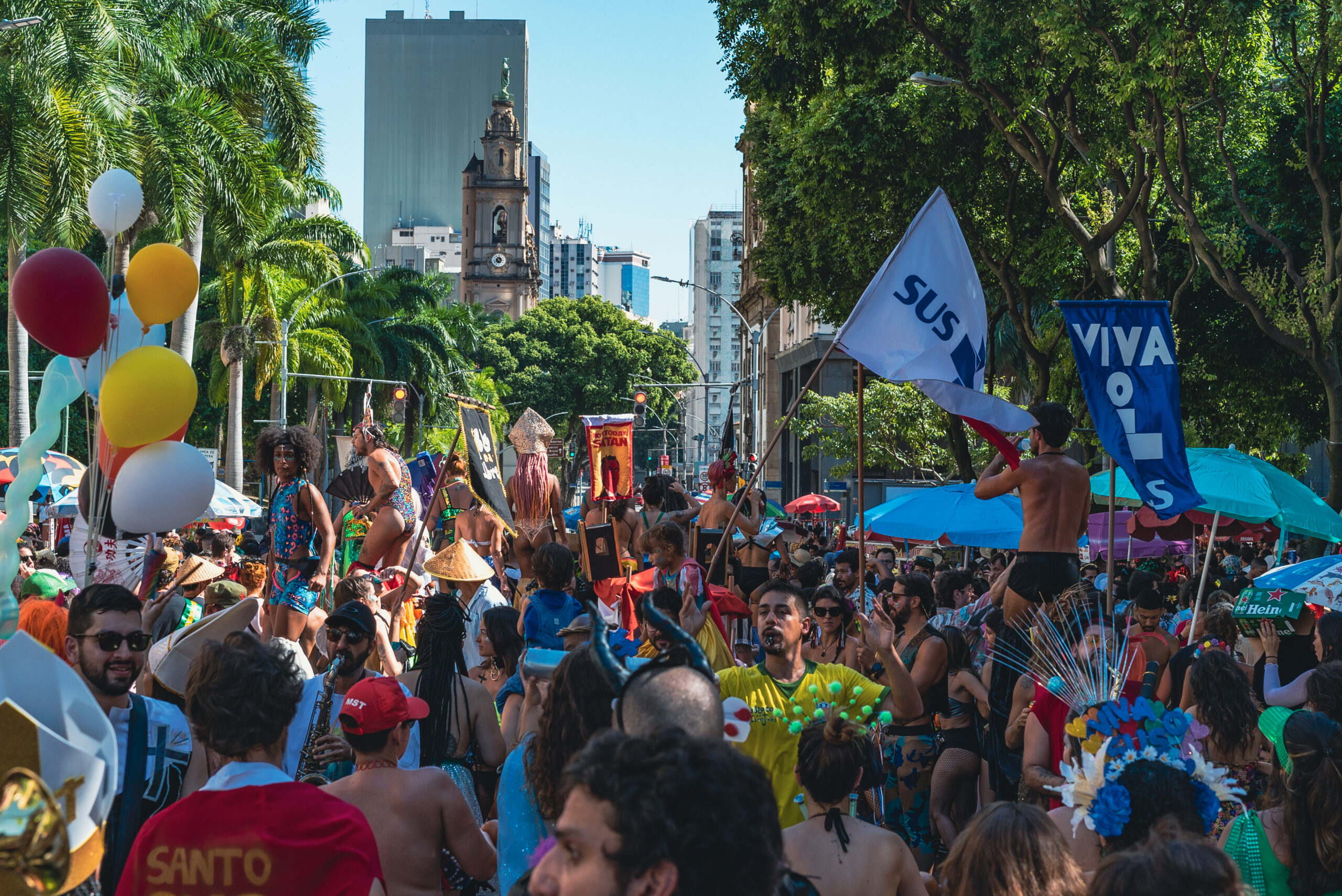 Of course, this is relative, but I find that the best parades happen in the morning, starting around 8 AM.
In a way, the most popular ones do it to thin out the crowd. Afternoon crowds can get pretty intense.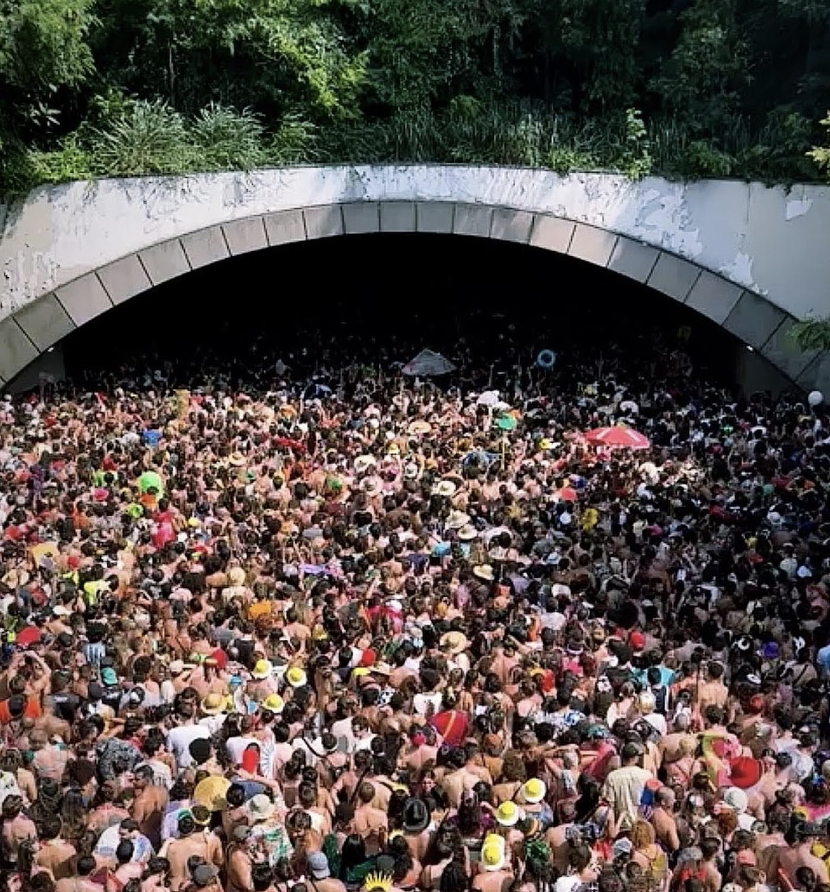 Also, it's better to get there early when going to "moving" parades, since you'll be there when it starts and won't have to search for it as it moves around the city. Another plus: mornings are safer, won't be too hot, and it grants you time to rest before night parties if you wish to.
By the way, it's definitely socially acceptable to drink before 9 AM during Carnaval, so no need to worry about that 😂 !
Want to receive more travel inspiration about destinations around the world?
Summary
The Rio Carnaval really is the greatest show on earth, in my opinion. But it does present challenges to newcomers. These tips from a Rio de Janeiro local will help you have the best possible time during this fantastic national holiday.
What would you like to know about Rio de Janeiro? Tell us in the comments below.
See the deals we spot: Cheap flights
Explore awesome destinations: Travel inspiration
Learn pro tricks: Travel tips
Discover free travel: Travel rewards
Featured image: A street parade (photo credit: @dansantann)
Share this post to help us help more people travel more for less: