If you're a nature-lover who seeks rugged mountains and glaciers, emerald-colored lakes, dense forests, and untouched backcountry, you should know that Canada's National Parks have it all.
There are many beautiful ones, and I'm particularly a fan of those in Western Canada. I spent 4 entire summers out West when I was in college, and I've been to almost all of the top 10 most visited parks, which are all worth a visit.
Back in 1885, the first park in Canada was founded (and it's still the most visited today), which was the catalyst for the preservation of more beautiful places to become national parks.
National parks are fantastic for two reasons:
they ensure the preservation of land and wildlife
they are the ideal way for visitors to revel in nature's beauty

You may have already visited some of these parks if you've ever ventured north. But if you haven't, you can find some low prices on our cheap flight deals page.


Explore Canada's natural secrets and beauty, starting with the 10 most visited national parks in Canada.
1. Banff National Park (Alberta)
In the Canadian Rockies, Banff is the oldest and most visited park in Canada, with over 6,000 square kilometers of untouched wilderness. It is home to the iconic Lake Louise and Moraine Lake.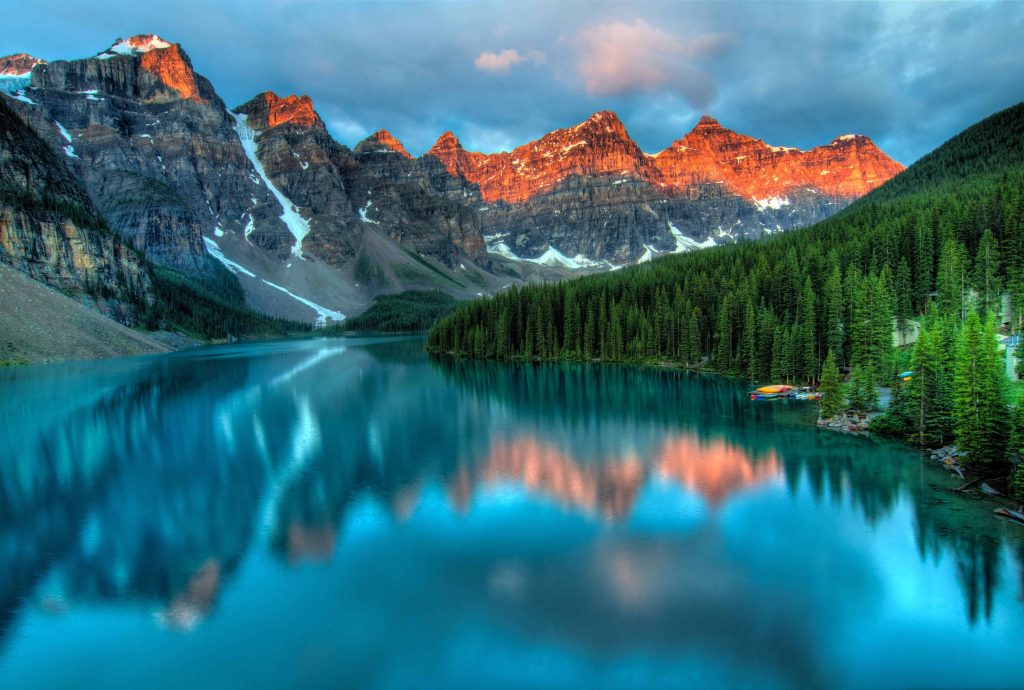 I love Banff! I lived there 2 summers in a row and it was one of the best experiences of my life! There is so much to do: hiking, snowboarding (I also went back during to winter while I was living in Calgary!), kayaking and so much more.
From watching wildlife, doing outdoor activities, and enjoying the natural beauty, Banff National Park has it all!
It has a range of wildlife like elk, caribou, grizzlies, and bighorn sheep. While finding wildlife, you can climb mountains, or go trekking. Moraine Lake, where large coniferous trees and mountains tower over, is one of the best spots for kayaking.
If you're a bit more adventurous, go to Johnston Canyon for two breathtaking waterfalls, cliffs, and natural pools of fresh spring water.
Then, the famous Fairmont Banff Springs Resort, founded in 1888, is also a popular attraction for those looking to relax at the spa and indulge in some self-care. If not, there are many hostels for smaller budgets.
Nearest airports: Calgary (YYC)
ALSO READ: Hiking the Canadian Rockies: Banff National Park
2. Jasper National Park (Alberta)
With over 2 million visitors in 2018, Jasper National Park is the second most popular park with over 11,000 square kilometers of land to discover. It is located a bit further north in the Rockies.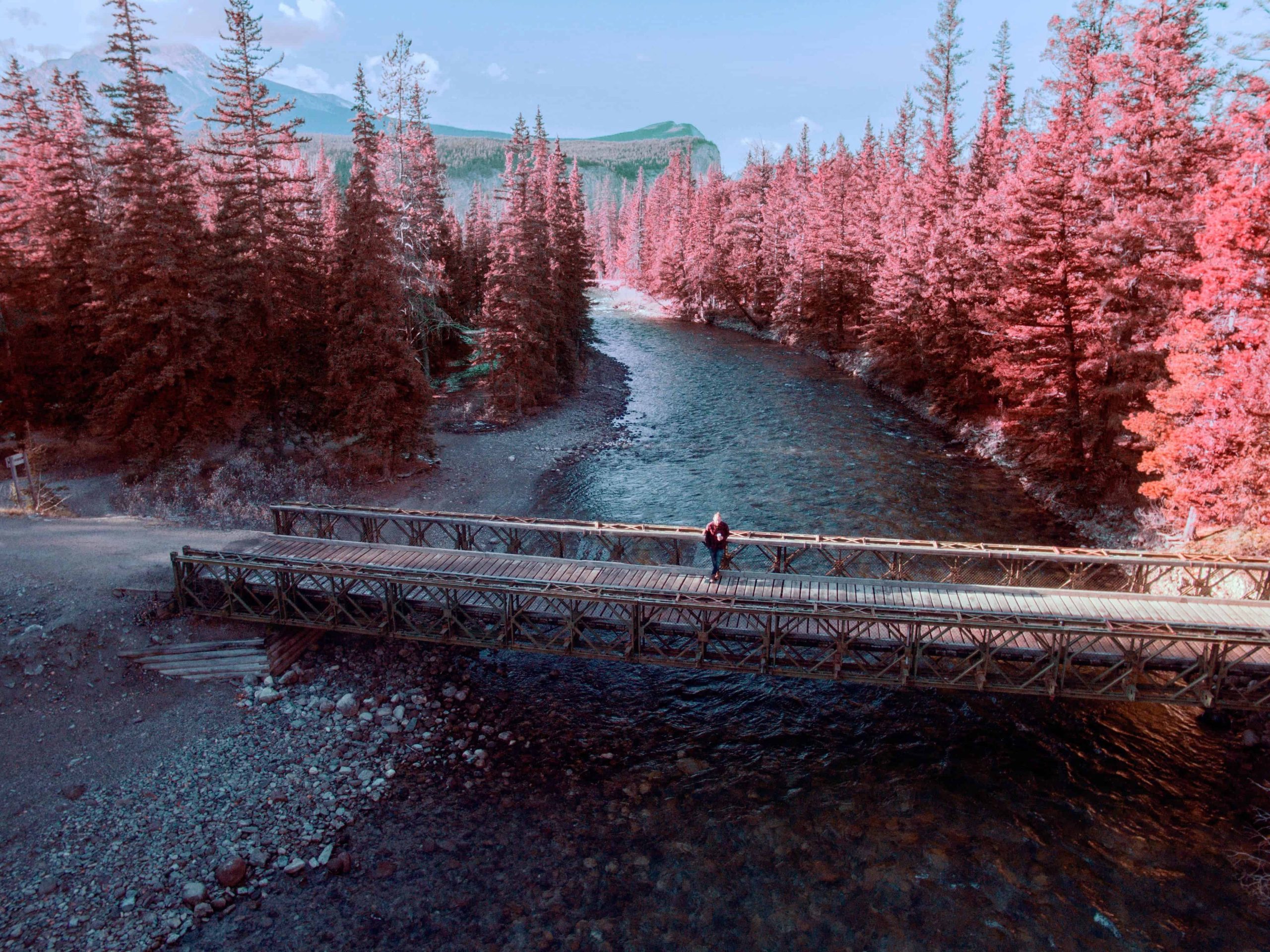 Jasper too is a wonder of nature. Less touristy than Banff, and the road to get there is one of the most beautiful I've seen in the world.
From trails, waterfalls, to the steamiest hot springs, Jasper National Park will keep you enthralled day and night.
If you're into sports, you could take advantage of the rivers and trails for hiking, camping, kayaking, and even rafting down the Athabasca River.
If you dare to scale the heights, take the Jasper Skytram to the summit of The Whistlers: a staggering 2,277 meters high. It is the longest and highest aerial tramway in Canada.
Then, if you're looking to relax, the Mite Hot Springs can warm you up at a roasting 120°F / 48.9°C.
Nearest airports: Edmonton (YEG), Calgary (YYC)
ALSO READ: Hiking the Canadian Rockies: Jasper National Park
3. Saguenay–St. Lawrence Marine Park (Québec)
The only top 10 park from Central Canada (Quebec and Ontario), it is a unique "marine" national park. It is located at the confluence of the Saguenay and St. Lawrence rivers, where a mix of fresh and salty waters creates a perfect feeding ground for beluga whales.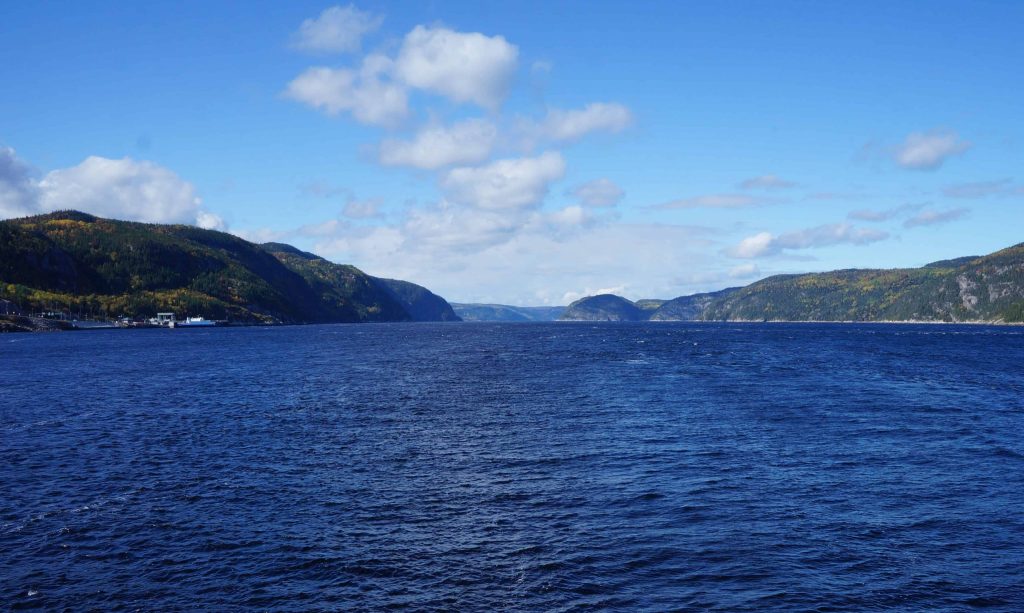 So, no, you don't even have to go to the ocean to see some whales! You can view beluga whales in their natural feeding and breeding grounds on a boat tour or from the shoreline.
Despite the park being a preserved habitat, you can still go sailing, kayaking, and even scuba diving to explore the depths of the rivers.
This particular park covers water only. But it is adjacent to the Saguenay Fjord National (Provincial) Park, which is also very impressive. It is one of the most southerly fjords in the Northern Hemisphere.
I've never been but Flytrippers' other co-founder Andrew was just there for the first time in September and told me he wasn't expecting the landscapes to be that beautiful. It's a great spot to visit; he'll tell you more about his trip there in an upcoming article.
Nearest airports: Saguenay (YBG), Quebec (YQB)
4. Pacific Rim National Park Reserve (British Columbia)
Found on the beautiful Vancouver Island, Pacific Rim National Park offers temperate forests, infinite coastlines, and impressive mountain ranges.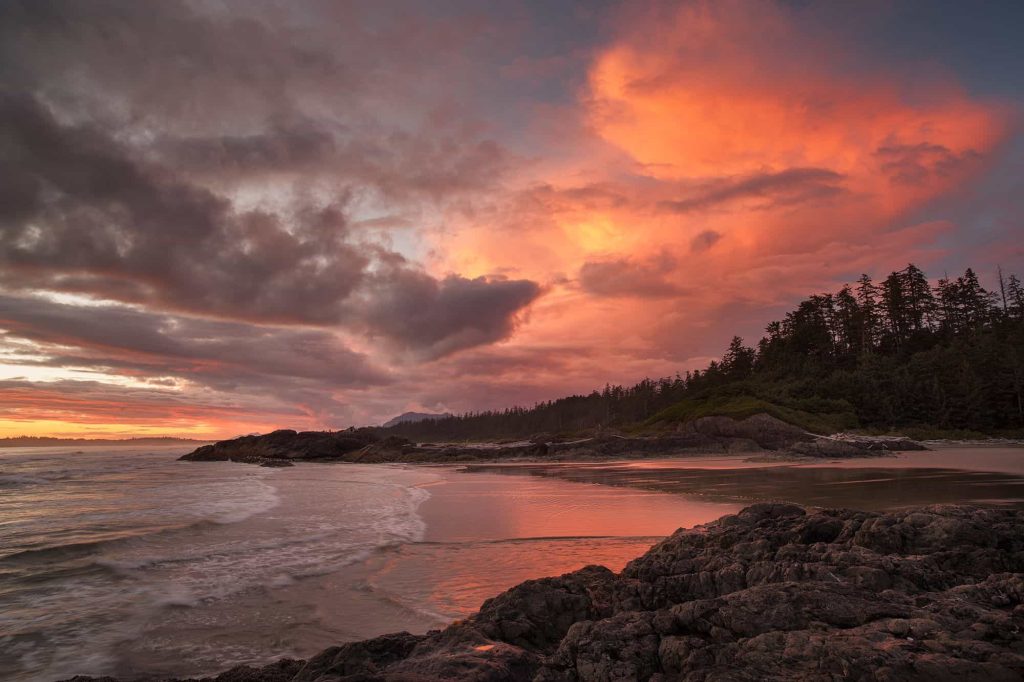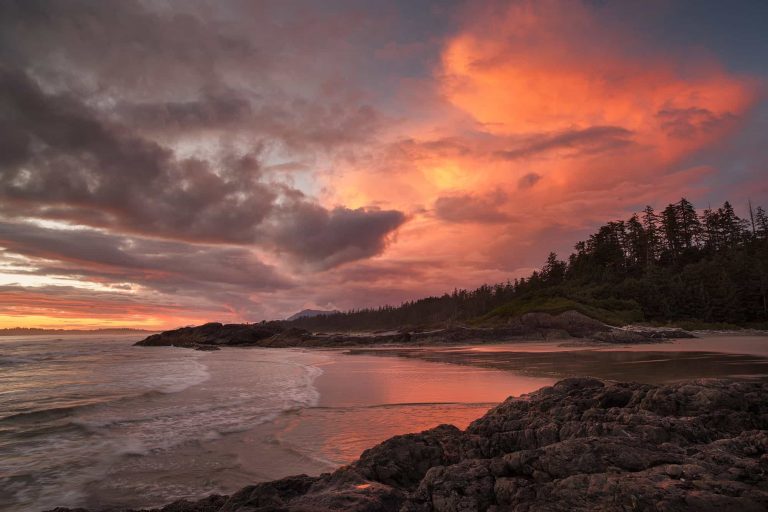 In my opinion, it is one of the most beautiful parks in Canada for sure! You'll find a wonderful beach where you can surf and HUGE trees that are quite impressive in the rainforests!
The park has 3 main areas: you can hike the West Coast Trail or kayak and camp your way through the Broken Group Islands or Long Beach. Or learn about the indigenous culture of the Nuu-chah-nulth; and enjoy an array of water sports like swimming in tidal pools, paddle-boarding, and surfing.
This park also stands out for its abundance of wild fauna throughout the forest and along the coast.
Nearest airports: Victoria (YYJ), Vancouver (YVR)
5. Mount Revelstoke National Park / Glacier National Park (British Columbia)
Known for their abundant wildlife, both of these two parks are perfect for hiking to epic viewpoints and photographing animals. Located west of Banff, they are separate parks but share facilities and are very close to one another.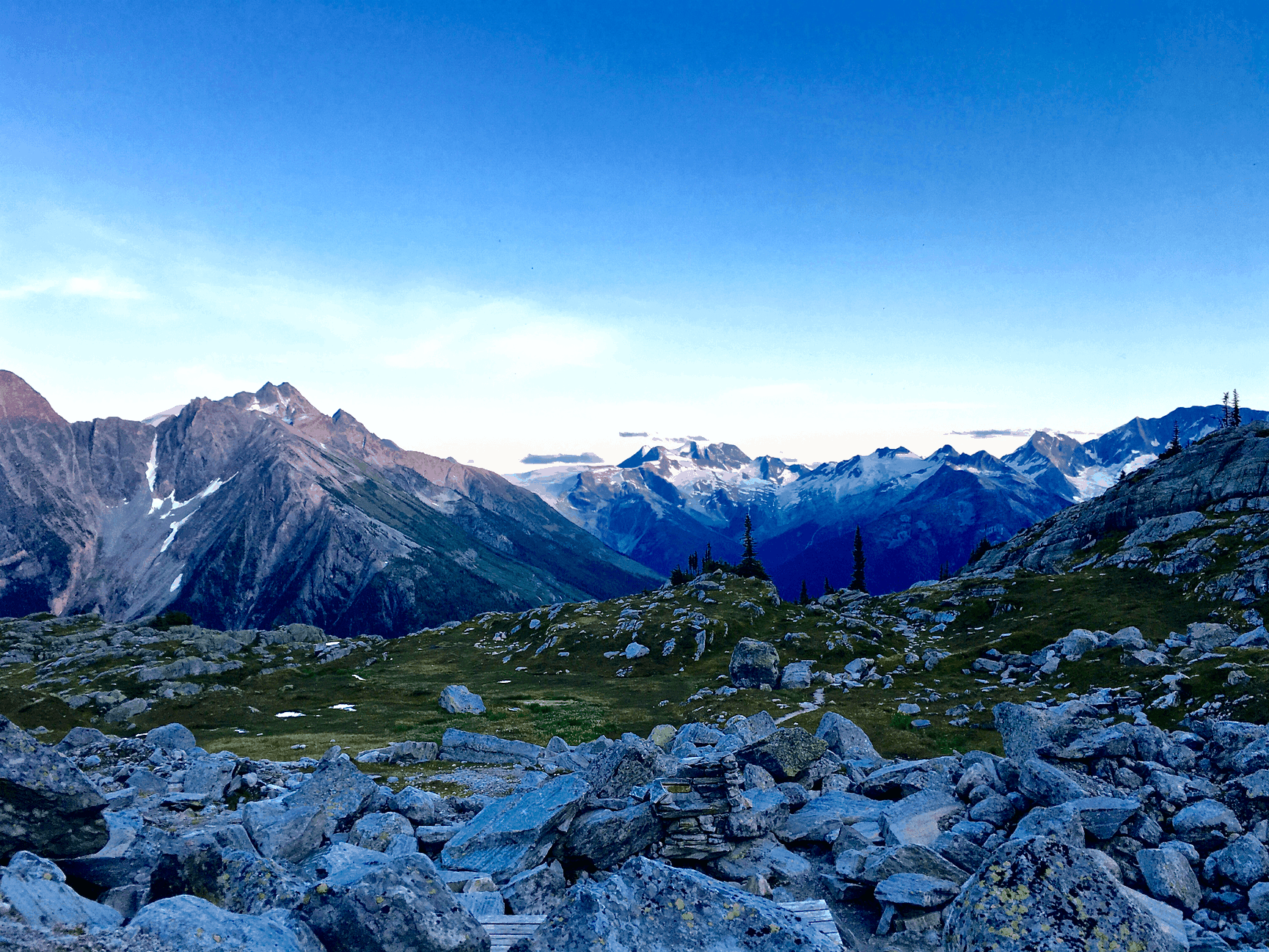 From high in the skies to deep in the backcountry, what makes these parks stand out is both in plain sight and hidden deep within—they definitely earn their spot on the list of most visited National Parks in Canada, and I enjoyed visiting these too.
With grizzlies, woodland caribou, coyotes, mountain goats, martens, and a plethora of other species, Mount Revelstoke and Glacier National Parks are the place to go for wildlife enthusiasts.
Hiking is also prominent in this land. If you wish to explore the wetlands, check out Cabbage Trail. For a rainforest, go to Hemlock Grove Trail. Then, drive to the peak of Mount Revelstoke via the Meadows in the Sky Parkway.
Lastly, many backpackers and camping enthusiasts opt for these National Parks for their backcountry camping opportunities.
Nearest airports: Calgary (YYC), Kelowna (YLW)
6. Yoho National Park (British Columbia)
Found on the BC side of the Canadian Rockies, opposite Banff, Yoho National Park is full of wonder. "Yoho" translates from an indigenous Cree expression as "amazement," which is a perfect description of how you'll feel in this area.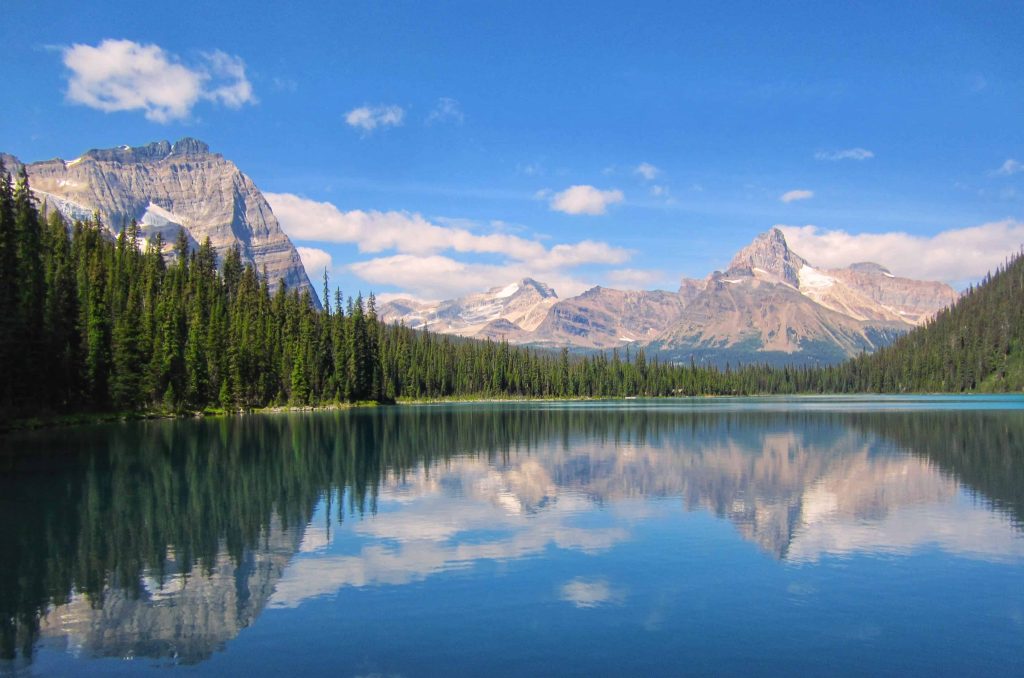 If lakes, trails, and waterfalls interest you, then you will not be disappointed when you explore Yoho National Park (at least I wasn't disappointed).
First, you can visit the impressive Takakkaw Falls, which are fed by a glacier and a nearby icefield and roar with powerfully cold water.
Lake O'Hara is surrounded by evergreen and sky-scraping mountains—perfect for photography enthusiasts. You could also begin hiking trails here, such as the Lake Mesa Trail, Macarthur Pass, and Linda Lake Circuit, along with the Morning Glory Lakes.
Yoho National Park is teeming with the cutest wildlife: mule deer, timber wolf, golden-mantled squirrels, and even lynx!
Nearest airports: Calgary (YYC), Kelowna (YLW)
7. Prince Edward Island National Park (Prince Edward Island)
This coastal National Park is on the Gulf of Saint Lawrence and offers travelers broad sandy beaches. It's is the only park in the top 10 that is located in Atlantic Canada.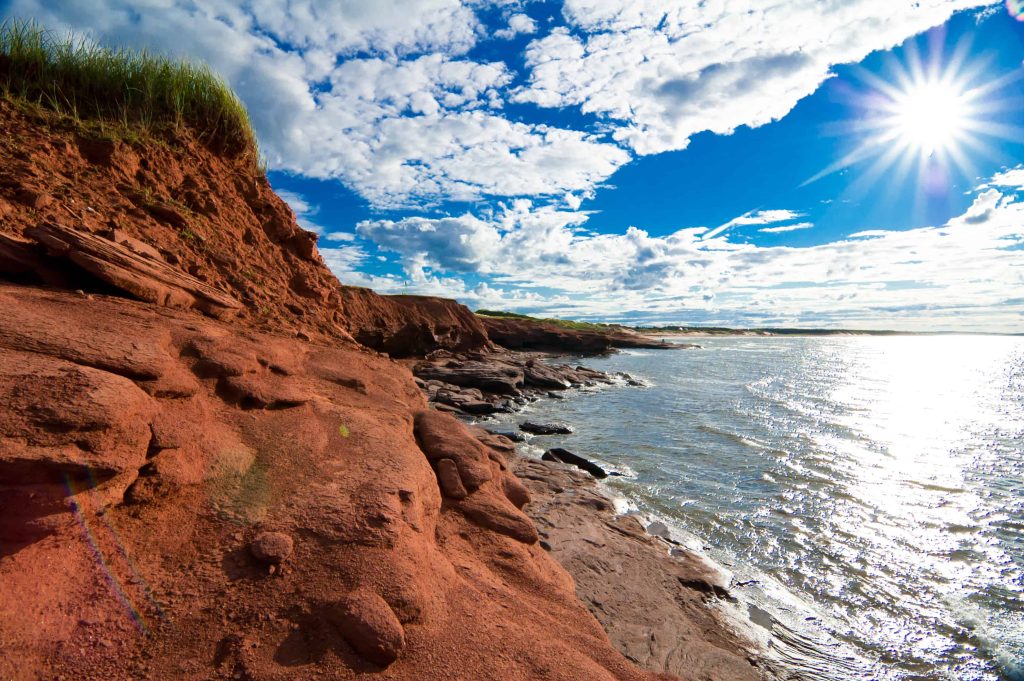 PEI is actually the only province I've never been too (and ironically Andrew is flying there tonight for the weekend).
It's a great summer destination apparently. He has been to this National Park on a summertime trip as a kid and has great memories of the coastline and camping at nearby Cavendish Beach.
He has never gone camping ever since though, so even though we'll be posting more articles about our own trips to share our experiences with you, don't expect camping trip stories from him—that was definitely an outlier.
What is mostly a flat and low-lying national park, Prince Edward Island National Park is therefore perfect for camping on the beach or exploring the salt marshes teeming with elegant birdlife, especially the piping plover that breeds here.
There are plenty of sports you could take part in during your stay, too, like biking, geocaching, canoeing, and paddling.
Nearest airports: Charlottetown (YYG)
8. Kootenay National Park (British Columbia)
Along with Banff, Jasper and Yoho, Kootenay National Park is recognized as a UNESCO World Heritage Site. It offers sharp mountain peaks, endless plains, majestic waterfalls, and cave systems to explore. It is located just south of Yoho, also opposite Banff, so you can easily visit them all in one trip.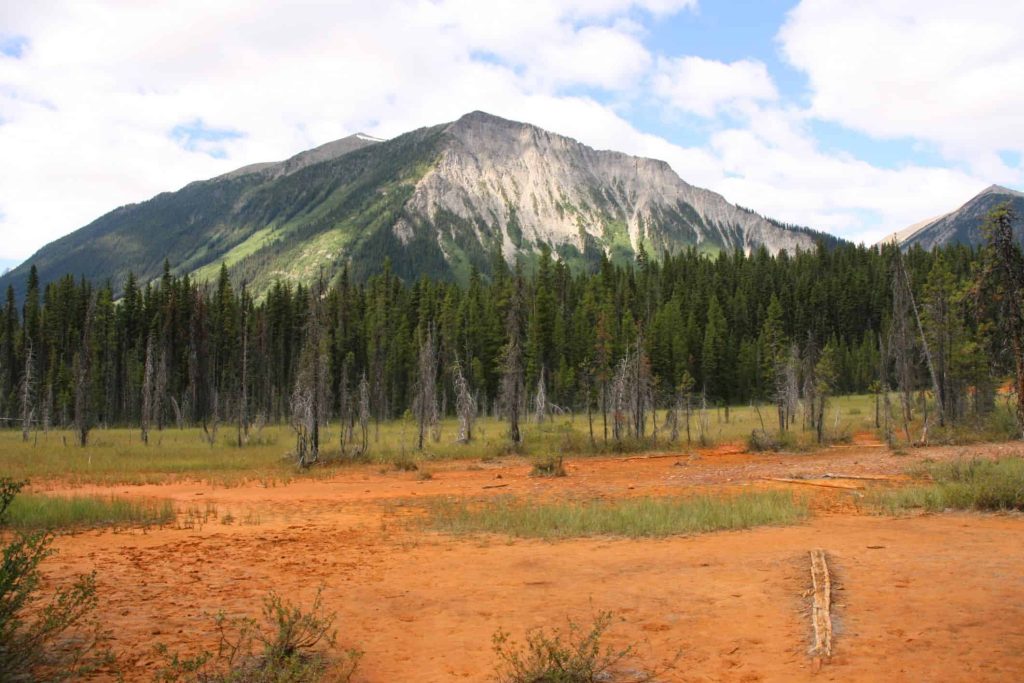 When you visit Kootenay, you must see these three places: Sinclair Canyon, Redwall Fault, and the Paint Pots.
Sinclair Canyon is a gorgeous gorge with plenty of trails to scour for any avid hiker.
Then, Redwall Fault is a line of must-see cliffs, hot springs, and the Red Chairs (a campaign started by Parks Canada to encourage visitors to be at one with nature).
Lastly, the Paint Pots are one of nature's beautiful phenomena where you'll find circular orange iron-oxide filled ponds. The First Nations believe that the spirits of animals reside within these pools, given their color.
Nearest airports: Calgary (YYC), Kelowna (YLW)
9. Waterton Lakes National Park (Alberta)
Waterton Lakes National Park is unique as it sits directly on the US-Canada border and continues on the US side. This combined area is a UNESCO World Heritage Site called the Waterton-Glacier International Peace Park. The Canadian side brings together prairies and mountains straight down the middle, with plenty of scenic outlooks for your viewing pleasure.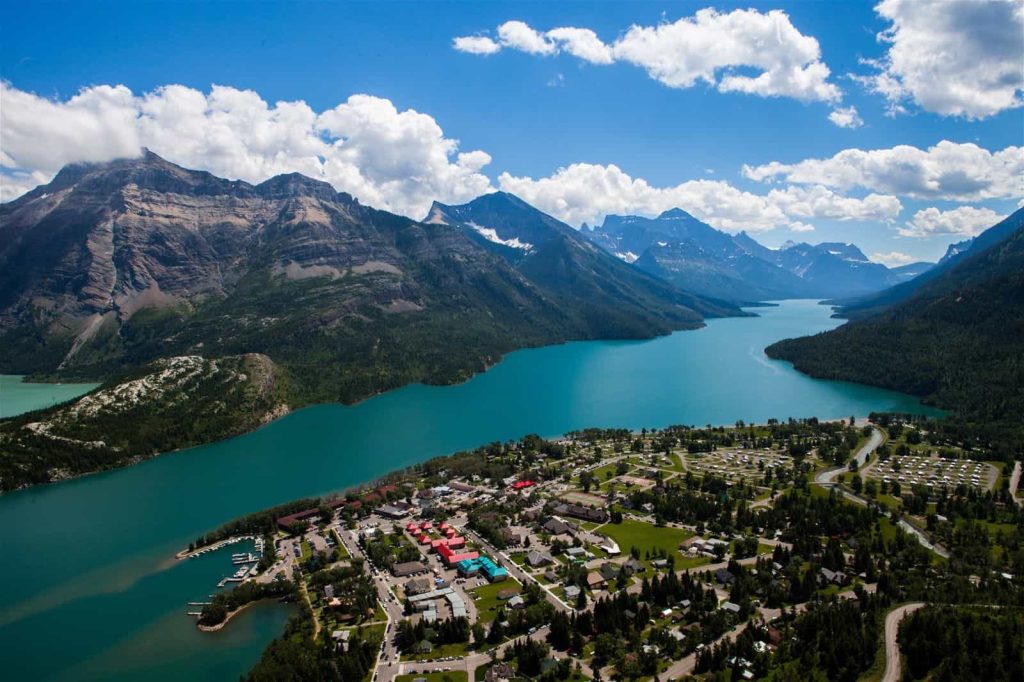 The best part about Waterton Lakes is in the name: the lakes. There's Cameron Lake, Waterton Lake, Bertha Lake, and Crypt Lake.
The Canadian park is pretty small, but in Montana, the US side is much bigger and is called Glacier National Park. Not to be confused with the Canadian Glacier National Park… which is located in British Columbia (it was #5 on this list and has nothing to do with the American one).
Waterton Lakes Park really should be the one called Glacier to be consistent with the idea of a bi-national park and have them share the same name, but it would be way too simple that way right?
It's the only one out West I haven't been to, but Andrew keeps raving about the US side of this park. He says it remains one of his favorite roadtrips ever. The drive across the park is well-known and is called Going-to-the-Sun Road. He'll share pictures in an upcoming post, it really looks beautiful.
Nearest airports: Calgary (YYC), Kalispell (FCA)
10. Elk Island (Alberta)
This land located on the Prairies side of Alberta, near Edmonton, is known mainly for its conservation, as it protects wintering herds of elk, moose, and bison and is home to the world's smallest terrestrial mammal, the pygmy shrew.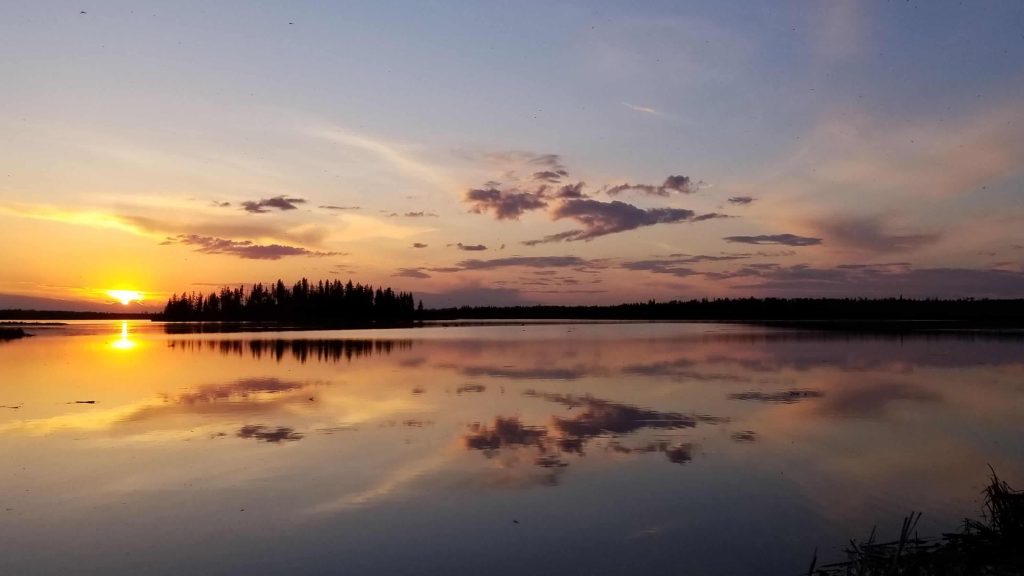 If you're there during summer or fall, take a drive down the Bison Loop to go bison spotting. These majestic creatures are native to North America and I think they make it worth a visit: I saw so many wild bison in this park.
If you're going in the winter, there are still outdoor activities like snowshoeing! Just remember to dress appropriately!
Then, with the extra time (or by simply stumbling upon them), find more of the Red Chairs!
Nearest airports: Edmonton (YEG)
Want more content to inspire your travels?

Summary
As you can see, some of the best national parks you'll find in the world are in Canada, and many of the most visited are located out West! You'll find opportunities to do pretty much anything: hiking, extreme and leisure sports, camping, mountain-climbing, wildlife viewing or even just glancing at the landscapes! The most visited National Parks in Canada are waiting for you—all you need to do is get there!
Have you been to one of these parks before? Do you have a favorite? Tell us in the comments below!
Want to see our current discounted plane tickets?
Click here to see our flight deals
Want more travel tips and inspiration?
Click here to see the blog homepage
You'll probably enjoy this article:
Travel Hacking: Free Travel (really)
Help us spread the word about our flight deals and travel tips by sharing this article and, most importantly, bookmark Flytrippers so we can help you navigate the world of low-cost travel!
Featured image: Glacier National Park, British Columbia (Photo Credit: Kadi Altküla)
Advertiser Disclosure: Flytrippers receives a commission on links featured in this blog post. We appreciate it if you use them, especially given it never costs you anything more to do so, and we thank you for supporting the site and making it possible for us to keep finding the best travel deals and content for you. In the interest of transparency, know that we will NEVER recommend a product or service we do not believe in or that we do not use ourselves, as our reputation and credibility is worth far more than any commission. This principle is an essential and non-negotiable part of all our partnerships: we will never give any third-party any control whatsoever on our content. For more information on our advertiser disclosure, click here.
Share this post to help us help more people travel more for less: