I wanted to visit Central Asia (the region of countries affectionately called the "Stans") for such a long time and that's what I finally did in May. My very first stop in the area was a short visit to Bishkek, the capital of Kyrgyzstan. I absolutely loved it.
I loved it so much that it convinced the other Flytrippers co-founder Kevin to go to Bishkek after he spent a few months in Georgia (the country, not the US state). So I thought I'd post this article right away since he just got there.
I'll also be sharing the logistics, planning, booking, and background article for the entire trip soon, jam-packed with tips like I did for my Vancouver trip in September and my Southern Africa trip in 2019 (since many of you loved the travel tips in there).
But here are the 5 reasons why I loved my visit to Bishkek.
1. It's off the beaten track
If you read a bit of my writing, you know that I hate all the touristy places full of tourists. Personal preference.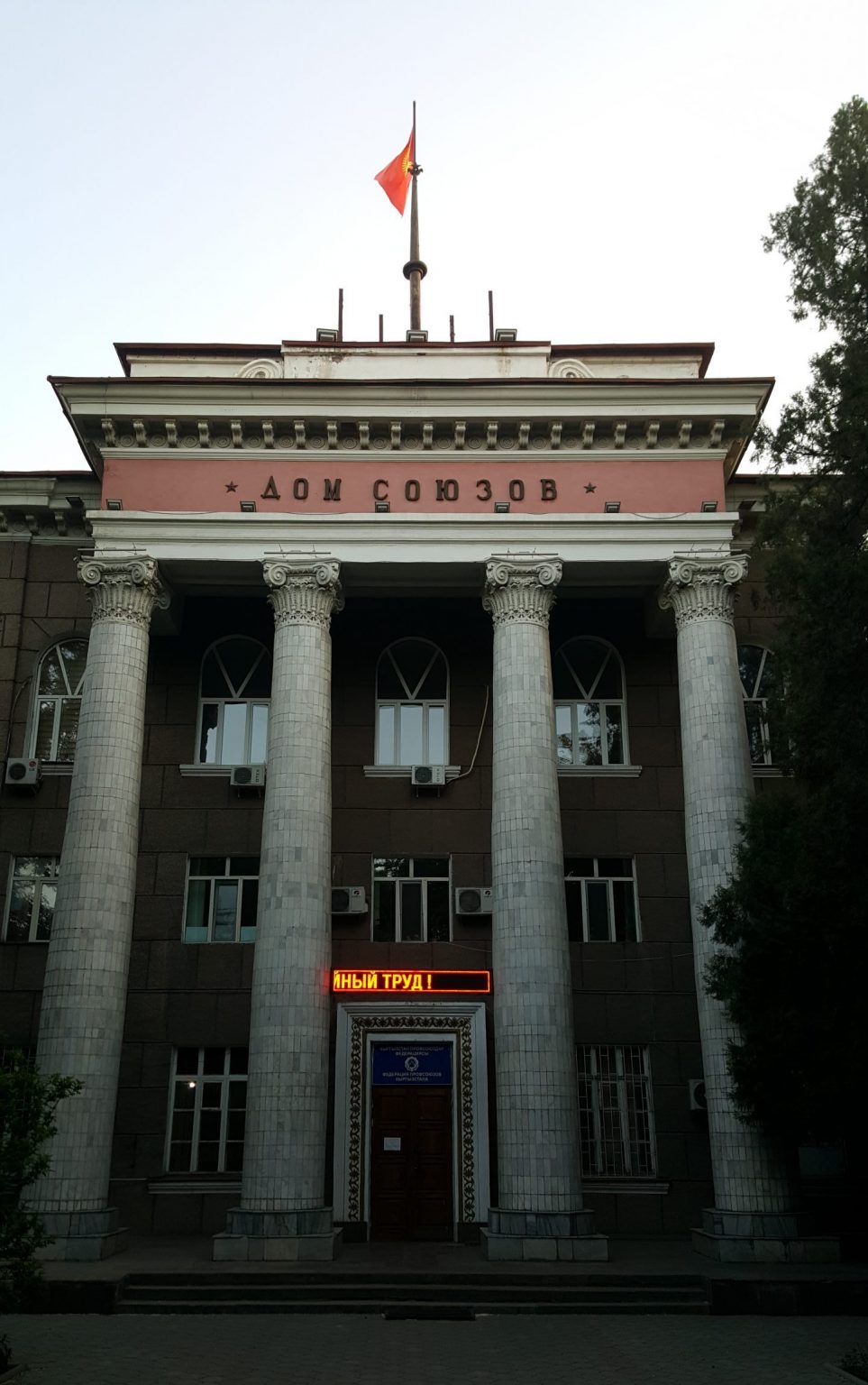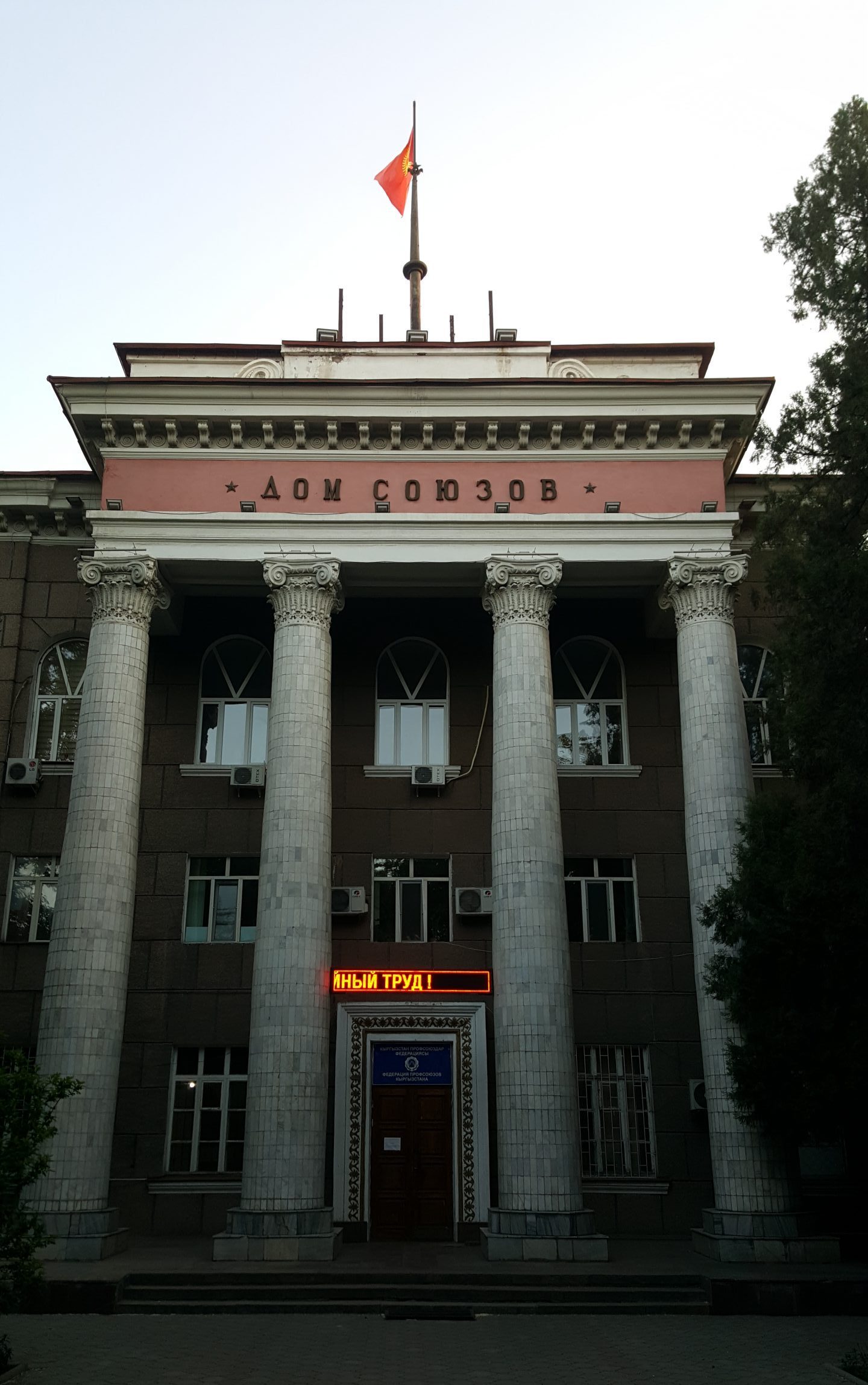 I've always preferred going where fewer people go, I find that the experience of the culture shock and the discovery of very different ways of life is just so much more rewarding that way.
Kyrgyzstan is a country about twice the size of the island of Newfoundland, with 7 million inhabitants.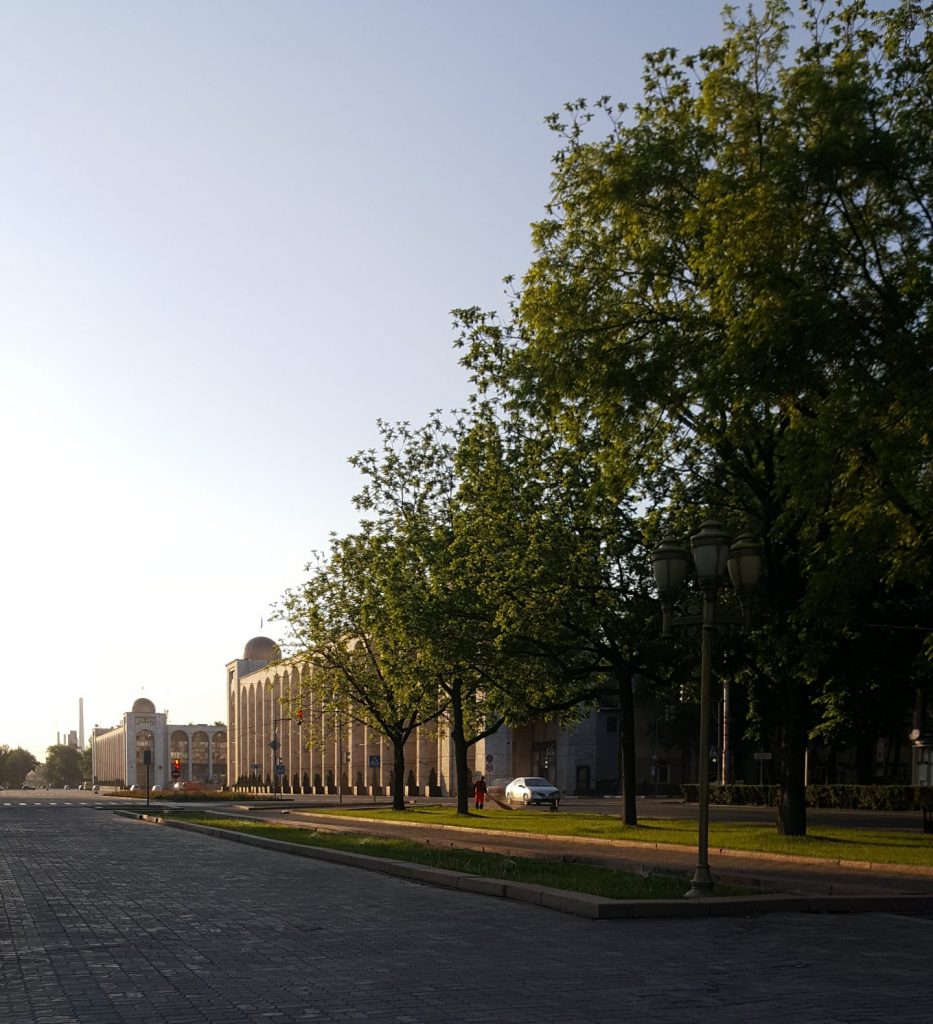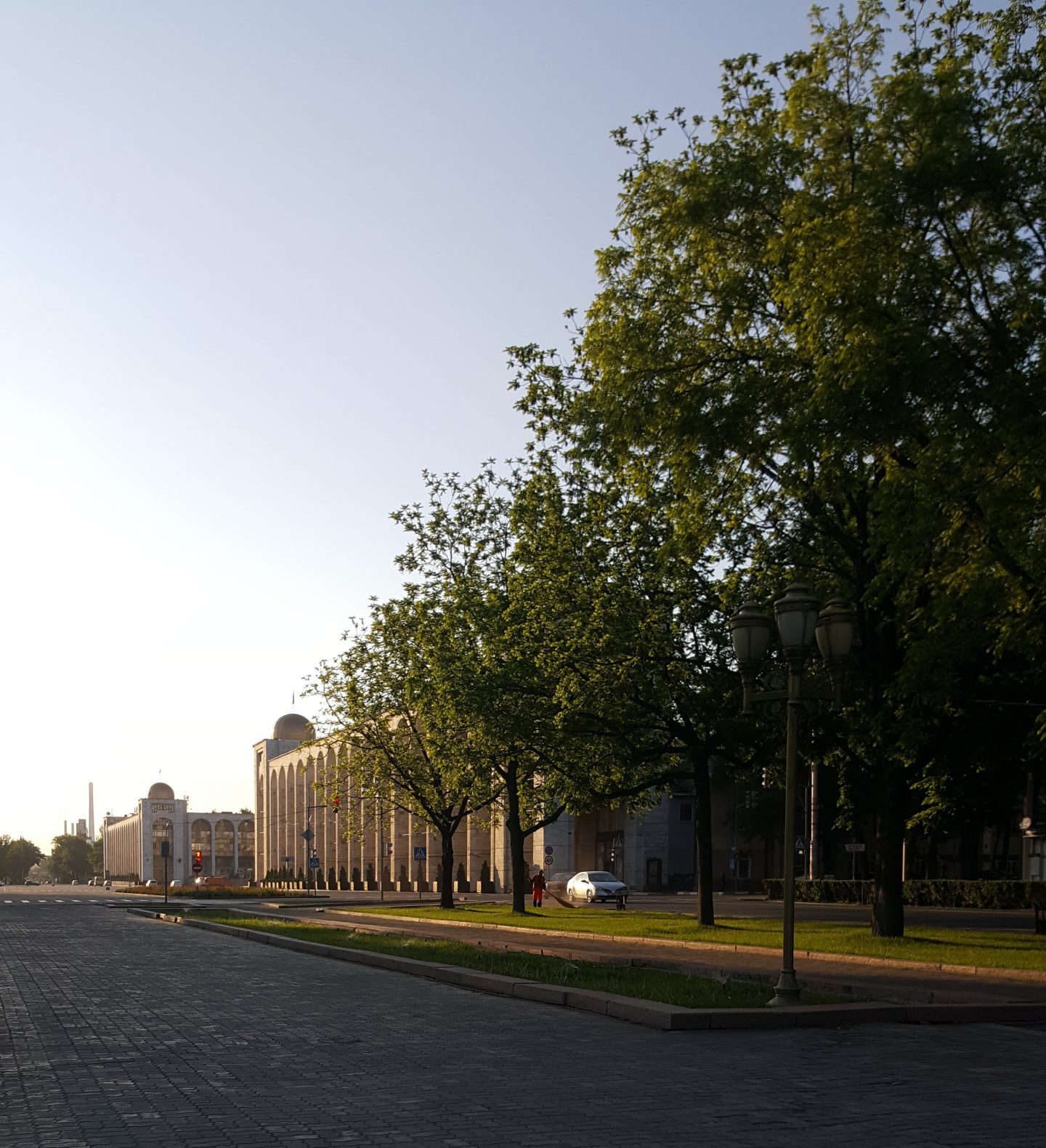 The atmosphere in Bishkek was unique.
It's a mix of Soviet and Asian influence… but the Kyrgyz ethnic group is a Turkic people and they are predominantly Muslim.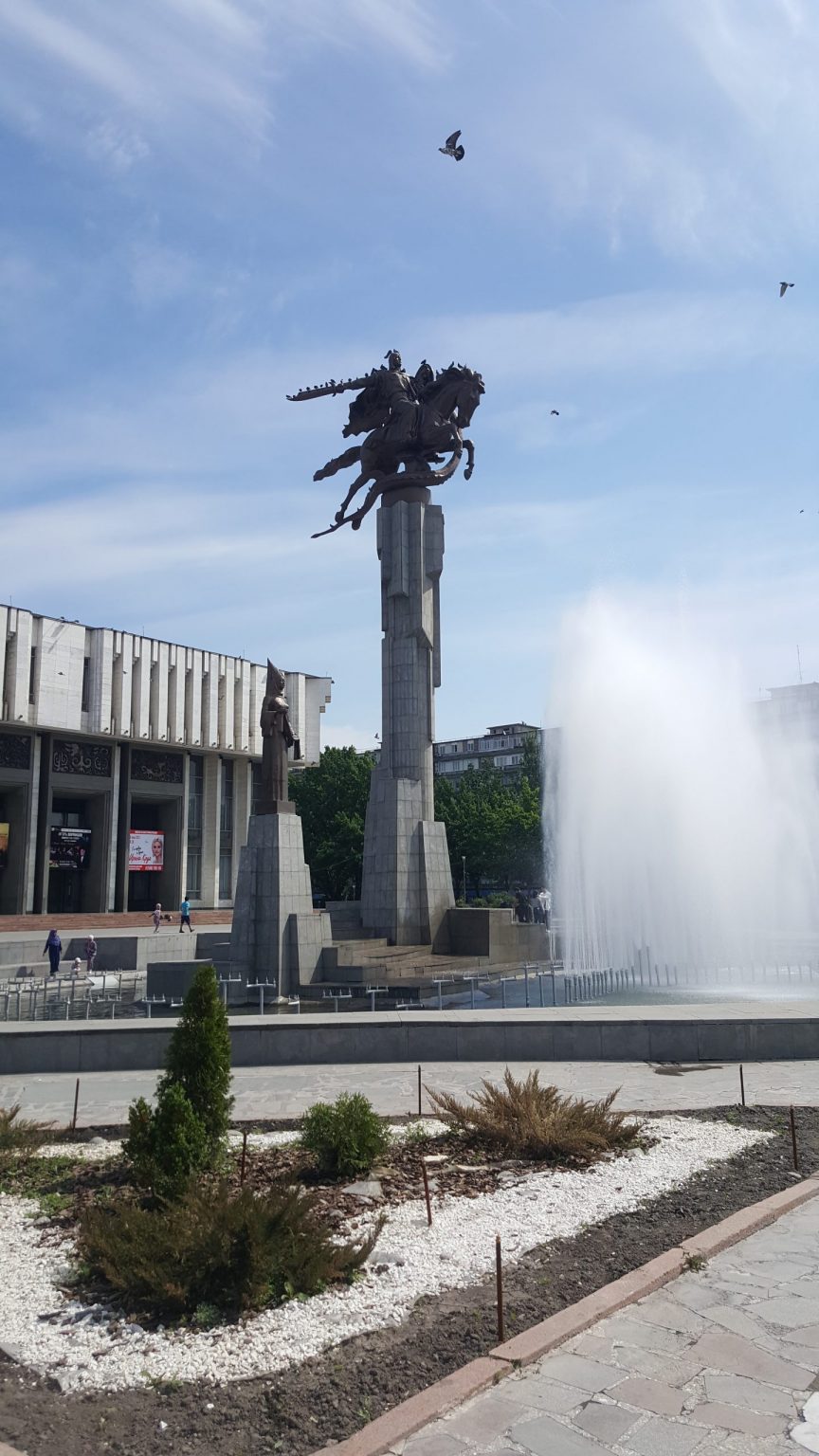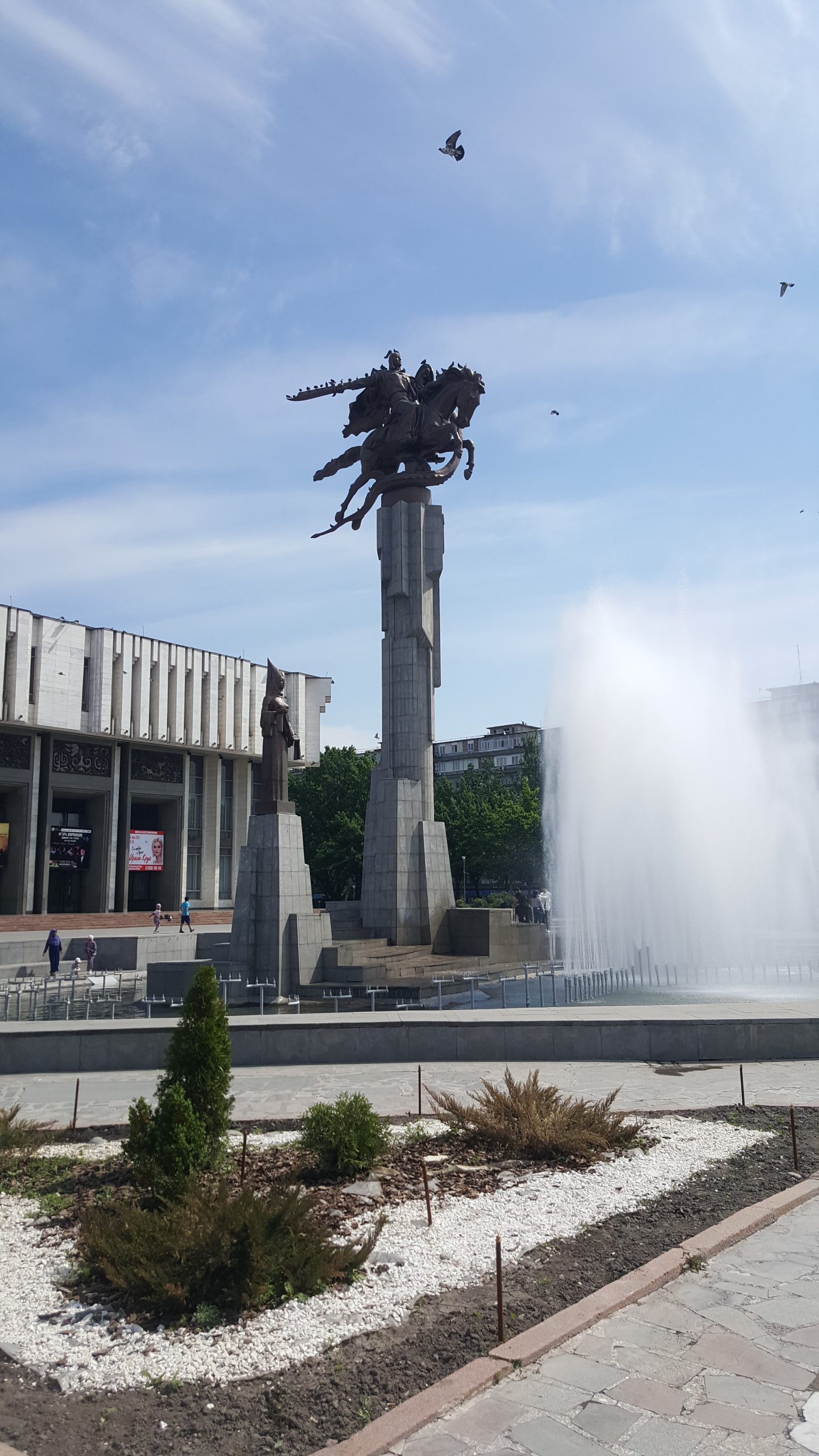 It's really very very very unique.
And despite some people dressed in traditional costumes (or with only the traditional ak-kalpak hat), it is an extremely modern city.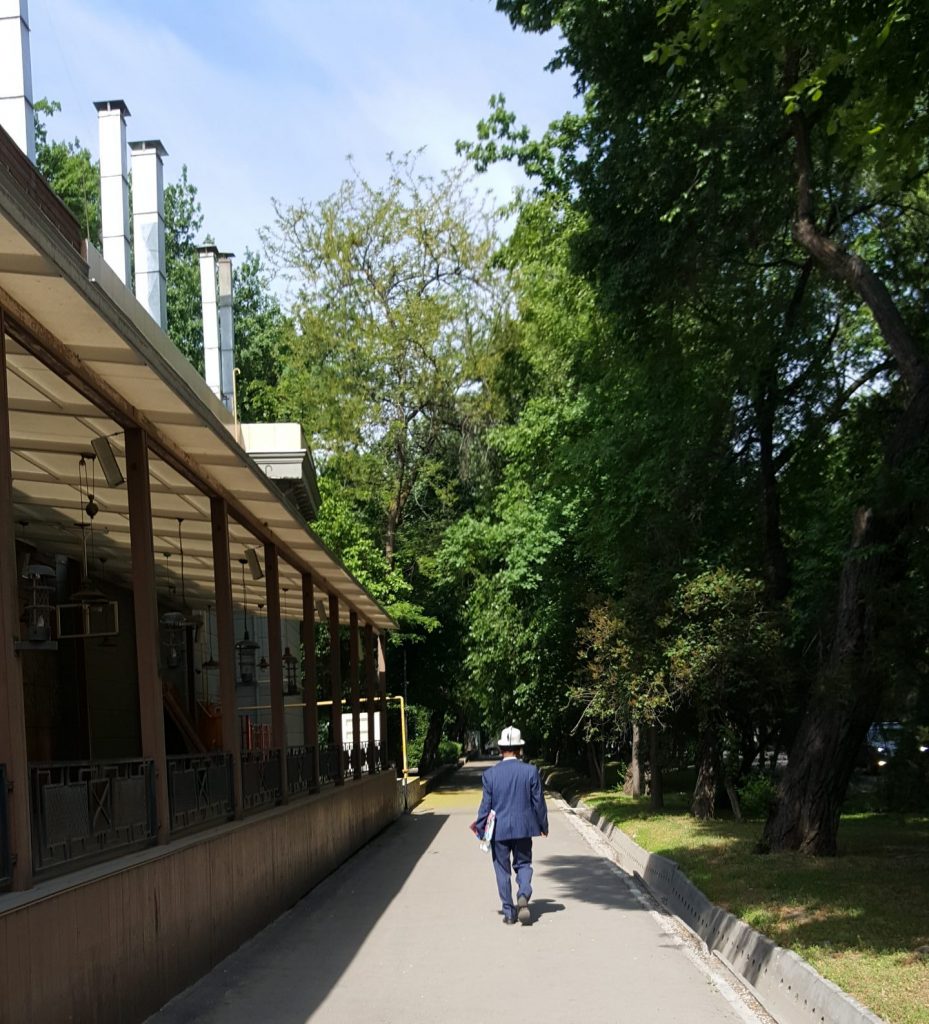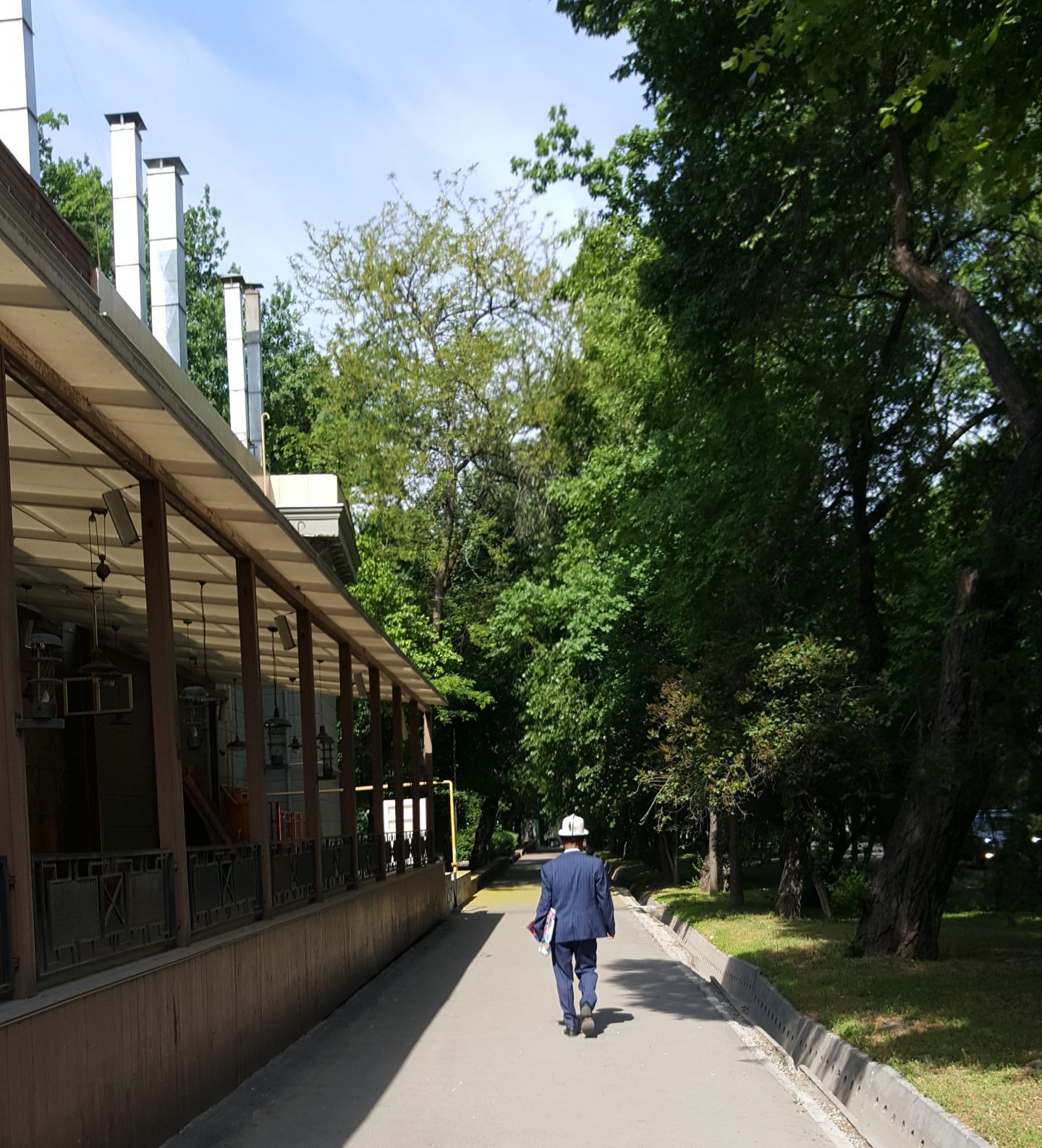 They speak Kyrgyz and Russian (the 2 official languages) and it's really not often you run into someone who can speak English.
But those who did were very welcoming and kind, their hospitality is renowned. And so were the others; Google Translate is great for that!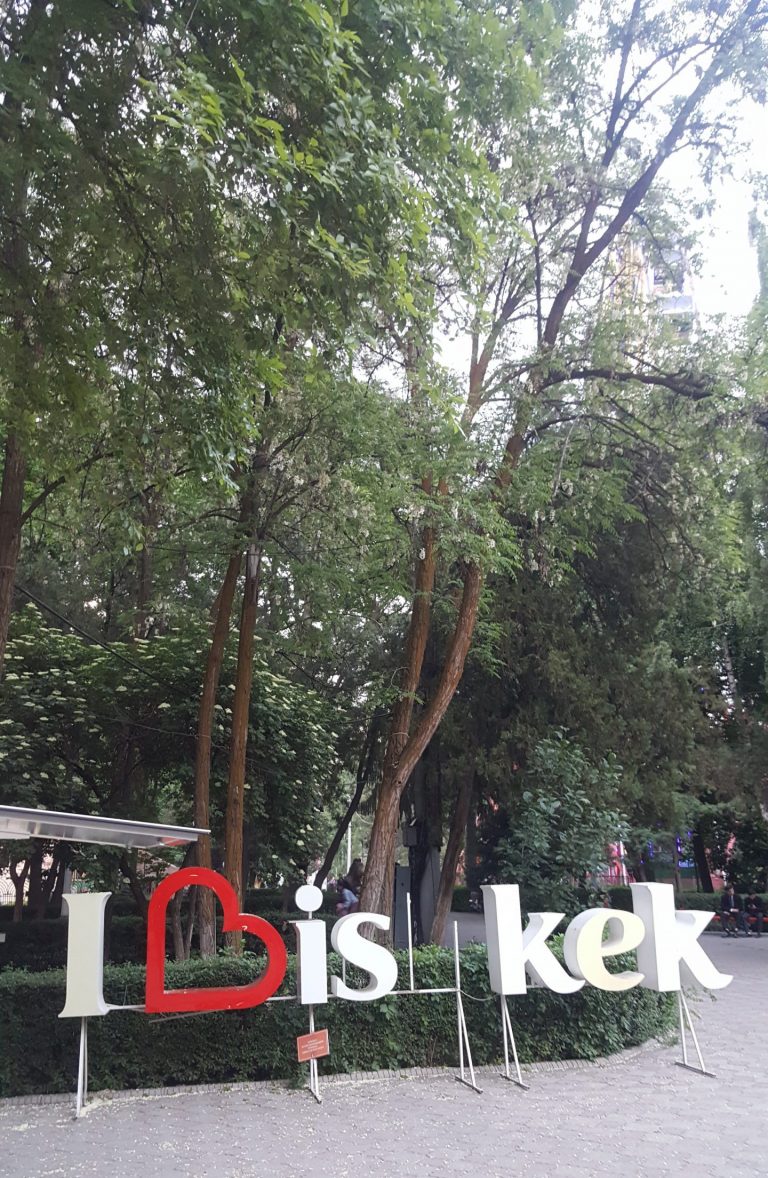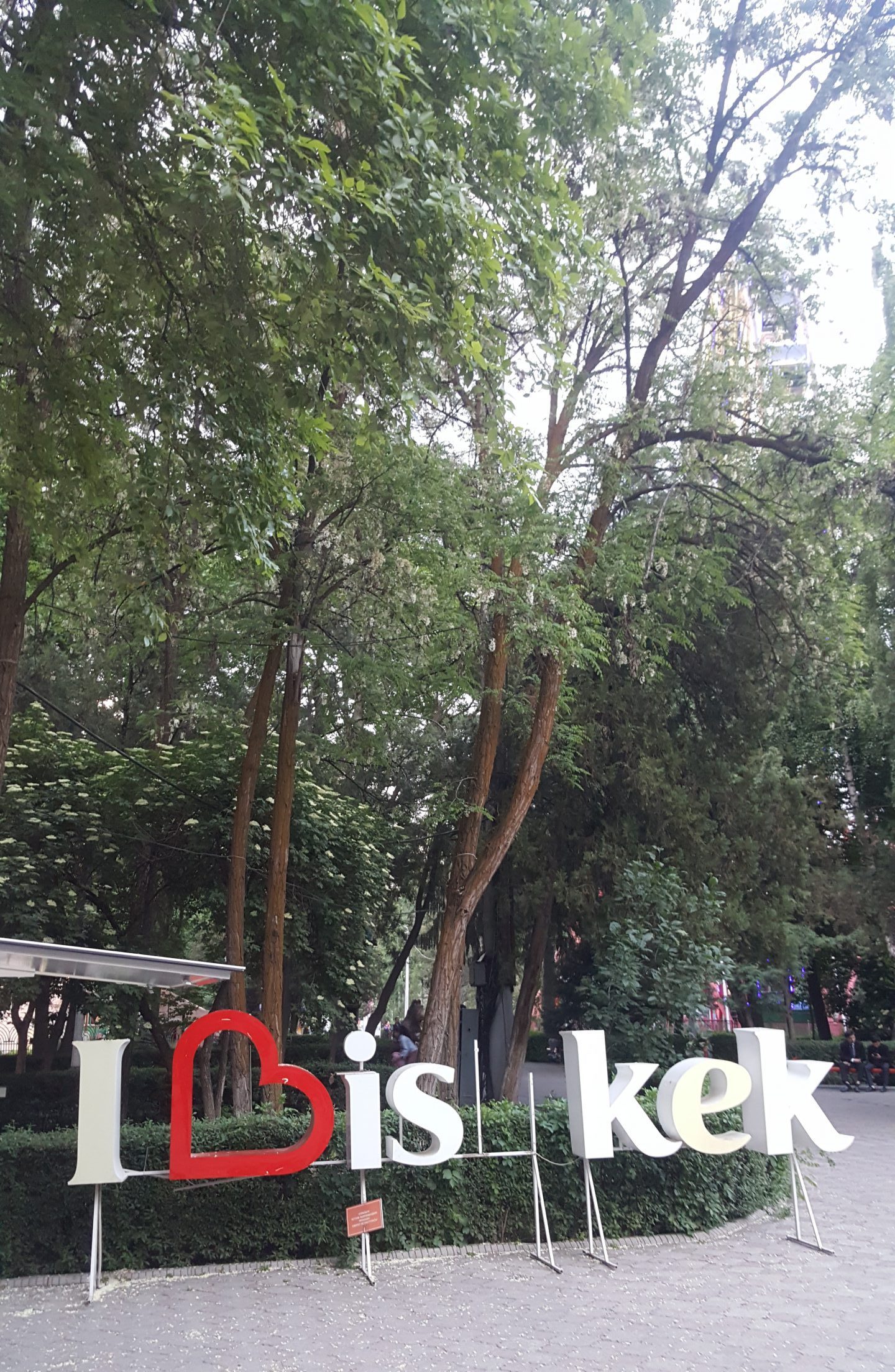 In terms of pandemic travel, a pre-entry PCR test was required in May even though I was fully vaccinated, but that is no longer the case. It's open without any test at all, in fact, it's the only country in Asia among the 55 countries open without any test or quarantine.
I also had to do a PCR test there to enter Uzbekistan (which still requires one) and it cost me a hefty $22.
That's why we keep telling you that it's obviously not true that tests are necessarily expensive everywhere just because they are expensive here in Canada (everything's expensive here). Detailed post about tests for travel to come soon.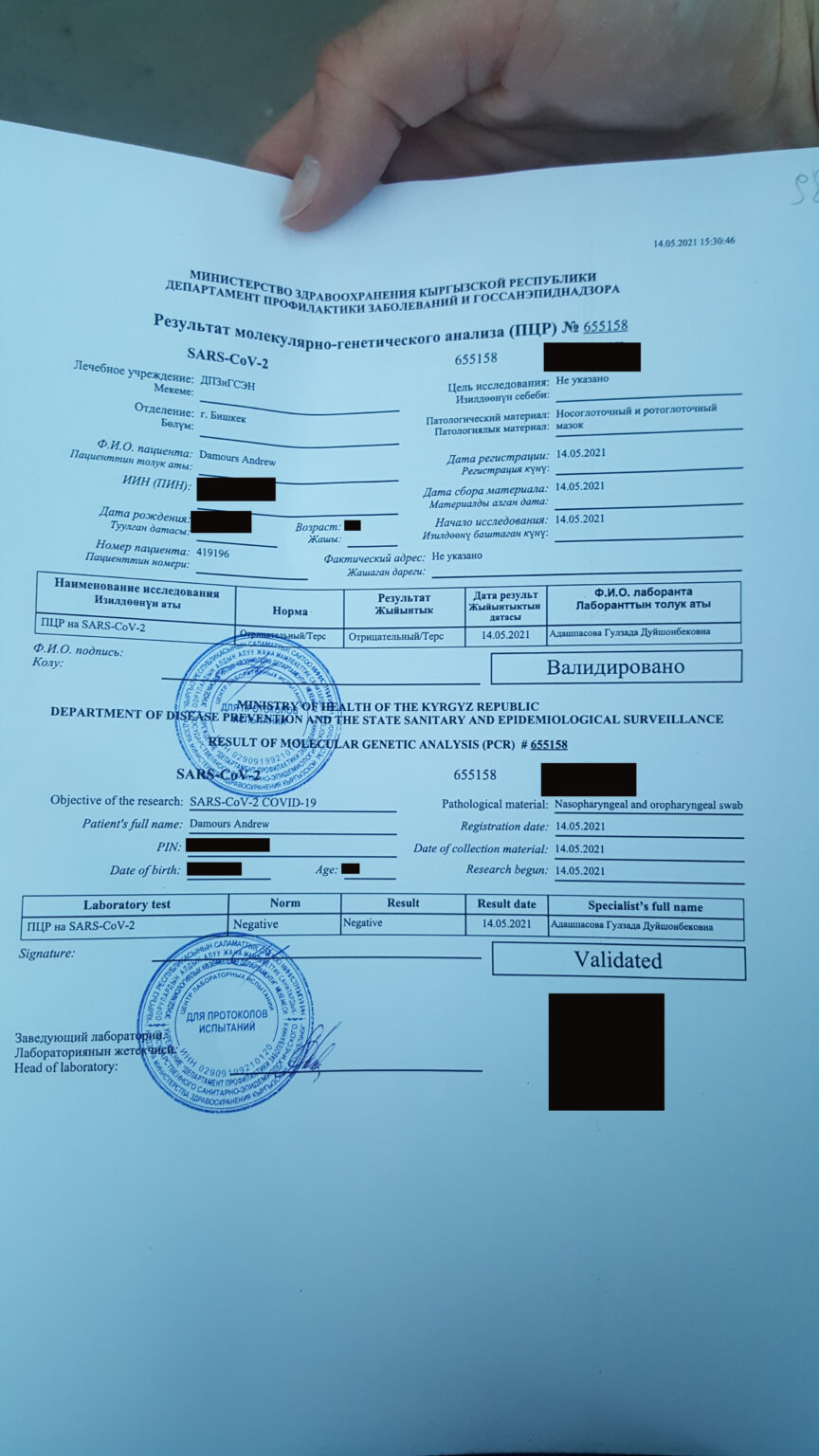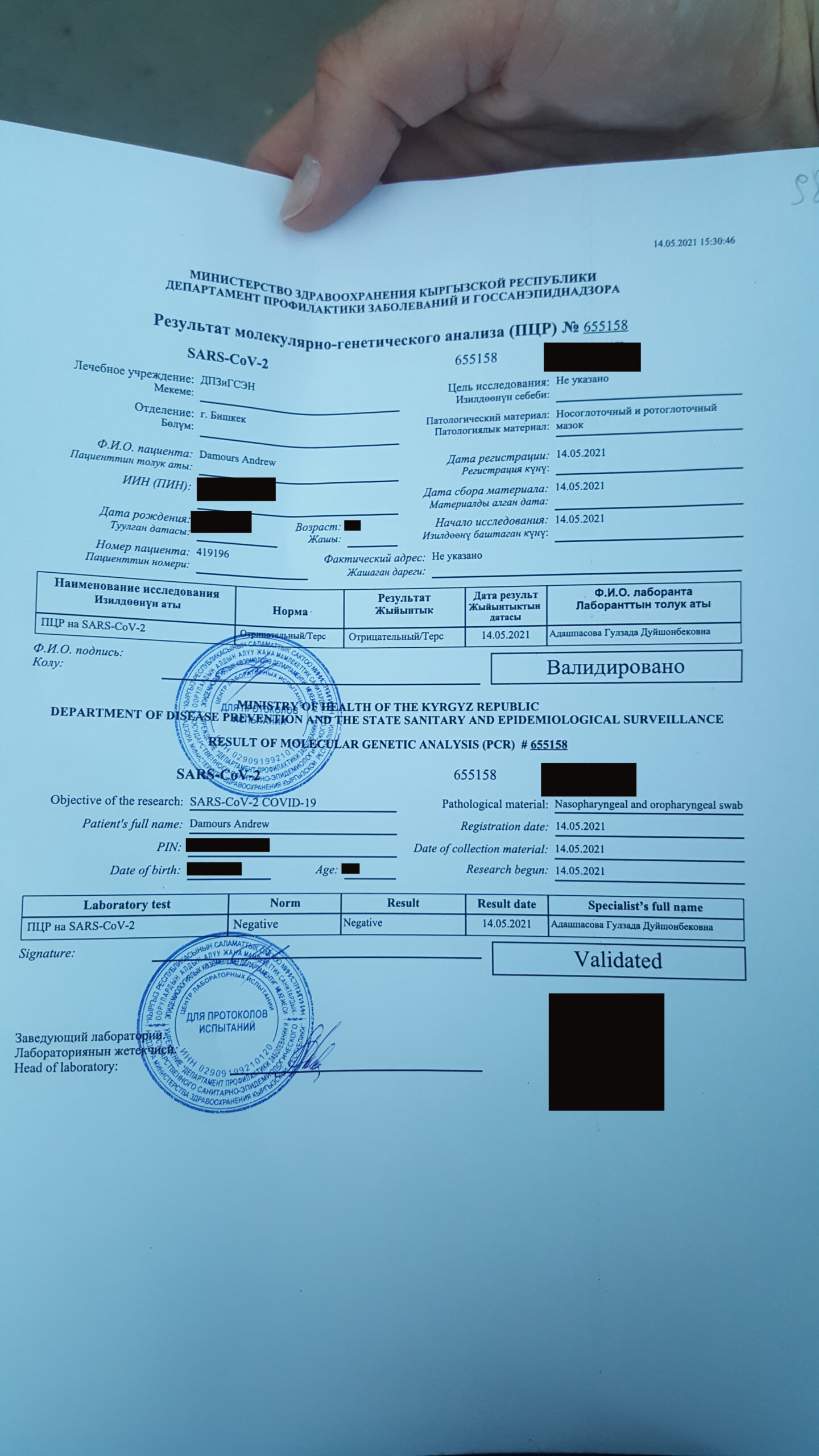 2. The cost of living
I am used to affordable countries. I often choose countries where C$30 total per day is enough to travel.
(It's simple: I want to travel more, so I make decisions accordingly…)
But I was still impressed by how affordable it was in Bishkek. I think I'll even have to add Kyrgyzstan to that list of affordable countries.
For food, delicious chicken wraps (like Greek gyros or Turkish tavuk dürüms) cost as little as 100 soms (C$1.46).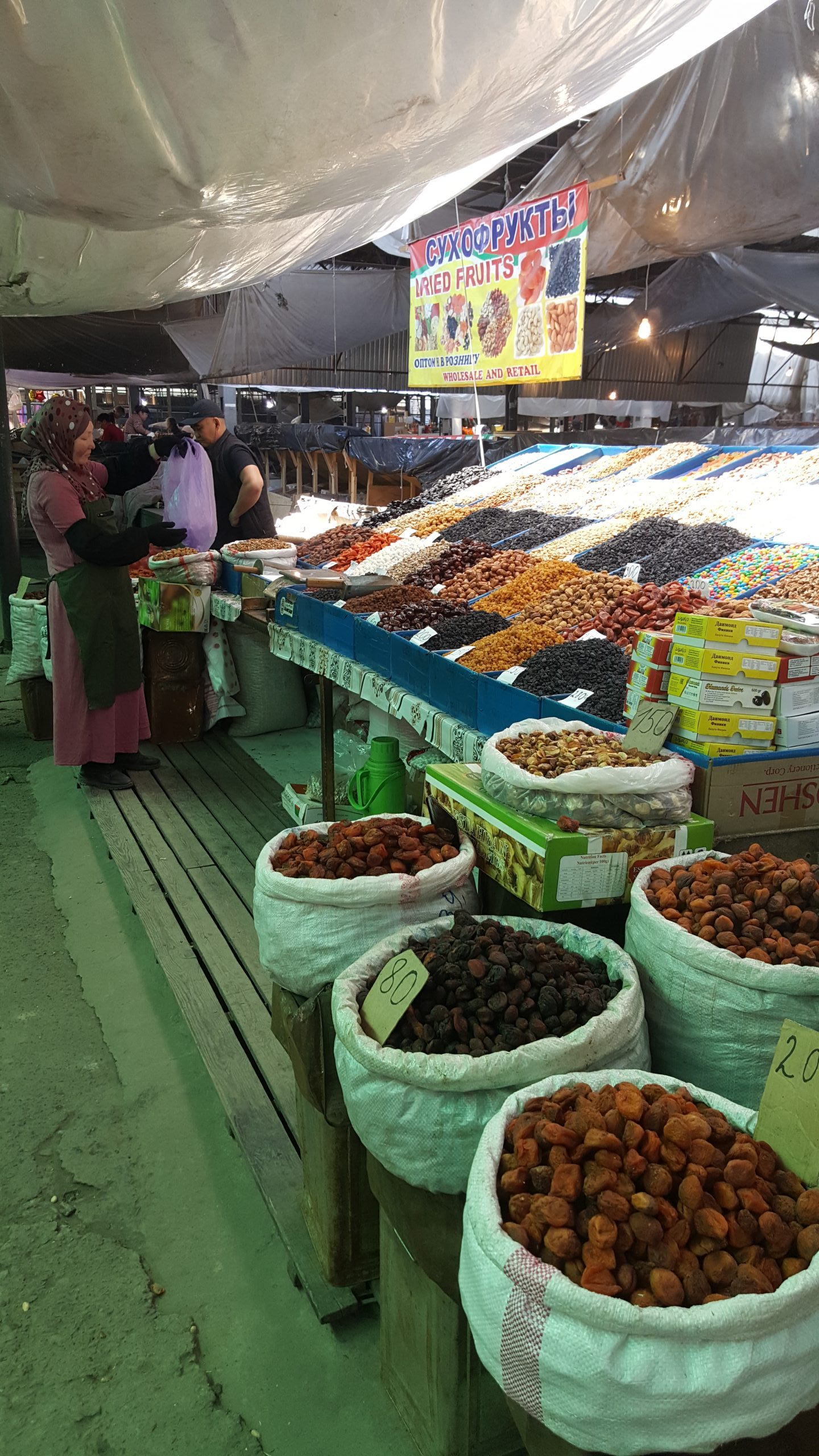 For accommodation, nights cost only $9 in well-rated hostels or $14 in hotels.
For transportation, getting around costs next to nothing (and pretty much everything in the city is within walking distance too). Shared transportation costs literally 30¢ and even taxis (or rather with Yandex, the region's Uber equivalent), short distances cost as little as 102 soms (C$1.49).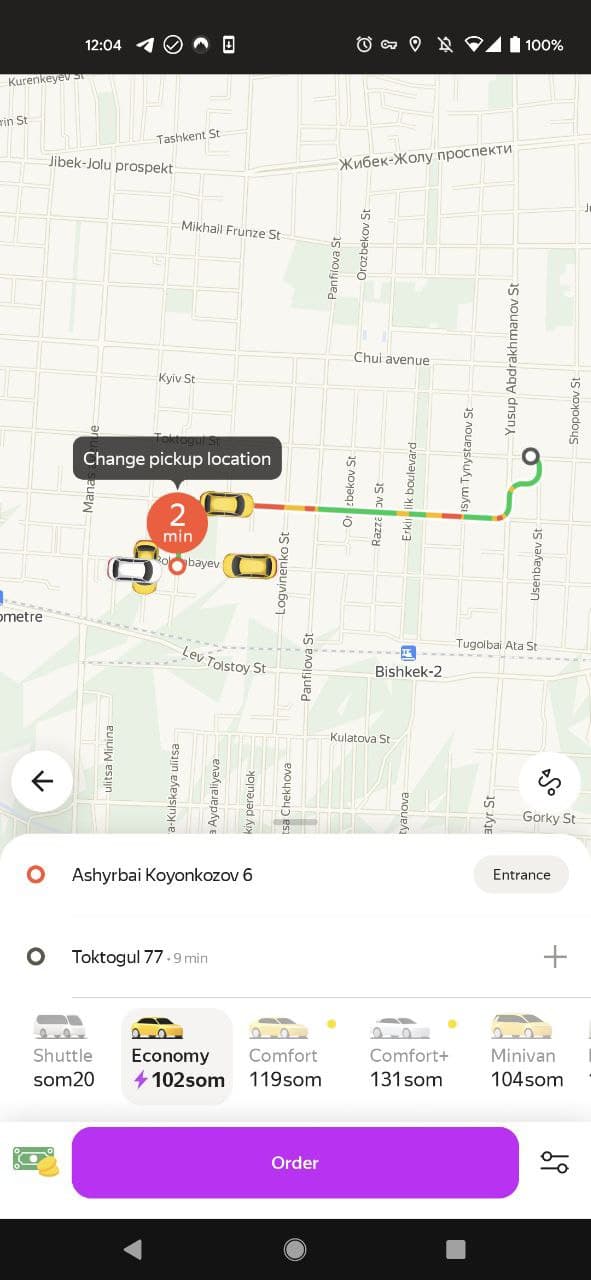 For communication, a SIM card to access the Internet in Kyrgyzstan costs $2 for one week of almost unlimited data.
It's really very affordable.
This is obviously often the case in less developed, less wealthy countries.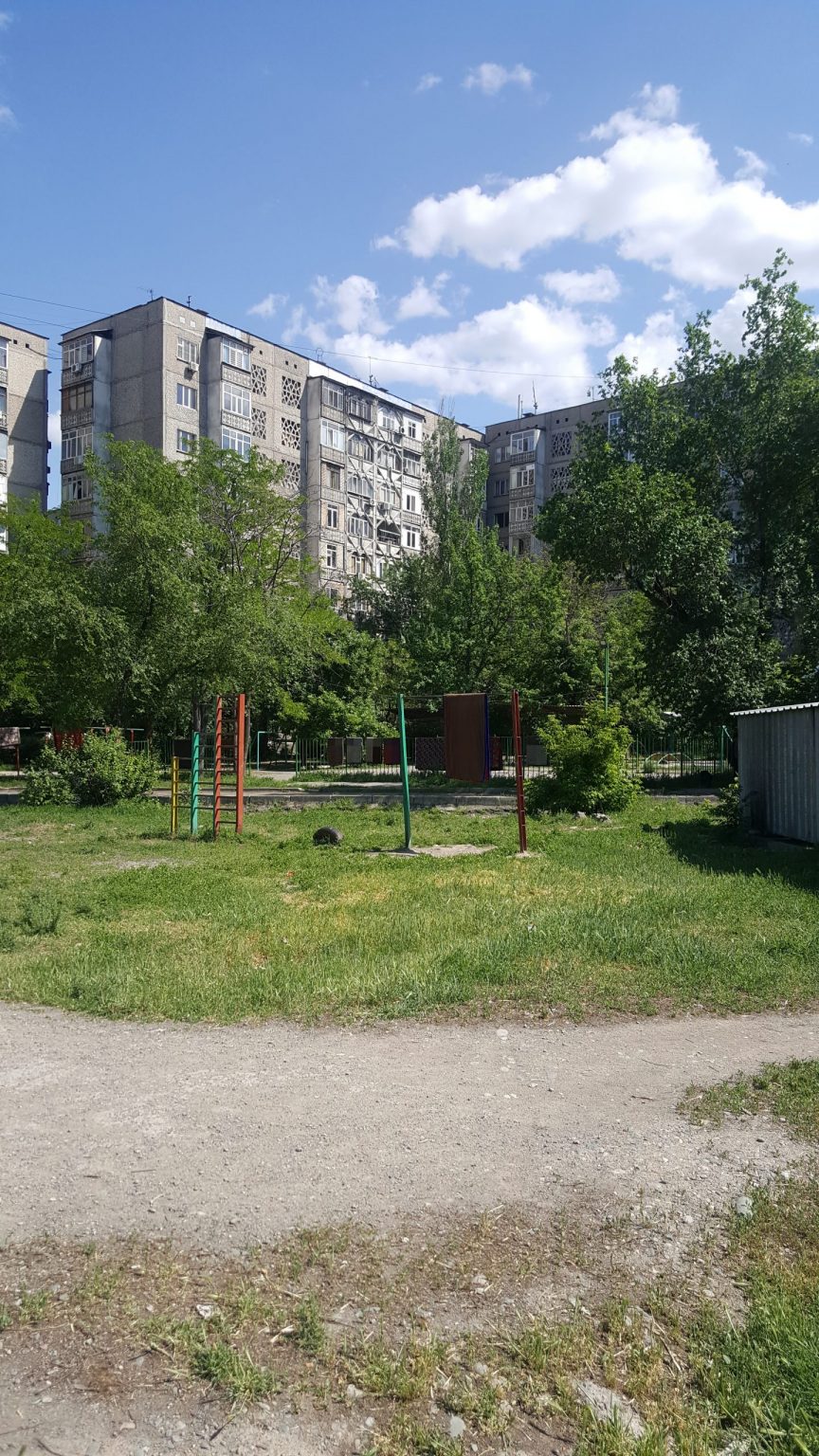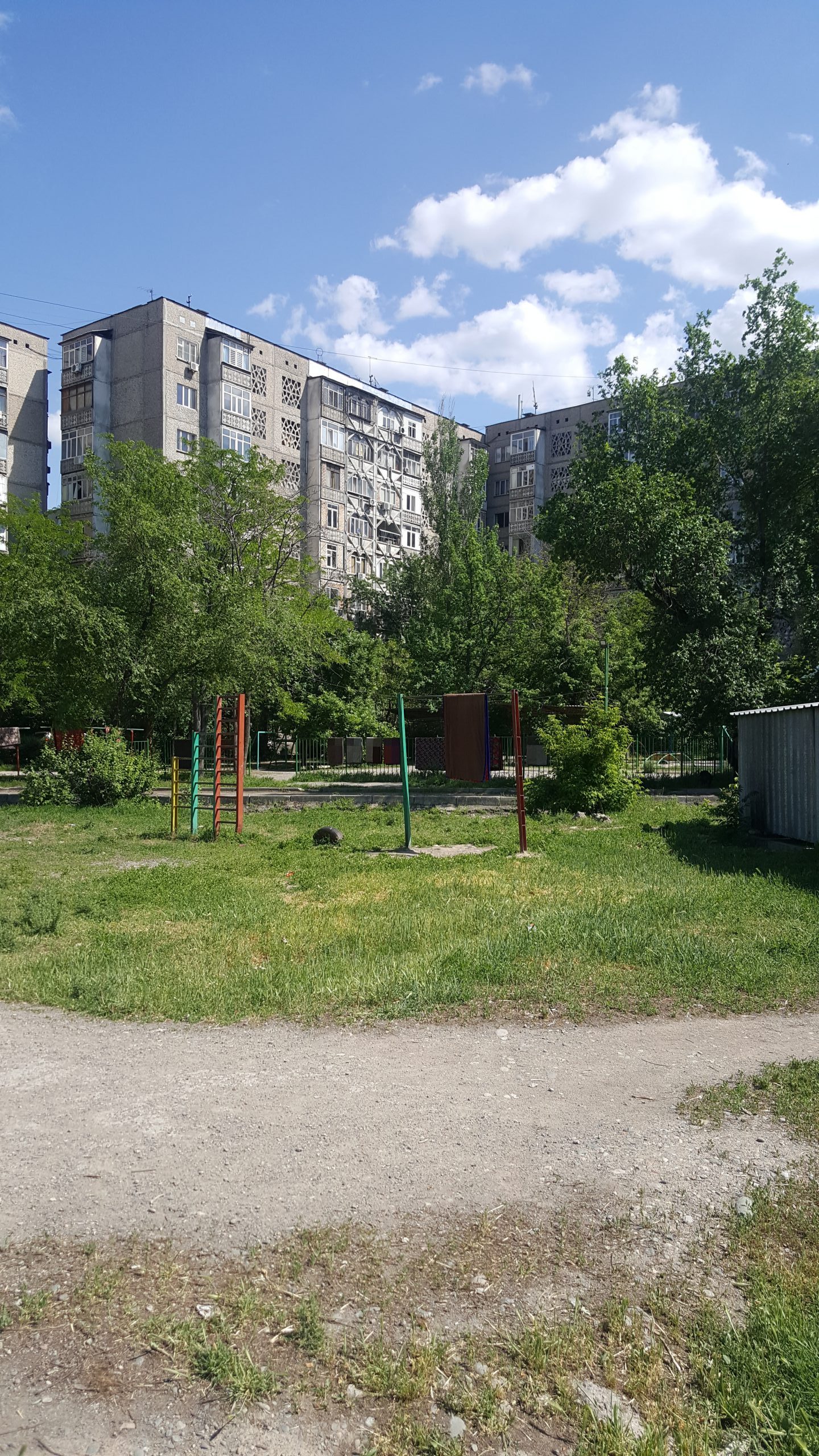 In my case, I splurged on a luxury hotel since I hadn't traveled outside of North America since November (almost 6 months is an eternity for someone who went on 12 international trips in 2019).
The more luxurious Evropa Hotel in the center of town was a steep C$50 per night, by far the most expensive of my trip.
But I wanted to be comfortable before the more intense part of my trip in Uzbekistan, with several cities on my itinerary. Especially after an overnight flight with no sleep.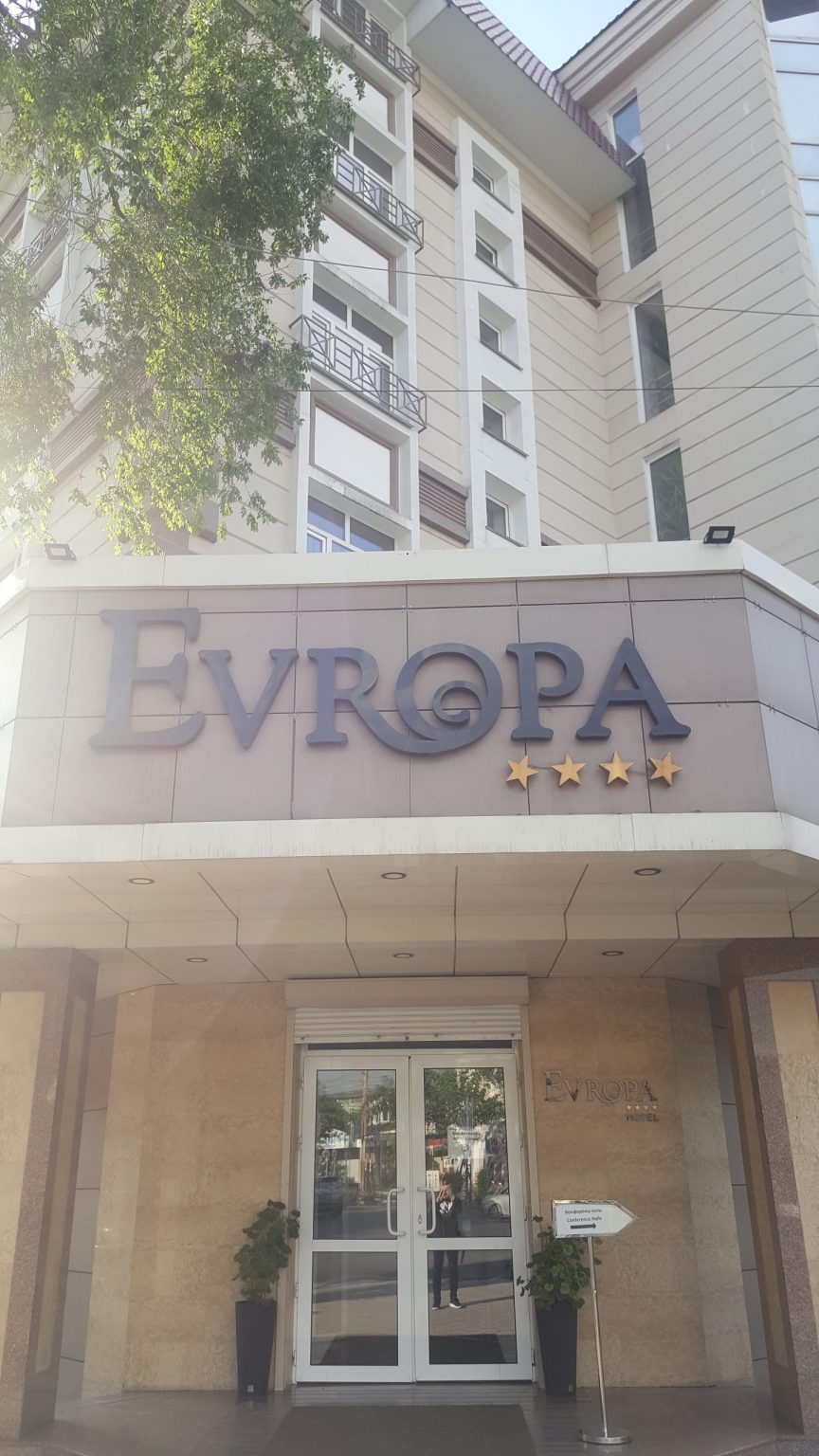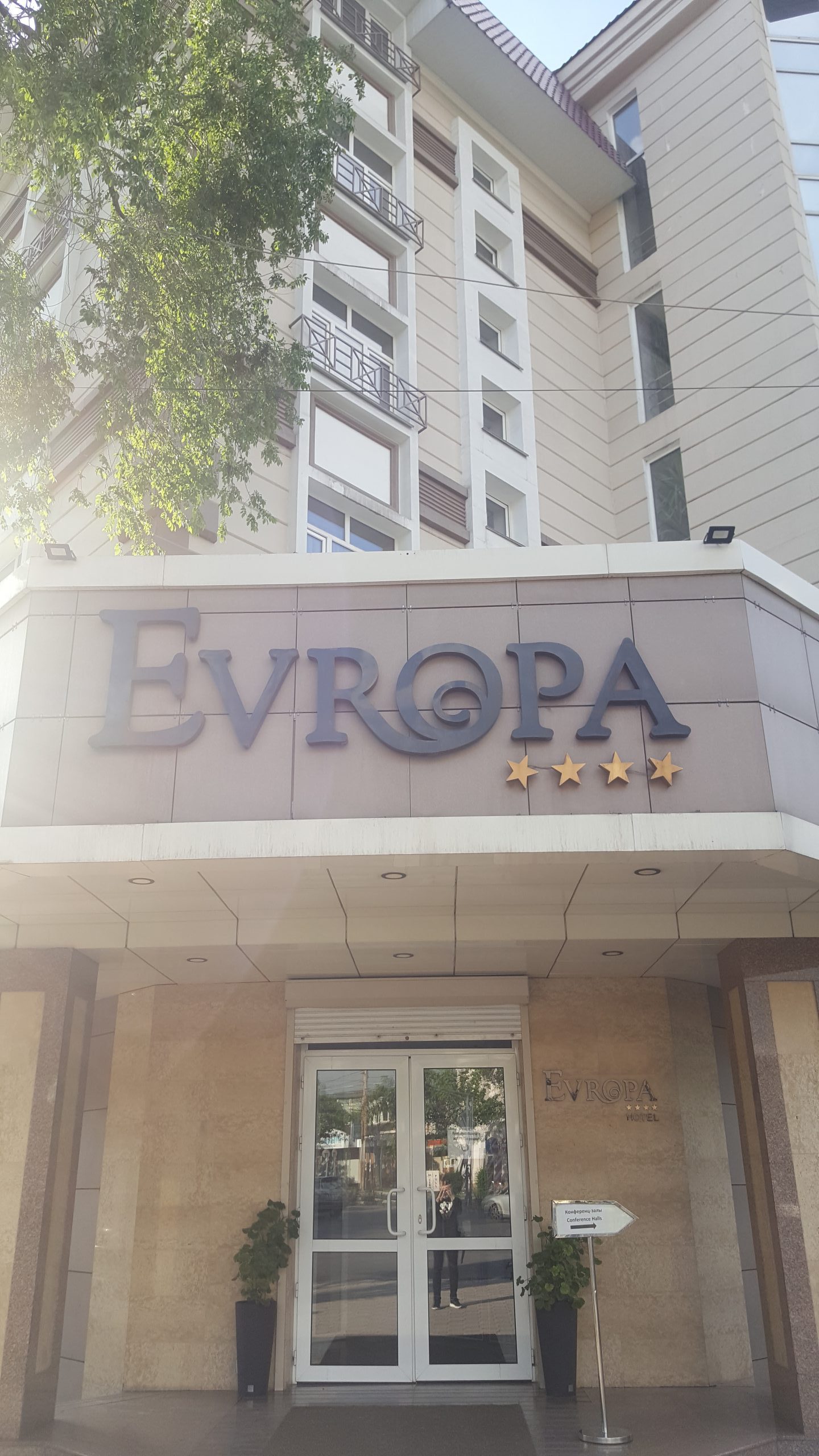 There is a Marriott hotel in Bishkek, but it is a category 3 hotel and when I travel solo I limit myself to category 1 hotels and category 2 hotels only, to maximize my quantity of free nights (as I did in Uzbekistan in a beautiful brand-new hotel actually).
Marriott Bonvoy™ American Express® Card

Flytrippers Valuation
of Welcome bonus (net value)

≈ $

Rewards: ≈ $477*

Card fee: $120


minimum income required: $0

spend $1,500 in 3 months

Terms and conditions apply. Flytrippers editorial opinion only. Amex is not responsible for maintaining the content on this site. Please click "Apply Now" to see most up-to-date information.
Marriott Bonvoy™ American Express® Card

Flytrippers Valuation
of Welcome bonus (net value)

≈ $

minimum income
required: $0



Rewards: ≈ $477*
Card fee: $120

spend $1,500 in 3 months

Terms and conditions apply. Flytrippers editorial opinion only. Amex is not responsible for maintaining the content on this site. Please click "Apply Now" to see most up-to-date information.
One last concrete example of the low cost of living that will double as a logistical travel tip: Transport to the airport which is 25 minutes away from the city cost a huge 40 soms (C$0.58).
Pretty cheap!
And marshrutkas, shared minibusses, are a rite of passage in this region (as in many others)!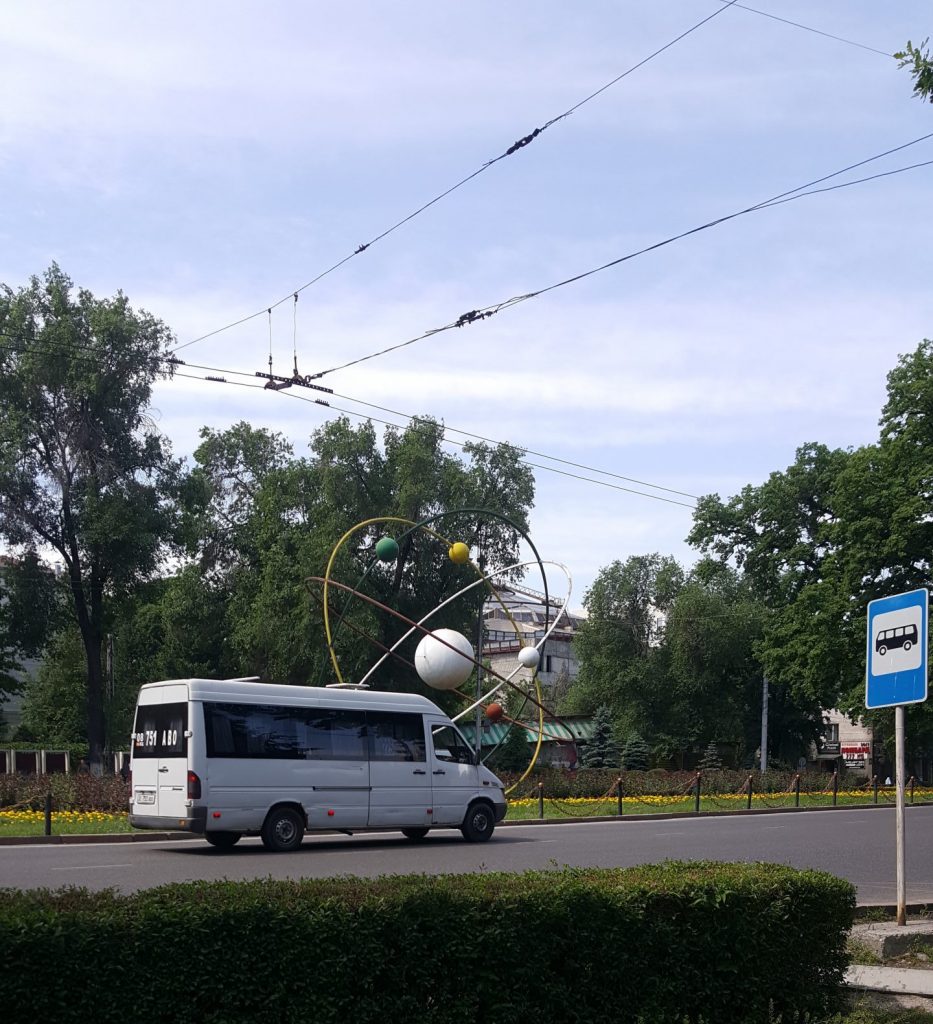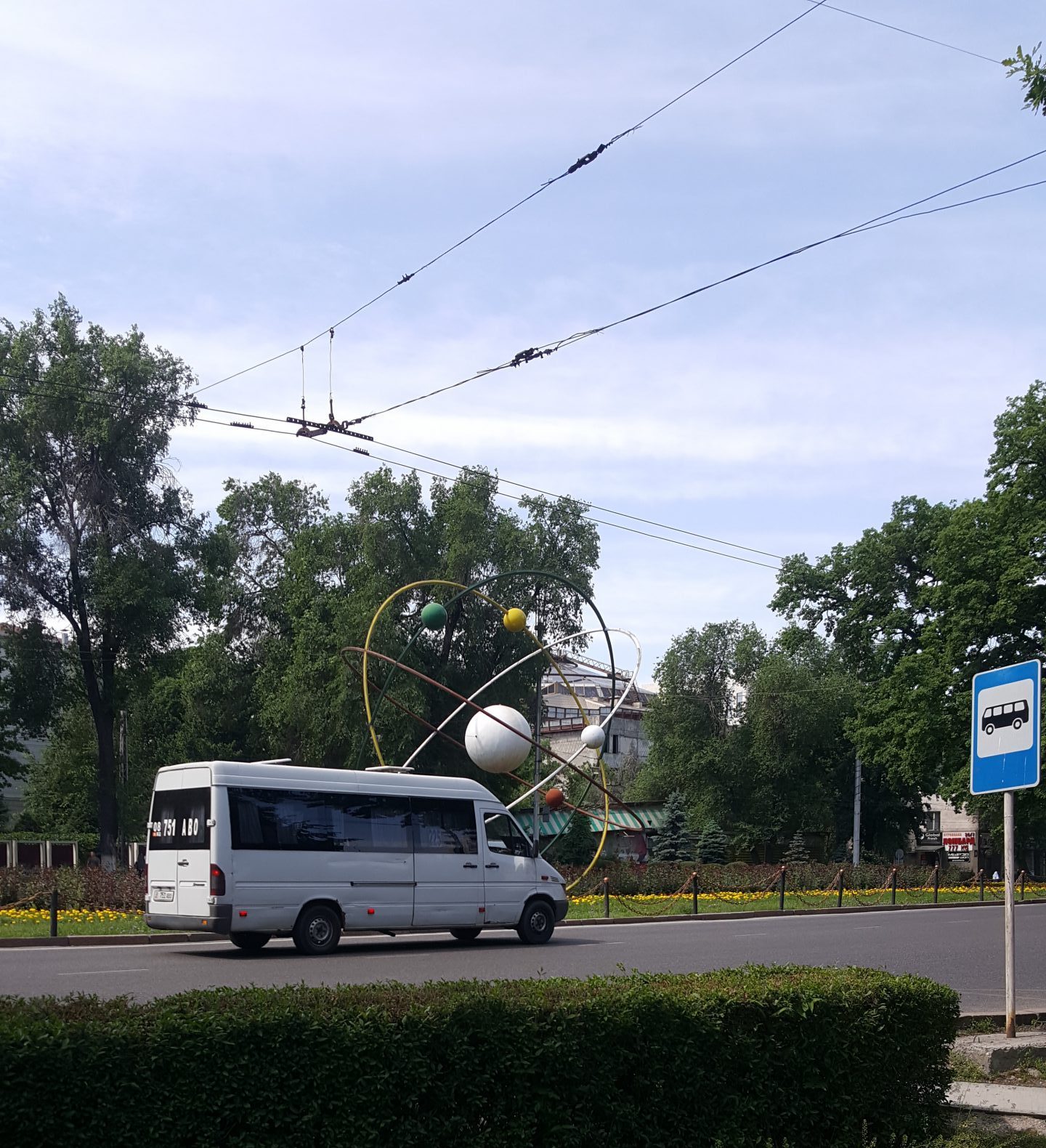 3. The architecture
I love architecture and cities… and I love walking around cities to admire the architecture.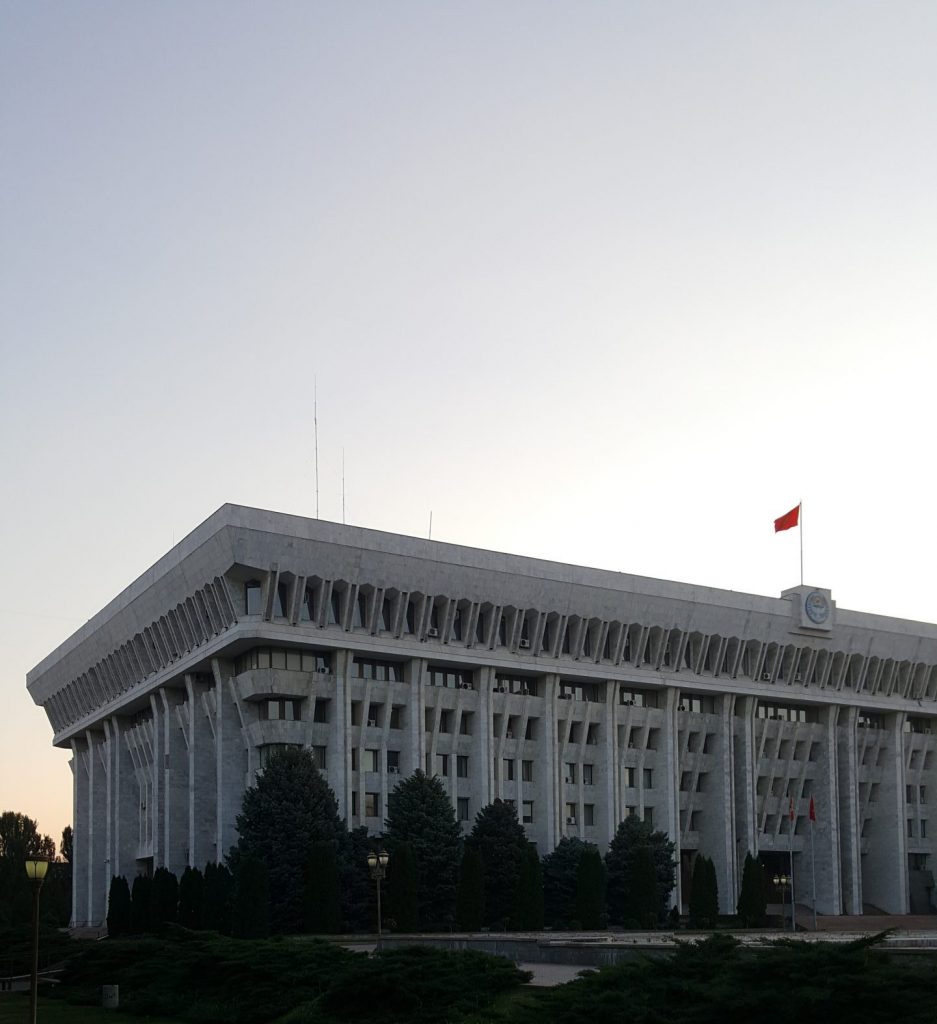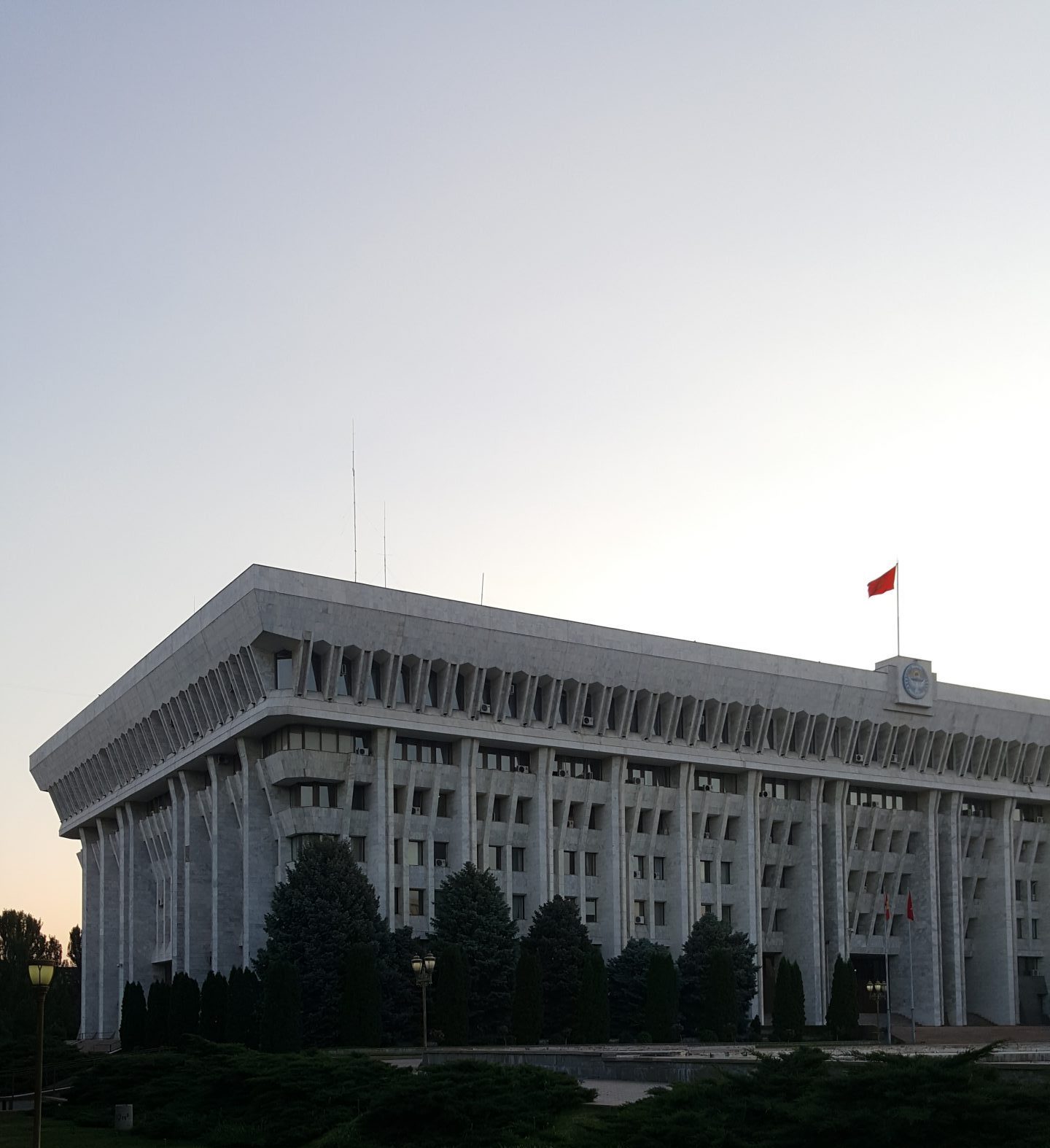 Bishkek has many typical Soviet buildings, it's very interesting.
Yes, Soviet architecture is sometimes a bit drab at first glance, but I love how different it is.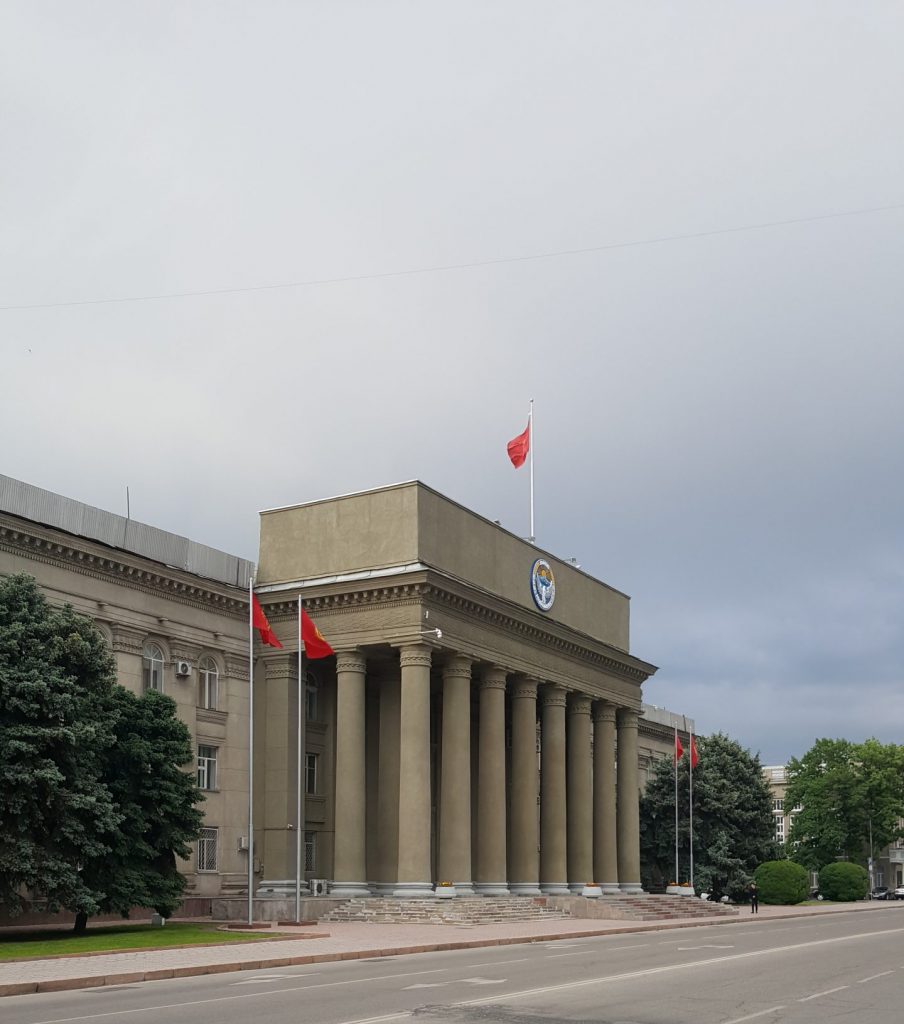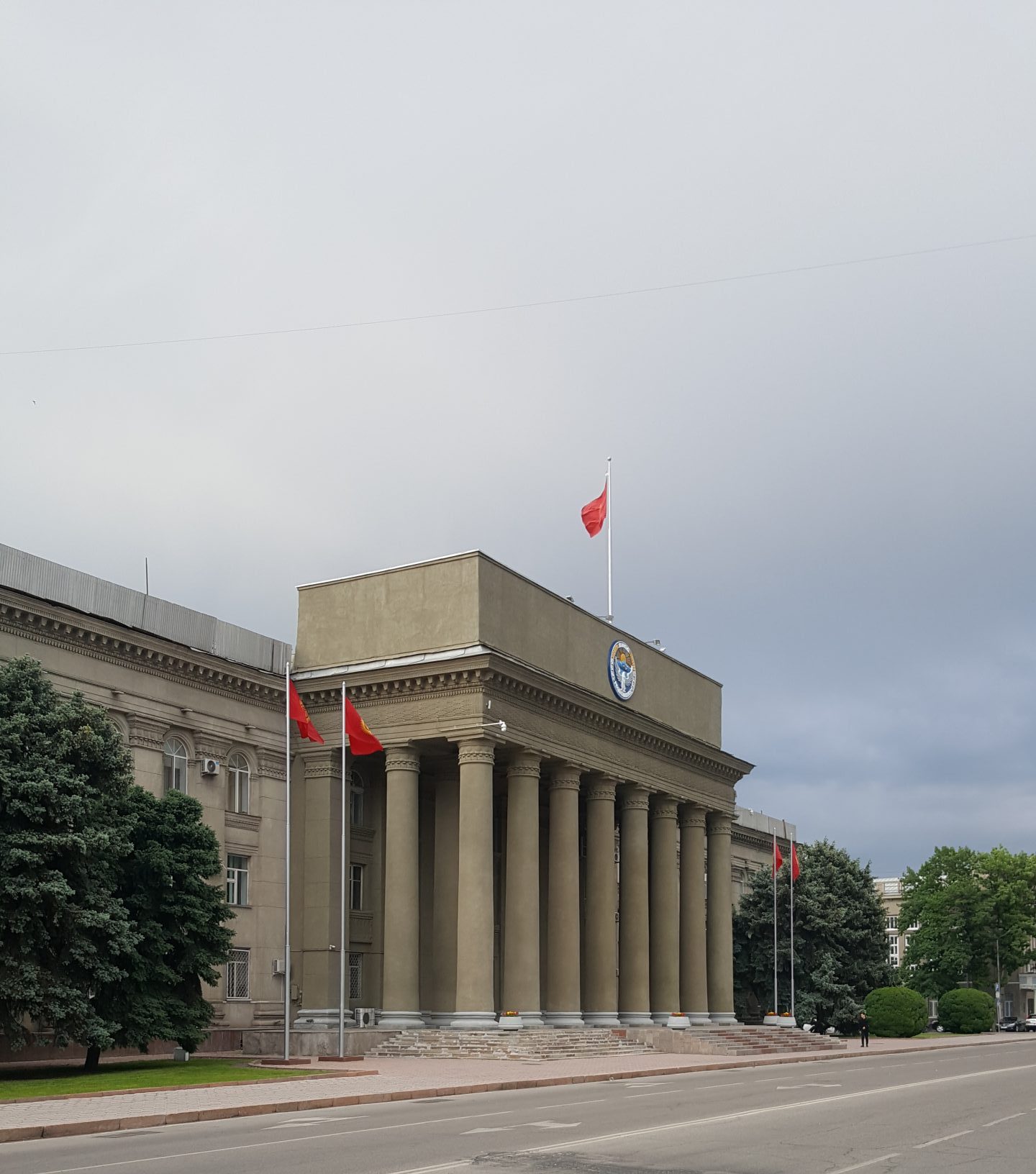 In several places, you can see the famous sickle and hammer emblem, symbol of famine and misery… I mean communism of the Leninist variant, like on the Mikhail Frunze Museum that commemorates the Bolshevik leader.
The city of Bishkek had been renamed Frunze for 65 years, until the fall of the USSR (that's why the airport code of Bishkek is "FRU", one of the common reasons for unusual 3-letter airport codes).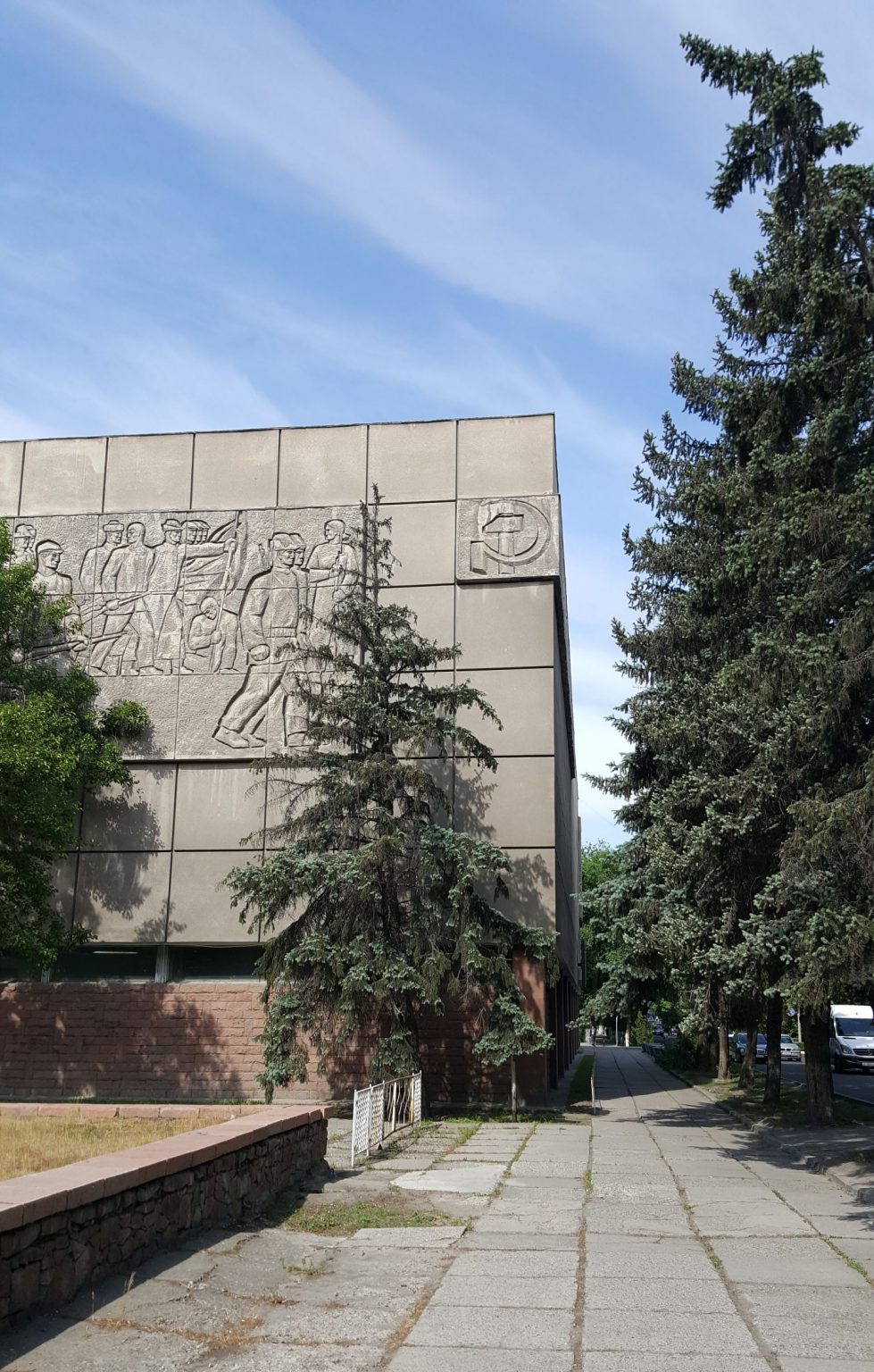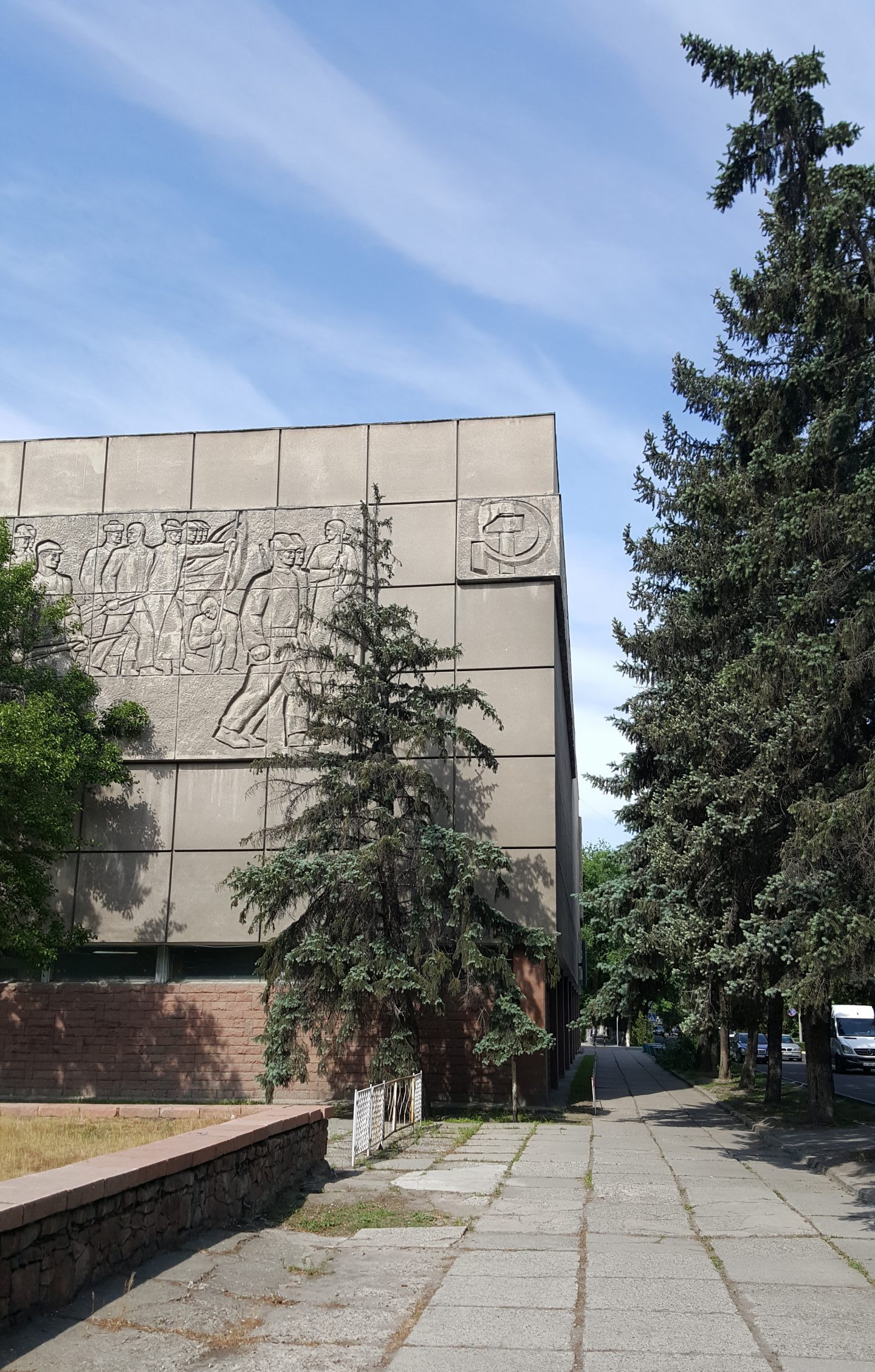 I don't know if any of you are that interested, but I'll just insert some of the photos here.
The center of the city is the Ala-Too square, where the cover photo of the article was also taken (the statue, the museum, and the giant flag are on the opposite side of this central square).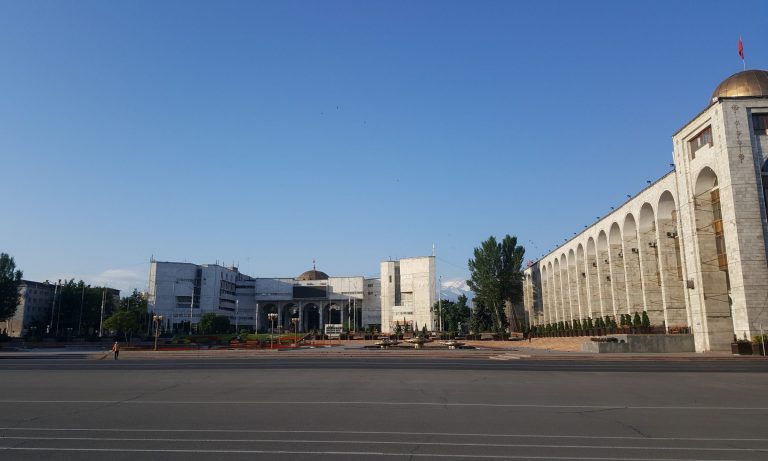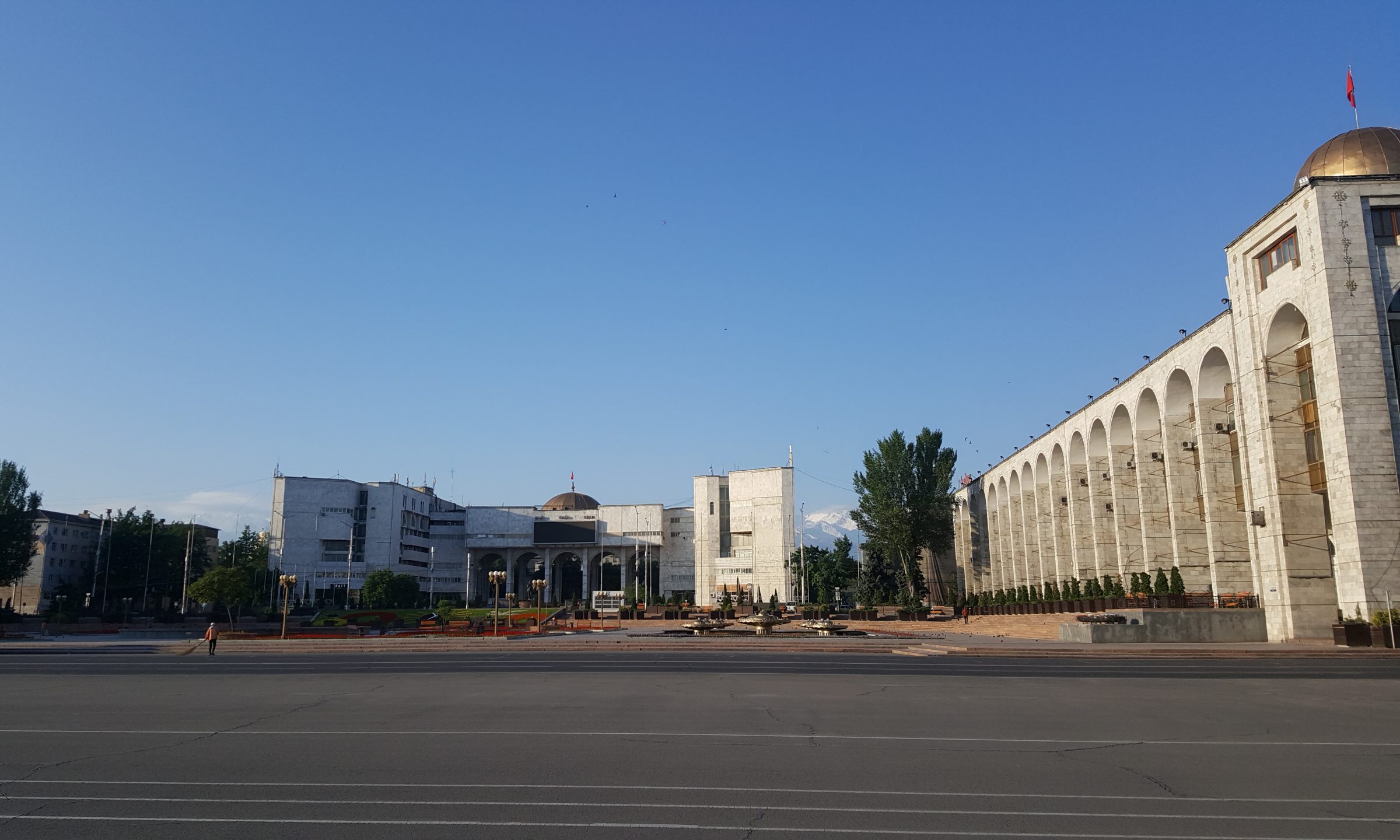 This square is crossed by Chuy Avenue, the city's main street.
A little further along, there is the imposing Soviet clock tower.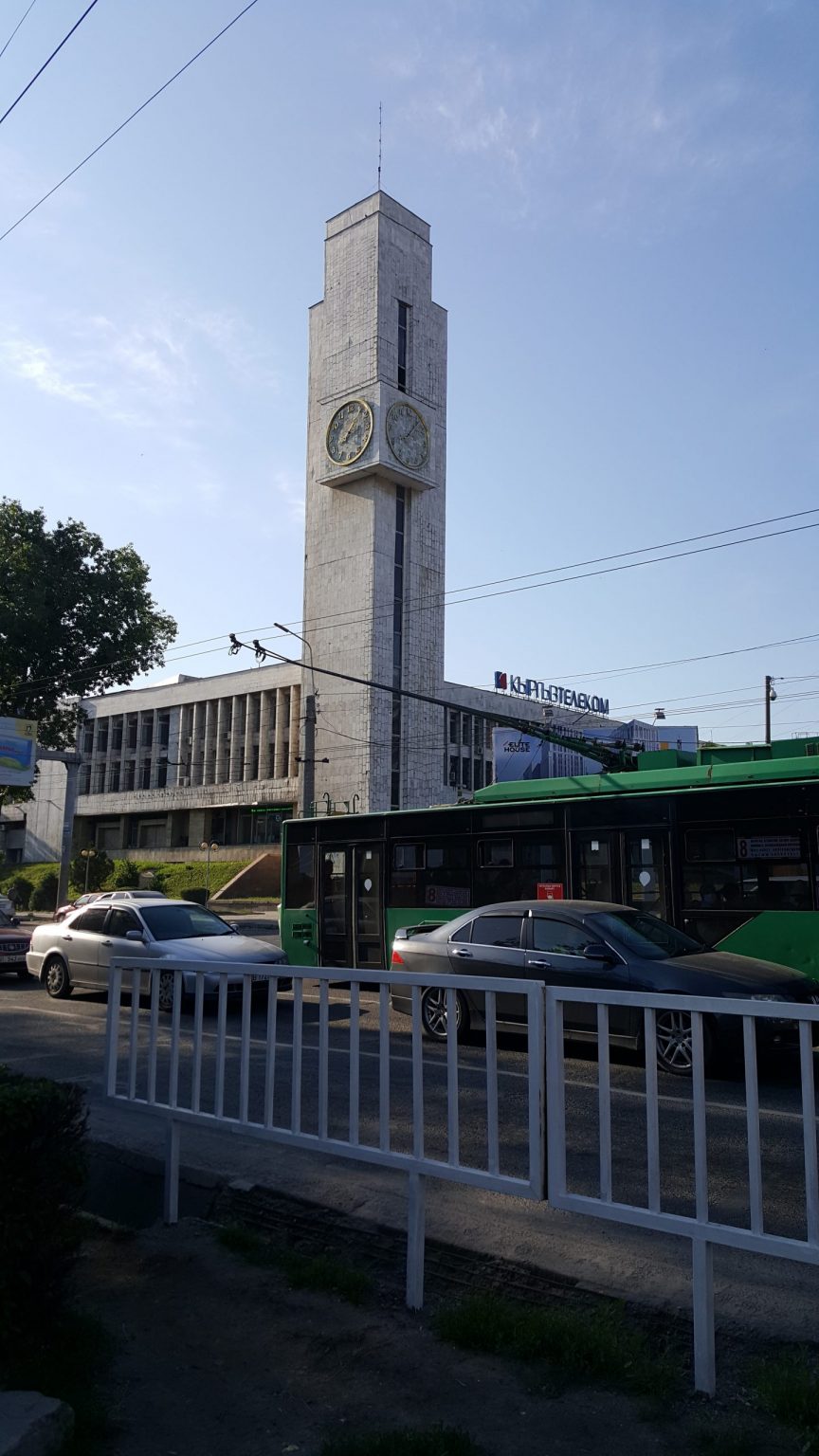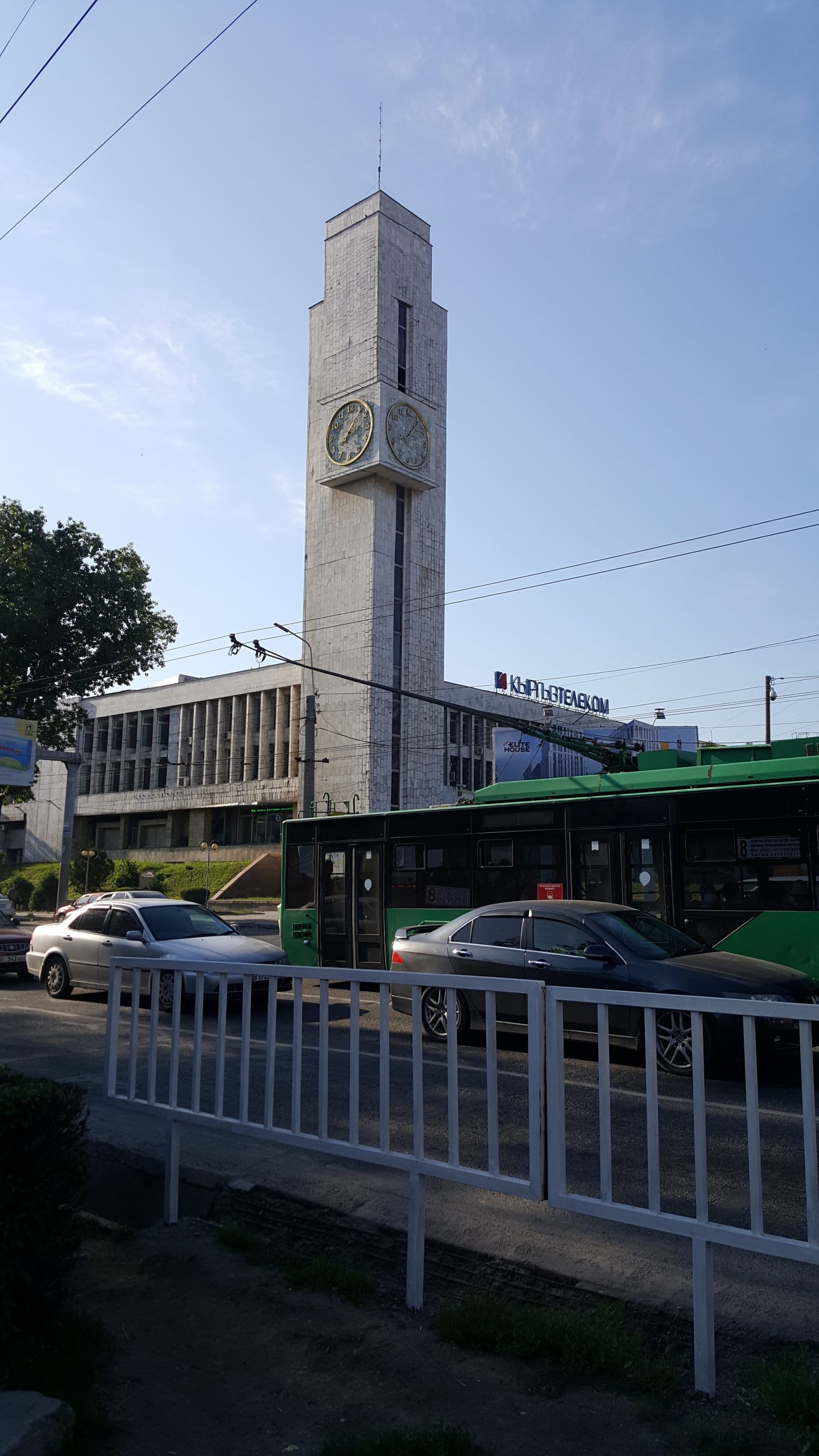 Many of the buildings have a lot of architectural detail.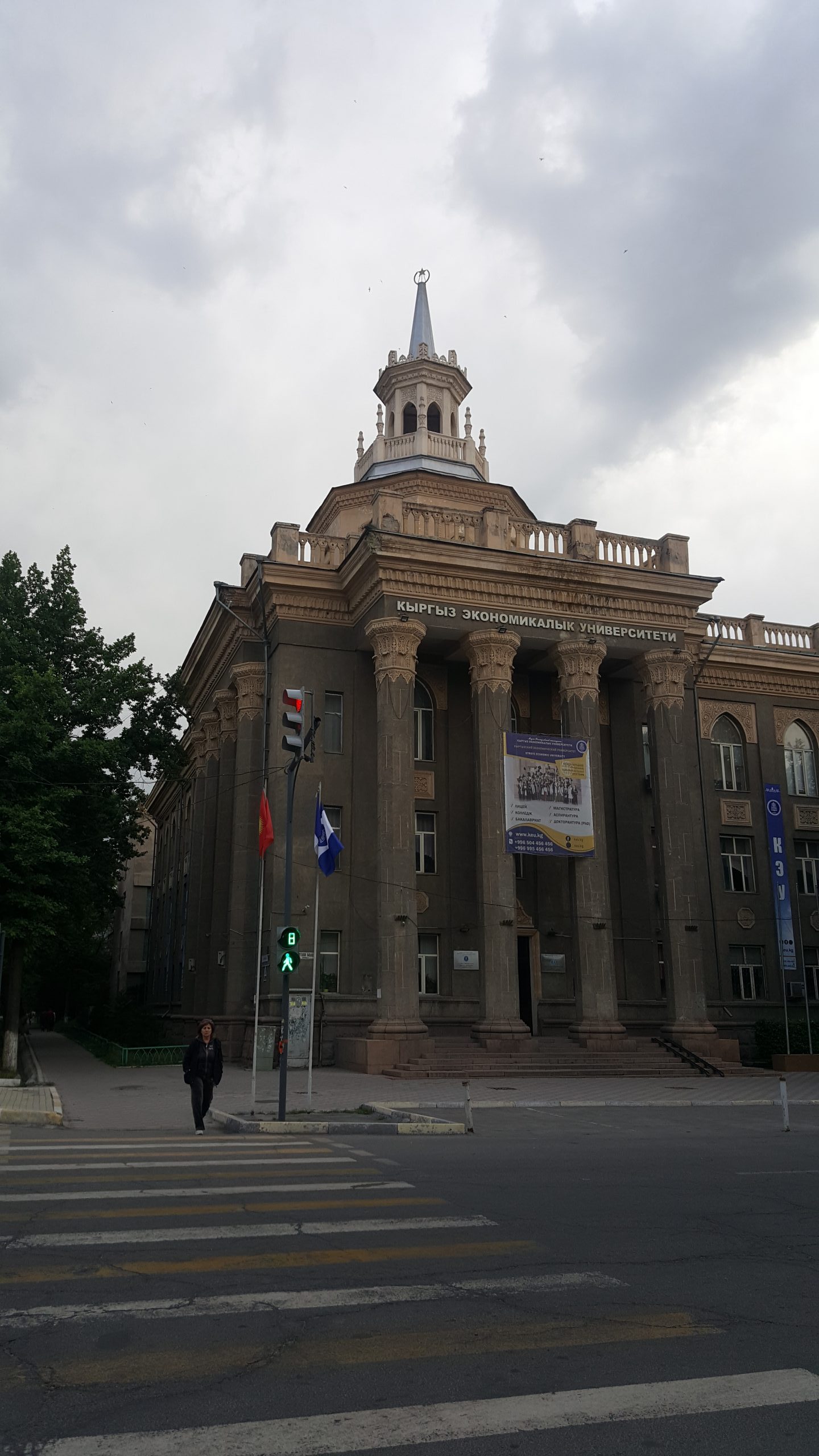 Finally, Bishkek has a UFO-shaped circus building that is quite special.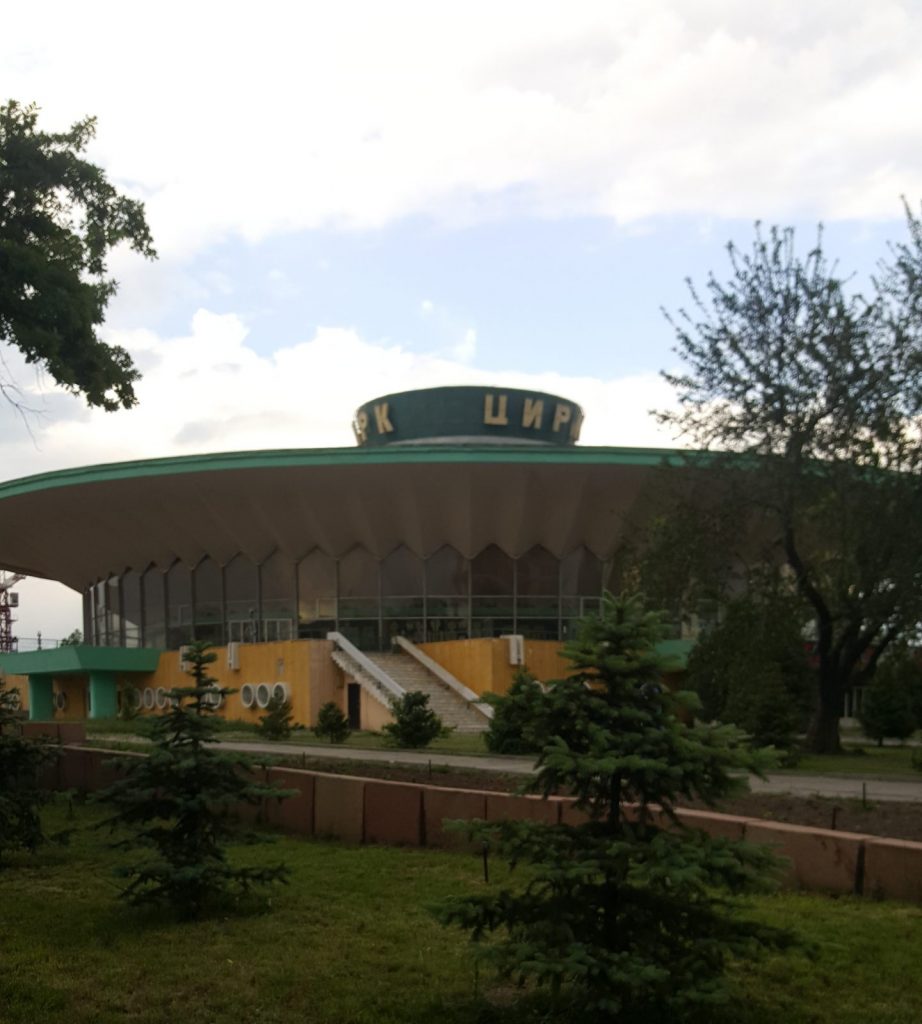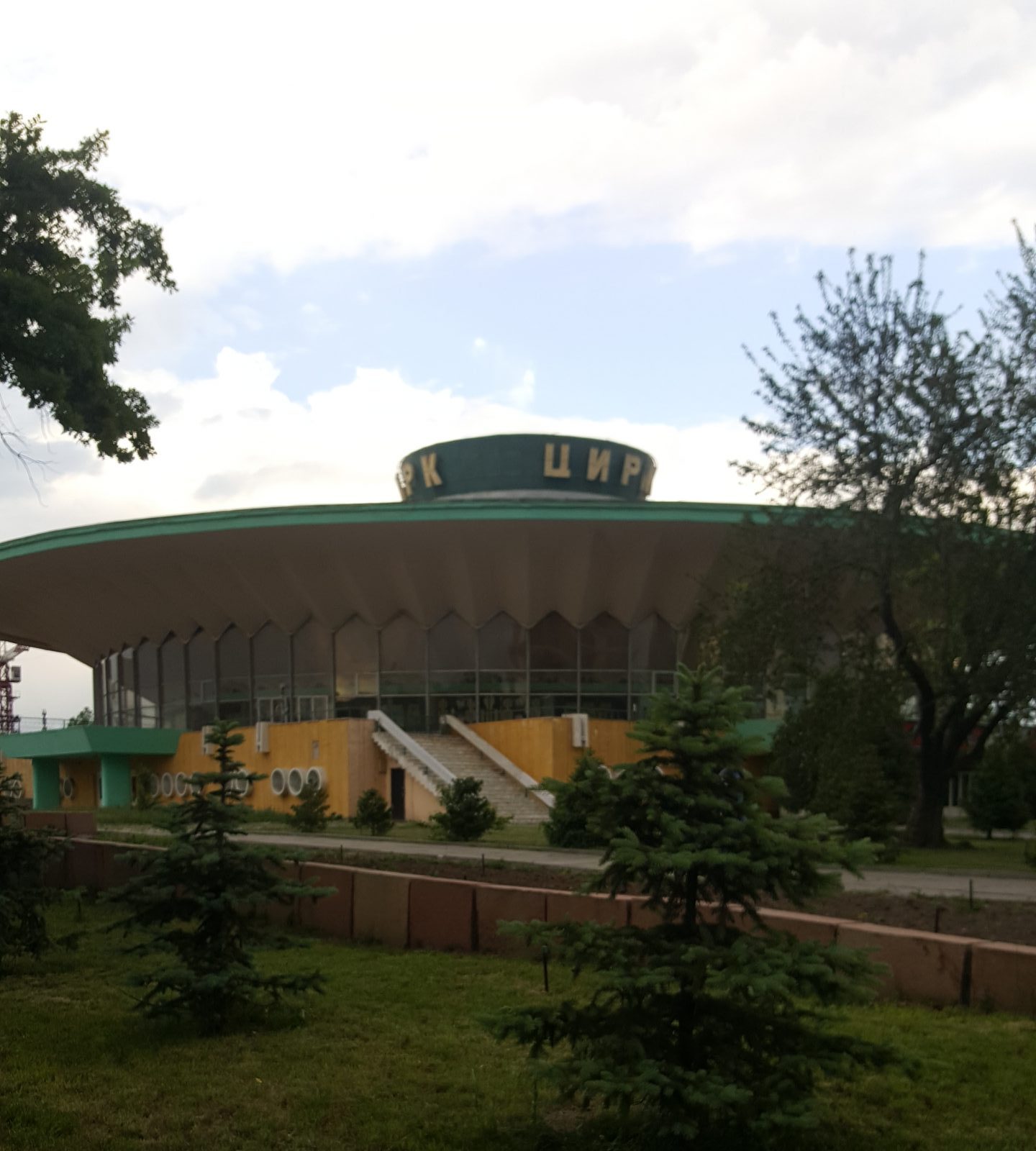 4. The beauty of the city
Honestly, even I didn't expect that I'd find the city of Bishkek beautiful. But yet, it really happened.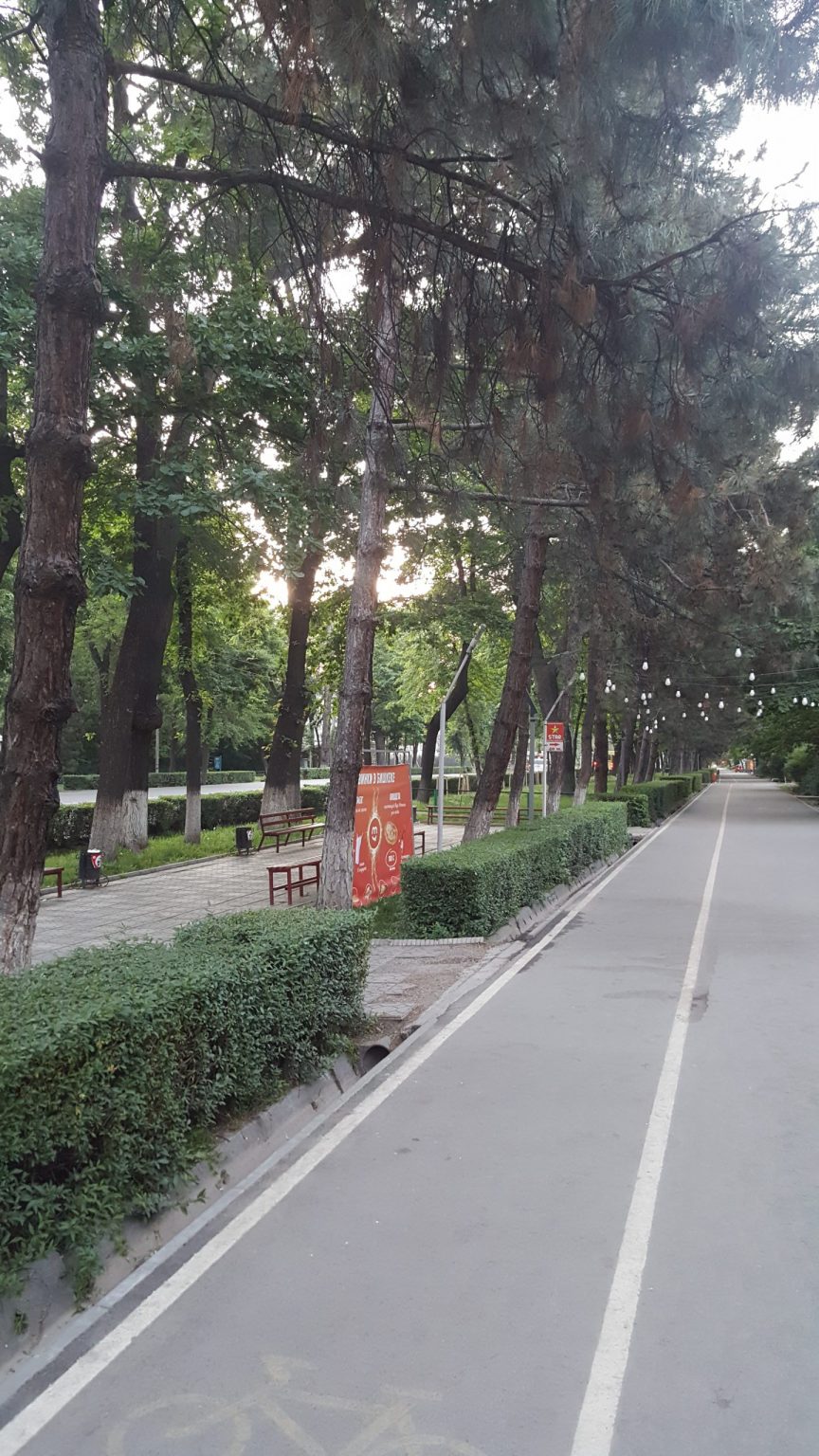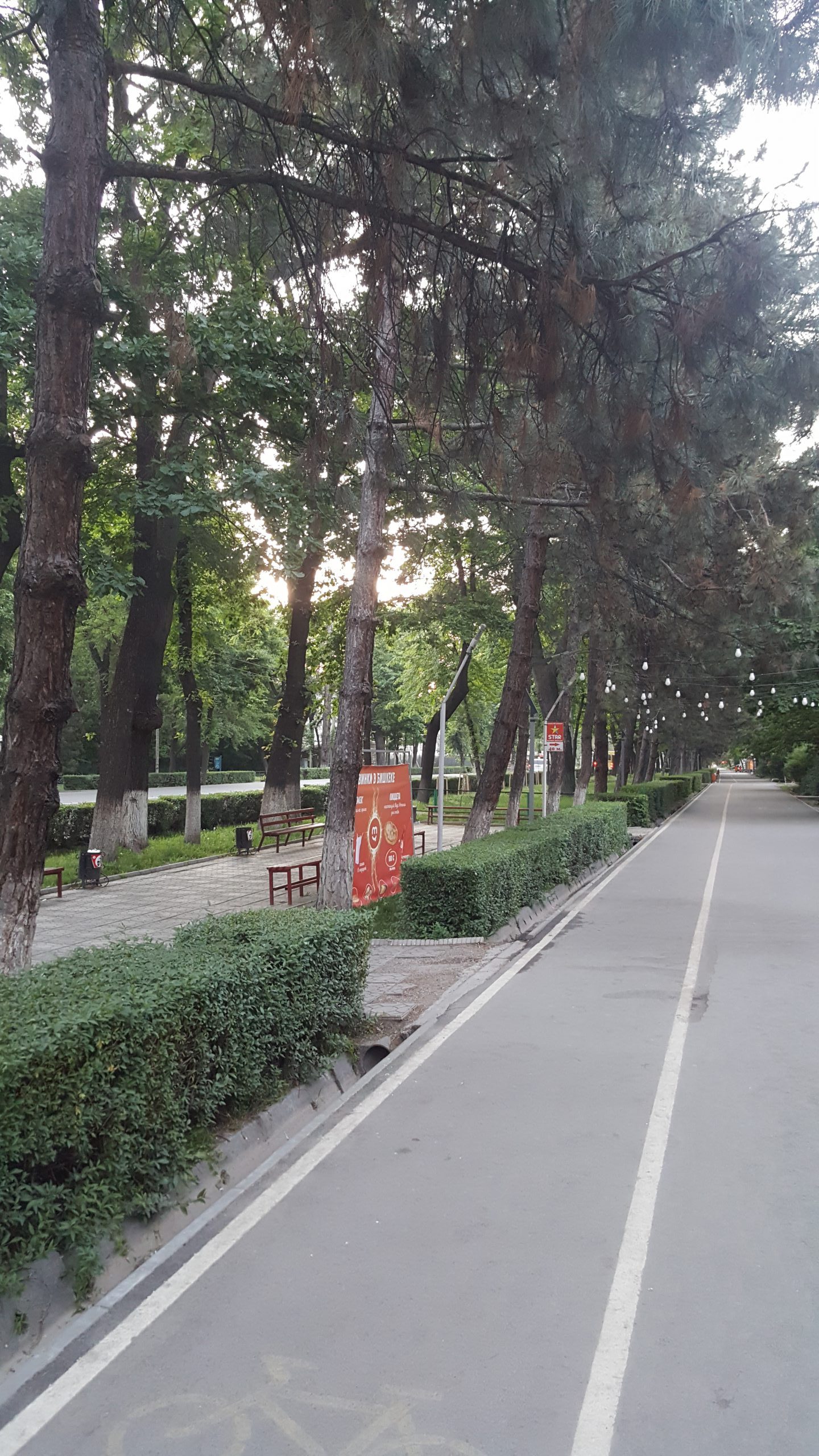 The center of the city has a lot of greenery everywhere.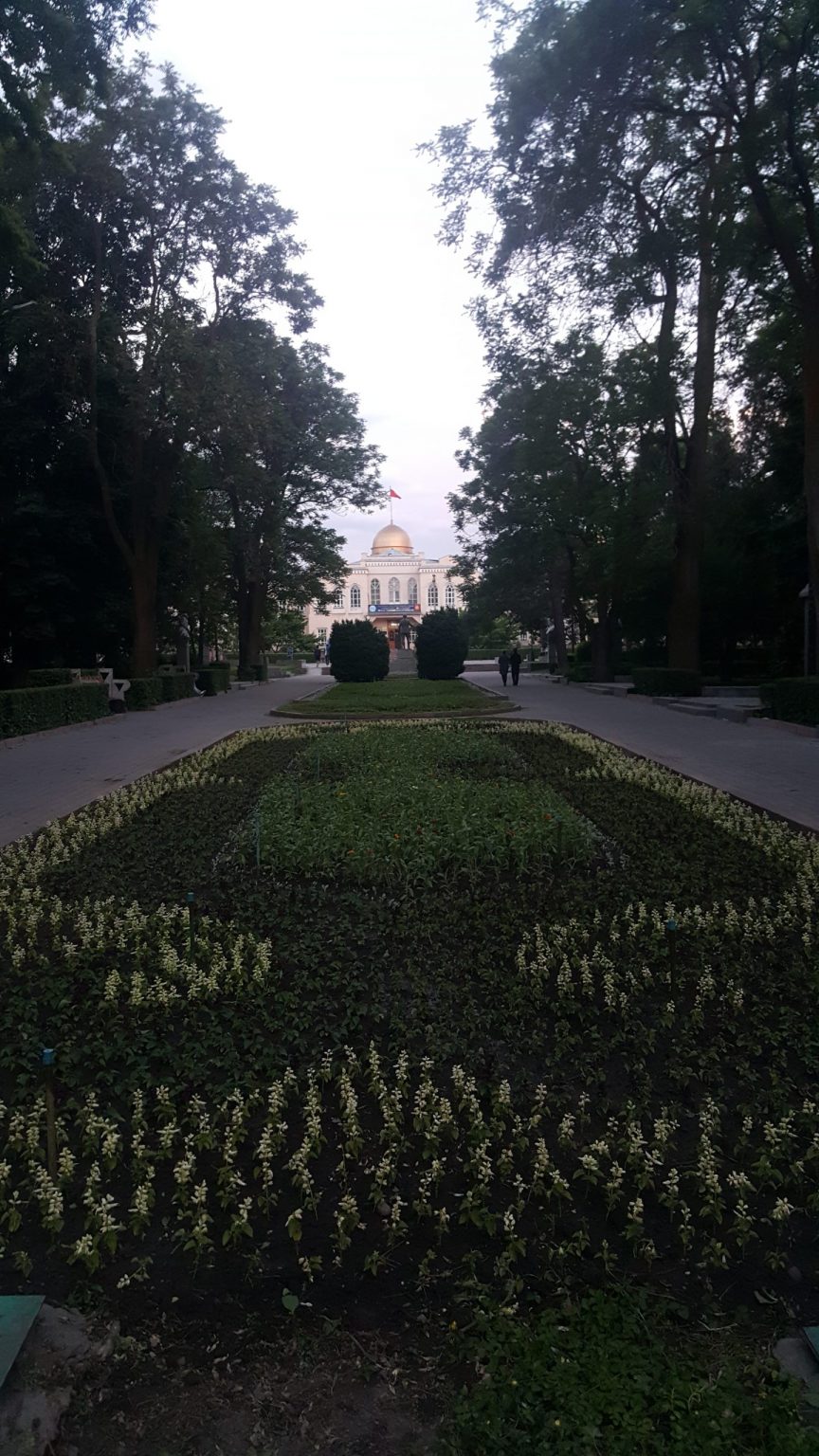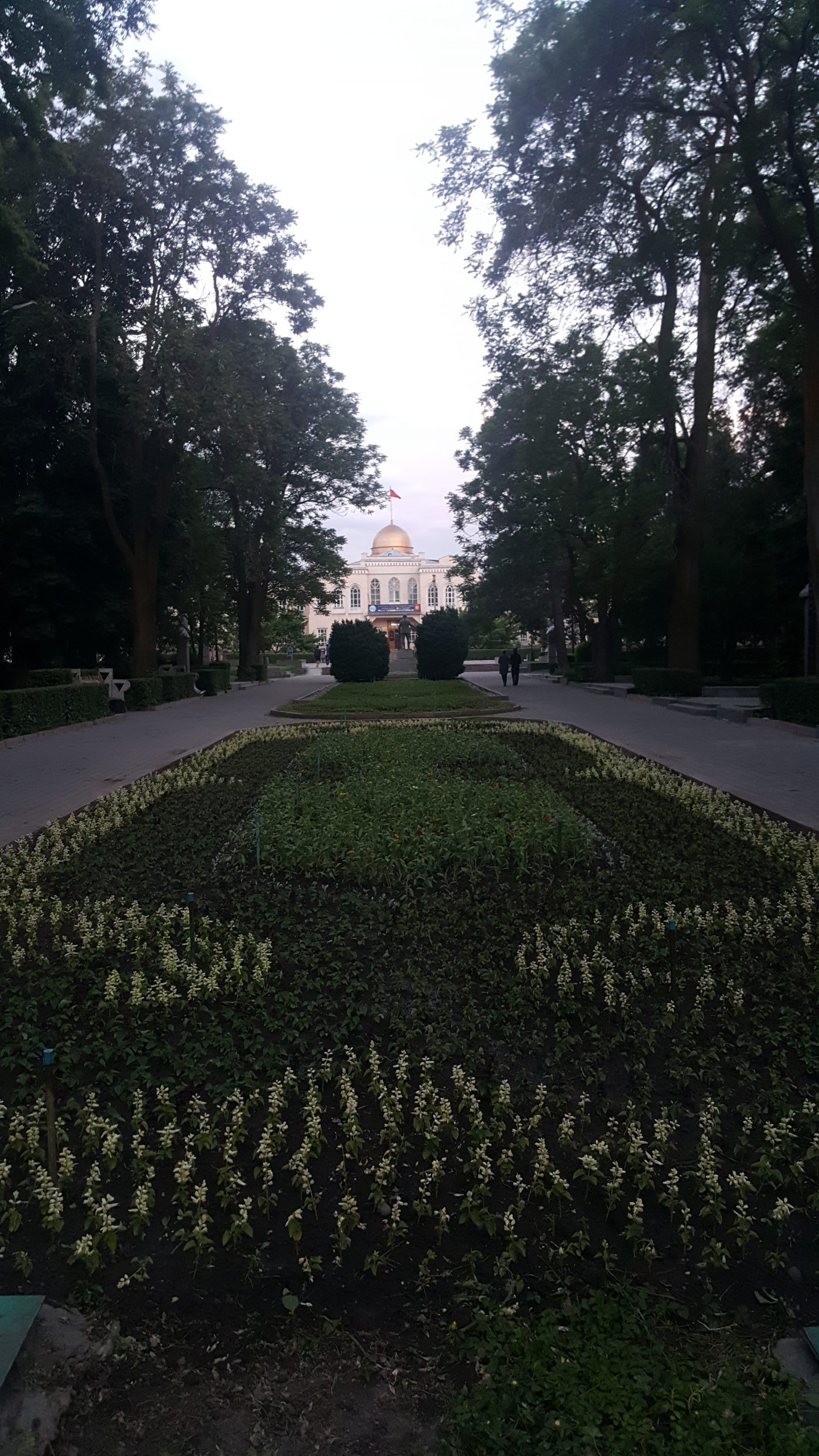 There is even a big central park with an amusement park with a Ferris wheel, Panfilov Park.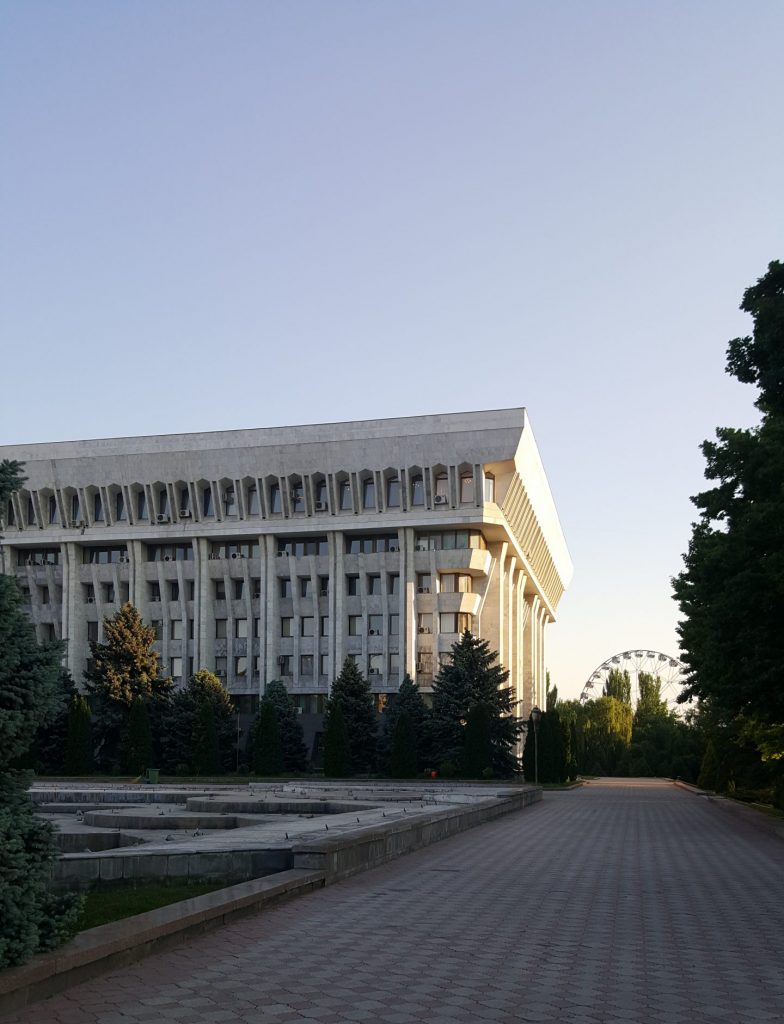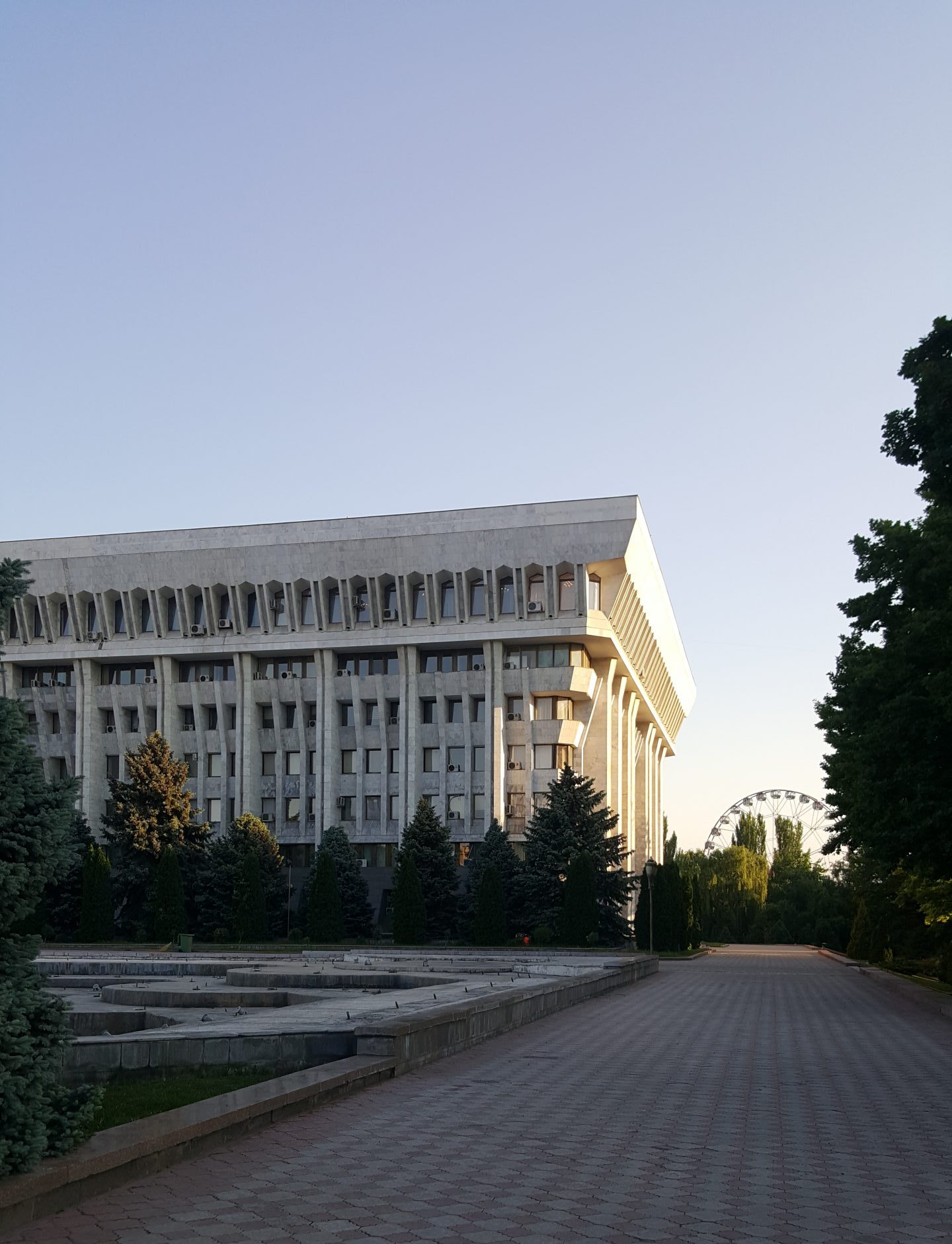 But there are really several beautiful parks and open plazas in a small radius.
Street art is also quite present.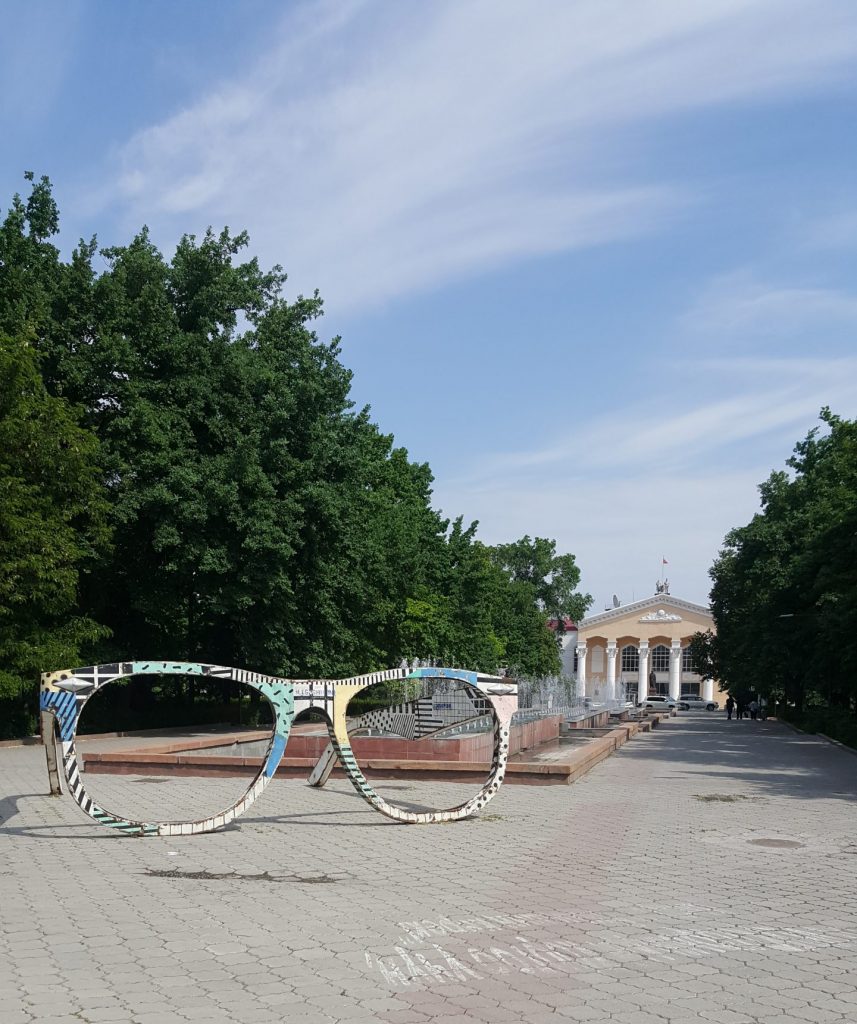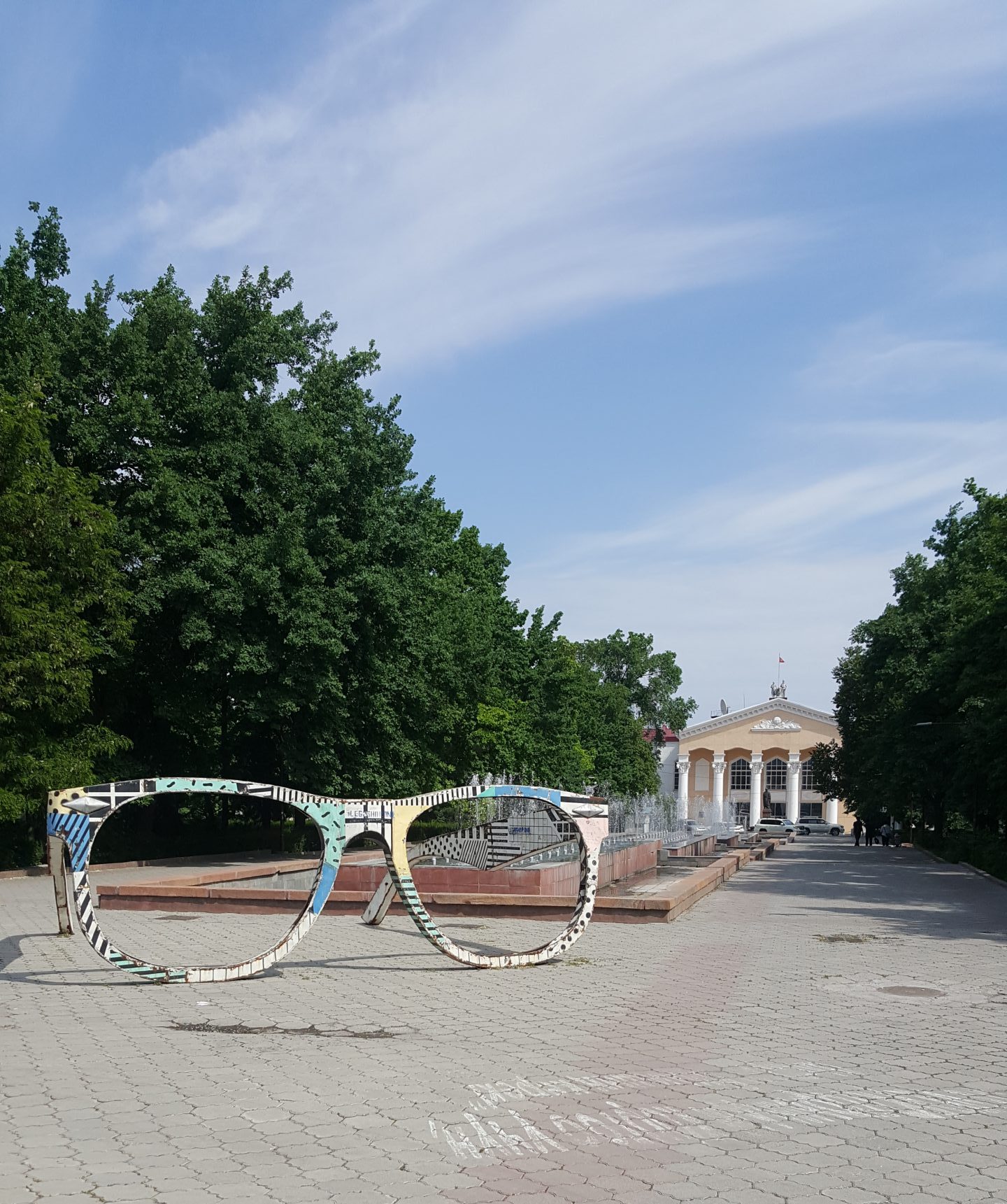 Many buildings have murals as is the case in most cities.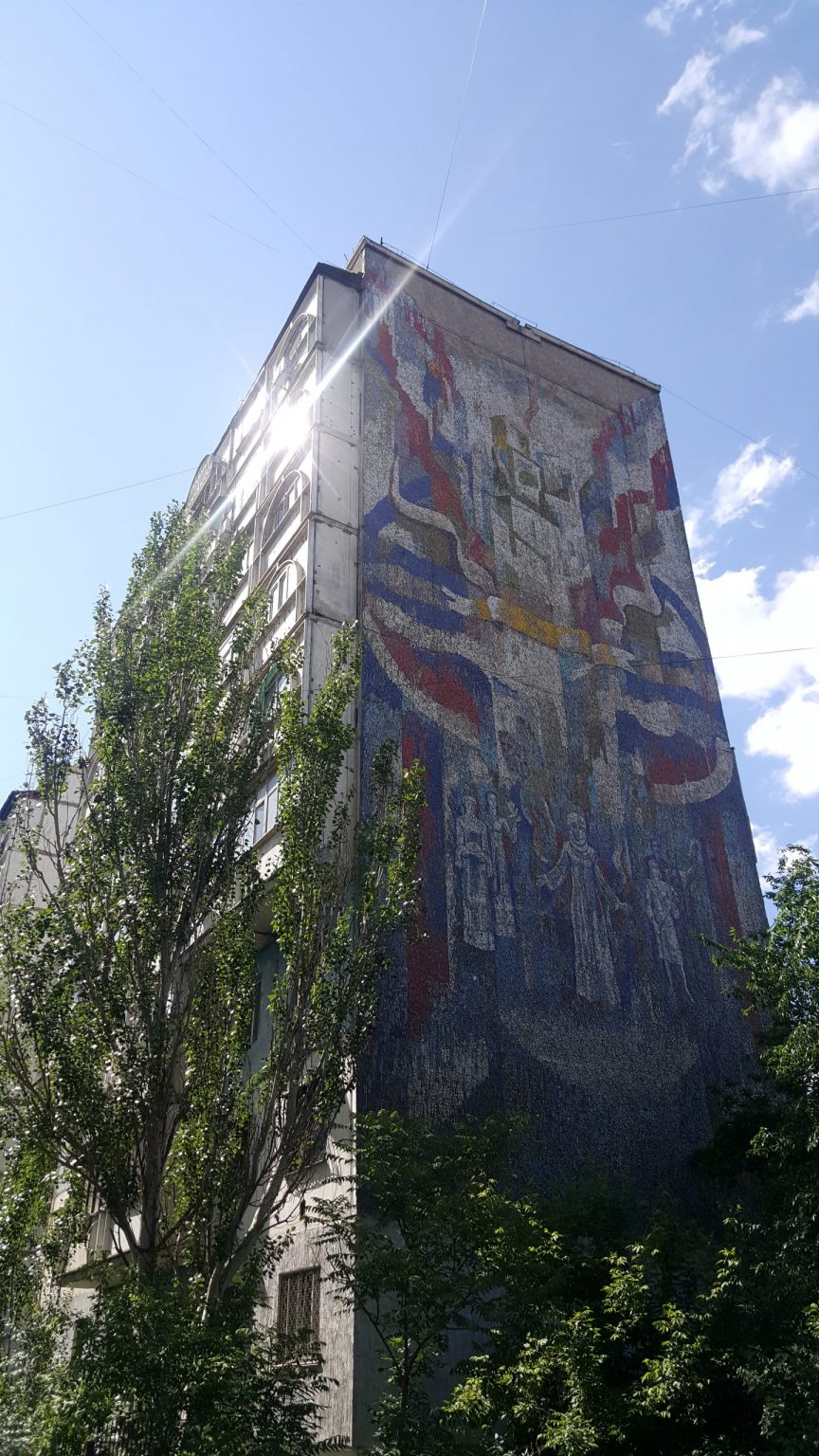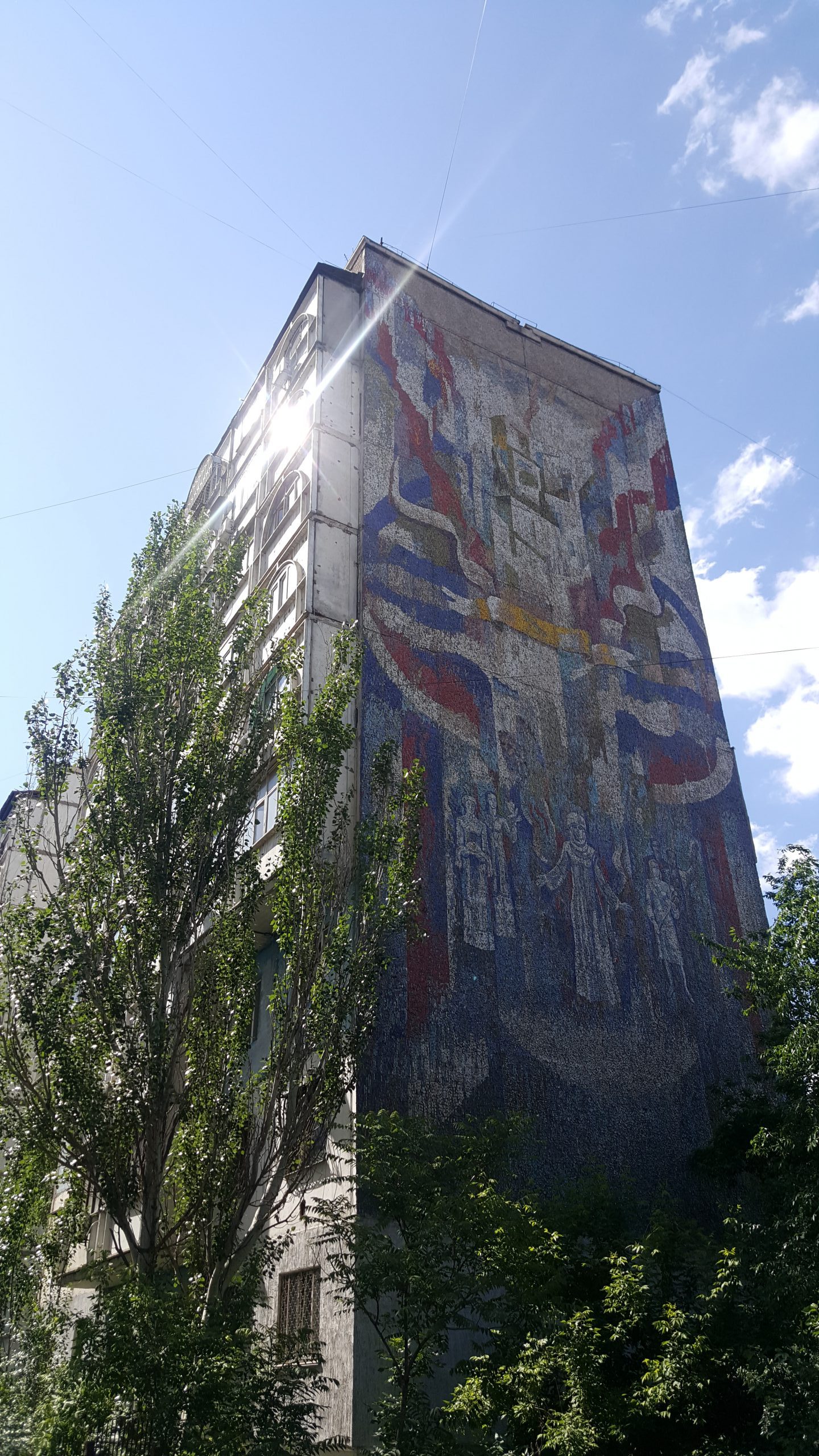 But it's really the sheer number of monuments, statues, and sculptures that is striking.
They are everywhere.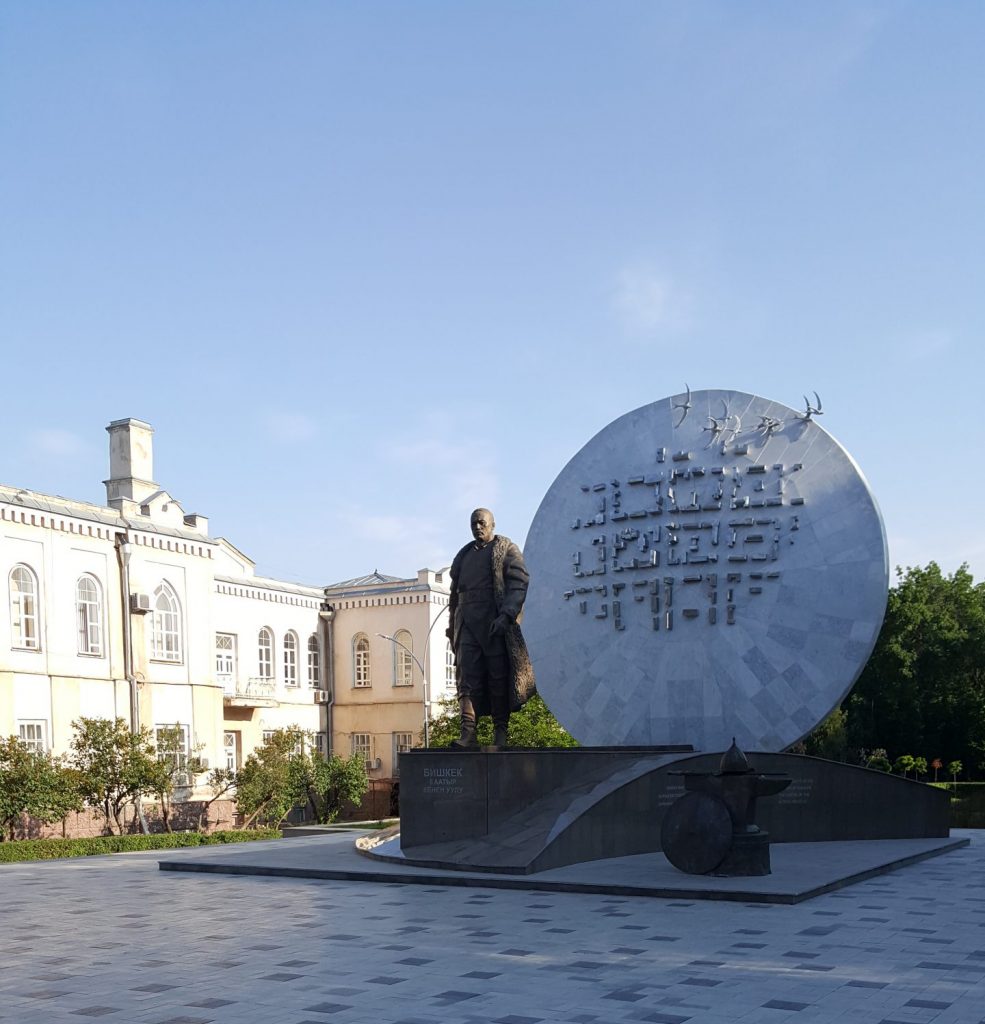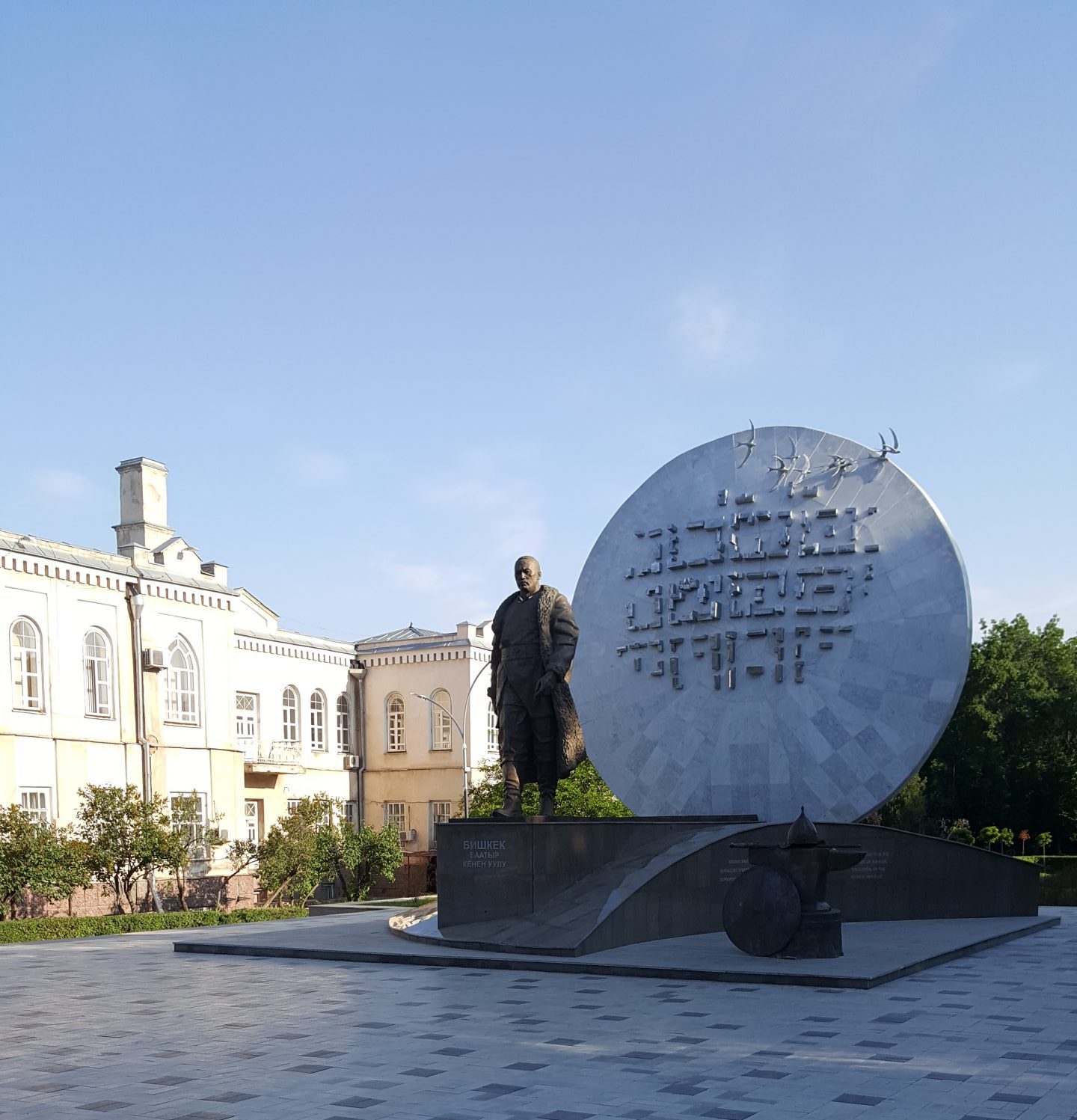 I really can't show them all.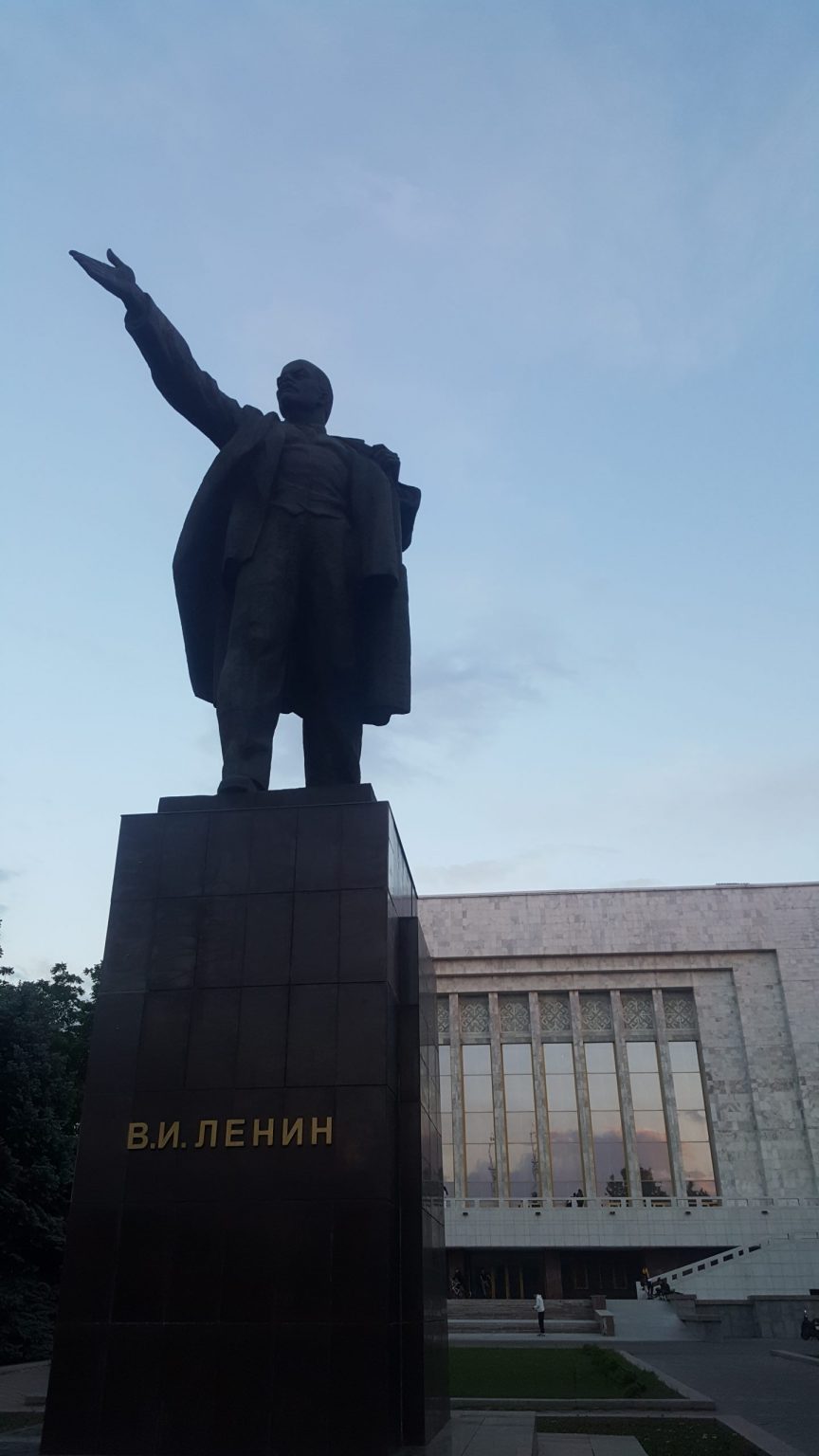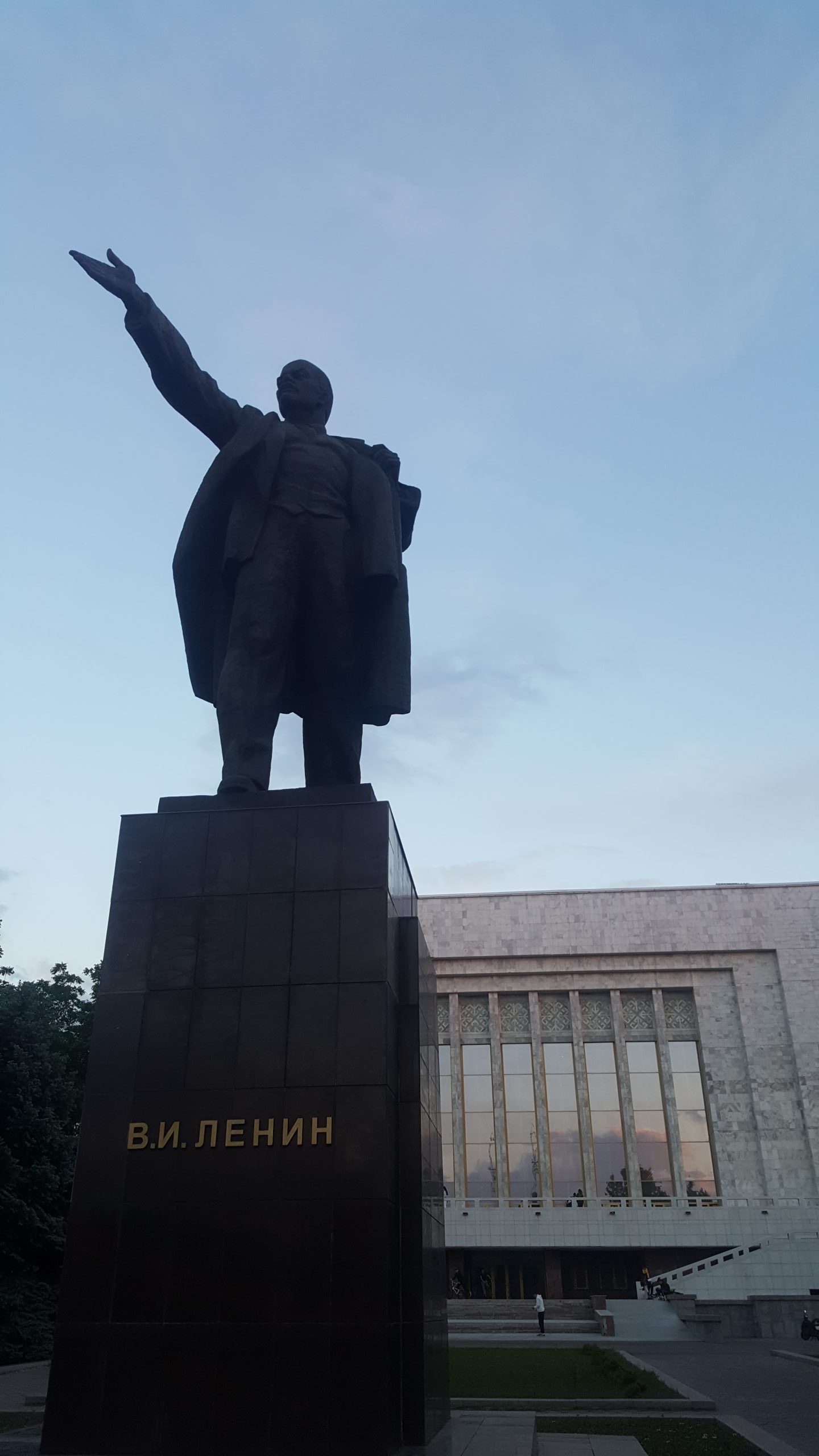 One of the most interesting monuments is the Victory Monument, which commemorates the victory against the Nazis.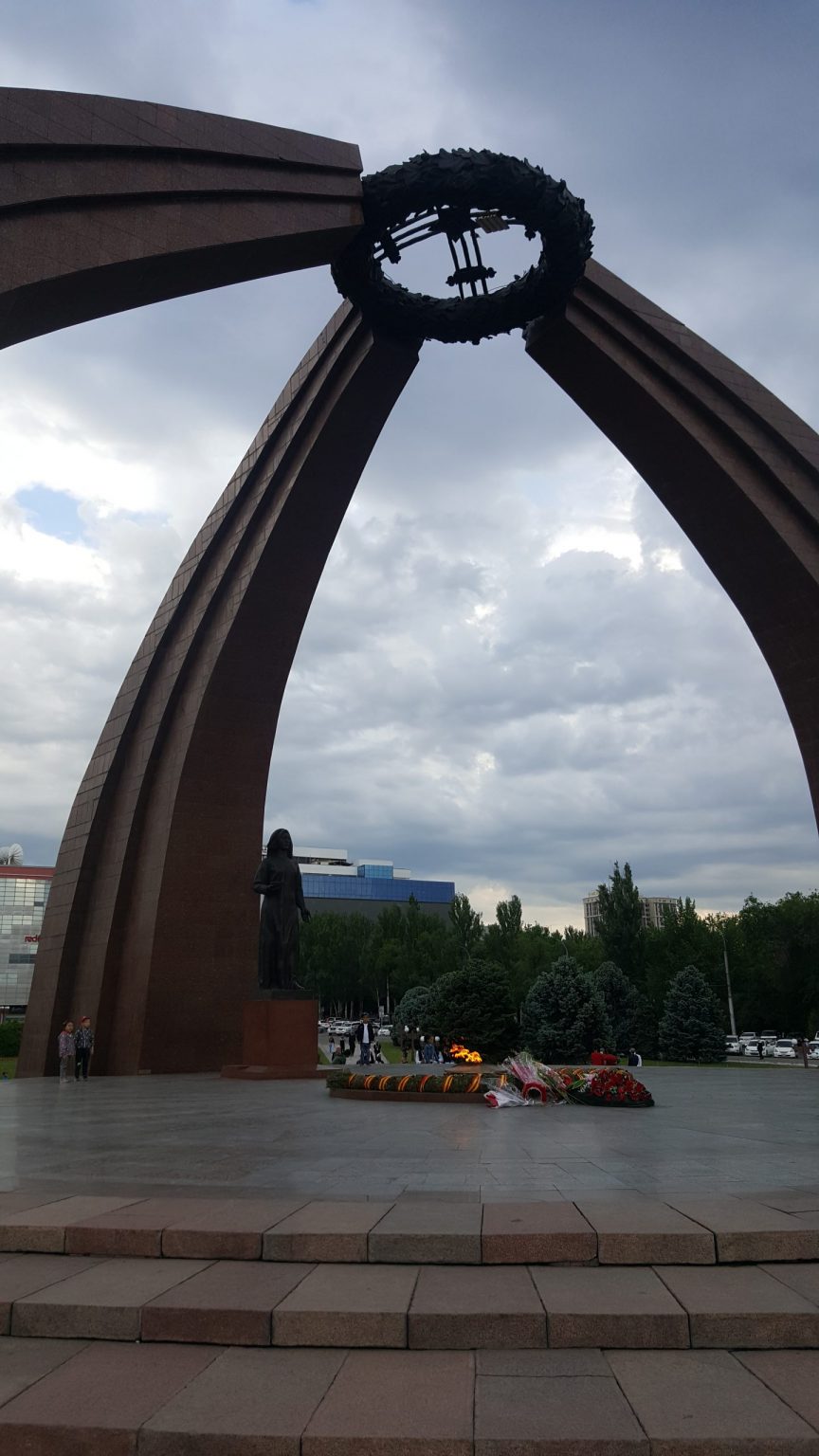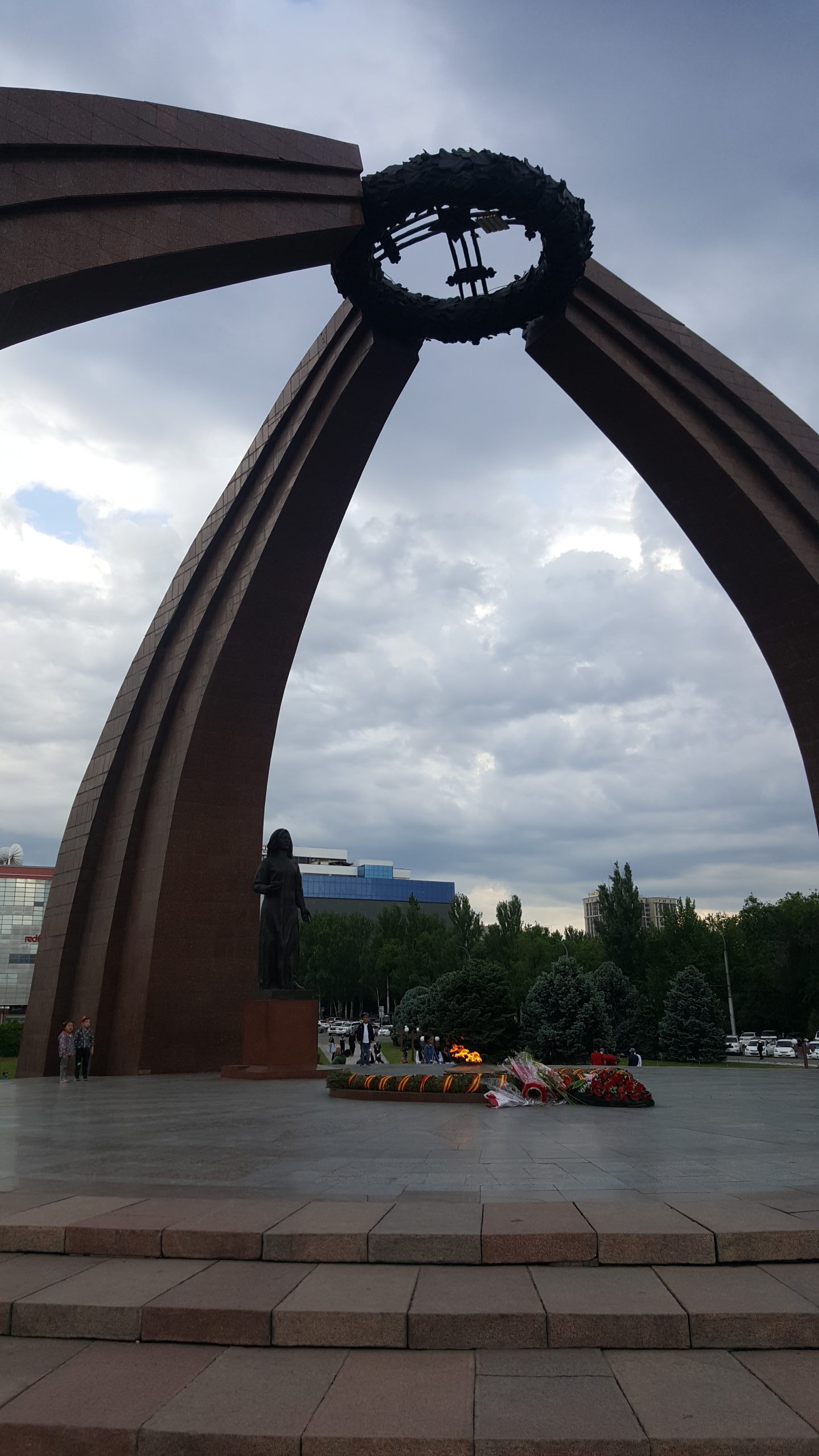 In short, you'll really see many beautiful monuments.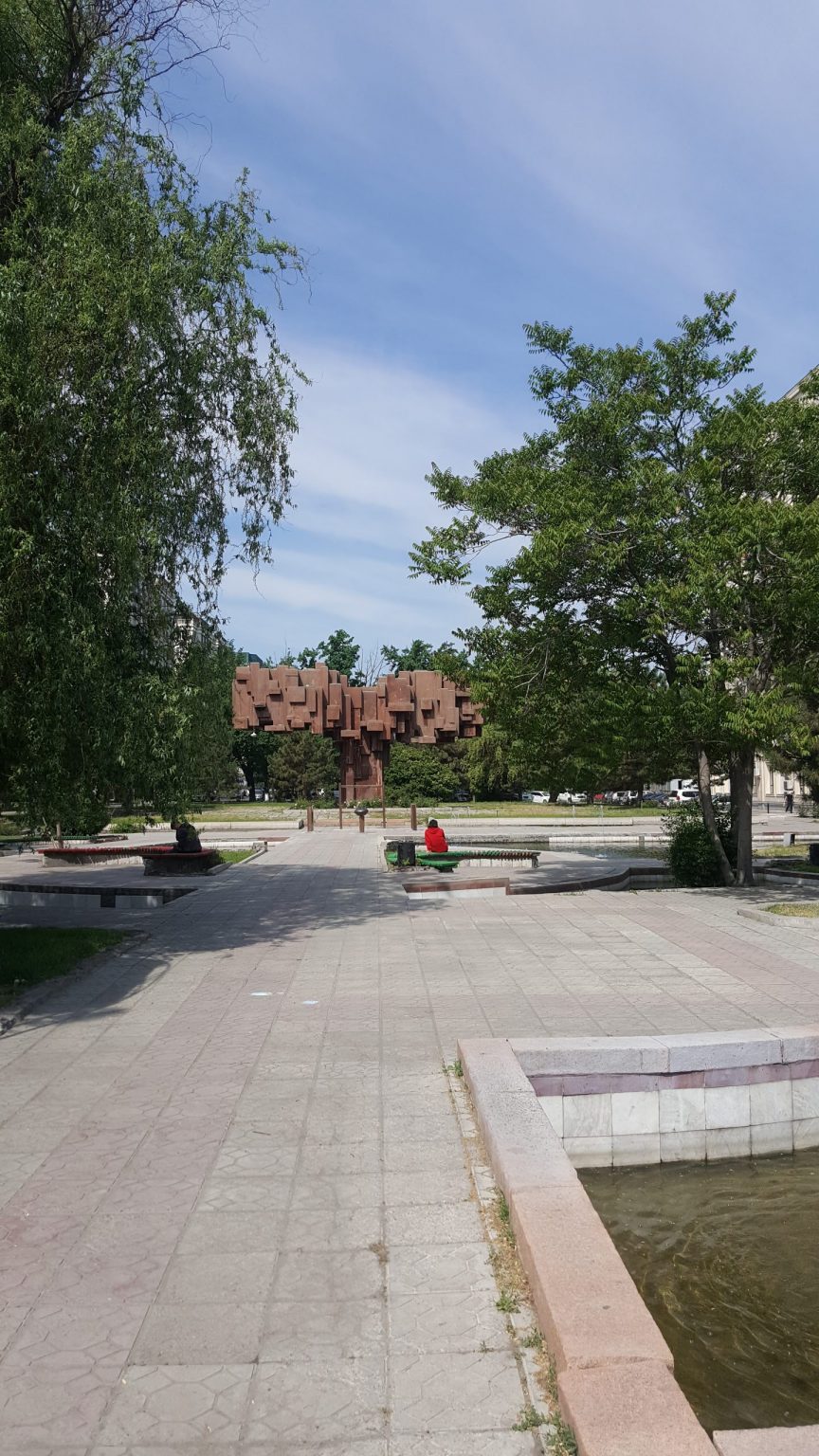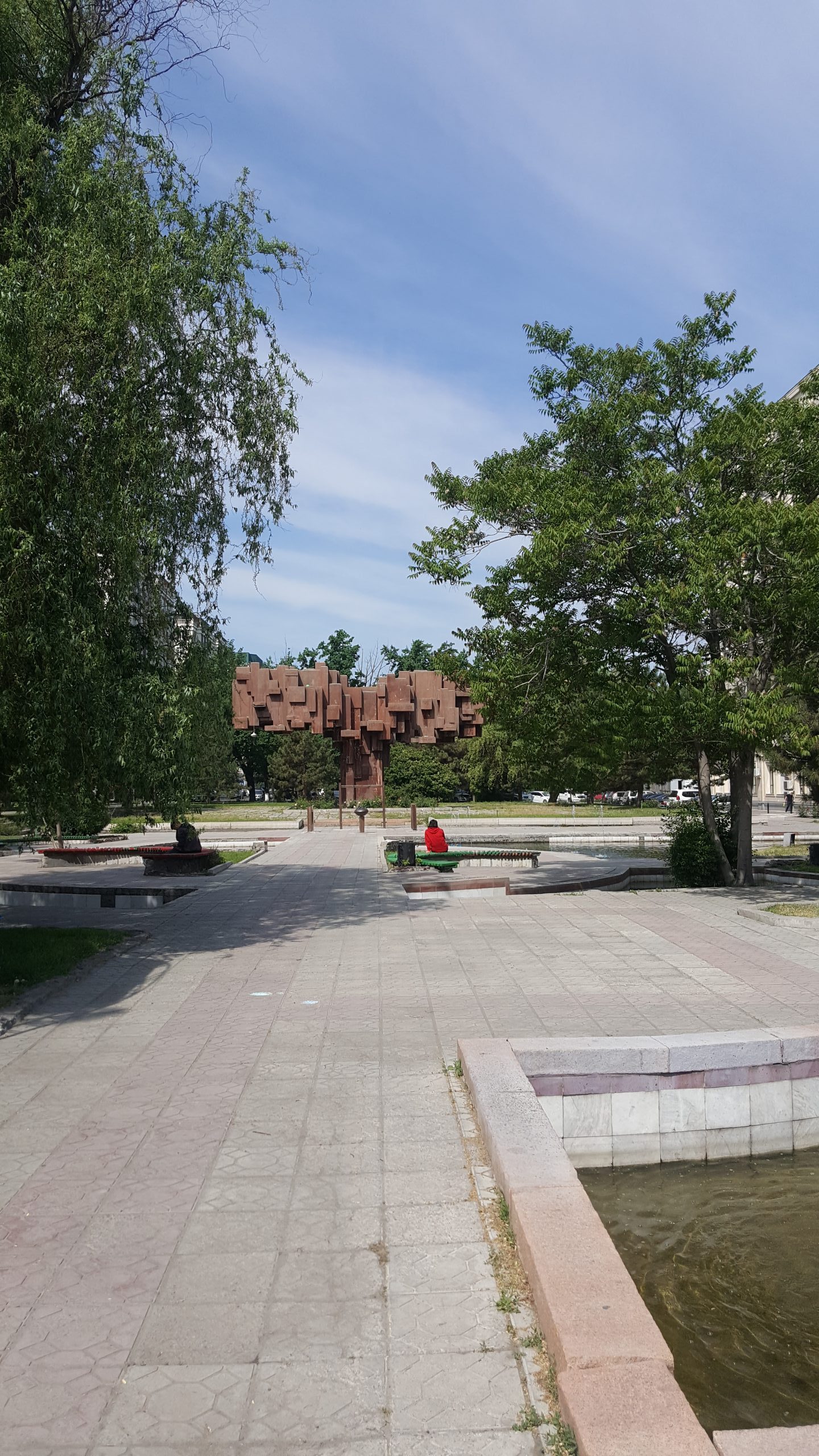 Of course, horses have special importance in Kyrgyzstan (maybe not as much as in Turkmenistan because that's hard to beat, but still).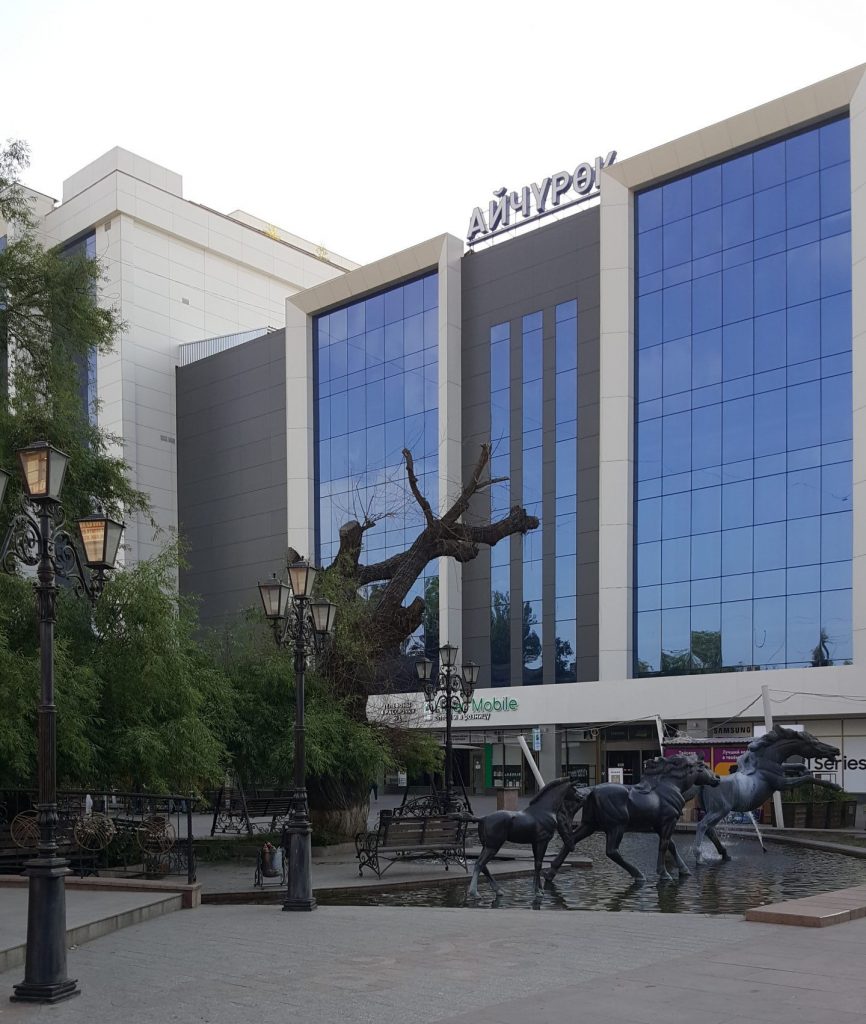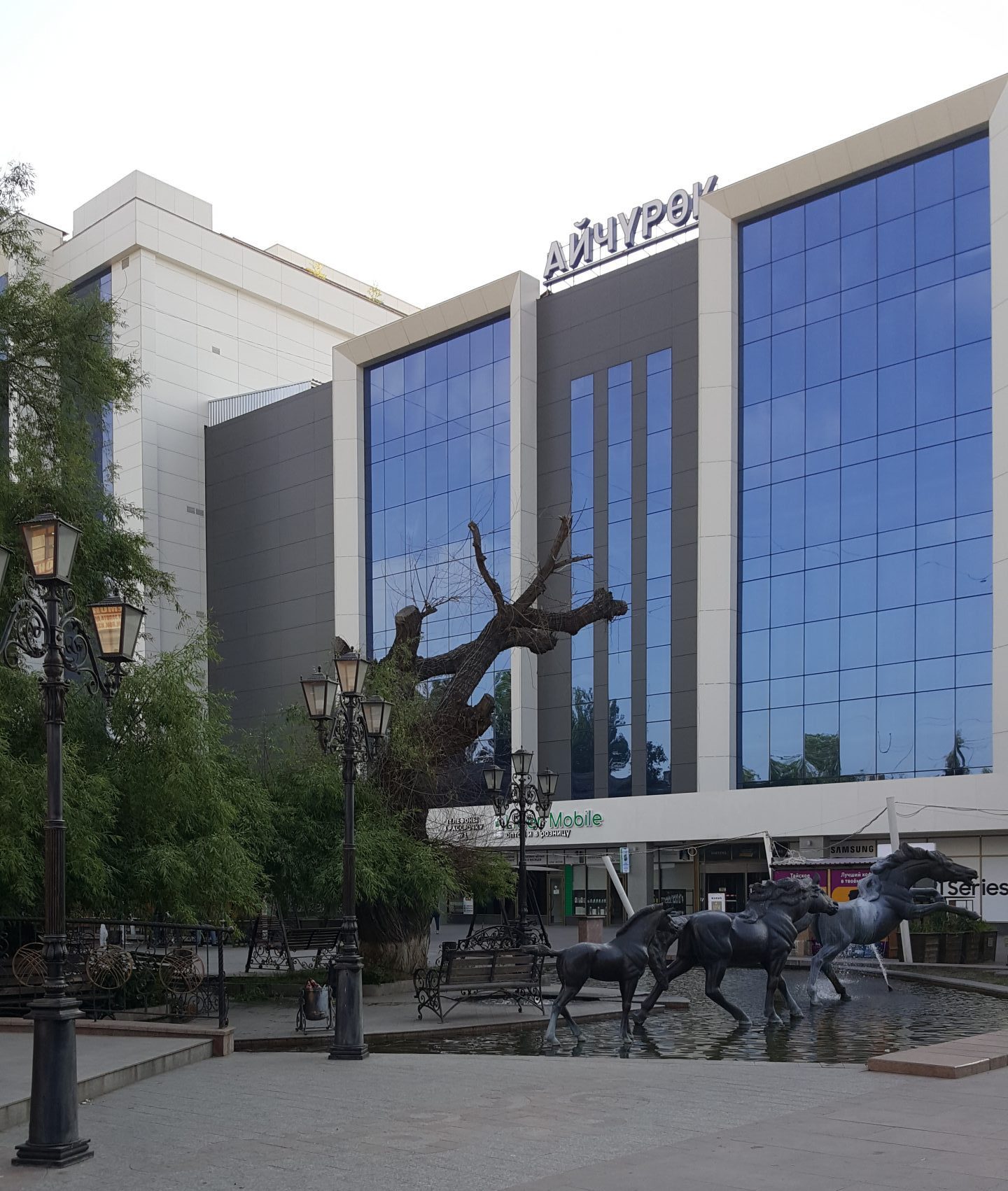 5. It was vibrant
Yes, Bishkek seemed very lively and modern to me.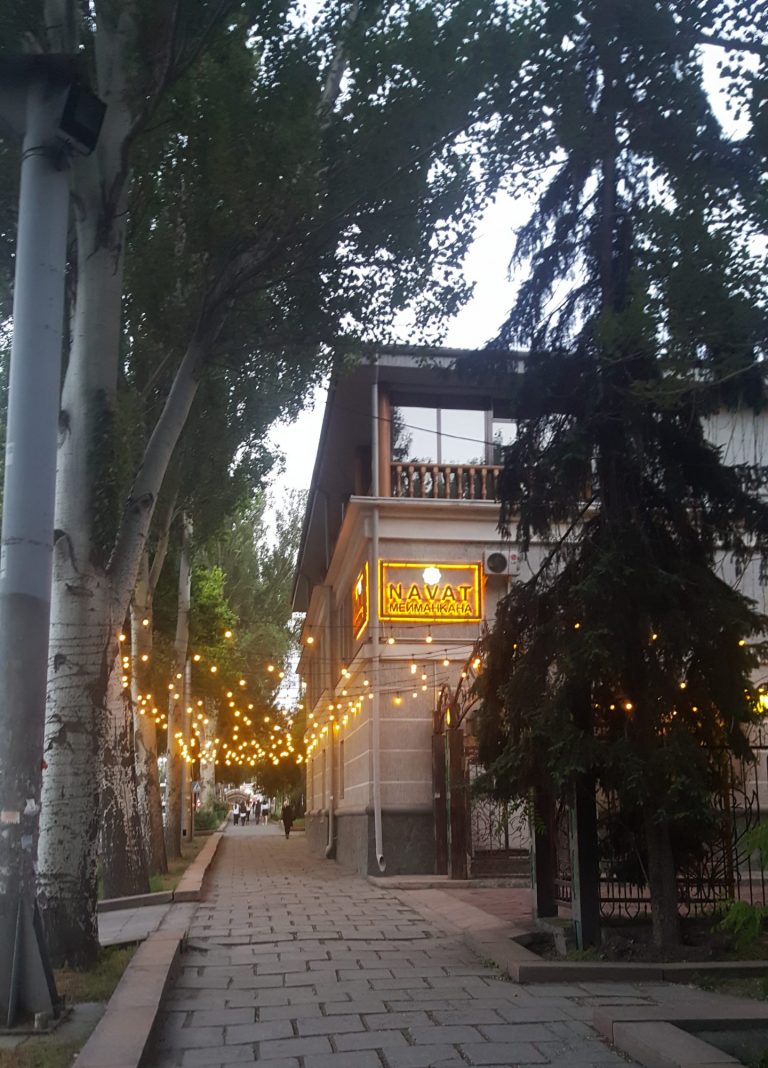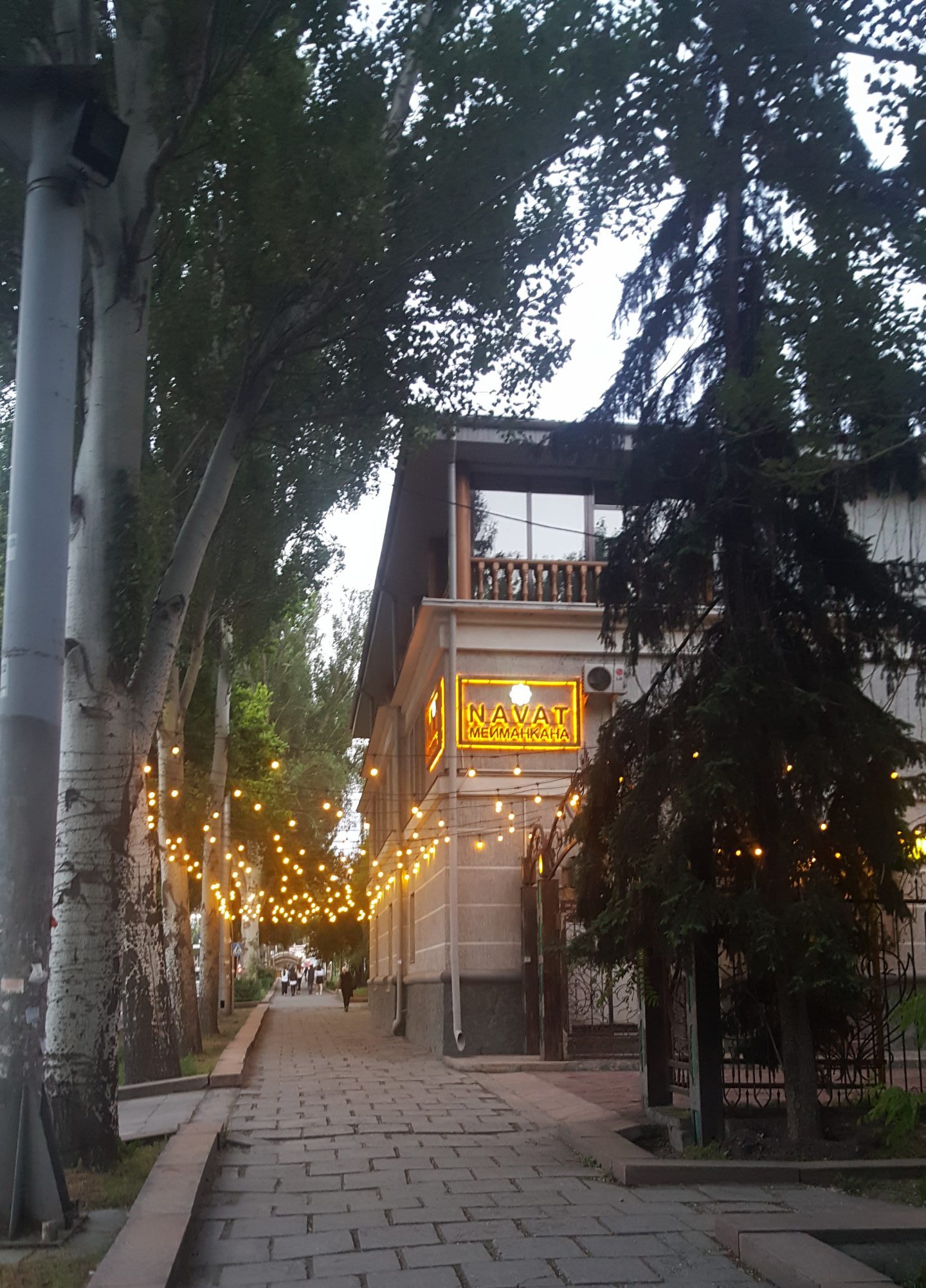 Now, did arriving from one of the most restrictive places in North America—the only one with a curfew that kept me locked in my house even though I was fully vaccinated—perhaps influence my perception of Bishkek's vibrancy?
Possibly. The bar was certainly low.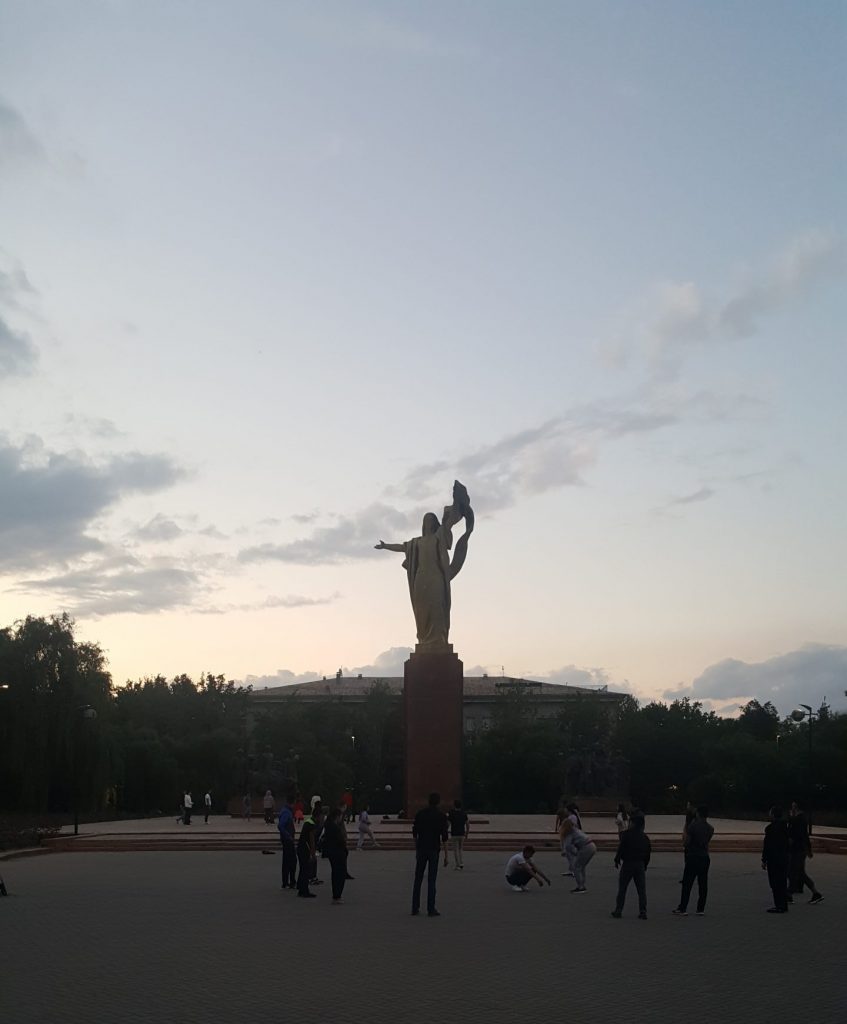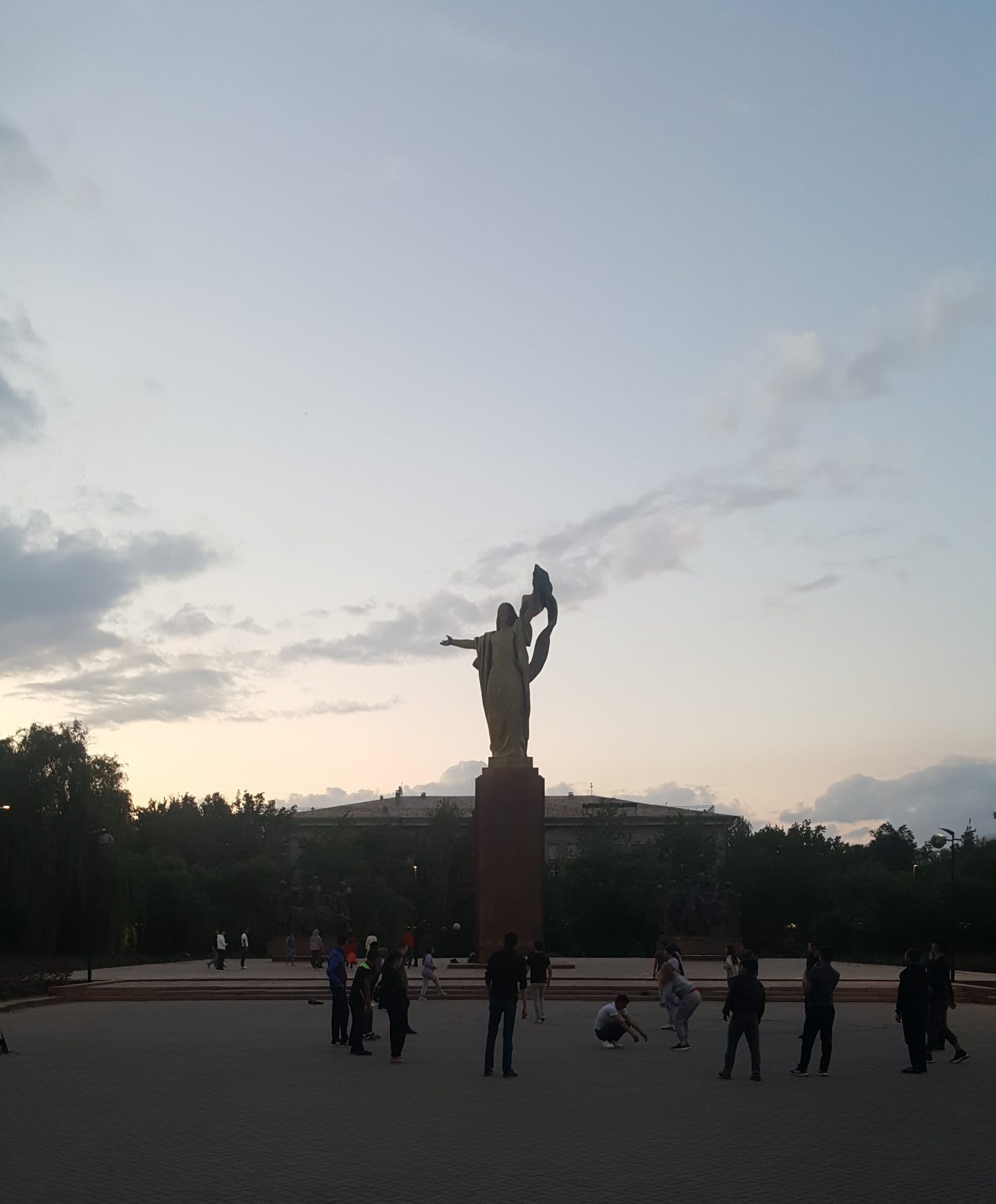 But I found the city to be full of activity, people on the streets enjoying life, singers, street performers, packed terraces… in short, the city was lively.
Pandemic or not, maybe I imagined that this city would be more… dull.
It really wasn't.
But still, it felt good to go somewhere where, while taking the basic precautions, life could resume.
Masks were mandatory inside and some put wore them outside (but for what it's worth, Kevin's first impression since his arrival is that masks simply don't exist in Bishkek anymore).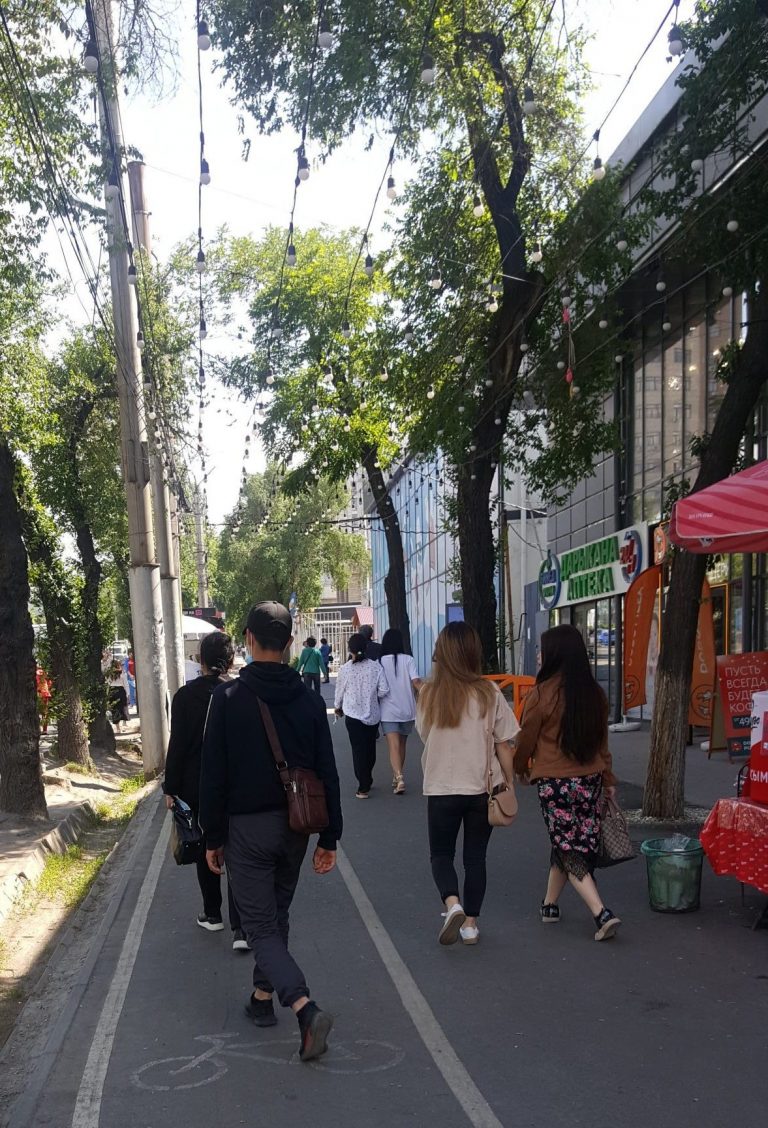 In short, lively is not really what you expect when you don't know too much about Bishkek and the region; maybe I had too many preconceptions too.
But the city was vibrant and I am really looking forward to going back to this country.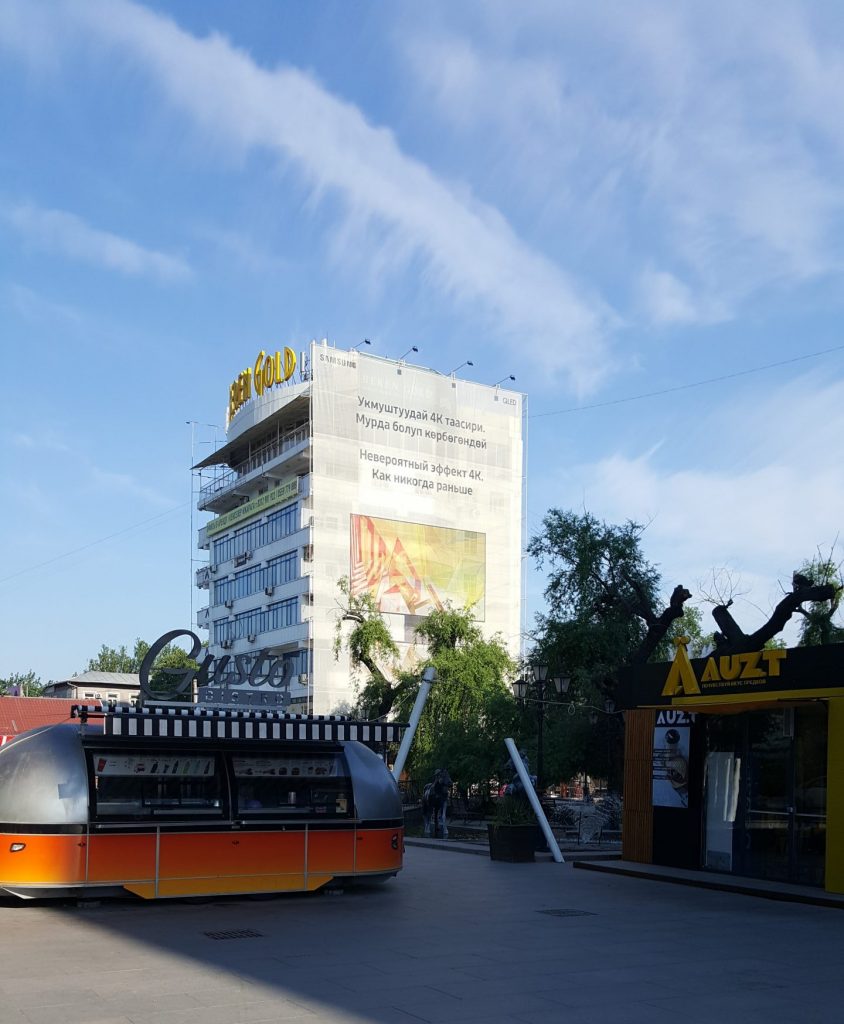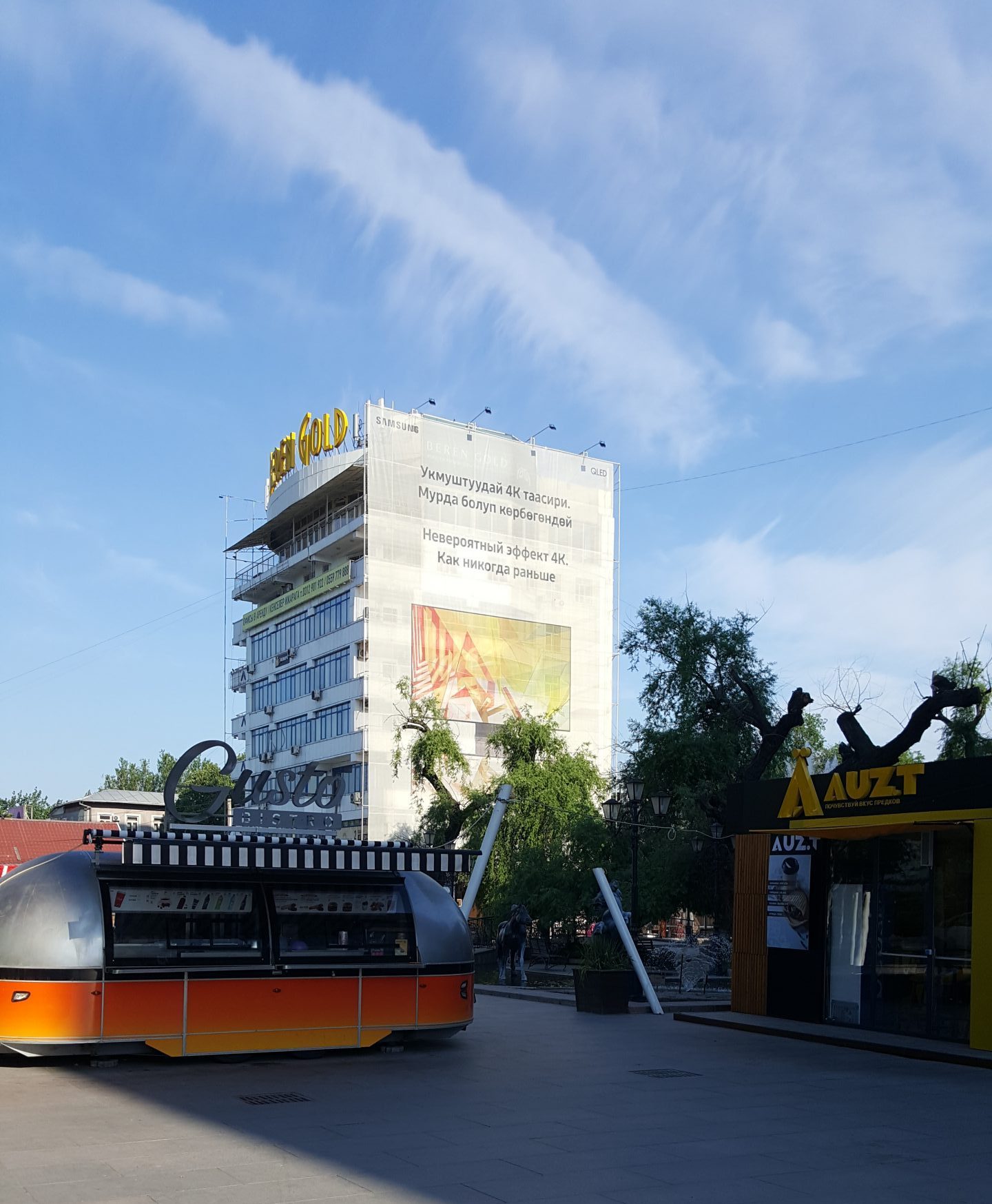 Bonus: The surroundings
Well, as I will explain in the article about the trip, I wanted to prioritize having more time in Uzbekistan since it was really the country I was most looking forward to discovering.
So I didn't go anywhere else in Kyrgyzstan, but the country looks beautiful.
It's a country with many mountains, look how close they are to the city center (and how massive they are).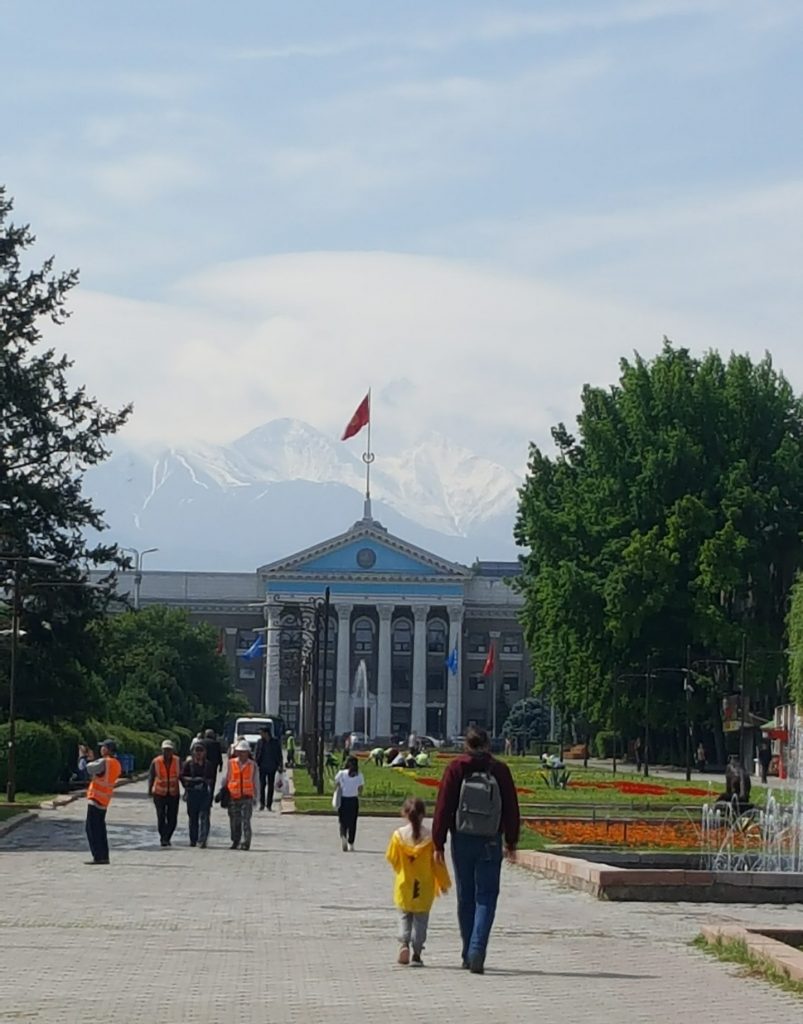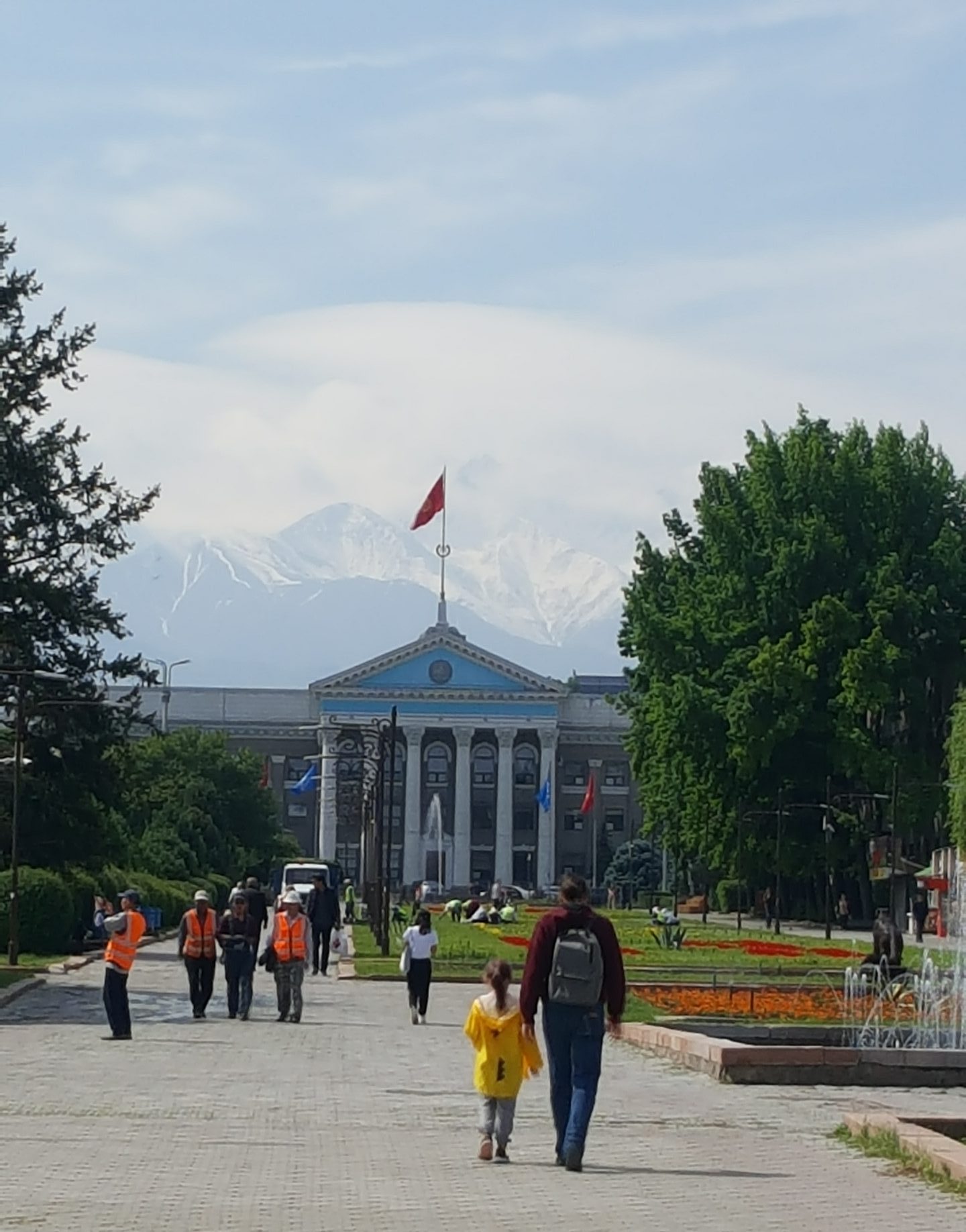 So I'm allowing myself this bonus section, since we like to give you more bang for your buck at Flytrippers. And because even though I didn't go this time, I think many of you will want to explore the nature side.
So I'm sharing 3 more pictures with you, these ones are not mine, unlike the rest.
There are many hikes with stunning scenery of lakes and mountains that you can do.
Kyrgyzstan's nature looks just as appealing for those who don't like the urban part as much as I do!
Finally, Kyrgyzstan is also synonymous with traditional yurts, as they have a history of nomadism.
In fact, the sun on the Kyrgyz flag depicts a tunduk, which is the opening in the middle of a yurt's roof.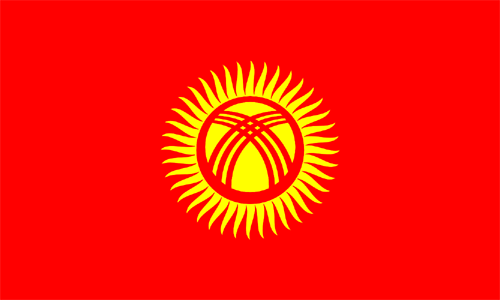 As a fan of flags, I think Kyrgyzstan's is very interesting. Apart from the yurt symbolism, the sun also has 40 rays: The origin of the "Kyrgyz" name comes from the Turkic word for the number 40.
Want to get more content to discover awesome destinations?
Summary
I enjoyed my visit to Bishkek, a surprising destination and especially a very affordable and exotic destination for a trip to Central Asia.
What would you like to know about Bishkek? Tell us in the comments below.
See the deals we spot: Cheap flights
Explore awesome destinations: Travel inspiration
Learn pro tricks: Travel tips
Discover free travel: Travel rewards
Featured image: Ala-Too Square in Bishkek (photo credit: Andrew D'Amours/Flytrippers)
Advertiser Disclosure: In the interest of transparency, Flytrippers may receive a commission on links featured in this post, at no cost to you. Thank you for using our links to support us for free, we appreciate it! You allow us to keep finding the best travel deals for free and to keep offering interesting content for free. Since we care deeply about our mission to help travelers and our reputation and credibility prevail over everything, we will NEVER recommend a product or service that we do not believe in or that we do not use ourselves, and we will never give any third-party any control whatsoever on our content. For more information on our advertiser disclosure, click here.
Share this post to help us help more people travel more for less: