As someone who loves to travel, logically I love ultra low-cost carriers (ULCCs) and their lower prices. And it took so long for us to get any of them here in Canada that it's even more exciting that a 3rd one has now launched: Lynx Air. I was on their inaugural flight out of Toronto (YYZ) on Monday to test it out for you.
The new Canadian ULCC invited me onboard since Flytrippers is the reference for ULCCs in Canada (I've been on 80+ ULCC flights on 15+ different ULCCs on 4 continents since trying them out for the first time in 2011).
We just published the first version of our ultimate guide on ultra low-cost carriers, where you can learn a lot more about this relatively new type of airline (in Canada at least), which is not the same as a low-cost carrier, budget airline, or discount airline (contrary to popular belief).
Here's my review of the Lynx Air flight experience (I'll also publish more video content later this week after my return flight; subscribe to our free newsletter to get all our content for Canadian travelers).
Basics of Lynx Air and the Canadian ULCC landscape
I'll get to the review of the actual flight experience very quickly, but let's start with some basic info since most of you may not be familiar with Lynx or ULCCs.
Lynx Air has been in development for many years, and you might have heard about them as Enerjet since that's the working name they used in the past.
The airline has many brand-new, state-of-the-art planes on order and a solid management team made up of experienced aviation executives.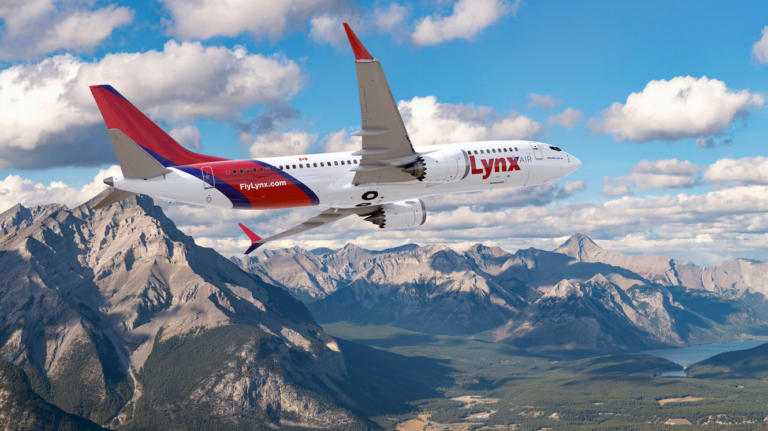 They're headquartered in Calgary, but I'll list all of Lynx Air's many initial routes all across Canada at the end of this post.
Lynx is the newest ULCC to join the suddenly crowded Canadian market after Swoop, whose inaugural flight I was also on a few years back, and Flair, which has grown to become the biggest in terms of fleet size and destinations served (too fast, according to the government).
(Also, Jetlines is supposed to launch this summer too, but they've been "launching soon" since 2013, so… yeah).
If you sometimes check out the cheap flight deals Flytrippers spots daily, you know that ULCCs are awesome: we often find deals for as little as $60 roundtrip here in Canada. Honestly, $30 flights were straight-up unthinkable a few years ago in Canada! That's why ULCCs like Lynx are so great for those who want to travel more.
These low fares aren't quite as low as they are in Europe (I've been on many $10 flights there) and not as frequent as they are there (and in other countries, like the US), but it's still amazing. And it's still so much lower than what other Canadian airlines have been getting away with charging for years.
Lynx Air's launch, with their lowest fares starting at $39 (all mandatory taxes and fees are always included in airfare prices), means there will be even more affordable plane tickets for those who want the option to travel for less, as I most definitely do. Hopefully you do too.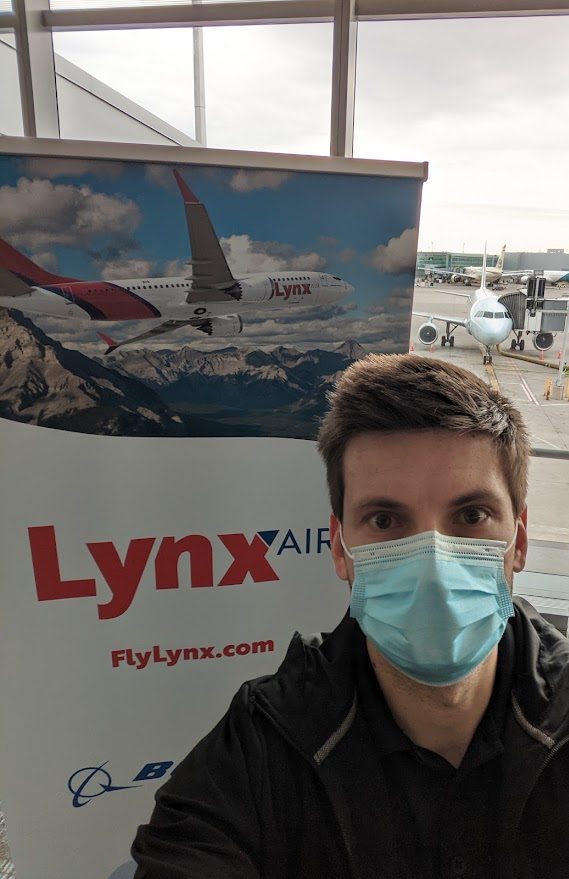 Overall experience – Lynx Air
I'll give you my honest review of each part of the experience below in a very, very detailed way, but I want to share this section to go straight to the highlights.
The short version is that there were no surprises on Lynx: it was pretty much what I expected, like other ultra low-cost carriers.
And that's a good thing. It was a great flight, just as pleasant as any other way more expensive airline. And maybe even better than many other ULCCs.
The brand-new plane was operating a commercial flight for the very first time, it was surprisingly comfortable, and the team was super friendly.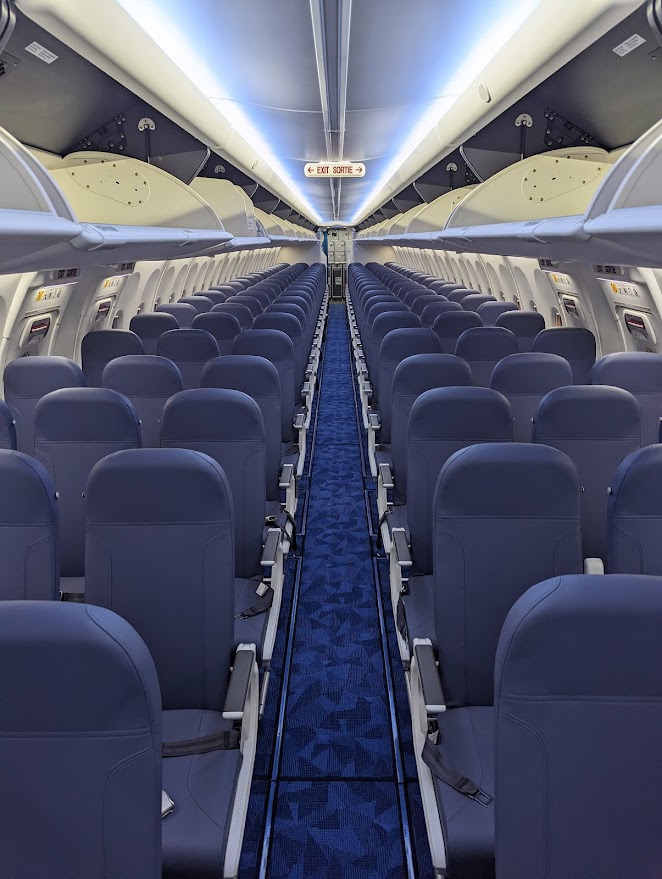 There are so many misconceptions and flat-out lies out there about ULCCs, but these airlines are far from being as horrible as some people want you to believe (we've already debunked the most common ULCC myths, by the way — and shared the one actual downside).
Many who complain about ULCCs often simply don't understand that it's a completely different business model. And some people are even borderline dishonest, trying to make the ULCC experience look so bad.
But it definitely isn't the case with Lynx Air, just like with every other ULCC I've been on. And as I said, I've been on 80+ ULCC flights, so I think I'm in a better position than most people to say this.
Of course, you need to know how ULCCs work before flying with Lynx (or any other ULCC): it's a completely unbundled fare. Pay for what you use, à la carte pricing.
In short, you get a seat, a small bag, and a safe ride… and that's it. And you have the choice of which options you want to pay for.
Don't want to pay extras? Well, don't purchase any extras! Simple.
Personally, I have almost never paid a single dollar more than the base fare on ULCCs, so just know that it's possible to pay just the (extremely low) base fare if you want to. Including with Lynx.
And even if you do choose some extras, it's often still cheaper than regular airlines.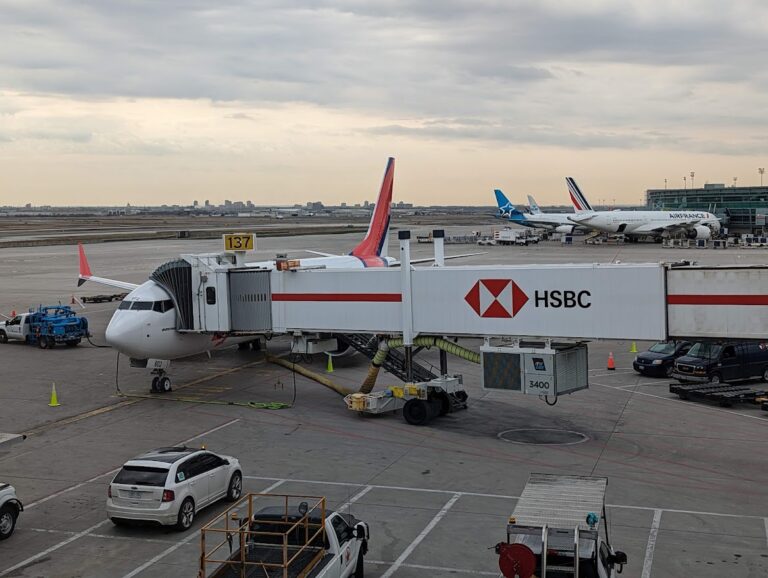 So now, here's a much more detailed look at how it was on Lynx Air's inaugural flight (including the special festivities).
Well, the almost inaugural flight… Lynx actually launched late last week, but I wasn't able to be on the real inaugural flight from Calgary (YYC) due to scheduling issues with my previously planned weekend trip to the United States.
I was on the inaugural Toronto flight, which took me (and 100+ fellow travelers) to Calgary for the airline's first-ever departure from Eastern Canada.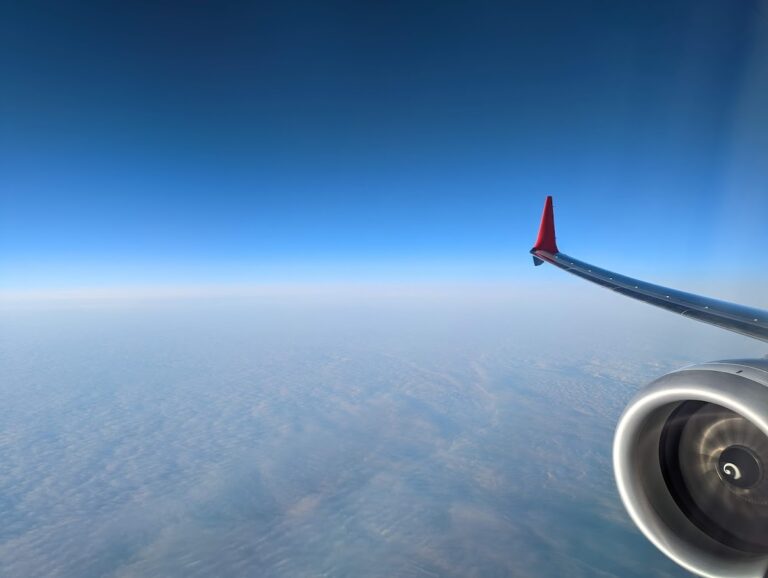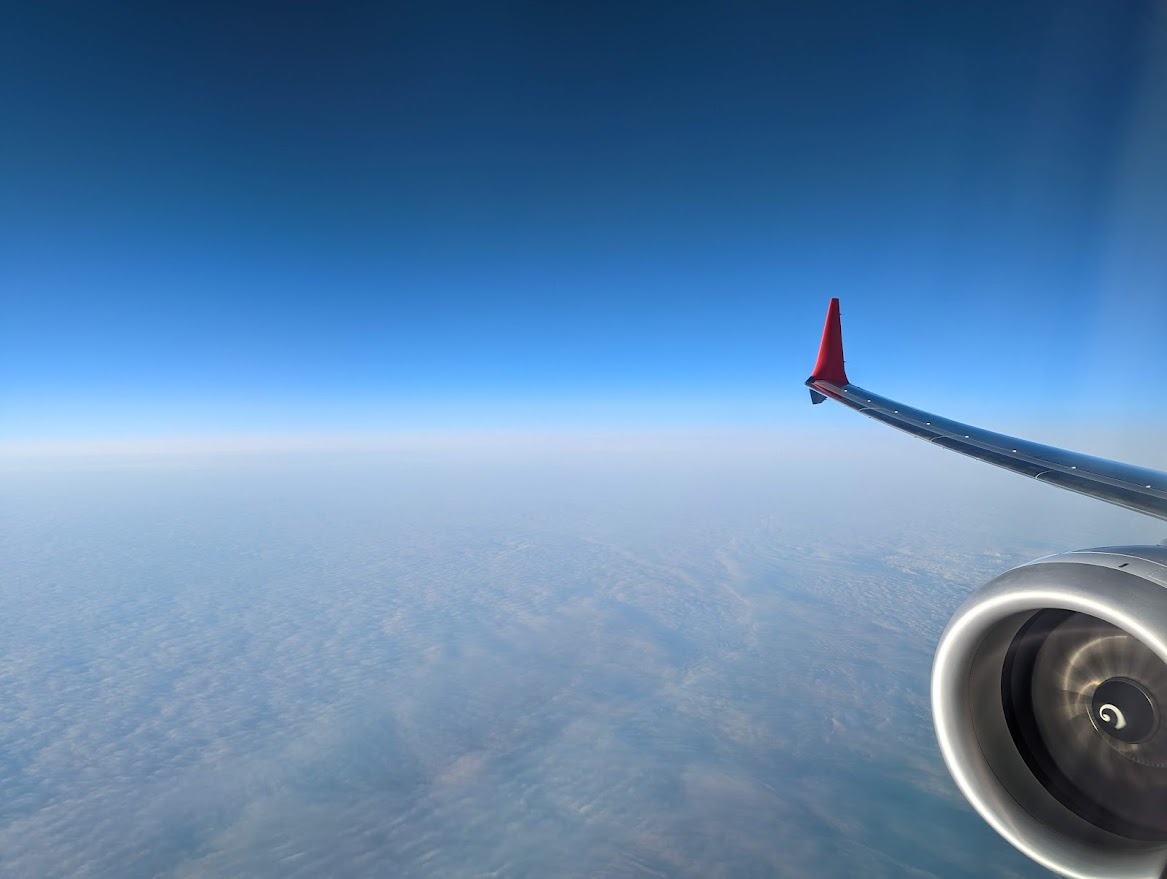 Check-in experience – Lynx Air
I landed in Toronto directly from the US at 1:56 PM (I had to get up at 4:45 AM to arrive on time for the inaugural flight at 6:20 PM to be able to share this experience with you; that's true dedication 😆 ).
I went through the entry process in 2 minutes total, thanks to my NEXUS card.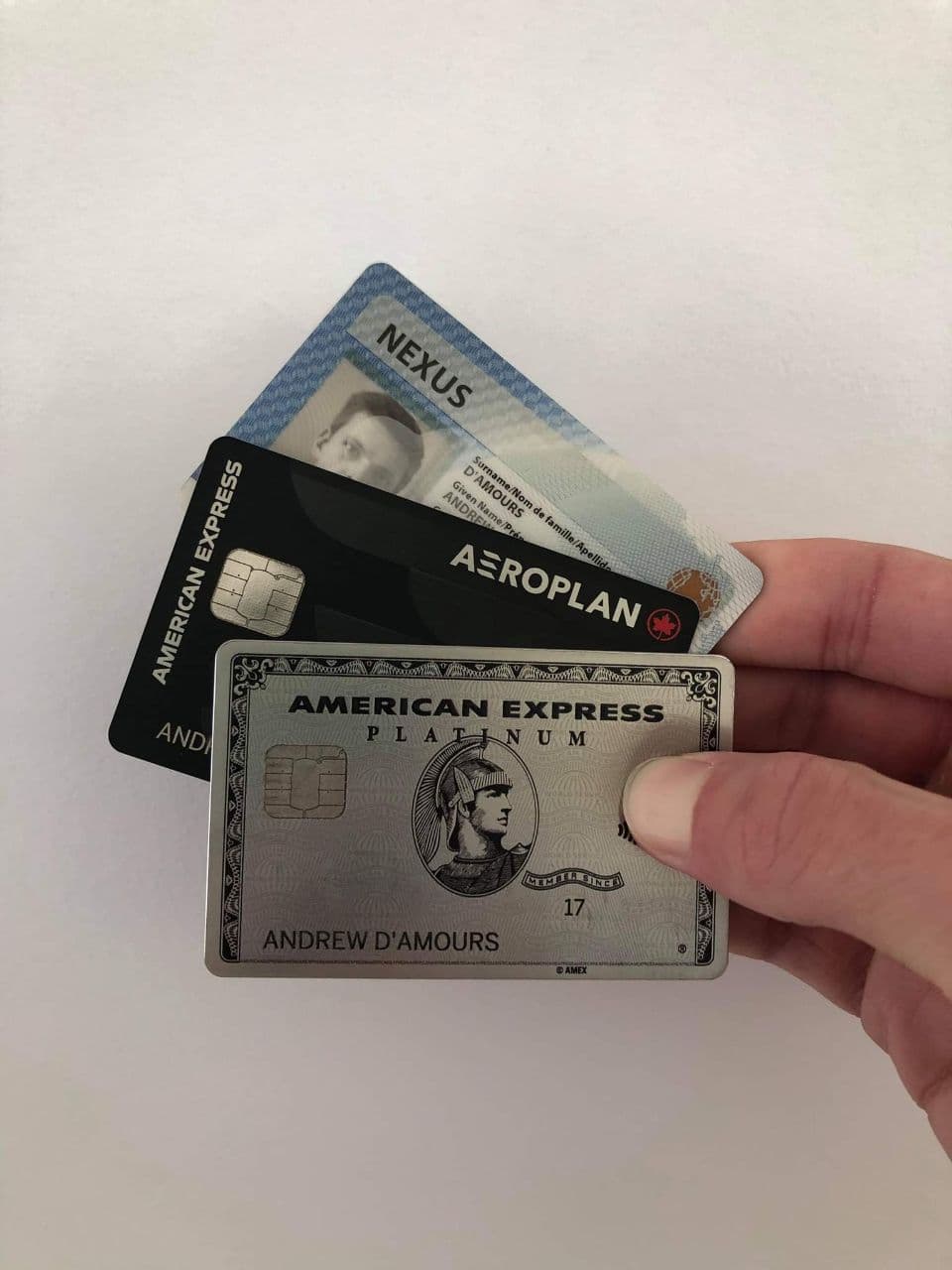 (As I shared in a video yesterday, entering Canada is very simple now: quite literally, the only requirement left, if you're vaccinated, is to fill out the form in the ArriveCAN app!)
Normally, you should always avoid the in-person airport check-in by simply checking in online for each one of your flights. But since I wanted to review the whole experience, I headed to the Lynx Air counter.
Lynx operates out of Terminal 1, which is almost exclusively used by Air Canada and its international Star Alliance partners.
The information screens were ready for the first flight, and Lynx Air was listed as being in Aisle 3 of the check-in counters.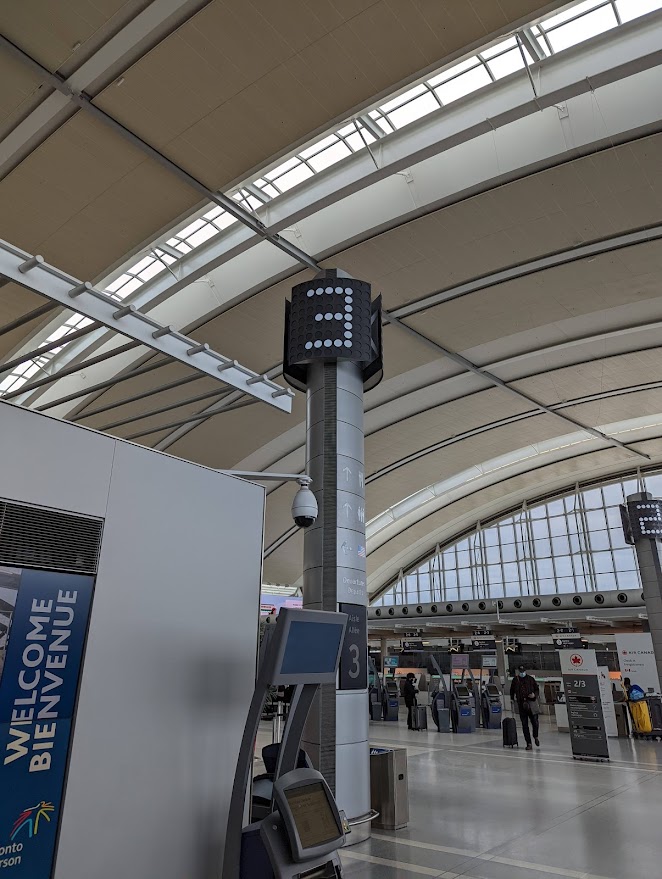 The Lynx counter was a bit hidden, as it's smack in the middle of the aisle with Air Canada counters on both sides, so at a glance, you can easily mistake them all for Air Canada counters.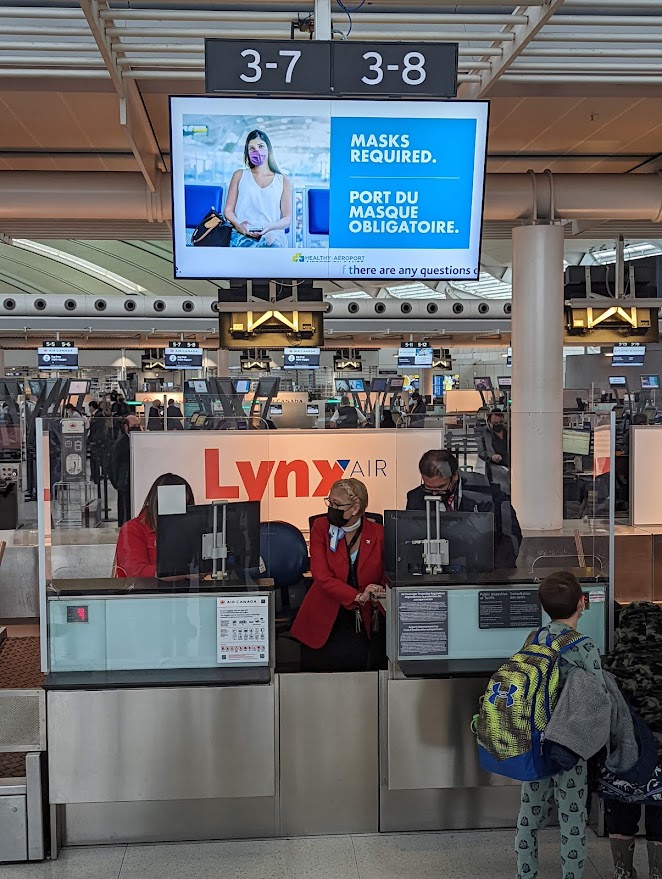 The counters actually still had Air Canada stickers, and the screen did not display the flight info, at least when I got there among the first passengers (nearly 3 hours before takeoff). But I think that's not too big of a deal for a very first flight and all the preparation required for that.
The check-in agent was very friendly and welcomed me when it was my turn.
My proof of vaccination was not checked, but maybe it's because I was on a complimentary media ticket, and they figured I would not have shown up if I wasn't vaccinated. Or maybe it's just an oversight due to the rush of a first flight.
(It's happened to me on Air Canada in the past as well, but still: it's definitely not a great idea for unvaccinated Canadians to assume they will be able to fly because, honestly, all airlines usually ask for proof very close to 100% of the time, based on the many testimonials we've gotten. It's not like at the US land border at all.)
So anyway, all that to say that check-in was extremely quick (being on #teamcarryon means that I never have to waste time with checked bags). The agent gave me my boarding pass in a matter of seconds really, and I headed to the security checkpoint.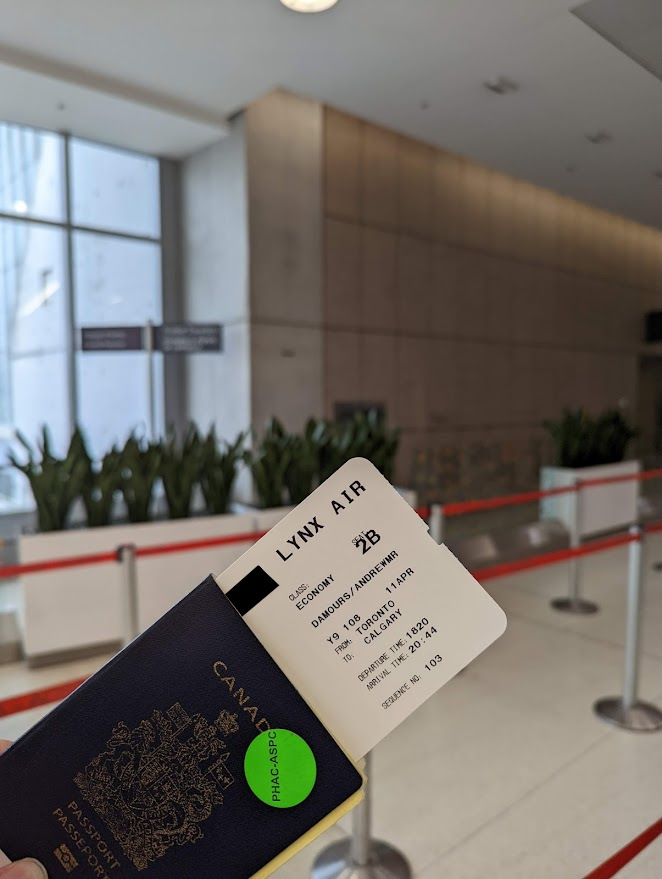 My NEXUS card once again saved me so much time here!
The security line for regular passengers was rather long and I got to bypass it all, and there was zero wait for NEXUS members, as always.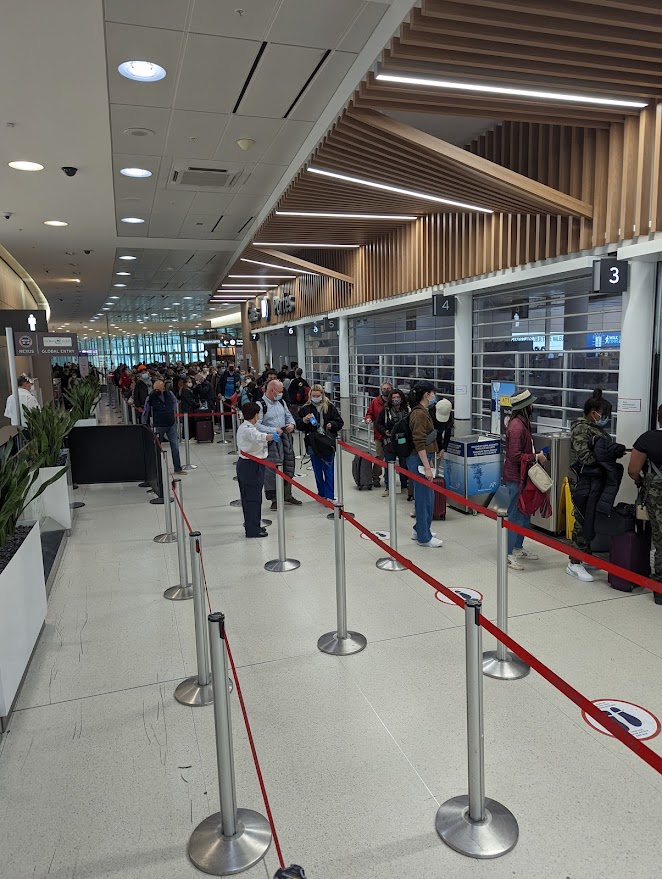 Alternatively, with a few American Express premium cards, you can also get priority access to the security checkpoints at Toronto-Pearson, but there's a new process: you need to get a one-time code at the Amex kiosk. I'll have a detailed post about all that soon since it's not very relevant to today's post.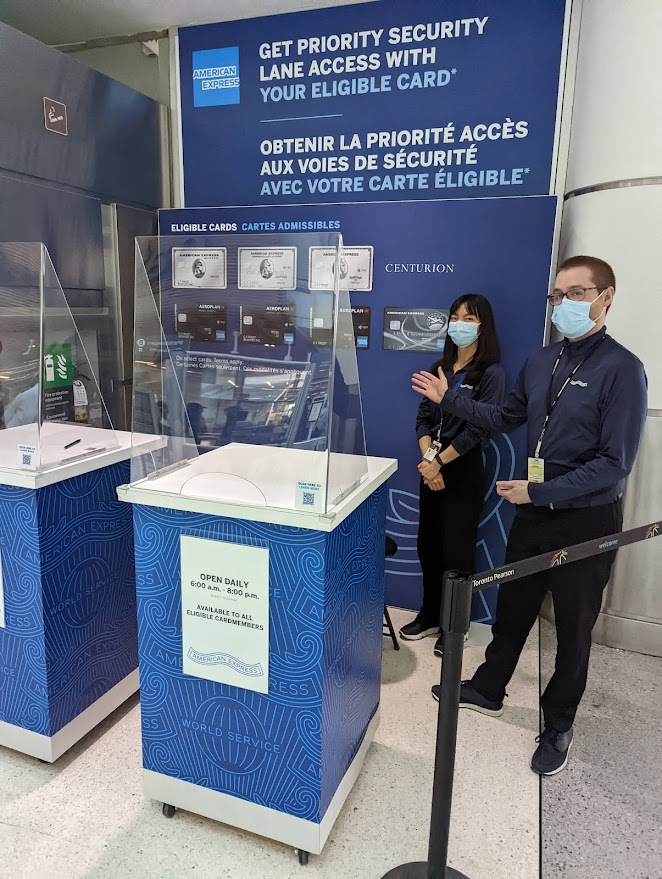 Boarding process – Lynx Air
The media launch event and all the festivities surrounding the inaugural flight took place at the gate directly, so I headed there wayyyyyy earlier than I usually would.
I would have normally at least made a quick stop for free food and drinks at the airport lounge, thanks to the unlimited access my American Express Platinum Card gives me (it's really a must-have for those who travel a lot; don't miss our upcoming ultimate guide to free airport lounge access).
But I wanted to make sure I didn't miss anything. And also, I had just been in the amazing Amex Centurion Lounge in Charlotte (CLT) a few hours earlier — and I knew I would go to the WestJet Elevation Lounge after landing in Calgary (accessible via Priority Pass).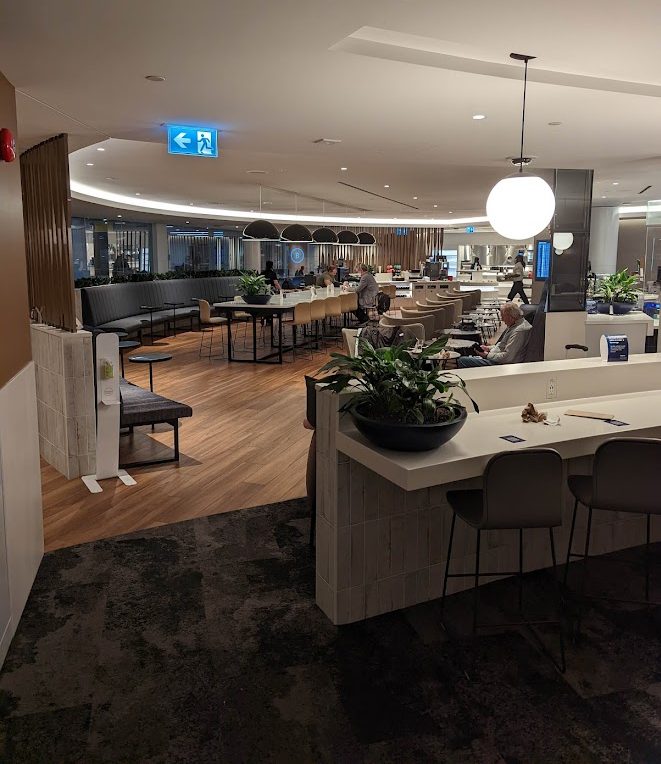 So I headed straight to Gate D37.
There was a very festive atmosphere to celebrate the airline's first flight out of Toronto.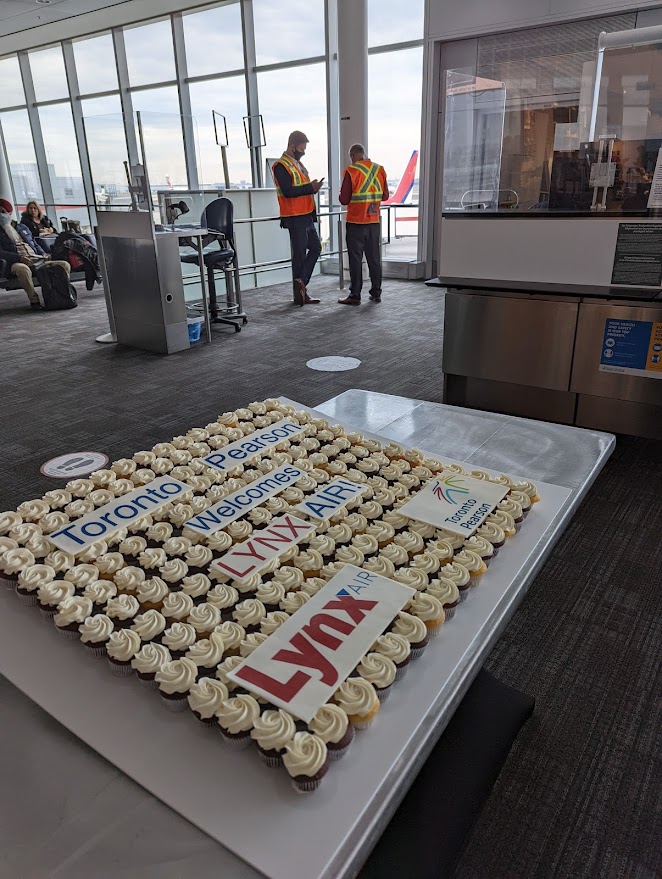 There was also champagne.
(Or was it sparkling wine? I don't want to be sued by the French! 😬)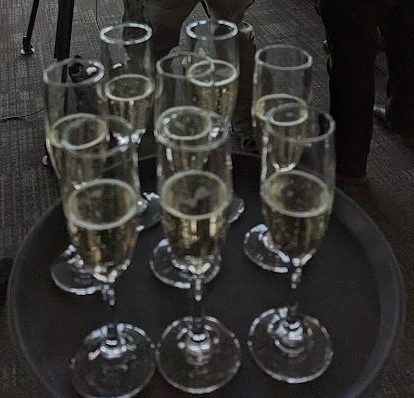 Lynx Air's CEO, Merren McArthur, gave a short speech outlining Lynx Air's goal to bring more affordable fares to the country.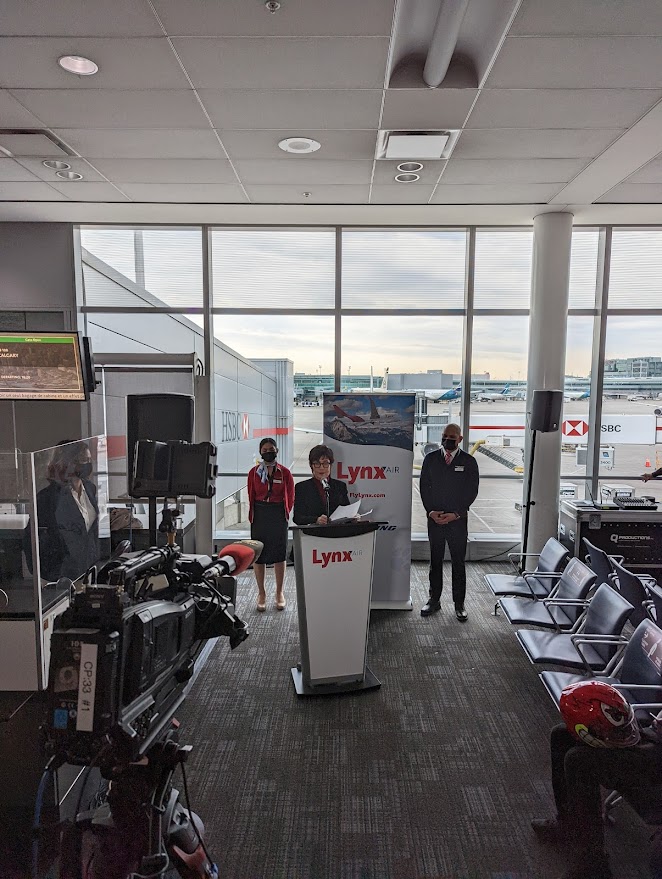 I had the pleasure of discussing the Canadian aviation industry with her and a few of her colleagues, and I of course lobbied for Lynx to expand to more airports quickly.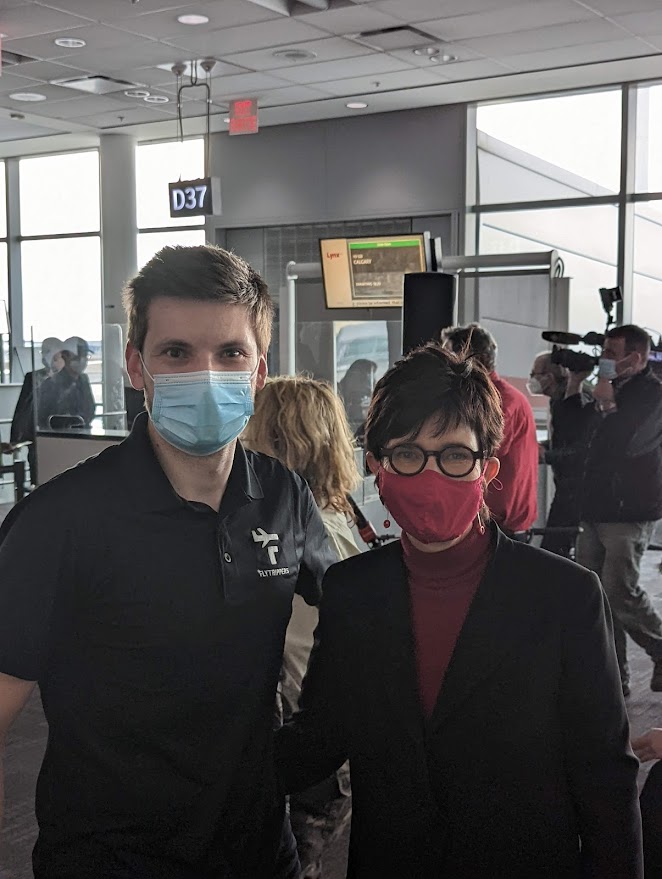 As an AvGeek (aviation geek), needless to say, I absolutely love events like this or new airplane unveilings.
I was glad to also meet a few other AvGeeks that were onboard just to experience the inaugural flight too, and we almost had to be kicked off of the plane long after it landed as we talked with the pilots and sat in the flight deck (or cockpit if you prefer).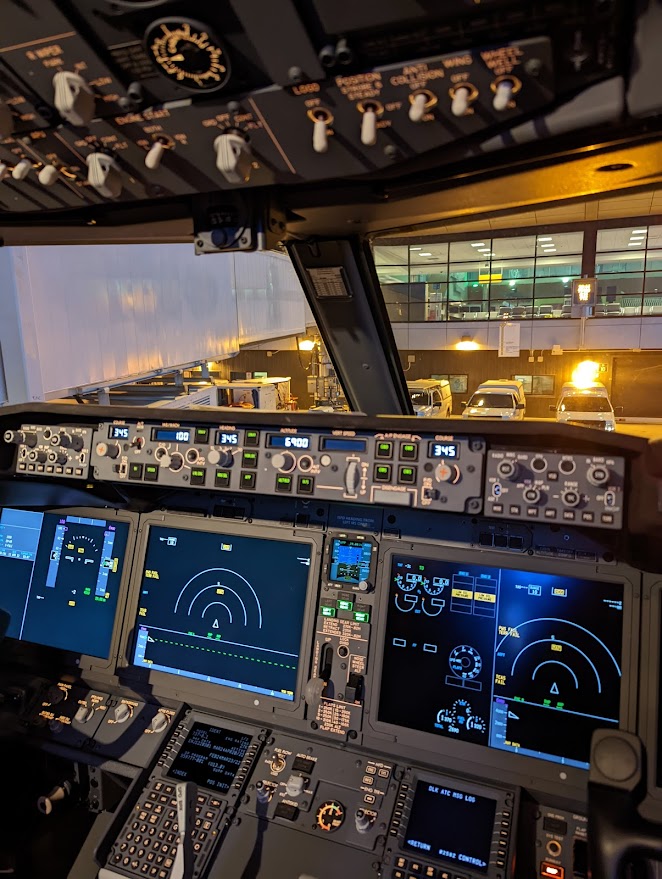 While not related to the boarding, in terms of things that were unique to this inaugural flight, they did give out more cupcakes onboard as well as some Lynx sunglasses, but that was about it. No water cannon salute this time since this wasn't the first Lynx arrival into Calgary (and it was late at night).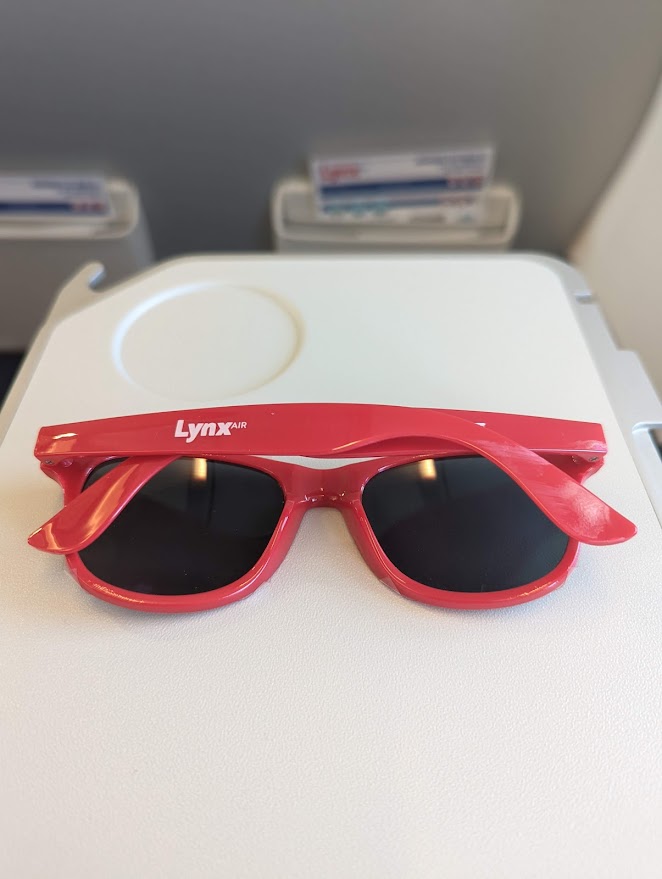 Anyway, Lynx Air's CEO and the President and CEO of the Greater Toronto Airports Authority cut the ribbon, and that was it.
Then, boarding started on time. One thing of note is that Lynx doesn't use a group or zone system to board the plane, but instead boards by seat row… from front to back. I'm not sure I've seen that method on any of the 70+ airlines I've tried, at least not very often for sure.
The staff was very friendly and in a great mood, as you'd expect from an inaugural flight.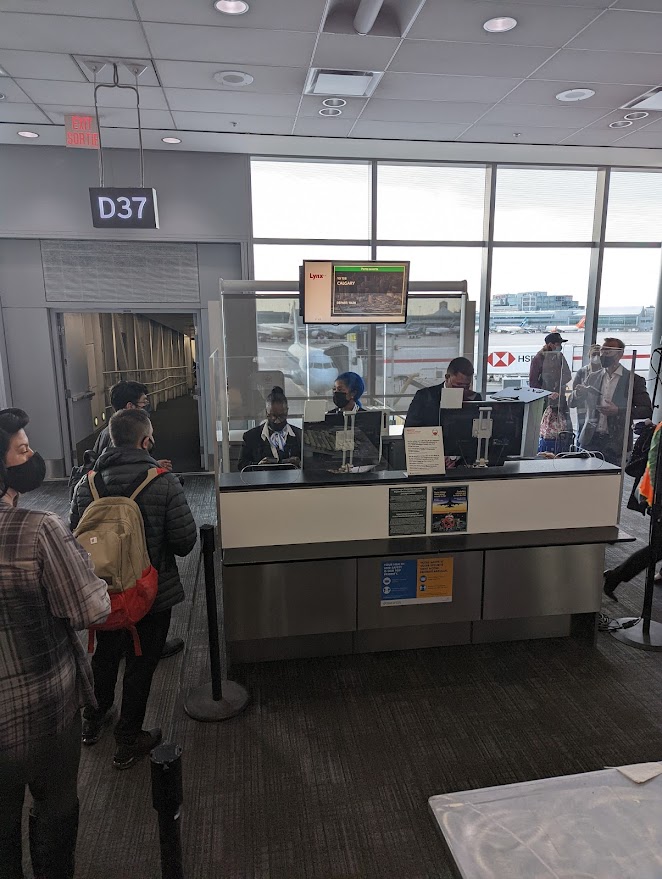 The plane took off slightly later than our scheduled departure time, but the pilots more than made up for it on the way, as we landed in Calgary 23 minutes early.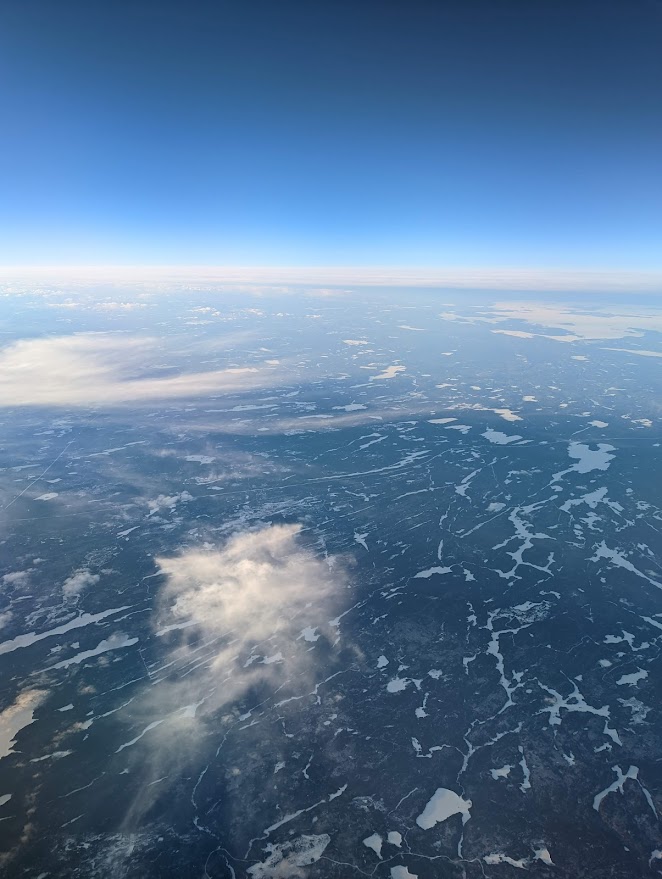 Aircraft – Lynx Air
Cheap flights don't equal old planes, far from it. ULCCs usually have very recent fleets, and that helps keep the prices low because newer planes consume less fuel and require less maintenance.
Lynx is no exception to that rule.
At the moment, they operate 3 brand-new Boeing 737 MAX 8s (also called 737-8s to hide the "MAX" word and reassure those who would still irrationally be scared of what is now almost surely the safest aircraft model in the skies).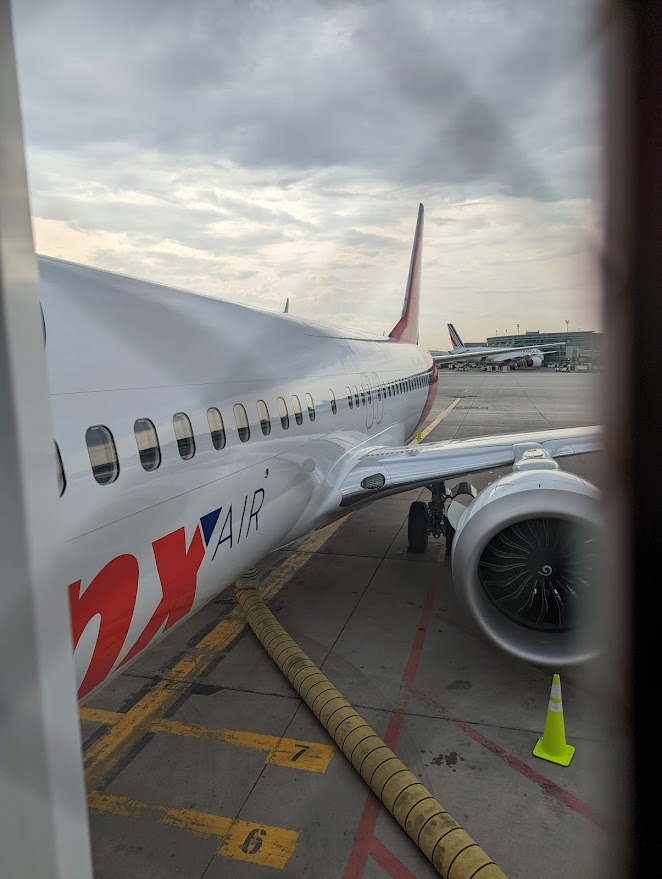 The plane was so new that my tray table's bubble wrapping was still at the bottom of its compartment.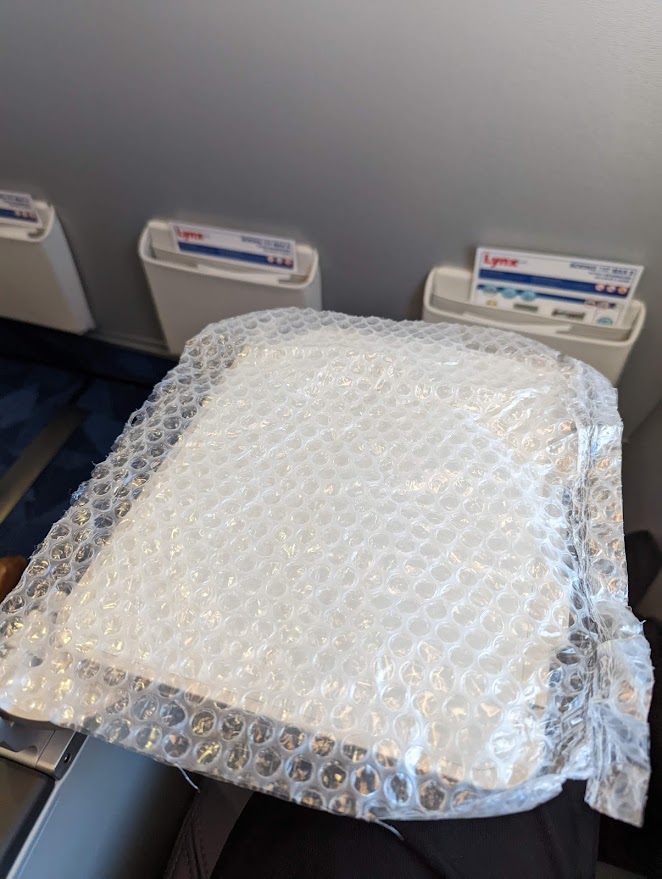 Lynx Air's planes are in an all-economy configuration with 189 seats in the standard 3-3 layout.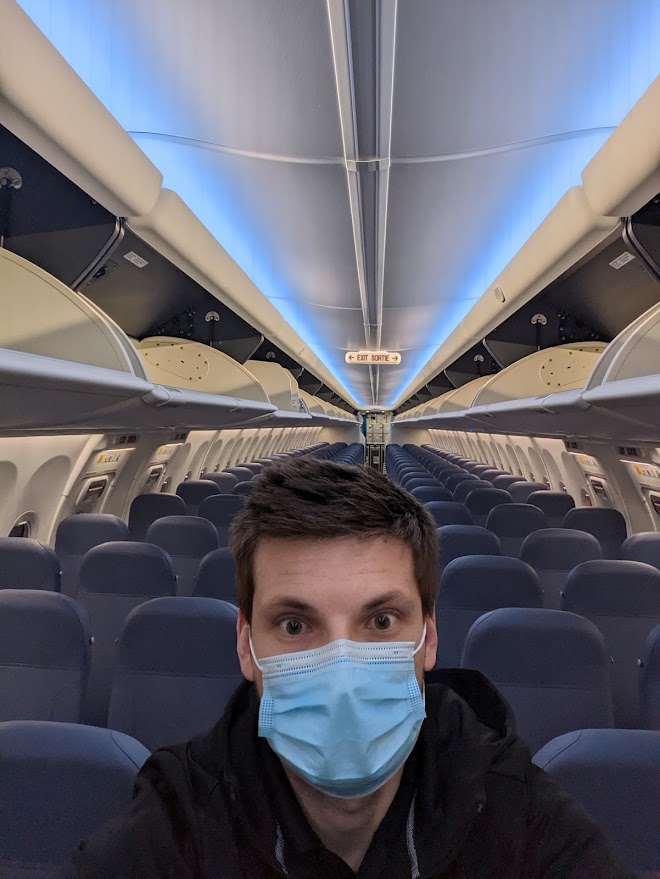 They also have orders for a total of 46 new Boeing aircraft. That's somewhat surprising since Lynx Air is backed by Indigo Partners, a ULCC behemoth behind Wizz, Frontier, Volaris, and JetSmart — ULCCs that each have all-Airbus fleets.
That said, the 737 family is also very popular with ULCCs (and one of the most popular in the aviation world as a whole).
It's a beautiful, bright aircraft with larger windows, larger overhead bins, and a quieter cabin.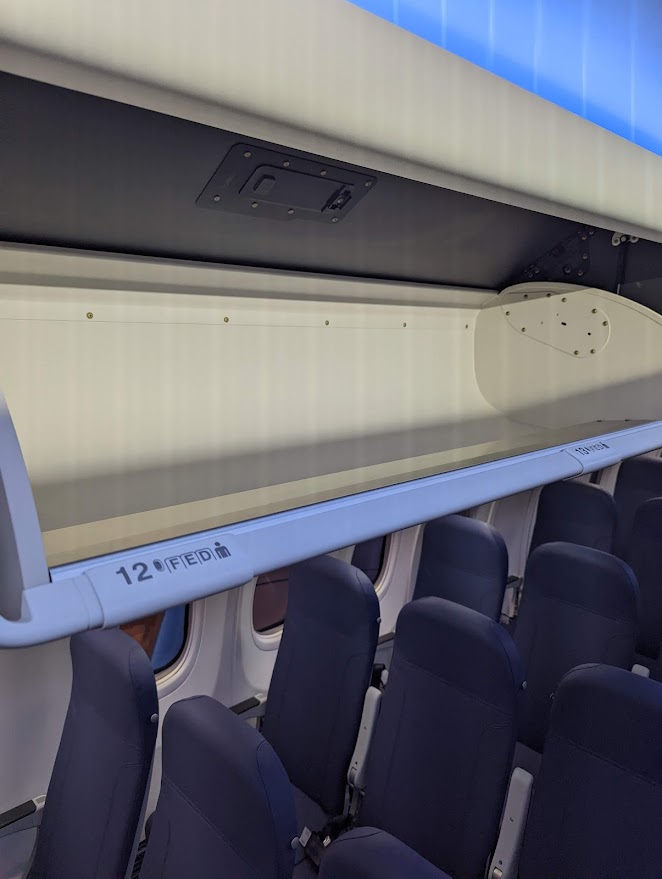 That's another upside of ULCCs: you know you won't ever have to be on a small noisy regional jet, even on short routes.
Seats and comfort – Lynx Air
Lynx installed the slimline RECARO seats, which I found very comfortable myself, and there seemed to be a consensus among passengers that they were pleasantly surprised for a nearly 4-hour flight.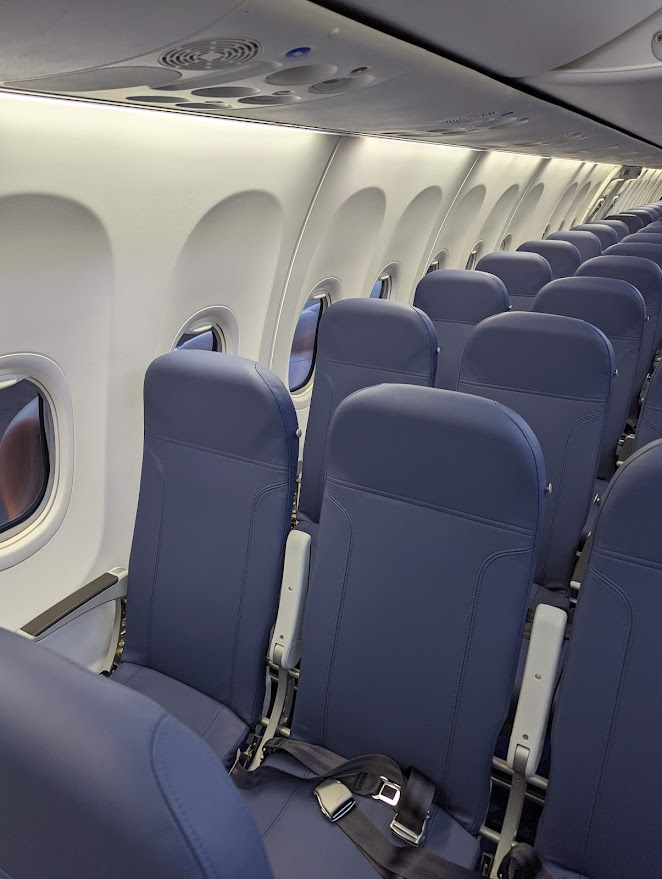 Yes, it's true that the ULCC model usually means a little less legroom because it means being able to carry more passengers and reduce costs.
But only a little less; it's really important to mention it. Having flown on hundreds of flights on both ULCCs and regular airlines, I can honestly say that the difference is really minimal.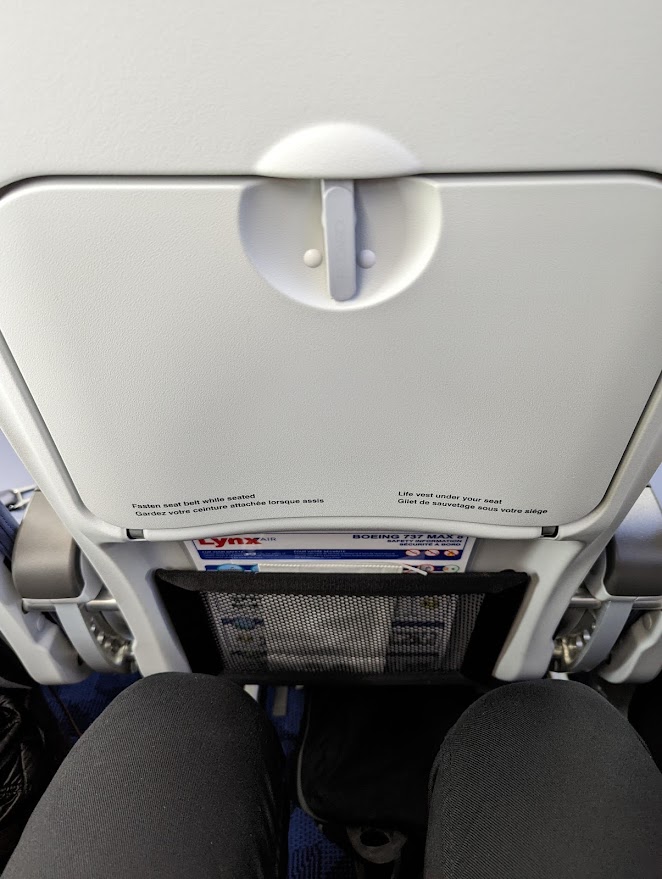 If you want numbers, the seat pitch, which is the distance between two rows of seats, is 29 inches on Lynx, while it's usually 30 inches (31 or 32 sometimes) on regular carriers. An inch or two of legroom doesn't really change much in terms of comfort.
Even if I'm almost 6 feet tall, I was comfortable in the regular seats — at least, just as much as on regular airlines — in terms of legroom. Unfortunately, I got assigned a middle seat (2B) and as I said, I never pay to choose a seat. Not wasting money is how I get to travel a lot.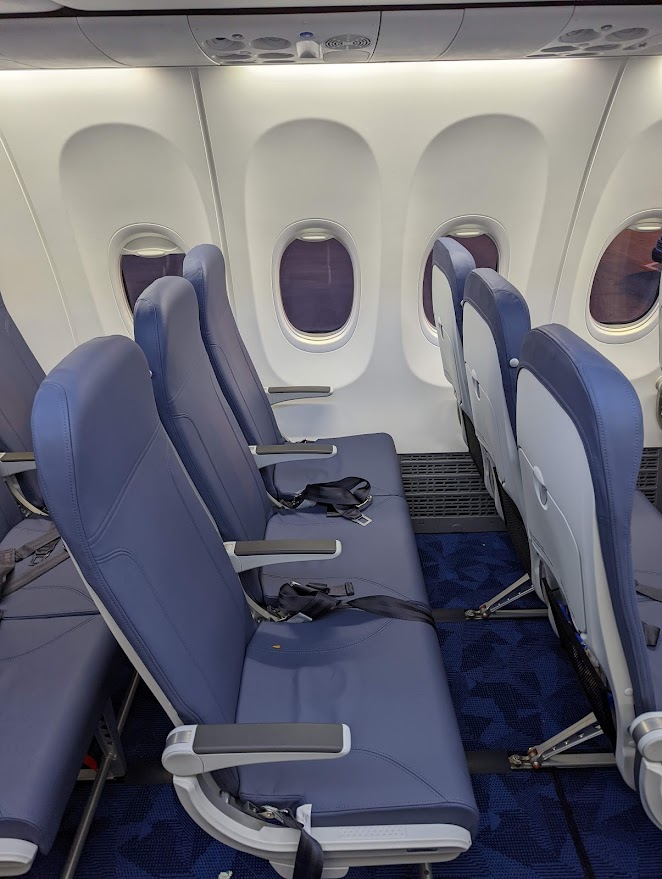 But just before takeoff, Lynx Air's marketing manager saw me stuck there and graciously offered to share his full bulkhead seating row (the first row in the front) with me, so I got to experience the extra legroom seats too (2F).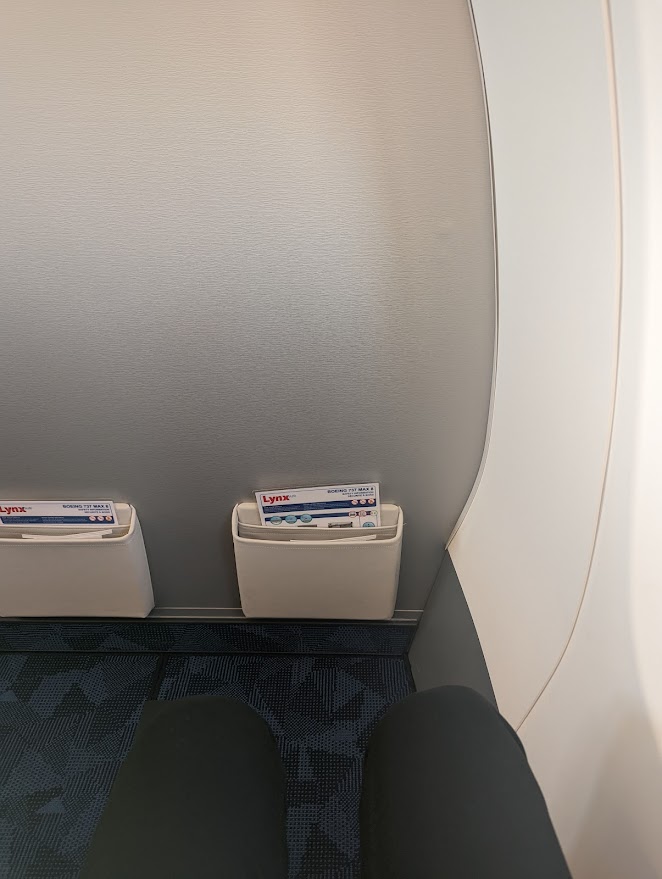 If you want more space, Lynx only charges about $50 for those extra legroom seats. I think that's actually pretty competitive compared to regular airlines if you're into that sort of thing.
As is the case with many other ULCCs, seats do not recline, which I personally love because I hate when others recline onto my already-limited space.
And I found the seat's angle to be very comfortable as it was.
The tray table for regular seats seemed pretty close to the standard size.
Finally, if you want to choose your seats, even the regular ones, there is a fee for that like most ULCCs. So just let the system assign you any seat, that's always free. You'll survive, no matter where you sit.
But again, they give you the option to pay for seat selection, if that's what you want to do. The key thing is exactly that: it's up to you to decide! On the Calgary-Toronto flight, it's $17.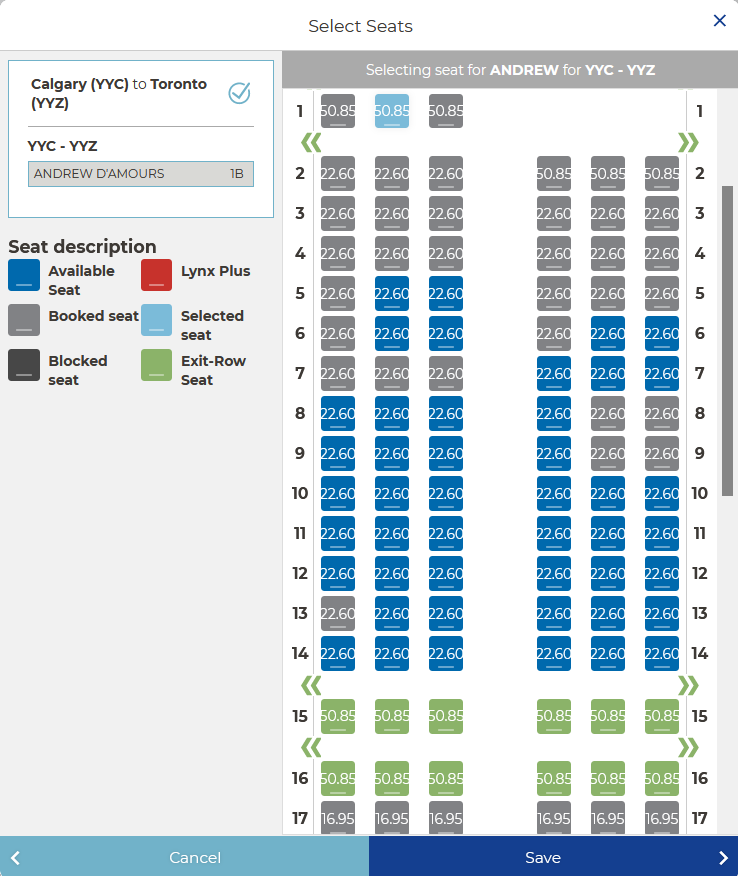 If you do decide to leave it up to the system but want to increase your chances of being seated with your travel buddy, follow our pro tip and check-in online as close as possible to the 24-hour mark before your takeoff when online check-in opens.
In-flight entertainment – Lynx Air
Again, a lot of people often complain about in-flight entertainment on ULCCs. Personally, I don't really understand this issue: I don't understand how you could not want to save half the price just to have a screen.
Pro tip: bring your own entertainment with you and you're all set!
Unfortunately, Lynx seats do not have power outlets, though. So make sure to charge up every device before your flight. There's no in-flight magazine to read either.
Finally, they also don't offer onboard Wi-Fi plans. I love traveling way too much (that is, keeping my money to pay for more flights) to pay for Wi-Fi anyway, but if you usually use that, plan accordingly.
Food and beverage – Lynx Air
The ULCC model is usually simple. If you want something, you buy it. So you will pay for your meal if you want one… just like you do it every other day of the year.
However, Lynx doesn't offer food or drinks for sale at all (they did serve free water, of course; twice during the flight, in fact).
I think it's the first time I see this, especially on a ULCC that usually depends on what is called ancillary revenue like that to increase their revenue per passenger.
Their website mentions that the unavailability of food is due to COVID-19, but in her speech prior to boarding, the CEO encouraged passengers to get food in the terminal because they "believe passengers can get more value and more options" this way. That doesn't give me the impression that it's really due to COVID-19, but we'll see.
So bring a snack with you onboard and it won't cost you a penny. I personally recommend these protein bars, which taste great (I always bring a box when I travel).
But also, it's another great reason to get a travel credit card with free airport lounge access and eat for free before your flight (most lounges even have snacks you can sneak into your bag for the flight too, even if they usually tell you not to 😉).
Service – Lynx Air
Of course, everyone on the ground was cheerful since it was a celebration-worthy moment, the airline's very first flight from Toronto. And the flight attendants were very friendly too.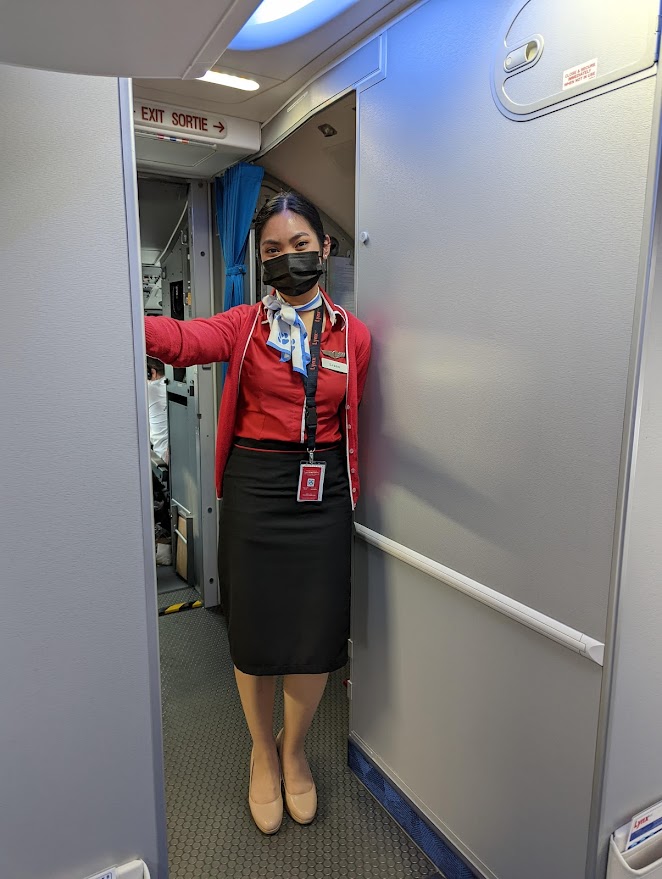 At the risk of repeating myself, I've been on many ULCC flights in my life and even more regular flights… so I can comfortably consider myself qualified enough to compare.
And I never thought that the staff or the service onboard was worse on ULCCs than on regular airlines. Never. So the fact that it's cheaper doesn't mean you'll be treated any differently onboard, definitely not.
If anything, I've found that the more informal vibe on most ULCCs tends to lead to having laidback and fun flight attendants who offer even friendlier service, which sure was the case on Lynx. Overall a great experience from A to Z.
Baggage – Lynx Air
Let's end with this, since that's the most common issue that seems to come up with ULCCs due to most people being so addicted to bringing way too much stuff everywhere they go.
No, there is not only no checked baggage included, but there's also no full-size carry-on included either, as with pretty much all ULCCs. Your ticket includes a "personal item," which is a bag that must fit under the seat in front of you. A small backpack, basically.
There was no baggage sizing device as there normally is, so I'm not sure how strict they are with the measurements. Clearly not at all for an inaugural, but probably more for regular flights.
I went to Lynx Air's competitor's counter to snap a picture of the sizing device for those unfamiliar with how airlines measure bag allowances.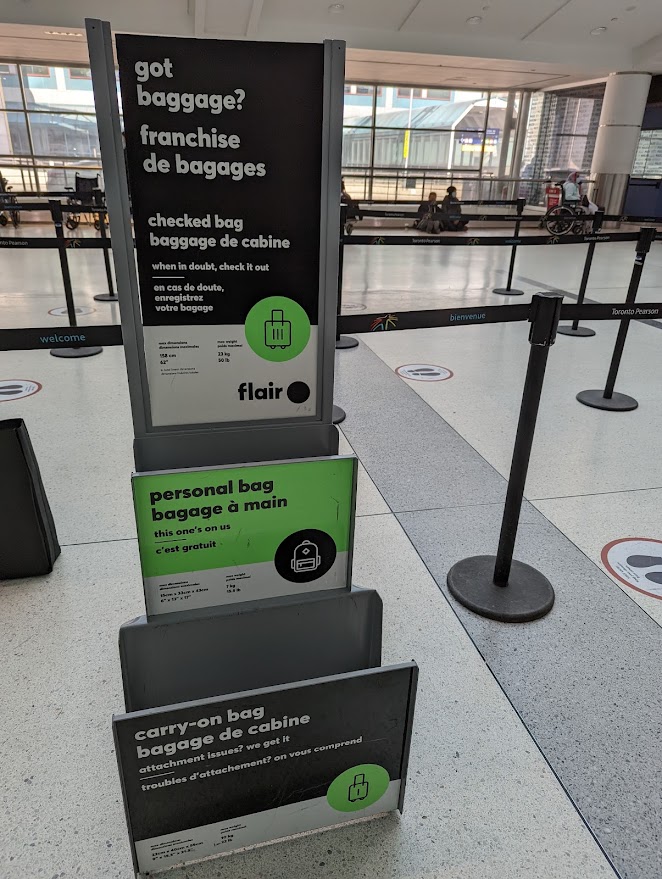 Baggage, by the way, is not free on any airline: you pay for it in the higher ticket price, which is often twice as expensive as ULCCs. So basically, you just don't have the option of not paying for it. You pay whether you use it or not. But having more options is always better, that's not debatable. And that's what ULCCs give you.
The great thing about Lynx (and other ULCCs) is that if you want to travel light, you can save a ton of money.
That's in part why I was able to take ≈ 300 flights since we launched Flytrippers 5 years ago (the pandemic obviously lowered my stats too). I never pay for checked bags. When I fly with ULCCs, I almost always only fly with the small backpack that's always included for free.
And yes, it's very doable, so stop saying it's impossible! I have done it dozens and dozens of times; you just need to try it once and see how you like it. If you don't want to, that's fine too… but it's very doable.
By the way, if you don't want to travel light, even when paying for a bag (carry-on or checked), ULCCs are almost always still cheaper than regular airlines, as I mentioned earlier. Just make sure to always compare.
The thing you need to know, if you decide not to prioritize traveling for less, is that it's much cheaper to pay for your luggage online before your departure than at the airport.
Also, we'll have more content about traveling light coming soon, to tell you all in one place about our tips and tricks to travel light so that you can do it too. And also how bag allowances work on all airlines, in great detail. Don't miss it (subscribe to our free newsletter so you don't miss anything).
Anyway, my point is that I've been on many trips with just a small backpack, even for multiple weeks. Do that too, and your bag fees will be $0.
If you do want a full-size carry-on, it starts at only $30 more each way, which is pretty reasonable. A checked bag starts at just $42. But again, it's not mandatory, it's an optional fee: you get to choose if you want to spend more or not.
Here are the full-size carry-on prices for Lynx Air flights.
Flight distance
Online booking / Web check-in
Airport check-in
Short

(Under 1000km)
$29.99 - $34.49*
$39.99 - $45.19*
Medium

(1000km to 3000km)
$39.99 - $45.99*
$49.99 - $56.49*
Long

(Over 3000km)
$49.99 - $57.49*
$59.99 - $67.79*
*Prices will vary depending on the tax applicable.
Here are the checked bag prices for Lynx Air flights.
Flight distance
Online booking / Web check-in
Airport check-in
Short

(Under 1000km)
$39.99 - $45.99*
$59.99 - $67.79*
Medium

(1000km to 3000km)
$49.99 - $57.49*
$69.99 - $79.09*
Long

(Over 3000km)
$59.99 - $68.99*
$79.99 - $90.39*
*Prices will vary depending on the tax applicable.
The 2nd and 3rd checked bags are more expensive, as is almost always the case.
Overview of Lynx Air's initial route network
Finally, let's talk about Lynx Air's operations, while you await our post with a list of absolutely all the ULCC routes in Canada now that there are a ton!
Here's a map of Lynx Air's initial route network, which will include 10 Canadian cities.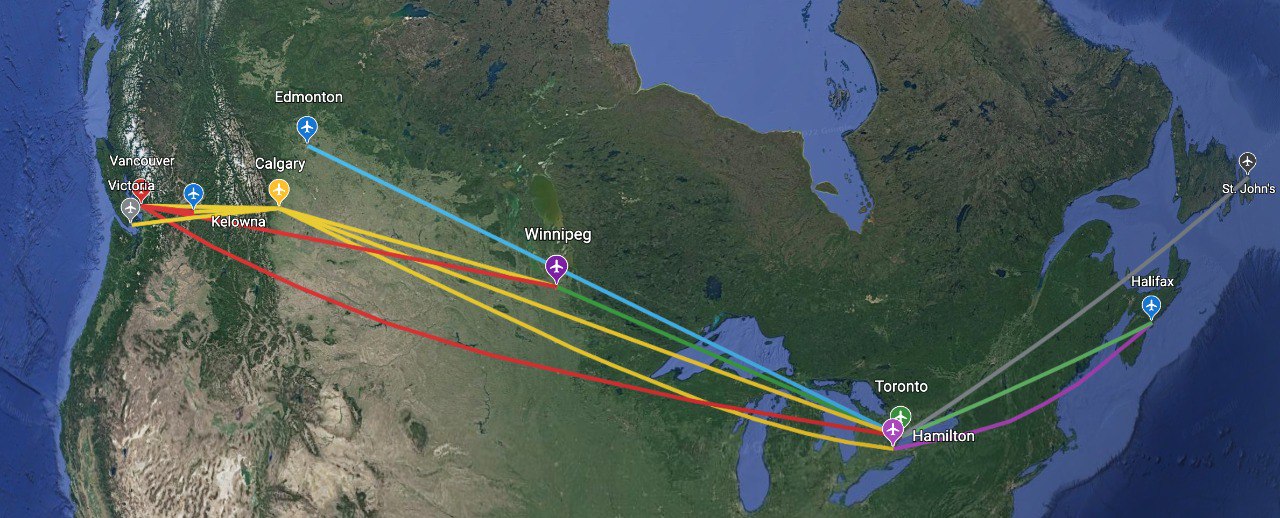 Here are the specific routes, their launch dates, and the link to check prices.
| Route | Launch date | Link |
| --- | --- | --- |
| Calgary, AB (YYC) - Vancouver, BC (YVR) | April 7 | check prices |
| Calgary, AB (YYC) - Toronto, ON (YYZ) | April 11 | check prices |
| Calgary, AB (YYC) - Kelowna, BC (YLW) | April 15 | check prices |
| Vancouver, BC (YVR) - Kelowna, BC (YLW) | April 15 | check prices |
| Calgary, AB (YYC) - Winnipeg, MB (YWG) | April 19 | check prices |
| Winnipeg, MB (YWG) - Vancouver, BC (YVR) | April 19 | check prices |
| Vancouver, BC (YVR) - Toronto, ON (YYZ) | April 28 | check prices |
| Toronto, ON (YYZ) - Winnipeg, MB (YWG) | May 5 | check prices |
| Calgary, AB (YYC) - Victoria, BC (YYJ) | May 12 | check prices |
| Toronto, ON (YYZ) - St. John's, NL (YYT) | June 28 | check prices |
| Calgary, AB (YYC) - Hamilton, ON (YHM) | June 29 | check prices |
| Toronto, ON (YYZ) - Halifax, NS (YHZ) | June 30 | check prices |
| Hamilton, ON (YYZ) - Halifax, NS (YHZ) | June 30 | check prices |
| Toronto, ON (YYZ) - Edmonton, AB (YEG) | July 28 | check prices |
It's worth noting that on every one of its routes, Lynx seems to be going head-to-head with Flair, and also with Swoop on many of them (in addition to the regular carriers, of course).
To give you an idea of the scope of all this, this summer, Lynx will operate 148 flights and have just under 28,000 seats to sell every single week!
That's definitely very good news for consumers who will benefit from the intense competition! Competition is by far the main factor that drives plane ticket prices.
Want to get more content to learn to travel for less?
Summary
I loved my experience on Lynx Air's inaugural flight from Toronto to Calgary. As Canada's 3rd and newest ultra low-cost carrier, it has everything you can expect: low prices, friendly staff, a safe ride, and many options for you to choose from (or not) so that you can pay for exactly what you want for your flight.
What would you like to know about Lynx Air? Tell us in the comments below.
See the deals we spot: Cheap flights
Explore awesome destinations: Travel inspiration
Learn pro tricks: Travel tips
Discover free travel: Travel rewards
Featured image: In the Lynx Air flight deck (photo credit: Andrew D'Amours/Flytrippers)
Advertiser Disclosure: In the interest of transparency, Flytrippers may receive a commission on links featured in this post, at no cost to you. Thank you for using our links to support us for free, we appreciate it! You allow us to keep finding the best travel deals for free and to keep offering interesting content for free. Since we care deeply about our mission to help travelers and our reputation and credibility prevail over everything, we will NEVER recommend a product or service that we do not believe in or that we do not use ourselves, and we will never give any third-party any control whatsoever on our content. For more information on our advertiser disclosure, click here.
Share this post to help us help more people travel more for less: