We've been waiting for this for years, and the moment has finally come to reveal Air Canada's brand-new rewards program. Flytrippers was invited to a presentation by Aeroplan executives two weeks ago and we're really excited to now be able to share what we learned about this simplified (yet improved) program that is now better for leisure travelers and couples/families.
This is a program that is completely revamped from scratch. This very rarely happens, and since Aeroplan is by far the most important individual rewards program for Canadians, we were very anxiously awaiting these details.
Well, the good news is that it's overwhelmingly positive (this also very rarely happens).
We'll have a LOT more content about the new program before it goes live, so subscribe for free to learn how to earn more free travel than ever.
Here's an overview of everything you need to know now.
Key takeaways
The new program's goal is to be easier yet to provide more value… not an easy task. I was skeptical myself, but I am truly very pleasantly surprised.
Aeroplan aims to be the best rewards program for travelers in Canada and aims to compare favorably to the major fixed-value bank rewards programs that have grown a lot in recent years. Of course, Aeroplan points thankfully remain variable-value points… but less restrictive ones.
Before I summarize the new program in a few bullet-points, let's first look at the very high-level takeaways for both experienced Aeroplan users and travel rewards beginners.
For experienced Aeroplan users
While the program has been simplified, which is rarely good news for those of us who love to maximize value, the new program is actually pretty close to the best-case scenario we could honestly expect!
As you'll see below, it's almost all positive, even for us. A lot of great value to be had and mostly great news thankfully. While many programs devalue constantly, to their credit Air Canada (somewhat surprisingly) chose to go in the opposite direction.
Aeroplan claims the net prices are not even increasing overall, which would be great news. But we'll look at that more closely at a later date when we establish our Flytrippers valuation of the new Aeroplan currency.
Finally, the program launch will provide an amazing opportunity to replenish your balance to be able to get free flights whenever you are ready to travel again.
For travel rewards beginners
The Aeroplan team told us one of their goals was to better engage leisure travelers (business travelers already love Aeroplan). In a way, the new program seems geared towards casual travelers specifically, which is great news if you are just getting started in the world of points.
For you, the program has been simplified and improved in many ways, so it will actually be an amazing time to include Aeroplan in your travel rewards strategy (and it will be easier than ever), and we'll help you do it!
Finally, the program launch will provide an amazing opportunity to start with a meaningful balance to be able to get free flights whenever you are ready to travel again.
Bullet-point overview of the new Aeroplan
There's a lot to unpack here. A ton. To give you just an idea, we spent almost an entire day with the Aeroplan executives to go over every detail of the new program.
So we did our best to synthesize this to make it easier to digest today, in this bullet-point list and in the brief introduction to each point below.
We'll go into more detail about each aspect in the coming weeks. We'll also have a video series about the new program (again; subscribe for free to be the first to get it) but in the meantime, don't hesitate to ask any questions in the comments.
Here are the most important things you need to know.
Basics
what: Air Canada is revamping its rewards program entirely
when: going live on November 8th, 2020
transition: all current Aeroplan miles will transfer 1:1 to Aeroplan points
best news: expect very attractive new credit card offers
main focus: make it easier and faster to earn… and simpler to redeem
Redemptions
hybrid: two separate systems (Air Canada vs. partner airlines)
cash surcharges: eliminated entirely (!!!)
pricing: based on distance flown
zones: just 4 zones, each divided into "distance bands"
stopovers: possible in each direction for 5,000 points (excl. N. America)
Flights on partner airlines
fixed pricing: fixed award chart remains

booking fee: flat C$39 fee per booking
new partners: more additions to come
Flights on Air Canada
dynamic pricing: no more award chart
availability: every seat on every flight
predictability: price range provided
preferred pricing: for elites and cardholders
Booking process
combinations: mix and match AC, Star Alliance and non-alliance partners

flexibility: routings even more flexible
technology: up to 150 results per search
integrated: built-in to Air Canada website
fare classes: tiered options like cash flights
Faster redemptions
points sharing: free family pooling of points
Air Canada earn rate: every flight now earns miles
Points+Cash option: now a better value per point
innovative promos: expect more unique initiatives
Miscellaneous improvements
micro redemptions: use points to enhance experience
elite status: now more shareable and many new benefits
Credit cards
new features: cards have all-new Air Canada benefits
card levels: entry, main, premium, small business
financial partners: AMEX, TD, and CIBC will all offer "core" and premium
premium card: with many benefits for elite members
What you need to do
Finally, before we get into each of those aspects, here's the actionable part: what all Canadian travelers need to do in terms of the next steps.
For experienced Aeroplan users
There are a number of things you can do to maximize the value of your current Aeroplan Miles before the new rules take effect, and we'll soon share a very detailed guide for our free travel rewards points newsletter subscribers.
For example, there are many current sweet spots disappearing that you'll be able to book all the way into September 2021 (since you can book until the new program rules take effect and you can book nearly a year out.
Finally, November will bring exceptional new credit card products and offers. We can share the benefits, but the welcome bonuses are actually the only thing that can't be revealed until November… but let's just say you'll want to be in a position to be able to apply for a card or two. We certainly have timed our personal planning around this.
Since you're probably no longer a travel rewards beginner, your card application cycle is probably close to the 3-month standard timeframe, so if you want to apply for a new credit card before November you should do it right now to unlock the welcome bonus before the Aeroplan launch if you can—or if you're not a big spender, you should probably wait for November's offers.
For travel rewards beginners
Since you are just beginning, your credit card application cycle should be much slower at first, so you should probably refrain from applying for any cards until November.
The program launch will bring exceptional new credit card products and offers. We can share the benefits, but the welcome bonuses are actually the only thing that can't be revealed until November… but let's just say you'll want to be in a position to be able to apply for a card or two. We certainly have timed our personal planning around this.
Introduction to the new Aeroplan program
Basics
Here are some logistical elements.
Background
The new program was a massive undertaking; a project 3 years in the making. Air Canada aims to be the best airline so they decided that the new program should aim to be the best too.
They're clearly very excited to roll it out (and we are too). There are a lot of features that are not only very cool but also completely unique among the many programs that exist around the world.
I'll talk about some background info and more general insights from our conversations with the Aeroplan team that day separately, for those who are rewards points nerds like me.
Timing
When I talked to Air Canada VP of Loyalty Mark Nasr in January at the Air Canada A220 unveiling, he promised that they would do the right thing and that members would get the details of the new program "months" before they went live so that there would be no surprises and we'd get time to adjust.
Indeed, we get nearly 3 months of advance notice, which is great news. On November 8th, all your Aeroplan miles will become Aeroplan points and all the new program rules will take effect.
By the way, I find the new logo very nice. You might not have noticed, but the "E" is actually formed by 3 cockpit masks, a clever nod to a very distinctive feature of Air Canada's current livery.




Focus
Since making it faster to earn points was a focus of the relaunch, you can expect amazing credit card welcome offers on November 8th to promote the new program.
It is really a huge opportunity for all Canadian travelers: these might be the best bonuses we've seen in years, as they want to get travelers to engage with the new program and get travelers to know it.
More broadly, the Aeroplan team wanted to strike the right balance of keeping great value for serious travelers and making the program more accessible to casual travelers, which was ambitious… yet seems to have been achieved in our opinion.
Redemptions
This is obviously the most important part of the program and where there's the most content.
Hybrid
In the current program, there is a fixed award chart: a flight from Canada to Spain always costs the same amount of points, whether it is on Air Canada or on a partner airline (the ≈ 30 airlines you can fly thanks to Aeroplan). Except for the cash surcharges you have to pay on Air Canada and a few partners.
In the new program, it's really two completely separate systems: redeeming for flights on Air Canada works very differently (no more award chart) than redeeming for flights on all partner airlines (still an award chart).
The best value for those who want to maximize will most often remain with partner airlines, but for those who want things to be simpler, Air Canada flights will be less restrictive.
So we'll look at both separately, but first, here are the details for all the new rules that apply to both types of redemptions.
Cash surcharges
All cash surcharges are a thing of the past. This is awesome! No more having to choose specific partner airlines to get the maximum value for your redemptions.
You'll never see a flight costing hundreds of dollars in cash in addition to your points like it is currently the case on Air Canada flights and a few of the 30 partners.
Pricing
The cost for each flight is currently only region-based. It will now be distance-based. That means that the award chart has different prices within a region, based on how far you fly.
For example, in the current program, all flights from Canada to Italy cost the same amount of points: no matter where in Canada you fly from, no matter where in Italy you fly to.
Now, the cost to fly to Rome could be lower than the cost to fly to Milan since it's further away (depending on where you are flying from). The cost to fly to Rome will also be lower from Eastern Canada than from Western Canada.
Zones
On the other hand, regions remain but are simplified with just 4 of them remaining, called travel zones. These zones are divided into a few "distance bands" that each has a different pricing level.
The four zones are:
North America
South America
Atlantic
Pacific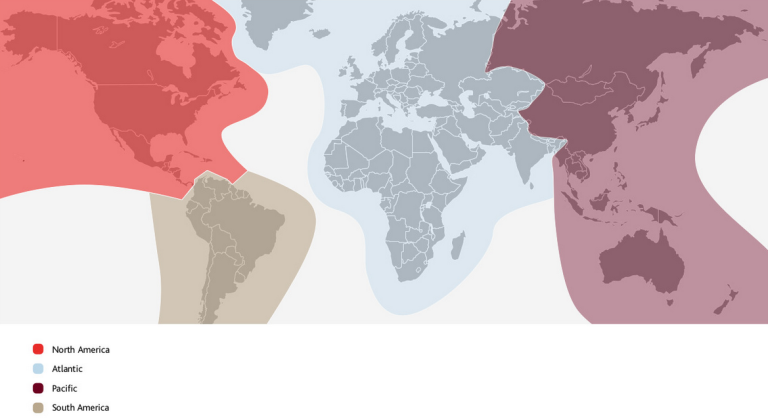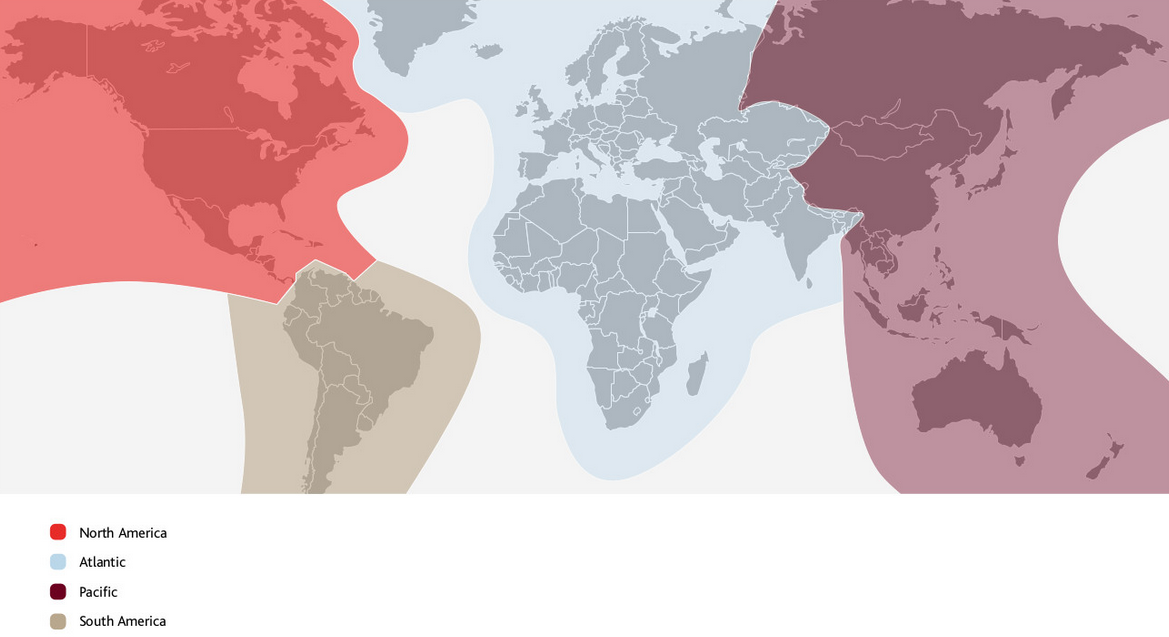 For example, instead of dividing the Atlantic zone into more regions, the cost will simply be based on the distance flown, as shown in this award chart for partner airlines in the Atlantic region.
I am hiding the price levels because I want to explain how they work first, it's pretty unique 😉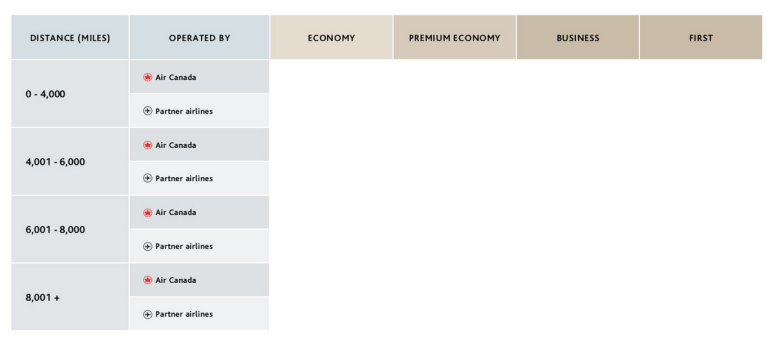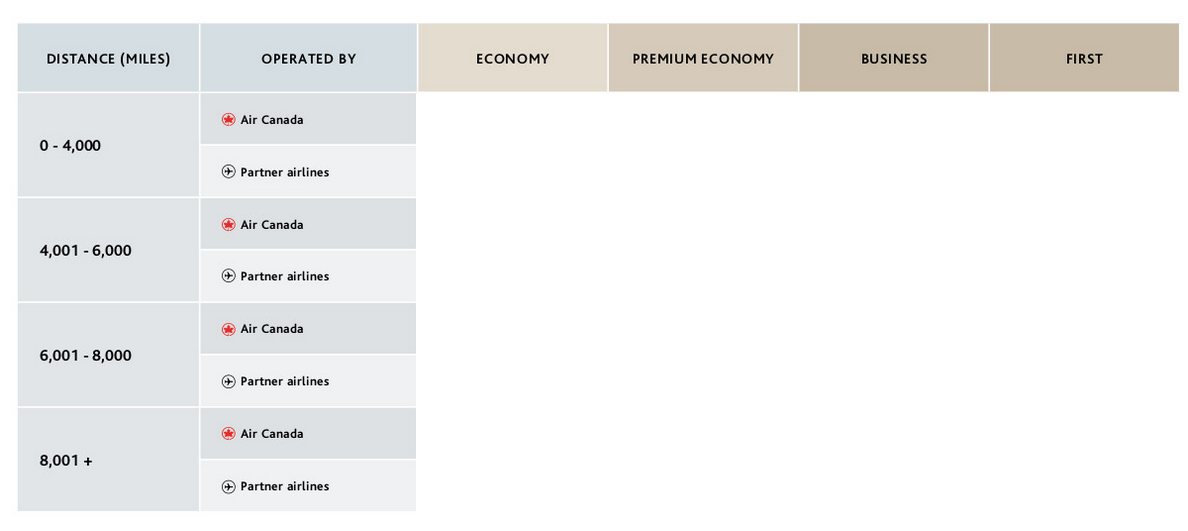 Stopovers
The now-defunct mini-RTWs (Mini Round-The-Worlds) were very popular, allowing you two free stopovers on a roundtrip so you can visit 3 destinations for the price of one (I used it for an amazing trip when to visit the French Alps and 2 Middle Eastern countries in 2018).
Well, they're back! Kind of. The option will now be available again, and in fact, you can even add a stopover to any one-way, which wasn't possible before.
But it comes at a price: you'll need to pay an extra 5,000 points per stopover, which in most cases is still an excellent deal to visit an extra destination for as long as you want. Stopovers won't be available in North America though.
Flights on partner airlines
Here's how it works for all partner airlines.


Pricing
The great news is that the fixed award chart remains for all partner airline redemptions. It is a set price that won't ever change. No change on this front, except the actual pricing mechanism now being distance-based, as mentioned.
This is really where the best value will likely remain given the nature of having a fixed award chart.
Some prices are going up compared to the current award chart, that was a given. But globally, it's still very positive considering Air Canada committed to keeping the transparency that comes with award charts… and removed all surcharges.
I've included all award charts in a separate article for easy reference instead of having all 10 here.
Subscribers to our free travel rewards points newsletter will soon get our detailed comparison of the pricing levels in the current program versus the pricing in the new program for each destination, so sign up for free today.
Booking fee
Another of the very few negatives is the addition of a flat C$39 fee for all bookings partner airlines, a way to compensate for the lost revenue from removing all surcharges.
Even if I'm among the ones negatively impacted (I almost always used my Aeroplan miles exclusively on airlines with no surcharges so I will be now paying a bit more cash than before), the fact that all airlines are now surcharge-free will make finding availability so much easier so it's a tradeoff I can definitely live with.
To be clear, this fee is charged for every individual booking, which means there is now an incentive to book roundtrips (while for many, booking two one-ways could often make sense before). So it will be effectively under $20 per direction.
New partners
As part of Star Alliance, by default Air Canada already has the widest network of partner airlines with whom you can fly with your points. But Aeroplan also has a few non-alliance partners and they've even added two more in 2020 (Etihad and Azul).
At the presentation, the Aeroplan team really insisted on the fact that they are looking to add even more unique non-alliance partners, which is great news to offer more availability and more routing options.
Flights on Air Canada
Now here's how using points will work for Air Canada flights only.
READ ALSO: Our Air Canada flight to Europe last week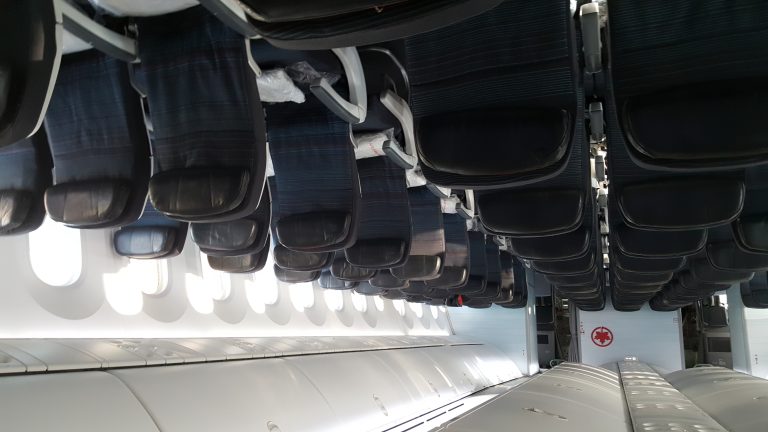 Dynamic pricing
For Air Canada flights, there is no longer an award chart with fixed prices for every destination: they will be priced dynamically (variable prices).
What does that mean? Unfortunately, the cost in points will be closely linked to the cash price. This eliminates many opportunities to maximize the value of your points on Air Canada, but makes it incredibly simpler.
As for anything in the world of travel, there is always a very clear dichotomy: either it's simpler, either it's cheaper. So the upside of dynamic pricing for some is that it is a lot simpler for the average person who doesn't want to rack their brains and wonder whether a redemption is good. To the detriment of eliminating many of the better redemptions for everyone else sadly.
In other words, instead of like right now, where there are:
well-informed travelers who maximize their miles and get amazing value
less-informed travelers who use their miles badly and get terrible value
Those two extremes will be averaged out by dynamic pricing and then:
all travelers will get an average value (not terrible, but not amazing)
That said, it also means that some flights that are cheap in cash could also require fewer points than currently.
So it depends on your philosophy. If you love maximizing, this is undeniably negative. If you just want to always use your points—even for bad redemptions—well then this is a positive as you'll have more options… and redemptions will be less terrible than the terrible ones now.
At least, there will no longer be expensive surcharges on Air Canada flights, so depending on the valuation we'll see, it might not be 100% bad.
Dynamic pricing on Air Canada is the main negative point in the new program, but it was simply unavoidable really. Every airline is moving towards this model sadly, and in fact, most casual travelers prefer simplicity anyway. They certainly prefer the next point.
Availability
Dynamic pricing means more seat availability. Every seat on every flight actually.
Most casual travelers want to be able to use their points for any seat and that will now be possible on Air Canada. But they'll be available at prices that are necessarily higher. That's why the award prices are now dynamic.
Predictability
Now the good thing is that they do provide a price range for every distance band in every region.
For example, here's that same Canada to Europe flight from the earlier example with the Air Canada pricing range included.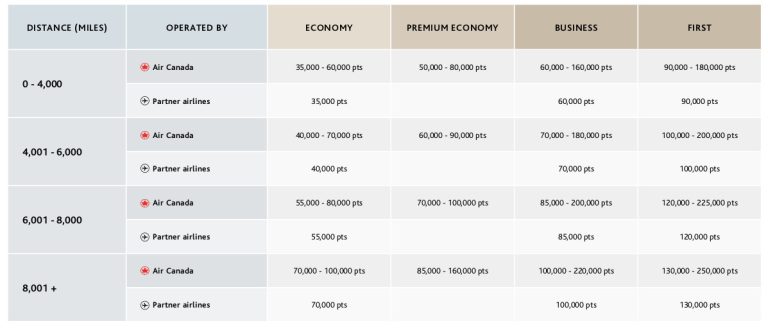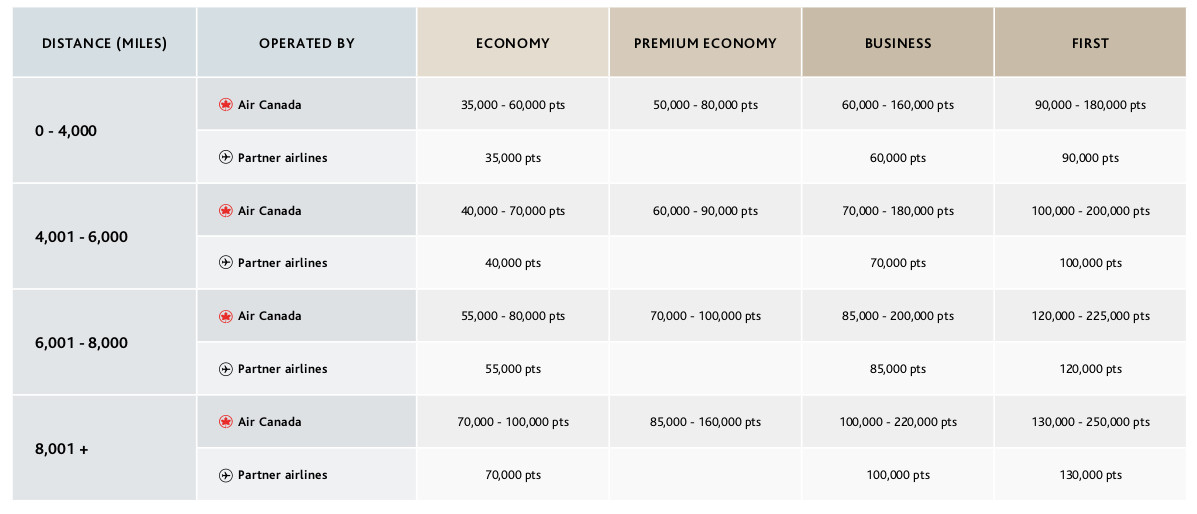 Just to be clear, this range is absolutely not a minimum or a maximum.
This range represents the price you'll actually pay around 80% of the time for a destination. The normal price. It excludes extremes. It can (and probably will) be higher on the absolute most popular dates and on last-minute flights, but it can also theoretically go lower.
They will even have a Price Predictor Tool to make it simpler to know how many points you are likely to need if you want to fly Air Canada, so that you can plan it out.
So while 80% of the time is not 100%, this is a bit better than on some airlines where the price of a flight will simply be whatever they decide it will be with no transparency and no way of planning ahead or knowing exactly how many points you'll need.
Those award charts are also in the separate article for easy reference. And Air Canada pricing will obviously also be in our comparison of the pricing levels.
Preferred pricing
Having elite status or being an Aeroplan credit card holder will mean preferred pricing on Air Canada flights paid with points.
The exact form of this benefit and how good the discounts are will be revealed when the dynamic prices take effect.
Booking process
Here are a few points about the simplified booking process.
Combinations
The new redemption rules will also offer even more flexibility than before, since you can mix-and-match any partner (star Alliance or non-alliance) with or without Air Canada and combine any route.
This is even better news for those who don't live in a hub city: since every single seat is available on Air Canada, you will always be able to connect to a hub if you have found availability on a partner for your desired flight.
For example, right now if there was availability on your specific date for United Airlines' San Francisco to Sydney flight, you couldn't book it if there was no availability from your city to San Francisco. That won't happen anymore now that you can book any seat on Air Canada and combine them. The math on the pricing would then be proportional to the distance each flight represents in the total distance (since partners have a fixed price and Air Canada flights have a dynamic price).
Flexibility
Routing rules are even more generous than they are now, allowing you to create almost any itinerary. For example, when traveling from one zone to another it will be possible to transit via a 3rd zone.
Combined with the 5,000 point stopovers, that can give you amazing and diversified trips. Prices are based on the distance flown so the detour might mean a slightly higher cost in points, but it will often be an excellent value compared to cash prices for multi-city tickets.
In addition to the stopovers, you can even do open-jaws, which means arriving in one city and leaving from a different one. Again, that is a great way to maximize the value of your points (reminder: the value of a point = the money saved with that point).
Here's an extreme example: your outbound could be Montreal to Phuket, with a one-week stopover in Tokyo. Your inbound could then be Bangkok to Montreal with a one-week stopover in Sydney. All you need to do is buy a $22 flight between Phuket and Bangkok and you get 4 destinations for barely more than the price for just one destination.
Technology
Speaking of combinations, the new Aeroplan's IT system is brand-new. The state-of-the-art technology powers entirely new digital channels, including the possibility of doing almost everything natively in the Air Canada app.
This will allow many features, but the most relevant one, for now, is that it will give up to 150 results for every single one-way flight search. A calendar feature for pricing like with cash flights is coming, but not immediately at launch.
As you may remember, when they moved to this system in the fall, they had many issues given the scale of the project. But everything is now back to normal on this front.
Integrated
Because of the history (Aeroplan had been spun off from Air Canada), there is currently a clunky complicated system where Air Canada and Aeroplan are separate sites. This will no longer be the case.
Everything will be integrated on the Air Canada website and all in one place, making it a much more seamless experience. Searching for flights with points will look exactly like searching for cash flights.
Fare classes
Speaking of, another innovation is that just like with cash flights, you'll be able to pay more points for certain benefits and inclusions (seat selection, flexible bookings, etc.) with the exact same interface as with Air Canada's cash flights.
There will be 3 different levels of options. This will also be available to a lesser extent with partner airlines as well.
Change/cancelation fees
These fare classes happen to be the basis for the new change/cancelation policies, which remain pretty similar and still a lot more interesting than for cash tickets. On November 8th, the new change policy will supersede the current one, even for tickets booked prior to the new program launch.
There are now two different fee levels for changes closer to the flight date (within 60 days) or for changes done more in advance.
We'll get back to this, but in the meantime here is the chart with the different fees.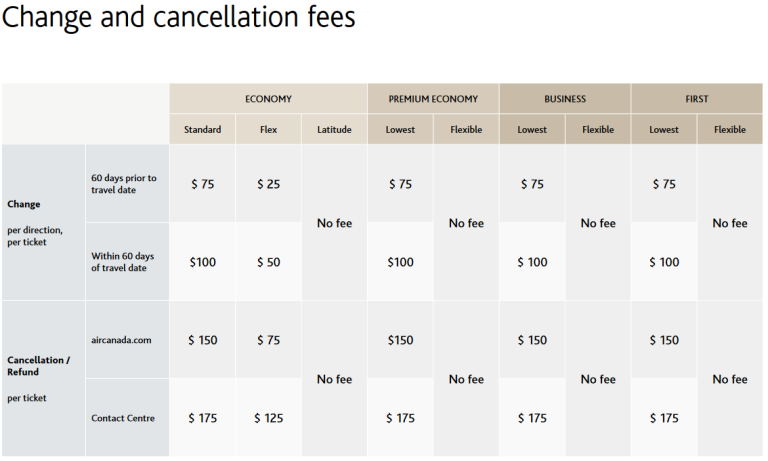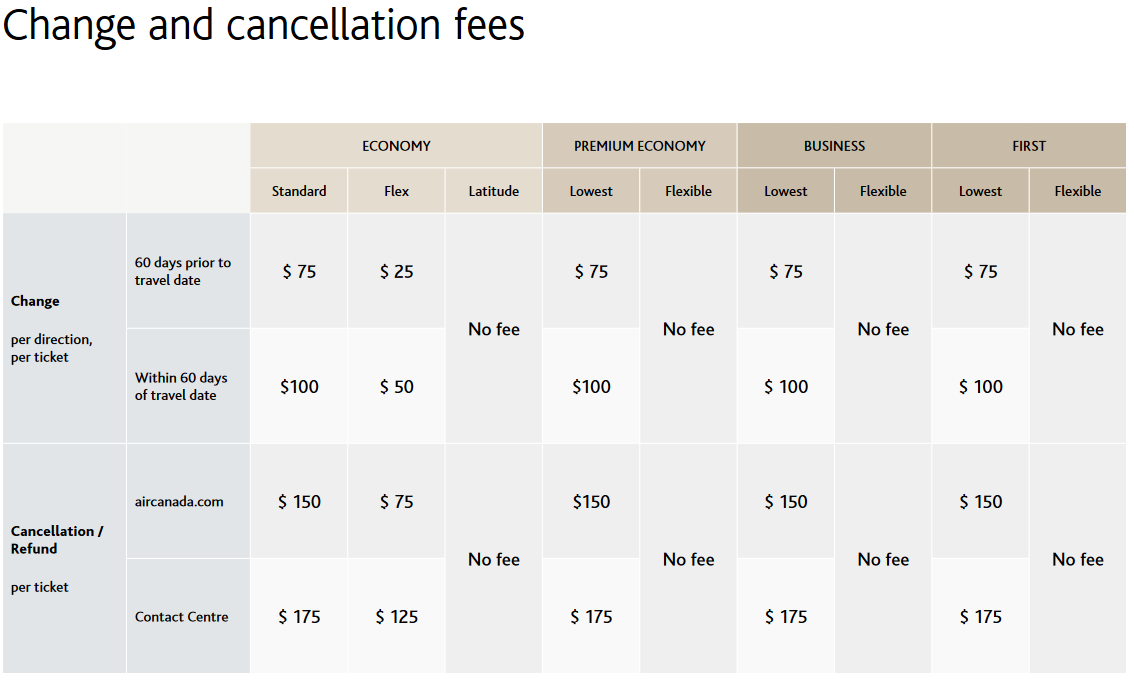 Faster redemptions
Here are improvements in terms of earning points for redemptions quicker.
Points sharing
This might not seem that important, but it's truly a great change. Family members will be able to pool their points together into one "pool" of points. It is free and there are no strings attached or restrictive conditions.
Again, this is part of the effort to make redemptions faster to earn. If a couple earns 3,000 points each, which can be done very quickly, that's already enough for a short one-way flight within North America when combined, instead of having to wait until you have the full 6,000. Twice as fast.
A family pool can include 8 members, and it is possible to only give redemption access to some members for security. Points will be proportionally deducted from each account in the pool based on their balance.
For example, it won't be possible for me to pay for a solo trip with my points alone; a portion will be deducted from my girlfriend's account proportionally.
Air Canada earn rate
Currently, it is extremely complicated to figure out how many points you earn from a flight. It depends on the distance flown, the region/destination, and the fare class. And some fare classes (like Economy Basic—the lowest fares) don't even earn any points.
Now all Air Canada flights will earn points and it will also be extremely simple: it will be based on the price you paid, which is what we call revenue-based. It will be 3X on all flights, except for Economy Basic which will be 2X.
That means that if you pay $500 you will earn 1,000 points. It is always calculated on the base fare only (excluding taxes). Elite members will have multiplies that range from 4X to 7X.
Even though flying is definitely not the way to earn the most points (credit cards are), this is a very positive development.
Points+Cash option
Finally, in that same spirit of making it faster to get to a redemption, the Points+Cash option will be entirely revamped. This exists in the current program if you don't have enough points (or to pay taxes), but the rate that is used makes it an absolutely horrible redemption and one you should always avoid.
But they will now approximately double the current value per point to make it more competitive and offer more value. That said, the valuation used is not publicly-disclosed and will vary.
It will also provide 4 total options: from 100% points to 60% points, with two others in between. In other words, you will be able to pay a portion of your flight in cash even if you have all the required points (if you want to keep them for a better use for example).
More innovative promos
During the pandemic, Aeroplan has been very innovative with their promotions as we told you before. This is the new normal, as they want to engage members more regularly with unique initiatives like that, so we can expect more of those.
While not official or confirmed, I got the impression that some kind of major hotel partnership could be launched in 2021 too, which could possibly be a great addition to the problem (an ideal scenario would be similar to the Marriott-United partnership with Hilton or another major chain, but this is pure speculation).
Miscellaneous improvements
Here are a couple of other noteworthy changes.
Micro-redemptions
You will be able to use points for upgrades, in-flight wi-fi, and other similar benefits to enhance your flight experience.
This will likely not be the best use of points in terms of value, but it is also about making it simpler and less restrictive to redeem even if it's not necessarily the best way based on the math.
Elite status
Since most of you don't spend huge amounts of money on Air Canada flights, I won't delve too deep into the elite program right away, there will be more to come about this (as some of you might now have taken advantage of the elite shortcut this spring as I did).
But here are highlights: with the focus on families, members with elite status will be able to share benefits with their family (including a giftable status pass).
There are many new benefits like the aforementioned discounts on Air Canada award flights and new vouchers for 50% off award flights for big spenders (called "Priority Rewards").
The elite qualification thresholds do not change, but the names are changing, dropping the words: Prestige 25K becomes just 25K (except for Super Elite 100K).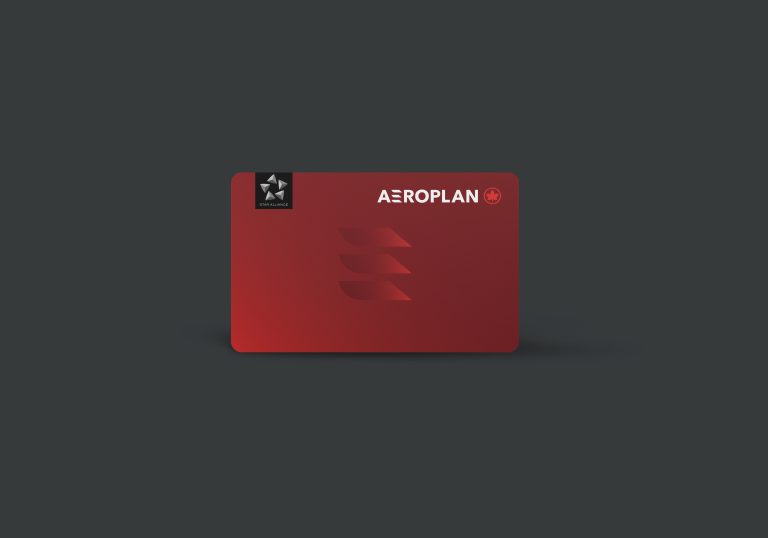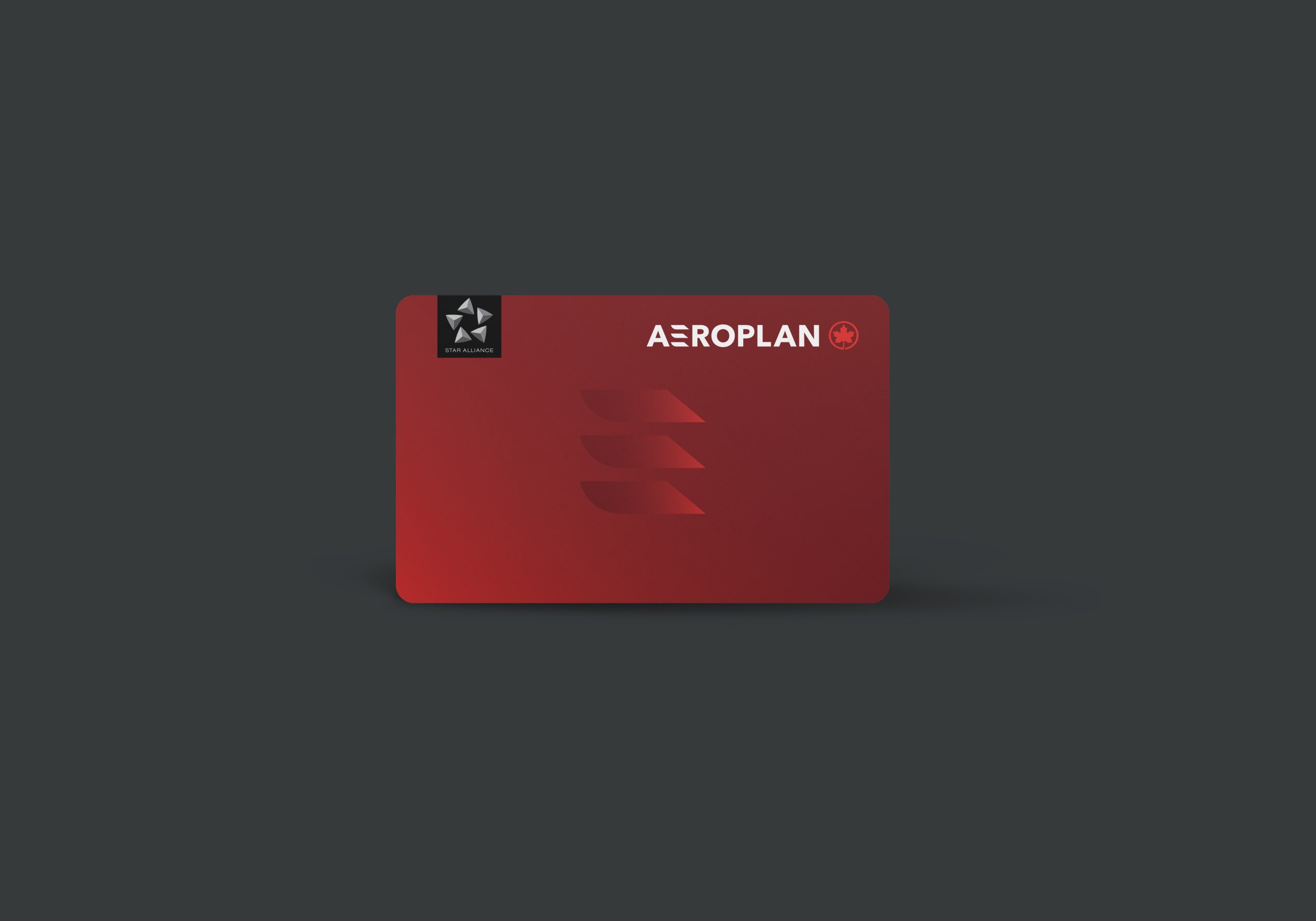 The "everyday" qualification that currently exists (getting status without the flight requirements) will remain.
This will require earning 100,000 points per year (to get 25K status) but credit card welcome bonuses, transfers (from AMEX points for example), and points purchases are excluded from the tally.
Credit cards
Finally, arguably the most important element is the new credit cards program. We've done an overview of the 11 new cards in that post, but we'll have a lot more soon.
There is no rush: the card welcome bonus offers and applications will only go live on November 8th.
All you need to know for now is what I said earlier: plan your credit card application cycle to be ready for November if you want to seize the opportunity to maximize the new Aeroplan rewards program!
Want to get all our upcoming Aeroplan content?
Summary
The new Aeroplan program exceeds our expectations and is overwhelmingly positive for both experienced Aeroplan members and those just starting out in the world of travel rewards… and in a way, the rewards program is tailor-made for casual travelers and those who travel for leisure!
Have any questions about the new program? Ask us in the comments below.
Explore awesome destinations: travel inspiration
Learn pro tricks: travel tips
Discover free travel: travel rewards
Featured image: Canadian Rockies (photo credit: Unsplash)
Advertiser Disclosure: In the interest of transparency, Flytrippers may receive a commission on links featured in this post, at no cost to you. Thank you for using our links to support us for free, we appreciate it! You allow us to keep finding the best travel deals for free and to keep offering interesting content for free. Since we care deeply about our mission to help travelers and our reputation and credibility prevail over everything, we will NEVER recommend a product or service that we do not believe in or that we do not use ourselves, and we will never give any third-party any control whatsoever on our content. For more information on our advertiser disclosure, click here.
Share this post to help us help more people travel more for less: