The Renaissance in Boca Raton is a nice hotel with a resort atmosphere and is a very good option if you are looking for a higher-end hotel in the Northern Miami Metro Area. Here is a review of my stay at the Renaissance this winter.
If you've been following us for a while, you know that we don't only offer great flight deals, but also a hotel booking tool, since accommodations are a huge part of travel planning. To become your favorite destination for all things travel, we are now launching our Hotel Reviews section to share our experience in the various hotels we try ourselves.
In March, I went to Florida (for the fourth time of the winter) to escape the cold once more. I got the chance to try out two hotels: this one, and the Element by Westin Miami-Doral (review coming soon).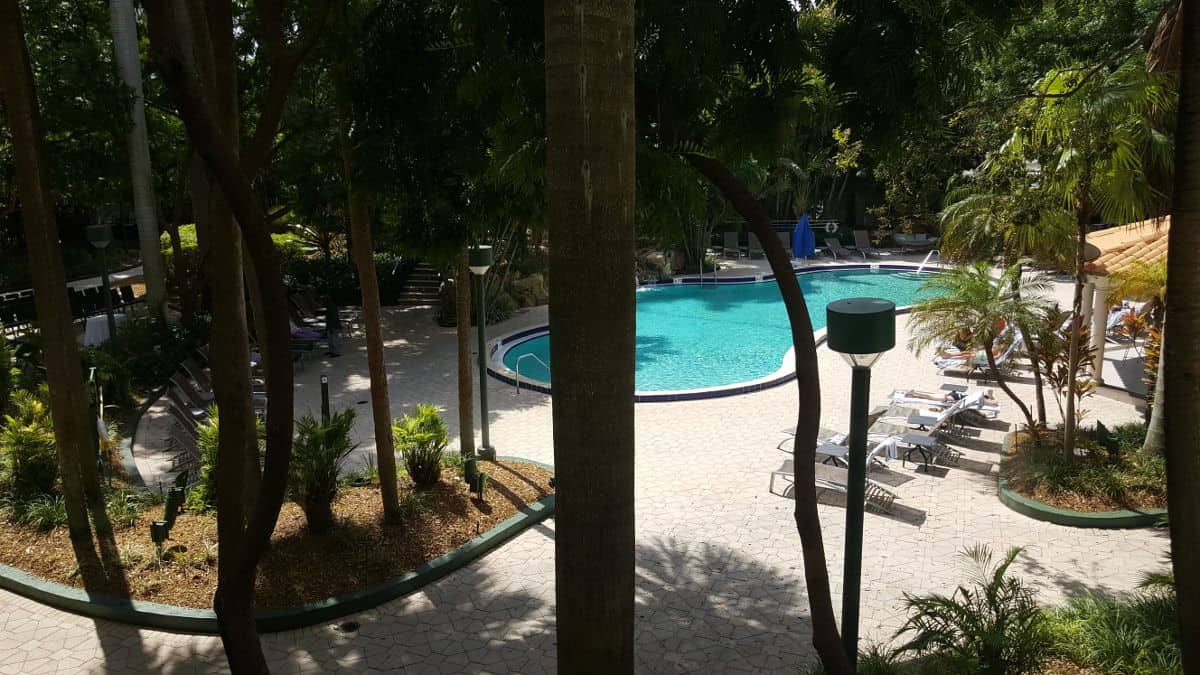 So here's my review of the Renaissance Hotel Boca Raton.
The hotel
The Renaissance brand is on the higher-end of the Marriott group of hotels. As I had recently obtained Gold Elite status for free with my travel credit card, I was really excited to try a Renaissance hotel for the first time. Renaissance hotels are usually mid-upscale so the price was in that range, at $190US a night (it was peak Spring Break season). So there are definitely options that offer a better value, but to splurge a bit, it's a good choice!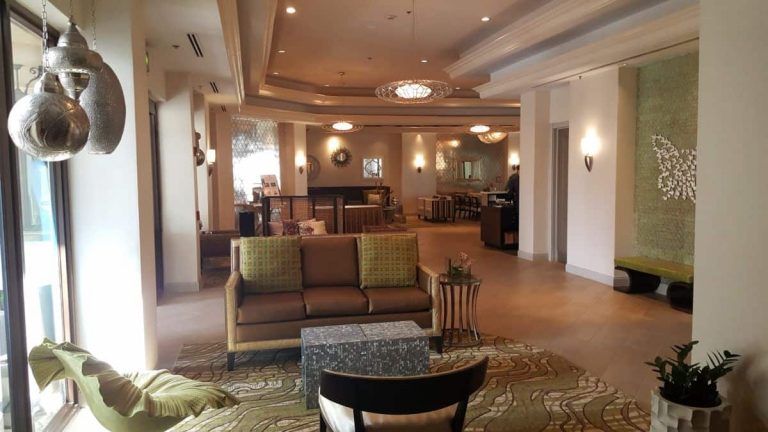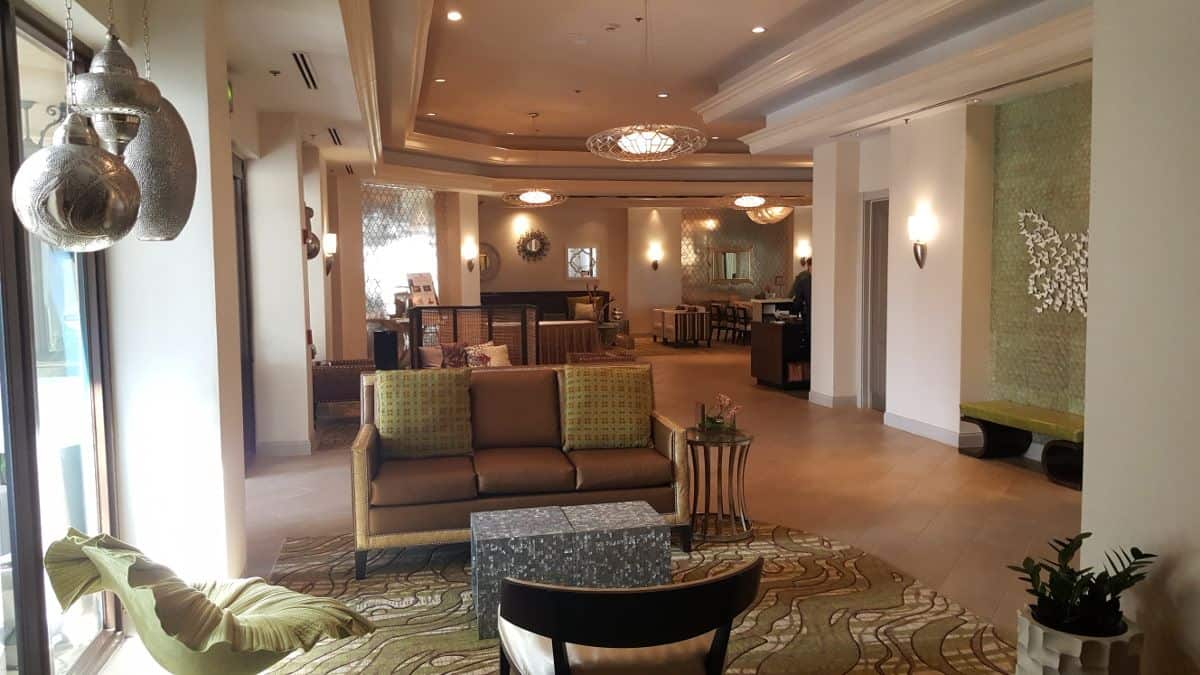 This is as good a time as any to remind you that there are so many good reasons to use our flight deals to save money on the shortest part of the trip, which is the flight. You can then keep your money for other stuff, to travel more, or to enhance your travel experience by using the savings to splurge on nicer hotels to enjoy during the actual trip itself. This hotel fits the last category obviously.
Location
The hotel is located in the heart of Boca Raton, about a 10-minute drive from the beach. It's convenient for those driving around, since it is just off South Florida's busiest highway, Interstate 95.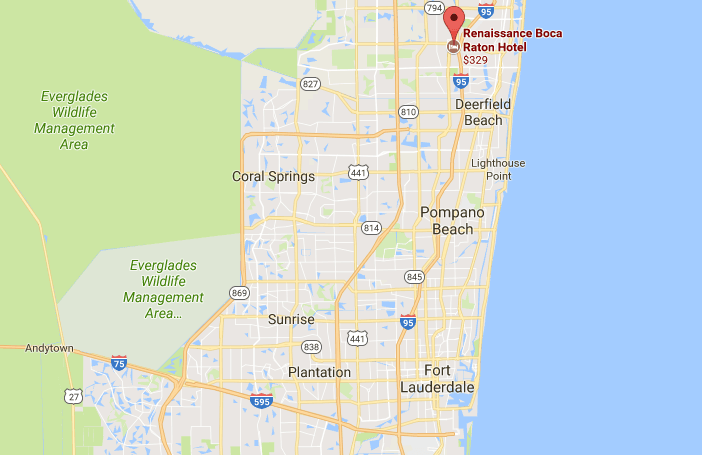 If you do not have a car, just know that it is possible to survive in Florida without a car with a bit of planning. If you're staying anywhere near the beach, especially Miami Beach (seriously you really don't need a car in Miami Beach), you can get by just by using Uber and public transportation.
During this particular stay, I tried not renting a car and took the train for $5 directly at Fort Lauderdale Airport all the way to Boca Raton station. The hotel was a $10 Uber ride from there.
A massive mall is located right next to the hotel, with many casual restaurants as well. But this isn't a hotel with a lively neighborhood close by. At least, for about $10, you can get to the beach fairly quickly by car (and to the Gumbo Limbo Turtle Refuge and Nature Center if you're into that sort of thing).
The only negative part about this hotel is actually the location. A small private airport is right next door, and while there are no commercial aircrafts, there is still a constant flow of private jets that you get used to, but isn't ideal by any means.
Arrival and check-in
My girlfriend and I arrived in the early afternoon and as soon as we entered we noticed the elegant and modern look. The hotel was recently renovated and it showed. The service at check-in was great, and while I was hoping to be upgraded like I was at the previous hotel in Miami, we mostly wanted to take advantage of the early check-in perk that comes with Gold status (12pm instead of 3pm) and that meant less rooms were ready. So the only upgrade we got was a room with a view of the pool instead of the parking lot. Fair enough!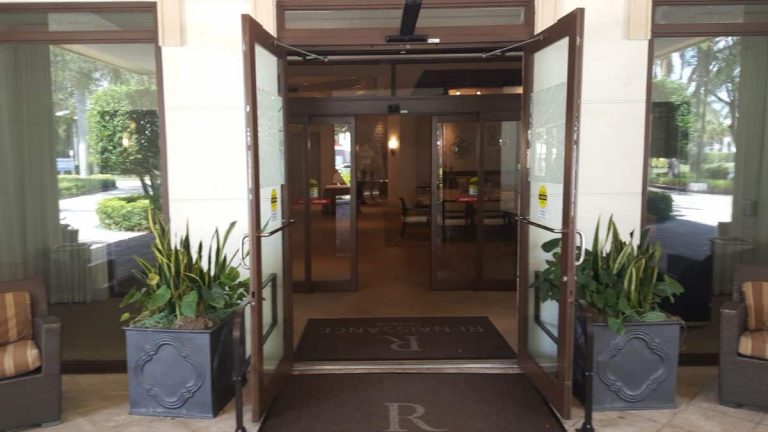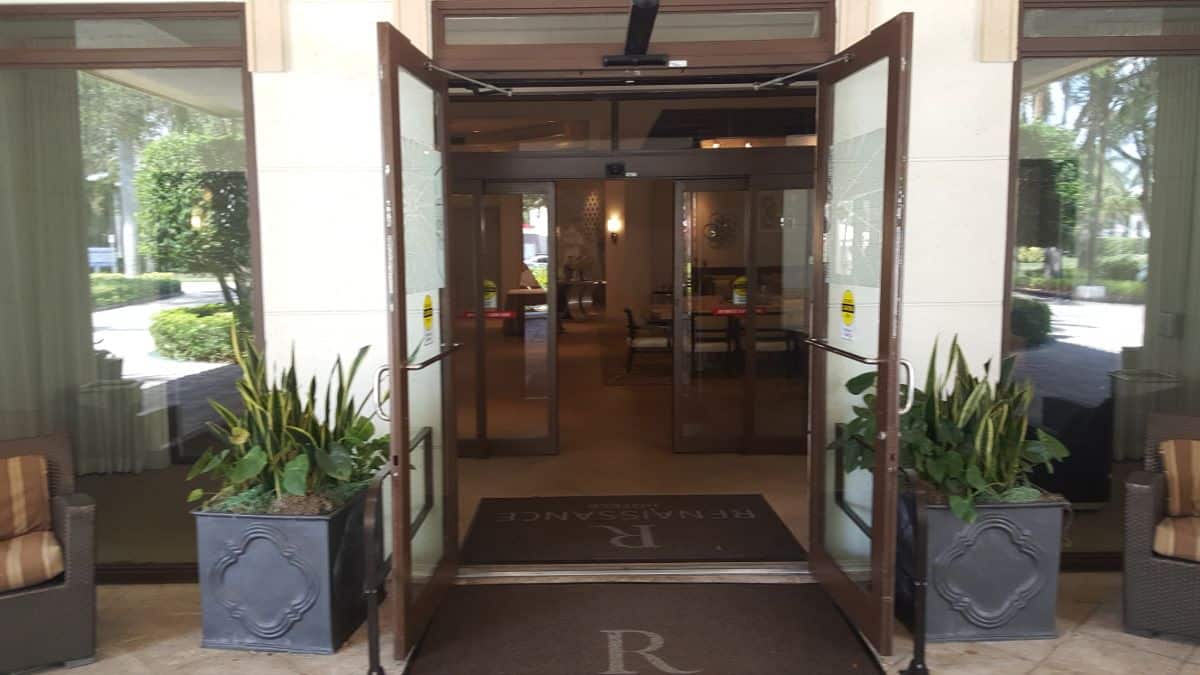 In terms of the entire customer service experience, it couldn't have been better. Employees were all very helpful and pleasant all along. Special shout-out to the employee in charge of the pancake station in the restaurant who had friends in Montreal and could not understand how anyone could live there in winter (ironically, hundreds of people spent the night stuck in their cars because of a snowstorm literally the day before, so he might actually have a point).
Lobby and common areas
The entire decor and feel of the hotel was very nice, especially the outside pool and hot tub area, which was one of the reasons we chose the hotel, as we wanted a few days of R&R before flying back. The resort style of the hotel makes it a pretty good spot for a romantic getaway.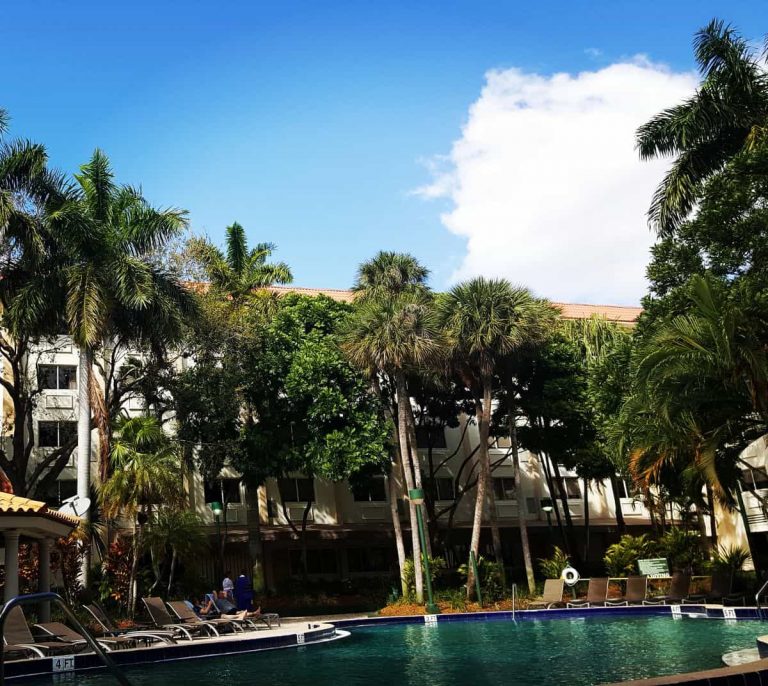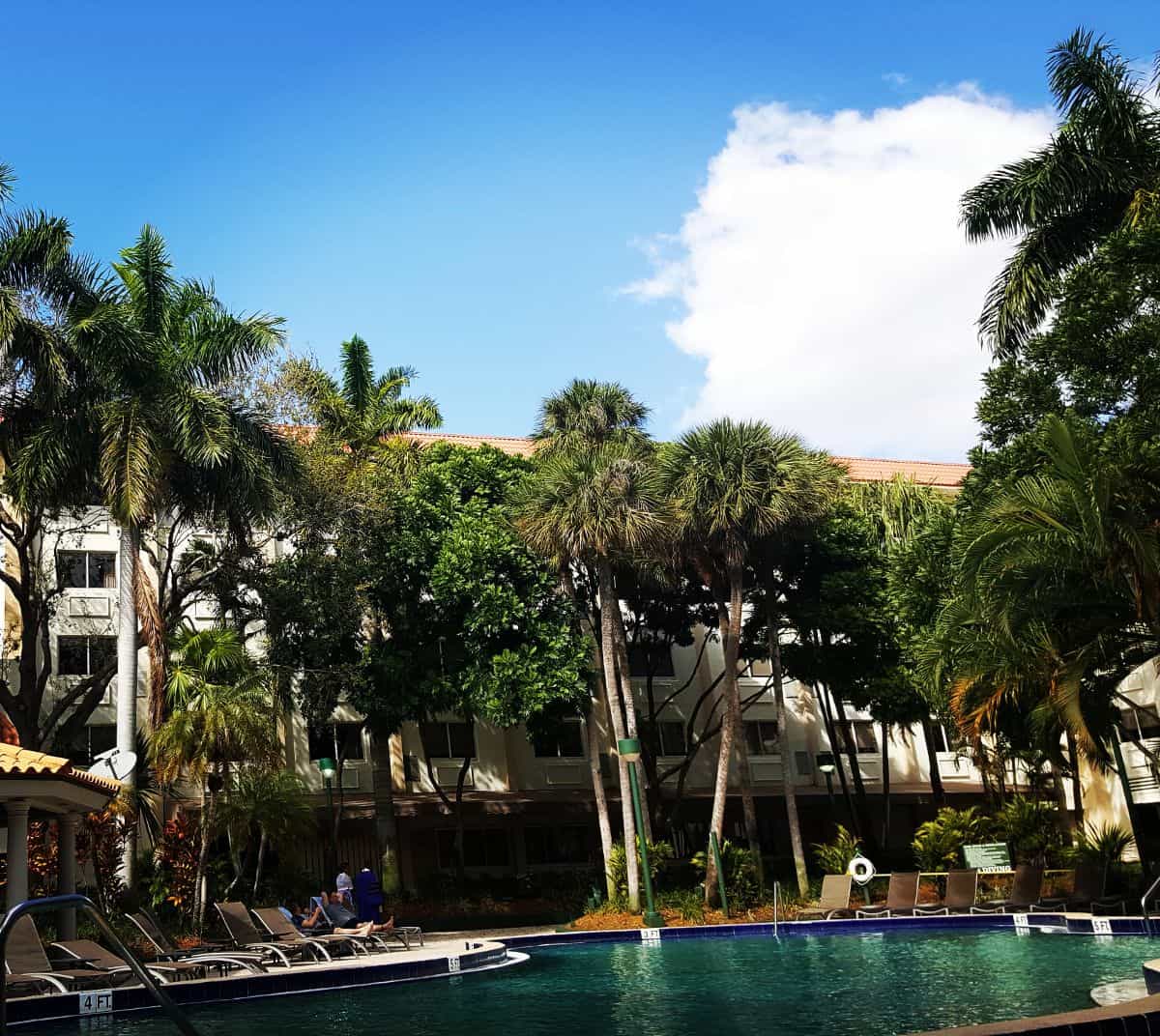 Again, the pool area was pretty great. A lot of chairs, nice tall palm trees and a great resort vibe. The hot tub was also a bit more secluded on the other side, with a poolside bar also available. It was quiet both days we were there.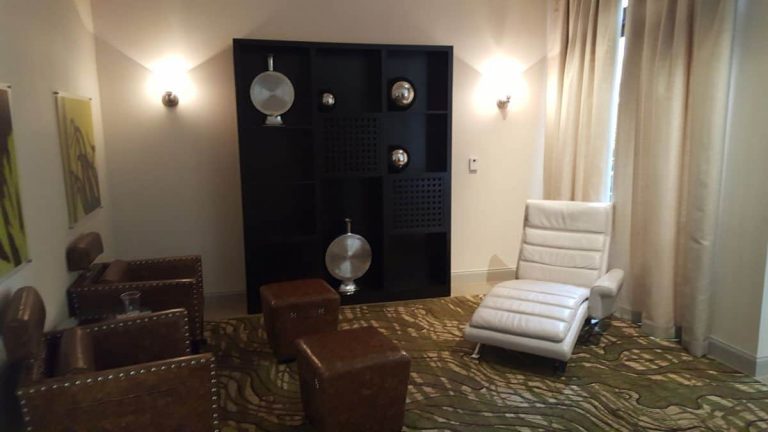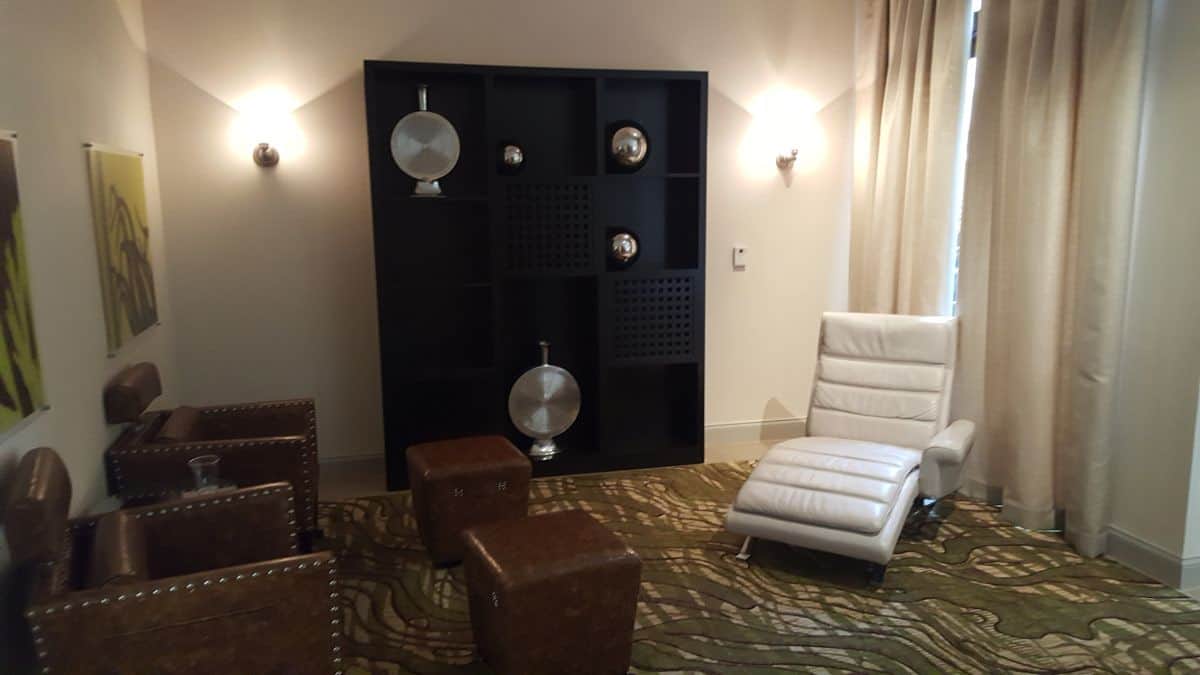 The lobby was pretty big and you could definitely tell that it had been rebuilt recently, as it was very nice. The hallways did seem a tad more dated, but very clean and well-maintained nonetheless.
Room
The room was a pretty standard size but most importantly very modern and clean. The bed was extremely comfortable and it was a King size, which isn't a must but is still a nice perk especially since you get used to it when you have one at home. Pillows were very comfortable as well (and there were plenty of them) and the decor was very chic.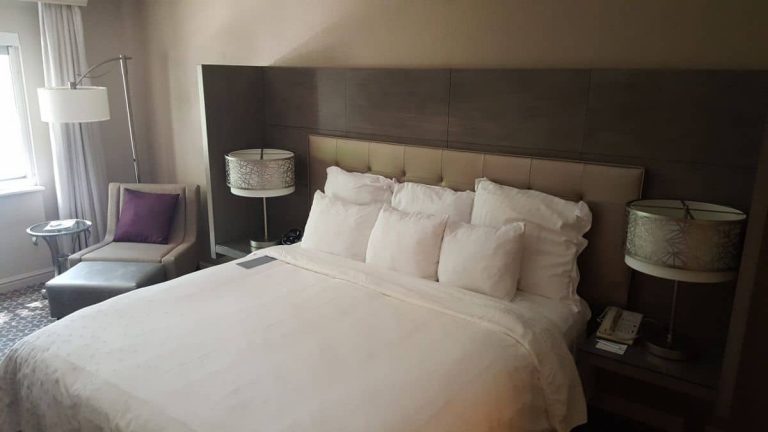 There was obviously a working area, a flatscreen TV and the typical hotel-room-corner chair. The pool view was a nice plus even though it doesn't really change much to the experience for me anyways.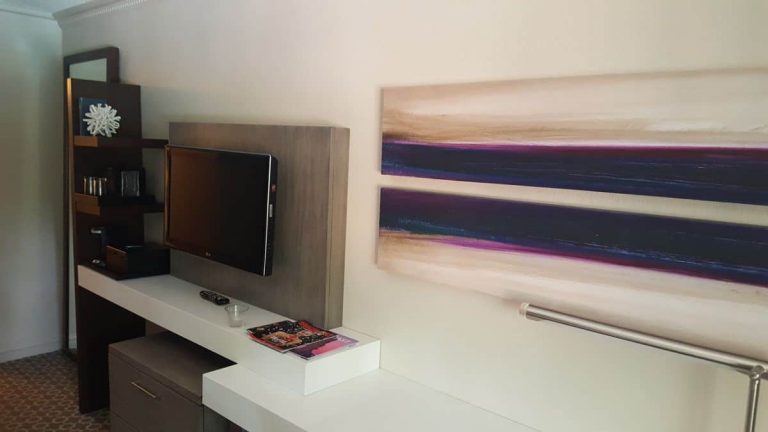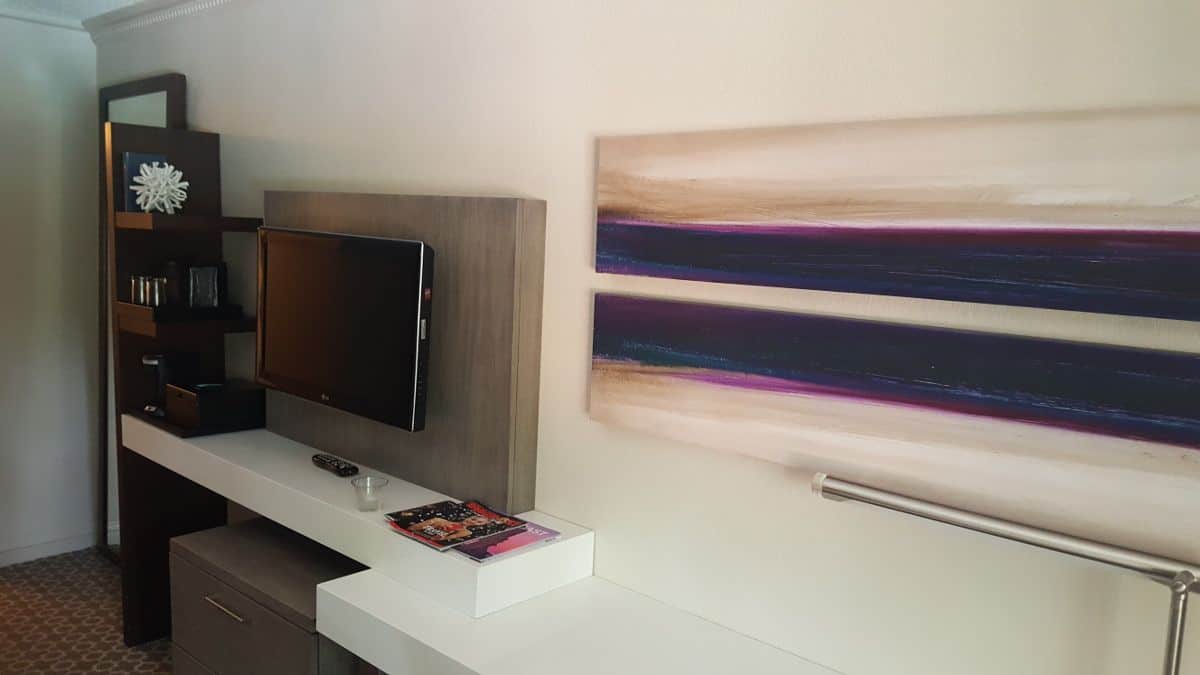 The bathroom was a bit on the small side but I loved the big glass shower door. As you can see below, the modern style made its way to the bathroom as well and was great, as was the amenities kit that seemed very high-quality.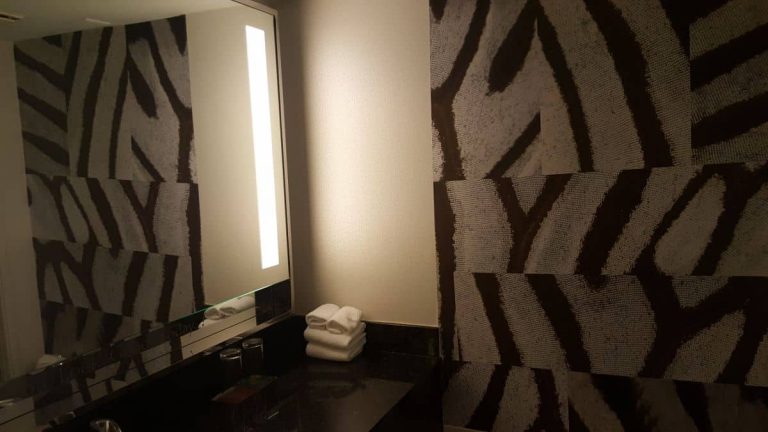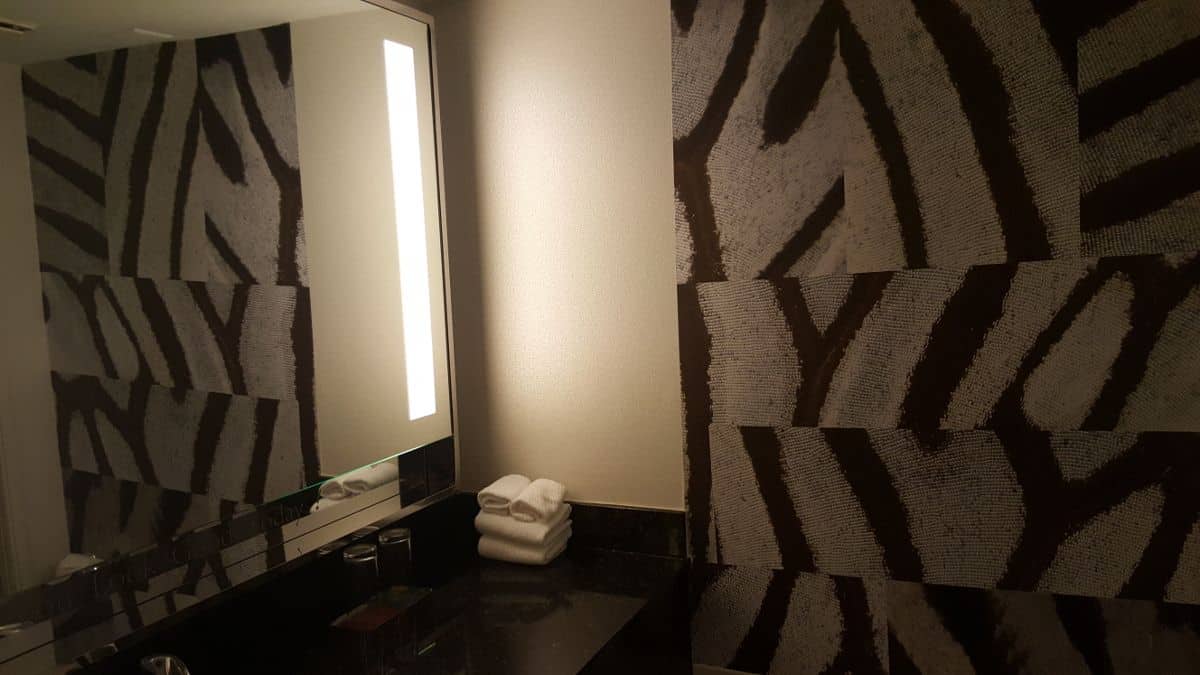 Services
There was a very basic gym, nothing memorable but the essentials were fine.
The hotel had one restaurant on-site, which I tried only for breakfast, a very nice hot buffet at $18US per person, with pancake station, fresh fruit and quite a variety of hot foods.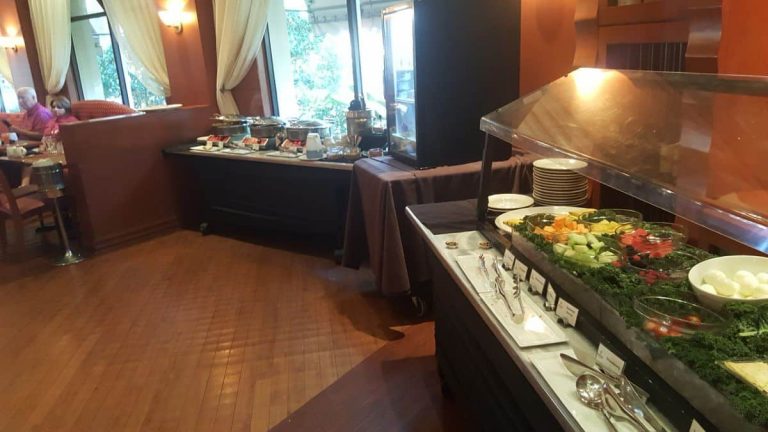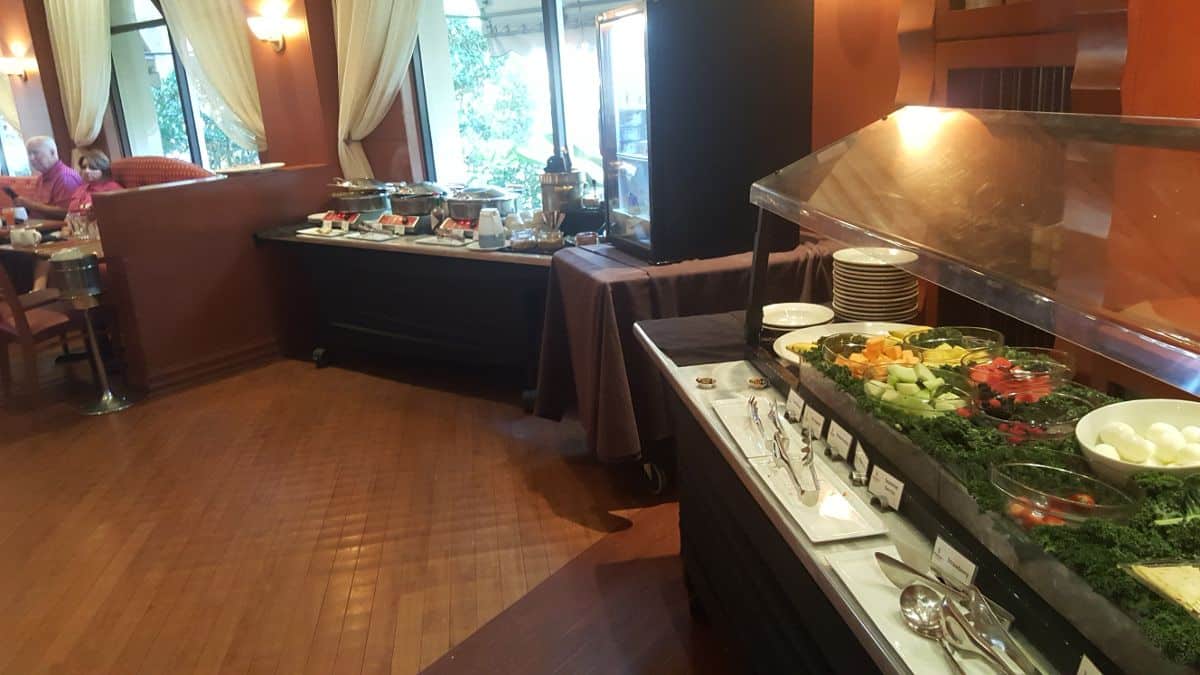 Another perk of being a Gold Elite member is having breakfast included, but if you'd have to pay, I'd suggest walking a bit and finding a more affordable option, unless you really want to fill up and take full advantage of the fact that it is all-you-can-eat.
Many people are often surprised that full-service hotels (which means the brands positioned above average hotels) do not include breakfast in their rates, even though cheaper hotels do include it.
It actually makes sense: the higher-end the hotel is, the more business travelers it serves. And business travelers just expense the breakfast cost to their company. So just keep that in mind when shopping hotels. Don't be surprised if $200-a-night hotels do not include breakfast, that's normal.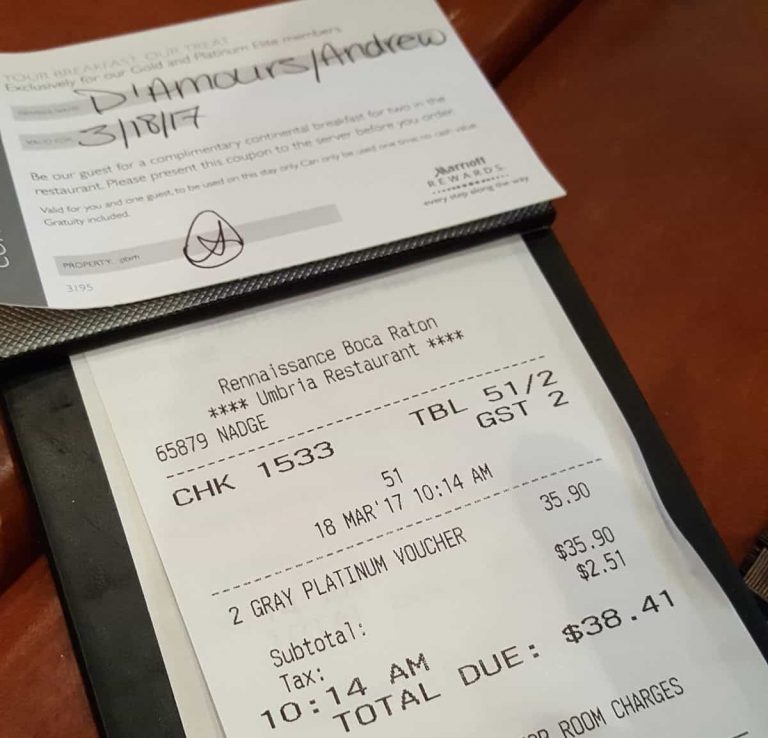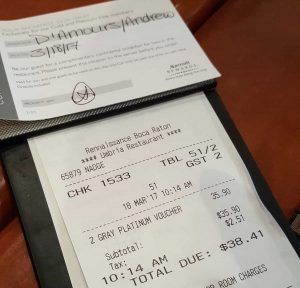 Bottom line
Overall, it was a very good experience for my first stay ever at a Renaissance. Clearly, the main clientele is the business traveler who wants a more dynamic and modern experience, but it does deserve consideration in Boca Raton if you want to enjoy a resort atmosphere for a much better price than you'd find directly on the beach for a hotel this nice.
Help us spread the word about our flight deals and travel tips by sharing this article and most importantly bookmark Flytrippers so we can help you navigate the world of low-cost travel!
Advertiser Disclosure: Flytrippers receives a commission on links featured in this blog post. We appreciate if you use them, especially given it never costs you anything more to do so, and we thank you for supporting the site and making it possible for us to keep finding the best travel deals and content for you. In the interest of transparency, know that we will NEVER recommend a product or service we do not believe in or that we do not use ourselves, as our reputation and credibility is worth far more than any commission. This principle is an essential and non-negotiable part of all our partnerships: we will never give any third party any control whatsoever on our content. For more information on our advertiser disclosure, click here.
Editorial Disclosure: Flytrippers has not received any form of compensation for this review in particular. In cases where the hotel would compensate us, it will be indicated clearly here for the sake of transparency. Most importantly, it will NEVER affect our editorial independence as all our reviews are authentic and unaltered. This principle is an essential and non-negotiable part of all our partnerships: we will never give any third party any control whatsoever on our content. For more information on our editorial disclosure, click here.
Share this post to help us help more people travel more for less: