I've been going almost every year recently, and it's often so hard to find a list of all the events during Miami Art Week (Art Basel week) since there are so many. So when I saw someone had informally started a list, I decided to put it all together in an easy-to-read document.
I wanted this for myself first and foremost, as both of us Flytrippers cofounders are attending Miami Art Week this year. But I might as well share it!
So here's a list of events during Miami Art Week (Art Basel week), a side note about tech events too, and plenty of other info about this great time to be in Miami.
Basics of Miami Art Week (Art Basel week)
Miami Art Week is the name given to the ensemble of events happening. As a whole, it's one of the world's largest art festivals and events. It's made up of so many different events, all taking place during the same week.
It's sometimes called "Miami Art Basel week" because Miami Art Basel is one of the events happening; it's also the biggest.
But Miami Art Week has grown so much and there really is a lot going on!
List of events during Miami Art Week (Art Basel week)
I've created a shared sheet with all the details about events happening during Miami Art Week (Art Basel week), at least those I was able to find. Art fairs are listed separately from all the other events.
While Miami Art Week is obviously very art-focused, the evening parties are also a staple of this event.
Many are free, too (I clearly marked the price along with all the other details, like how to RSVP, the location, and the hours).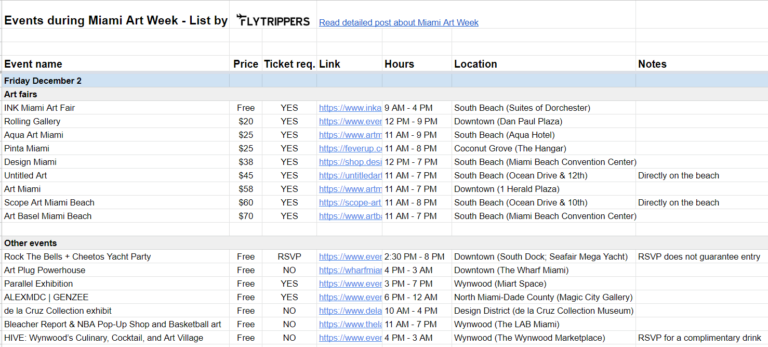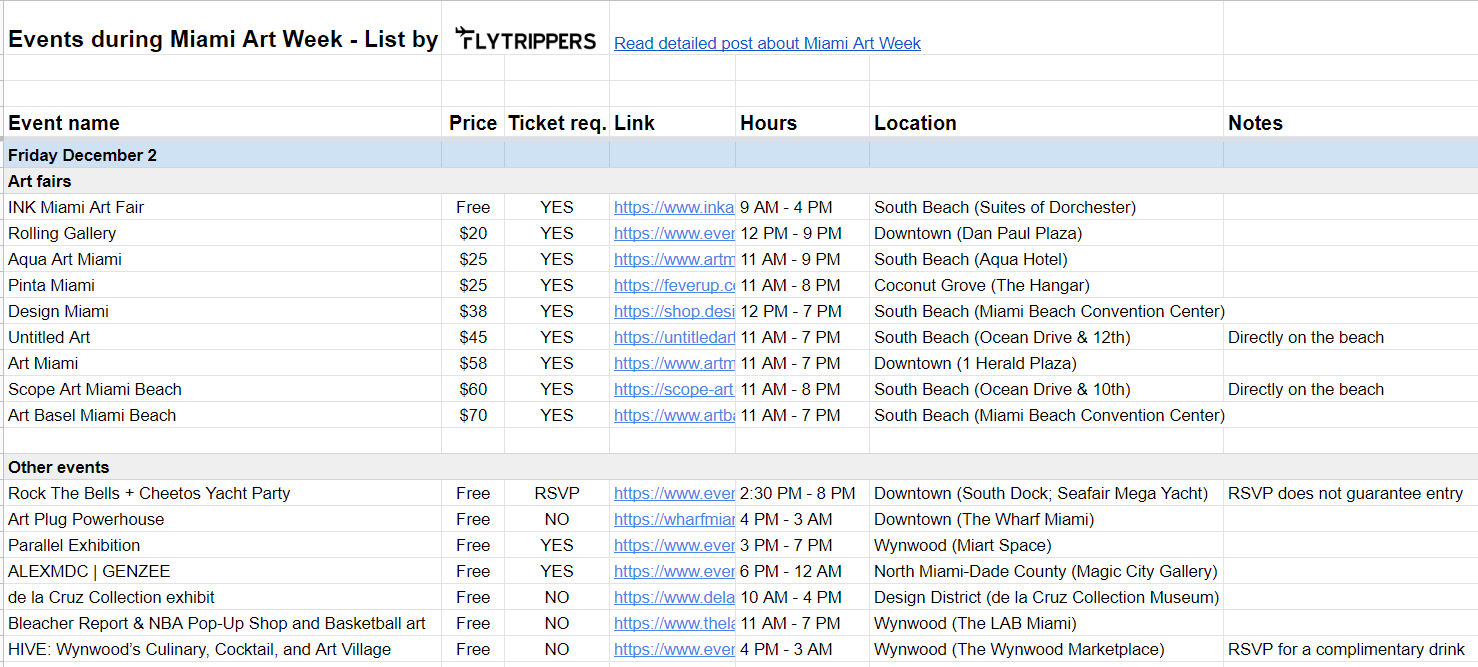 Almost all free events still require registration since spots are obviously limited. I'll list the ones we plan on attending ourselves below; we'd love to connect if Flytrippers readers are in town!
In 2018 and 2020, there was an awesome American Express Platinum lounge on the beach (free for those who have the very best card for travelers, the Amex Platinum Card). It's sadly not happening this year, which is a bummer. But there are plenty of other options.
Please feel free to comment at the bottom of this post or email us if you have any events to add or any modifications to suggest. Tip of the hat to Nicholas, who has greatly helped me with spotting many of these events.
List of tech events during Miami Art Week (Art Basel week)
This one I take absolutely zero credit for; it's not our document. @jdanjohnson has created a separate shared sheet for all the tech-focused events during Miami Art Week. His document inspired mine, in fact.
In the past few years, Miami has grown in importance as a tech hub, particularly in the Web3 space, so unsurprisingly, there are a ton of interesting tech events during Miami Art Week.
And it's not just limited to the NFT niche that is very art-related, there's a lot more too.
Dates for Miami Art Week (Art Basel week)
In 2022, Miami Art Week is now underway until Sunday December 4, with the bulk of the action happening between Thursday and Saturday night as is always the case.
Every year, Miami Art Week is basically always during the first weekend of December.
For 2023, dates have not yet been announced officially but will likely be from December 4-10.
What it's like to attend Miami Art Week (Art Basel week)
I've been to Miami Art Week at least 5 times now. It's a great time to be in town (not that there are ever any bad times to be in Miami instead of being stuck in the horrible Canadian winter).
There's such a cool energy and vibe in town.
And the last one was the best yet, in my opinion. Every year that I've been, I've always met so many interesting people too.
There's art everywhere, there's creative people everywhere, and it's Miami… What's there not to love?
Where is Miami Art Week (Art Basel week)
The vast majority of art events and evening parties are in Miami Beach, in Downtown Miami, or in the Wynwood/Design District area.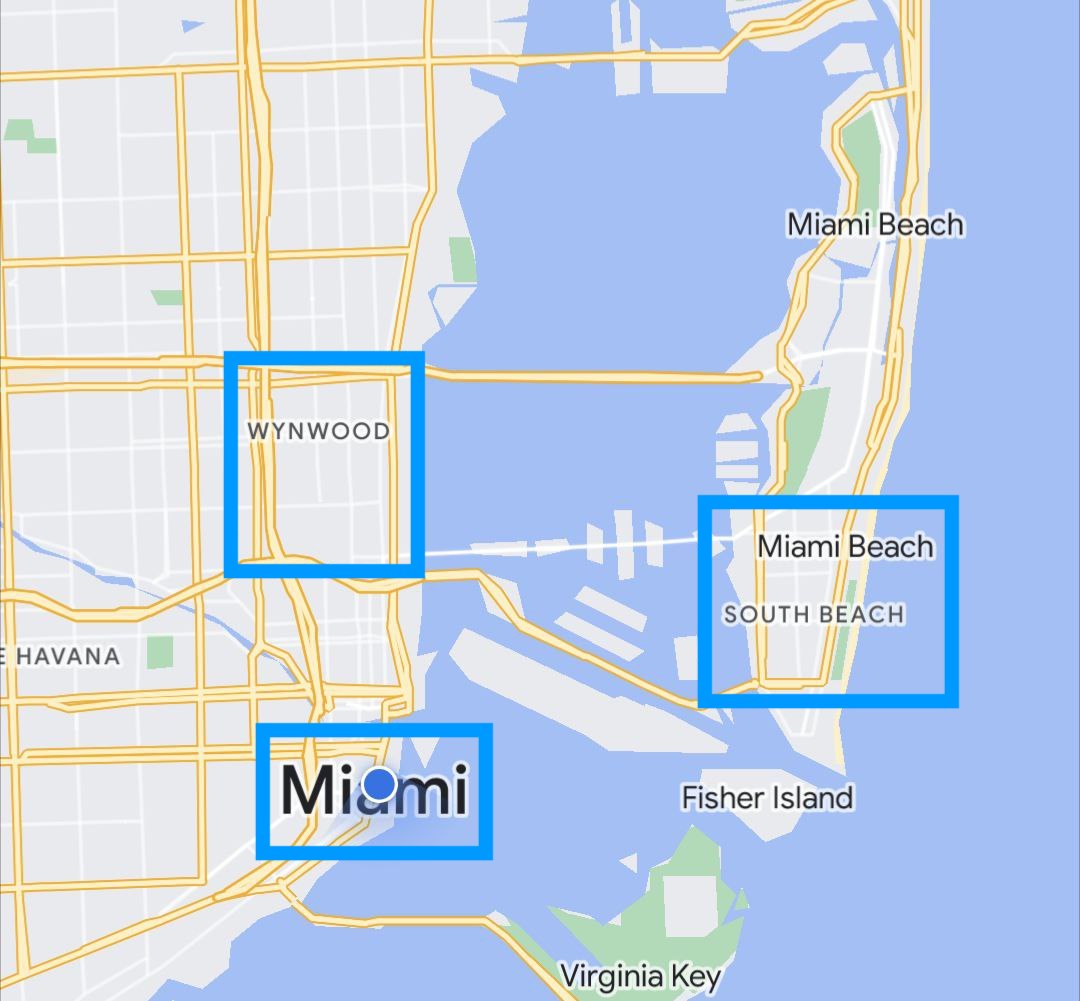 But it's not just there: it has grown so much that some events are even happening all around the South Florida metro area.
Where to stay during Miami Art Week (Art Basel week)
The actual location to book lodging is really up to your personal preference, either in Miami Beach or in the downtown area.
Whatever part of town you choose to stay in, remember that, as always, when a major festival or event is taking place, accommodation costs go through the roof.
Miami is already one of the world's most expensive hotel markets, so needless to say, you should really book as far ahead as you can.
Most hotel reservations are fully refundable, so you can book speculatively very early just to lock it in and simply cancel and get a refund if you don't need it.
I booked the Courtyard South Beach back in January for this event (with my Marriott Bonvoy points because cash prices were crazy high). It was cancelable for free up until 2 days before anyway.
(Hotels being fully refundable provides opportunities in the world of travel rewards, most notably to cash out "travel" credits or extend your window to reach the minimum spend requirement to unlock a huge welcome bonus giving you hundreds of dollars in free travel!)
It's best to book early because, for example, this is a map of the last-minute hotel prices this year for just 1 night.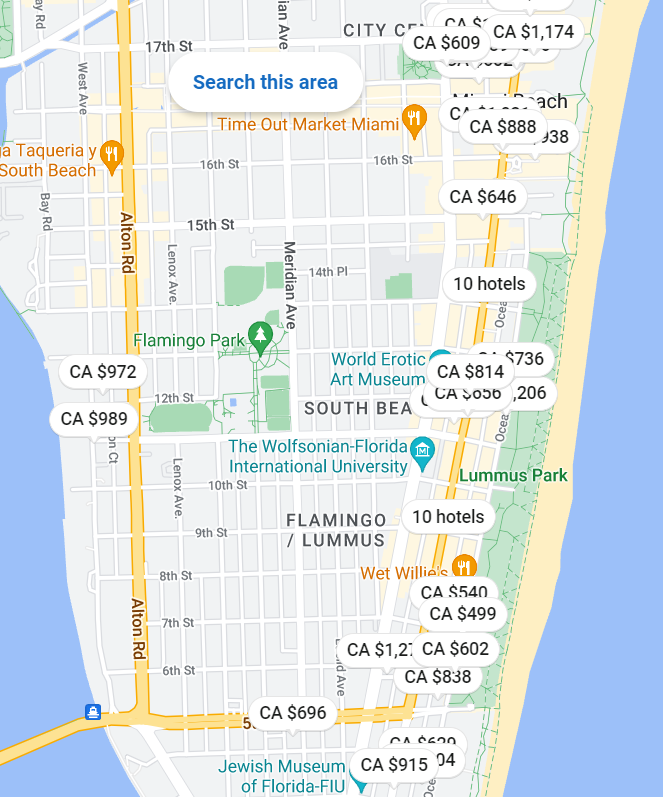 If you're coming this year, Hotwire is a great tool for last-minute deals (I explained how the Hotwire booking tool works recently).
If you plan ahead, use Hotels.com to get 10% back in simple rewards, by far the best option for those who don't travel often enough to be loyal to 1 hotel chain. Just make sure to check Booking.com to make sure the price there is not lower (by 10% or more).
Flytrippers' plan for Miami Art Week (Art Basel week)
As of now, along with Flytrippers' other cofounder Kevin and a friend of ours, I plan to attend these events:
American Express x Resy Gallery Day Food Event (Wed. Nov 30)
SoundCloud Next Wav Miami (Thu. Dec 1)
Miami Art Week 20th anniversary party (Thu. Dec 1)
Rock The Bells + Cheetos Yacht Party (Fri. Dec 2)
Art Plug Powerhouse (Fri. Dec 2)
Jack Daniels Honey Art Beats Lyrics Party (Sat. Dec 3)
Everyday People Party (Sat. Dec 3)
You can message us on Instagram (@andrew.flytrippers and @kevin.flytrippers) if you're here and want to talk travel!
Want to receive all of our tips and tricks to enjoy destinations around the world?
Summary
The list of events happening during Miami Art Week is a long one, and it was hard to find the information all in one place, so hopefully, ours is helpful. It's a great time to be in Miami, and you can plan for it in 2023 if it's too late for this year.
What would you like to know about the event at Miami Art Week? Tell us in the comments below.
See the deals we spot: Cheap flights
Explore awesome destinations: Travel inspiration
Learn pro tricks: Travel tips
Discover free travel: Travel rewards
Featured image: Miami Beach, Florida, US (photo credit: Arnaud Civray)
Share this post to help us help more people travel more for less: