One of the highlights of our short stay in Antalya was without a doubt this beautiful boutique hotel with a breathtaking rooftop terrace. Here is a review of our stay at the Patron Boutique Hotel last Spring.
Last May, we traveled to Turkey to discover a beautiful country that had always fascinated us, and one of our many stops was in the coastal city of Antalya.
It was by far one of our favorite cities in the country. It lies on the Mediterranean Sea and we are both already longing to go back soon. Our hotel was extremely affordable… and amazing enough to make our trip that much better.
So here's my review of the Patron Boutique Hotel Antalya.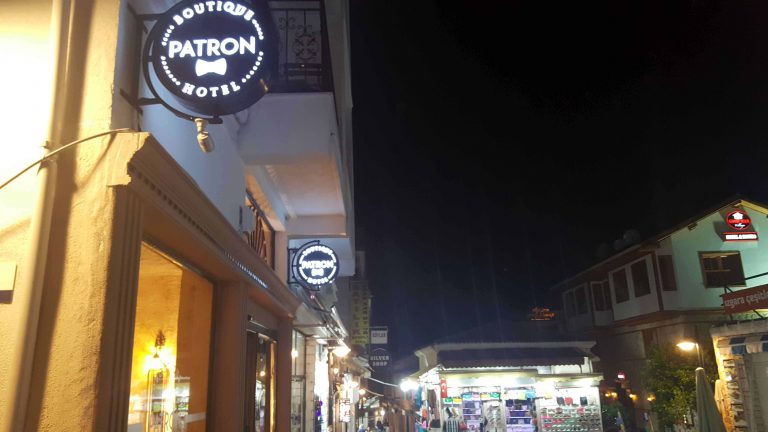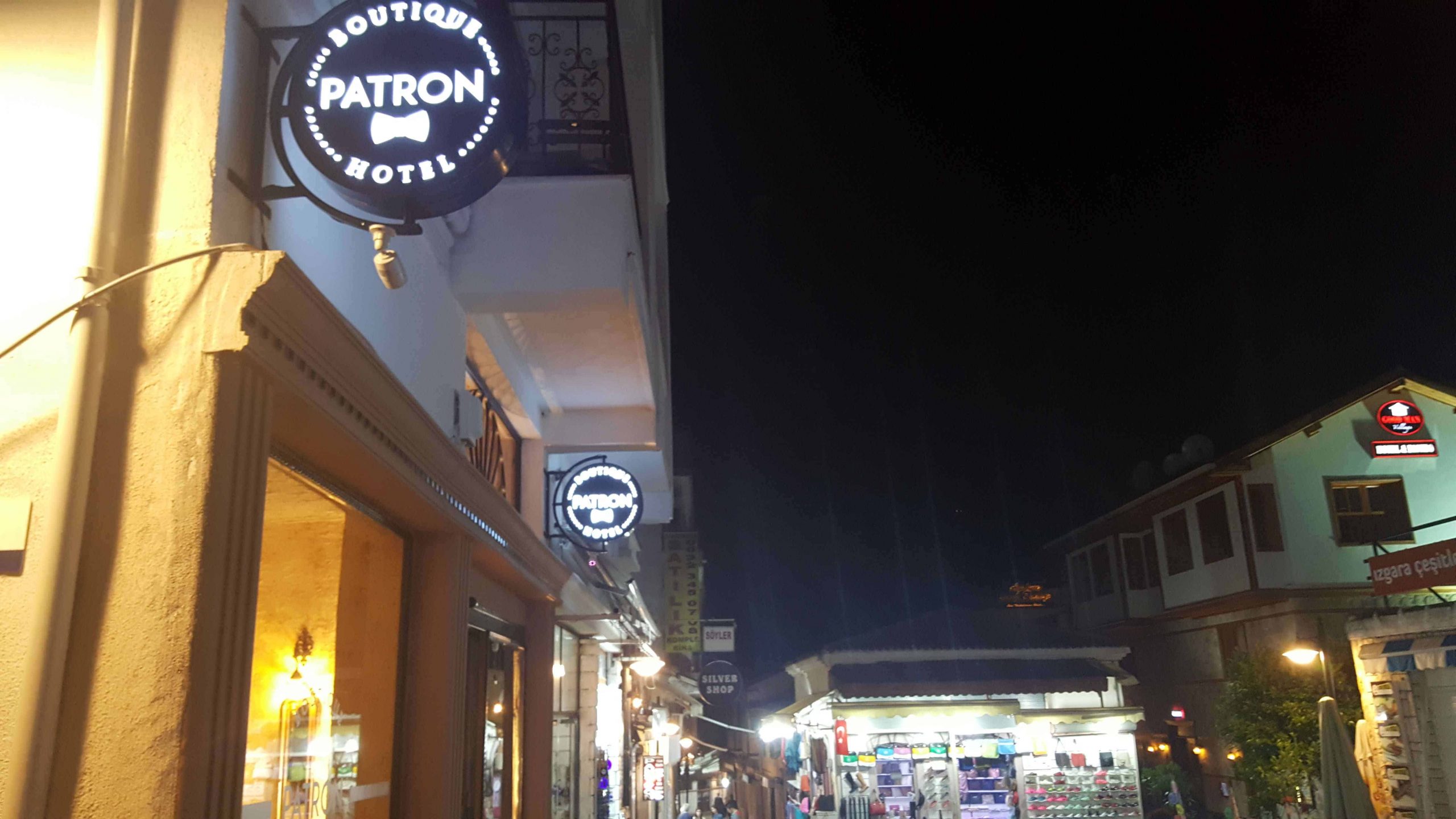 The Hotel
The Patron Boutique Hotel is a small independently-run hotel right near the historic old town of Antalya. In terms of value for your money, it's hard to beat. We paid about $25USD per night for a hotel this nice, let's just say we were very happy with the value!
And even if everything in Turkey is that affordable, it felt like an even better deal that our other hotels because it was so nice.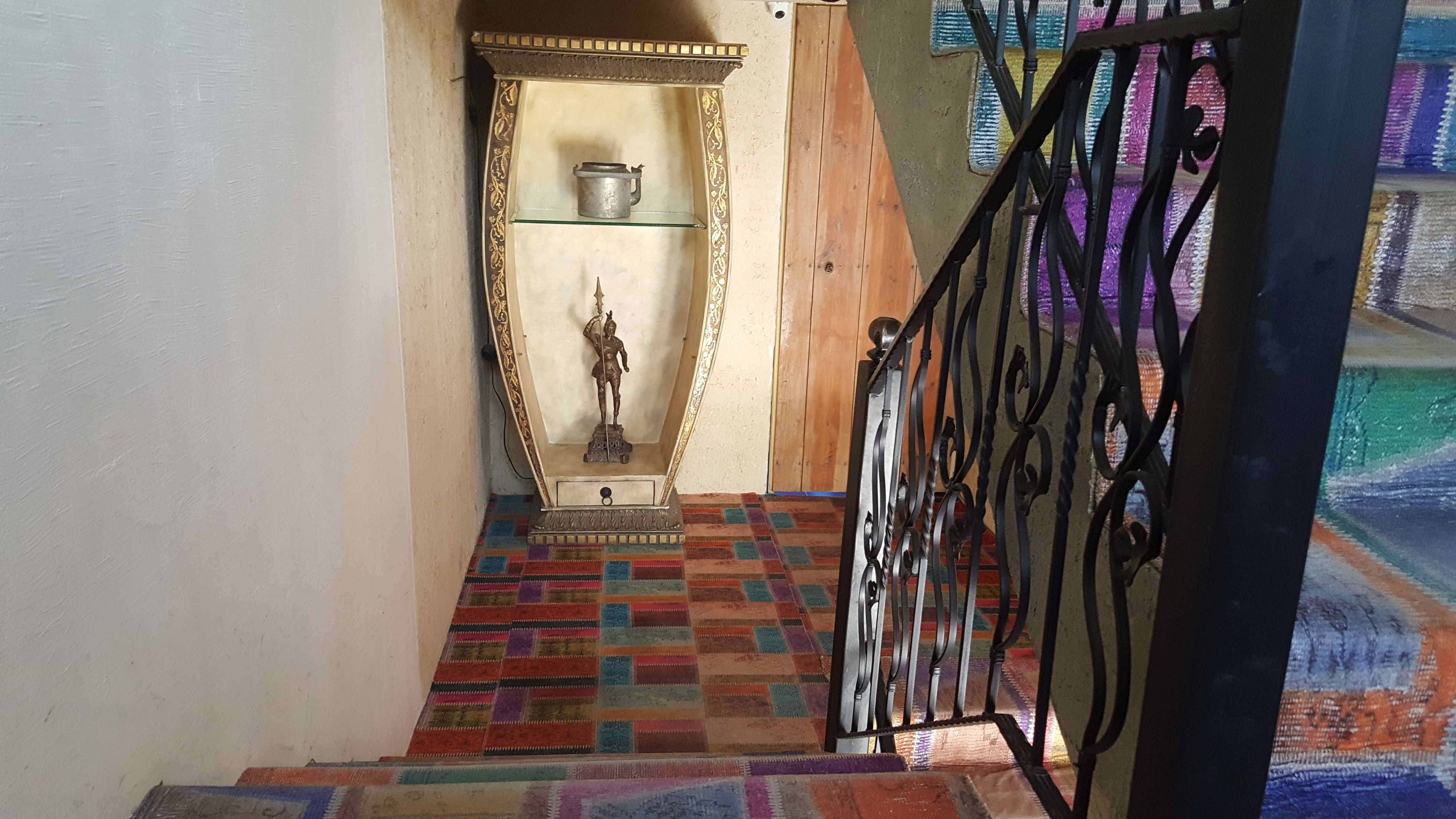 Location
The hotel is located in the heart of Antalya's Old Town, a short walk from the Mediterranean Sea. It was very easy to reach, even without ever having been to Antalya. We got off the Light Rail that arrives from the airport a few blocks away and walked about five minutes in charming pedestrian streets to get to the hotel.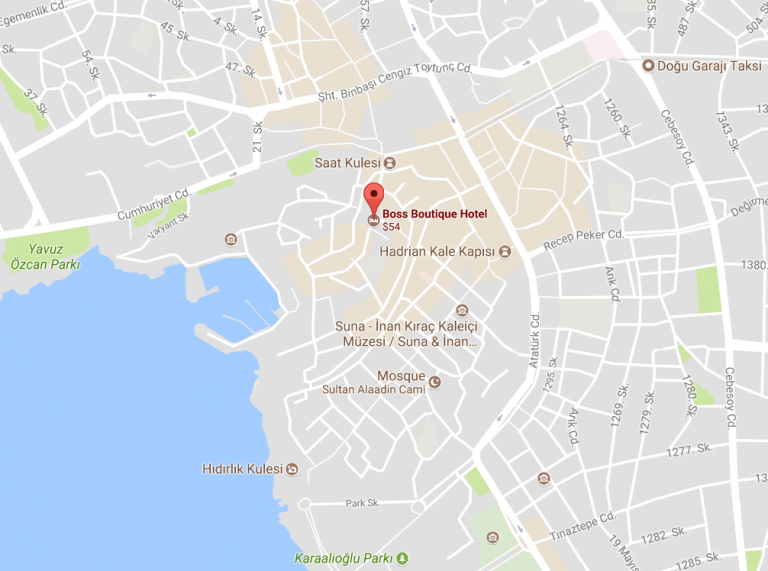 I have to say the location was near-perfect. Within seconds we were on Antalya's main commercial streets or walking in the narrow cobblestone streets of the old town. The port and the Mediterranean Sea were close-by as well.
There were plenty of attractions and things to see around. It is really in the middle of a very lively neighborhood.
Arrival and Check-in
We arrived in the afternoon after our bus from Denizli, and went straight to the hotel from the airport, using the Light Rail as I just said.
When we arrived, the hotel was even more beautiful than we expected, with a neat and modern facade on the corner of a nice little alley.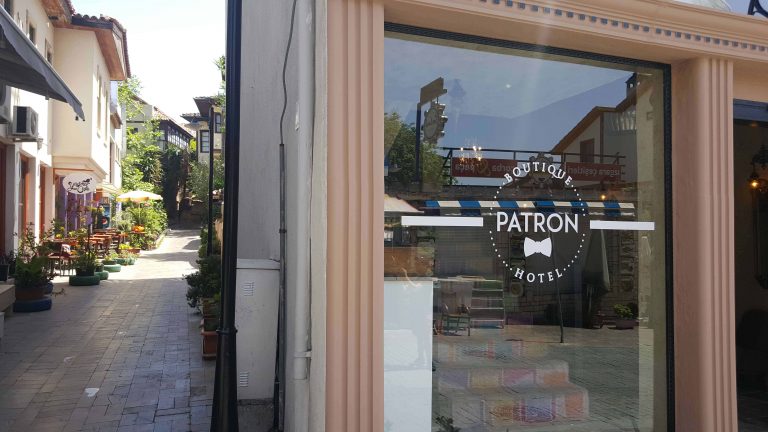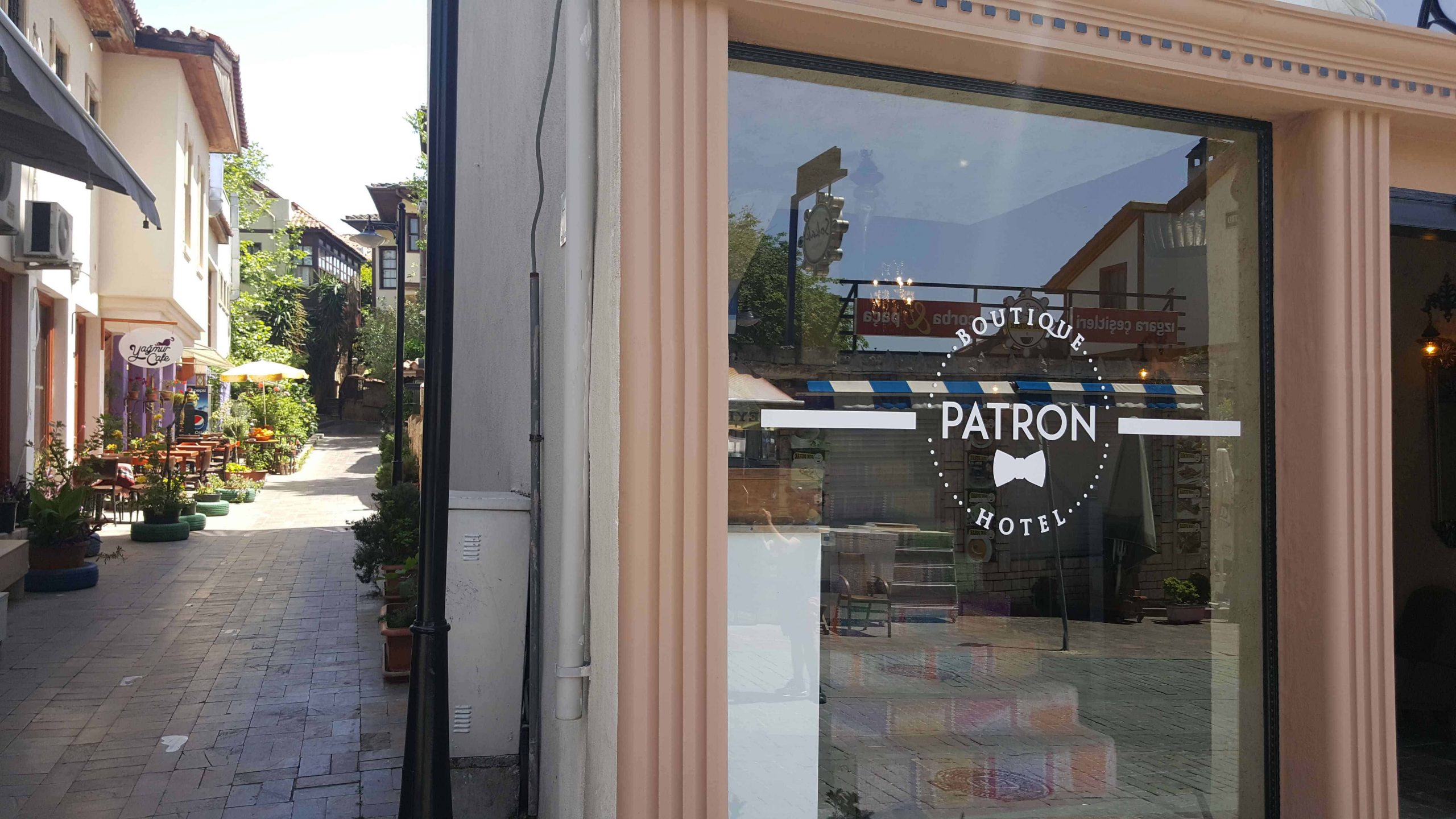 The employee at the front desk was very helpful and gave us a very warm welcome. She helped us set up a pickup for our laundry as we had planned to do that at least once at the mid-point of our trip (and it cost us a few dollars only).
We were lucky to speak with the owner as well during our stay… everyone offered great customer service.
Lobby and Common Areas
The boutique hotel really lived up to our expectations and the cachet was very present all over the property. From the beautiful hallways to the cute courtyard in the back, the style was very trendy (with nice brick touches).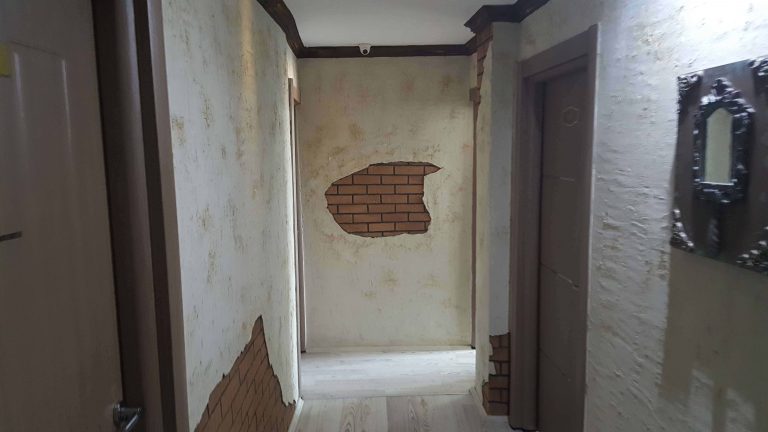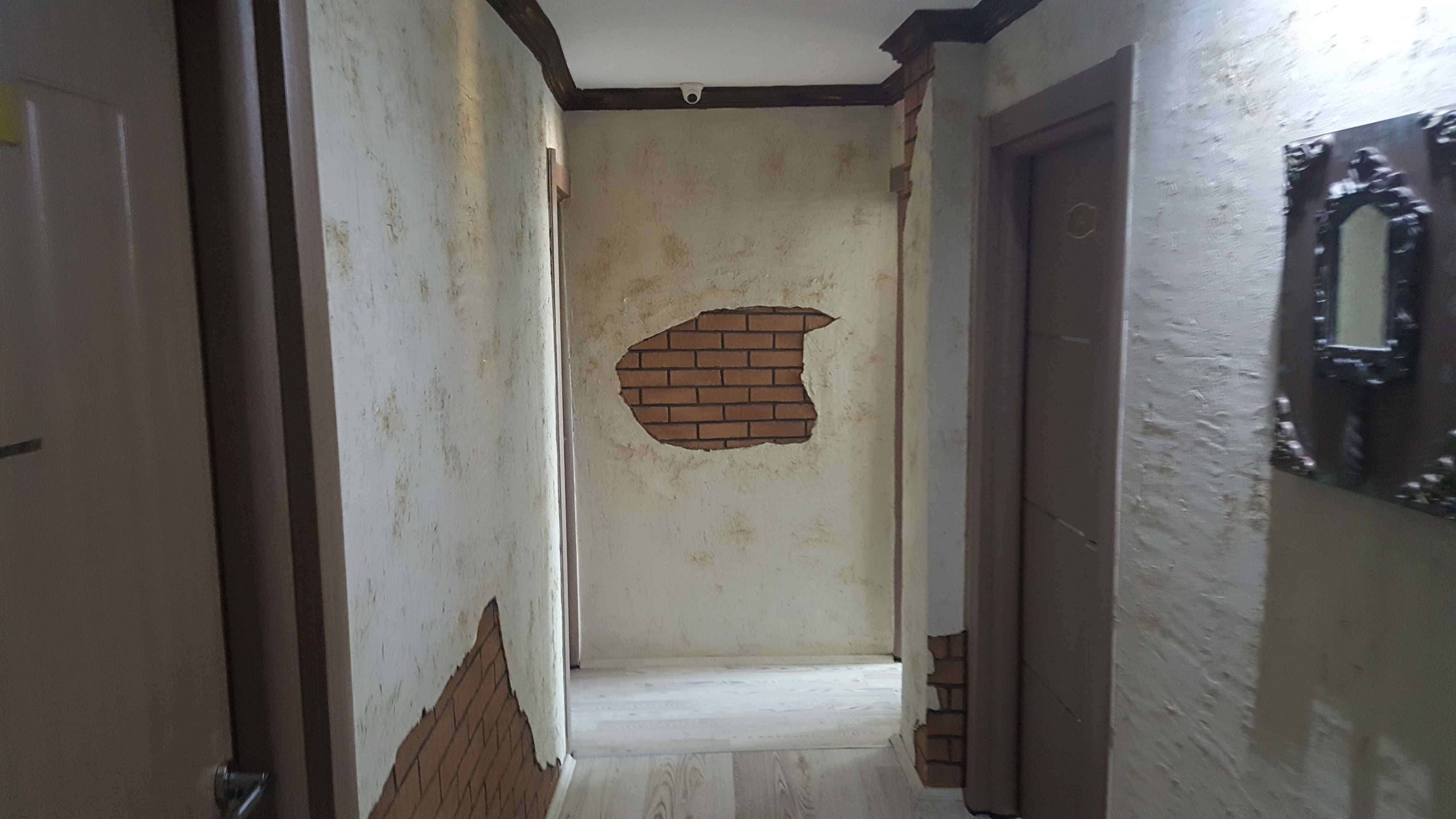 But the very best part, the highlight of this hotel has to be the rooftop terrace. It was simply breathtaking.
The view of the Mediterranean Sea, the majestic mountains in the backdrop and the position overlooking all the red rooftops in Antalya was incredibly nice.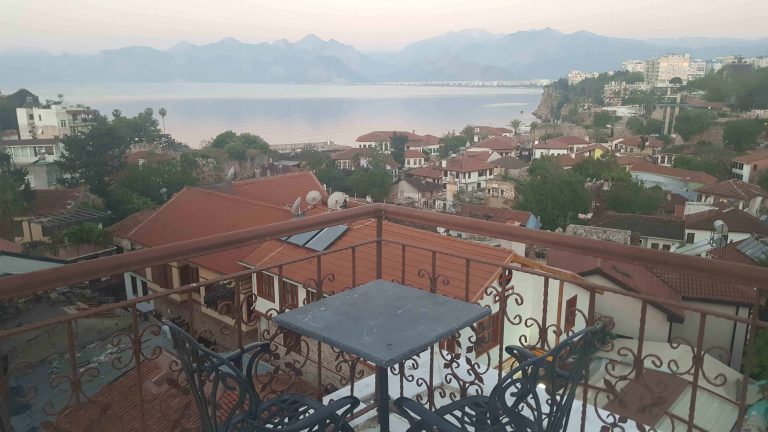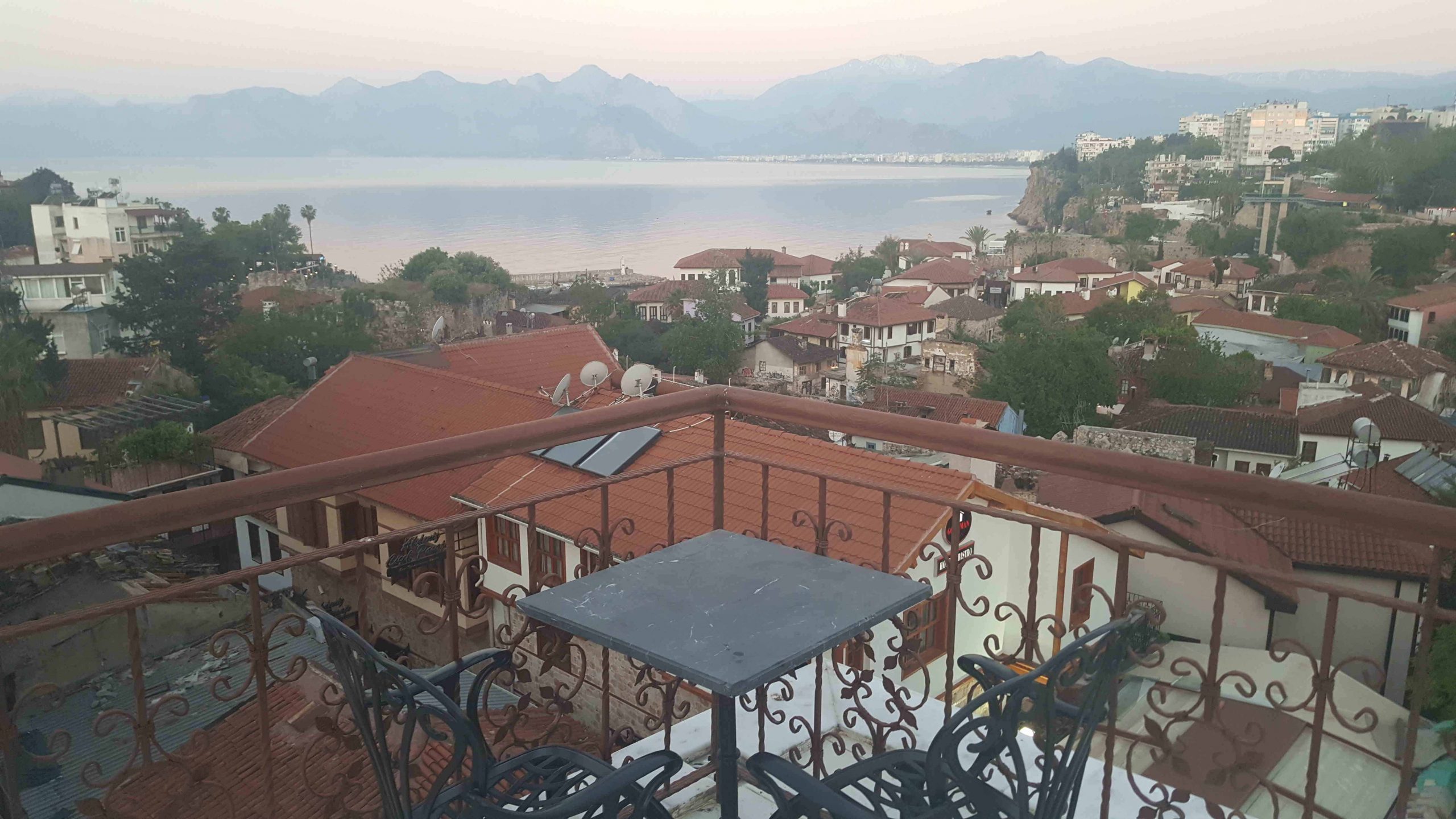 The lobby was quite small, but it had a corridor leading to a very nice outdoor courtyard in the back, which was much nicer than a standard lobby.
And since Antalya has such nice weather, might as well be outside!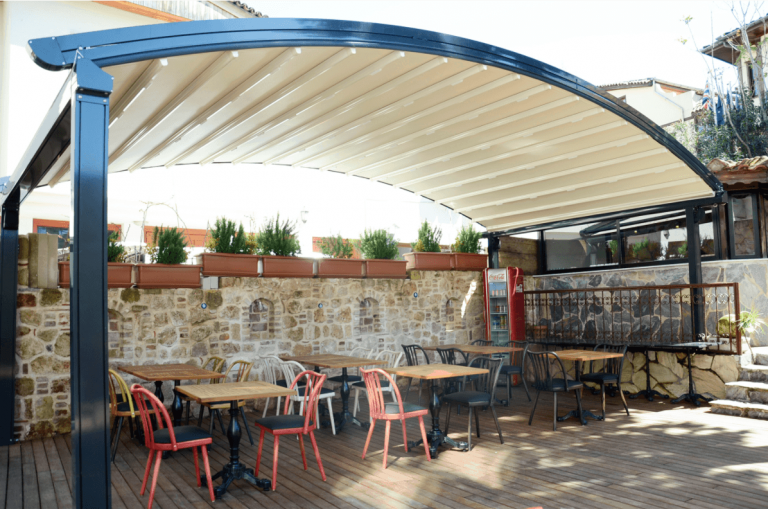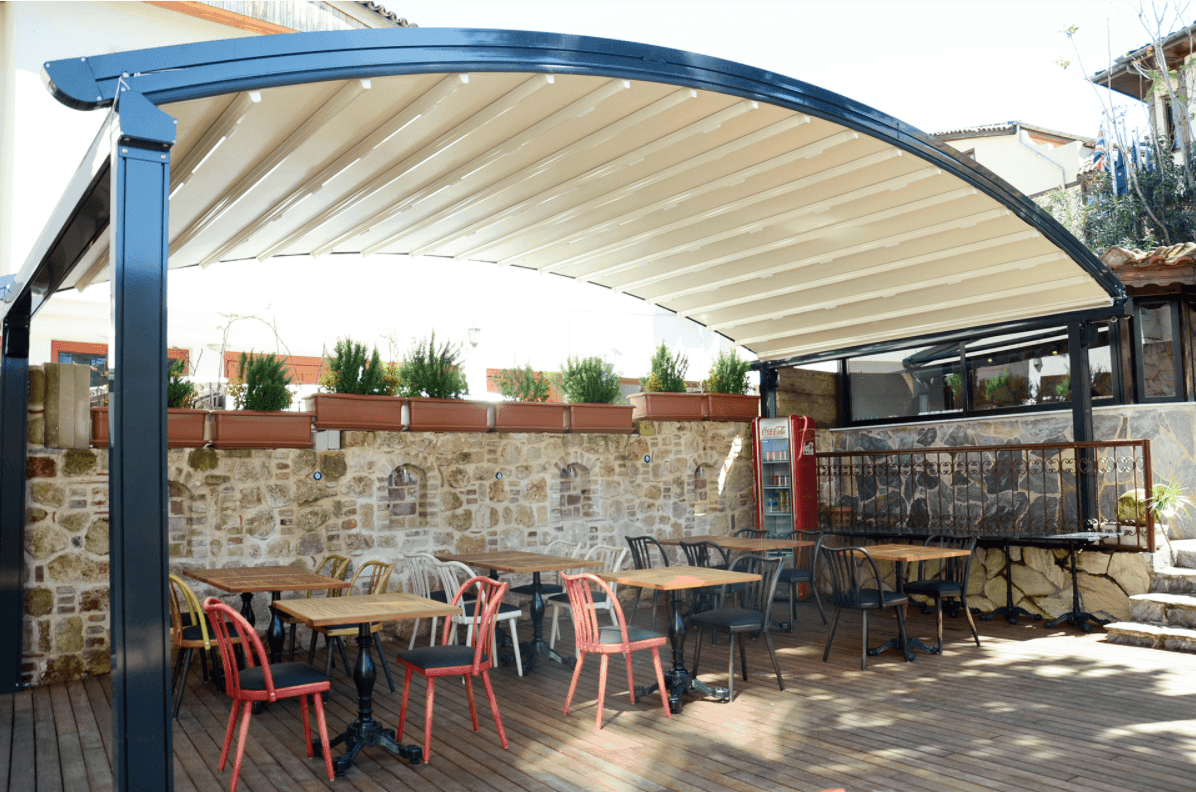 Room
The room was sized similarly as others you'll find in Turkey, on the small side for us North Americans, but it was squeaky clean.
It also had quite a unique decor, very sea-like. All rooms have different themes apparently.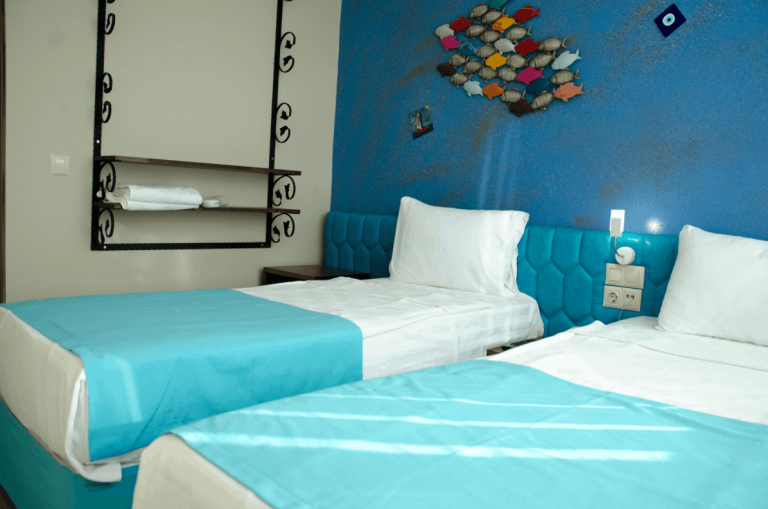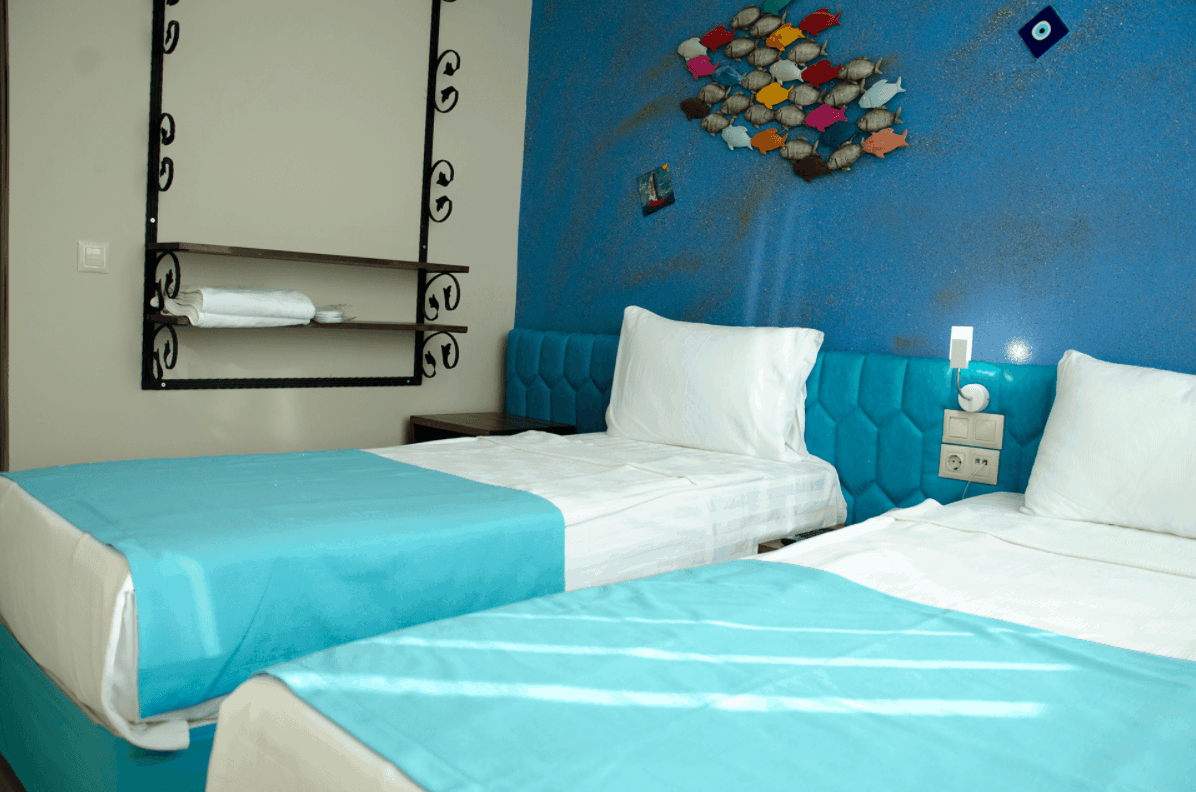 There was no working area (we simply went out in the courtyard or on the rooftop to work), and storage was quite limited but overall we were very comfortable with a nice view of the street below.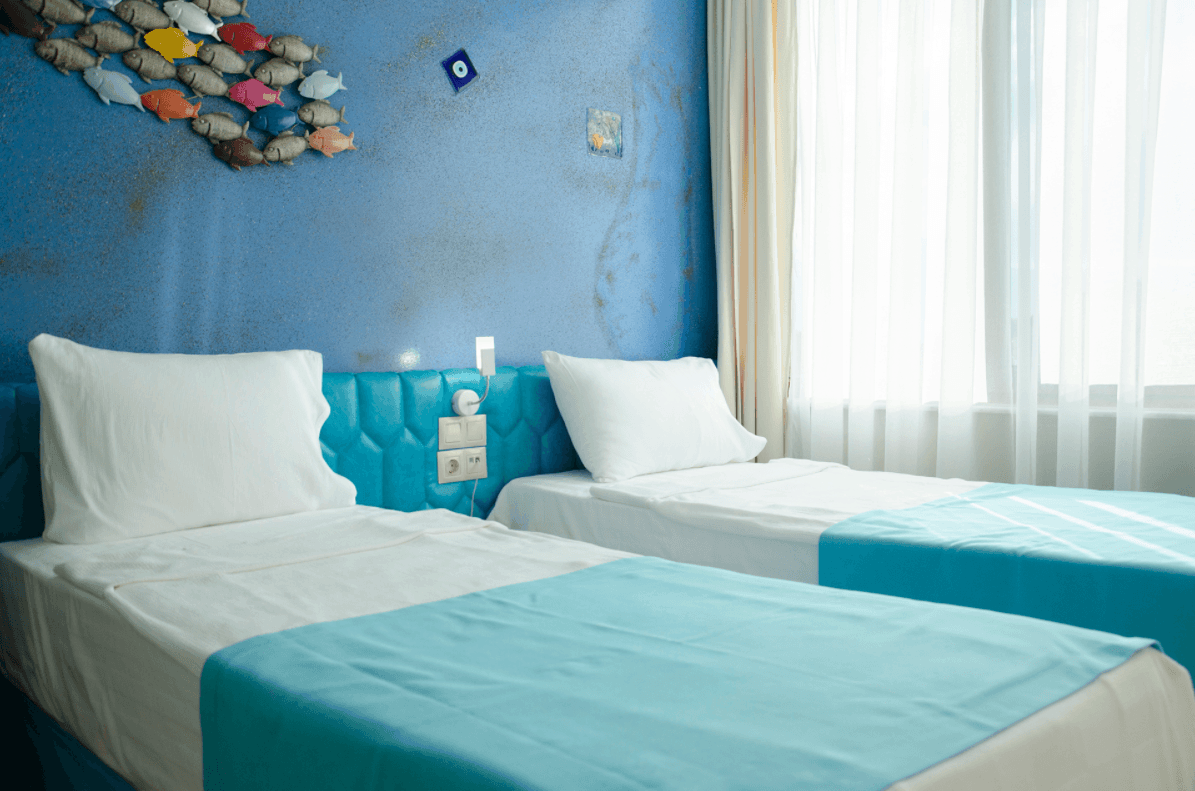 The bathroom was quite unique as well, with marble being very present in keeping with the same style found throughout the hotel.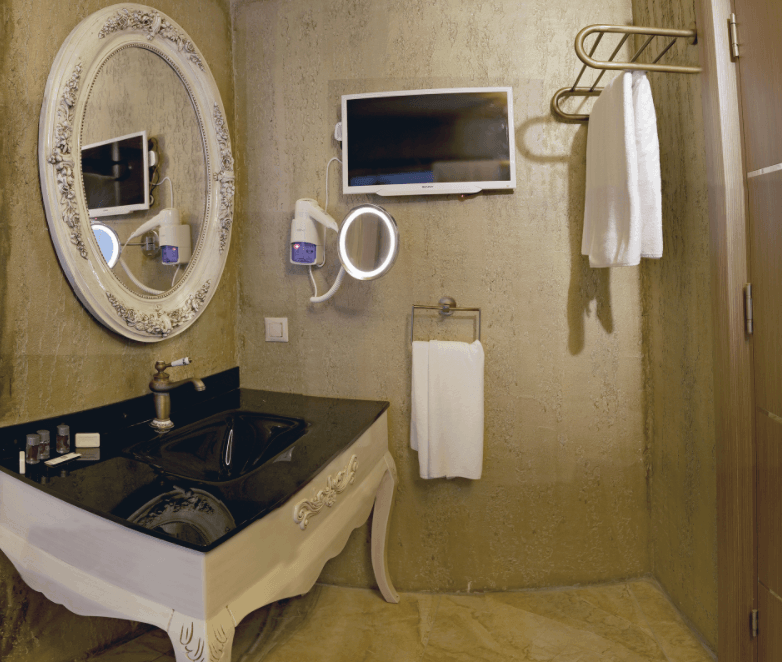 Services
As a small boutique hotel, other than the courtyard and rooftop terrace, there was understandably no other services like a fitness center or anything like that.
Breakfast was included and was quite delicious. And it was made-to-order directly in the nice courtyard in the beautiful Turkish sun.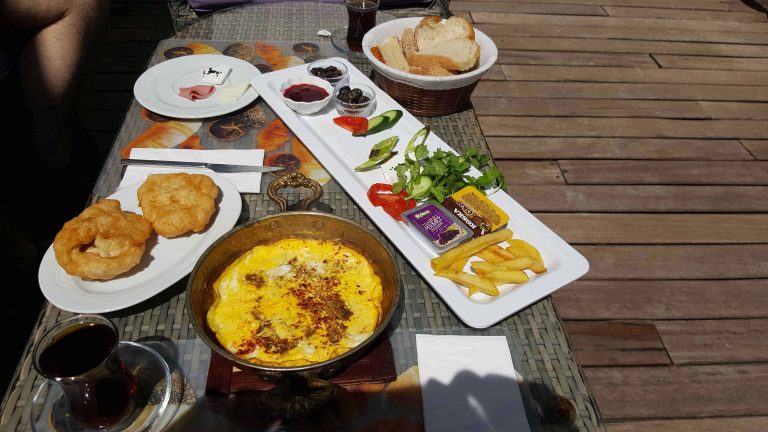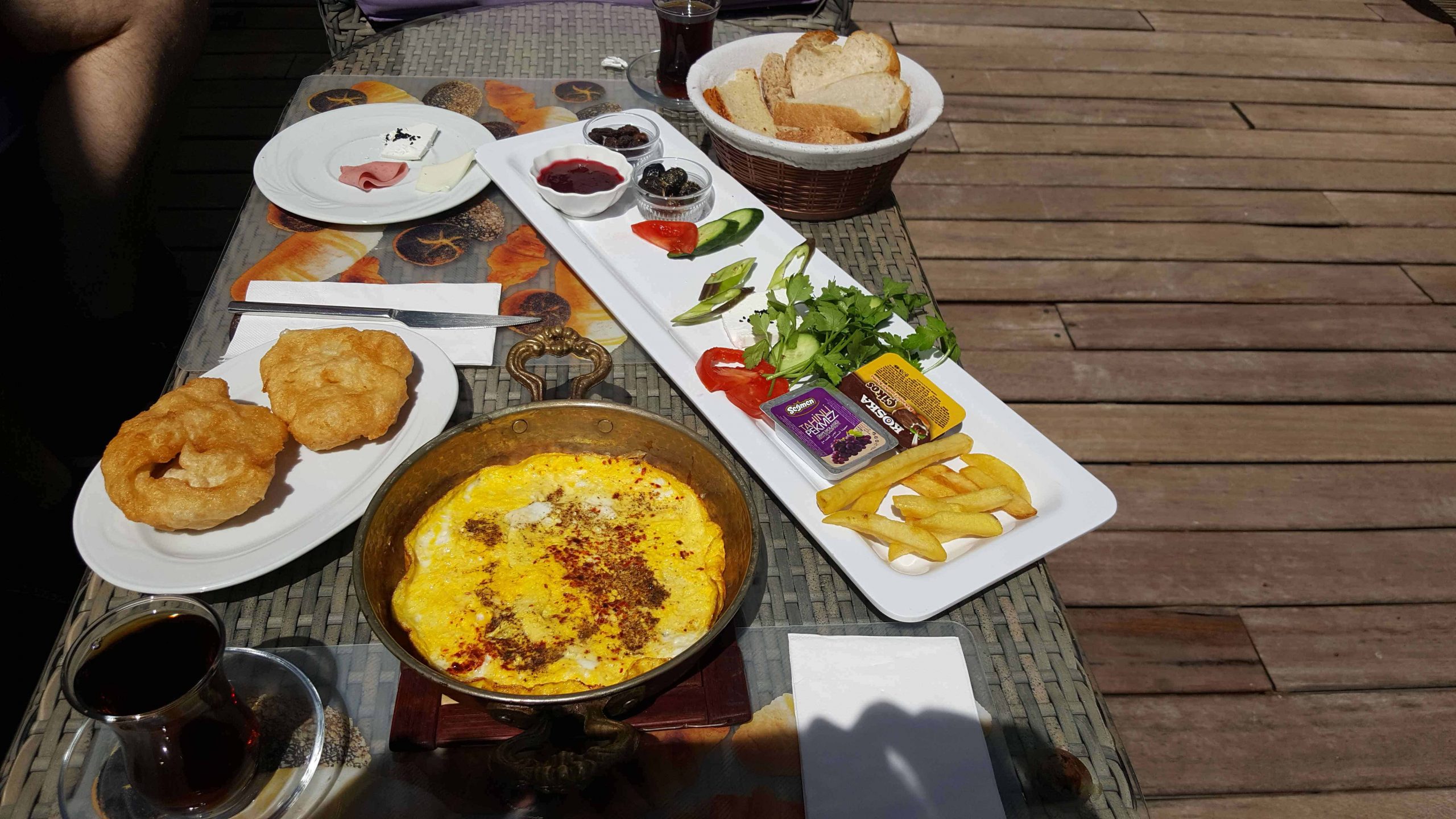 Bottom Line
Overall, it was one of my favorite hotels of the entire trip. Not only was it an extremely good value, the style was impeccable and we still dream of that rooftop terrace. I would definitely recommend it if you are heading to Antalya! You can use our link to book the Patron Boutique Hotel.
Help us spread the word about our flight deals and travel tips by sharing this article and most importantly bookmark Flytrippers so we can help you navigate the world of low-cost travel!
Advertiser Disclosure: Flytrippers receives a commission on links featured in this blog post. We appreciate if you use them, especially given it never costs you anything more to do so, and we thank you for supporting the site and making it possible for us to keep finding the best travel deals and content for you. In the interest of transparency, know that we will NEVER recommend a product or service we do not believe in or that we do not use ourselves, as our reputation and credibility is worth far more than any commission. This principle is an essential and non-negotiable part of all our partnerships: we will never give any third-party any control whatsoever on our content. For more information on our advertiser disclosure, click here.
Editorial Disclosure: Flytrippers has not received any form of compensation for this review in particular. In cases where the hotel would compensate us, it will be indicated clearly here for the sake of transparency. Most importantly, it will NEVER affect our editorial independence as all our reviews are authentic and unaltered. This principle is an essential and non-negotiable part of all our partnerships: we will never give any third-party any control whatsoever on our content. For more information on our editorial disclosure, click here.
Share this post to help us help more people travel more for less: