We know Florida is one of the most popular destinations for Canadians, with good reason. It's one of my favorites and one I know pretty well. But my last trip to Miami was even more memorable thanks to an amazing hotel we stayed at. Here is my review of the Beacon Hotel South Beach.
Last November, Flytrippers' other co-founder and I had a trip planned to Paris and the Canary Islands. Since I was in Canada and Kevin had been living in South America for a few months, the best option to cross the Atlantic together was to meet up in the middle, in one of my favorite destinations: Miami Beach.
So here's my review of the Beacon South Beach Hotel in Miami Beach.
The Hotel
The Beacon South Beach Hotel is an oceanfront boutique hotel directly on Miami Beach (and arguably the entire State of Florida's) most iconic street, Ocean Drive. It is located in a historic Art Deco building built in 1936, and it is quite beautiful.
By the way, the infamous scene from the cult classic film Scarface was actually filmed right next door!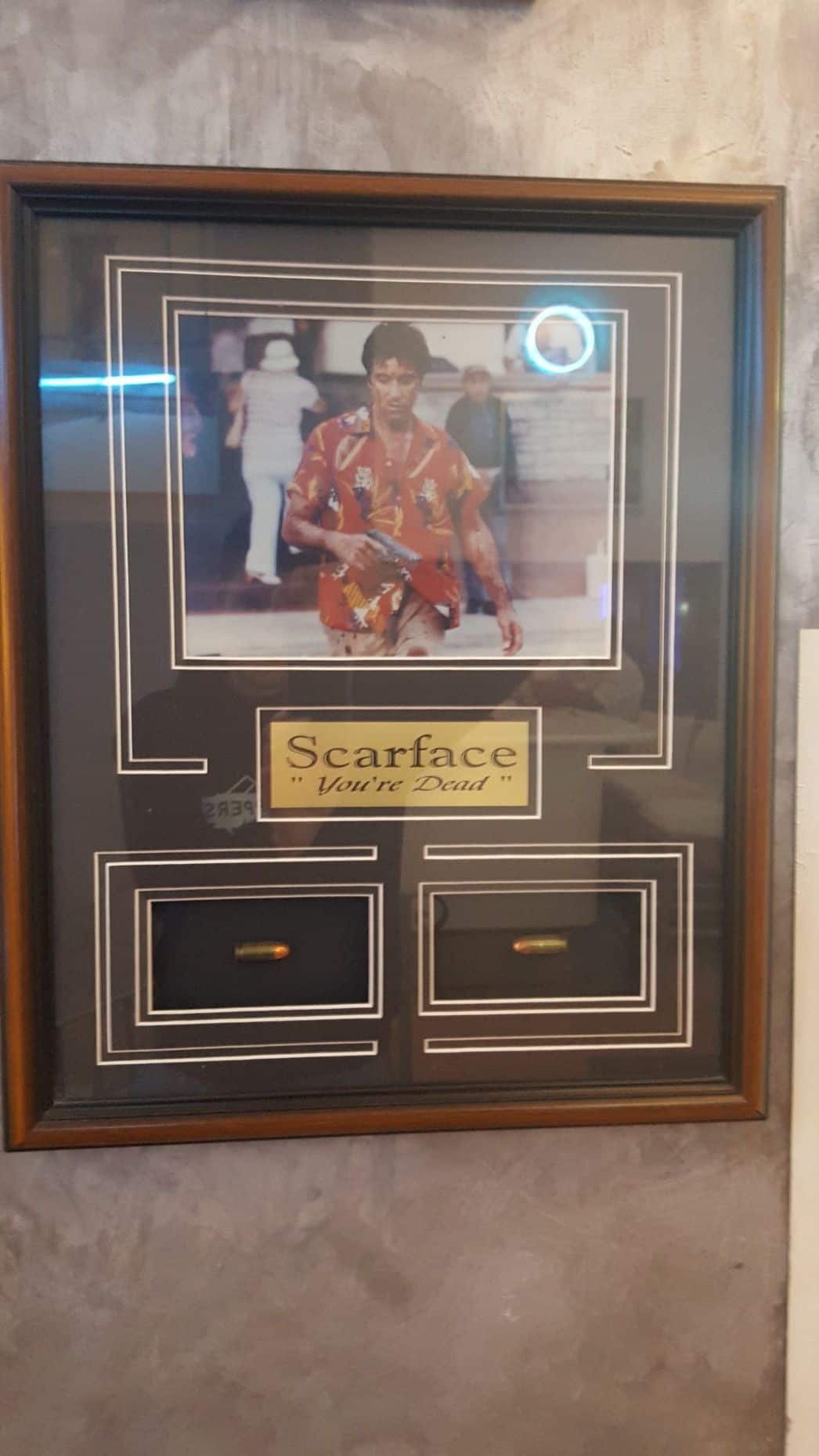 Location
As mentioned, the hotel is the heart of South Beach (sometimes called SoBe), it is one of the historic Art Deco-styled buildings that line one of America's best beaches. Honestly, I've been to Florida over 20 times personally, and in terms of location, this one is really hard to beat… you're really directly in the middle of all the action. Ocean Drive is full of restaurant terraces and bars that fill up at night, with thousands of people enjoying the hot Miami nights under the neons of Ocean Drive.
I honestly have to say the location was near-perfect. In a few seconds, you are on the beach (the hottest one in town). Within walking distance, you can reach pretty much any spot in South Beach, including Collins Avenue, Washington Avenue, Espanola Way and of course the Lincoln Road Mall.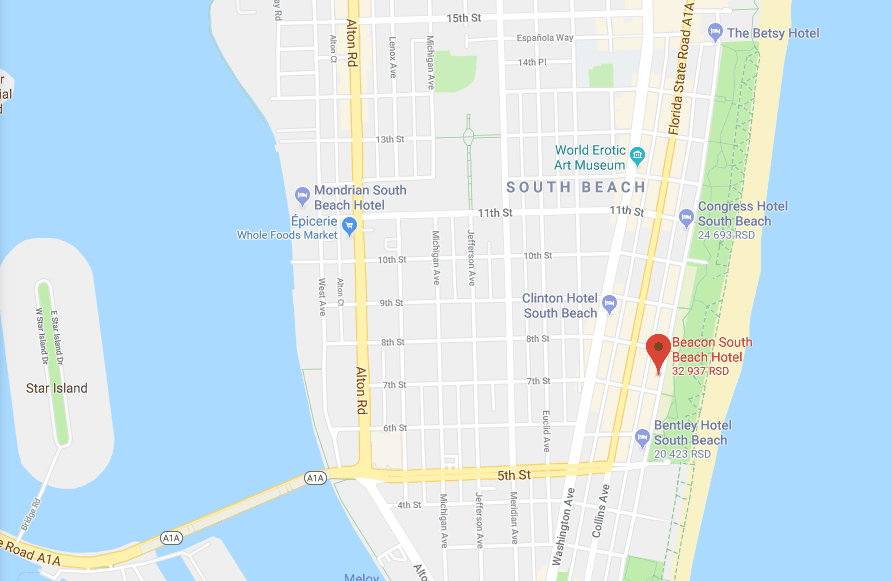 It is super easy to reach from either Miami International Airport (MIA) or Fort Lauderdale-Hollywood International Airport (FLL) as South Beach is a hub for public transport in the area. Ubers are also plenty and reasonably priced.
Arrival and Check-in
Our friend Pat joined us for a guys weekend in Miami before our trip to Europe, so we met him at the airport and then headed for South Beach. We arrived in the afternoon and the hotel was even more beautiful than we expected, with a very cool feel in the lobby.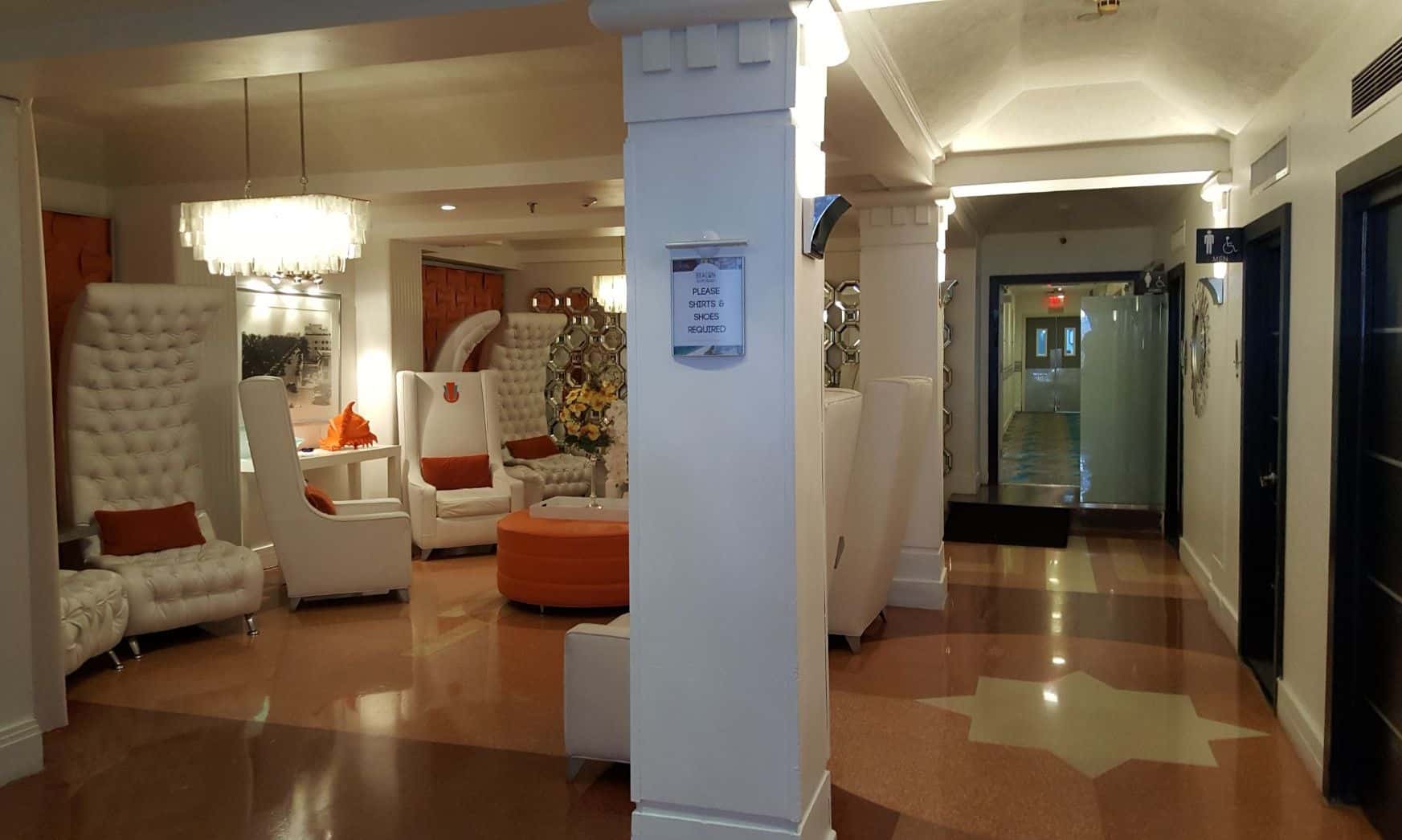 The employee at the front desk was very helpful and gave us a very warm welcome. The room wasn't quite ready but they offered to take our bags and we waited at most a few minutes in the lobby and were then shown to our 2nd floor room.
Lobby and Common Areas
The boutique hotel really lived up to our expectations and was very stylish. The lobby was very beautiful as shown above. The hotel also had a lobby bar, which you could also use by taking advantage of the nice terrace directly on Ocean Drive.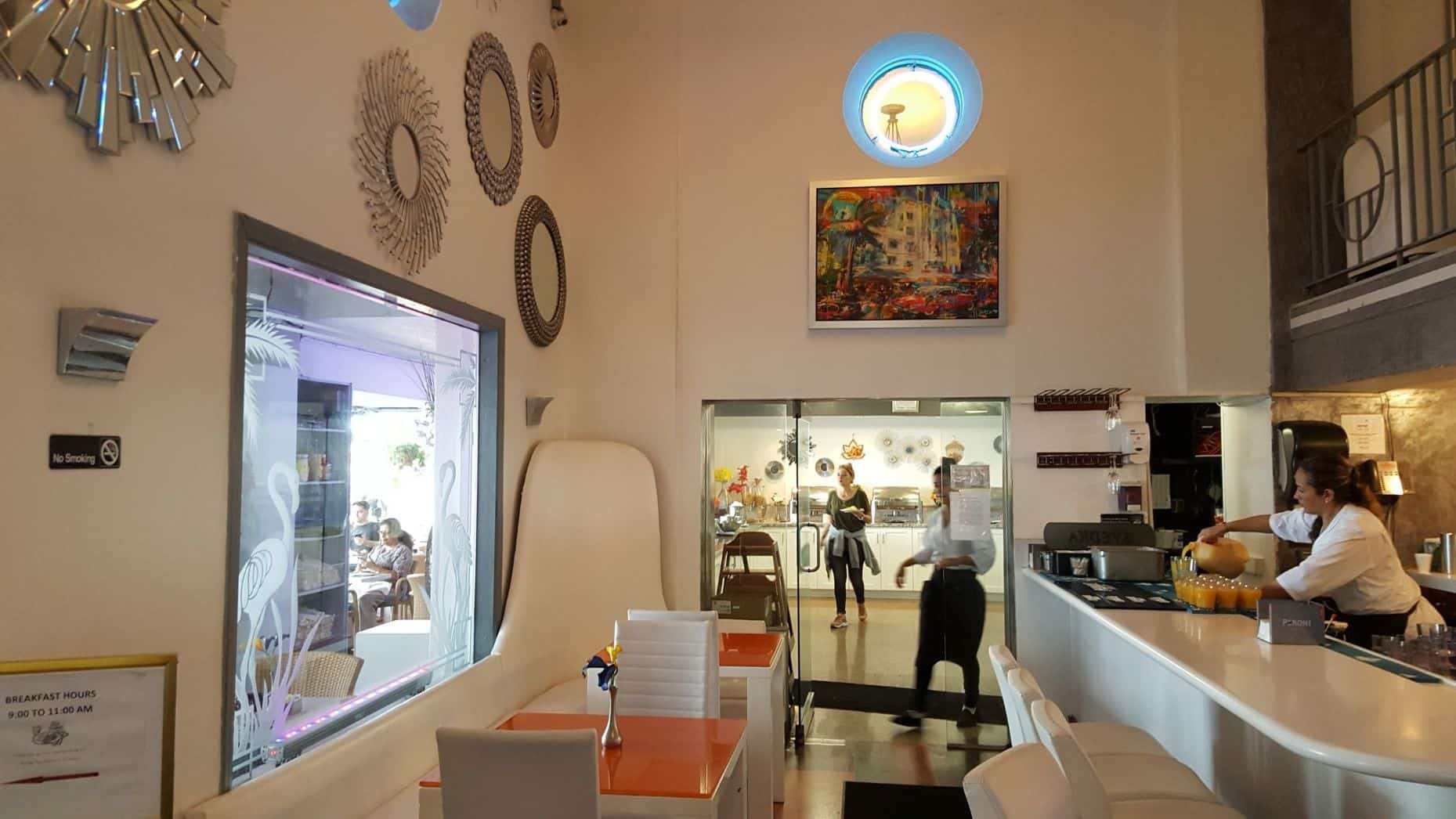 The restaurant outside was great to take in the glorious South Florida weather bright and early starting at breakfast.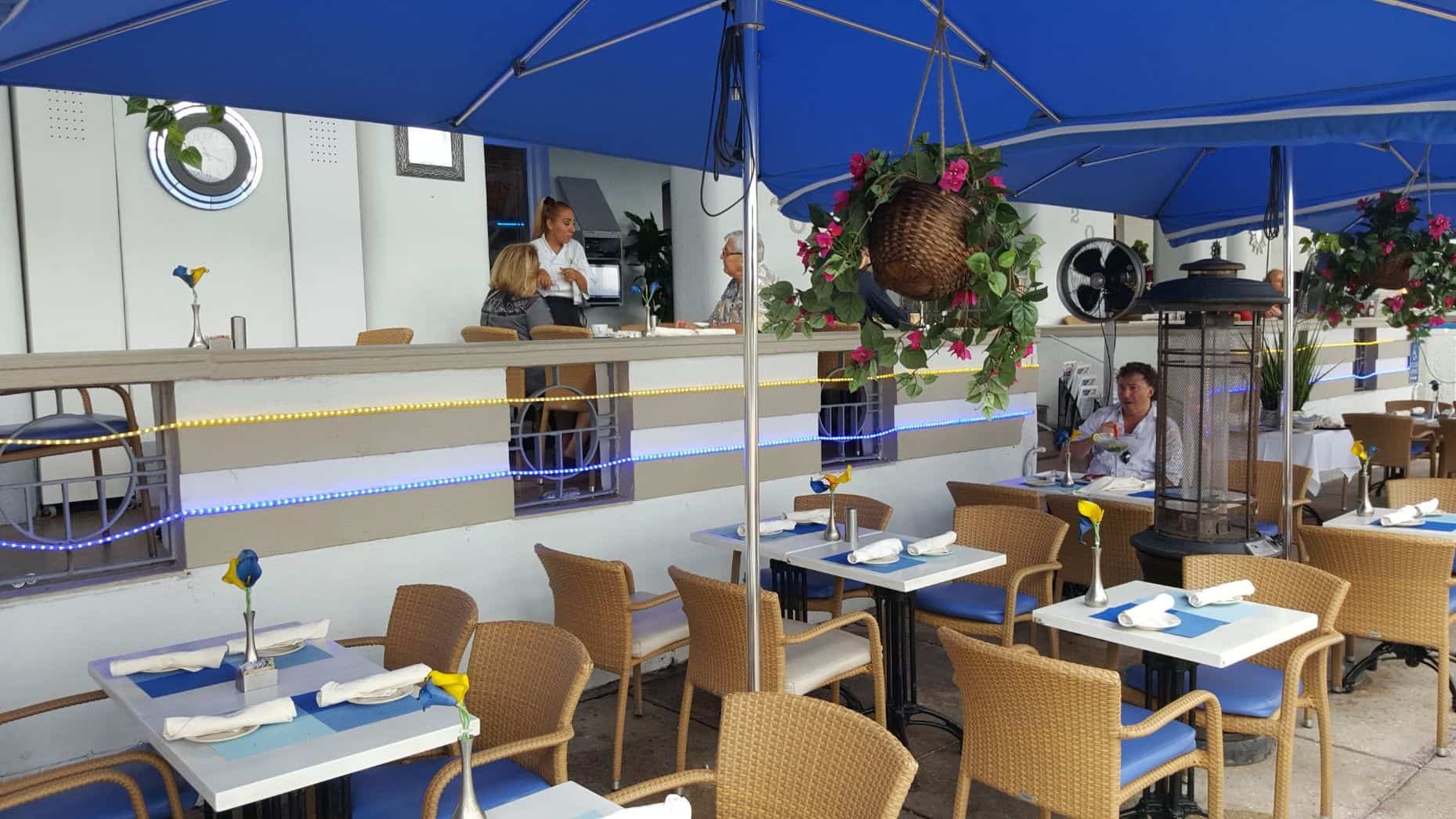 The hotel even had a little living room on the second floor with a sofa and a TV for another option that is more secluded than the main lobby.
Room
The room was very stylish and we were quite comfortable and had enough room for three, even though the beds were a bit small for two people, we still slept very well.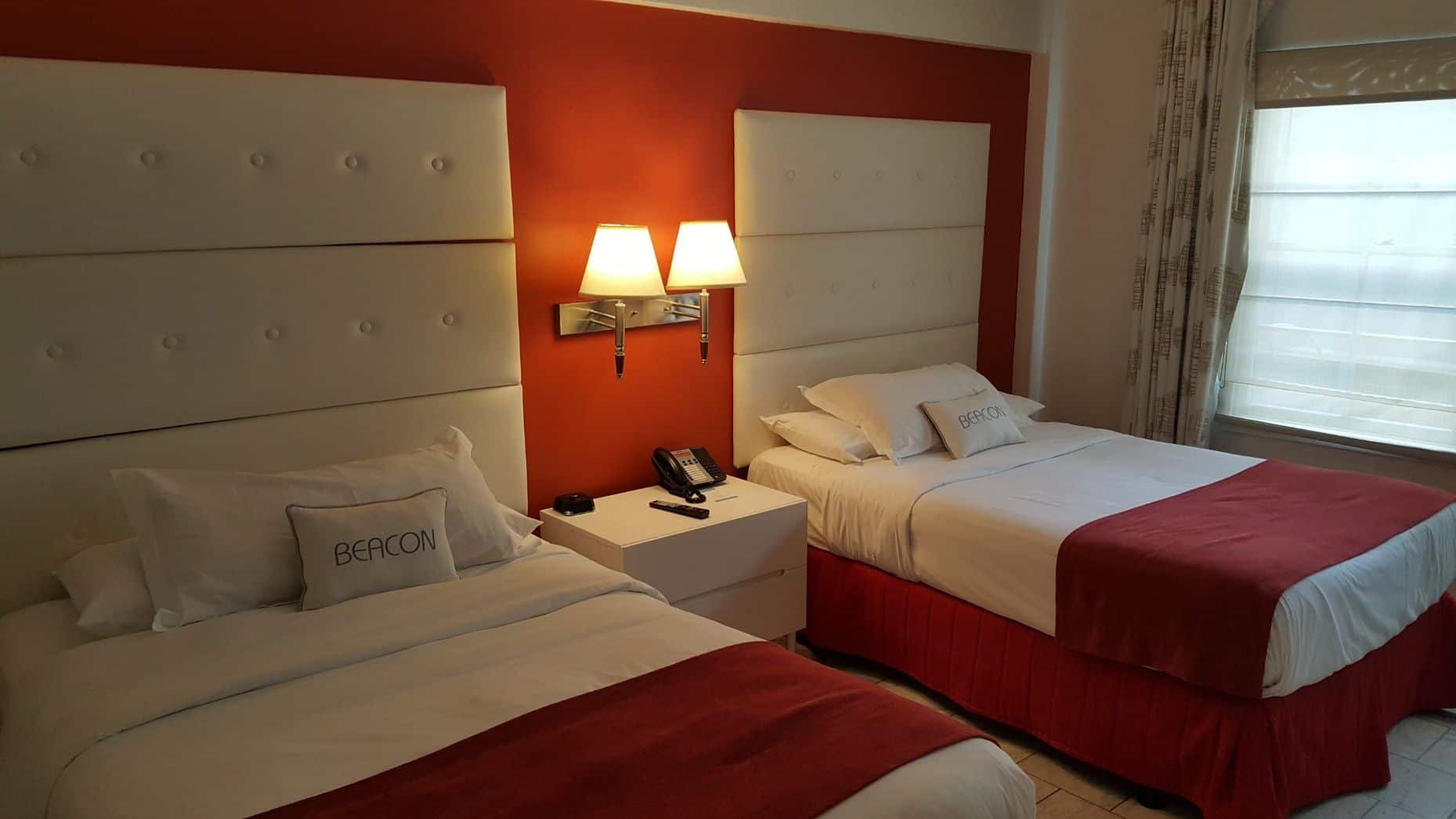 The decor was very fitting for a colorful spot like Ocean Drive and the upkeep was spotless. Bonus points for the custom embroidered pillow cushions.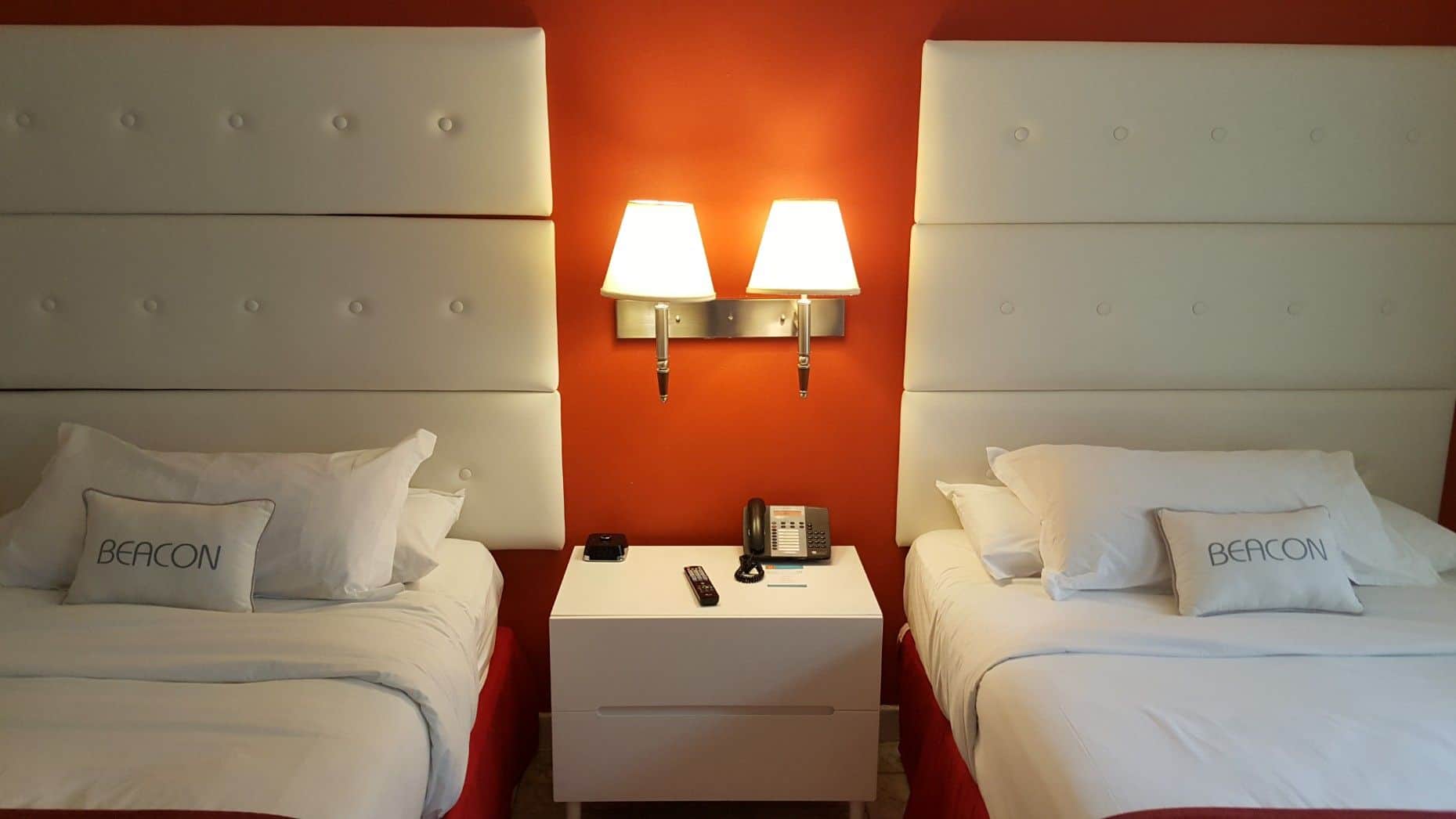 There was no work area but there was enough storage space, a useful fridge and there was a nice table with a modern coffee machine and beach towels included for our beach outings.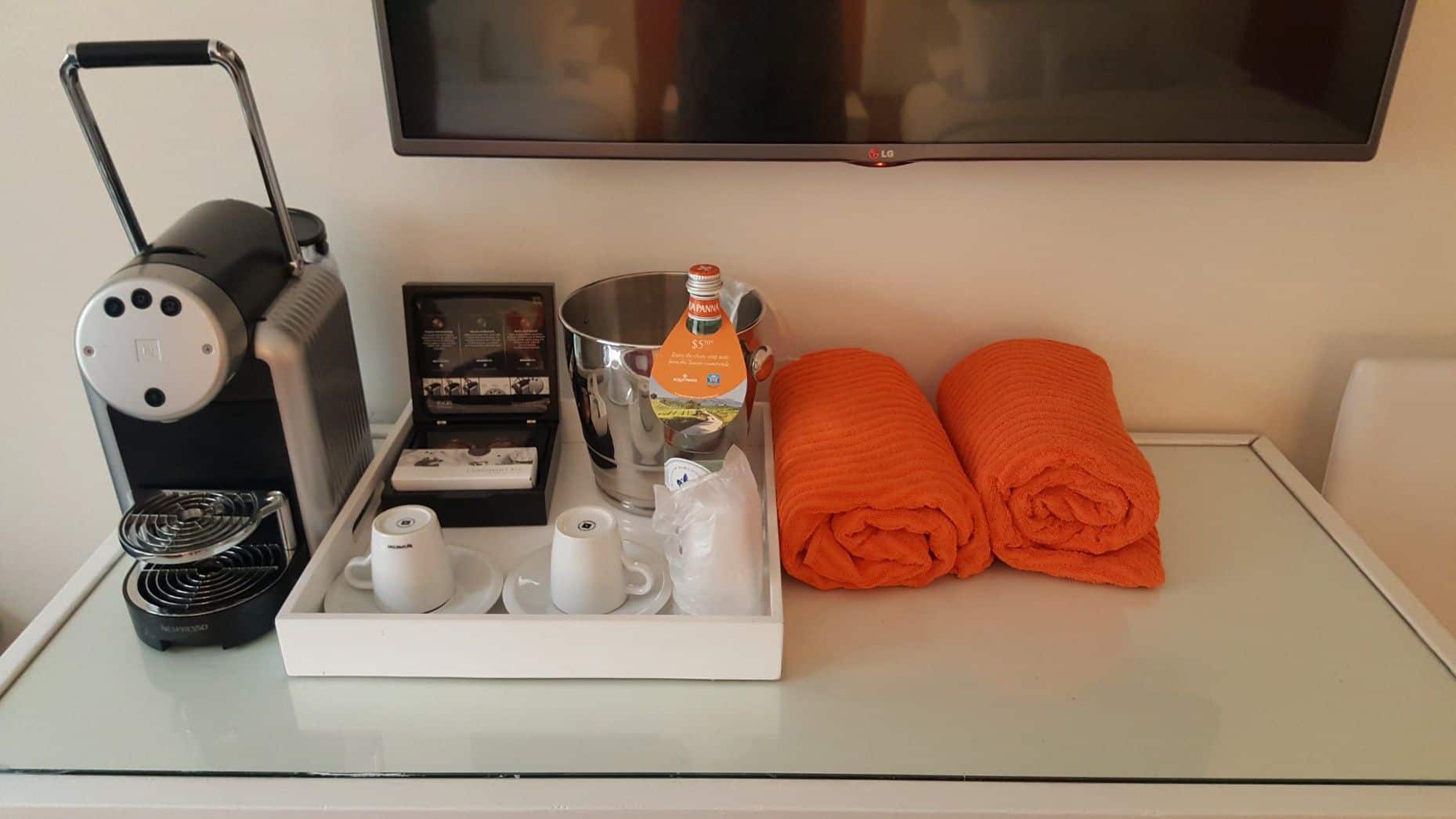 The bathroom was nice as well, even though it was on the smaller side. But then again, these are historic 1930s buildings with limited space. It was very clean and well maintained.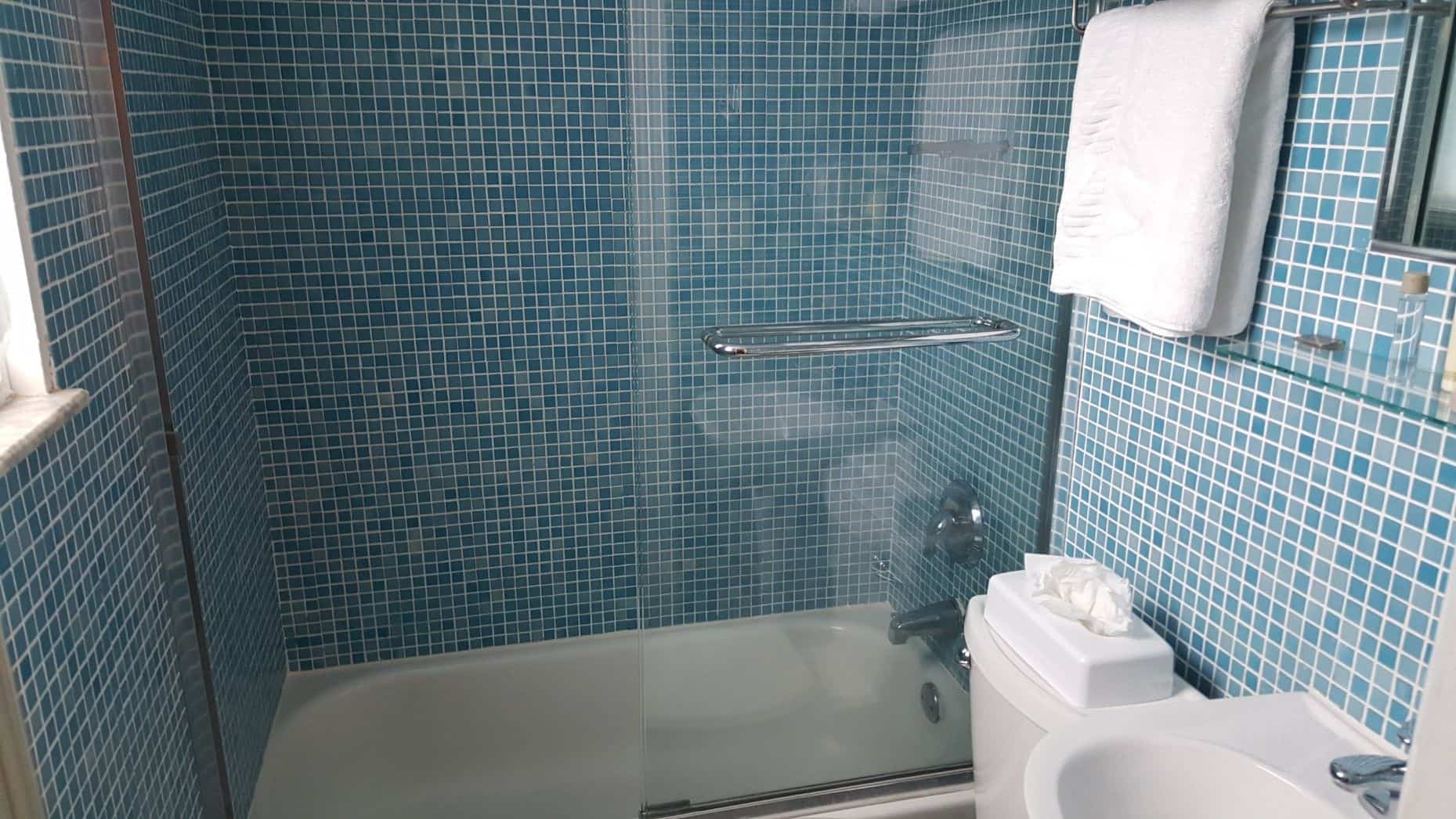 There were also cozy robes offered, that is always a nice touch that I definitely appreciate.
The amenities included smelled very good too, if you're into that kind of details.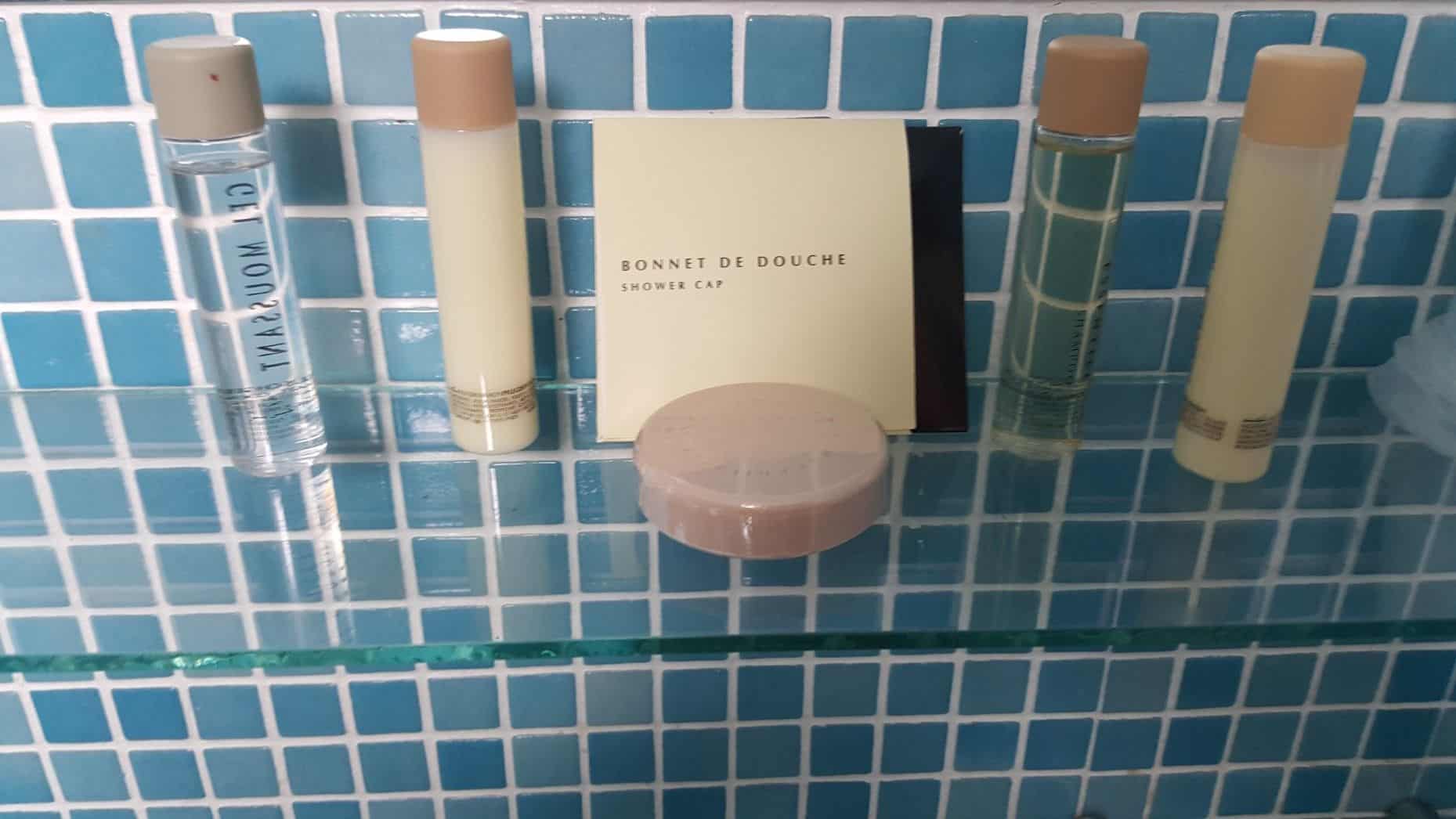 Services
As a small boutique hotel, there was understandably no other services like a gym or anything like that. No pool either, but the ocean is literally steps away thankfully. It is actually quite rare for hotels in this area to have space for any of those extra services, as these are quite old buildings from the 1930s like I mentioned.
Even though they have been renovated, they are on the National Register of Historic Places and for preservation, hotels can't modify the buildings that much (rightly so, it is a unique look).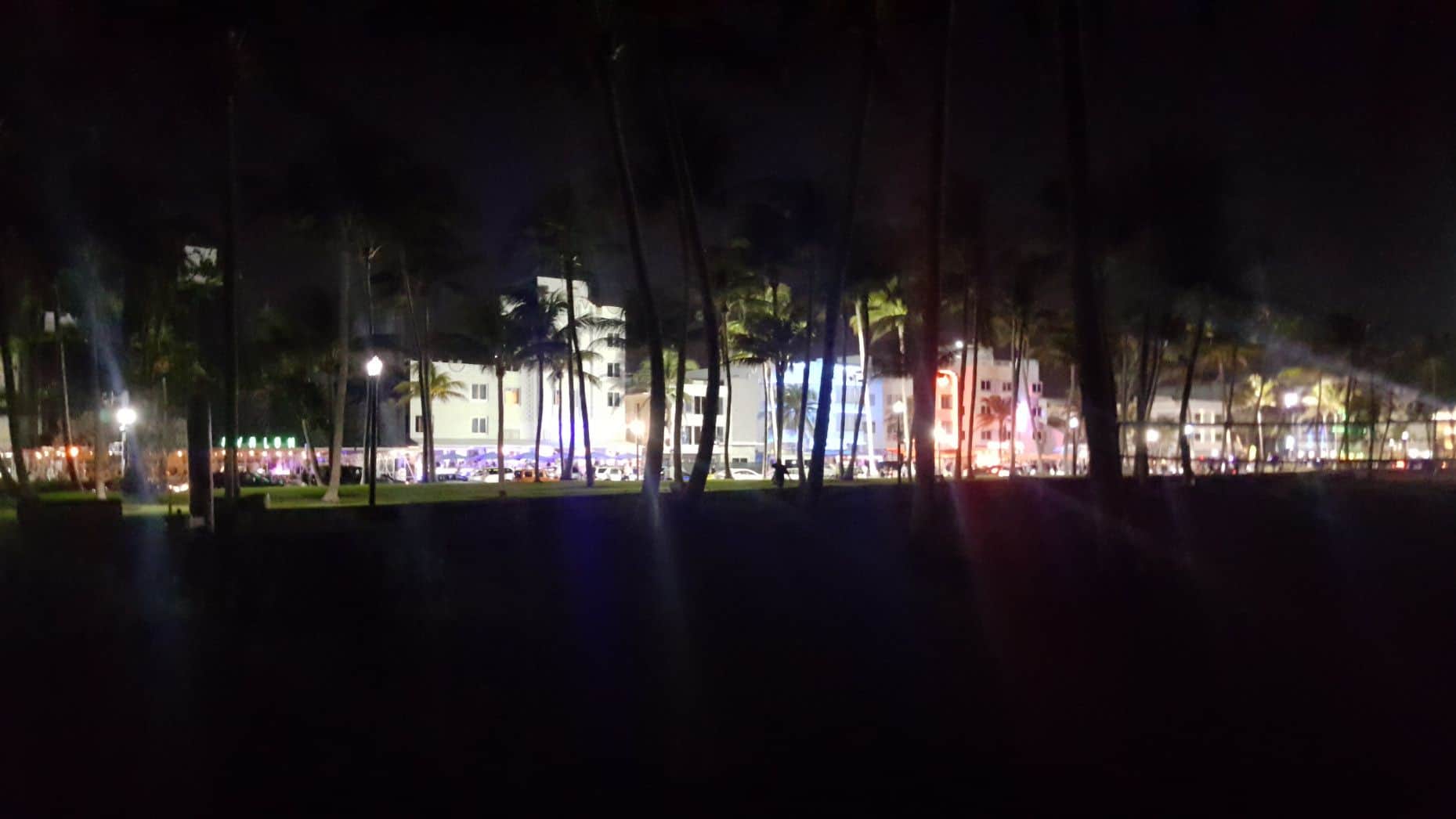 The on-site restaurant was great! Breakfast was included and was quite delicious. It was a buffet with a wide variety of foods, there was something for everyone.
We also had lunch at the restaurant, which is priced reasonably, in line with what you'll find in this particular area, which is obviously very crowded and popular so a bit on the expensive side as a whole.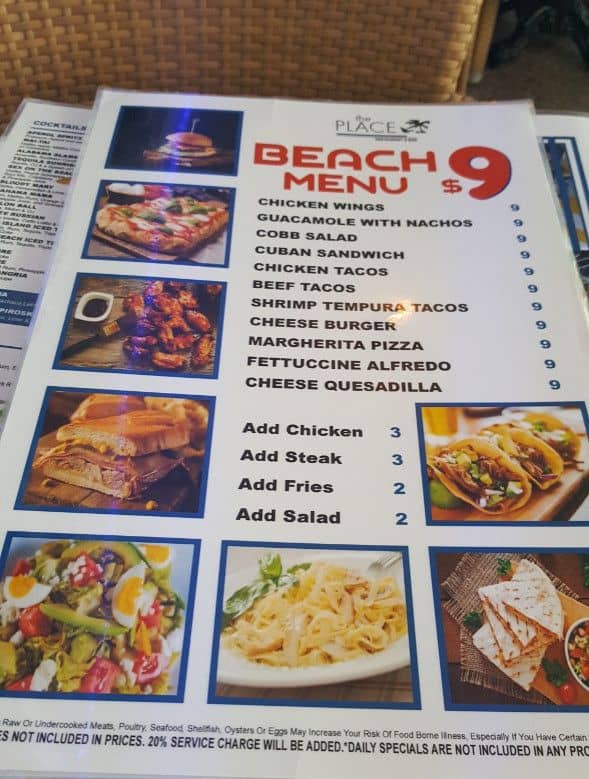 We tried the pizza, mini tacos and burger which you can see below (everything was delicious).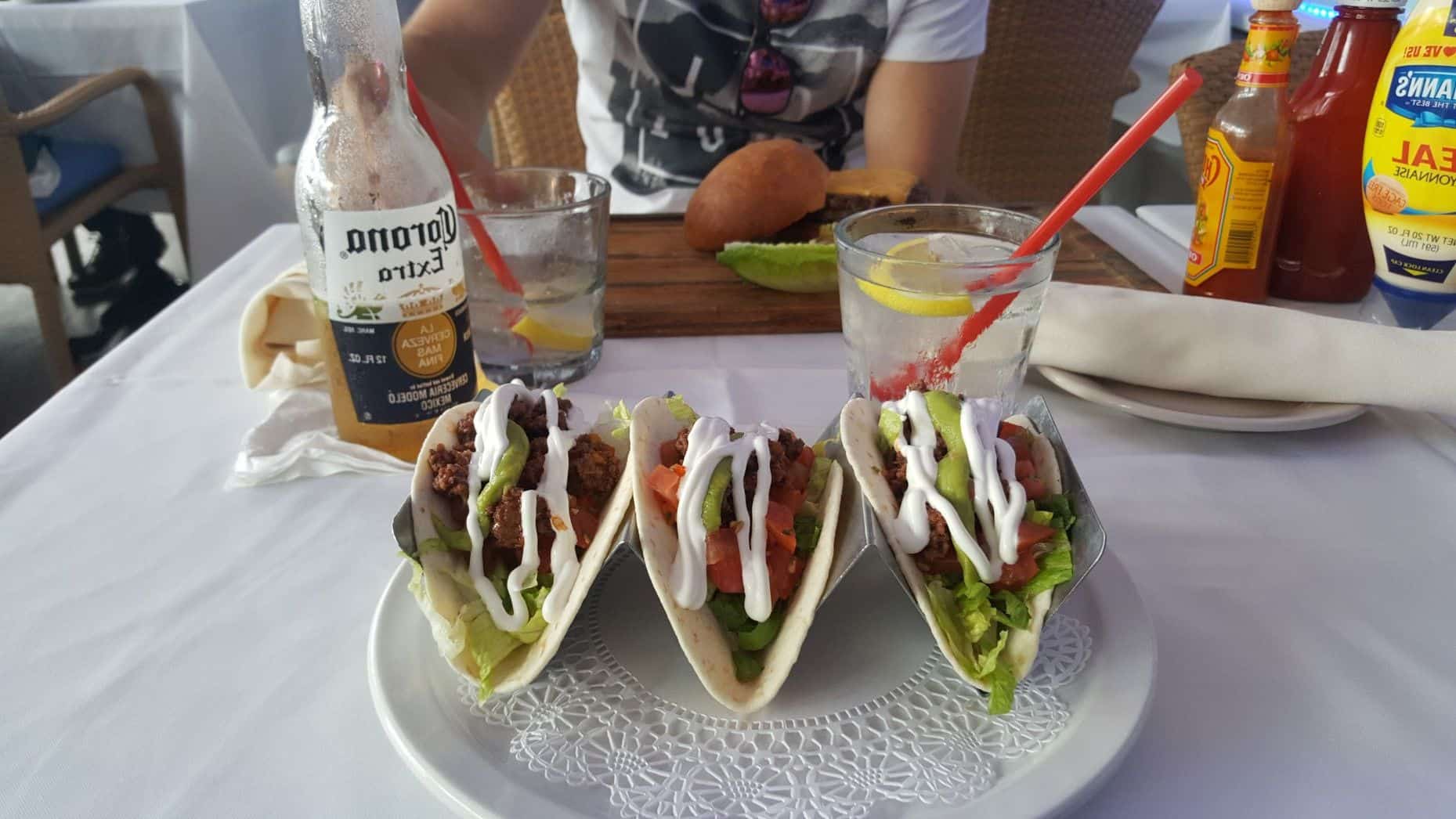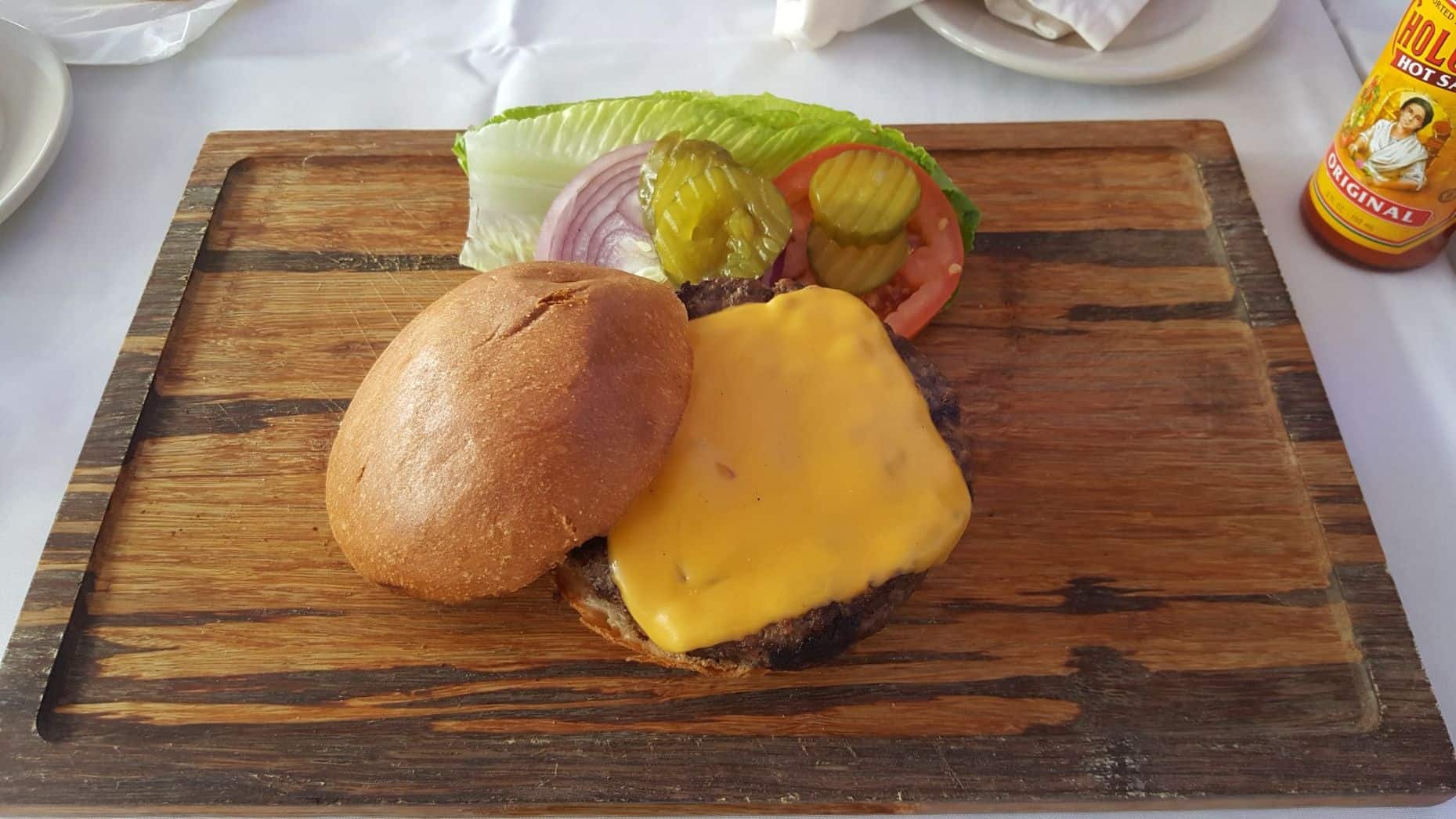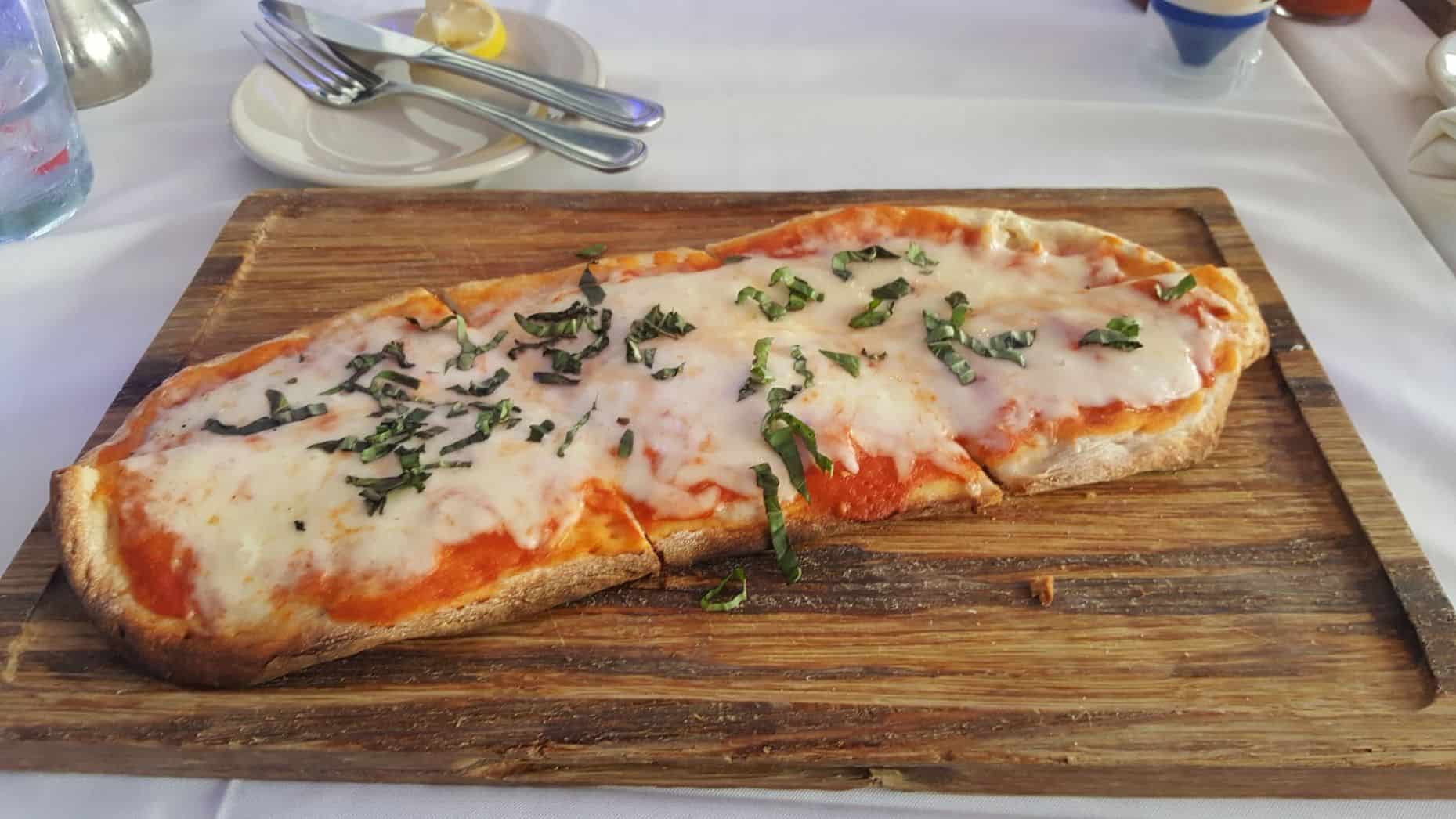 The best thing about the restaurant is of course the fact that the tables are directly on Ocean Drive, with a great view of the Miami sky, palm trees and the beach.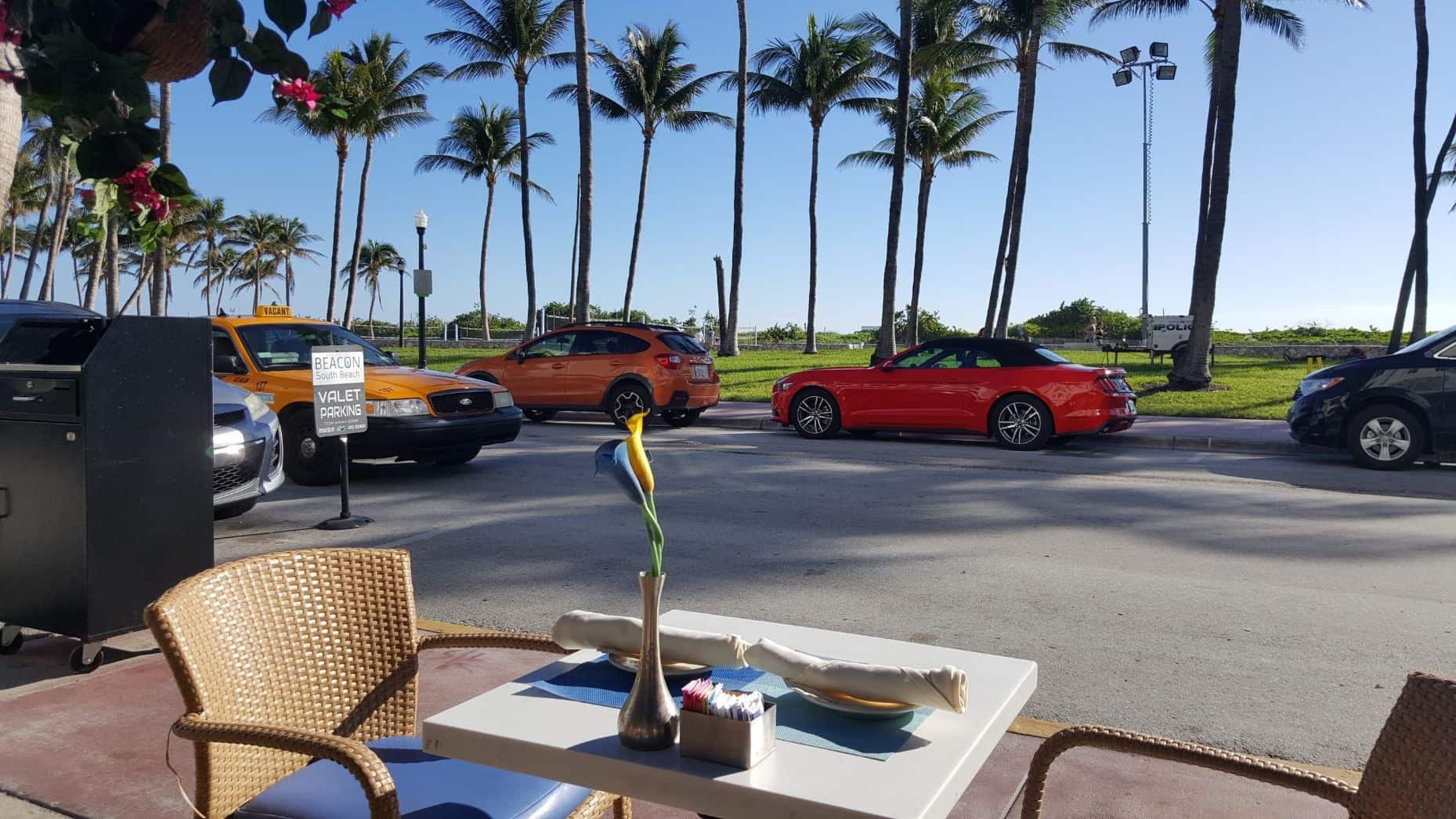 Bottom Line
Overall, it was a great hotel to explore Miami Beach, very well located and absolutely charming in every way. I would definitely recommend it if you are heading to South Beach and want a unique experience! You can use our link to book the Beacon South Beach or go to the Beacon South Beach website.
Help us spread the word about our flight deals and travel tips by sharing this article and most importantly bookmark Flytrippers so we can help you navigate the world of low-cost travel!
Advertiser Disclosure: Flytrippers receives a commission on links featured in this blog post. We appreciate if you use them, especially given it never costs you anything more to do so, and we thank you for supporting the site and making it possible for us to keep finding the best travel deals and content for you. In the interest of transparency, know that we will NEVER recommend a product or service we do not believe in or that we do not use ourselves, as our reputation and credibility is worth far more than any commission. This principle is an essential and non-negotiable part of all our partnerships: we will never give any third-party any control whatsoever on our content. For more information on our advertiser disclosure, click here.
Editorial Disclosure: Flytrippers received a complimentary stay at this hotel. When this is the case, it will always be indicated clearly here for the sake of transparency. Most importantly, it will NEVER affect our editorial independence as all our reviews are authentic and unaltered. This principle is an essential and non-negotiable part of all our partnerships: we will never give any third-party any control whatsoever on our content. For more information on our editorial disclosure, click here.
Share this post to help us help more people travel more for less: