Laurence is a guest-blogger at Flytrippers. You can follow her on Instagram and scroll down to read her bio.
This is one of the questions we often ask ourselves when we travel abroad: how much should I tip? When we are at home, we know exactly how much we should give to show our appreciation. But is tipping customary in other countries? And if so, how much should you tip?
In some countries, tipping is not part of the culture at all. In others, it is the only livelihood for some employees. Also, many countries already add a service charge to the bill. Therefore, tipping is not customary in these countries, but considered a generous act in exchange for exceptional service.
Basically, it's complicated.
And with nearly 200 countries in the world, many of which you can get to at a discounted price thanks to Flytrippers' flight deals page, that means there are many different rules.
International Tipping Rules
To make your life easier (and so you don't feel awkward abroad), we have created a global tipping infographic to brush up before you head out of the country.
You will notice that some countries can be classified in two different categories. This is because there are different tipping customs in the same country.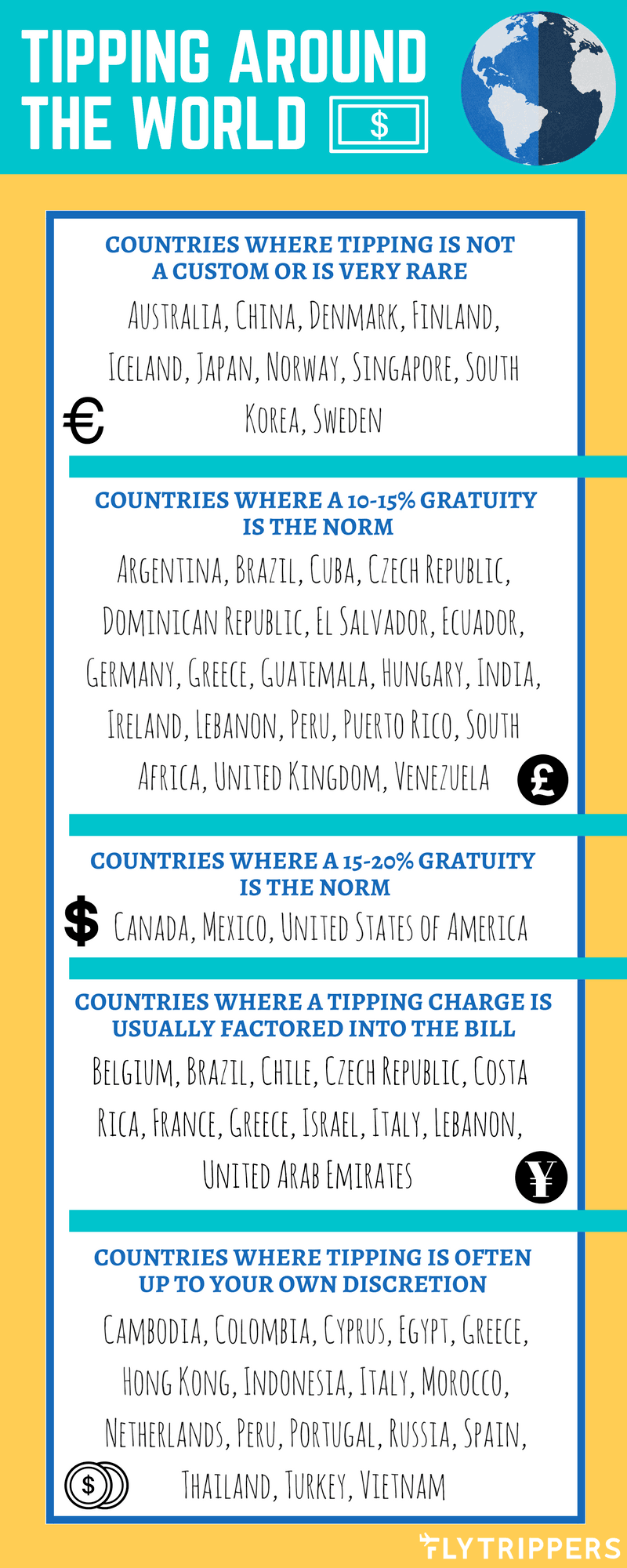 Bottom Line
Bare in mind that these rules are not foolproof. Also, tipping customs can change as tourism shapes cultural norms. Start by always looking at your bill to see if a gratuity has already been added.
If you find yourself unsure whether or not to tip, don't be embarrassed to ask your server if tipping is customary. Our final advice is to always carry cash with you since most of the time there will be no way to add a tip on the credit card terminal, if they even accept credit cards.
Do you have more questions about tipping customs around the world? Let us know!
Help us spread the word about our flight deals and travel tips by sharing this article and most importantly bookmark Flytrippers so we can help you navigate the world of low-cost travel!
Advertiser Disclosure: Flytrippers receives a commission on links featured in this blog post. We appreciate if you use them, especially given it never costs you anything more to do so, and we thank you for supporting the site and making it possible for us to keep finding the best travel deals and content for you. In the interest of transparency, know that we will NEVER recommend a product or service we do not believe in or that we do not use ourselves, as our reputation and credibility is worth far more than any commission. This principle is an essential and non-negotiable part of all our partnerships: we will never give any third-party any control whatsoever on our content. For more information on our advertiser disclosure, click here.
Published August 21st 2017, updated August 27th 2018
Share this post to help us help more people travel more for less: