Nancy is a guest-blogger at Flytrippers. Follow her on Instagram and read her bio at the bottom of this post.
Newfoundland is considered a must-see spot for whale watching, icebergs, seabirds and fishing. But Newfoundland is much more than that! There are also long magic hikes, breathtaking coastal landscapes, rich folklore and exhilarating music!
Did you know that the Newfoundland is the easternmost place in North America? When you look out to sea, there is only you, the ocean and the wind. So it is a little paradise for adventurous souls, and as I have discovered, for librarians too!
Just keep an eye on the Flytrippers cheap flight deals page for good prices to this exceptional destination!
Last June, I went to St. John's for the Canadian Health Libraries Association Conference. As a librarian, globetrotter and filmmaker, I knew it would be great.
On one side, there was the meeting with my colleagues from across the country and on the other, all the new landscapes that I could capture with my video camera!
My trip to Newfoundland
First morning: disappointment!
The fog was so dense that I could not see anything! I spent the whole morning cleaning and re-cleaning my camera lens to avoid blurry raindrops on the screen.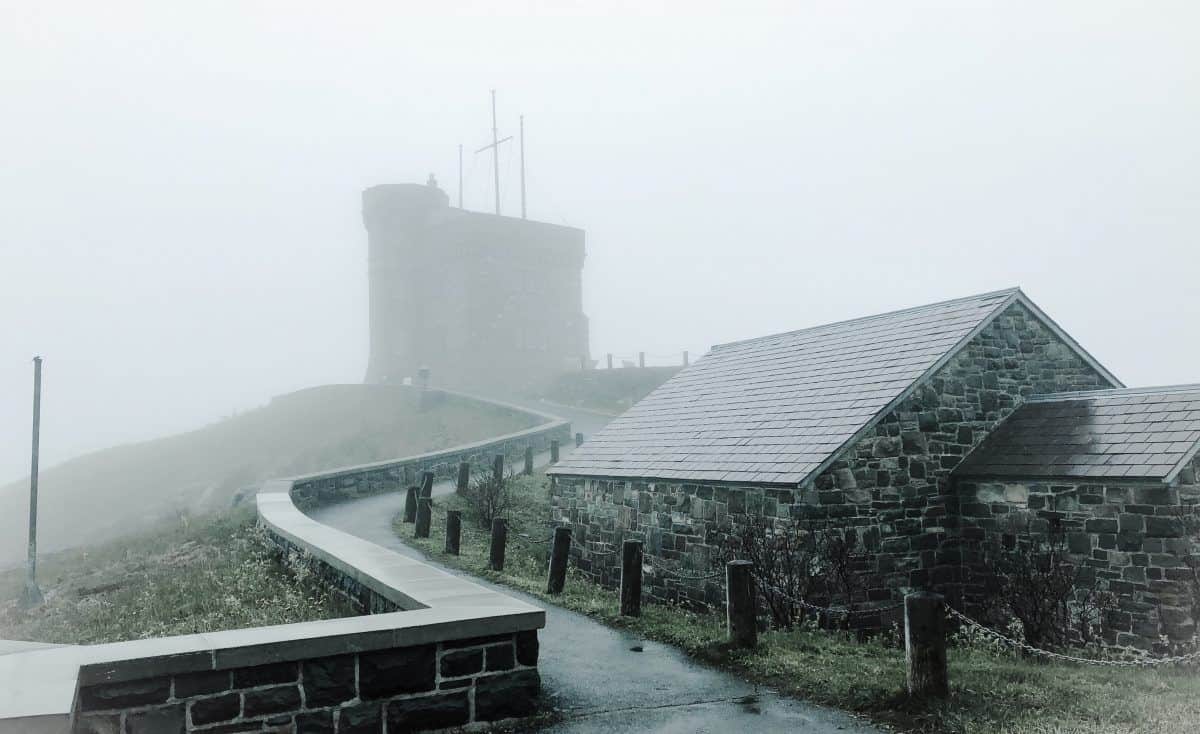 Then, the magic of the fog finally invaded me. In reality, the island gets foggy almost every morning.
Around noon, the fog lifts slowly, moves away from the coast, lets the sun's rays through and forms a barrier of clouds around the island. It looks like the world of giants in the story of Jack and the Beanstalk (or Jack the Giants Slayer for movie lovers).
[instagram url=https://www.instagram.com/p/BkFQO2nlwYB/?hl=fr-ca&taken-by=explorenadoom hidecaption=true]
And since during this first morning I was impatient waiting for the fog to lift, I decided to walk up to the museum. The man at the entrance kindly explained to me that the museum was closed because it was a "rainy day".
You are kidding me! Imagine that in your town! Closing the office or businesses because it's raining outside! All I could do was smile and enjoy the fog, and that's what I did.
What are your thoughts on this? Do you also get the impression that the majority of those who live on islands know exactly how to take advantage of the slow pace of life?
[instagram url=https://www.instagram.com/p/BkIFaMKFolC/?hl=fr-ca&taken-by=explorenadoom hidecaption=true]
During my stay, I walked in the fog and drizzle countless times. I hiked mountains and I walked along the rocky cliffs, where I could hope to see birds or whales. It was beautiful every time! The fog creates a kind of intimate atmosphere.
I remember one time I was alone, there was no one around me, and I was watching thousands of gulls dive from a cliff. The sound of their cries echoed on the cliffs and created a unique cacophony.
[instagram url=https://www.instagram.com/p/BkDafwMF7Uj/?hl=fr-ca&taken-by=explorenadoom hidecaption=true]
In the following days, I went to the Canadian Health Library Association Conference at the Sheraton St. John's.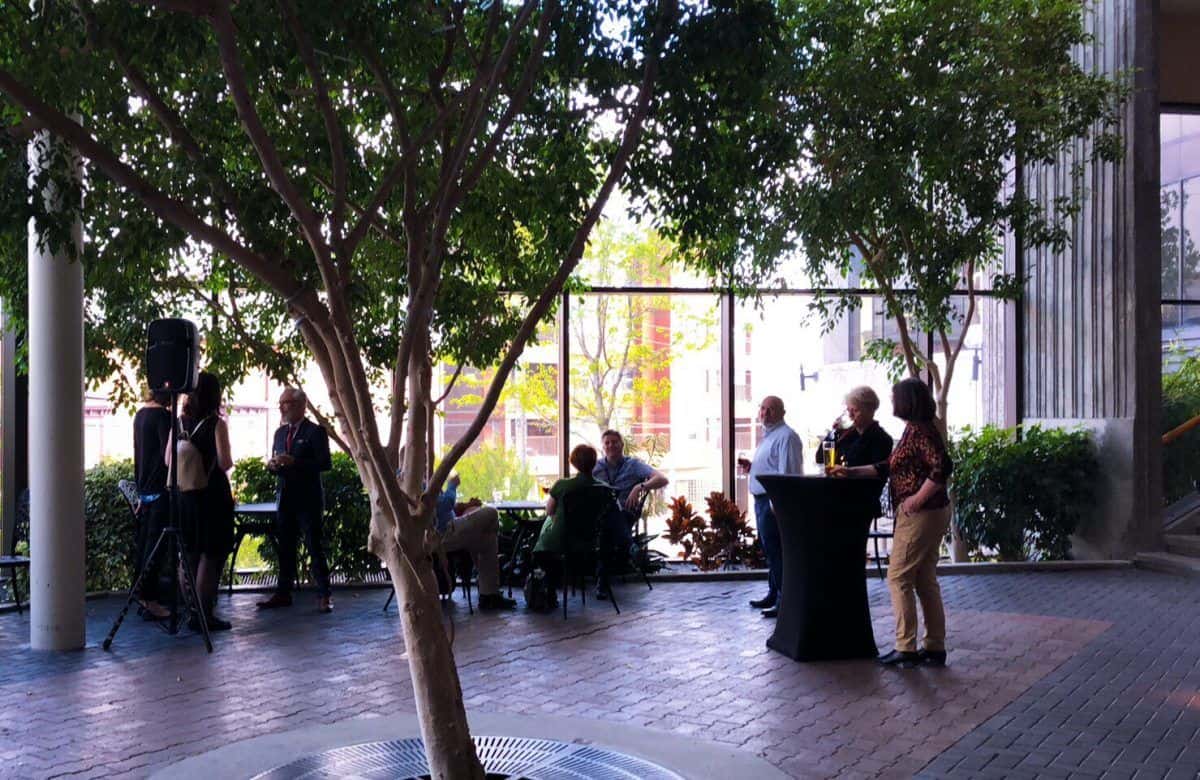 Most hotels, homes and streets provide a fabulous view of the bay and the harbor. St. John's is a very pleasant place to walk. The colorful rows of houses and the proximity of hiking trails and historic sites, such as Signal Hill, make the city really attractive.
[instagram url=https://www.instagram.com/p/BkGCPqXlzij/?hl=fr-ca&taken-by=explorenadoom hidecaption=true]
And also, there is the music!
From the moment you step into The Room or into one of the small theaters, bars or coffee shop that host local artists, you instantly become a Newfoundland music lover and want to dance all night!
The second evening, I met Baccalieu at the opening reception of the conference that took place at The Room. I had planned to make only a short appearance to introduce myself to some colleagues, and run away to explore the city at night. However, I fell in love with the music, and I could not leave until the band stopped playing.
[instagram url=https://www.instagram.com/p/BkwKI8OnVf6/?taken-by=baccalieu_ hidecaption=true]
I also recommend you mingle and go enjoy the life at the pier!
[instagram url=https://www.instagram.com/p/BkPkxeIFiqZ/?hl=fr-ca&taken-by=explorenadoom hidecaption=true]
Newfoundland is the country of fishermen, sailors and sea traders. Every day, a new boat enters the bay and becomes the topic of all conversations.
Between the noise of the loading dock, fogs horns, rough voices of port workers and tourist boats tracking whales and icebergs, the sea atmosphere persists even at night.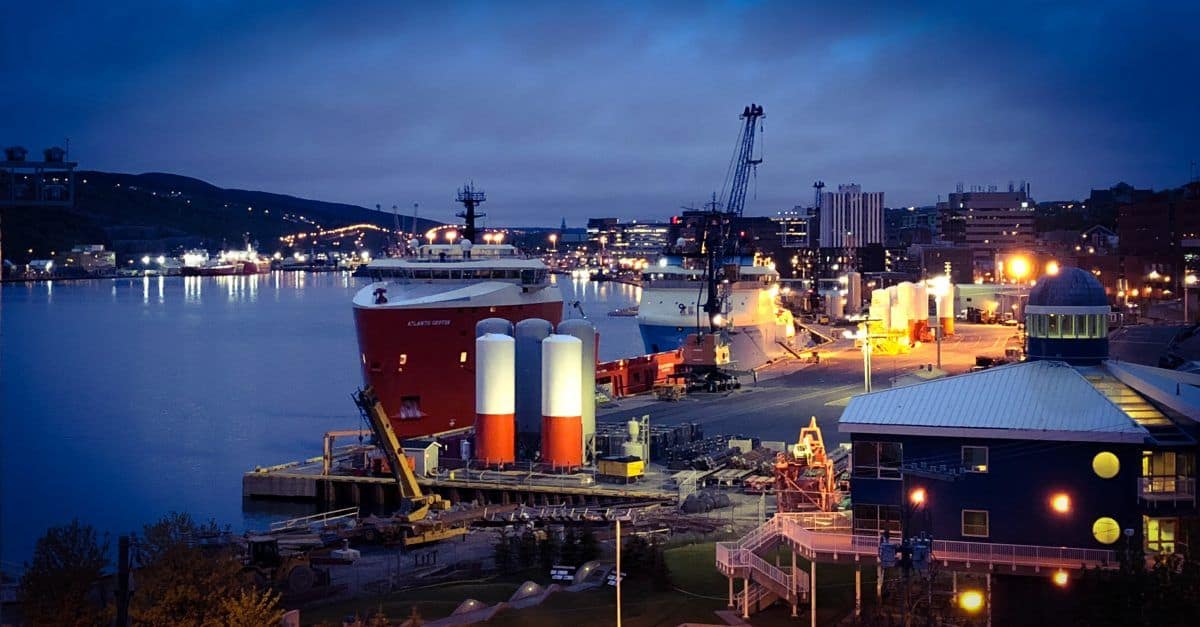 My short stay in Newfoundland literally seduced me. I had so much fun that upon my return, I created a video of my trip in partnership with the lively local band Baccalieu.
Now, it's your turn to travel to Newfoundland (and feel captivated it's music). Enjoy the film!
Ever been to Newfoundland? Tell us about it!
Help us spread the word about our flight deals and travel tips by sharing this article and most importantly bookmark Flytrippers so we can help you navigate the world of low-cost travel!
Advertiser Disclosure: Flytrippers receives a commission on links featured in this blog post. We appreciate if you use them, especially given it never costs you anything more to do so, and we thank you for supporting the site and making it possible for us to keep finding the best travel deals and content for you. In the interest of transparency, know that we will NEVER recommend a product or service we do not believe in or that we do not use ourselves, as our reputation and credibility is worth far more than any commission. This principle is an essential and non-negotiable part of all our partnerships: we will never give any third-party any control whatsoever on our content. For more information on our advertiser disclosure, click here.