Vietnam seems like a wonderful country. Great landscapes, beautiful beaches… as if you needed another reason to go there!
Well, that's what we have for you this morning, with this brand-new attraction that just opened this summer.
By the way, we often spot dates on sale for Vietnam on our cheap flight deals page (deals that change every day, don't forget).
Depending on where in Canada you live, we're talking anywhere from $599 to $899 roundtrip during these limited-time sales. But more importantly, once you're there, Vietnam is one of the most affordable countries in the world. You can easily spend a month there for under $1,000, flights and accommodations included (if you find a flight deal of course).
So, if you do end up going to this Southeast Asian country, make sure you add this cool spot to your itinerary.
The Cau Vang Bridge
Located near Da Nang in the middle of the country, this cool pedestrian bridge is supported by giant concrete hands and welcomes tourists who want to enjoy a unique viewpoint.
The bridge's name means "Golden Bridge" in Vietnamese and it is almost 150 meters long, at an altitude of 1,000 meters above beautiful landscapes in the Ba Na Mountains region.
It wasn't even supposed to be a tourist attraction: the work is meant to be spiritual and represents the "giant hands of Gods, pulling a strip of gold out of the land", according to a Reuters interview with the architect.
Here are more pictures taken from Instagram… and we've also added an impressive video below that shows you how amazing this spot is! Keep reading to know how to get there.
https://www.instagram.com/p/BmBdcEVHAlJ/
Here is a very interesting video:
How To Get There
If you're travelling along the Vietnam Coast (buying or renting a motorcycle in the country is very inexpensive), you can make a quick detour to see this bridge.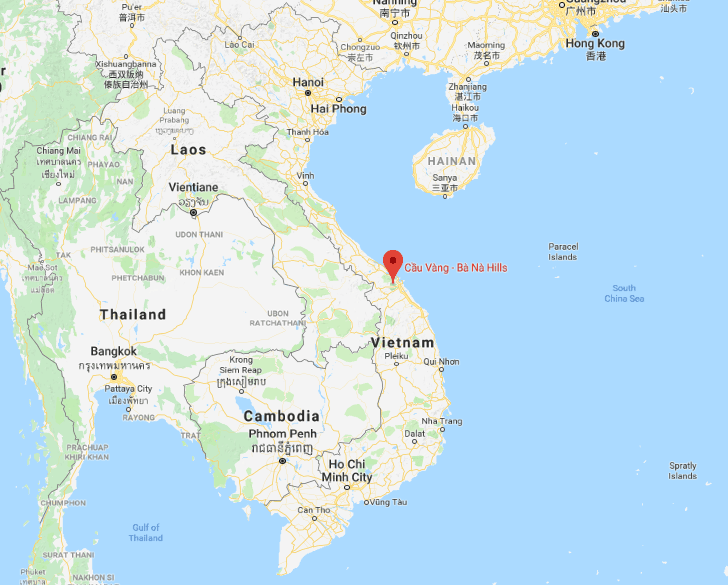 There are also buses that go to the bridge, leaving from Da Nang. That city is quite accessible from either Hanoi or Ho Chi Minh, as it is centrally located.
You can take the bus there, or even fly since air travel in Southeast Asia is often very affordable.
For example, there are flights for only $41 one-way ($98 roundtrip) from Hanoi to Da Nang (read the details about how our tool for advanced searches works to find the cheapest dates). Even from neighboring countries, there are flights for as little as $146 roundtrip (from Bangkok).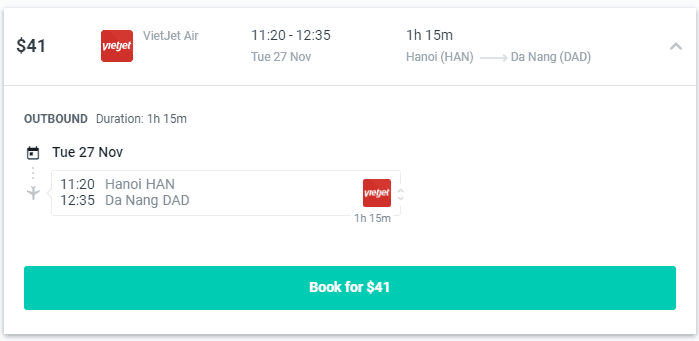 If you would like to discover even more unusual attractions, check out this interactive map that has 11,000 of them or this one that shows you the most popular one in each country (or the most popular one in each US state if you want to stay closer to home).
Know other great spots your fellow travelers shouldn't miss? Become a guest-blogger on Flytrippers and share your travel stories with our readers!
This is quite an impressive spot, with a beautiful view. If you're going to Vietnam, make sure you bookmark this post to remember where to go!
Help us spread the word about our flight deals and travel tips by sharing this article and most importantly bookmark Flytrippers so we can help you navigate the world of low-cost travel!
Advertiser Disclosure: Flytrippers receives a commission on links featured in this blog post. We appreciate if you use them, especially given it never costs you anything more to do so, and we thank you for supporting the site and making it possible for us to keep finding the best travel deals and content for you. In the interest of transparency, know that we will NEVER recommend a product or service we do not believe in or that we do not use ourselves, as our reputation and credibility is worth far more than any commission. This principle is an essential and non-negotiable part of all our partnerships: we will never give any third-party any control whatsoever on our content. For more information on our advertiser disclosure, click here.
Share this post to help us help more people travel more for less: