Traveling around Europe in summer can be an incredible experience; all the food, culture, languages, and experiences. It's no wonder European countries are some of the most popular destinations for Canadians. But you might be in for a bit of a shock.
And I'm not talking about the current airport chaos.
Unlike in Canada and the United States, most European homes and apartments — and even lots of hotels — don't have air conditioning (AC).
That's right. A hot summer night and no AC to keep you cool. And there has been a lot of heat this year.
By the way, I'm Emily, Flytrippers' new full-time writer. I'll introduce myself properly very soon, so keep your eyes peeled! But I thought it might be helpful to give you this reminder right away. I was born in the UK but live in France, so I know our lack of AC does sometimes surprise North Americans.
Here's what to know to double-check your summer accommodations or for all future trips outside North America!
Check if air conditioning is installed in advance
Because so few places in Europe have AC, you will need to check in advance. If it's a deal breaker for you, you might want to change your booking. Many hotels booked online can be canceled for free for any reason in a few clicks, a great reason to book independently and on your own.
Most of the big hotel chains will have AC, but some don't. Independent or smaller hotels might not. So check the room details before you reserve a room.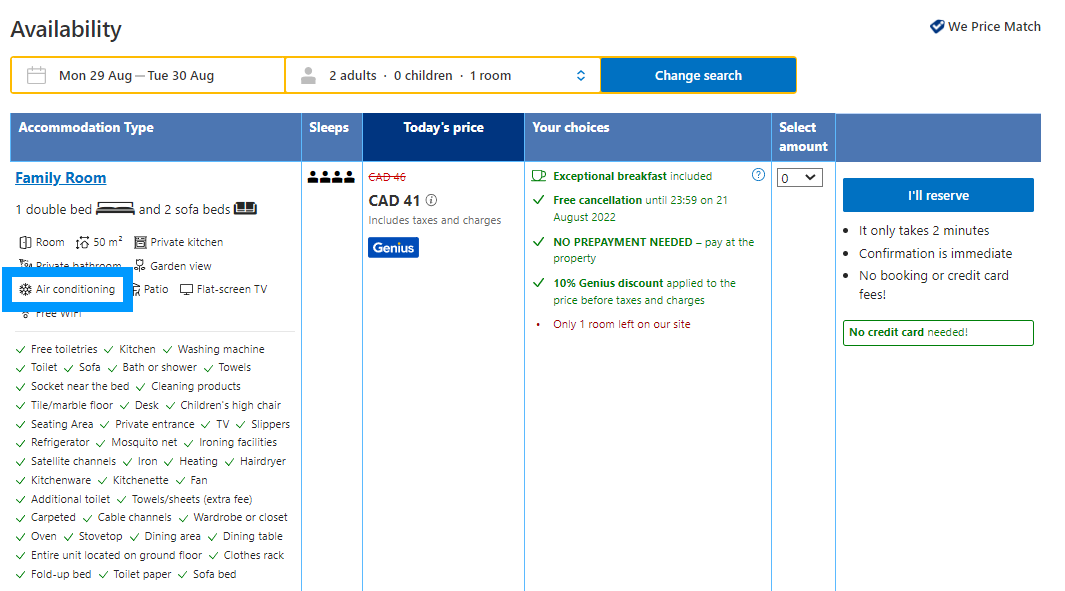 It's just not something Canadian travelers are used to looking out for, because they often take it for granted that AC will be available.
But it's vital to double-check this when booking a hotel outside North America if you need AC, and most hotel reservation websites even have "air conditioning" as one of the search filters.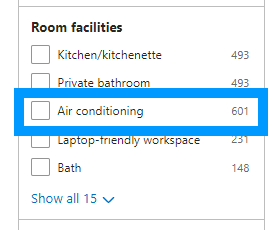 If you're staying in a home or apartment rental (through Airbnb, Vrbo, Marriott Homes & Villas, or others), you should assume there is no AC unless it specifically says so on the booking.
More affordable hotels, hostels, and apartments are also unlikely to have proper air conditioning. You're much more likely to get a small fan in your room than a proper AC unit.
That said, air conditioning has become more popular in Europe in the last few years, even if it's still unusual in many homes and rentals.
Why don't Europeans use air conditioning?
If you've never been to Europe, you may not know that only around 20% of European homes have air conditioning. In comparison, around 90% of North American homes have AC in at least one room.
So why is it that Europeans don't like AC?
Well, there are several reasons why AC isn't so popular on the other side of the Atlantic. The first is that Europeans just don't need AC. Until recent years, European weather was pretty stable with low humidity, and only July and August saw temperatures get very hot.
Because of this, there is just no need to install an AC system and only use it infrequently during 2 months of the year. But more recently, as the climate has changed and intense heat waves have become more frequent in Europe, people have started talking more about AC.
Many Europeans believe that air conditioning is a waste of money and resources. Particularly in the countryside where old stone houses are everywhere, this style of building is designed to keep the heat out. Adding air conditioning was just unnecessary for plenty of people.
Chances are, as you travel across Europe, you'll have to get used to not having an air conditioning unit. After a few days, you do get used to it.
And remember, people in many European countries don't eat until 10 PM and definitely don't get to bed until after midnight when it's much cooler.
So, get ready to embrace some warm, sticky evenings!
Want more tips about traveling around Europe?
Summary
If you're traveling around Europe this summer, make sure you double-check if your accommodation has air conditioning. Not all Canadians know that AC isn't as common in Europe as it is in North America, so be sure to keep that in mind if that's important to you.
What would you like to know about air conditioning in Europe? Tell us in the comments below.
See the deals we spot: Cheap flights
Explore awesome destinations: Travel inspiration
Learn pro tricks: Travel tips
Discover free travel: Travel rewards
Featured image: Cannes, France (photo credit: Jim Thirion)
Advertiser disclosure: In the interest of transparency, Flytrippers may receive a commission on links featured in this post, at no cost to you. Thank you for using our links to support us for free, we appreciate it! You allow us to keep finding the best travel deals for free and to keep offering valuable travel content for free. Since we care deeply about our mission to help travelers and our reputation and credibility prevail over everything, we will NEVER recommend a product or service if we don't believe in it and/or use it ourselves, and we will never give any third-party any control whatsoever on our content. For more information on our advertiser disclosure, click here.
Share this post to help us help more people travel more for less: