Eloise is a blogger at Flytrippers. Follow her on Instagram (@eloiseontheroad) and read her bio at the bottom of this post.
---
One year ago, I moved to Vancouver, BC and since then, it had been on my mind to go on a roadtrip to the fascinating state of Oregon. I had heard great things about it, time finally came to go and see for myself!
And if you don't live nearby, there are often good prices to Portland on Flytrippers' cheap flight deals page. Flytrippers' co-founder Andrew flew there and was able to rent a car for less than $20 a day (all taxes and fees included) for his own roadtrip.
Here are a few highlights from my trip (and a video at the end too).
The Goonies
My boyfriend and I drove nonstop in the dense rain from Vancouver all the way to the southern tip of Washington State, where we stopped for our first night in a very shabby motel that is not worth mentioning!
The next morning, clouds had given way to a clear blue sky that never left us for the following week. We were welcomed in the State of Oregon by a warm sun and stunning landscapes one after the other.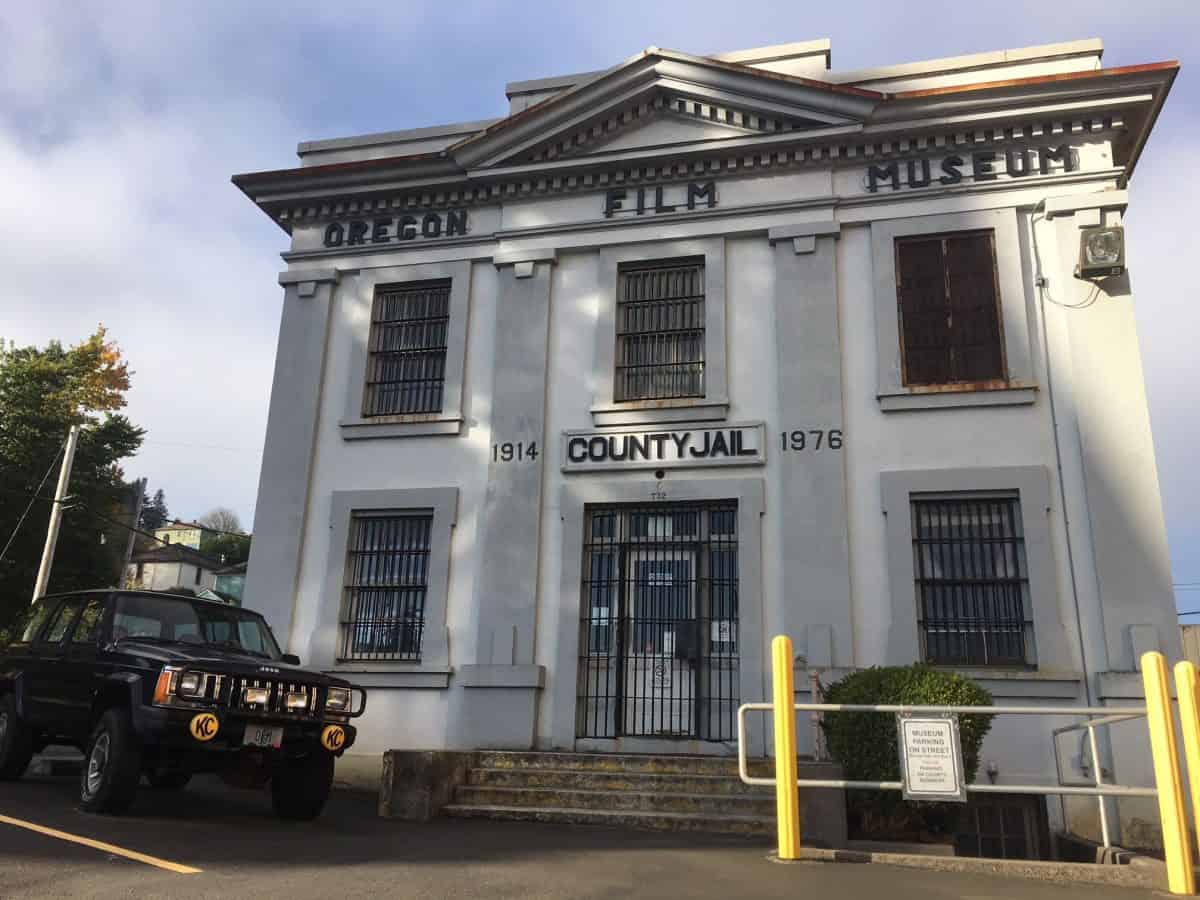 First essential touristy stop was in the cute city of Astoria where the cult movie The Goonies was filmed. I have to admit, this movie hadn't left such a mark on me but it did on my boyfriend and he was fairly childishly disappointed to find out that access to the house that was supposedly open to the public, was now closed. His booby prize was the county jail, absolutely identical to the film scenes. Even I was pretty excited to see it in real life!
The Coast
We then headed to Cannon Beach. November is supposed to be the low season so I can't imagine how crowded this place must get in the summer but I totally understand why it is so popular. The beach is endless, wide and beautiful, lined with tall grasses that give this place a very relaxing vibe. Goonies fans will be delighted to see the famous rock in the ocean that we can notice in the movie!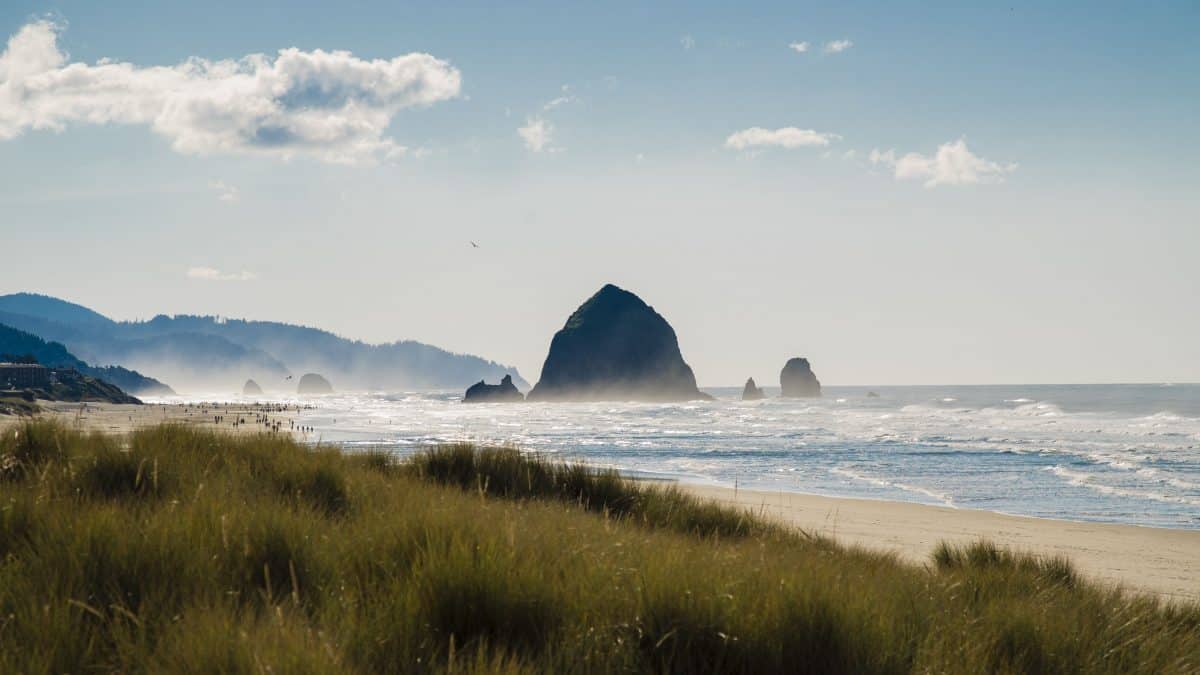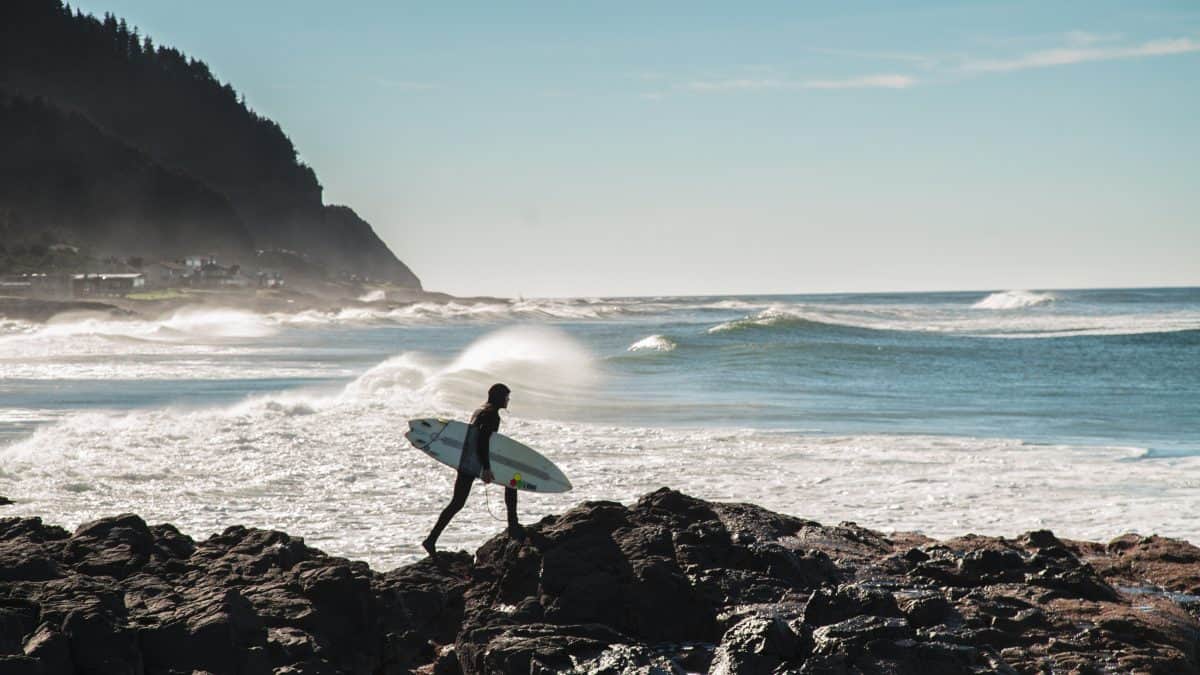 Driving along the Pacific Ocean is incredibly soothing. We stopped many times along the way to enjoy the view that is ever-changing and always stunning. I would personally recommend, based on my experience, to make a hotel reservation a bit in advance because even in the low season, affordable hotels get fully booked on weekends and we struggled to find hotels within our budget.
There are many places that are worth being seen on the coast but a roadtrip in the Oregon State without seeing a lighthouse would be incomplete. We chose Heceta Head Lighthouse. Most state parks will charge you $5 for parking and access to the park. It's annoying to pay whenever you want to stop somewhere but the good thing about this lighthouse is that it offers a pleasant walk all the way to the top of the hill and even beyond, if you are in the mood for a hike.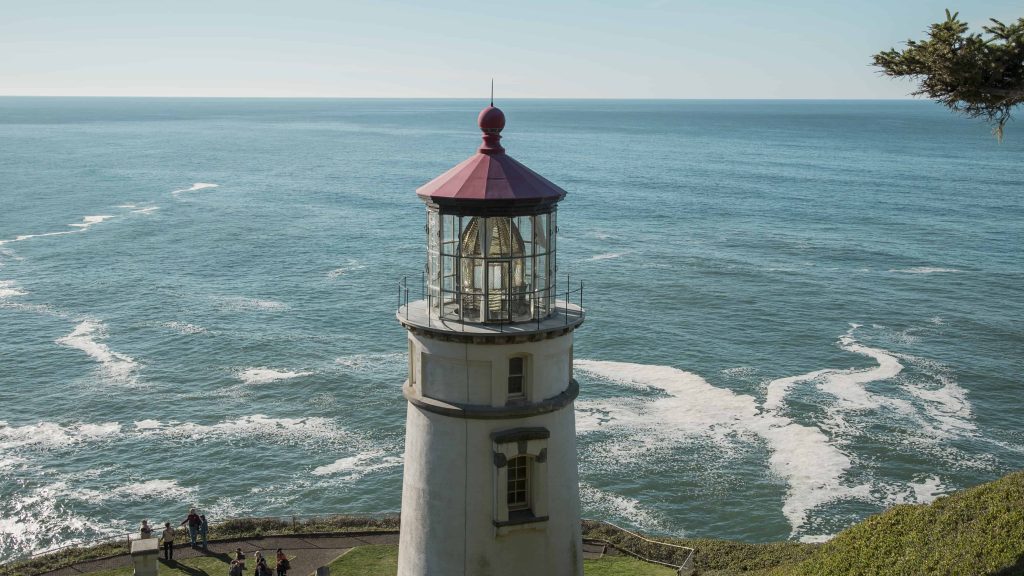 Favorite Surprise
When you travel, there is always a place, an encounter or a moment that will instantly charm you. For me, this happened in the tiny town of Florence, OR. After dinner, we were walking in the old city, hoping to find a place to linger so we wouldn't have to go back to our stinky motel room!
We heard faint music and approached the source. In this village with only 3,000 inhabitants, we found this bar where a live band was playing. Most people, in the band and in the crowd, could've been our grandparents and they got so excited to see us staring from outside, they waved happily for us to come inside.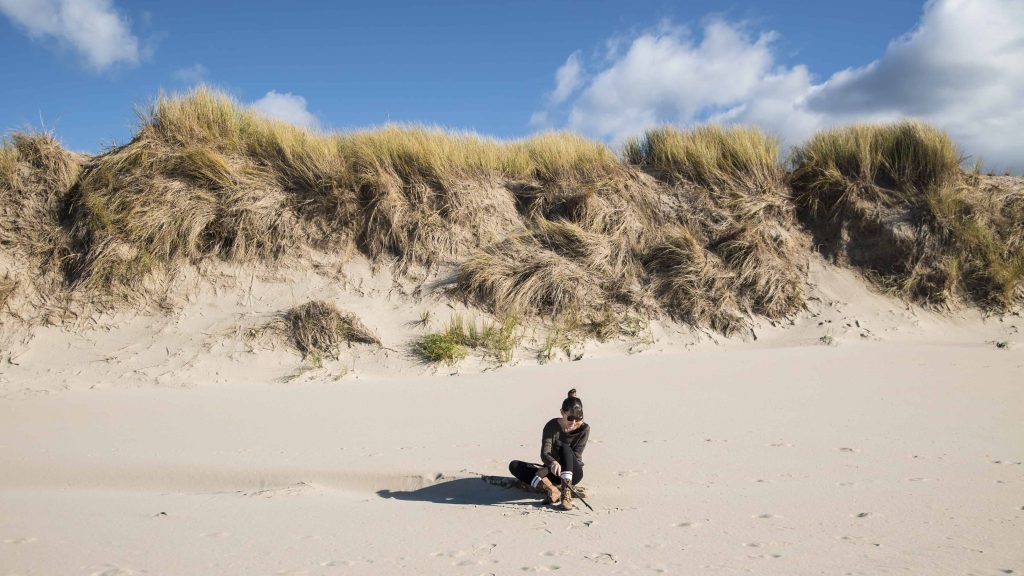 So we did. We got cheered and applauded the moment we crossed the door, where we had to dodge the saxophone and some cables, because it just so happened that the stage was in the doorway! We grabbed a drink and found ourselves a table. The musicians were great and the crowd was even more entertaining. Some had no teeth left while some couples were dancing but had to walk with a walking stick… it was an interesting sight!
And then, my boyfriend decided he would become my agent. He went to the bar pretending he was getting more drinks and managed to talk to the saxophonist and let him know I was a singer…
The musician came to me, shook my hand and said : I hear you sing a great version of Crazy lil' thing called love?
A few minutes later, I was singing with these four great musicians, my boyfriend grinning from his seat and the crowd dancing and clapping along!
Useless to say that after that, we were friends with everyone in the bar!
Portland
We saved the big city for the end! On our way to Portland, we stopped at a winery. We arrived just in time for the last hour of sun, when everything turns to gold. We tasted some wine and then went for a walk in the vines. A very beautiful place…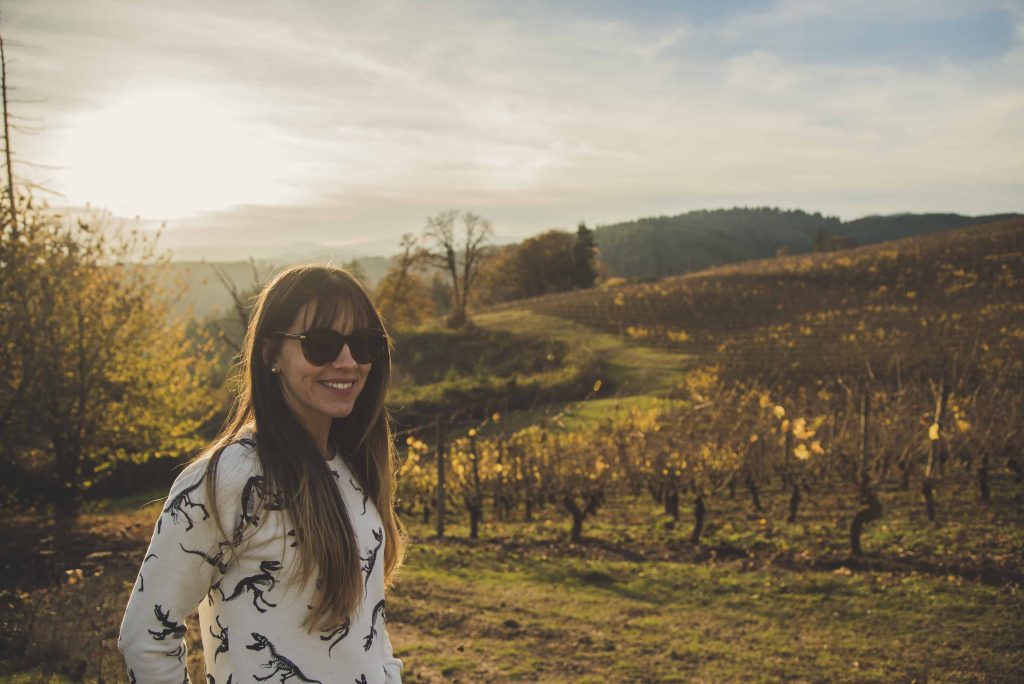 When traveling to the States, the big challenge for us Canadians with the weak Canadian dollar is to find an accommodation at a decent price. After a lot of research, we found this gem in the heart of the city, called The Society Hotel. It opened its doors just recently in a building that once was used as a sailor's hotel when they had to stay overnight in the city before hitting the sea again. That was in 1881!
The fabulous building kept an authentic look even though completely renovated and offers bunk bed options, private bedrooms with shared bathroom and fully private rooms. The prices are very reasonable (starting at $35) and as a matter of fact, the Café in the lobby serves a delicious avocado toast with edible flowers. The cherry on top? The staff is incredibly friendly!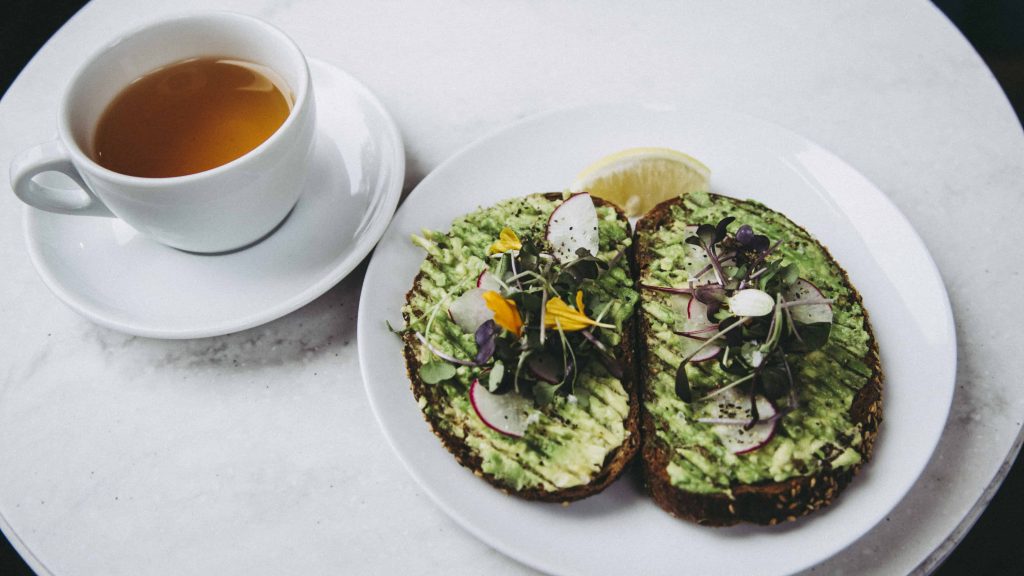 Food
Have you even done a food tour while traveling? I had my first experience in Portland and I really loved it! Here, they gathered the food trucks in pods and they are mostly stationary. We hopped from a pod to another, stopping only at the best trucks, selected by Eat Adventures Tour, all the while we were driving in different neighbourhoods which allowed us to explore many faces of this unique city.
I had so many different delicious things ranging from Chinese buns (bao) to Korean tacos, decadent lemon curd Belgian waffles and much more. Just writing these lines makes me salivate! I couldn't recommend this tour enough; it was worth every penny!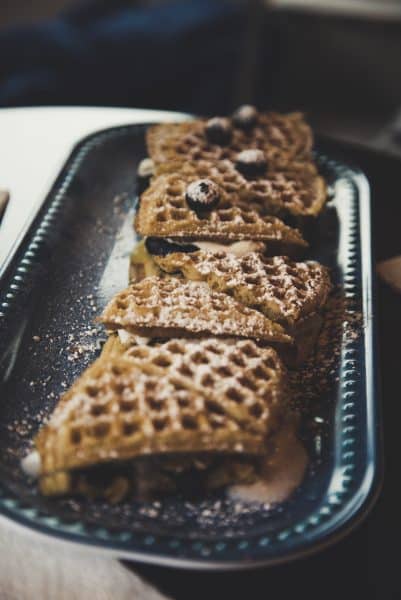 Another great foodie experience was a dinner at Le Canard, a french restaurant where you can sit at the bar and watch the chef and his crew working just in front of you. The menu, mostly tapas, was very original and the food was delicious. Not cheap but worth it!
Museum
I think museums can sometimes be overrated and I didn't know what to expect when we arrived at the OMSI (Oregon Museum of Science and Industry). We heard there was a real submarine that had been active between 1959 and 1990 and that it was a must-see. I was positively impressed by this part of the visit.
The narrowness of the corridors, the subtle but continuous feeling of claustrophobia, the smell of once-smoked cigarettes now glued to the walls combined with the diesel stink made it very hard for me to comprehend how some people could live in this prison for months at a time… A very uncommon experience that I really enjoyed (even though I was quite happy to breathe some fresh air after the 30-minute visit)!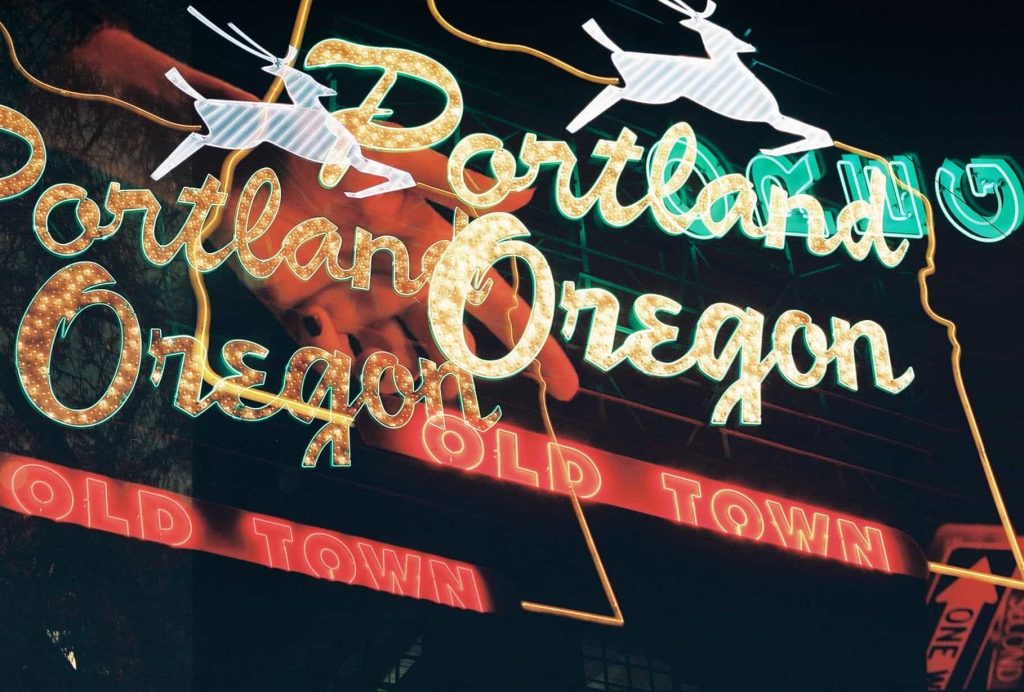 Bottom Line
There is so much to see in the United States and every state has a unique flavour and a lot to offer! But if you are into road trips, beautiful deserted beaches, cliffs, big waves, wine and food, I think Oregon is the place you should be heading next!
Now if you liked Jerome's pictures in this article, you're gonna dig the video he made during this trip. Enjoy!
Ever been to Oregon? Tell us about it!
Help us spread the word about our flight deals and travel tips by sharing this article and most importantly bookmark Flytrippers so we can help you navigate the world of low-cost travel!
Advertiser Disclosure: Flytrippers receives a commission on links featured in this blog post. We appreciate if you use them, especially given it never costs you anything more to do so, and we thank you for supporting the site and making it possible for us to keep finding the best travel deals and content for you. In the interest of transparency, know that we will NEVER recommend a product or service we do not believe in or that we do not use ourselves, as our reputation and credibility is worth far more than any commission. This principle is an essential and non-negotiable part of all our partnerships: we will never give any third-party any control whatsoever on our content. For more information on our advertiser disclosure, click here.
Share this post to help us help more people travel more for less: