Audrey is a guest-blogger at Flytrippers. Follow her on Instagram and read her bio at the bottom of this post.
---
Since I lived on the island of Kauai for several weeks, my friends often ask me what are the best hikes on the island. A green and majestic island, many scenes from the movie Jurassic Park were filmed there (you can also visit this site which gives you the exact shooting locations of the different scenes throughout the film)!
With the current low prices to Hawaii on Flytrippers' cheap flight deals page (in the $400s from most Canadian cities), several of my friends have bought tickets at a really cheap price.
Discounted flights are quite frequent to Honolulu or Maui. Obviously, flying to Kauai can be a bit more expensive (in general), so it's often better to book a roundtrip to Honolulu, and then take a 35-minute flight to Kauai (that's the multi-ticket itinerary technique that Flytrippers often mentions).
In 2016, I flew to Kauai with my backpack and my tent named Lola. I will therefore share my favorite hikes on this green island and in another article soon, I'll share my favourite non-hiking Kauai hotspots too. The information found below is my personal experience and does not replace a travel guide.
1. Na Pali Coast
With the closure of the Kalalau trail in 2018, and the possible reopening in mid-2019, the permits for the Kalalau trail will be hard to buy. You can view the progress of the repairs work by following this link.
I had the chance to do the Kalalau trail in 2016 on my first trip to Hawaii. It is possible to go camping in Ha'ena State Park to start your hike early, but it is forbidden to sleep in a vehicle while in the parking lot (note to myself).

The Kalalau trail is 22 miles round trip, with an elevation of about 5,000 feet. It crosses 5 valleys mainly consisting of cliffs, jungle and rivers. After 11 miles, we found ourselves on a deserted beach; Kalalau Beach. Several campsites are available by the sea or river: first come, first serve!

This is a backcountry hike, so, permits are mandatory, and you must bring everything you need for the length of your stay in the valley. For me it was an added challenge, because it was my first experience in complete autonomy. During the first miles, I wondered if I was going to be able to continue. However, I acclimated to the weight of my backpack and eventually did not feel it anymore.
From the campsite, it is possible to take paths that go up in the jungle to swing into ponds of water with Tarzan-lie ropes, or to go discover the gardens, secret places where small communities are established and where they live from mutual aid and off of the culture of their gardens. You can exchange honey for bananas and potatoes, or just visit, if you can find them!
It's also possible to do half-day hikes to Hanakapai Beach or Hanakapai Falls. From Ke'e Beach (parking) to Hanakapai Beach, it's 4 miles round trip. From Ke'e Beach to Hanakapai Falls, it's 8 miles round trip.
2. Waimea Canyon
Known as the Pacific Grand Canyon, Waimea Canyon stretches for 10 miles. Before you venture on the road to the Canyon, make sure you have enough gas. Just driving on this road is an experience!
Want to feel like you're walking on planet Mars?
Take 2 minutes to see the Red Dirt Waterfalls, on Route 550, around mile marker 23.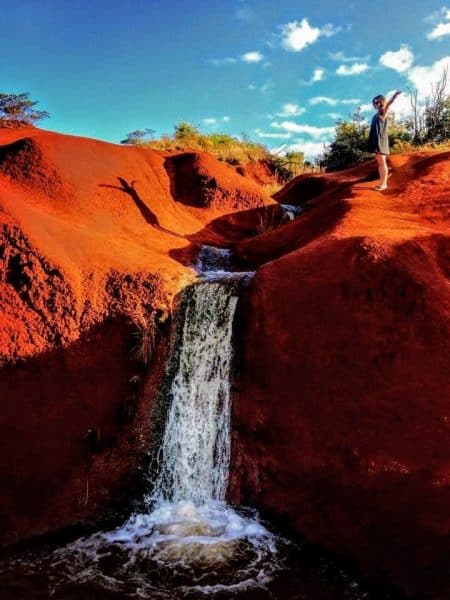 Without leaving for a long hike, it is possible to park the car and go see the many views on this route, the most popular of which is Puu Hinahina Lookout, between mile markers 13 and 14 on Route 550.
Several hikes for the whole family are available from Waimea Canyon Park. I loved the Waipo'o Falls Trail, which I took via Canyon Trail (Pu'u Hinahina). Hiking 3.6 miles round trip, it will take you to another world, with its red rocks, dense forest and multiple waterfalls.
This hike leads to the top of the falls, making it different from the others! It is also possible to see the falls by road by stopping at the many observations points.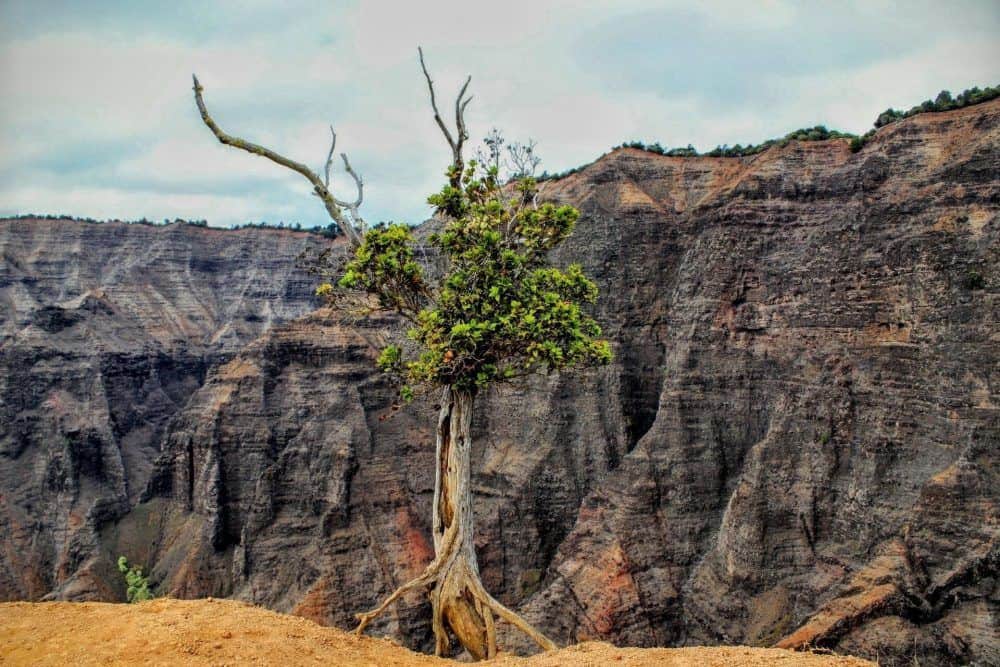 For an extensive list of hiking trails in Waimea Canyon and Koke'e State Park, follow this link.
3. KoKe'e State Park
Continuing on route 550 from Waimea Canyon, you head to Koke's State Park. If you are going to Kauai and the Kalalau trail is not open yet, or you do not want to go on such a long hike, be aware that you do not need to pay for expensive helicopter tours, or tourist-filled boats to discover the Na Pali Coast.
You can see Na Pali Coast while driving to Kokee State Park. Go down the valley by the Kalalau lookout, or take the Kalepa ridge trail to find yourself immediately in the world of Jurassic Park! At the end of the trail you can admire Kalalau valley, Kalalau Beach and Na Pali Coast.

4. Blue hole trail (Weeping Wall)
This hike to the base of Mount Waialeale is for the most adventurous and experienced hikers! Please refer to this link for all the necessary information before you go there. This is a hike of about 8 miles, leading to a fairly hollow canyon of high vegetation, not a lake as one might think.
Encircled by three incredible walls of about 3,000 feet formed by erosion, the Blue Hole can also be discovered on a helicopter tour. Mount Waialeale is considered one of the rainiest places on the planet, which contributes to the appearance of thousands of waterfalls on the facade of the three walls surrounding the Blue Hole. To get there, you have to take an unpaved road: make sure you have a 4×4.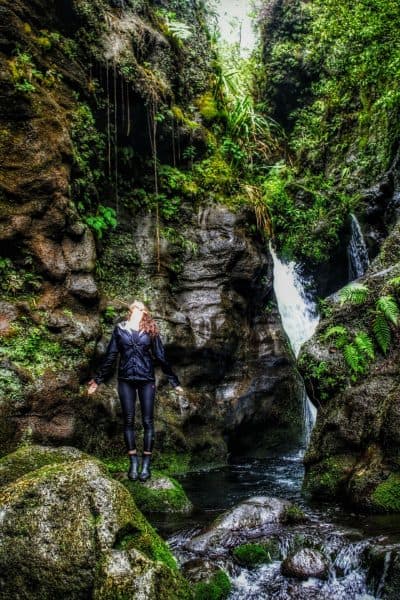 Just before finding the parking lot for the start of the hiking trail, one must pass between two poles, which have often been associated with Jurassic Park's main entrance gate. However, according to the information in this link, the real entrance would be 300 feet from the poles! Still according to the same source, if you venture 1 mile farther than these poles, you will discover the T-Rex paddock.
5. Okolehe trail
For the adventurous, this hike is guaranteed to give you thrills! For a total of approximately 5 miles, with 1,250 feet of elevation gain, this hike ends with an incredible view of Hanalei Bay, Hanalei Valley, Makana, Kilauea Lighthouse, Na Pali Coast and the famous Hihimanu's twin peaks.

Plan to bring gloves, since you will have to use about 40 ropes to help you climb to the top. If you have a hammock, it's also time to put it in your backpack, since you will be able to install it at the top!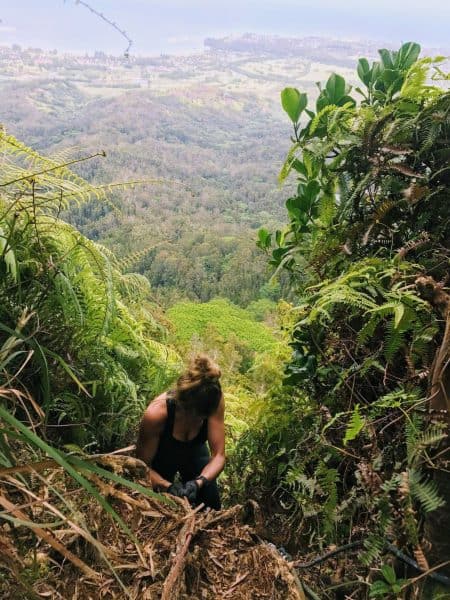 6. Sleeping Giant trail
For a view of both the Wailua River and the sea, the Nounou West Trail is a short, uncrowded hike of about 3 miles. The hike starts at the end of Lokelani Road, in a residential area. There is also another entrance to hike the Nounou East Trail, but I have been there. The Nounou West trail will take you through a giant pine forest that differs completely from other hikes in the area.
Summary
To conclude, here is the link to get a complete list of hikes you can do on the island. Kauai is a wonderful island, and there is plenty to do for all tastes. I hope that this information will be useful to you during the preparation of your next trip! Don't miss my upcoming blog post on Kauai activities other than hiking!
Do you have questions about Kauai or recommendations on Hawaii? Share them in the comments!
Help us spread the word about our flight deals and travel tips by sharing this article and most importantly bookmark Flytrippers so we can help you navigate the world of low-cost travel!
Advertiser Disclosure: Flytrippers receives a commission on links featured in this blog post. We appreciate if you use them, especially given it never costs you anything more to do so, and we thank you for supporting the site and making it possible for us to keep finding the best travel deals and content for you. In the interest of transparency, know that we will NEVER recommend a product or service we do not believe in or that we do not use ourselves, as our reputation and credibility is worth far more than any commission. This principle is an essential and non-negotiable part of all our partnerships: we will never give any third-party any control whatsoever on our content. For more information on our advertiser disclosure, click here.
Share this post to help us help more people travel more for less: