We had already told you about the great news for airfares in Canada, namely the upcoming arrival of two ULCCs (finally). Here are the first details on the budget airline WestJet is launching.
WestJet announced in April that they would be launching a ULCC (Ultra Low-Cost Carrier), which is the best news for Canadian travelers have gotten in many many years.
Today, they've announced the name of that airline (that some were calling LessJet up to now). Say hello to Swoop. They also gave us a few new details.
In case you do not know what Ultra Low-Cost Carriers are all about, since we already feature some on our flight deals page, I'll take a few seconds to give you an overview here, but you can read the detailed article about ULCCs right here for more information.
In a nutshell, it is a completely different business model… and it's the best thing to have happened to the air travel industry in a long time! Why? Because it makes travel much more affordable. The airfares are ridiculously low and it's an awesome pay-per-use à-la-carte pricing model: you pay for what you want, that's it. Those who want to travel for less finally can.
Swoop even released a nice explanatory video, keep reading the article to see it.
In Canada, we were one of the only developed countries (almost the only one in fact) to not have a ULCC (in entirely related news, we are ranked 65th out of 80 countries in terms of air travel costs). But soon we will soon have two ULCCs, finally!
Just to give you an idea of the low prices with ULCCs, we must tell you that there are very often flights for $20 in the United States, $10 in Europe and $10 in Asia. So this news is very promising for us in Canada!!!
Meet Swoop, The Upcoming Canadian ULCC
So WestJet decided to call their ULCC Swoop (because they're swooping into the market with lower fares, in marketing-speak). Like many ULCCs, they seem to have chosen the path of a fun, no-frills branding, most notably with a very pink color… personally I don't find it very aesthetic, but honestly I absolutely do not care given how excited I am about potentially flying within Canada for cheaper than my $499 roundtrip flights from Montreal to Asia, which isn't always possible as of now.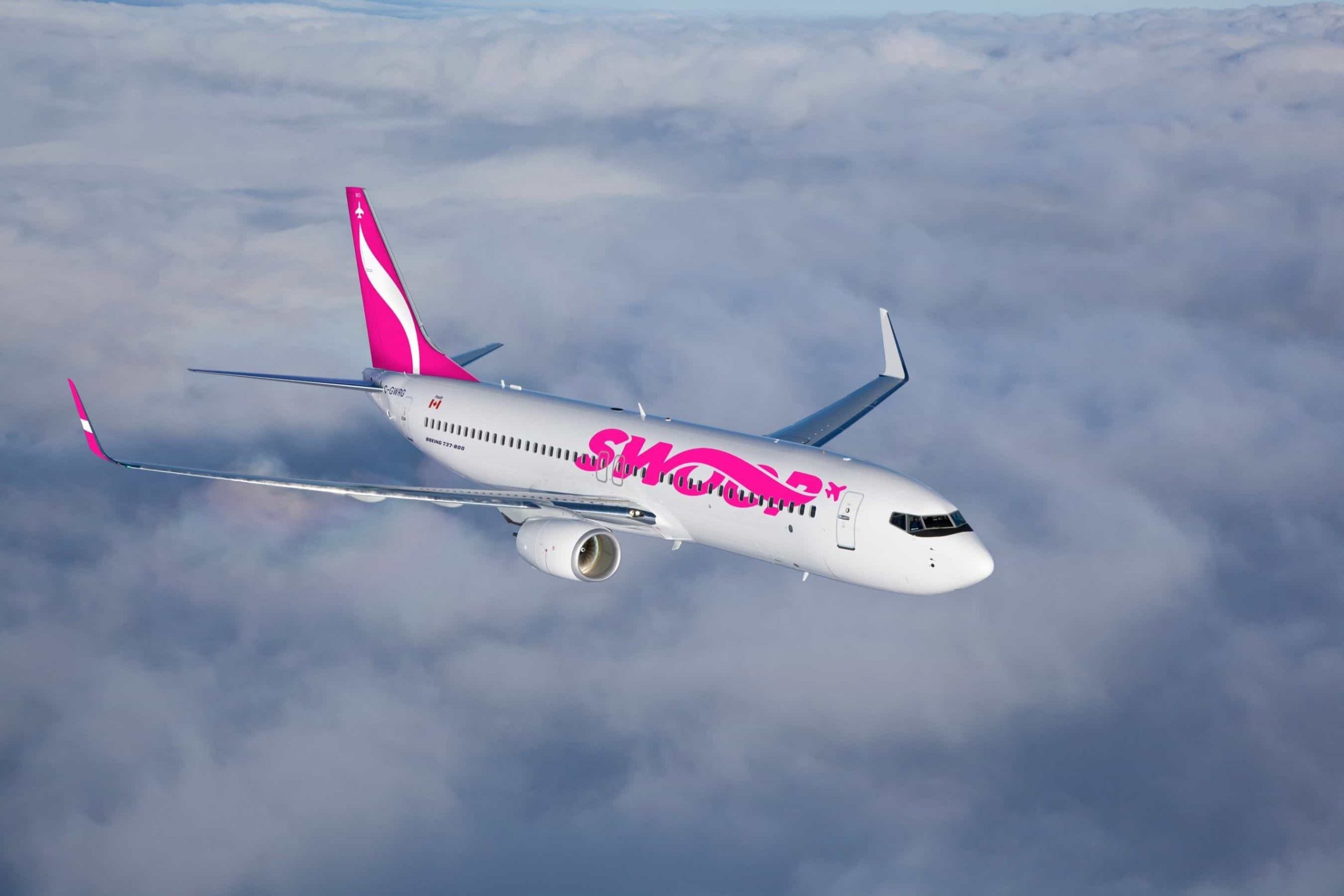 What do you think of the look? As an AvGeek, I love all these little details about airlines, even though I know most people don't care. But I'd love to know if you like the branding and airplane livery?
Anyway, here is what we know at this point:
-they will operate 10 Boeing 737s at launch (the most common narrow-body model)
-they will be based in Calgary (like WestJet, despite earlier hesitations)
-they will announce their first routes in early 2018 (we can't wait)
-tickets will be on sale in February 2018 (if all stays on schedule)
-first flights will take off in June 2018 (it was supposed to be 2017, it was pushed back a bit)
That is pretty much the same timing as the other major ULCC coming to the Great White North, Canada Jetlines. But that upstart doesn't seem as trustworthy to be honest, they've pushed back their launch and the jury's still out on whether it is a solid business plan (and whether Canada can support 3 ULCCs, since the US only has 3). With Swoop and Flair getting a headstart, and 2 ULCCs seeming like a more realistic target for our country's size, it will be interesting to see what happens with Jetlines.
By the way, for more details about the WestJet ULCC, you can read our previous article which had more information in it, I don't want to repeat it all here as we have many loyal readers who've already read it.
Here is a nice little video Swoop released, that explains their ULCC model:
Don't forget to subscribe to our free email newsletter to be among the first to know when more details about Swoop are available!
Useful Information
Last time we wrote about ULCCs coming to Canada, we got thousands of reactions, including the inevitable skeptical comments… quite understandable, given how little Canadians know about ULCCs.
So before you even think of asking these, here are a few details. And a few myths debunked.
«Flights that cheap? It can't really be true»
Believe it or not, we don't sit here all day wondering about what kind of stuff to make up just for the thrill of it. It's really true. It already exists in Western Canada, and I have flown on dozens of $20 flights myself in the US… and many flights cheaper than $20 in Europe. That's what ULCCs are all about. It's true, and it's normal. What isn't normal is being gouged and paying more for a flight from Montreal to Vancouver than for a flight from Montreal to Asia like we often do in Canada. Not for long.
«There will be hidden fees»
No. There could be extra fees, but they're not hidden. They're all optional, and it's really transparent. You decide what you want. That's the ultra low-cost carrier model. I have flown over 70 times on ULCCs and not once have I spent a dollar more than the base fare. It's quite feasible. It mostly involves packing light. If you can't, well then ULCCs might not be as advantageous for you. It will still likely come out cheaper than regular airlines but if you prefer expensive built-in fees, you can keep flying traditional airlines and paying twice the price for the convenience of having a "free" bag.
«Prices won't always be super low»
Well, duh. Obviously. I am shocked that I even have to specify that. But yes, these are plane ticket prices. Like we always say, prices vary quite a bit. On a 200-seat flight, often about 150 passengers will have paid a different price for the exact same flight. Airfare algorithms are very complex. They change all the time. So the best prices will be available during limited-time deals. If you want a stable price, you can always pay full-fare on regular airlines, which is about 10 times more expensive than ULCCs (or even more). All cheap flights, even those we already have, are always special sales… and we'll always be here to spot them for you!
«Sometimes it's not even cheaper than regular airlines»
The followup to the previous point. Yes, sometimes that will be true. In rare instances, it might even be more expensive. There's no absolute rule, all prices depend mainly on supply and demand, as well as the dates, and many other variables. Again, this is complex stuff. The bottom line is you'll never find $50 flights on Air Canada, but you will on ULCCs, quite often. But not always.
«It won't be comfortable»
Wrong. Well, at least it won't be that much more uncomfortable than regular airlines. A bit less legroom, but even then, I'm just under 6 feet tall and my many ULCC flights were all fine. I have been on over 200 flights overall, on 10 different ULCCs and even more regular airlines and I can assure you that there isn't that much of a difference in terms of comfort (and even service) onboard. More and more regular airlines are cutting down on legroom too, there's just not that much of a difference anymore.
«They will have old, ugly planes»
Absolutely not. Though we don't know the specifics of Swoop's fleet yet, the reality is that ULCCs actually have the youngest fleets. Yes, newer planes than regular airlines have. For comparison, ULCC WOW air that serves Montreal and Toronto has planes that are under 3 years old on average while Air Canada's planes are 14 years old on average. Spirit Airlines, the largest ULCC in North America, has literally the youngest fleet on the continent. Even though they have the lowest price. So no, cheap flights don't mean old planes.
«They'll cut corners on safety»
Absolutely not. Aircraft maintenance requirements are the same for all airlines, no one can cut corners. Aviation safety is among the most regulated processes, all industries combined. Federal safety rules and norms are very strict and all airlines must abide by them, no matter the price of their tickets.
Bottom line
WestJet had already announced the launch of a ULCC, but now we know it will be called Swoop, that it will be very pink, and that tickets will be on sale in less than six months!
It is simply great news for Canadian fliers, actually the best news in many years!
What do you think of this launch?
Help us spread the word about our flight deals and travel tips by sharing this article and most importantly bookmark Flytrippers so we can help you navigate the world of low-cost travel!
Advertiser Disclosure: Flytrippers receives a commission on links featured in this blog post. We appreciate if you use them, especially given it never costs you anything more to do so, and we thank you for supporting the site and making it possible for us to keep finding the best travel deals and content for you. In the interest of transparency, know that we will NEVER recommend a product or service we do not believe in or that we do not use ourselves, as our reputation and credibility is worth far more than any commission. This principle is an essential and non-negotiable part of all our partnerships: we will never give any third-party any control whatsoever on our content. For more information on our advertiser disclosure, click here.
Share this post to help us help more people travel more for less: