Since its launch in 2008, Airbnb has rapidly become one of the most popular forms of accommodation in the world. In fact, in just a decade the company has literally revolutionized the industry and has become a favorite among travelers.
Airbnb's website now lists over 4 million properties from all around the globe. More and more listings are popping up in every city. The company also has a higher valuation than the world's largest hotel chains, who've been around for many decades.
Many travelers who find a ticket on Flytrippers' cheap flight deals page choose Airbnb over hotels or hostels to make their travel experience more:
authentic and local
convenient
affordable
It really depends on the destination and trip. We'll have more great content about accommodation soon, but in the meantime we'll share a reminder about Airbnb's main benefits at the end of the article (and details about our $45 off code if you are new to Airbnb).
But let's first look at the cities with the most Airbnbs.
Map Of Cities With The Most Airbnb Listings
Where has Airbnb become the most popular and which cities have adopted the platform the fastest? Which city in the world could be the "Airbnb Capital"?
The printing company Inkifi has launched a new range of map prints as a way to view some of the cities where Airbnb has become popular. Each map indicates the cities and how many active Airbnb listings there are as of Summer 2019.
Here is the top 10: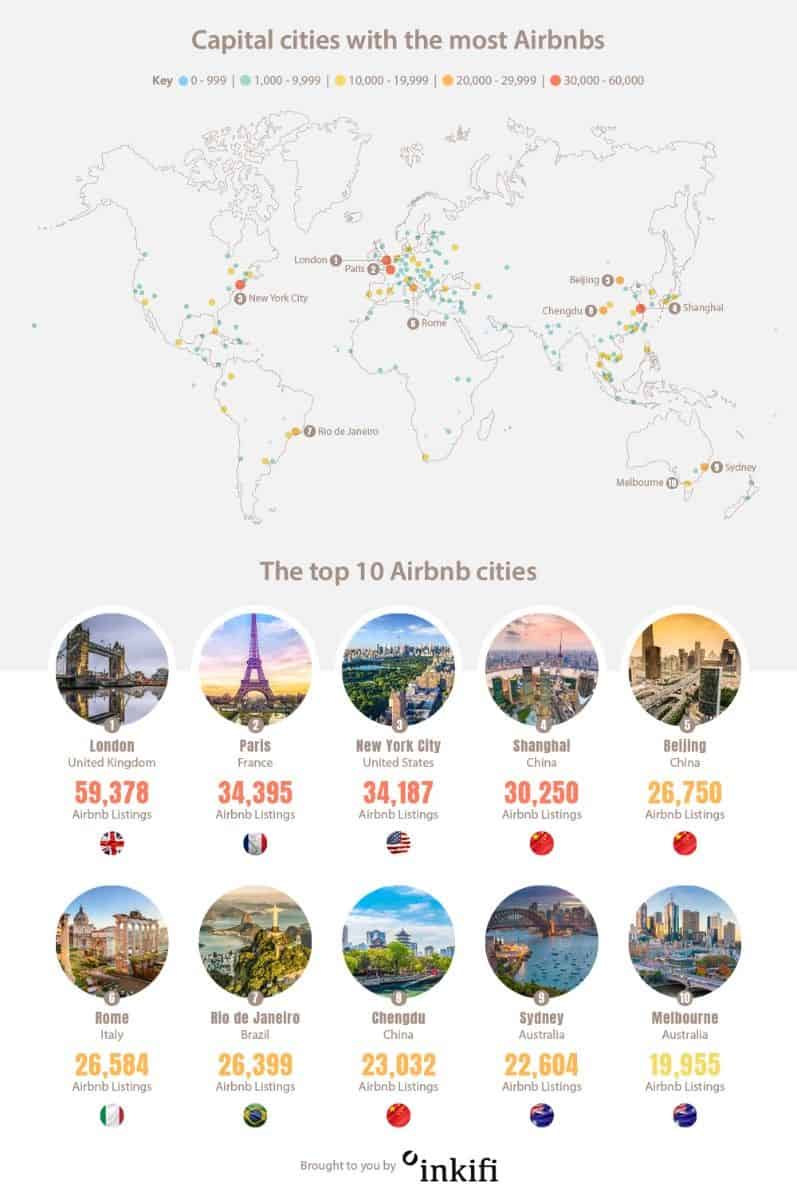 They created these charts by compiling data from AirDNA's list of listed Airbnb accommodations on June 6th, 2019.
Just ignore the fact that they've titled the map "capital cities", since it clearly includes more than capital cities (6 of the top 10 cities aren't even capitals). They curated a list of the top 100 most visited cities in the world from Euromonitor and Mastercard and combined these with capital cities from around the world.
Here is the full listing of most popular cities on Airbnb.
Canada does have some cities that appear on the list! Look for Toronto as our city with the most Airbnbs (#26), Montreal (#35) as well as Vancouver (#88).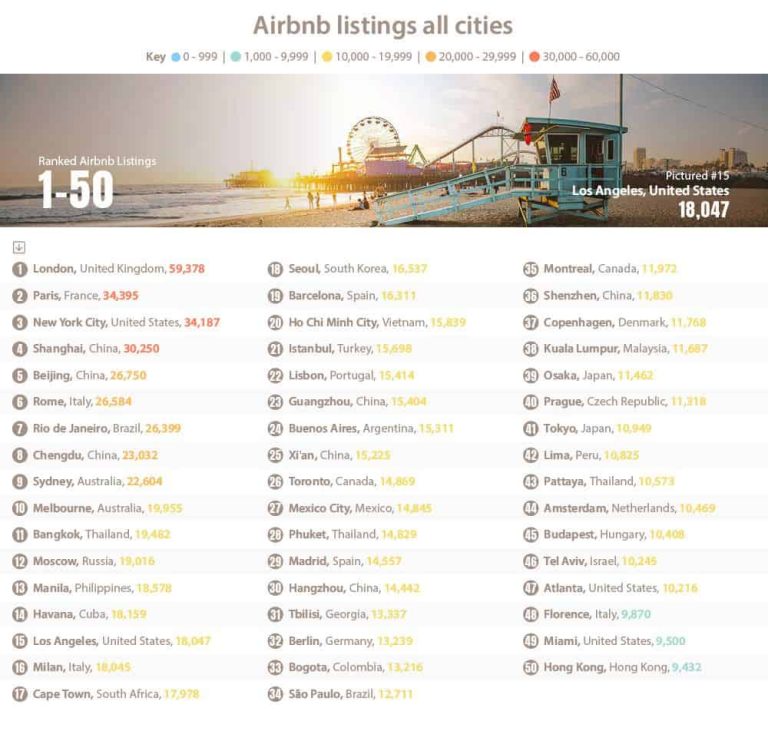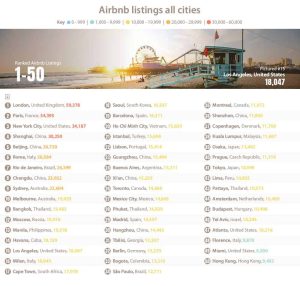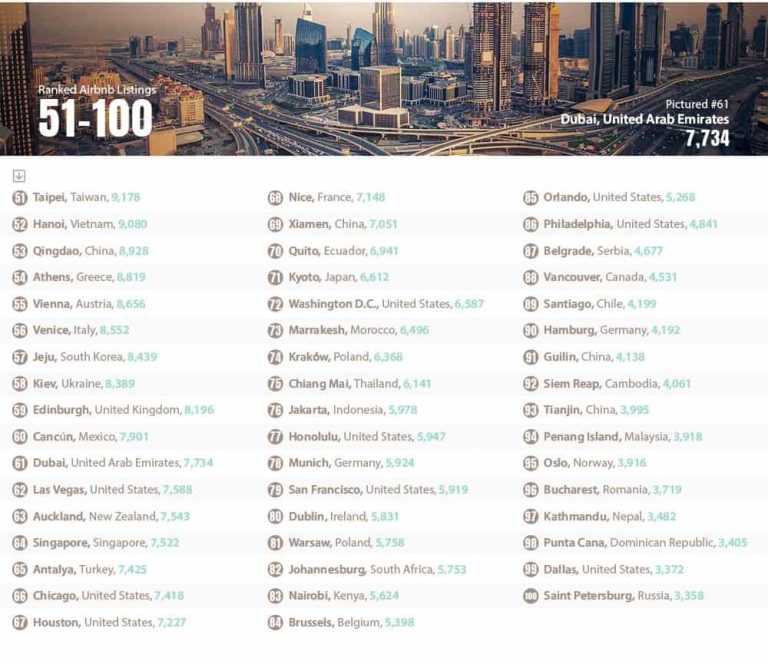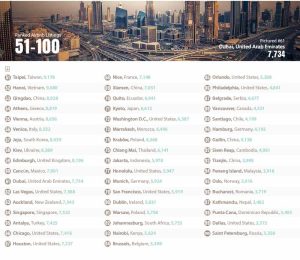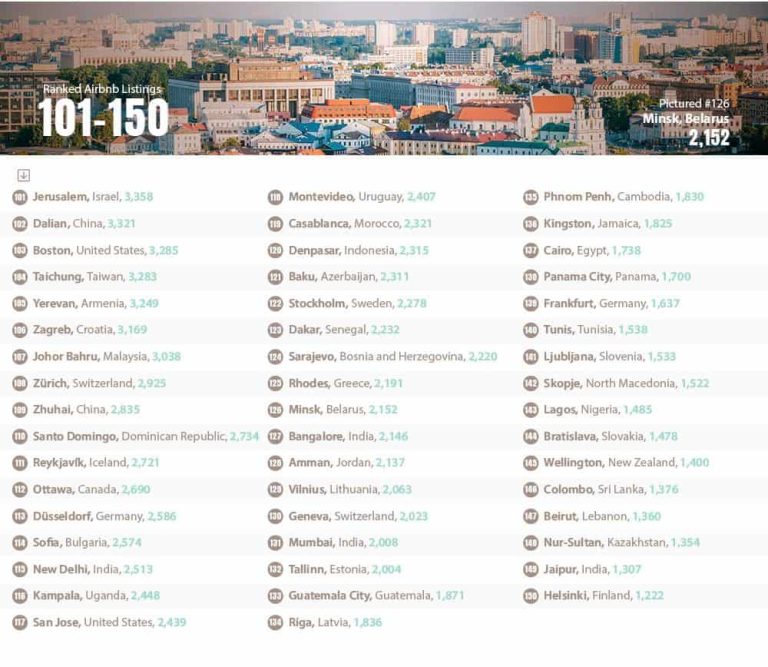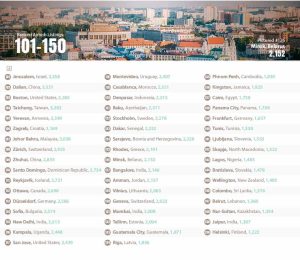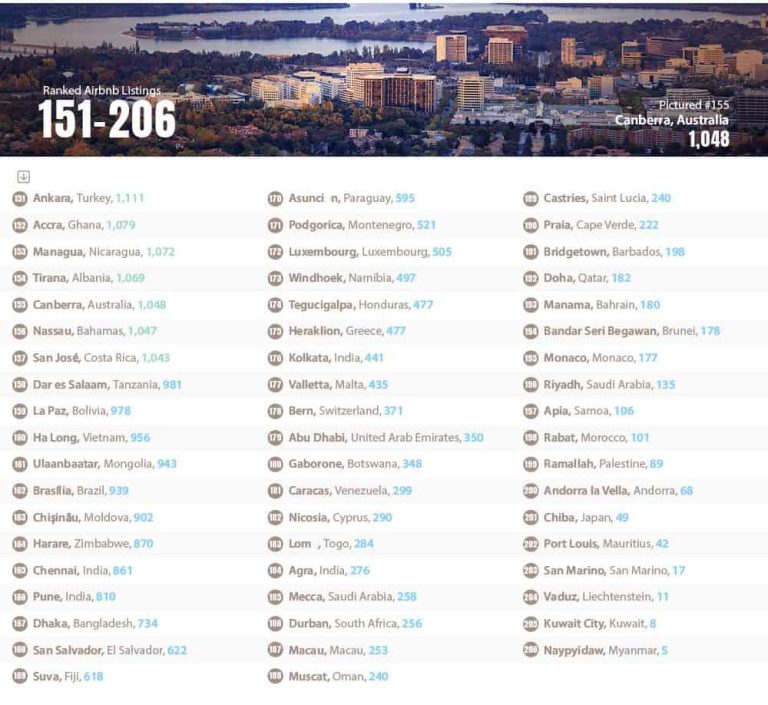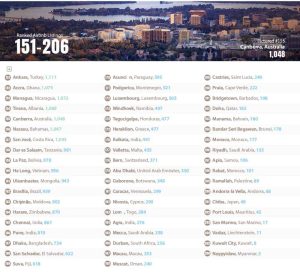 Reminder of Airbnb advantages
I used to stay in hostels more often like Andrew, Flytrippers' other co-founder. But since I'm now digital nomad who spends the entire year traveling (and I'm not traveling solo), I use Airbnb often enough. Except in countries where there are sweet spots for many free hotel nights with Marriott Points, of course.
Like any form of accommodation, Airbnb has unique qualities to offer.
Firstly, staying in Airbnbs will make you feel much more like a local who lives in the city, instead of a tourist. You'll often be in an authentic neighborhood (or in a central location that would be expensive in a hotel). You'll be able to cook your own meals (to save money), do your laundry (traveling light has so many benefits) and experience real life in the city.
Secondly, Airbnbs can often be more affordable than hotels in many destinations and offer you a wider variety of unique places to stay. Except maybe for boutique hotels, in general hotel rooms and hotels all look the same and be pretty generic, while Airbnbs can have their own charm and better reflect the local culture.
Thirdly, Airbnbs can give you a close experience with the owner, unlike hotels. Just think: you could meet the local owner of the Airbnb, have them give you a tour, and give you a unique insight into the local culture.
Finally, Airbnbs can give you more privacy along with more comfortable sleeping arrangements. If you are traveling as a larger group, having an entire place is really convenient.
So I have often opted to rent Airbnbs (it always depends on the price in a specific city because every place in the world is different, every time of year is different: always compare).
I also quite enjoy building a relationship with my Airbnb hosts. Most often, the hosts will give me details on the city: what to see, what to do, what to eat, etc. Occasionally, they would provide me mini-tours of the local area, for which I was so grateful.
You can read our detailed article: What is Airbnb? You can use our code to get C$45 off a first booking and C$17 off a local tour booked through Airbnb.
Summary
Most major cities have many options on Airbnb. Give it a try and book a room with Airbnb in your dream destination. Become one of the millions of travelers to take advantage of Airbnb's authentic experiences. I have almost always had a fantastic experience.
Have you stayed at an Airbnb before? If so, where? And how was it, on a scale of 1 to spectacular? Leave us a comment below sharing your thoughts, experiences, and favorite Airbnbs!
Help us spread the word about our flight deals and travel tips by sharing this article and, most importantly, bookmark Flytrippers so we can help you navigate the world of low-cost travel!
Featured image: Funky Airbnb Living Room (Photo Credit: Filios Sazaiedes)
Advertiser Disclosure: Flytrippers receives a commission on links featured in this blog post. We appreciate if you use them, especially given it never costs you anything more to do so, and we thank you for supporting the site and making it possible for us to keep finding the best travel deals and content for you. In the interest of transparency, know that we will NEVER recommend a product or service we do not believe in or that we do not use ourselves, as our reputation and credibility is worth far more than any commission. This principle is an essential and non-negotiable part of all our partnerships: we will never give any third-party any control whatsoever on our content. For more information on our advertiser disclosure, click here.
Share this post to help us help more people travel more for less: