The Greek islands are, in my opinion, some of the most incredible in the world. They're made up of over 6000 islands, of which less than 5% are inhabited. That's still 227 islands, so there's a lot to choose from.
If you're planning on visiting Greece, you should make time to see the islands. Flytrippers will share a great tip to fly to Greece for less soon, to help you go there next summer (the first-ever free webinar on finding cheap flights specifically is a good way to become a pro too).
Each Greek island has its own identity, microculture, and attractions. You'd be surprised how different each one is.
I was lucky enough to spend time island hopping by boat (you can too with the many ferries or with Sailo, the new "Airbnb for boats"), so I have spent time on many of the most popular islands as well as a few less well-known ones.
This is a quick rundown of the 10 Greek islands you should visit on your next European trip. No Mykonos or Santorini here: these are a bit more authentic and less touristy!
1. Kefalonia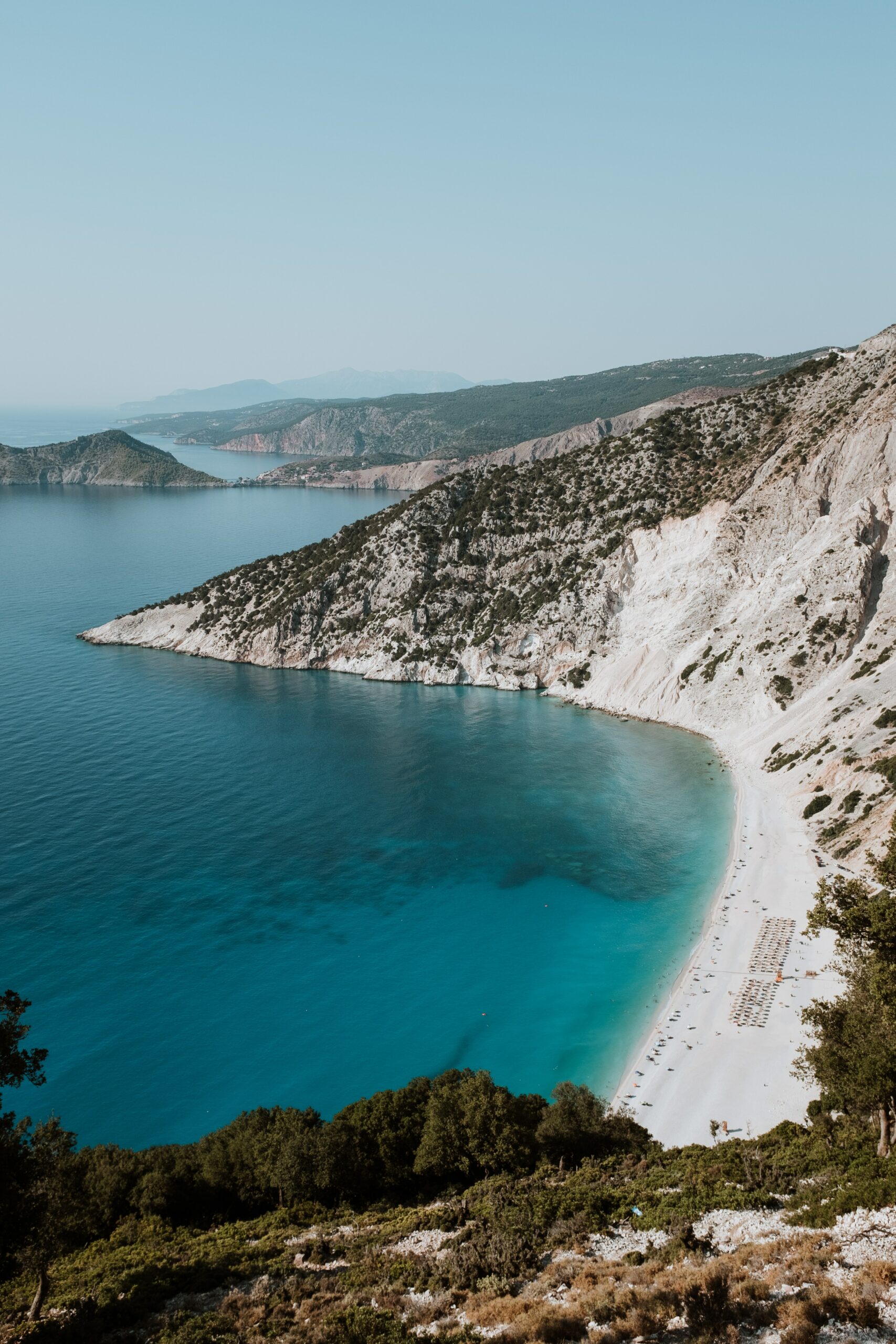 Kefalonia is the largest of the island group called the Ionian islands, to the west of Greece; it's also one of the most popular.
Whether you love sunning yourself on a beach, getting active outdoors, diving into history, or trying all the local foods, Kefalonia should be on your list.
The island's main claim to fame is Myrtos Beach which has been used in Hollywood films and is truly spectacular. Just be aware that although the beach is picturesque, the waves can be big, and getting in and out of the sea is a question of running through the waves at the right time and hoping you don't get thrown back on the beach before you can swim!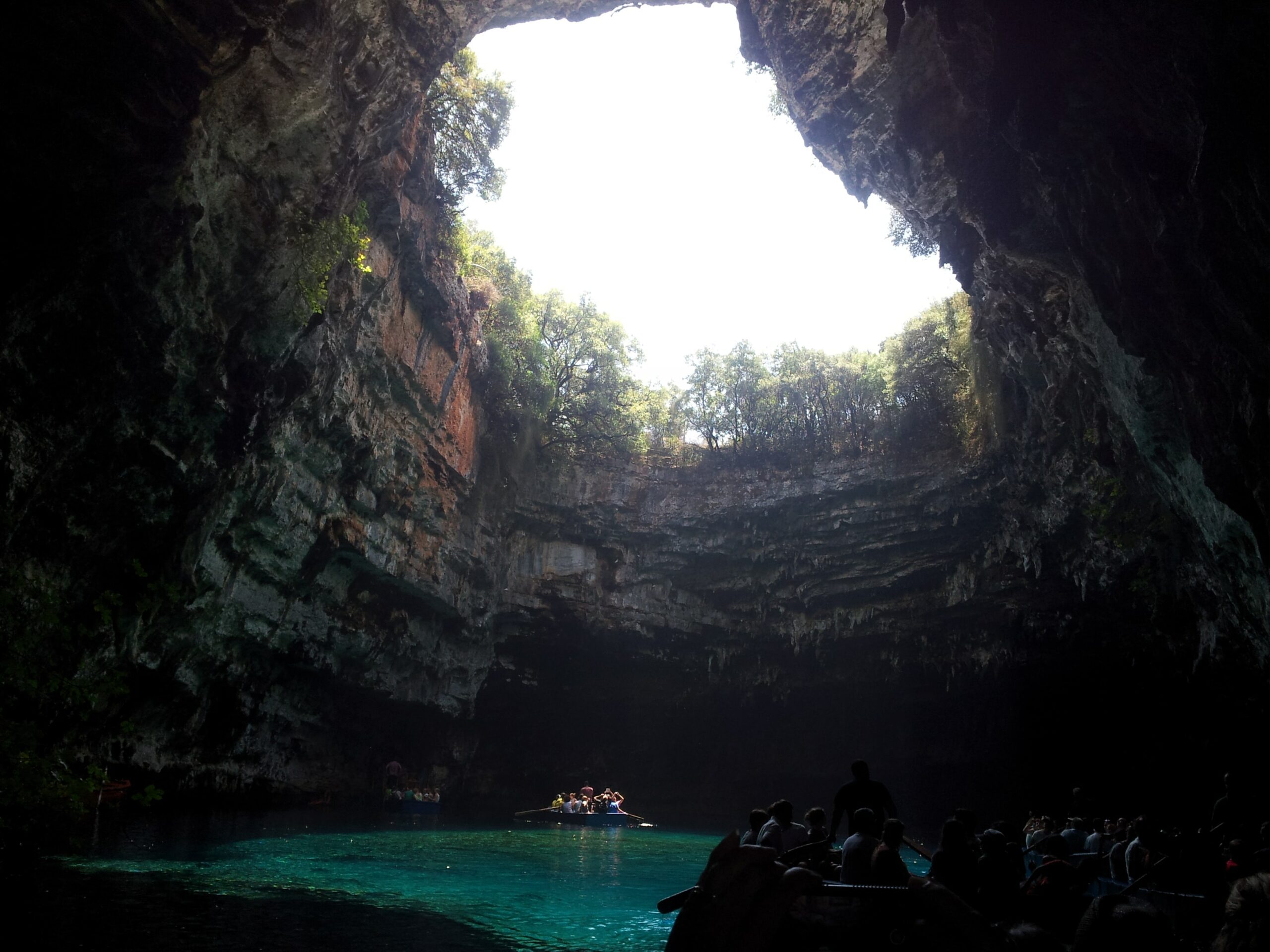 Another major attraction is the Melissani Lake and Cave, which have to be seen to be believed — although you'd probably recognize a photo of them.
The port of Fiskardo and the capital Argostoli are wonderful places to relax, wander through the local market, and sip wine next to a busy marina. You'll definitely want to get a rental car to get around as it's a large island, but that should be your only big expense as Kefalonia is far from the most expensive island.
2. Ithaca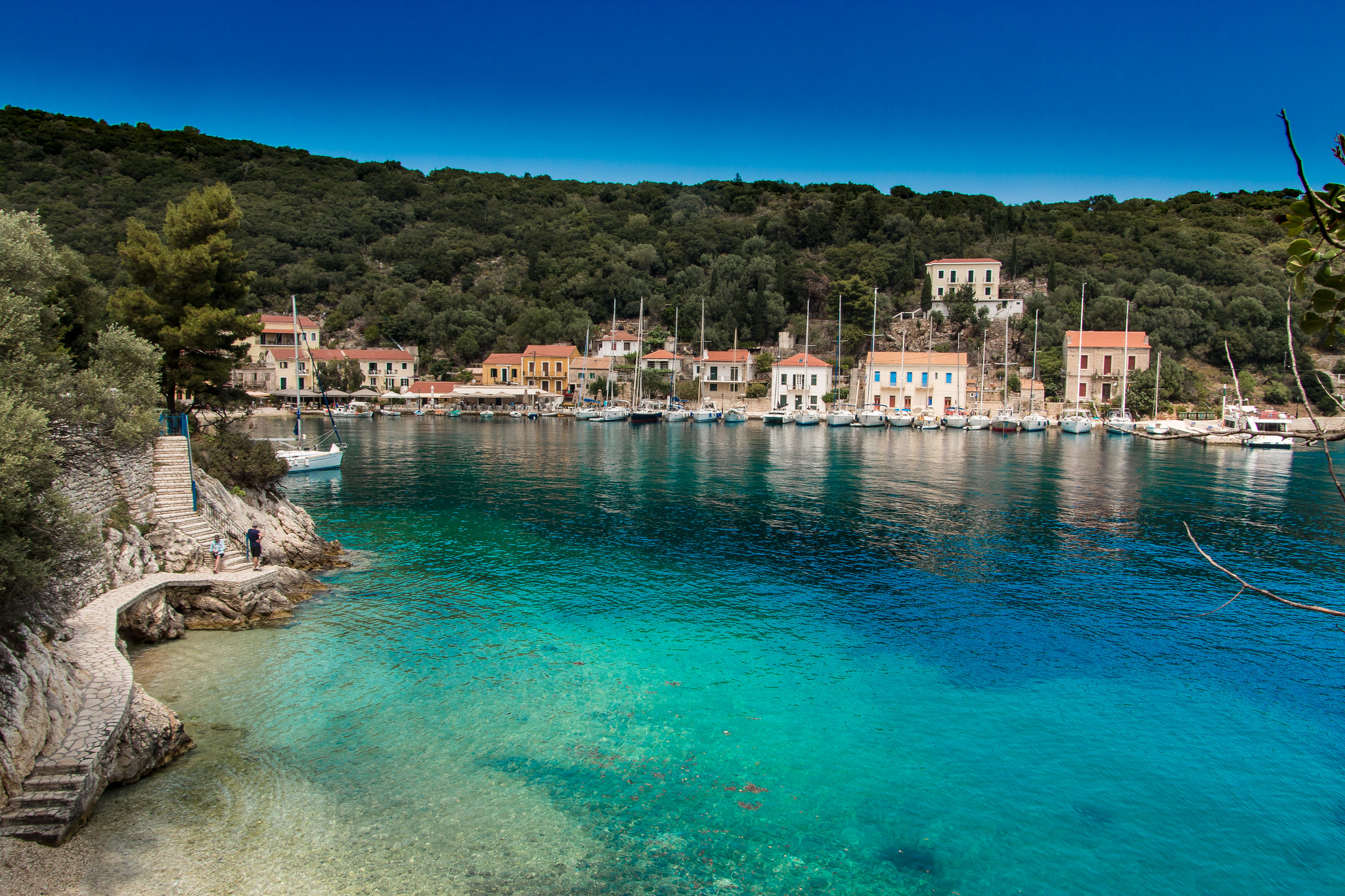 Ithaca is known for being part of the Ancient Greek legends and myths. Nowadays, it's still packed with history and mystery but with more facilities than the Ancient Greeks were used to!
It's still probably the least popular of the Ionian Islands, which means it's a very genuine and traditional experience. Ithaca is a place to chat with locals over a coffee and explore the island on foot.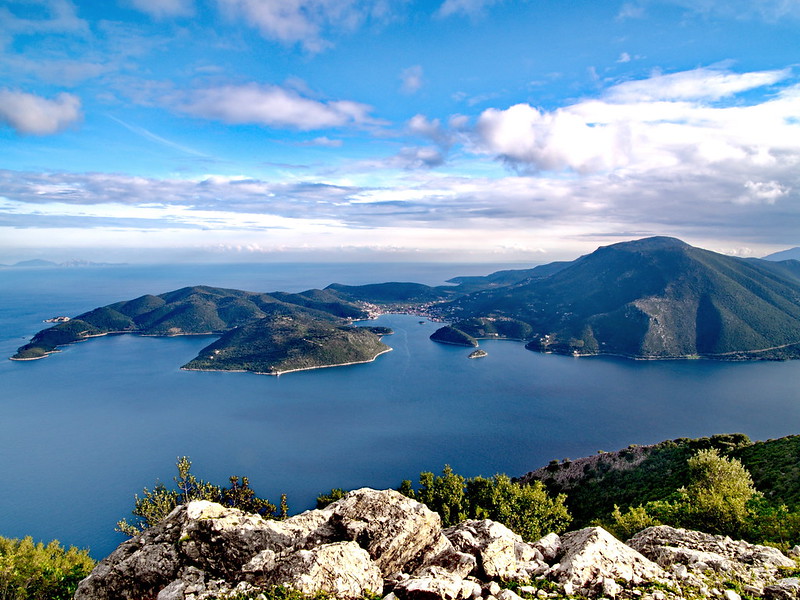 It's more secluded and peaceful than some of the other islands, which also means it's less urban and has some wild and rugged landscapes. Only one of the beaches (Filiatro) has sunbeds and parasols, and most of the beaches are pebbles and rocks, not sand, which is why they're less popular with tourists.
The restaurants are family-owned and serve local food, and there aren't really any big chain hotels. However, there are still plenty of popular attractions, including the Cave of the Nymphs and the ruins of Odysseus' Palace, and there's a rather surprising annual wine festival.
3. Lefkada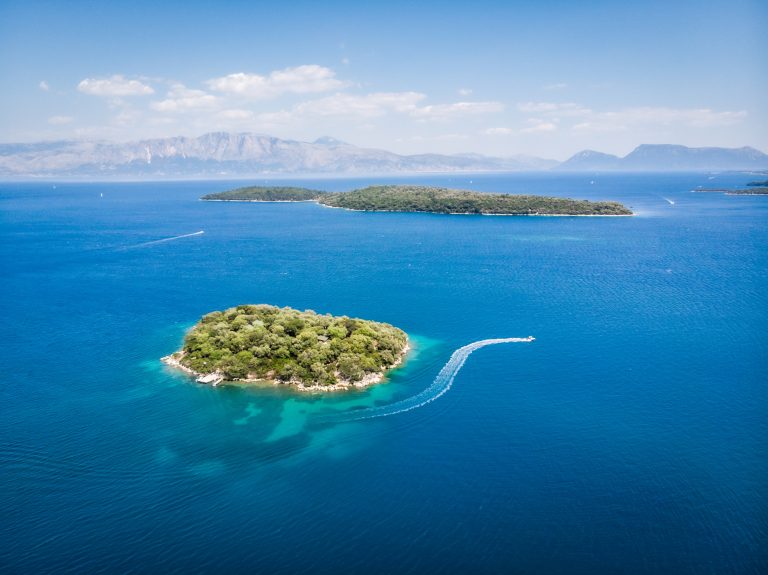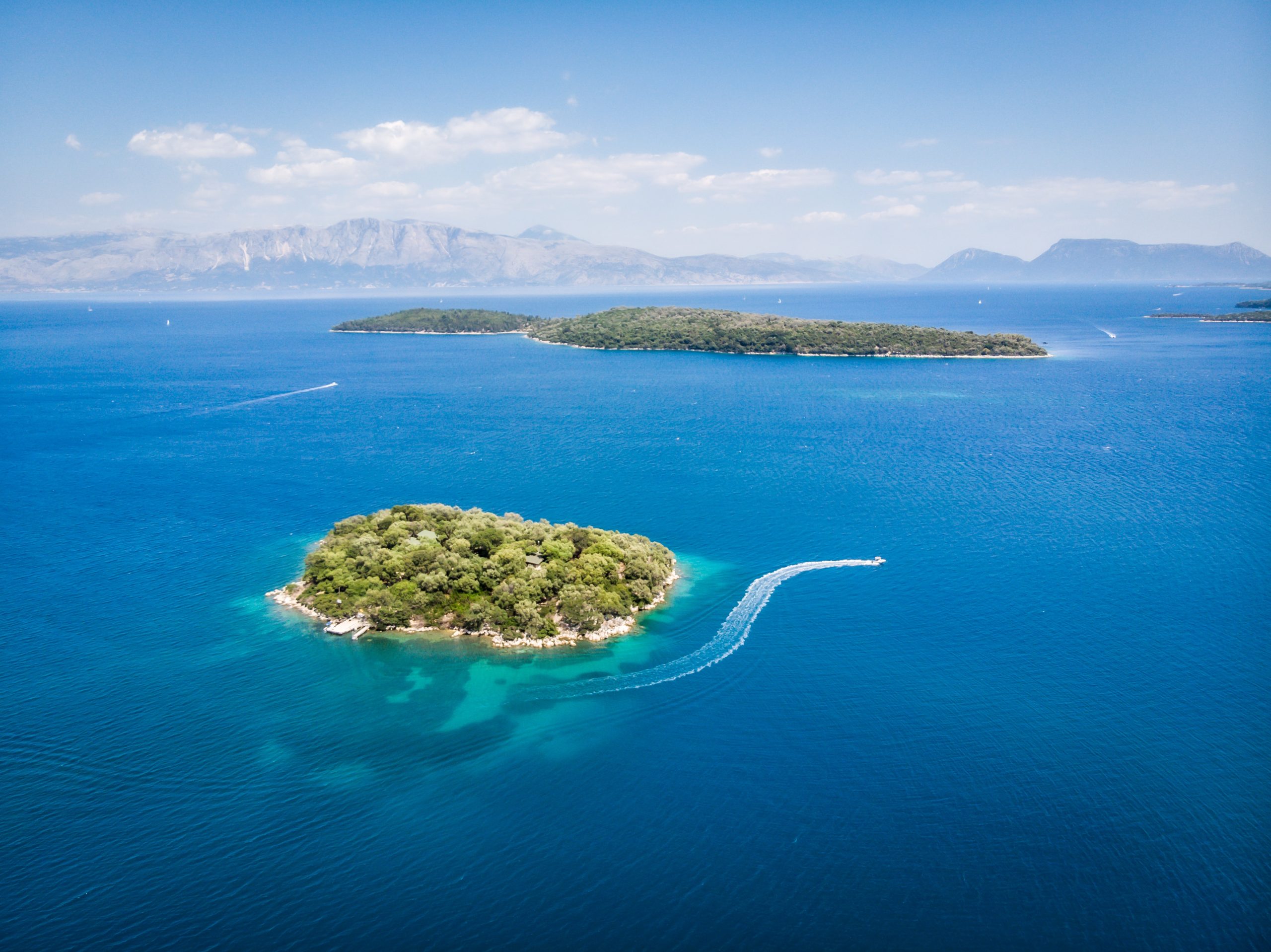 With endless stretches of white sandy beaches dotted with picturesque striped umbrellas, Lefkada is a picture-perfect postcard paradise. The island has rolling green hills that give way to dramatic rocky mountains and the most spectacular milky blue seas.
In terms of natural beauty, Lefkada is one of the most incredible Greek islands; it's the kind of place you think is photoshopped until you get there and realize that places like this actually exist.
The capital has traditional Venetian-style buildings and an amazing promenade with cafes perfect for yacht watching! Honestly, all the port towns have amazing marinas, which are frequently packed with super yachts.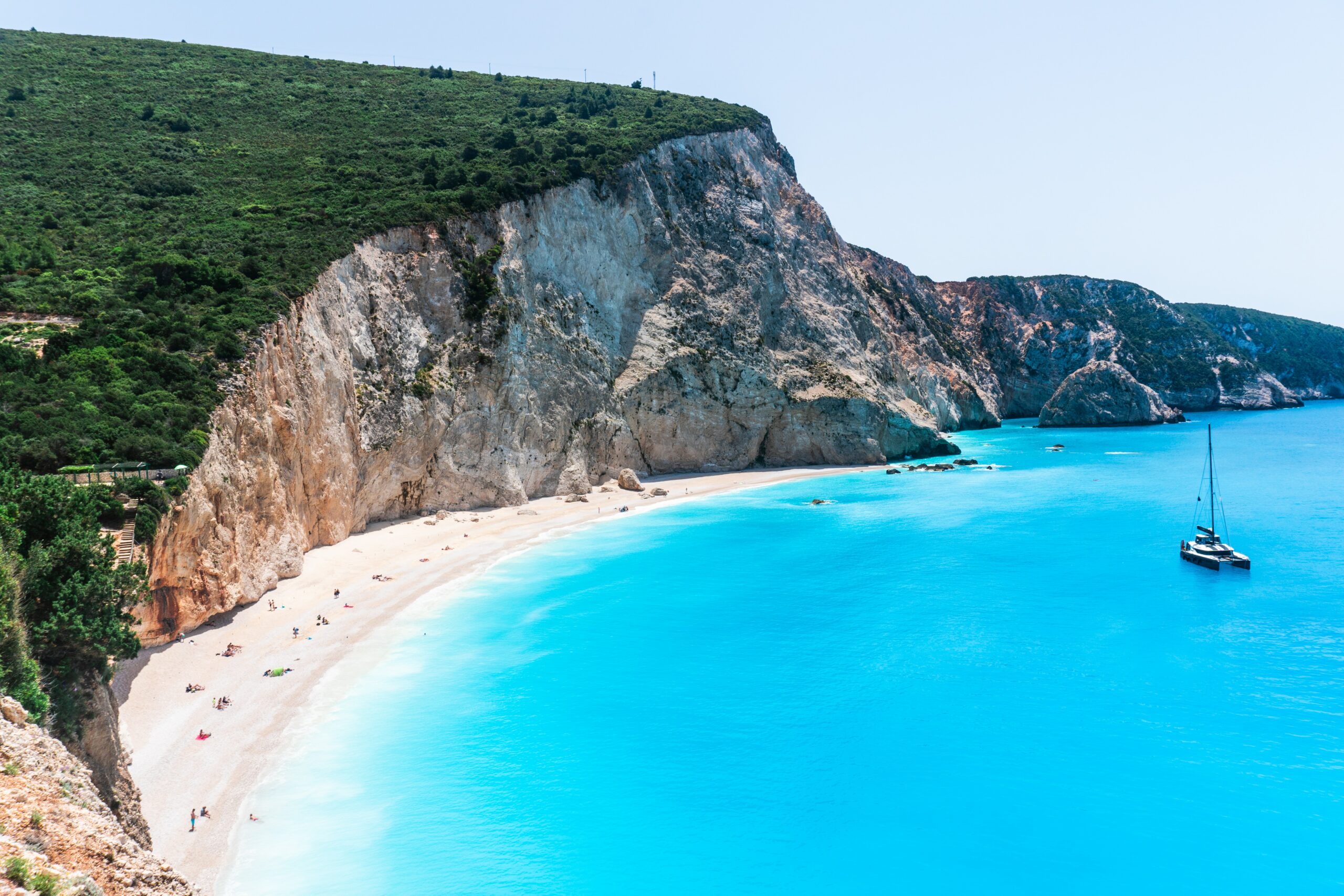 The whole island benefits from the sailing industry, and most places, even small villages, feel luxurious without being too touristy. There's less rustic charm and more sophistication, but without the price tag!
While the island does offer all the sports and attractions that other islands have, it sets itself apart by being a great place to windsurf, thanks to the breeze that blows year-round. It makes for great water sports, but it also means you'll need a jacket in the evenings.
4. Paxos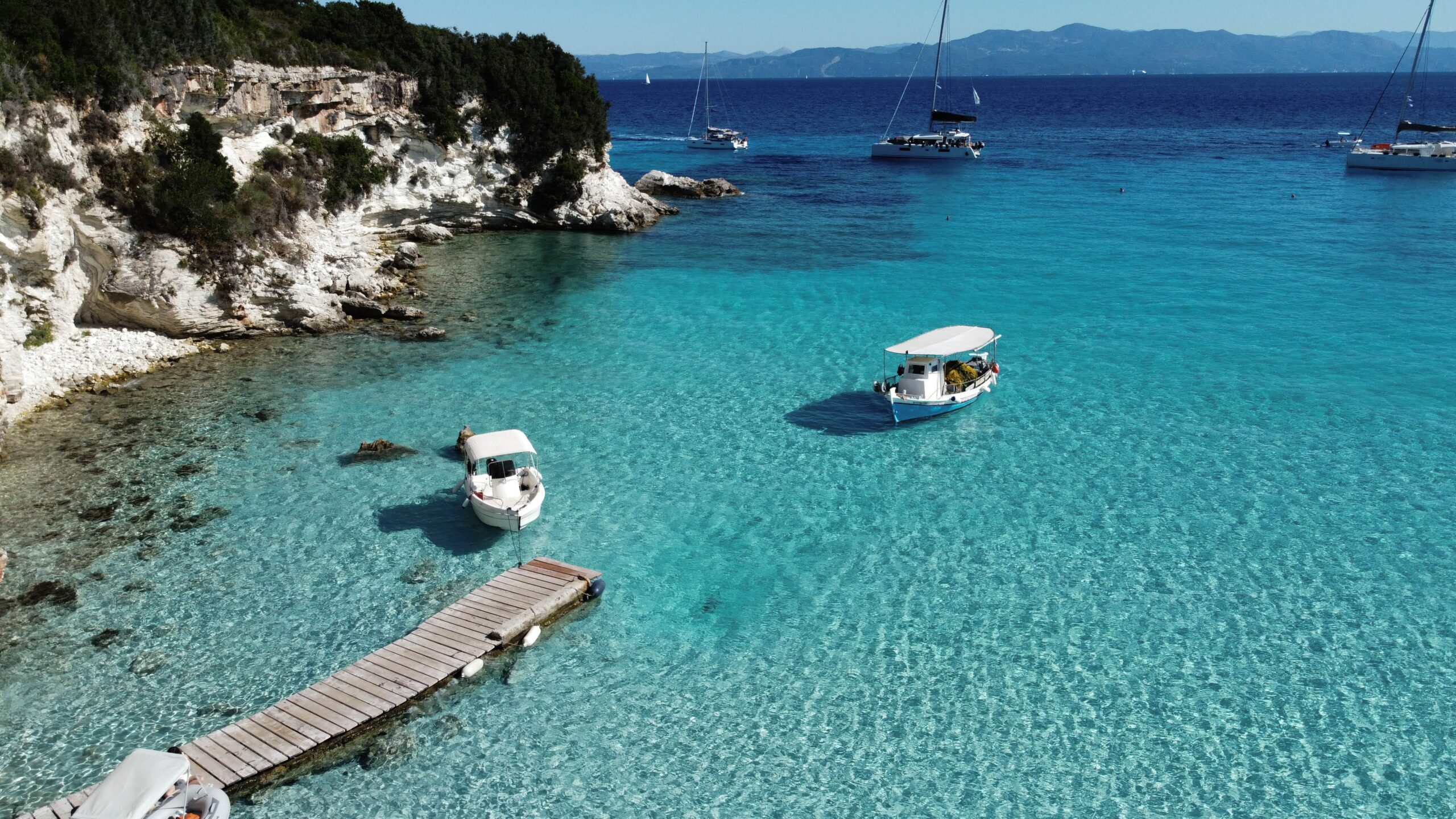 Paxos, the largest of the Paxi island group, is still only around 19 km2. Previously ruled by the Venetians, it has a different atmosphere from other islands. The architecture is very Venetian, and the whole place feels slightly more Italian and Western European than other islands which have stronger links to Türkiye and Eastern Europe.
The island is mainly famous for "the door," which is a huge natural rock arch in the sea. You can also enjoy a few rock and pebble beaches as well as the famous sandy beach at Mongonissi. There aren't a huge number of hotels, so most visitors stay in rented apartments or villas.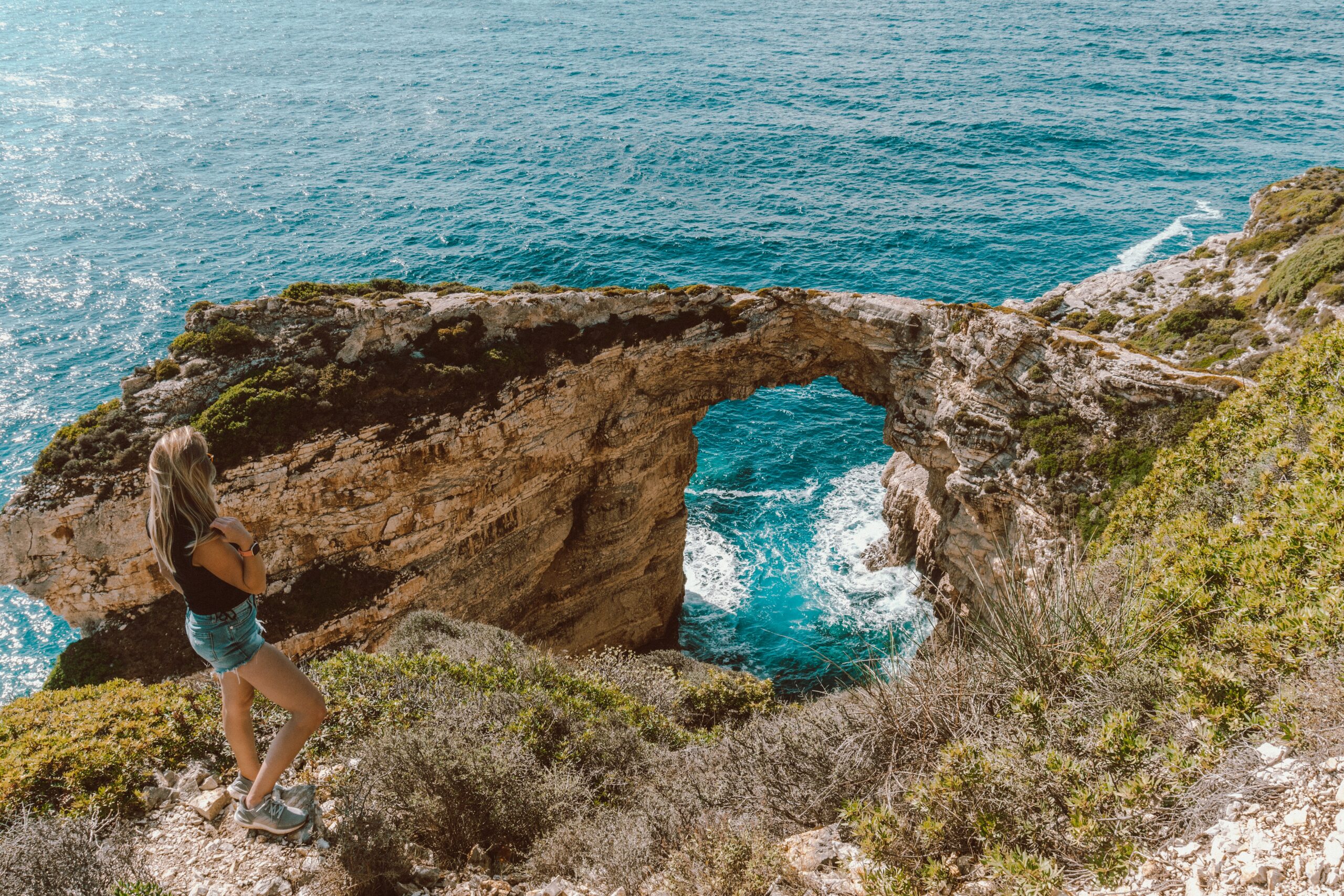 There are great connections to nearby islands in the Paxi group, so most people choose to stay on Paxos and spend time visiting nearby islands. There are lots of ferries which means the island is well-connected and busy enough without being too overwhelming.
5. Corfu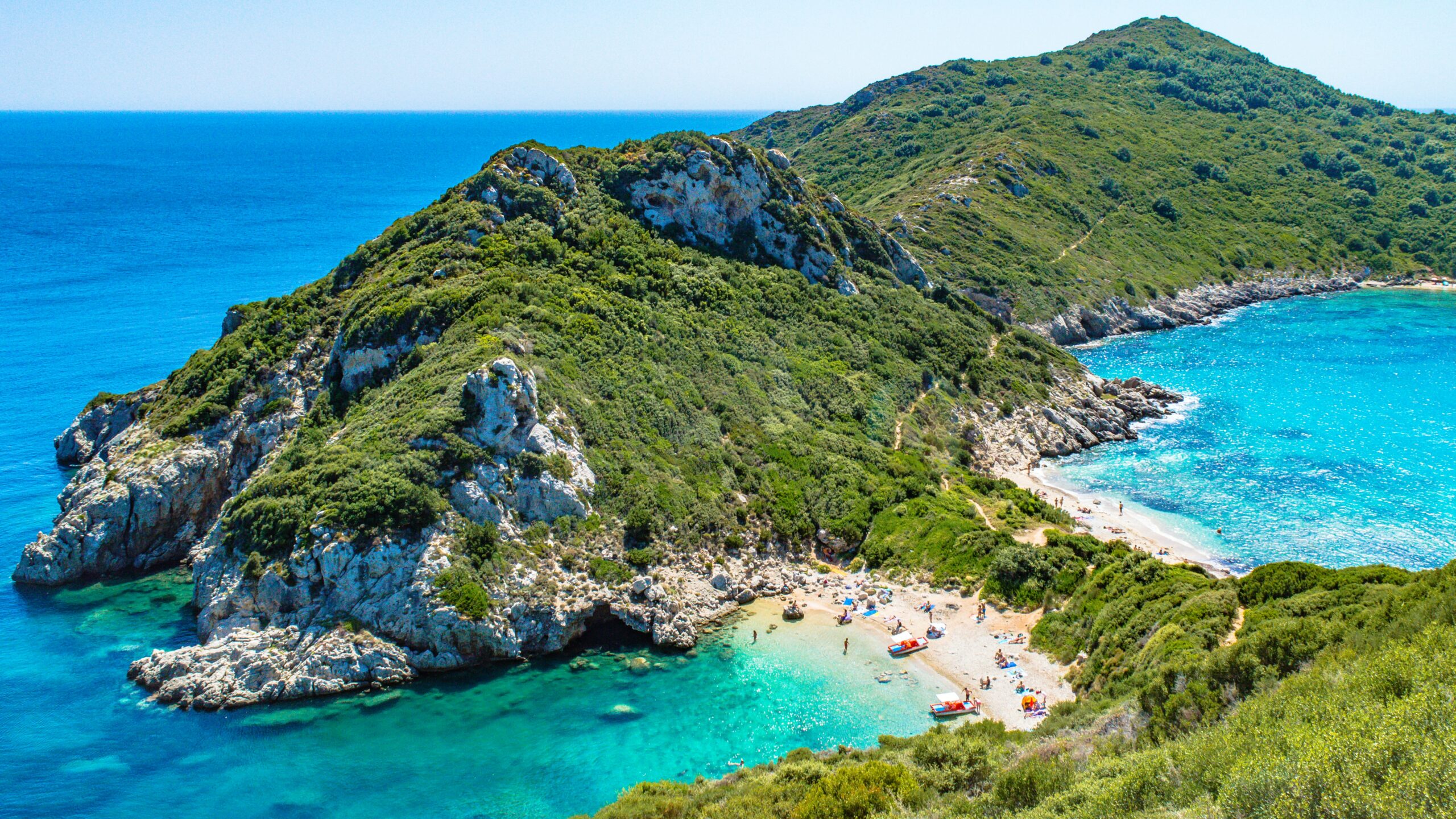 Corfu is one of the more popular and well-known islands, and although it is Greek, it feels almost like another country. Having been Greek, Venetian, French, and British in the past, the island's got a very unique microculture and plenty of history.
Corfu has a bit of everything. Geographically, it's got 2 mountain ranges, a large flat area in the south, rivers, lakes, hills, sandy beaches, pebbly coves, large towns, and small villages.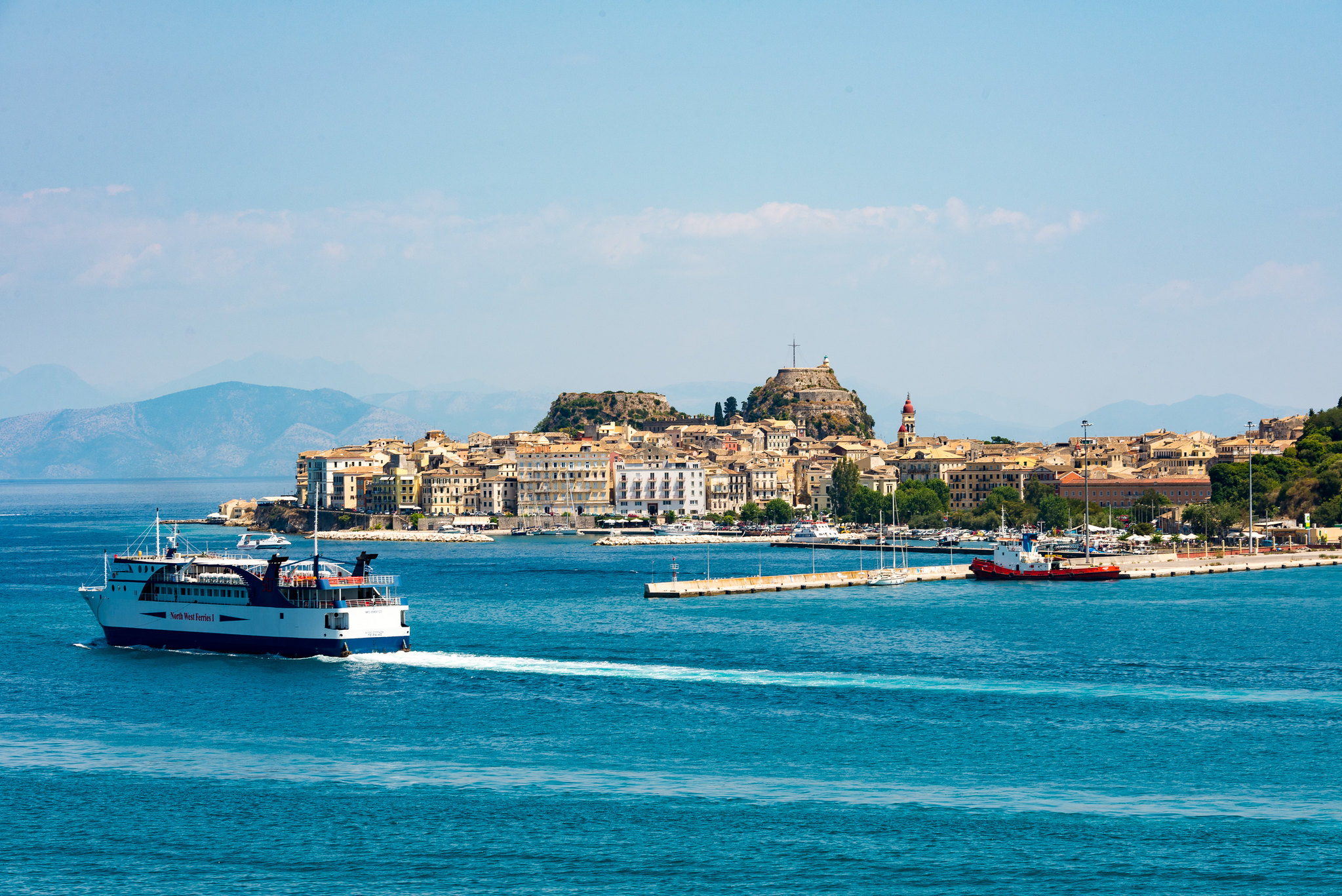 You'll find wild nightlife, large resorts, and busy markets, as well as sleepy stone houses and hidden old towns.
From museums, fortresses, and a palace, to coves, crystal waters, and mountainside hikes, Corfu has something for everyone.
Corfu Town feels much larger than it really is and has more to offer than most island towns. It's inhabited year-round by locals and expats, making it feel very welcoming. Practically, with so many amenities, Corfu is one of the more realistic places to move to or use as a base for traveling.
6. Meganisi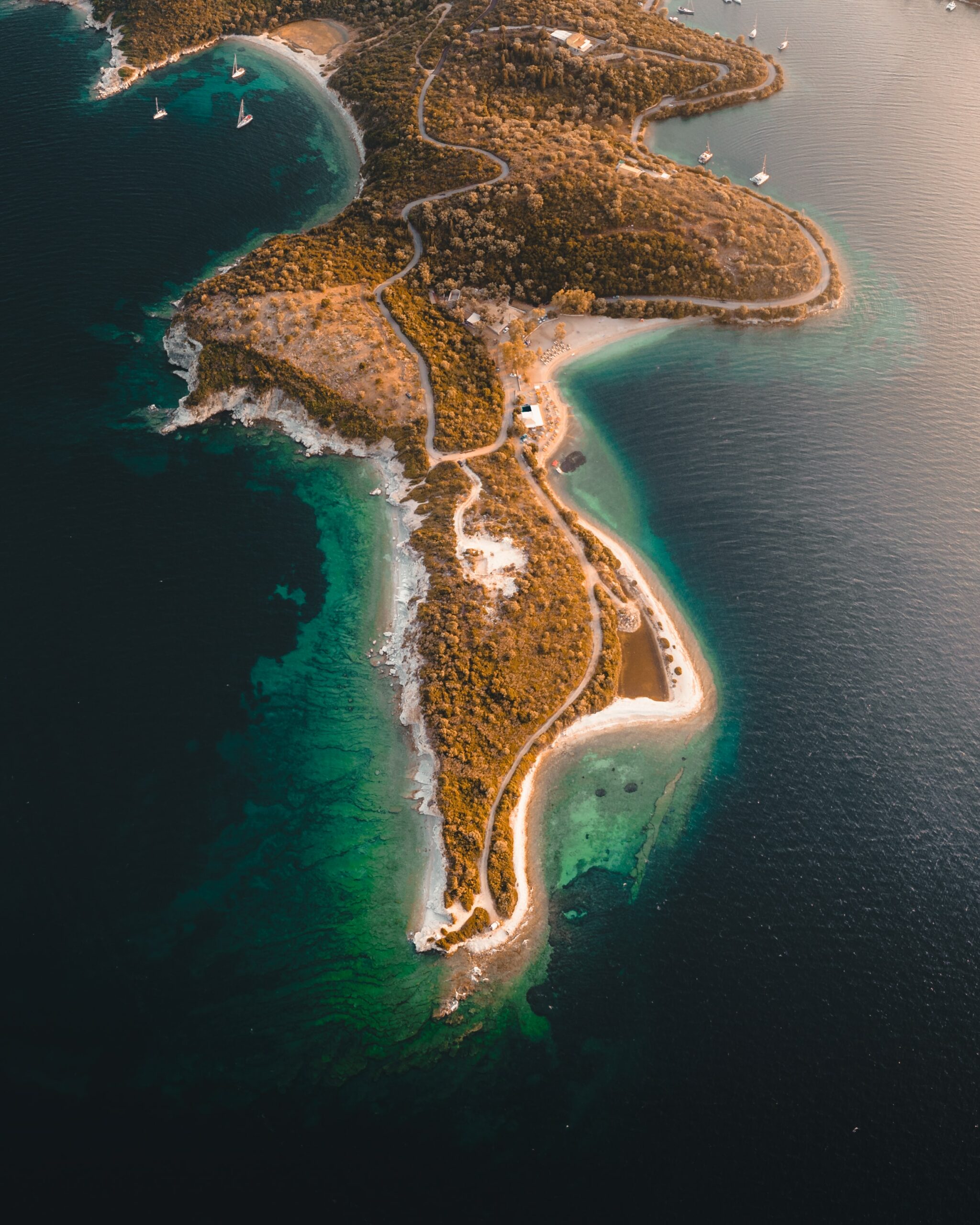 If Ithaca is on your list of places to visit, I'd recommend heading to Meganisi as well. This small island has the same green hills, bubbling streams, rocky coves, pebble beaches, and traditional villages as Ithaca, but it's not so well-known and has fewer tourists.
It's a great place if you want to dive in crystal-blue water, without sand making the water murky.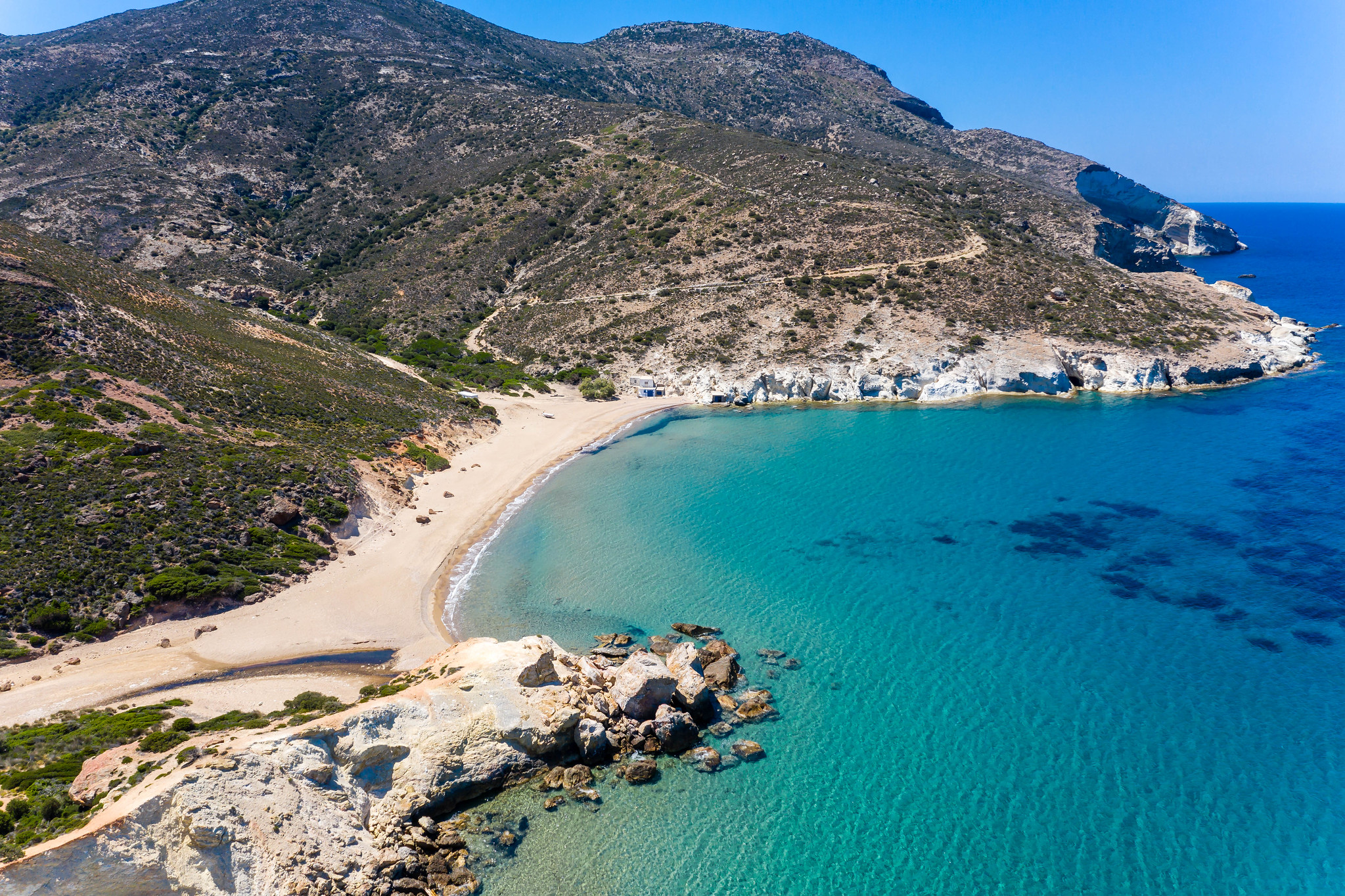 It's small enough that it feels like one huge village where everyone knows everyone, and you can get good recommendations for places to eat real Greek food. Agios Ioannis is easily the most beautiful beach, while the Papanikolis sea cave is a major attraction.
Life on this island is slower than elsewhere, so if you want an action-packed trip, it might not be for you. However, there are many nearby islands with regular ferry links for you to explore a larger area if you want.
7. Paros
You'll have a hard time finding a list of Greek islands that doesn't talk about Santorini. The white walls and blue roofs are easily one of the most recognizable sights in the world.
But what if I told you there was another Greek island with the same style of white and blue buildings, the same cobbled streets, the same views, the same flowers, and the same markets, but it's half as busy, half as expensive, and has better food?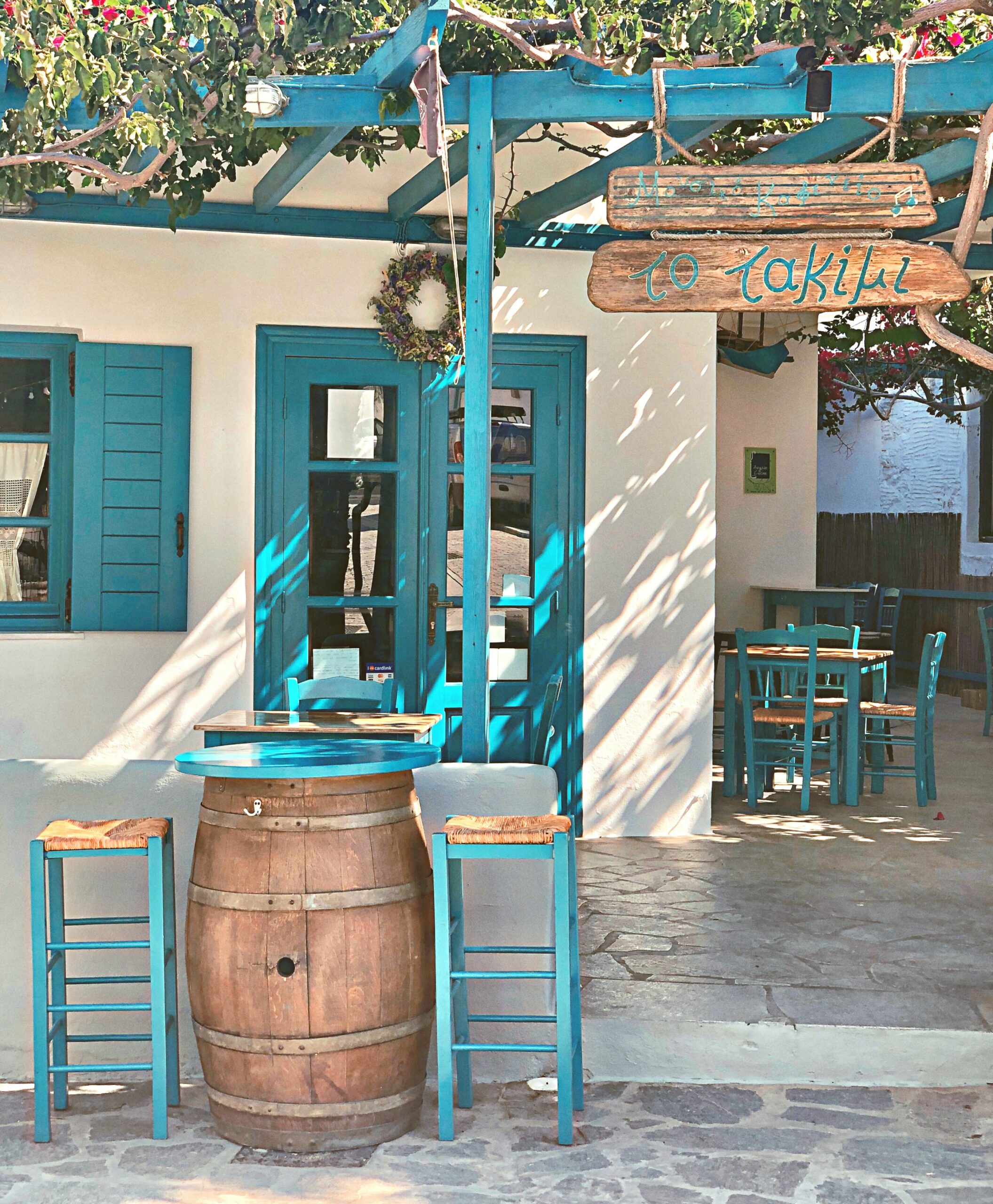 It might sound too good to be true, but Paros feels like a dream. It's exactly like the main towns on Santorini but with fewer tourists. And with fewer crowds, the island feels more authentically Greek than Santorini, which has become more and more international to cater to tourism.
Head to Paros for real Greek food in small, family-owned tavernas, chat with local fishermen in the harbor, and never worry about finding a spot on the beach. There's some excellent nightlife in the larger towns, and it can get busy and vibrant, but you can still wander around quiet, rustic villages and enjoy secluded swimming spots.
8. Rhodes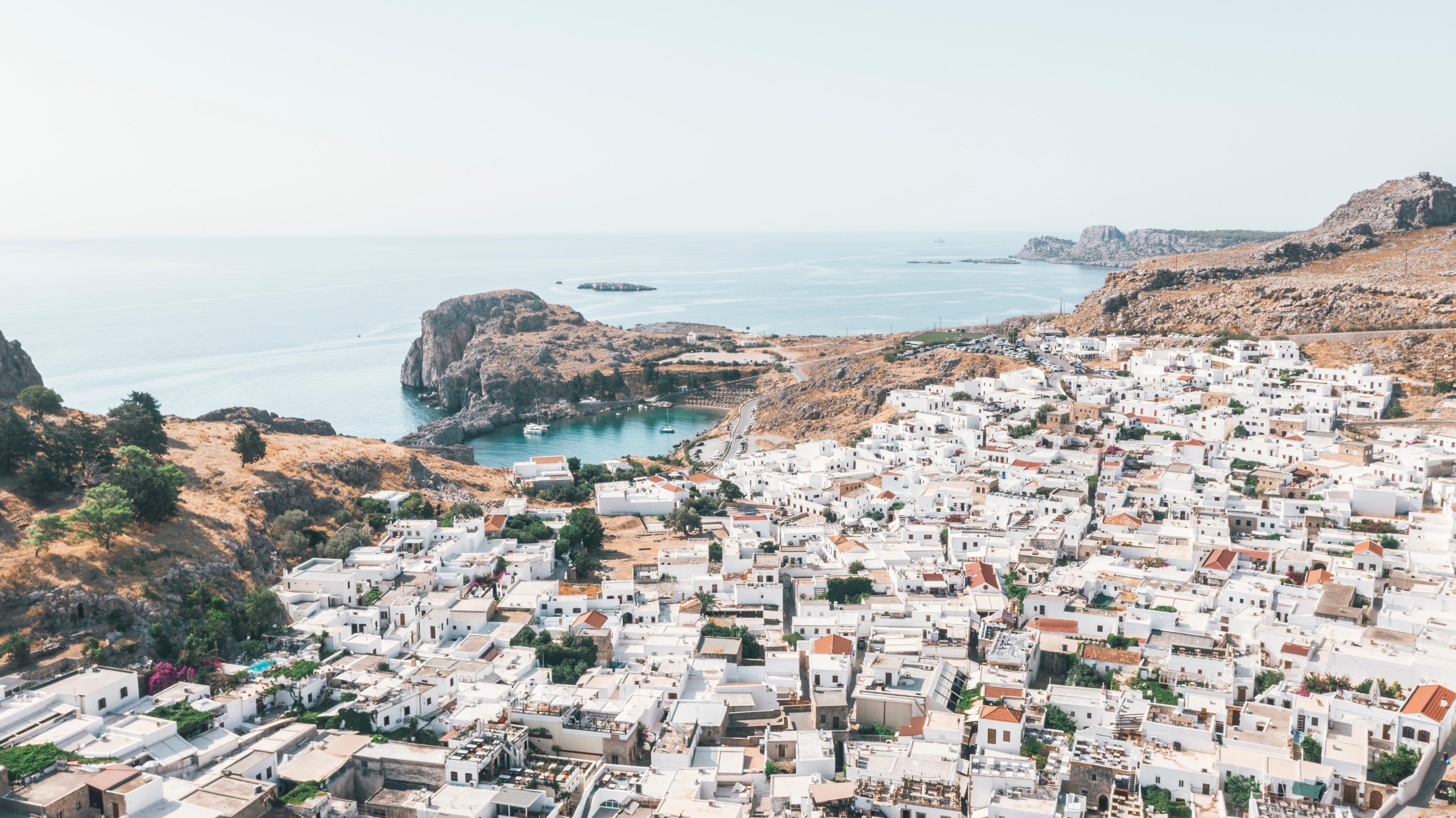 When I travel, I like to try to avoid typical tourist traps. However, sometimes, a place is super popular with visitors because it's really that amazing and a total must-see.
That's how I feel about Rhodes. It's in so many Greek myths, and the old medieval town is a UNESCO World Heritage site. It has castles and churches, beaches and monasteries, national parks, and the oldest inhabited medieval town in Europe.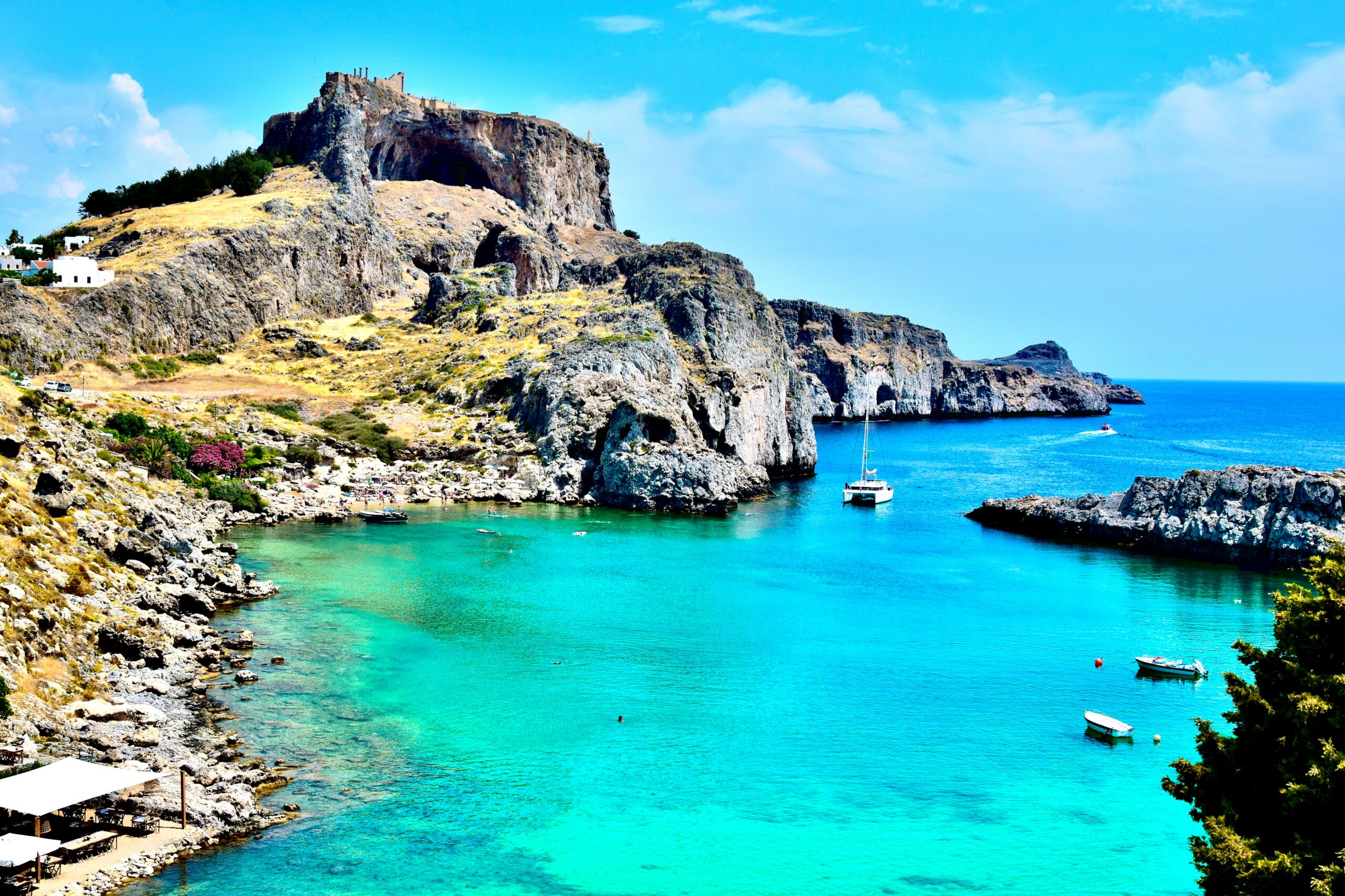 I could go on, but it's the kind of place you need to see for yourself. Sure, it's a little busy during the summer months, but there's so much to see and do here that it's worth fighting the crowds. Outside of all the history, museums, and attractions, the island itself is stunning, with sandy beaches, rolling hills and valleys, lakes, and forests.
The south side is generally quieter. Many of the traditional villages are still not too touristy and are great places to interact with friendly locals. In terms of having it all, Rhodes has got to be top of the list.
9. Crete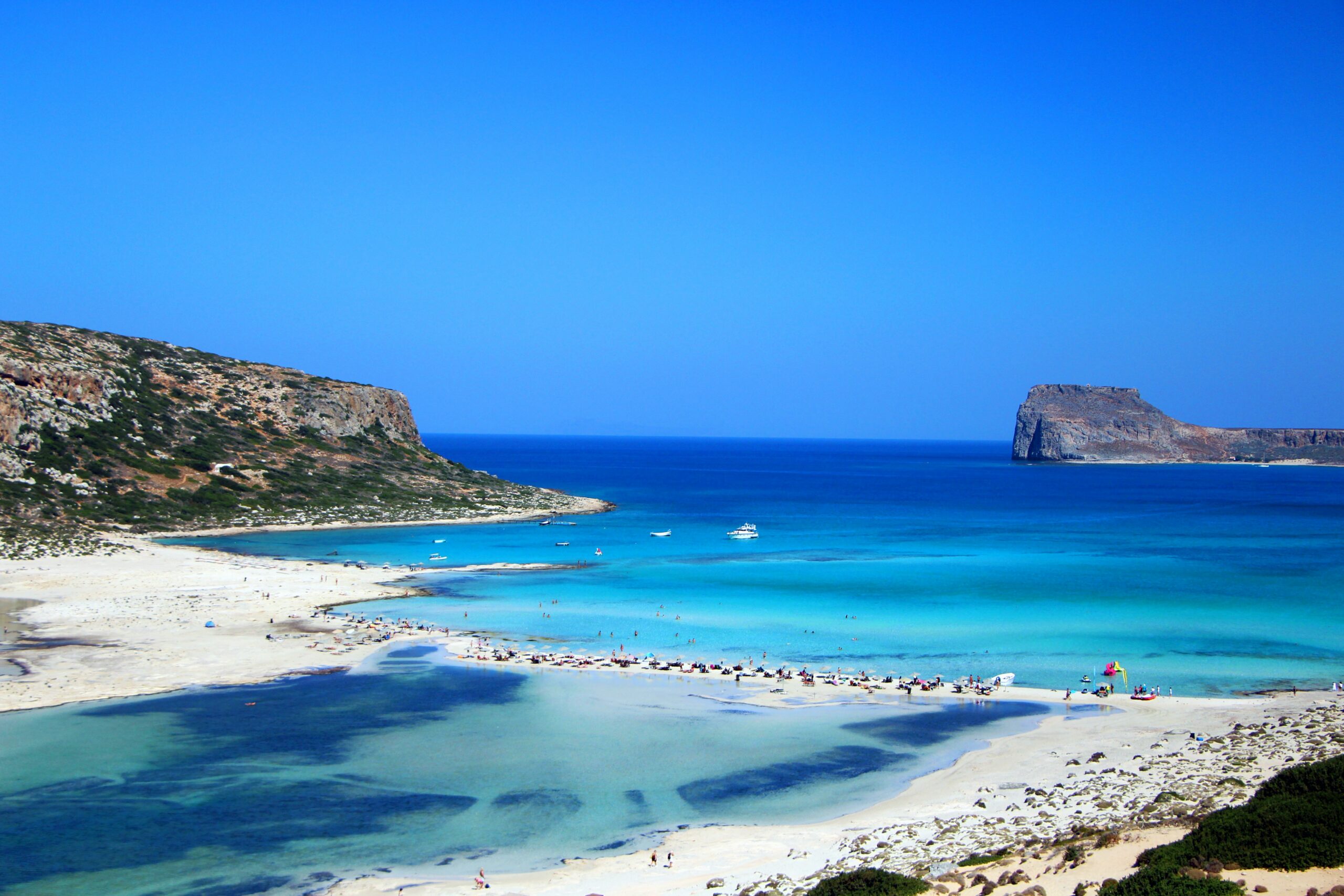 The largest of the Greek islands and the furthest south, Crete is another island famous for its history and its place in Ancient Greek mythology.
Famously home to the Minotaur, Crete has enough ruins, museums, archeological sites, and fortresses to keep you busy for months.
Crete is by far the most populous Greek island, with 600,000+ inhabitants! There's always more to learn, see, and do here: I've been twice, and I still have more to see.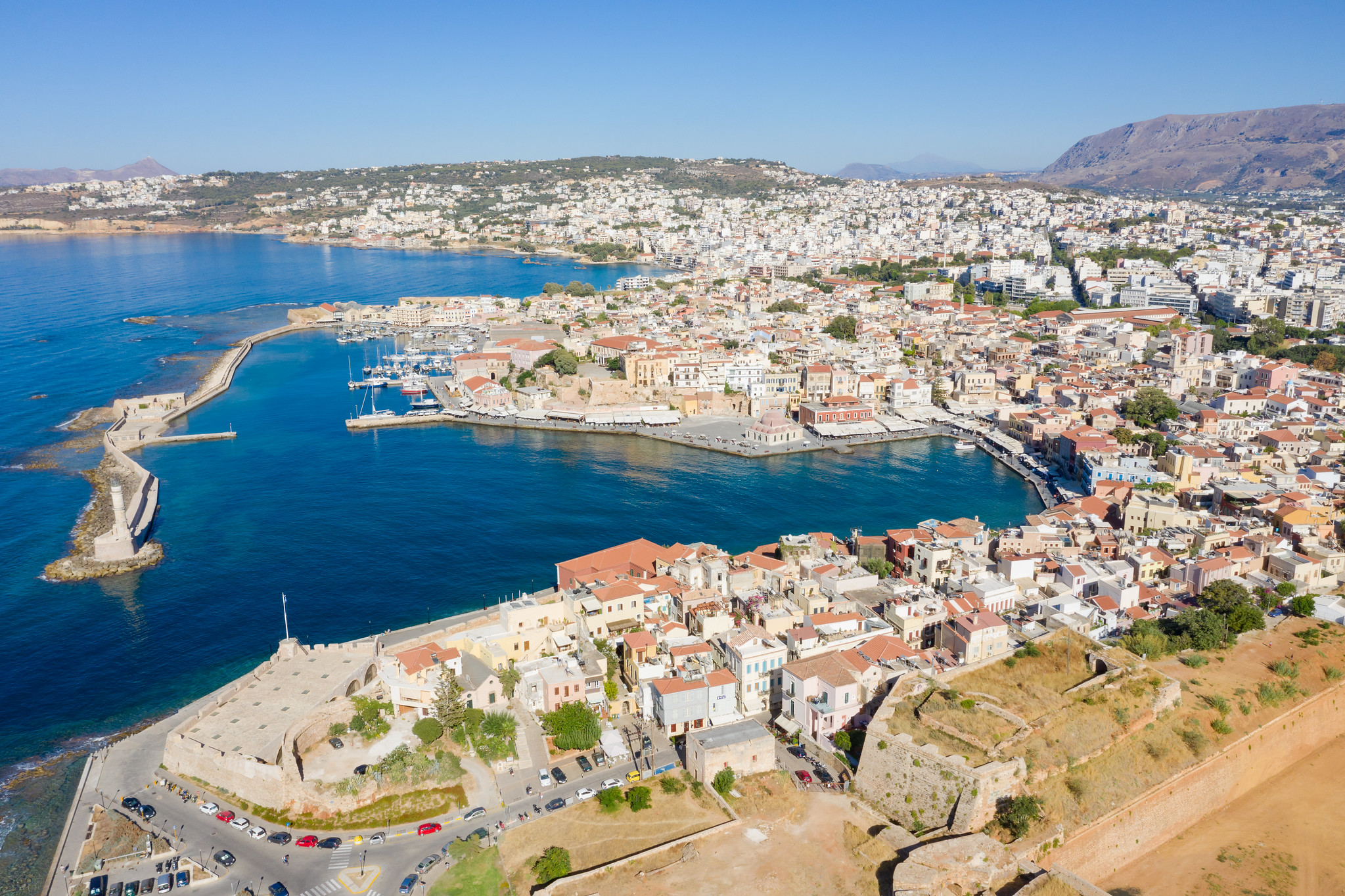 If history isn't your thing, then Crete offers some of the best hiking trails of any island. It's big enough to have lots of sports and activities on offer while still feeling very rural and unspoiled. However, the large towns and seaside resorts have everything you could ever need.
Unlike the smaller islands, you'll find Crete has good nightlife, shops are fully stocked, and the island isn't totally deserted in summer. For longer trips, Crete is an excellent base.
10. Folegandros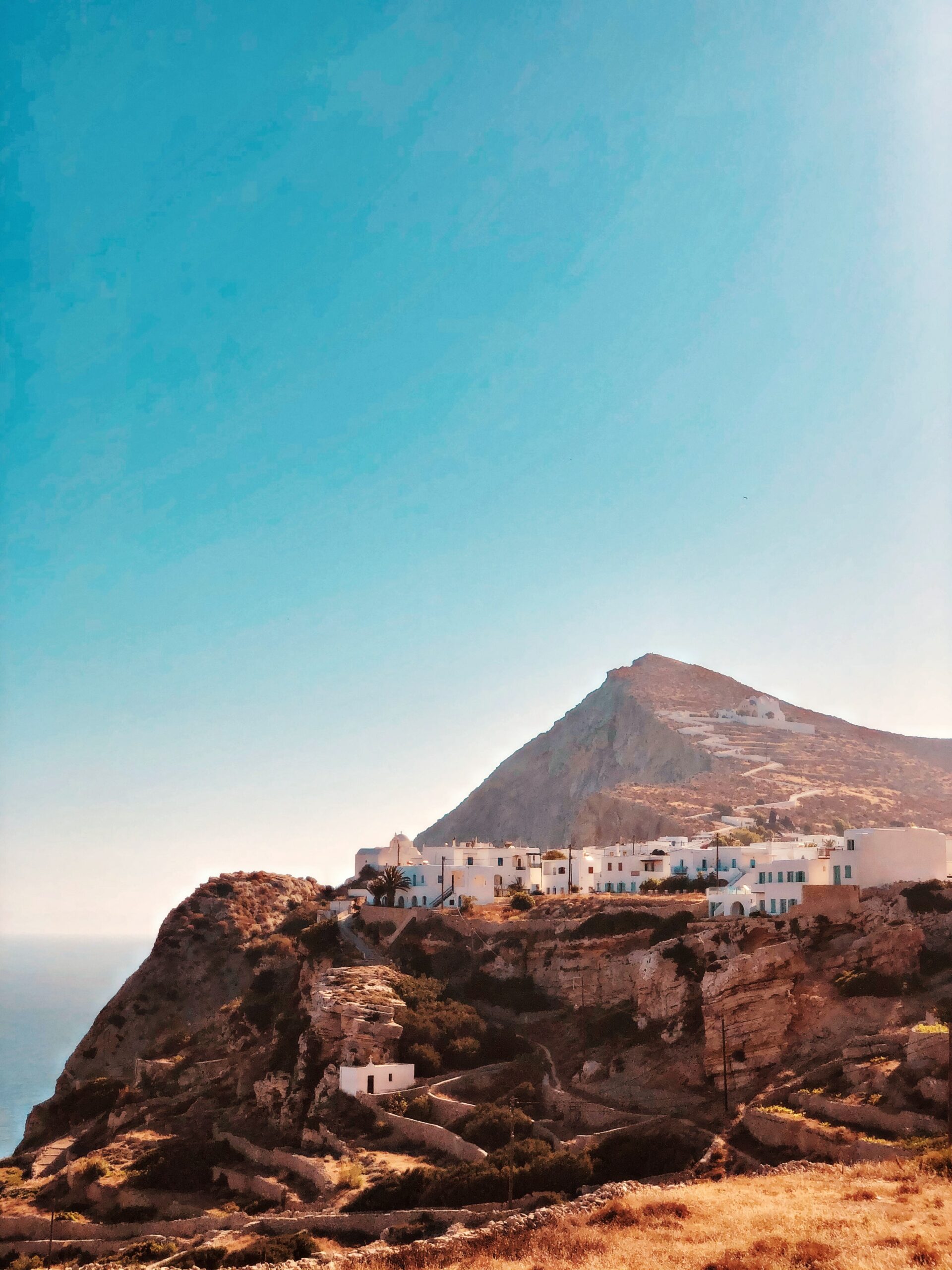 Folegandros is slowly getting the recognition it deserves. It's more popular now than it's ever been, which means it's the perfect time to visit.
It's still not super built-up, so you'll get a very authentic Greek experience, but there has been investment in infrastructure, so it's easy to get around and find basic supplies. Many people get rental cars or small rental bikes cheaply here, and there are lots of ferries to nearby islands.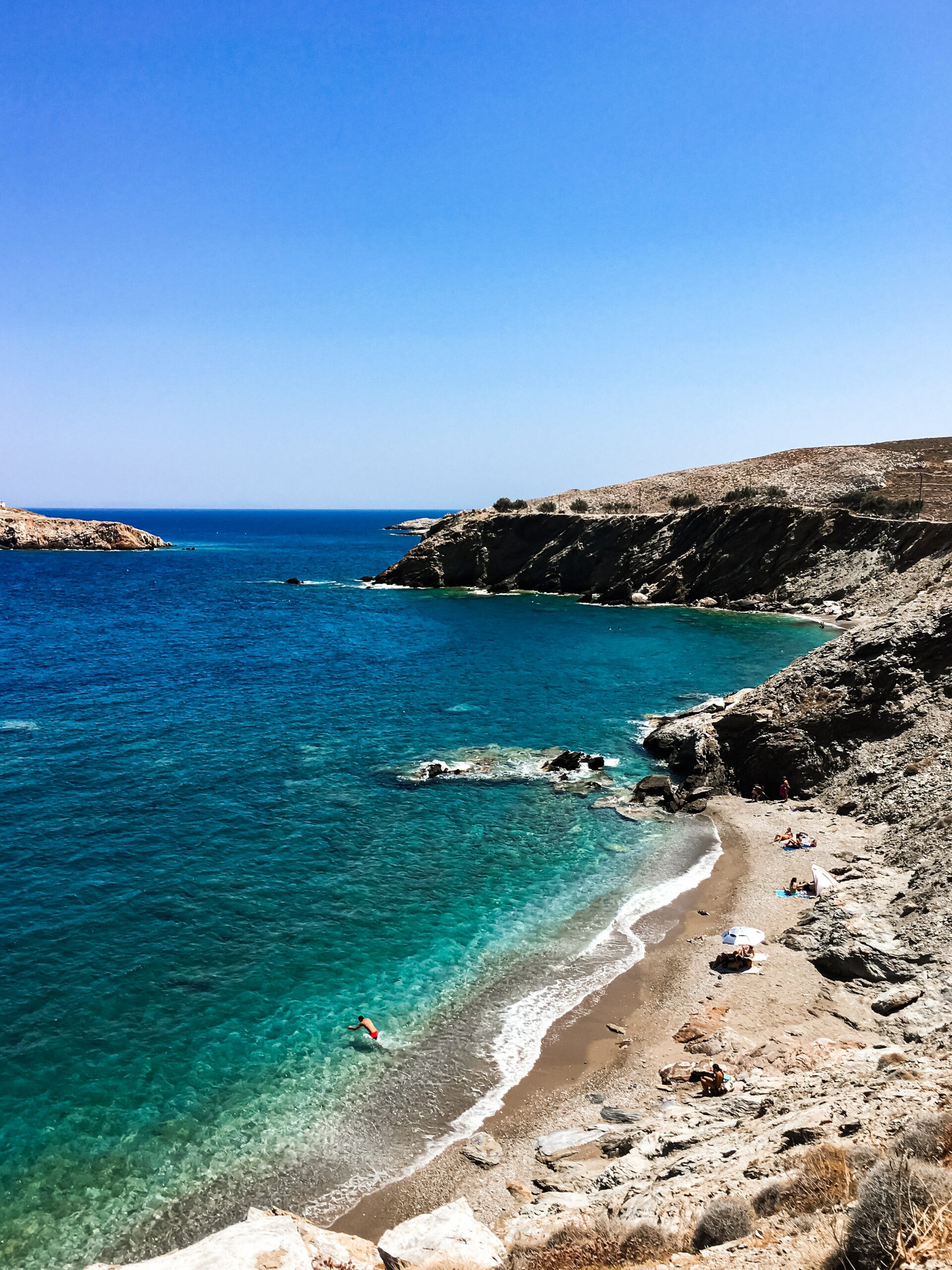 The center of Chora, the main village, is pedestrian-only, and the hilltop church looking out over the island is a hard climb but totally breathtaking. The coastline is one of the main reasons to visit, as it has some incredible cliffs, rocky coves, beaches, and ports.
You can enjoy the same white and blue buildings as Santorini but in a calmer, more rustic setting. There's a nice range of hotels and villas to rent, and there are more locals living here year-round than on other islands of a similar size, so even outside of the summer season, it's a great place to visit.
Want more inspiration to plan your next European trip?
Summary
The Greek islands are a great destination for a European trip, but with over 6000 islands to choose from, it can get a bit overwhelming. These 10 islands are perfect to plan an authentic trip and all have amazing nature, history, and attractions. Make sure you stay tuned to learn Flytrippers' upcoming tip to fly to Greece for less next summer!
What would you like to know about the Greek islands? Tell us in the comments below.
See the deals we spot: Cheap flights
Explore awesome destinations: Travel inspiration
Learn pro tricks: Travel tips
Discover free travel: Travel rewards
Featured image: Balos beach, Crete (photo credit: Arthur Yeti)
Share this post to help us help more people travel more for less: