EDIT: It seems the Buy 2, Get 1 Free promo was terminated prematurely. The $8,99 sale for all e-books is still valid though.
If you were looking to purchase travel guides and books soon, Lonely Planet currently has a very interesting promo for discounted e-books.
If you've taken advantage of a great price on our cheap flight deals page and are headed abroad – or like to read to get inspired – this is a great offer.
Lonely Planet is one of the most recognizable publishers of travel guides and travel books. Their content is amazing.
They currently have two one promos running until April 21st:
All e-books for US$8.99 (C$11.99)
Buy 2, get 3rd free
And yes, they can be combined.
So if you were to buy 3 e-books, that would come out to only to US$5.99 per e-book (C$7.99) which is a substantial discount compared to the regular price. And very convenient because you can take them with you on a trip without having to bring even more baggage.
As you can see below, when you add the 3rd e-book to your cart, the price will reflect the 3rd free promo.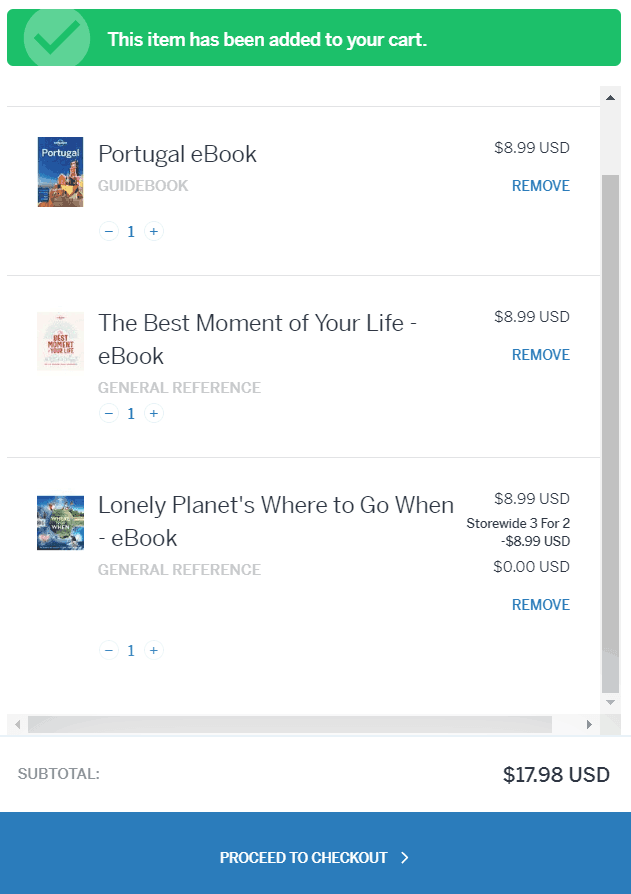 If you prefer physical books, you can still take advantage of that 3 for 2 promo.
So head to the Lonely Planet website now and stock up on travel guides and get inspired to travel, we've shared a few favorites below. Be sure to subscribe to Flytrippers' newsletter to get our travel inspiration and travel tips articles for free in your inbox… in addition to our great flight deals of course.
E-Book Recommendations
Here are a few favorites (but there are hundreds):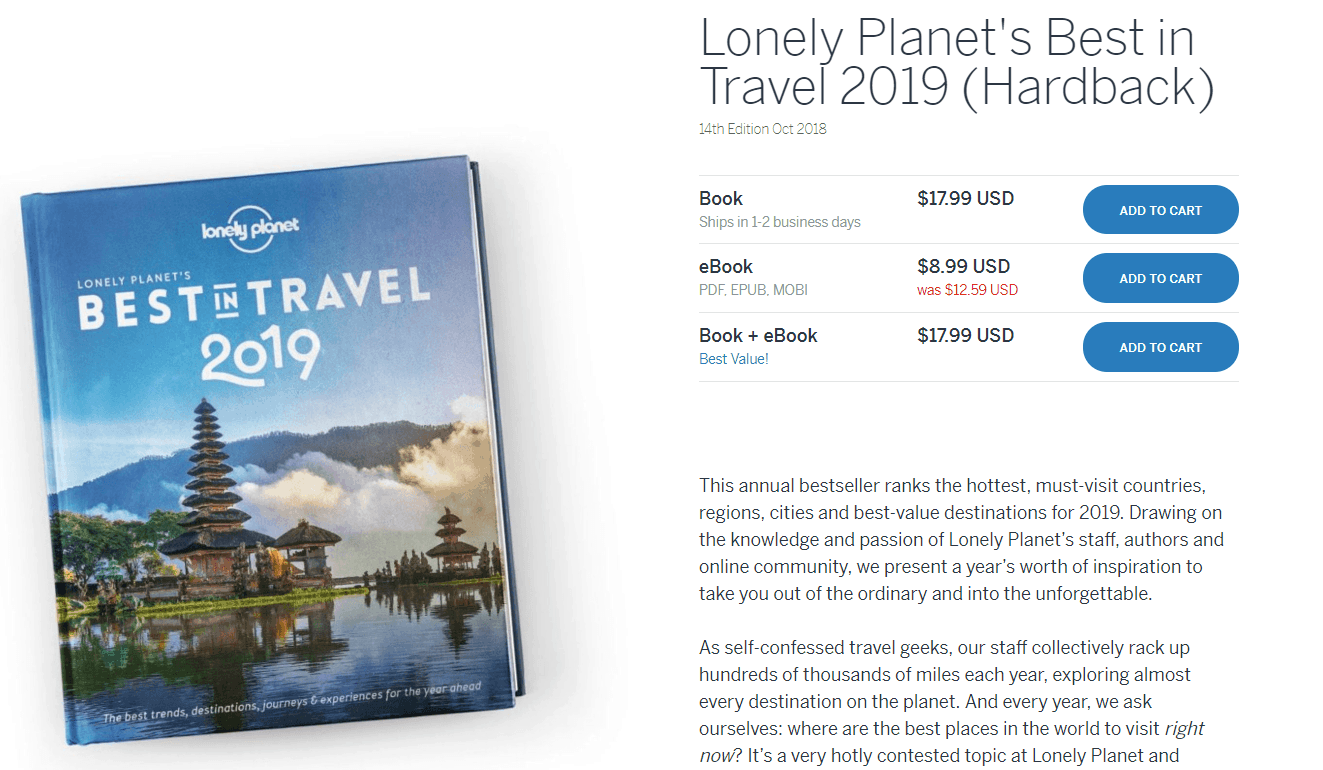 Their bestseller, 2019 edition. Perfect if you want to discover the world and see the best of the best!
---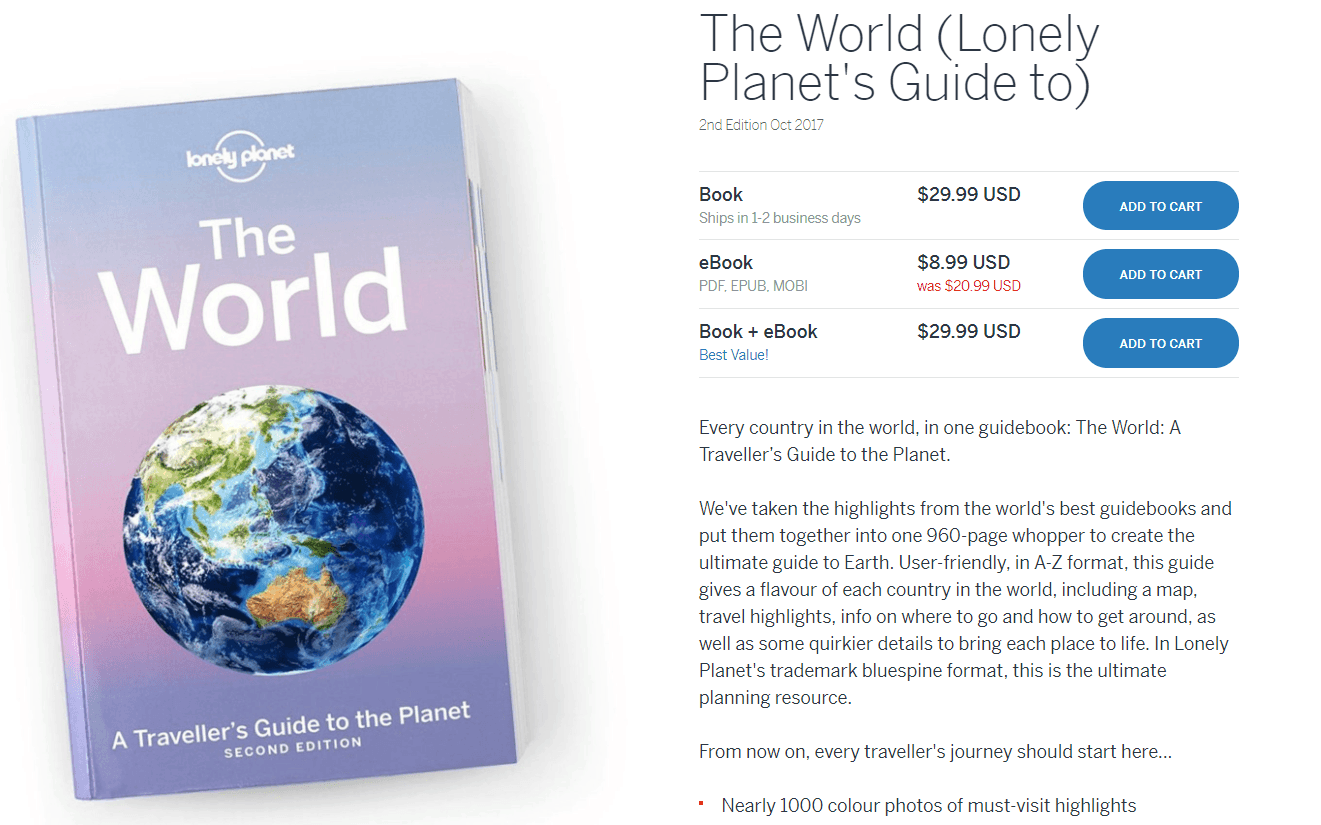 If you aren't satisfied with the best and want the 'everything', this guide covers every country.
---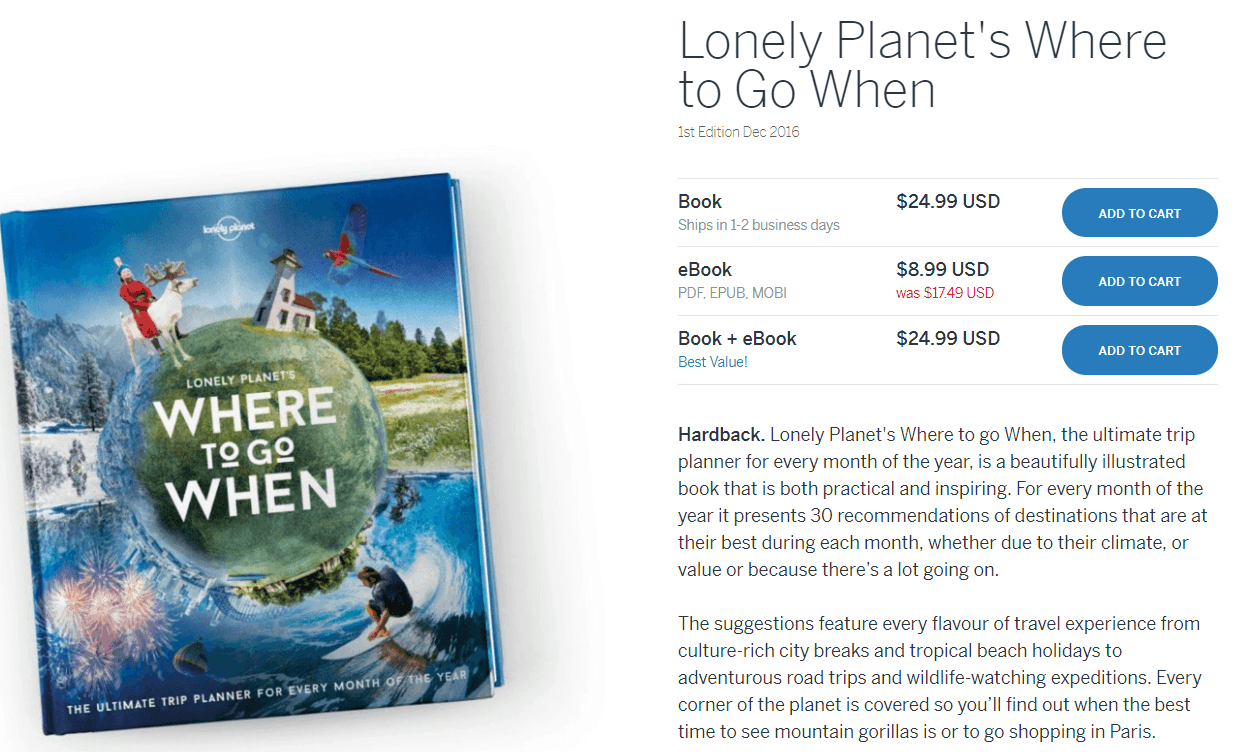 Want to know the best time to visit top destinations? This one is for you.
---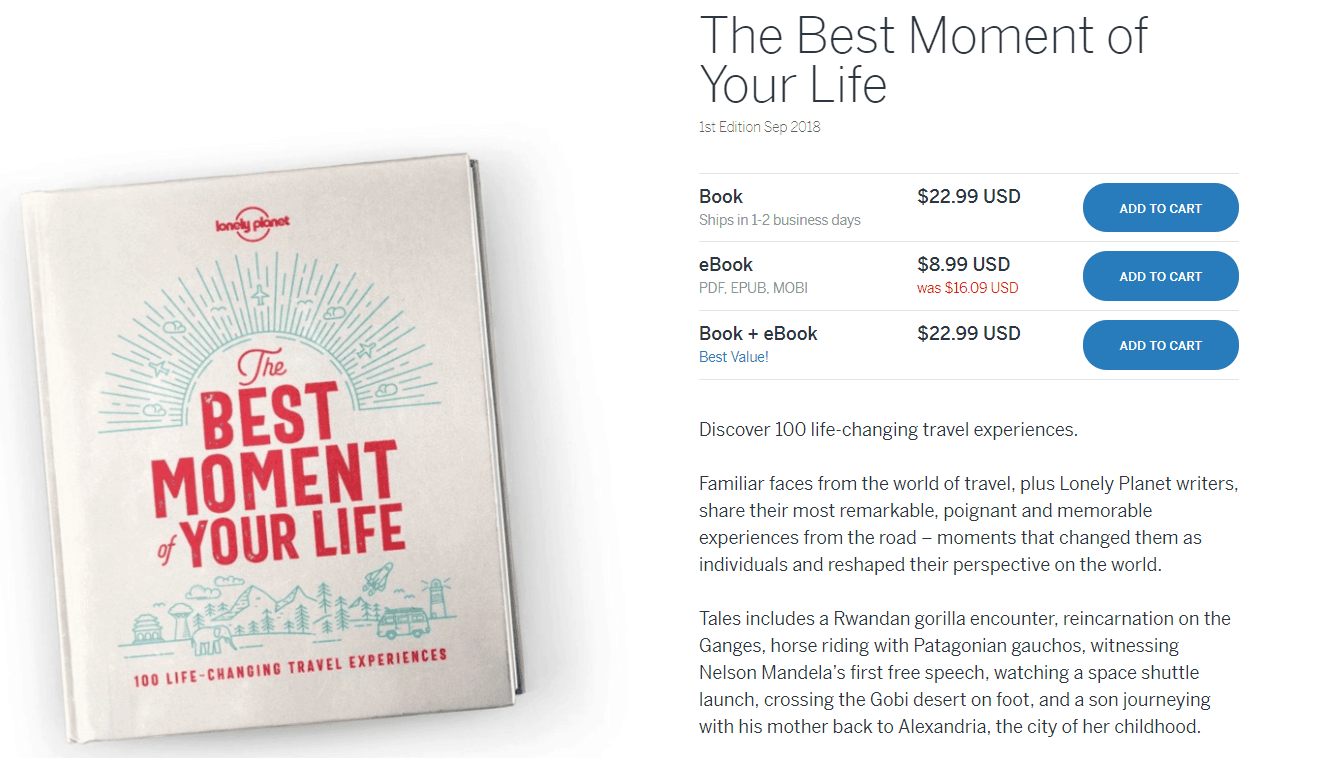 If you want to read touching travel stories.
---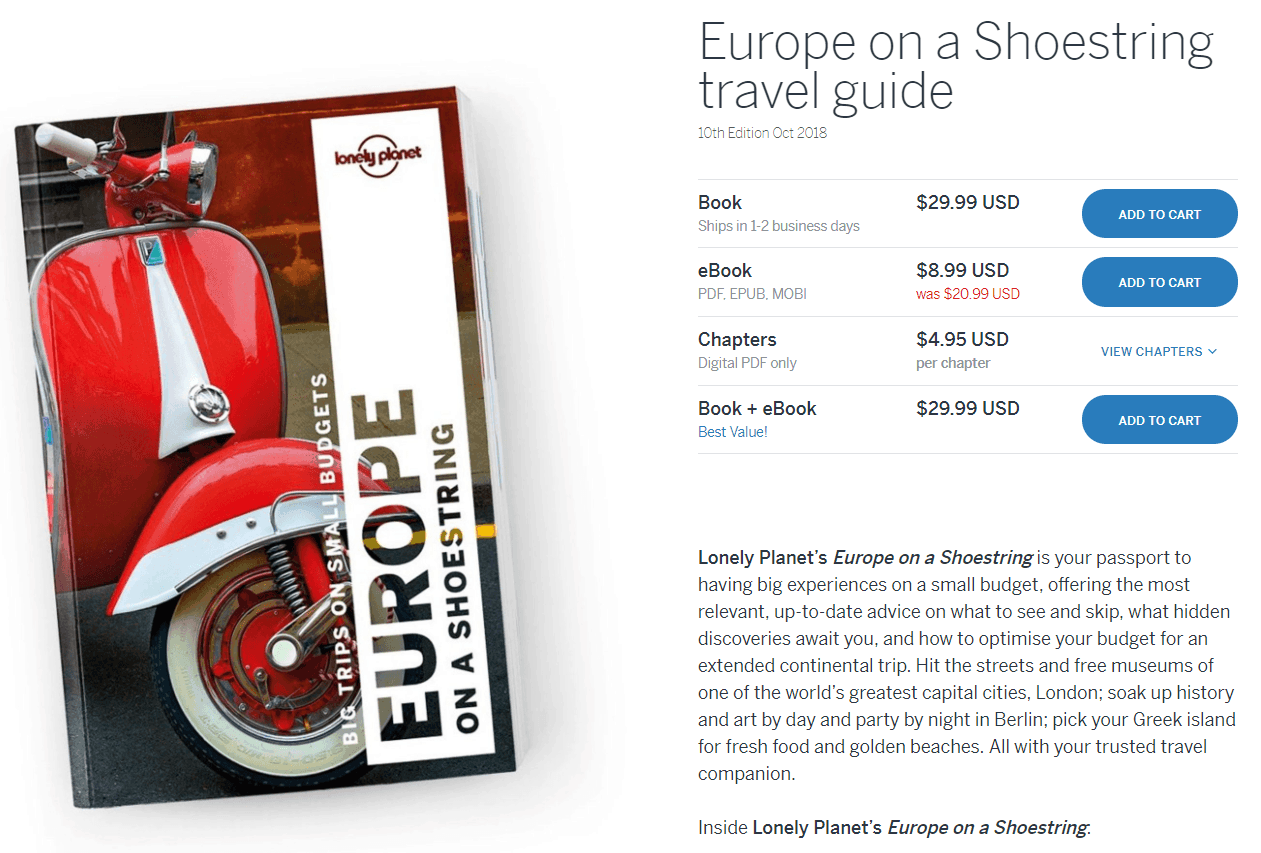 If you want to learn about specific topics, like budget travel in Europe, they have many available.
---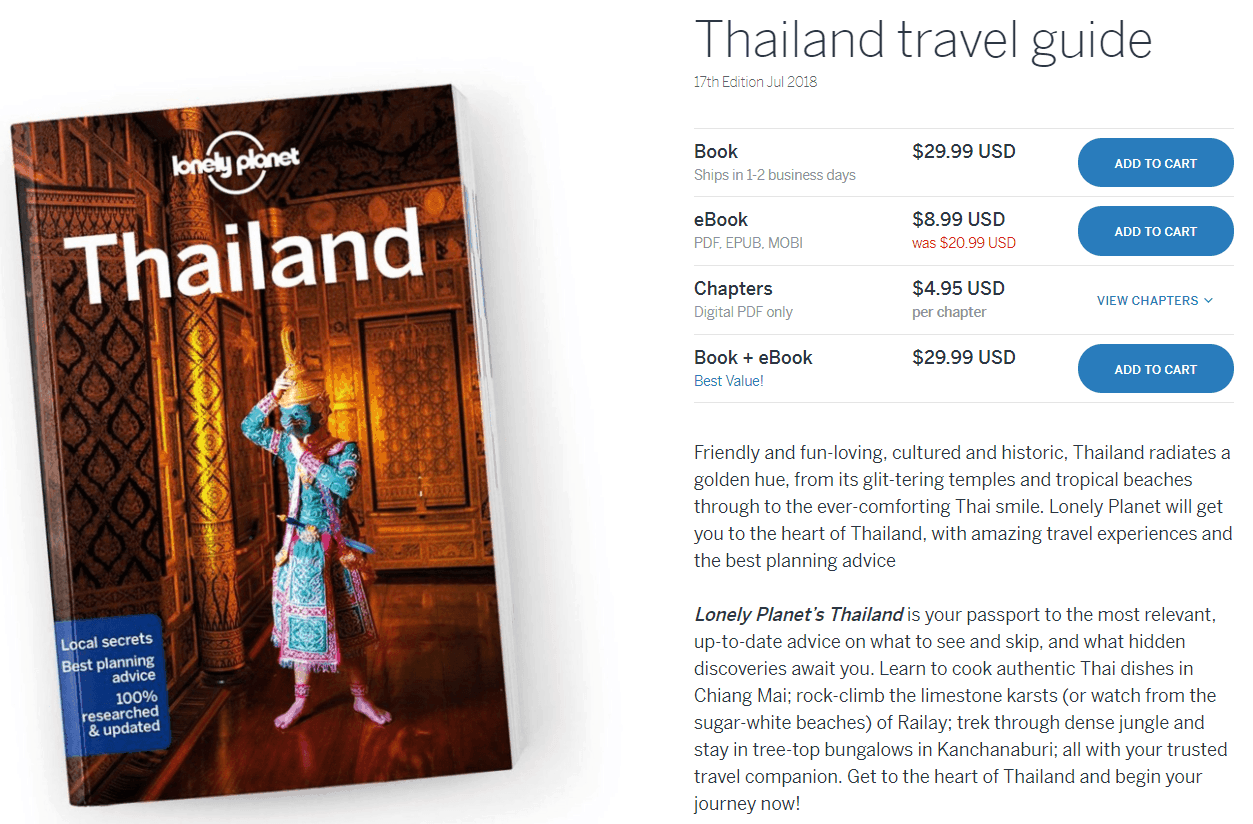 And finally, Lonely Planet's claim to fame: their country guides. Some also cover multiple countries or even just specific cities.
---
By the way, it isn't that intuitive to shop around so if you want to see e-books only, head all the way down in the page footer and click on e-books like illustrated below (and then on the next screen hit "Shop e-books"):

Summary
If you need inspiration to plan your future trips, it's a good time to buy guidebooks while they're on sale.
Do you have any Lonely Planet books? Do you recommend them? Tell us in the comments below!
Help us spread the word about our flight deals and travel tips by sharing this article and most importantly bookmark Flytrippers so we can help you navigate the world of low-cost travel!
Cover image: Lonely Planet titles (photo credit: Lonely Planet)
Advertiser Disclosure: Flytrippers receives a commission on links featured in this blog post. We appreciate if you use them, especially given it never costs you anything more to do so, and we thank you for supporting the site and making it possible for us to keep finding the best travel deals and content for you. In the interest of transparency, know that we will NEVER recommend a product or service we do not believe in or that we do not use ourselves, as our reputation and credibility is worth far more than any commission. This principle is an essential and non-negotiable part of all our partnerships: we will never give any third-party any control whatsoever on our content. For more information on our advertiser disclosure, click here.
Share this post to help us help more people travel more for less: