This whole coronavirus crisis is not all negative. Let's take a look at the brighter side: since humans are staying inside, this leaves plenty of room for all kinds of animals to take over the world!
After crabs taking over an airport in the Bahamas, other animals are also taking advantage of the worldwide lockdown! Although in one viral case, the situation is not as it seems. Hopefully, that is the only fake news among these examples.
Here are the best animals taking advantage of the coronavirus lockdown spotted all over the world.
1. Penguins In Chicago
The (closed) Shedd Aquarium decided to let their penguins visit their neighbors!
You can go to @SheddAquarium Instagram page to follow Wellington's adventures all around the aquarium!
2. Monkeys In Thailand
Many news outlets have covered this video showing A LOT of monkeys fighting over a banana in Lopburi.
This "monkey gang war" is supposedly a direct result of the coronavirus crisis: the dwindling number of tourists that usually feed the monkeys apparently forced the hungry animals into town, although this city was already known for having many monkeys.
3. Groundhog In Philadelphia
Some might remember the famous NYC pizza rat from 2015 who had to hurry, but down the interstate in Philly, a groundhog was found casually eating on a pizza on the streets!
It now has plenty of time to enjoy it in peace!
4. Lambs In The United Kingdom
Since the start of the lockdown in the UK, several animals are taking advantage of all the amenities at their disposition!
Those lambs now have the space to exercise every day!
5. Goats In The United Kingdom
These goats can do parkour all over Llandudno, in Wales.
6. Alligators In Florida
Next, a picture instead of a video… it's an alligator minding its own business, and making his way to the lake in Florida.
Fun fact: did you know that South Florida is the only place in the world where alligators and crocodiles coexist?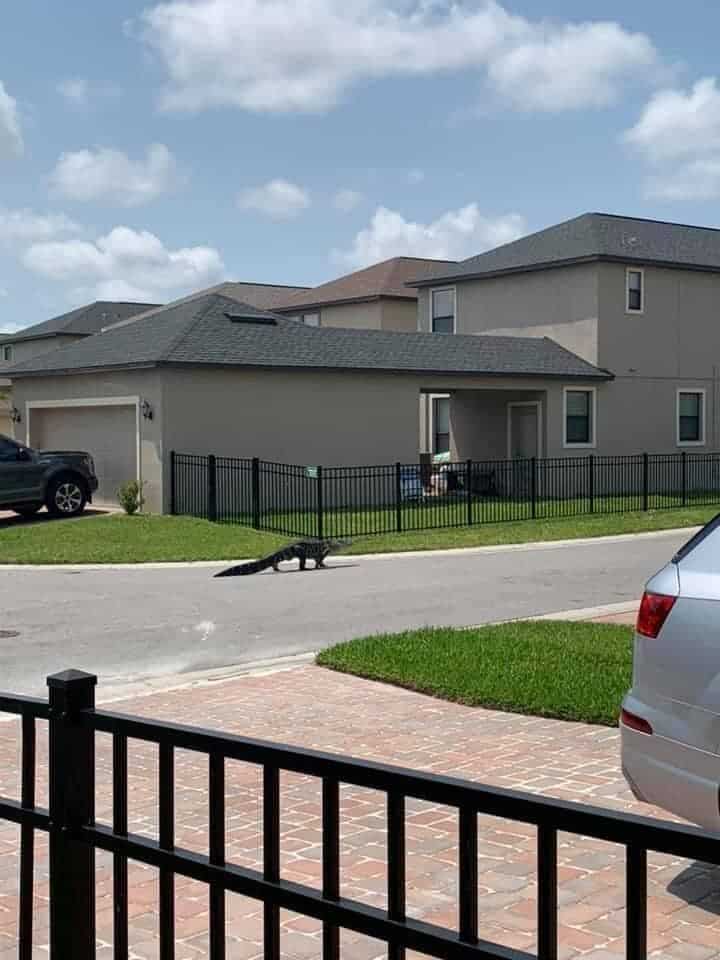 7. Nubian Ibexes In Israel
In Eilat, Israel, a couple of wild Nubian ibexes came for a visit! And kudos to those of you who knew what a Nubian ibex is!
8. Deer In Michigan
Here's a herd of deer roaming a West Michigan (Grand Rapids) neighborhood! That's a lot of deer!
9. Whales In Marseille
In Marseille, on France's Mediterranean coast, a rare event happened…. fin whales, the world's second-largest animal, have been spotted in the Calanques Park!
10. Cougars In Chile
In Santiago, at least 3 cougars have been spotted within the city since the beginning of the lockdown!
11. New Orleans
New Orleans is a city Andrew keeps telling me good things about… so I'm sure this video of rats taking over the city is not too representative of what this great Louisiana town is usually like!
12. Civet In India
In Mumbai, a small Indian civet makes an appearance while crossing the road!
13. Sloth In Texas
In case you prefer sloths over penguins, here's another aquarium video. Texas State Aquarium is closed, so Chico the sloth had the opportunity to meet with some of the other animals during a private tour of the aquarium!
14. Dolphins In Venice (FAKE NEWS)

The most viral of the coronavirus animal storylines. You might have heard of dolphins returning to the Venice canals… that one is fake news.
The video was proven to have been shot in Sardinia, a long way from Venice. Although it's true that the canal waters are clearer, there are no dolphins in Venice (and there were swans already in some areas) despite the variety of posts like this one spreading the fake news.
Venice hasn't seen clear canal water in a very long time. Dolphins showing up too. Nature just hit the reset button on us pic.twitter.com/RzqOq8ftCj

— Luca De Santis (@yeSaints) March 17, 2020
15. Dogs & Cats In China (GOOD NEWS)
Finally, here's something quite different for the last one. Those who don't like eating any animals and those who only like eating some types of animals have long criticized some countries for allowing various types of meat to be sold.
Well, there's good news, as at least one city in China has made changes: according to a Reuters report, "the southern Chinese technology hub of Shenzhen is moving to outlaw the consumption of dogs and cats as the country clamps down on the wildlife trade that scientists suspect led to the coronavirus outbreak."
While we're on the topic, you can take a look at 17 weird meals our readers ate around the world.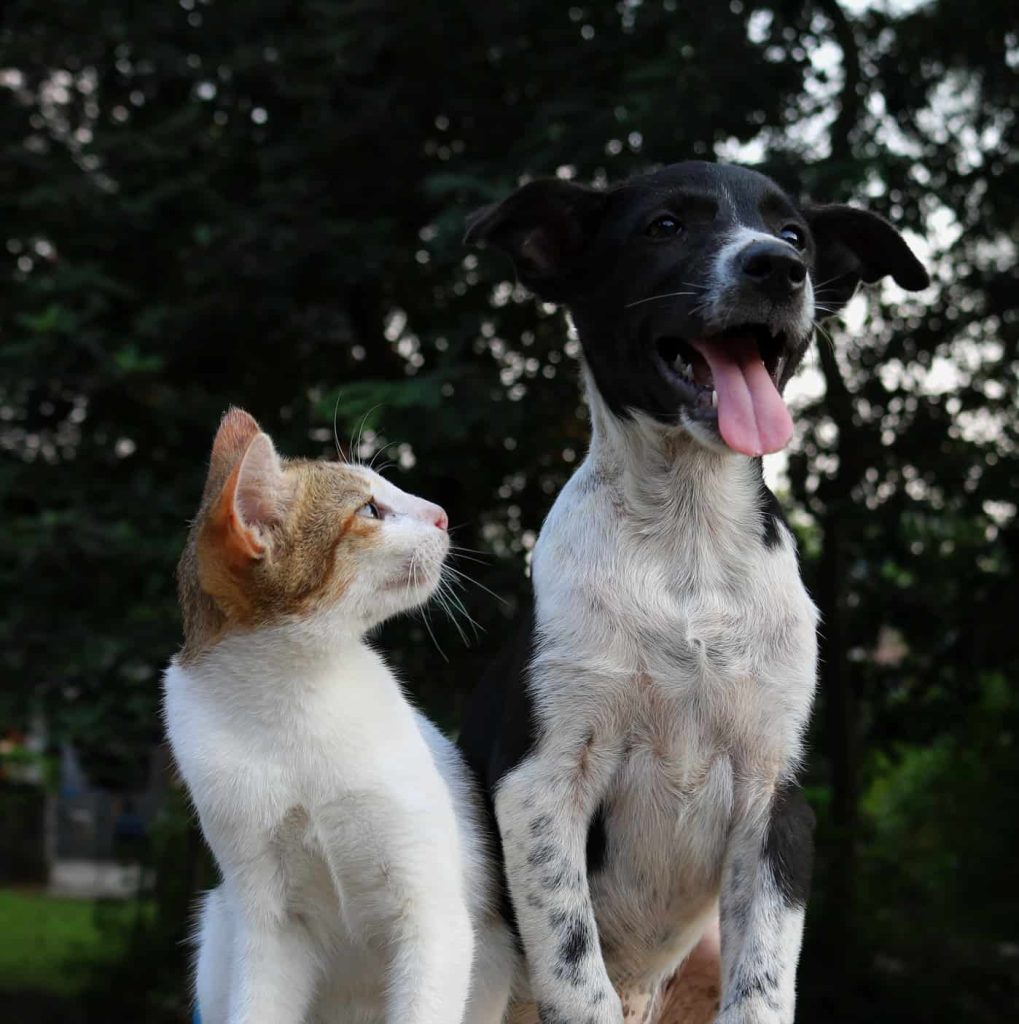 Want to travel virtually through our next photo posts?
Summary
It looks like animals all over the world are having some fun while humans are in captivity!
Have you seen other animal videos worth sharing? Tell us in the comments below!
Want to see our current discounted plane tickets?
Click here to see our flight deals
Want more travel tips and inspiration?
Click here to see the blog homepage
You'll probably enjoy this article:
Travel Hacking: Free Travel (really)
Help us spread the word about our flight deals and travel tips by sharing this article and, most importantly, bookmark Flytrippers so we can help you navigate the world of low-cost travel!
Featured Image: Screenshot – Shedd Aquarium Instagram video (photo credit: Shedd Aquarium)

Advertiser Disclosure: Flytrippers receives a commission on links featured in this blog post. We appreciate it if you use them, especially given it never costs you anything more to do so, and we thank you for supporting the site and making it possible for us to keep finding the best travel deals and content for you. In the interest of transparency, know that we will NEVER recommend a product or service we do not believe in or that we do not use ourselves, as our reputation and credibility is worth far more than any commission. This principle is an essential and non-negotiable part of all our partnerships: we will never give any third-party any control whatsoever on our content. For more information on our advertiser disclosure, click here.
Share this post to help us help more people travel more for less: