This post should get you into the Christmas spirit. If you have ever been to Europe during the holidays, you already know that it reigns supreme when it comes to winter activities, especially with its iconic Christmas markets! If you're in Europe, you'll never be more than a train ride away from one that you should check out.
Thanks to Flytrippers' cheap flight deals page (we regularly spot flights to Europe for as low as $450 roundtrip and we shared a teaser of our pro tip), you could get to experience a handful of these Christmas markets for a low price next year!
So, let's dive in!
Map of the best Christmas markets in Europe
The holiday season in Europe is always festive, cozy, and very welcoming. From shimmering Christmas lights and decorations hanging about the cities to elaborate light shows, there is almost always something going on.
What takes the cake, however, is the multitude of Christmas markets that pop up nearly everywhere around Europe. While each market offers a unique aesthetic and experience, they all follow the traditional styles: think vendors in wooden chalets, an abundance of mulled wine, hearty meals, and sweet treats.
Now you might be thinking: how do they rank and which ones should you hit up first?
Well, luckily for you, we have compiled a list of the 15 best Christmas markets in Europe to help you decide, in no particular order.
Here they are on a map before we give you details about each one (and that city's other highlights).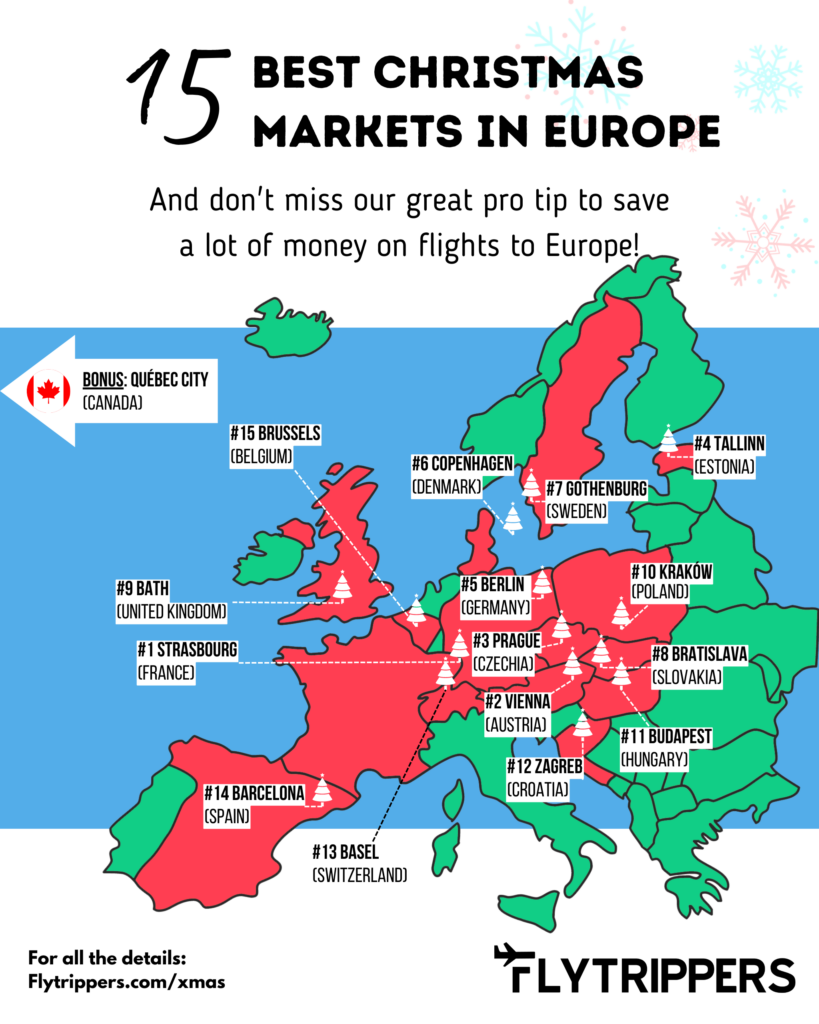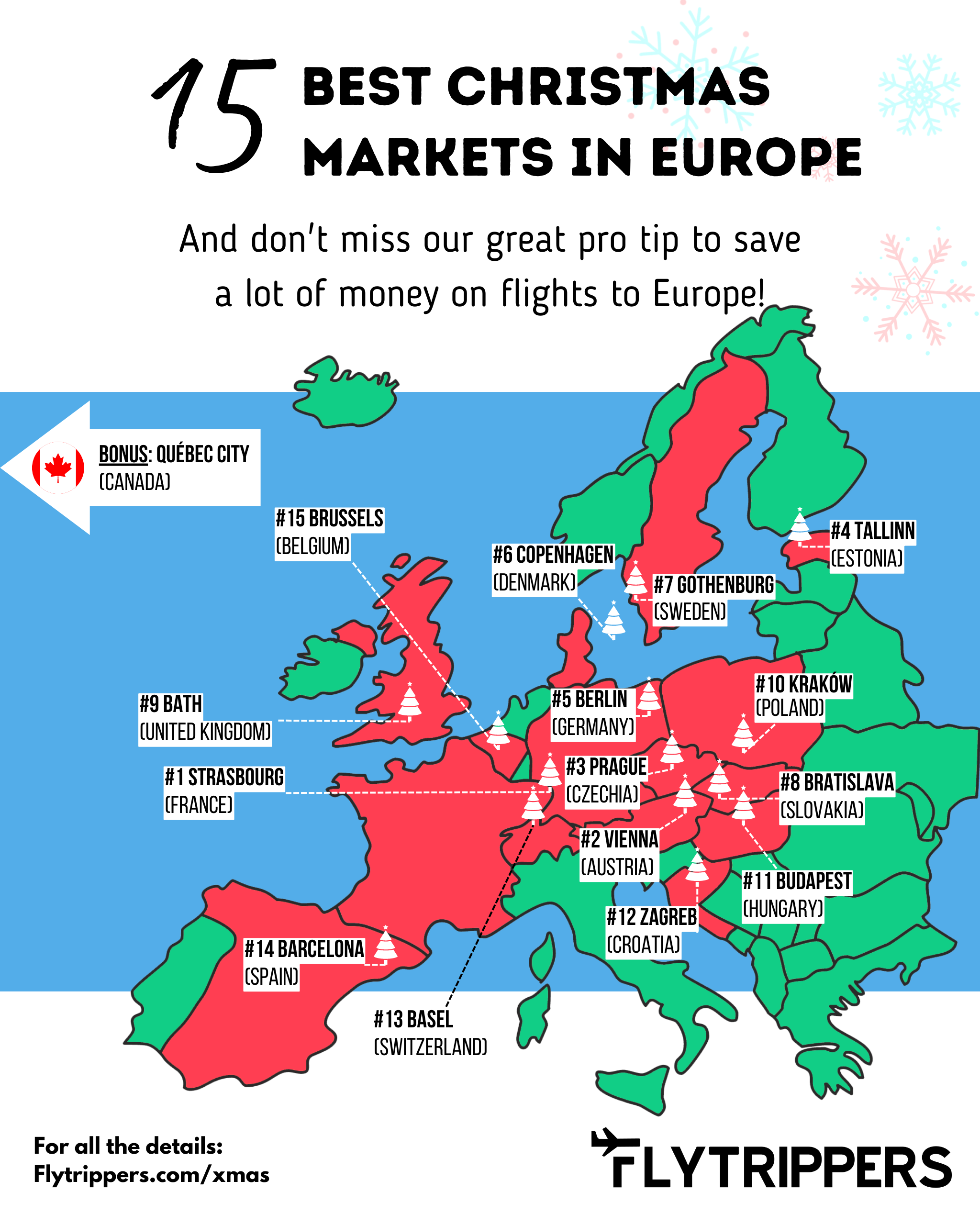 1. Strasbourg, France
What's great about Christmas in Strasbourg
First up is Strasbourg: "la capitale de Noël," as they love to boast! This means, "the capital of Christmas," and, honestly, they aren't entirely wrong, which is why we have this city's Christmas market at the top of our list!
Way back in 1570, Strasbourg held the first and oldest Christmas market in Europe, called the Christkindelsmärik.
The atmosphere in Strasbourg is filled with cozy lights, mulled wine, and markets placed in the heart of the city. As you savor the food and admire the crafts, you can revel in the German Renaissance architecture and the Neo-Gothic Cathedral of Our Lady of Strasbourg.
You'll have to visit Place Kléber for the grand Christmas Tree, get lost in the medieval streets strung to the nines with lights and garlands, and then visit the many shops that sell hand-crafted ornaments.
Other Reasons To Visit Strasbourg
Strasbourg abounds with history, contemporary art, and gorgeous medieval architecture.
The Musée d'Art Moderne et Contemporain has a lovely design and layout that blends classical, modern, and contemporary all into one.
La Petite France is a small district near the city center that offers medieval architecture, picture-perfect docks to walk upon, and the Barrage Vauban, which gives you a nice view of the city.
The Alsatian Museum is another neat place to spend a few hours. They house the history and struggle between Strasbourg and Germany and information on how this area of France has become notably independent culture-wise.
You can also read our 5 best regions to visit in France that aren't Paris or the French Riviera.
2. Vienna, Austria
What's great about Christmas in Vienna
Vienna has not one, not two, but around 40 Christmas markets for its holiday visitors!
The first and the largest is the Viennese Dream Christmas Market in front of City Hall (Rathaus). On Fridays, Saturdays, and Sundays, you can enter City Hall to enjoy international choirs singing carols.
The second is Christmas Village at Belvedere Palace, a pillar of baroque architecture. This market offers elaborate decorations, treats, and food, along with ornate hand-crafted goods.
There are several other markets to visit, so if you're in the area, try to visit as many as you can! One can never get enough holiday cheer!
Other Reasons To Visit Vienna
Vienna is often voted the most liveable city in the world. It is well-known for its presence in the music scene; a period of musical history is even named the "Viennese Classical Period."
The music is so popular that Vienna has become a hub in the industry of classical work. As a traveler here, you can take advantage by attending one the many 5-star symphonies—perhaps even at the Wien State Opera House.
You may also want to stop by St. Stephen's Cathedral to admire the gothic architecture as well as learn about its vivid history and how it once survived a raging fire.
3. Prague, Czechia
What's great about Christmas in Prague
Prague has some of the best Christmas markets in all of Czechia, all of which attract locals and tourists alike.
Every year, these markets have a theme. In 2018, it was "Fairy Tales," and in 2019 it was "Angels at Christmas."
You can enjoy perusing crafts and ornaments to buy in one of the many wooden huts or decide to warm up with some honey wine or mulled wine, or maybe even a Czech beer like Staropramen. If you're looking for a sweet treat, taste the trdelník, a spicy gingerbread coated in hot sugar… yum!
Other Reasons To Visit Prague
Many people tell me that the most beautiful city in Europe is Prague. It's hard to argue with that, even by just seeing pictures.
Apart from having some the best beer in Europe, Prague stands proudly with wondrous architecture such as Charles Bridge, the Old Town Square, Tyn Cathedral, and St. Vitus Cathedral atop a hill (which is a perfect spot for a panoramic view, by the way).
If you're an avid beer drinker, then you'll have to stop into one of the many pubs and try authentic Czech beer, which is debatably the best in Europe. Popular brands are Urquell, Kout na Šumave, and Primátor.
4. Tallinn, Estonia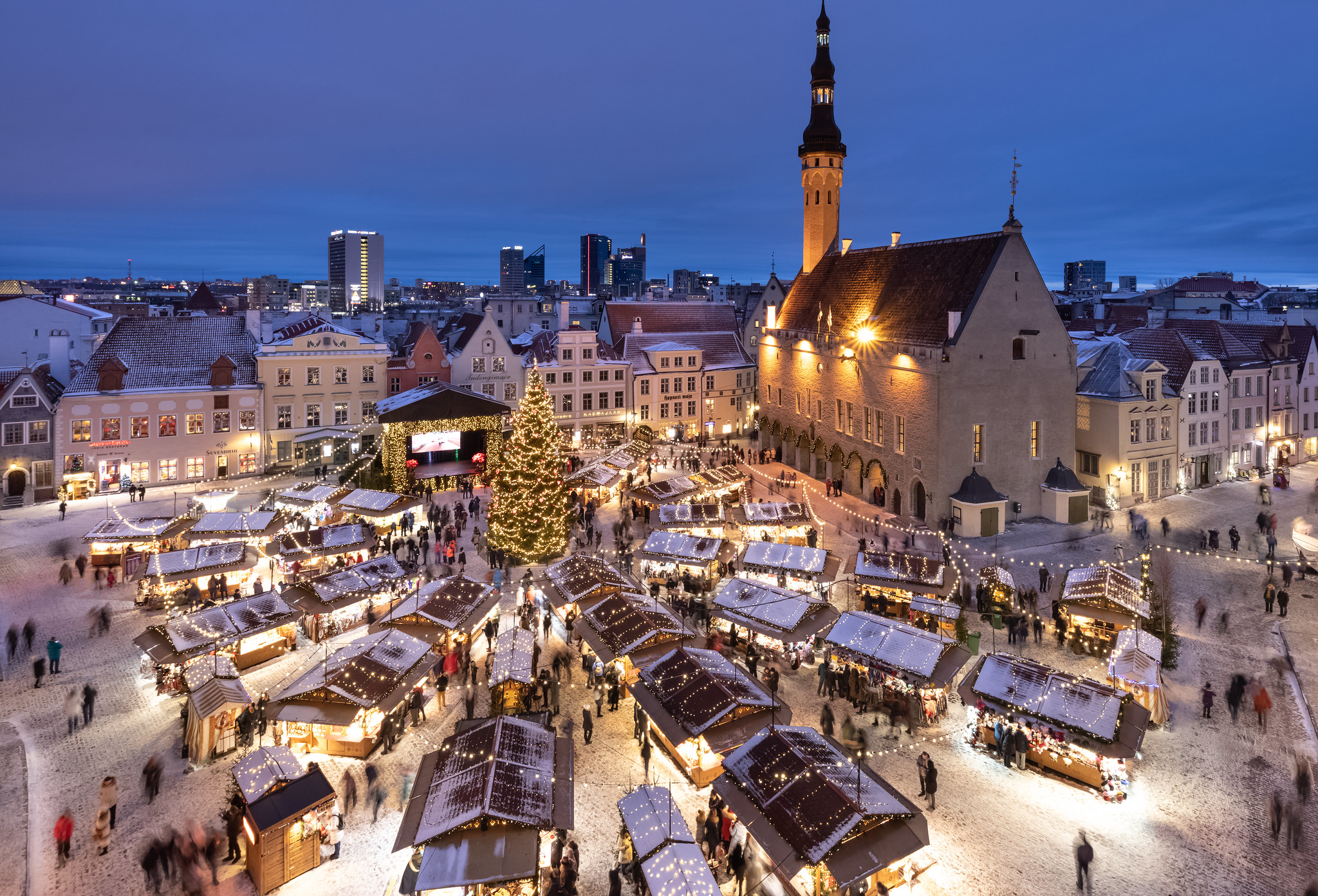 What's great about Christmas in Tallinn
Voted as Europe's best Christmas market for 2019, Tallinn's Christmas markets are not to be missed!
In Town Hall Square, since 1441, they have had the most important Christmas tree in Estonia elaborately covered in lights for the holiday season. Plus, it was the first Christmas tree in Europe to have ever been put on display in a town square!
What makes Tallinn the best this year is its unique vendors of authentic Estonian cuisine. Black pudding and sour cabbage may not sound like the perfect Christmas food, but Estonia might change your mind!
If that's not up your alley, though, don't worry—you can stick with the traditional gingerbread.
Lastly, on weekends, the Christmas markets get musical with over 3000 performers taking to the stage over the two months. You can enjoy various music styles from Estonia and abroad, which makes these markets even more special!
Other Reasons To Visit Tallinn
The Baltics are one of the regions in Europe that I haven't been to yet, and I can't wait.
The city itself offers unique styles of architecture to take in during your wintry stay. You can check out Alexander Nevsky Cathedral of Russian Orthodox or the Town Hall (next to the Christmas markets) for a medieval gothic impression from 1404.
Outside of the city, there's the Kadriorg Palace which was commissioned by Peter the Great for Catherine I. Its regal design and colorful façade are charming and elusive. If you go during spring, you can also enjoy the vibrant floral gardens.
Within the palace, there is also an art museum containing French, German, and Italian paintings from the 16th and 18th centuries, as well as various Russian works of art.
Then there's Lahemaa National Park not too far from Tallinn where you can soak up nature with its cliff forests, many preserved species, and rock formations dating back to the last Ice Age.
5. Berlin, Germany
What's great about Christmas in Berlin
Berlin has over 80 Christmas markets spread throughout the entire city, each of them offering classic sweet treats and mulled wines.
Some of the best are at Alexanderplatz and the Weihnachtszauber at the Gendarmenmarkt.
At Alexanderplatz, in the park below the TV Tower, the market is full of visitors, Christmas decorations, and a large pyramid decorated with thousands of lights.
According to the locals, the Gendarmenmarkt is the most traditional of all the markets. It costs €1 ($1.10 USD/$1.47 CAD) to enter, but it's surely worth it. With garlands and lights galore, this market will appease your senses with sights, daily plays, and a melodic choir singing in the evenings.
Other Reasons To Visit Berlin
If, at some point, you've had enough of the markets, there's still plenty to see in Berlin. With its stark history, much of the city is a museum itself.
You could stop by sections of the Berlin Wall that remain standing to this day. Much of these sections have been used by artists to demonstrate their works and make political statements.
There is the Brandenburg Gate that once divided the country into East and West. This is where many embassies lie as they were once vital to the post-World War II era.
A bit further from the city via public transportation or rail, you could visit one of the many concentration camps that existed during the Nazi regime. You could visit Oranienburg-Sachsenhausen, which is easy to reach via public rail, but be ready to travel for over an hour.
You can read our guest blogger's 5 favorite spots in Berlin after living there for 1 month.
6. Copenhagen, Denmark
What's great about Christmas in Copenhagen
Denmark, being Scandinavian, brings a frigid temperature, yet warm and welcoming spirit to their Christmas markets.
The earliest market to open is the Nyhavn Christmas Market next to the Nyhavn Kanal. Directly on the harbor, this market reflects beautifully in the water as you walk along the cobblestone paths.
Next, there's the Julemarked Højbro Plads Market. Here, you can take in the 18,000 lights and live reindeer. It's the perfect market to shop for knitted garments, glassware, and traditional Danish desserts.
Other Reasons To Visit Copenhagen
I spent a day in Copenhagen last year and loved this pretty town. It's lovely to take a stroll along Nyhavn Canal for its numerous ships moored to the docks and colorful houses in vibrant blues, yellows, and reds.
In addition to the Christmas market, there are a bunch of castles to see, too. One of the most renowned is Rosenborg Castle: a stark red-brick façade with mint green lions welcoming you at the gate. You may even see the colorful floral gardens.
A tad further from the city, you can visit the birthplace of Hans Christian Andersen in Fyn. It's called Denmark's Garden Island because it's reminiscent of serene fairy tales. Many castles remain here, too, such as Nyborg Slot, Egeskov Slot, and Broholm Gods.
7. Gothenburg, Sweden
What's great about Christmas in Gothenburg
According to the Gothenburg website, winters in Sweden are "long and dark" where the sun may not even rise for weeks. It's because of this that the nation created julmys: an enjoyable time with a mix of ancient traditions and modern customs.
You have 2 options for how to celebrate the season here: big and festive or warm and cozy.
First, you could go to the Liseberg Amusement Park with thrill rides, tons of Christmas lights shining away, and booths that sell handmade garments and a multitude of sweets. You could even watch A Christmas Carol on ice!
Second, you could take it more slowly by visiting Haga Nygata. Walk among picture-perfect wooden houses, grab some warm drinks, and enjoy your stroll in a magical Christmas wonderland.
There are also plenty of other things to see, such as the classic tram car that goes around dropping off gifts, the town of Lucia with candles and songs, and the sustainable Christmas gift shops that you'll find throughout the city.
Other Reasons To Visit Gothenburg
You should visit the archipelago of Gothenburg which has over 20 distinct islands. By taking ferries from island to island, you can explore the natural beauty and the lives of fishers in the coastal fishing towns.
It wouldn't be right not to visit the Feskekôrka fish market when visiting this coastal city. The fish market building built in 1874, which resembles a church, offers the freshest seafood from the North Sea.
Then enjoy some relaxing time in a sauna in the town of Frihamnen, where you could also go for a warm dip in its floating pool.
8. Bratislava, Slovakia
What's great about Christmas in Bratislava
This Slovakian city has 6 Christmas markets that bring festivities to nearly every corner of town.
At the Main Christmas Market in Franciscan Square, you can enjoy plenty of Slovakian treats and savory dishes. Some of the must-haves include Lokša (a salty and sweet pancake), goose with local wine, and the oldest drink of the Slavs: mead (a honey wine).
And, if you have the stomach for it, many recommend the sailor's grog, which is a strong mix of red wine and rum.
Then, as always, the markets are flooded with locally handcrafted knick-knacks, traditional clothing, and many festive ornaments for the holiday season.
Other Reasons To Visit Bratislava
Bratislava is a lovely Central European city for touring architecture. In the city center alone, there are 9 significant structures worth seeing.
The first, which overlooks the entire city, is Bratislava Castle. If you know much about Central European culture, you'll know that a common theme is to have castles overlooking their cities.
Second, there's the Blue Church, which is exactly how it sounds: a lovely baby blue cathedral with a unique style and refreshing atmosphere.
Then, a newer structure atop a bridge that's called the UFO. It overlooks the cities and offers beautiful views of sunsets. If you have the time, sit down for a meal, too.
Lastly, about 30 minutes outside of the city is Devín Castle left almost completely in ruin. It has become a significant archaeological site with fairy tale views.
9. Bath, United Kingdom
What's great about Christmas in Bath
For 18 days straight in Bath, Christmas lights twinkle, and scents of mulled wine and caramelized nuts waft through the air.
Unlike other markets throughout Europe, this one has the Bath Christmas Market Experience, where you can get involved: you can create personal Christmas crafts, design wreaths, or even blow your own glass bauble!
They also have a rooftop pool at the Thermal Bath Spa, where you can bathe in warm waters while enjoying the view of the markets below.
Other Reasons To Visit Bath
Bath is a small city in southern England that is known for its gastronomy, rugby, open green spaces, multitude of museums, and lively people.
The town is proud of one of its famous residents, Jane Austen. Bath has a center dedicated to her life, her literature, and the town's role in such.
Music festivals are also a big hit and often happen throughout the summer.
Outside the city, you can visit the English countryside or even drive a bit further to behold the famous Stonehenge.
10. Kraków, Poland
What's great about Christmas in Kraków
Kraków's market is truly a magical place full of holiday cheer and wonder. It's also a neat spot to do your Christmas shopping as many vendors sell traditional knick-knacks, clothing, and fresh local goods.
But that's not all; there's also musical merriment, alfresco dining, some classic mulled wine, and delectable gingerbread.
Other Reasons To Visit Kraków
Kraków is a historical masterpiece of Eastern Europe with compelling medieval architecture. The city was once Poland's capital, and it was occupied by Nazi Germany during World War II. You'll also see what remains of the destruction from the Tatars' siege of the city in the 1200s.
If you take a stroll through town, you'll see buildings from Romanesque, Gothic, Baroque, Art Nouveau, and Renaissance styles. It's quite a fascinating blend.
St. Mary's Basilica and the 16th-century Renaissance Cloth Hall are absolute must-sees.
Outside of the city, a popular attraction is the Wieliczka Salt Mine. Since 1722, this labyrinth has been open to the public to roam through while exploring a series of tunnels and chambers as far as 327 meters (1,073 feet) underground.
I only had the chance to visit Warsaw on my trip to Poland, but I absolutely loved it. And for those who are budget travelers like me, Poland is very affordable.
11. Budapest, Hungary
What's great about Christmas in Budapest
The largest Christmas market in Budapest is held in Vörösmarty Square. From early November to the beginning of January, this market brings together craft and food vendors, free concerts by local bands, and local artistry.
There's also Óbuda Christmas Market where many of the locals like to go. It's in "Old Buda" on the north side of the city, and it has an ice skating rink, a romantic carousel, and plenty of concerts to bring about the Christmas spirit.
Other Reasons To Visit Budapest
One of my favorite cities in Europe, Budapest, is simply stunning. Full of transcendent architecture and a long, brutal history, Budapest enamors its visitors with late-night entertainment, revitalizing thermal baths, and visible reminders of the past.
As Budapest is a youthful city, the nightlife there is very important. Plus, drinking is a popular pastime, especially in the famous ruin bars. And when morning comes, the thermal baths and spas brought from Ottoman times are a refreshing choice.
After a Zen recovery, you can explore the city and its abundant architecture built during its golden age in the 19th century. However, from World War II and the uprising in 1956, there are still bullet holes and shrapnel found in the walls.
If you wish to explore history a bit more, then visit Aquincum not too far away. This ancient Roman city was built around 100 AD. Left nearly in ruins today, you can still observe Roman architecture, cobblestone pathways, and courtyards.
12. Zagreb, Croatia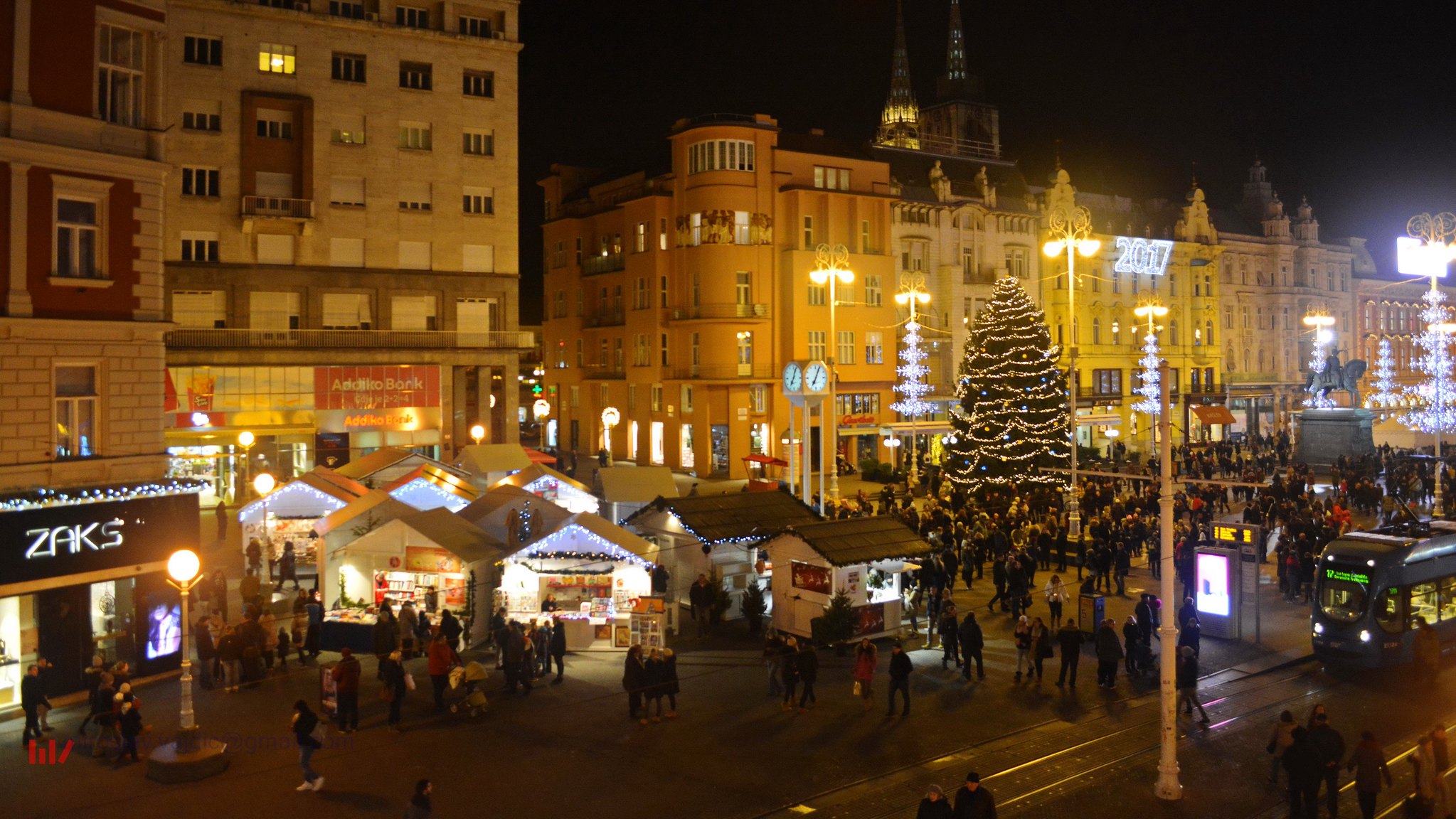 What's great about Christmas in Zagreb
For 3 years in a row, from 2016 to 2018, Zagreb's Christmas market was recognized as the best in Europe. Even though this has now been passed on to Tallinn, that doesn't mean Zagreb has lost its charm.
In Ban Josip Jelačić Square stands the renowned Christmas tree and offers a heated spot for food and drink, as well as its fountain, which is transformed into a light display at this time of year.
In Ice Park at King Tomislav Square, you can skate the night away on the city's best skating rinks.
Then to top it off, there's Zrinjevac Park where many lights glisten upon wooden chalets of sweet treats, mulled wines, and baked štrukli, a baked dough treat with various types of filling. In the evenings, enjoy live Christmas music and watch or join the people swaying to the rhythm.
Other Reasons To Visit Zagreb
Zagreb, the capital of Croatia, is an up-and-coming city in Eastern Europe that's bringing its uniqueness to the forefront. Sure, the coast is why most people go to Croatia, but Zagreb could be worth a quick detour.
It's meant to be explored on foot so you can discover the architecture up close, meander through Dolac Market, and admire street artists' works that cover old bland walls.
A must-visit is the Mirogoj, one of the most beautiful cemeteries in Europe. Built in 1876, the cemetery's structural design is majestic, fortress-like, and serene… even though it's a cemetery. The gardens are lush and lined with sculptures and tombs.
13. Basel, Switzerland
What's great about Christmas in Basel
In Barfüsserplatz and Münsterplatz, the Christmas markets come full force in this charming Swiss town.
More than 160 merchants and artisans come to Basel to show off their crafts and inspire travelers and visitors to feel Christmas cheer. For this reason, the Basel markets are a perfect place to finish off your Christmas shopping with something unique and handmade.
Not only can you enjoy the wooden chalets and festive lights strung about, but you can also find a seat at the theatre for a Christmas play or stroll throughout the city's museums that put on special exhibitions and shows for the holiday season.
Other Reasons To Visit Basel
Basel, being on the border of France, Switzerland, and Germany, is an epicenter of cultural blends, which adds to its appeal.
For my fellow Aviation Geeks, Basel's airport is one of few that is run jointly by two countries, but most interestingly, the only one I know of with two separate "domestic" areas and, therefore, two separate airport codes (BSL and MLH). It's physically in France, but you can land there as if you were in Switzerland, and it even has a separate 2.5-km road that runs directly to Switzerland and bypasses French customs.
The city of Basel has a wealth of museums such as the Kunstmuseum, the Spielzeug Welten Museum, and the Museum für Geschichte. Together, they house an array of art: Renaissance and Impressionist work, ceramics and weaponry, and even… teddy bears.
Not too far away are other notable cities to visit, such as Bern and Zurich, and I loved exploring the latter on a long layover. You may also be tempted to visit Mount Vogelberg for an incredible hike depending on the time of year you go.
14. Barcelona, Spain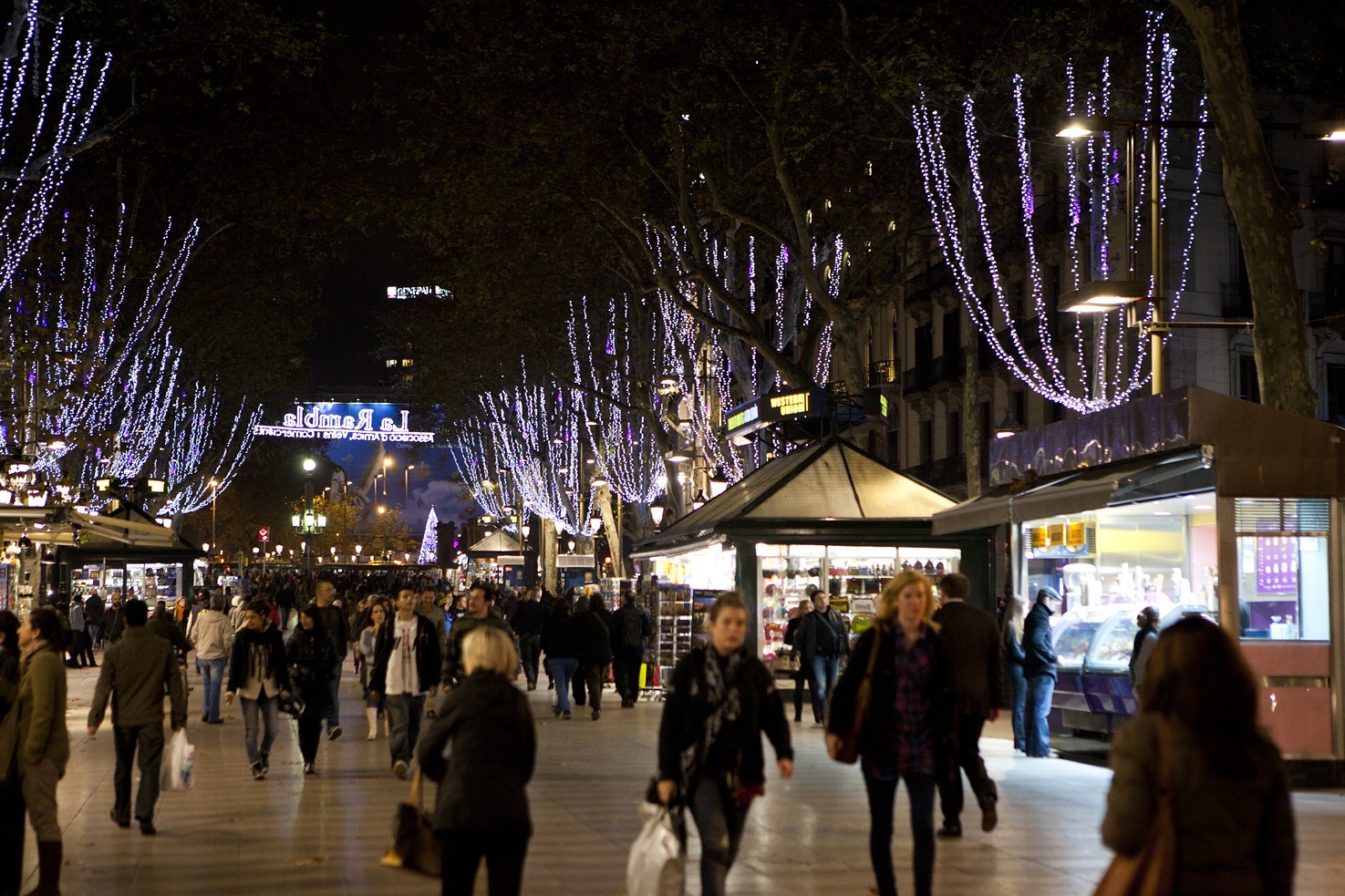 What's great about Christmas in Barcelona
You wouldn't expect Barcelona—a warm, Mediterranean city—to be on the list for Christmas markets because, "where's the snow, the mulled wine, and the hearty food?"
Well, Barcelona may not have all these things, but that doesn't mean it's not a festive place to be.
In front of La Sagrada Familia is the Fira de Nadal Market with over 120 booths, all full of handmade crafts and Catalan dishes. Father Christmas even makes an appearance to collect letters from children as he hands out sweets and balloons for them.
There are also Food Artisan Markets in the Gothic District, where you can find Catalan honey, cheeses, wines, sweet cakes, and yummy chocolates—all local!
Then, on Christmas Day, thanks to the somewhat warmer weather, the city likes to have the Harbor Swim. At noon, brave people splash into the Mediterranean Sea.
Other Reasons To Visit Barcelona
If you want to take advantage of the 17 free hotel nights deal, a detour to Barcelona is a great idea, even if the hotels there aren't included.
Apart from the gorgeous weather and glorious beaches, Barcelona is a city of music, Catalan culture, delicious tapas, and world-famous architecture.
If you haven't seen it or heard of it yet, La Sagrada Familia is an unfinished cathedral in Barcelona in a Neo-gothic style. Construction is still ongoing—and has been for the past 100 years—but you can go inside to admire it.
To get a taste of the city, you'll have to delight yourself with samples (or plates full) of Catalan cooking. Enjoy simple ingredients like jamón or paella and other tasty Mediterranean seafood dishes.
15. Brussels, Belgium
What's great about Christmas in Brussels
With over 200 vendors altogether, markets are scattered about the city in Place de la Monnaie, Place Sainte-Catherine, Place de Brouckère, and the fish market, Marché aux Poissons.
In each location, you'll find local artists and artisans selling ornate goods, along with food and drinks to keep you toasty warm, and fun attractions like Ferris wheels and merry-go-rounds.
In Place de Brouckère, you can enjoy ice skating under the twinkling lights at the city's only outdoor ice rink during the festive season.
You'll also want to check out their page so that you don't miss out on other events like their opening ceremony, the lights parade, the Vintage Market, and much more.
Other Reasons To Visit Brussels
As one of the first Western European cities I visited, Brussels exceeded my expectations. And I don't even drink beer. I do, however, enjoy Belgian fries (minus the mayonnaise), Belgian waffles, and of course, Belgian chocolate.
As another multicultural hub, Brussels is bursting with museums, intriguing architecture, and simple life pleasures.
For one, much like the French, Brussels loves its cafés—and, wow, are there many to choose from. So, as you're strolling along the streets, maybe window shopping or just taking in the views, take some time to stop at the various cafés to get the feeling of a local.
Must-see buildings include the Old England Building in the Royal Quarter, the Grand Place (and City Hall), and Parc du Cinquantenaire with its lush courtyards and greenery.
Bonus: Québec City, Canada
Of course, Québec City isn't in Europe.
But since Europe is farther away and you might prefer to keep your visit there for a warmer time, an alternative is North America's most European city.
In 2018, I visited the Christmas market in the Old Town for the first time, and it is magical. It even has something most European Christmas markets don't always have: actual snow. Nothing says Christmas like some wintry weather.
It's one of the reasons the Québec City Christmas Market is often considered one of the best in the world.
15 Best Markets Bullet-Point List
Here are the 15 best European Christmas markets to visit:
Strasbourg, France
Vienna, Austria
Prague, Czech Republic
Tallinn, Estonia
Berlin, Germany
Copenhagen, Denmark
Gothenburg, Sweden
Bratislava, Slovakia
Bath, United Kingdom
Kraków, Poland
Budapest, Hungary
Zagreb, Croatia
Basel, Switzerland
Barcelona, Spain
Brussels, Belgium
Bonus: Québec City, Canada
Want to get more content to discover awesome destinations?
Summary
If you find yourself in Europe next holiday season, you can see there's no shortage of Christmas markets to visit to fulfill all your festive desires! So go grab some hot wine, and wander through the wooden stalls because this only happens once a year.
What do you think of spending the holidays in Europe? Tell us in the comments below.
See the deals we spot: Cheap flights
Explore awesome destinations: Travel inspiration
Learn pro tricks: Travel tips
Discover free travel: Travel rewards
Featured image: Christmas market in Vienna, Austria (photo credit: Alisa Anton)
Share this post to help us help more people travel more for less: