Marriott currently has a "buy points" promo with a nice 55% bonus… but even a nice bonus doesn't mean that it's a good price. Flytrippers rarely recommends buying points, because the prices don't often make it worthwhile (even with the frequent bonuses).
Especially since there are plenty of free points available by getting the best credit cards in Canada for Marriott points.
This current Marriott "buy points" promo is the same: Only recommended in certain very specific situations.
But in all cases, these "buy points" promos are a good reminder of the importance of always doing the math for everything related to travel rewards. We say it often, but it's because it really is the key!
Marriott "Buy Points" promo
First, the promo is offering a 55% bonus for Marriott Elite members (you get Elite status automatically just by having the Marriott Bonvoy American Express Card) but it is a 50% bonus for everyone else.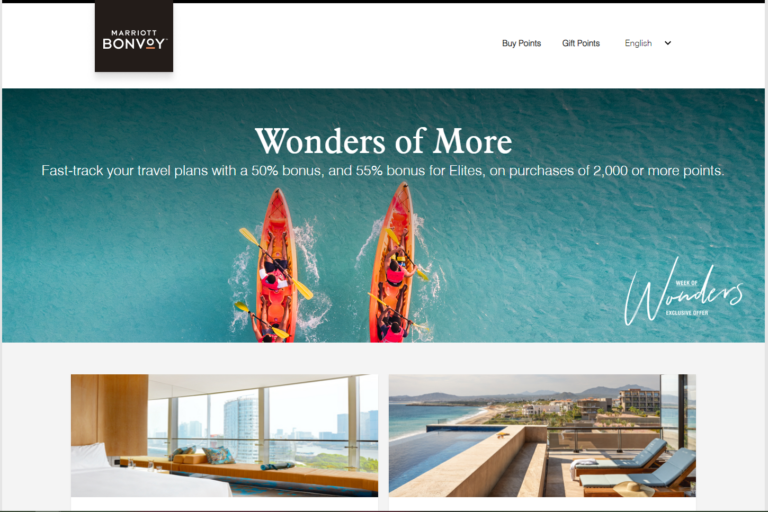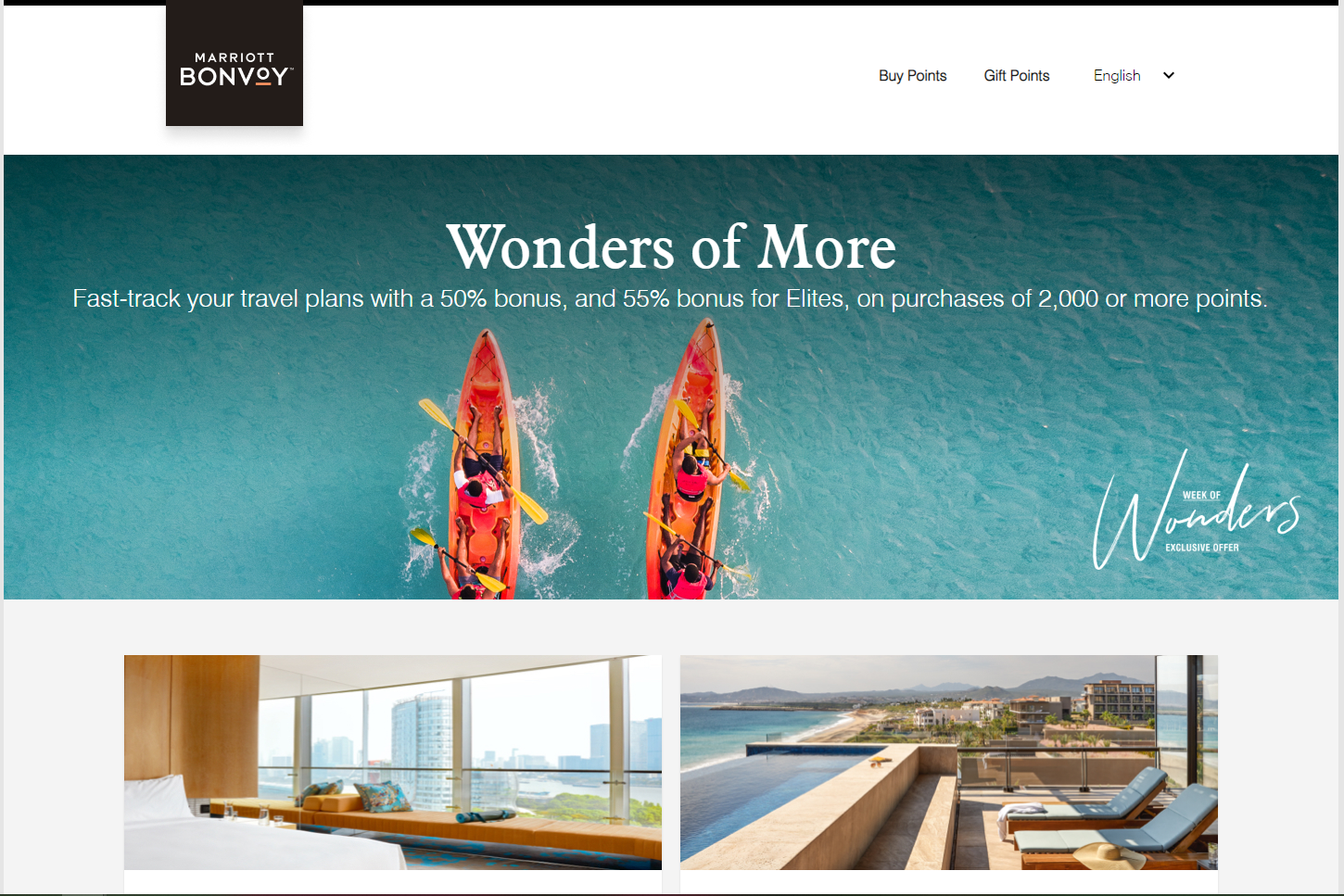 Here are the highlights of the current promo to buy Marriott points:
You must buy on the Marriott "buy points" page
You must buy Marriott points before October 14th, 2021
You get a 55% bonus if you have Elite status (36% discount)
You get a 50% bonus if you don't (33% discount)
You pay the equivalent of 1¢/pt (55%) or 1.4¢/pt (50%)
You must buy a minimum of 2,000 points to get the bonus
And here are the general rules to buy Marriott points that always apply:
You can buy only 100,000 points per account per year
The bonus points don't count towards the 100,000 points limit
You can pool your partner's points into your account (100k per year)
You can buy 50,000 points per individual transaction
Your purchase will be processed by Points.com
Your purchase will not code as a Marriott purchase for category multiplier
The point purchases are billed in US dollars
The point purchases are never refundable
To avoid the 2.5% fee that almost all Canadian cards will charge, you should pay with a card with no foreign transaction fee. Ideally one that has a good base earn rate since Points.com will not code into any category multiplier.
Math for this promo
I'll use 55% for the example since the Marriott Bonvoy American Express Card is the only card in Canada that literally every traveler should have and so you probably have Elite status.
With this promo, the price Marriott is offering is 0.8¢ per point in US currency, which comes out to about 1¢ per point in Canadian currency.
Our Flytrippers Valuation of Marriott points is just 0.9¢ per point, so you can see why it's not an amazing deal.
Our Flytrippers Valuation is a conservative and general valuation, as usual. If you've learned the basics of variable-value rewards, you know that you can certainly get way more than 1¢ per point in value, so it can be a great deal in some instances (see next section).
But you need to do the math and make sure you will use the points well, because if not, you're literally throwing money away for nothing.
That's why you should rarely buy points speculatively, in other words, you should only buy points if you have a specific redemption in mind and have done the math… or if you are an expert and know you'll get more than the cost of your points in value from your redemptions.
Concrete examples
As a reminder, Marriott points will give you the most value if you use them for the lowest-category hotels (because these properties require fewer points) and for the highest category hotels (because these ultra-luxurious properties are very expensive in cash).
For everything in between, they are especially valuable when the cash prices are expensive (like all variable-value rewards). Finally, two last tips: Staying 5 nights in a row only costs the price of 4 nights, and staying on off-peak/standard dates costs fewer points. Read our introduction to Marriott Bonvoy for more details.
For example, buying 105,000 points would cost you US$875 (≈ C$1,115) and would give you about 17 nights in Marriott Category 1 hotels (like the new ones in Bali).
That is $66 per night, which isn't terrible. But it's not a slam-dunk deal either, not at all. Let's say that that would save you on average $34 per night for those hotels that are relatively inexpensive in cash. Is it worth paying such a huge amount upfront? Not unless you're 100% sure you'll use them soon, which is hard to say right now with the pandemic.
On the other end of the spectrum, let's say you want to splurge on 2 nights at the St. Regis Maldives Vommuli Resort, which would cost you about C$3,800 at regular rates (≈ C$1,900 per night).
By buying the 200,000 points required for 2 nights (on Peak dates) for C$2,120 with this "buy points" promo, you'd be "saving" a lot of money, if you want to call it that. At least compared to the regular cash price of those insanely-expensive rooms.
So unless you have a specific use in mind, it's probably best not to buy Marriott points at this price.
A 55% bonus sounds good. But that number alone is irrelevant without looking at the regular price.
Just like the annual fee for a card alone is irrelevant without looking at the welcome bonus that comes with it. Just like the taxes you sometimes have to pay for a rewards flight alone are irrelevant without looking at the money you save with the points.
You have to know how to do the math.
Want to get more content about Marriott and getting free hotels?
Summary
Marriott's "buy points" promo is a great example of the need to always do the math for everything related to travel rewards points. It's a good bonus offered for point purchases, but it's still a bad idea for a vast majority of travelers. Only those with a specific (and profitable) redemption in mind should take advantage of this.
Have any questions about buying Marriott points? Ask us in the comments below.
See the deals we spot: Cheap flights
Explore awesome destinations: Travel inspiration
Learn pro tricks: Travel tips
Discover free travel: Travel rewards
Featured image: St. Regis Maldives (photo credit: Marriott)
Advertiser Disclosure: In the interest of transparency, Flytrippers may receive a commission on links featured in this post, at no cost to you. Thank you for using our links to support us for free, we appreciate it! You allow us to keep finding the best travel deals for free and to keep offering interesting content for free. Since we care deeply about our mission to help travelers and our reputation and credibility prevail over everything, we will NEVER recommend a product or service that we do not believe in or that we do not use ourselves, and we will never give any third-party any control whatsoever on our content. For more information on our advertiser disclosure, click here.
Share this post to help us help more people travel more for less: