Part 2 of our travel rewards updates is for those travelers who are already part of the Flytrippers readers who have now earned a total of over 1 million dollars in welcome rewards through our card recommendations (and task #1 is for those who want to join them).
Here are some urgent tasks before the end of September (tonight) to follow the few opportunities in Part 1 last Sunday (and the rest is coming soon).
1. Free Flytrippers travel rewards webinar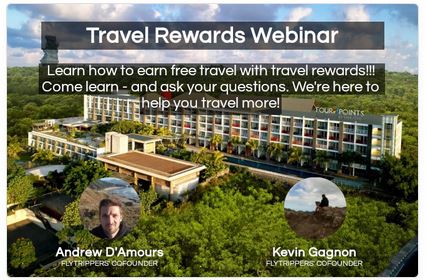 I'll talk about it once more as the spots are going fast (we're limiting them to answer everyone's questions) and the event is fast approaching.
If you don't want to miss your chance to easily earn hundreds of dollars in free travel immediately, you absolutely must attend our free webinar.
We'll introduce you to the wonderful world of travel rewards and it's going to be the most rewarding hour of your year!
Even if you're not a beginner, you could still learn.
2. Speculative Aeroplan bookings

We've told you about this a few times now (and it's been extended often), but all good things must come to an end: This time, it's really your last chance. Any booking made with Aeroplan points before tonight will be fully refundable, which is an extremely generous policy.
If you have any Aeroplan points at all, empty your stash with as many speculative bookings as you can.
Worst case scenario, you cancel and you'll get your points back anyway (it's very easy with a few clicks online, we'll show you step by step in the detailed Aeroplan guide coming soon).
No matter when (or why) you decide to get a refund, you'll get everything back.
So you could book up into Summer 2022 to make sure you get the available seats in the fixed-price pricing system (on the ≈ 40 partner airlines) or make sure you get the lowest prices in the dynamic-pricing system (on Air Canada only).
Better seats appear on partner airlines? Refund and rebook. Lower prices appear on Air Canada? Refund and rebook. Just don't want to/cannot go? Refund.
It just doesn't make sense not to try to book flights you might want to take; take advantage of the free refund.
3. Free $10 credit on Uber Eats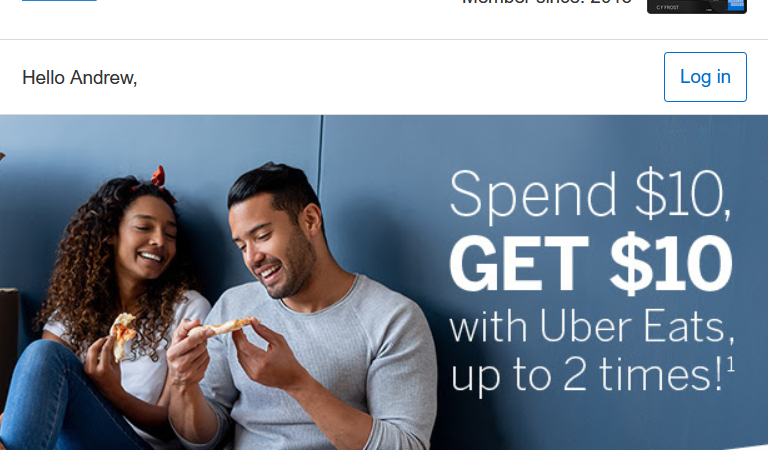 This task is for those who took advantage of the offers on the American Express Aeroplan Reserve Card or the American Express Aeroplan Card.
(If you haven't, there are still some good ones right now, but the Cobalt Card and Gold Card, whose Amex points transfer to Aeroplan at a 1:1 rate, might be better right now: We'll be comparing all of these offers in depth soon to help you out.)
Anyway, the new partnership between Aeroplan and Uber will give you a free Uber Pass membership starting in November. It will give you a $0 delivery fee on Uber Eats, discounts on Uber Eats and on Uber rides, and other benefits.
More on that later. The free membership is going to be for 12 months (Aeroplan Reserve Card) or 6 months (Aeroplan Card).
While waiting for it to start in November, Amex is giving you $10 in completely free credits twice if you use your card for an Uber Eats order (minimum order of $10 of course).
The first $10 credit expires tonight, and then you'll get a second $10 credit to spend in October.
You can also do a pickup order too to avoid delivery fees. And use our codes for discounts on other food delivery apps too if you don't have them yet.
In my case, I had received an email from American Express dated September 10 that said I didn't even need to register my card or anything, the credit was automatic. It should be the same for everyone, but check your emails or the "Amex Offer" section of your account to validate.
4. Transfer bonus to Marriott and Hilton


Finally, the last task is not necessarily recommended. In other words, we're not suggesting that you take advantage of the transfer bonus that ends tonight, we're suggesting that you evaluate the situation before tonight to see if you should take advantage of it before it ends.
It's not necessarily a good use of your Amex points, now that even the Cobalt Card's points (which used to be different) can be transferred to Aeroplan or Avios at a 1 to 1 rate. That's a value of ≈ 1.5¢ per Amex point.
By transferring to Marriott with this bonus, the rate of 1 to 1.2 becomes a rate of to 1 to 1.56 instead… resulting in a value of ≈ 1.4¢ per Amex point.
So theoretically, you get a little more value by transferring to Aeroplan and Avios… but airline points require a lot more flexibility to maximize. And Marriott points are harder to get in Canada than Aeroplan and Avios points.
(Hilton transfers are rarely recommended unless you have a specific use already in mind.)
In short, evaluate your needs for the next year: If you are sure you want to use Marriott points (for example in countries where there are category 1 hotels or category 2 hotels) or if you are sure you don't want more Aeroplan or Avios points (if these 18 good uses of Aeroplan points don't appeal to you), transferring to Marriott with 30% bonus is worth it.
But if you're not sure, it's probably best to wait to make sure it's the best option for you: Point transfers are permanent and one-way only.
Want more content on how to earn free travel?
Summary
Don't miss the other updates soon, but these are tasks that must be completed by tonight if you want to take advantage of them.
What would you like to know about these updates? Tell us in the comments below.
See the deals we spot: Cheap flights
Explore awesome destinations: Travel inspiration
Learn pro tricks: Travel tips
Discover free travel: Travel rewards
Featured image: Panama (photo credit: Ángel López)

Advertiser Disclosure: In the interest of transparency, Flytrippers may receive a commission on links featured in this post, at no cost to you. Thank you for using our links to support us for free, we appreciate it! You allow us to keep finding the best travel deals for free and to keep offering interesting content for free. Since we care deeply about our mission to help travelers and our reputation and credibility prevail over everything, we will NEVER recommend a product or service that we do not believe in or that we do not use ourselves, and we will never give any third-party any control whatsoever on our content. For more information on our advertiser disclosure, click here.
Share this post to help us help more people travel more for less: