The American Express Membership Rewards program is the best for Canadians who want to maximize the value of their travel rewards because it allows you to transfer your points to partner rewards programs.
We'll have the ultimate guide to Amex points in May to explain when you should transfer them (in the meantime we have an intro, which also lists the cards that earn Amex points).
Here's exactly how to transfer American Express points to partners, step by step (with the actual actions to do in bold).
Step 1: Link your partner account to your Amex account
Before you can transfer Amex points to a partner, you must first link your partner account to your Amex account.
You only need to do this once, after that they will be linked forever and you will be able to transfer points very quickly every time.
You should always link your accounts in advance! It can be very useful!
1.1 Prepare your partner member number
We highly recommend the 1Password tool for security and simplicity. It protects your information and identity and you won't ever have to remember a password or account number. We use it ourselves and it has changed our lives.
If you already have a partner program account (an Aeroplan account for example):
Note your membership number
Validate that your personal information is correct and up to date on the partner account (name, address, etc.)
If you do not have a partner program account:
Go to the partner program website
Create a free account by simply following the instructions
1.2 Open your Amex account online
Go to the American Express website.
Click on the "Login" button that is always available in blue in the upper right corner of the Amex website and enter your information.


1.3 Access your Amex points
First, you need to select the right card, the one that actually earns Amex points… if you have multiple Amex cards.
(It's the case for most savvy travel rewards enthusiasts. And some Amex cards earn points other than Amex points, like the Marriott Bonvoy American Express Card that everyone should eventually have AND also keep!)
Click on the card images in the top right corner of your account summary page.


It takes you to the summary for your card that earns Amex points, like the American Express Cobalt Card that many travelers have to earn lots of points.
(But if you are among the even savvier travelers that have multiple cards that earn Amex points, always use up the ones from the card you will close the soonest — it's not mandatory at all since all your Amex points can be merged anyway, but it's just simpler to be proactive and to save yourself that step by using them in the right order!)
Click on the green "View and Redeem Points" button in the 3rd column to use your Amex points.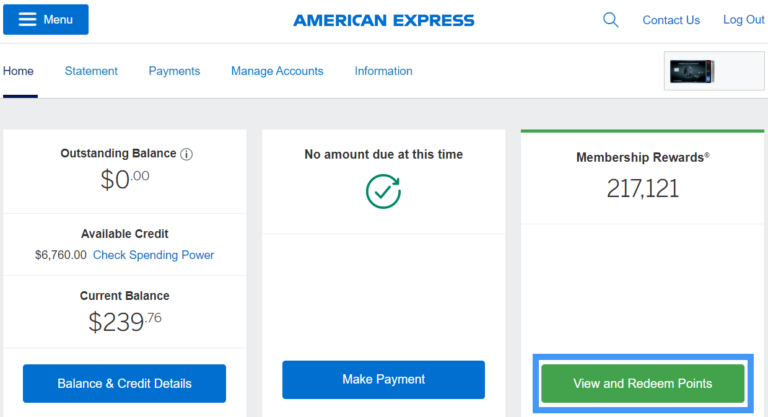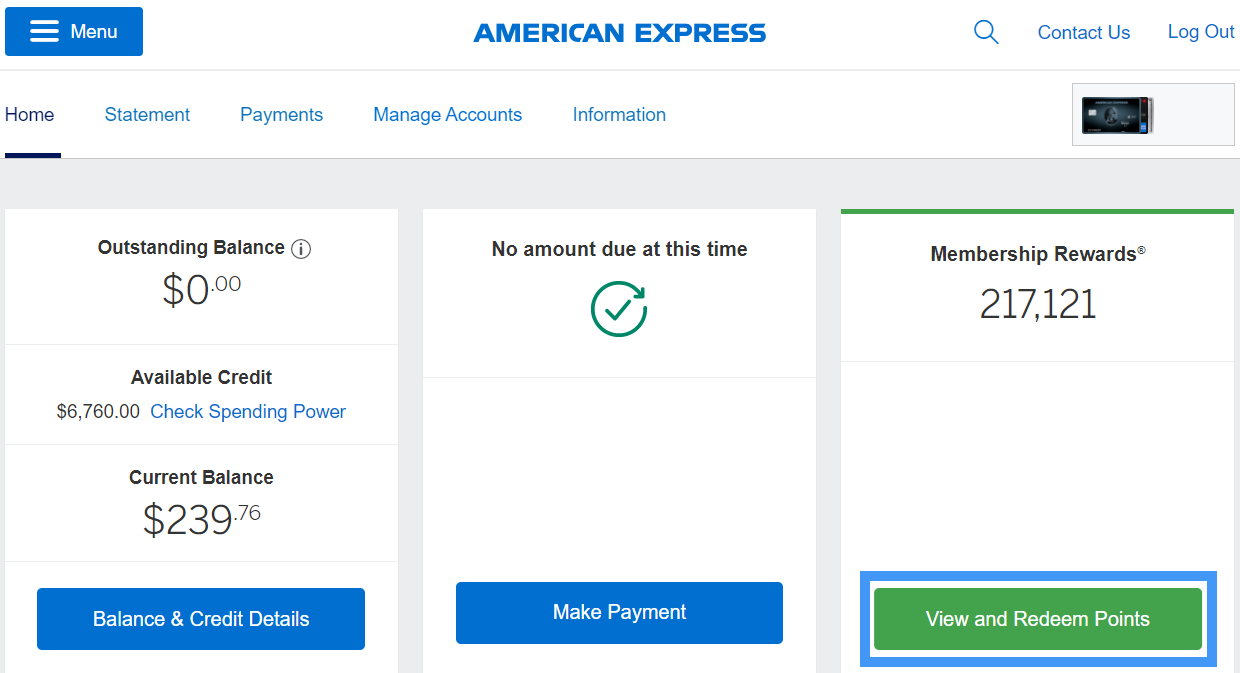 1.4 Go to the transfer page
On the main page for the Amex rewards program, you'll see something that makes this the perfect time for a sidenote.
Here's our friendly reminder to NEVER use your hard-earned and very valuable points for anything other than travel.
There's a reason ALL rewards programs always aggressively encourage and "recommend" using points for merchandise and other junk: using your points this way gives you a fraction of the value, so it's a fraction of the cost to them obviously!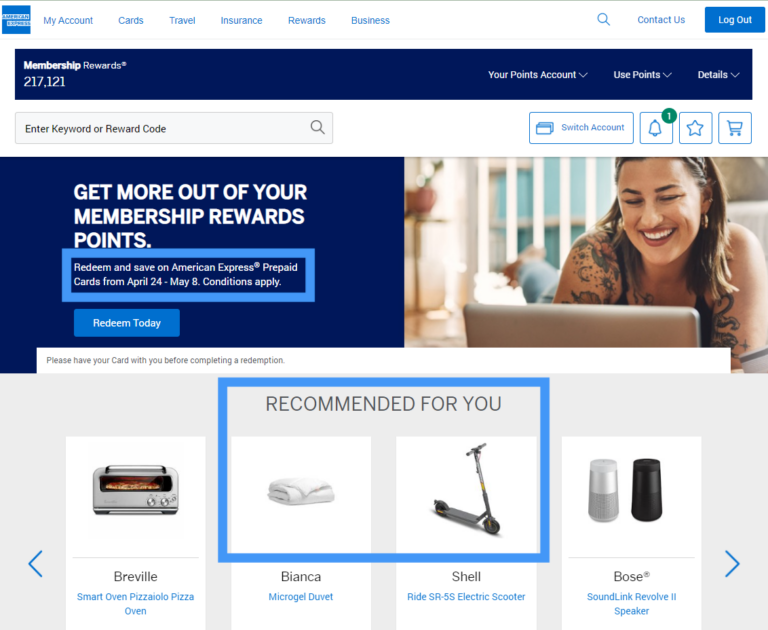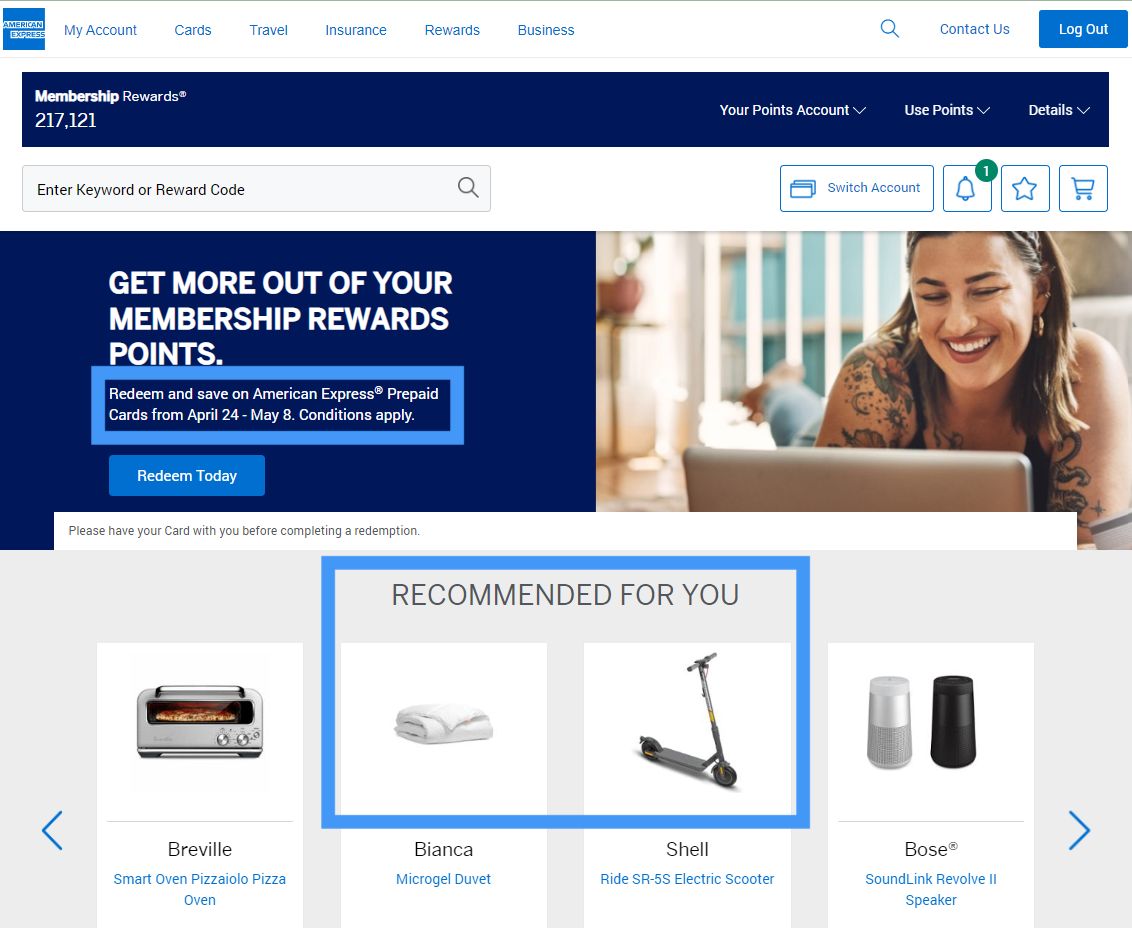 It's just a horrible value, don't ever do it. ESPECIALLY with points as valuable as Amex points!
So head to the blue band at the top.
Click on the "Use Points" option and then click on "Transfer Points."


1.5 Link partner account
You will be taken to the page that lists the 8 partners of the American Express Membership Rewards program in Canada:
6 airline partners ("for frequent flyers")
2 hotel partners ("for authorized frequent travelers ")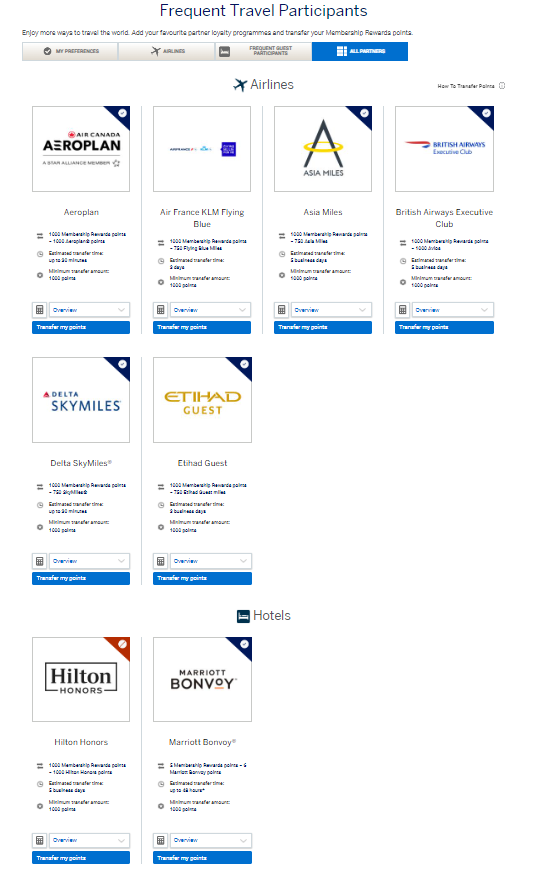 You can see that the Air France/KLM Flying Blue program is the only one without a check mark in the upper right corner of the logo, because it's the only one I hadn't linked before: it's the most recent partner addition to the Amex program.
(There's also a bug with my Hilton account apparently, but it's not often a good idea to transfer Amex points to hotel partners anyway; airline partners can give you much more value!)
So I'm using Flying Blue as an example, but the process is just as simple for the other programs.
Click on the program logo or on "Transfer my points" because there is no button just to link the accounts directly.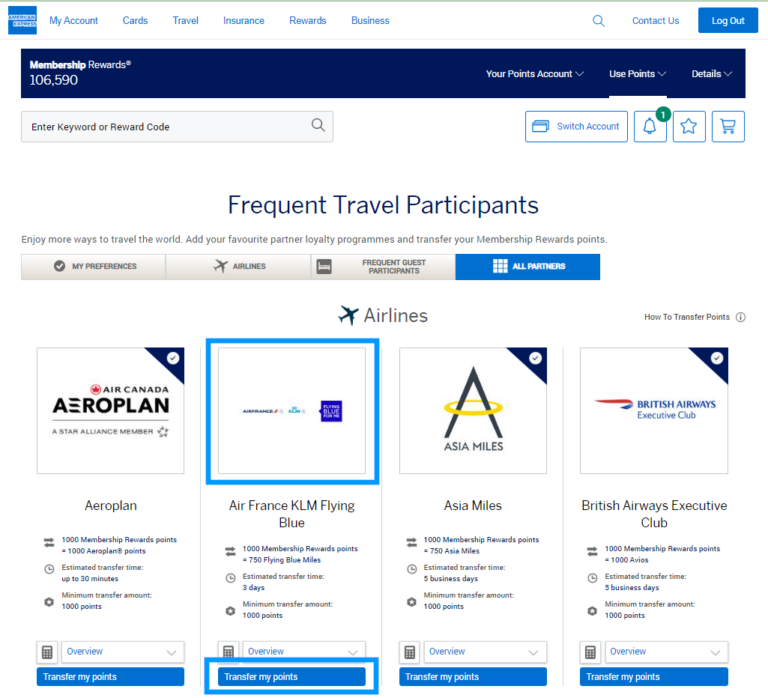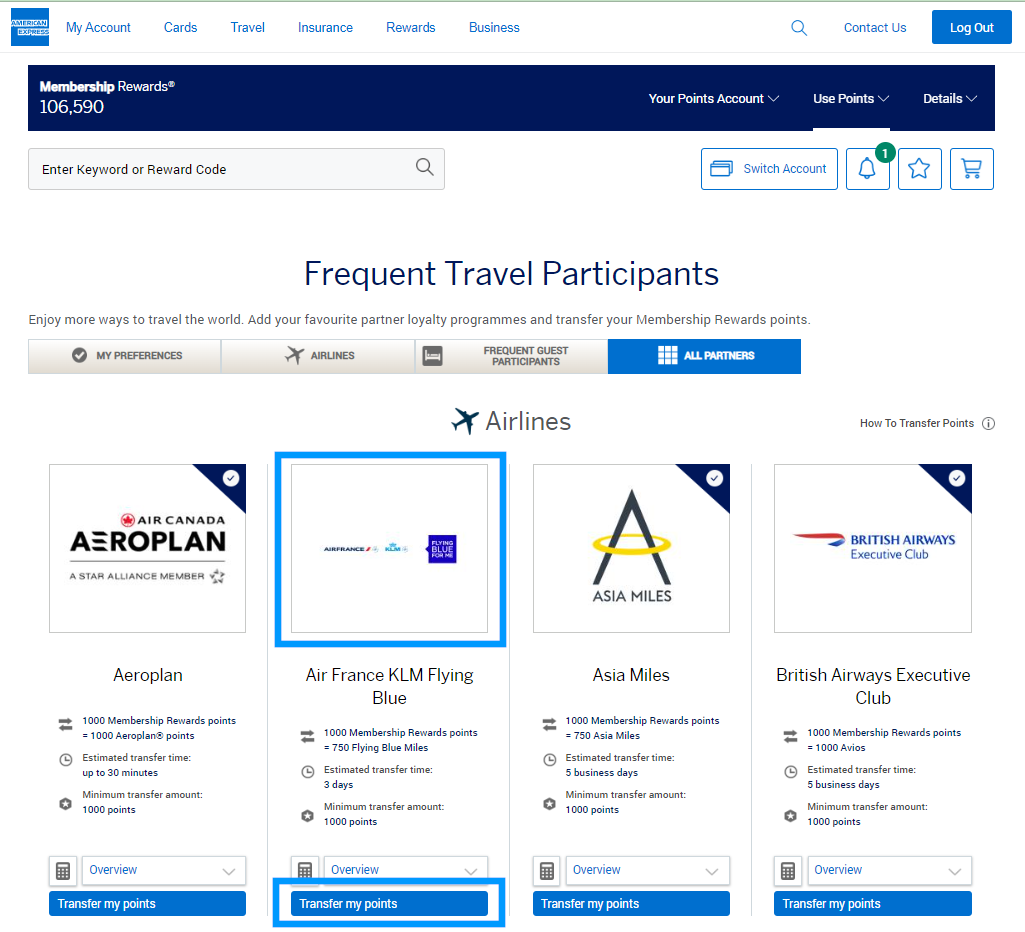 Click on "Add Another Account" to link your Flying Blue account to your Amex account.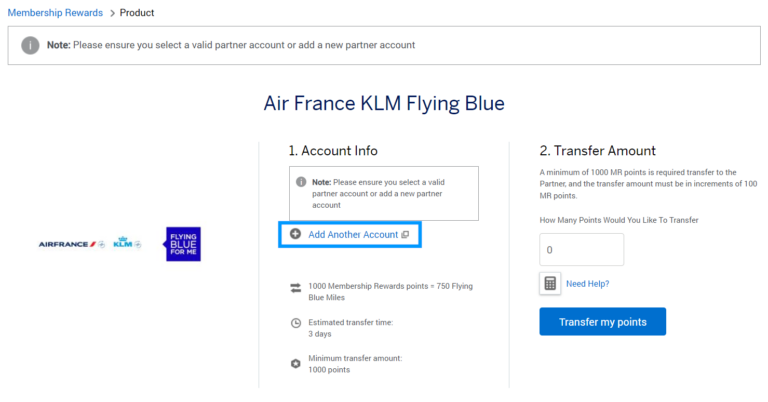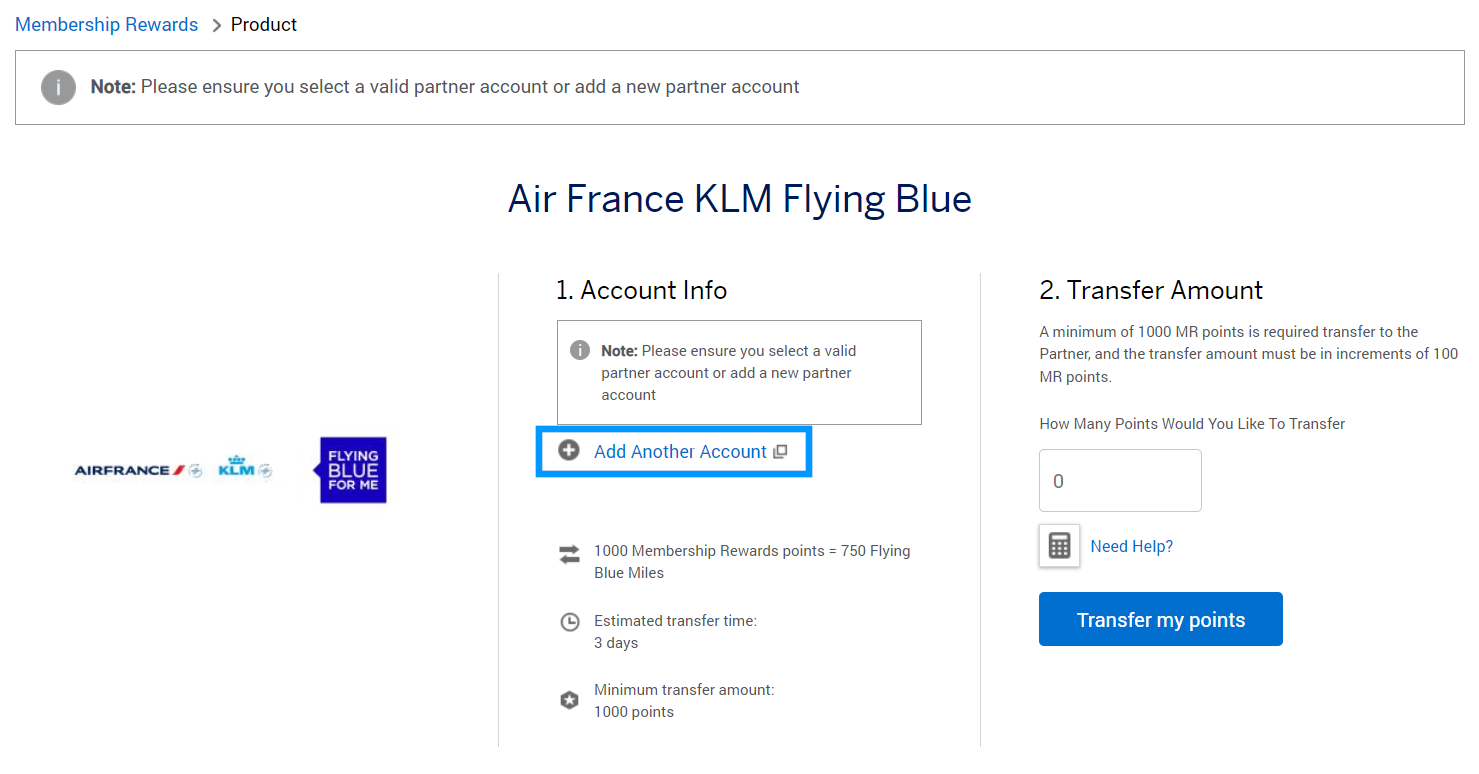 Fill in the required personal information. And click on the "Add Account" button.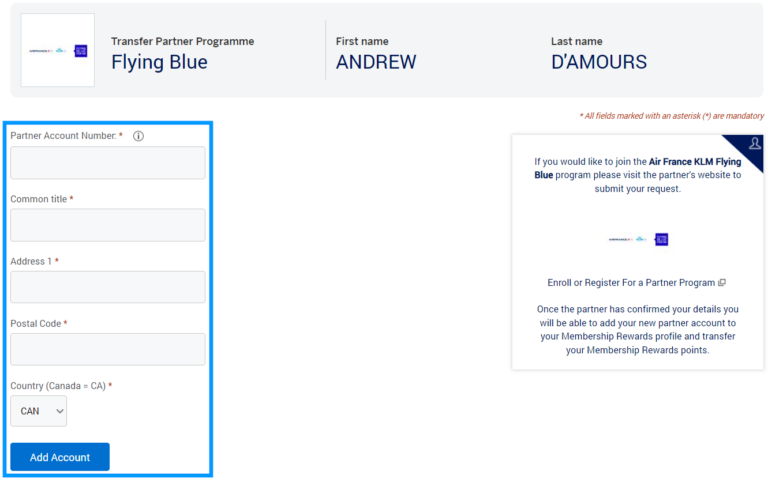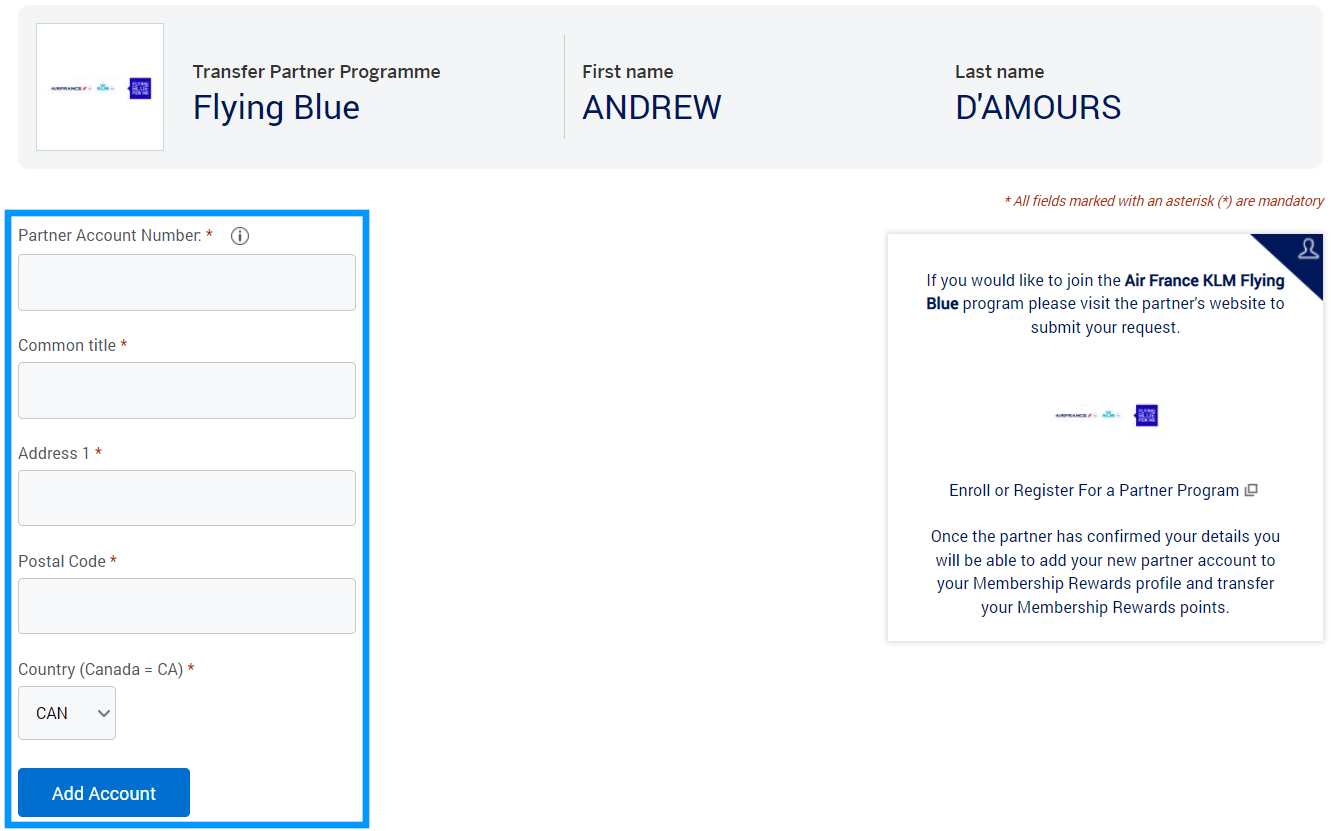 By the way, the information required to link the account varies by partner (for example, linking your Marriott Bonvoy account just requires your member number). Just follow the directions on the screen based on the partner.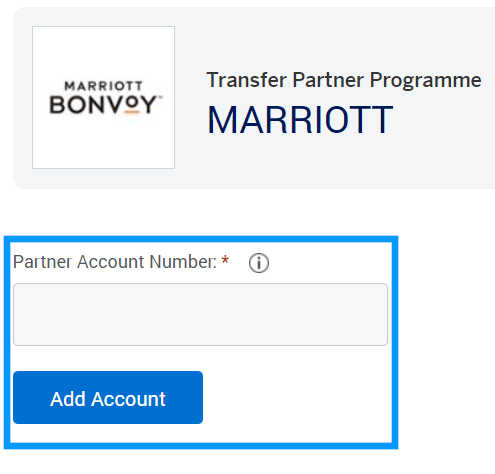 So there you go, the request to link the partner account is done!
There are 2 similar messages that may appear:
A confirmation that the request has been accepted instantly
A confirmation that the request has been sent
In the case of Flying Blue, it was linked automatically (it says "Accepted").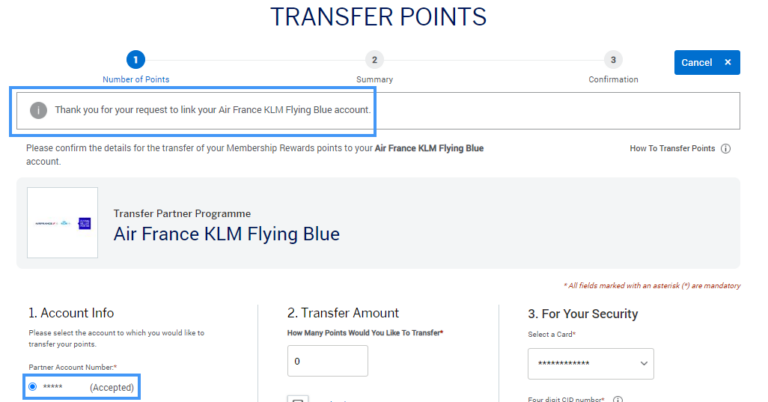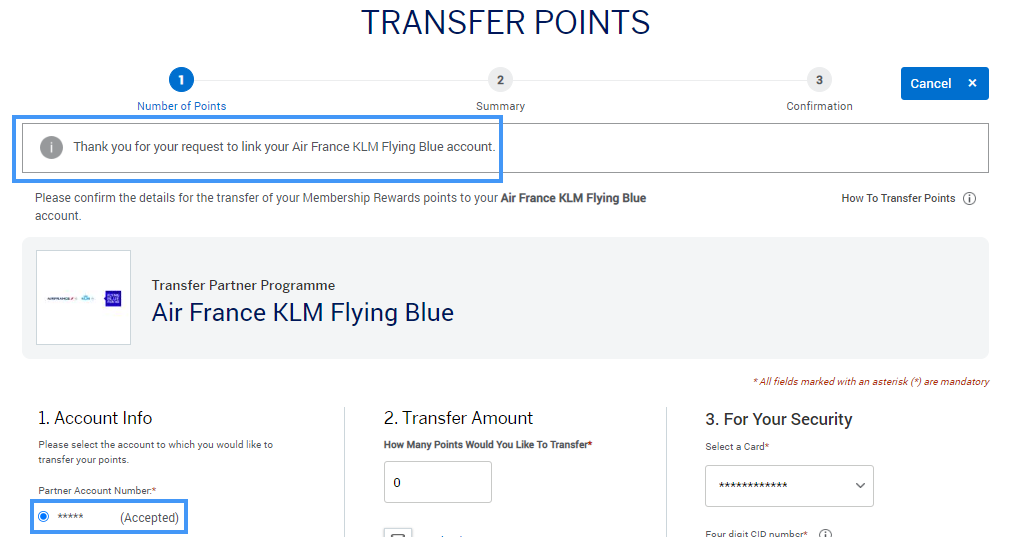 But with other programs, it may take a few days (it says "Pending").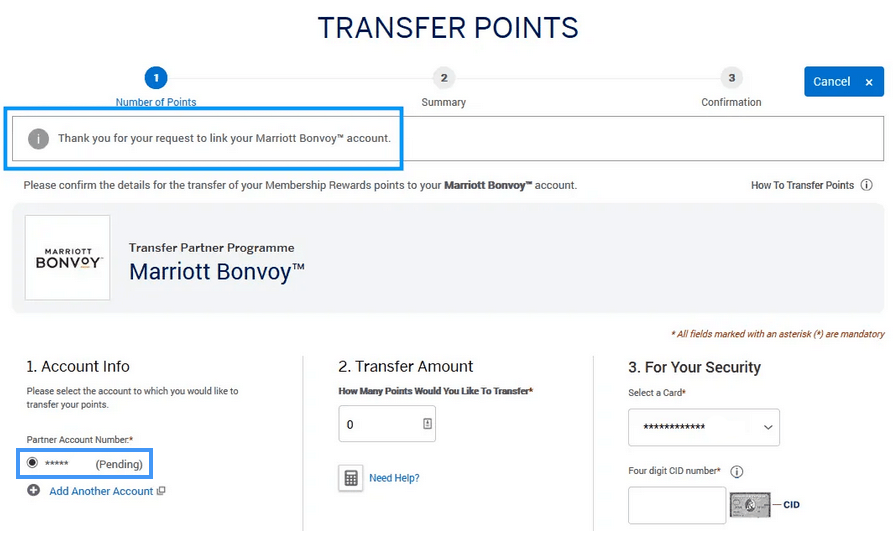 So don't wait until the last minute. Take a few minutes to link all your accounts in advance. I'll soon share the story of one of my rare mistakes as a travel rewards pro (I hadn't linked my Etihad Guest account)!
Step 2: Transfer your Amex points to partners
Once your accounts are officially linked, the actual transfer of points is exceedingly simple.
But be aware of one vital thing: Amex point transfers are permanent, irreversible, and one-way only.
Never transfer points without having double-checked your redemption or without having a specific redemption in mind. There are 2 exceptions, but they still require you to know what you are doing: when there is a transfer bonus or when you want to close a card.
2.1 Go to the transfer page
Follow the same steps as above to reach the transfer page for the desired partner.
2.2 Transfer Amex points
For the example, I will use the most popular partner program, Air Canada Aeroplan.
Simply enter the number of Amex points you want to transfer, because your Aeroplan account you just linked will already be selected by default.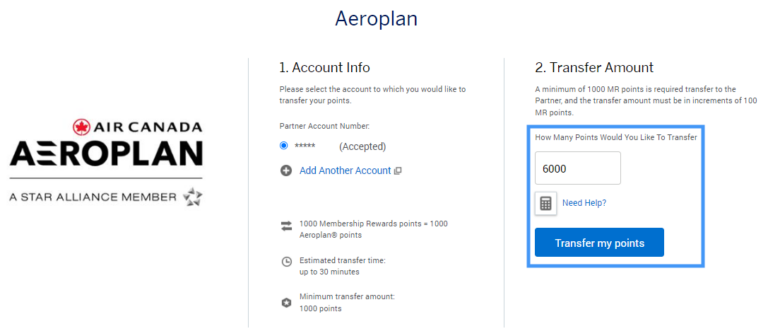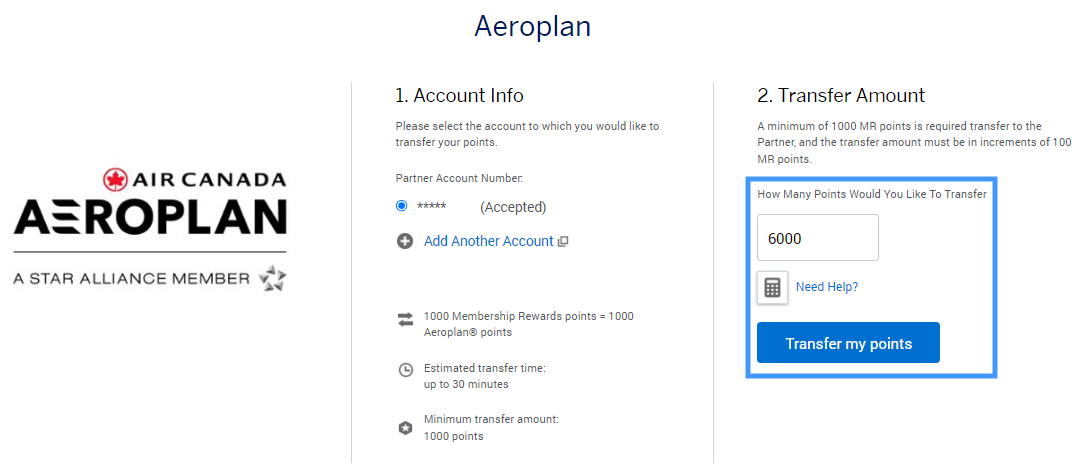 Important: input the amount of Amex points you wish to transfer, not the amount of partner points you wish to receive.
It's a 1 to 1 rate for Aeroplan, so it doesn't matter. But there are 3 different transfer rates for the 8 Amex partners in Canada (this is something to consider when deciding how to use your points). A calculator is provided if you need it.
Transfers are done in various increments depending on the partner (for Aeroplan it's 100 points). You must always transfer at least 1000 Amex points as well.
During the transfer bonuses that are sometimes offered (to Avios or Marriott for example), it's often still the regular transfer rate that appears on the transfer page. Always double-check that you are within the promotional period and if you are, you will get the bonus automatically without any problem even if it is not displayed on the transfer page.
Fill in your credit card information (to identify yourself for security reasons), click to accept the terms and conditions, and click on "Confirm Transfer".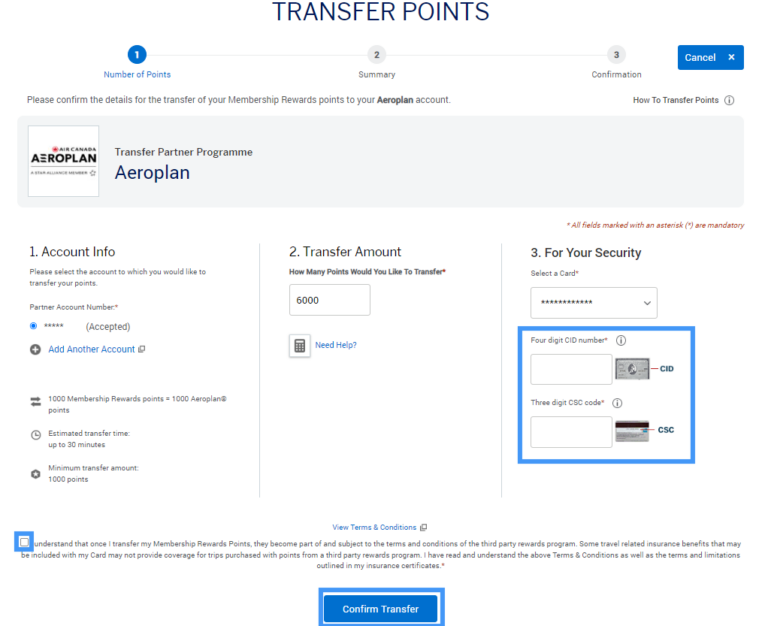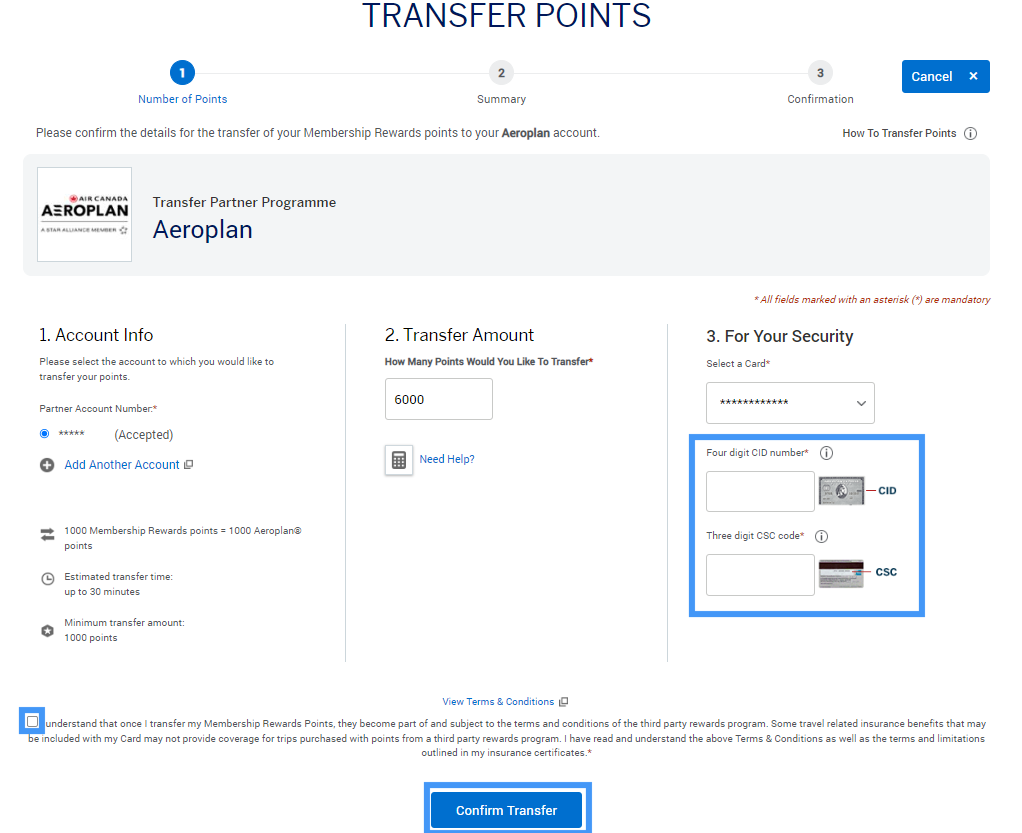 That's it! The transfer of Amex points to the partner program is submitted.
Wait for the transferred points to automatically arrive directly into your partner account; it's the last step before you can redeem them.
Transfers to Aeroplan are the fastest (almost instantaneous, in fact). It's a little longer for other programs (but often quicker than what they say).
Here is the approximate transfer time Amex provides:
Air Canada Aeroplan: 30 minutes
British Airways Avios: 5 business days
Air France/KLM Flying Blue: 3 business days
Cathay Pacific Asia Miles: 5 business days
Etihad Guest: 3 business days
Delta SkyMiles: 30 minutes
Marriott Bonvoy: 48 hours
Hilton Honors: 5 business days
Also, when there is a transfer bonus, the bonus portion may arrive later than the "normal" portion of the transfer.
Want to get more content to become an even savvier traveler and learn about travel rewards?
Summary
You can easily transfer American Express Membership Rewards points to partners. It's the best way to maximize their value and get more free travel. Link your accounts in advance, but don't transfer your Amex points speculatively without a redemption in mind!
What would you like to know about how to transfer Amex points to partners? Tell us in the comments below.
See the deals we spot: Cheap flights
Explore awesome destinations: Travel inspiration
Learn pro tricks: Travel tips
Discover free travel: Travel rewards
Featured image: New York (photo credit: Paulo Silva)
Share this post to help us help more people travel more for less: