We're trying to answer all the hundreds of questions we get about travel rewards as quickly as possible, but we still have quite the backlog — which should be cleared up this spring because our team will finally be growing quite a bit to help you better.
That's why, in the meantime, we do a live video every month to answer questions from those who want an immediate answer. The next one is on May 3rd.
But I'll answer a few questions here today to help more travelers.
What to know about these questions and answers
I'm answering just a few questions, but dozens of others we've received are very similar.
The thing is, I want to show you where to go to find the answer that is already easily available for at least 90% of the questions we receive.
We are obviously also working on 2 things:
Answering the 10% of questions whose answer cannot be found on our site
Making the 90% of answers already found on our site easier for you to find
Most questions about a specific card can be found on our card resource page, which has so much info. You can access it via our ranking of the best credit cards (for most cards). This explanatory article on how to find the info is handy.
The topic that will have the most new content is on redeeming points, it's what we get the most questions about and it's what is the least comprehensive in those card resource pages (see last question below).
Questions
So let's get to the questions we received (and you can replace the name of the card for any other card name and the way to find the answer is exactly the same).
Does the Marriott Bonvoy American Express Card earn 5 points per dollar at Marriott hotels only?
If you go to the Marriott Bonvoy Amex Card resource page, and go to the "Earn rates" tab, you will see all the earn rates for the card.
So no, the Marriott Bonvoy Amex Card doesn't give you 5 points per dollar anywhere else. If you want 5 points per dollar almost anywhere, it's the American Express Cobalt Card that does that with the grocery store gift card trick.
And there are a few other cards that earn 5 points per dollar at the grocery store as well, they are listed in this same best credit cards ranking: just below the main ranking, there are various sub-rankings that you can check out (like the best cards for groceries).
But here 2 VERY important reminders.
Firstly, if you want to maximize your travel rewards: the key is really to make sure that all your spending goes towards unlocking welcome bonuses, it goes infinitely faster. So you almost shouldn't care about earn rates, and you should really look at the size of the welcome bonuses instead! It's the basics (if you want to maximize)!
And secondly, unless you want to go to Bali or a few other specific destinations soon, it's not the best time to get the Marriott Bonvoy Amex Card, even though everyone should eventually have it (it's the only one that's for EVERYONE) and everyone should keep it too (it's the only one).
Is the American Express Cobalt Card welcome bonus 30,000 points or 60,000 points?
If you go to the Amex Cobalt Card resource page, and go to the "Welcome bonus" tab, you'll see exactly what the welcome bonus is AND the total points you should get by unlocking it (it's the card with the most unique bonus, because it's 12 bonuses).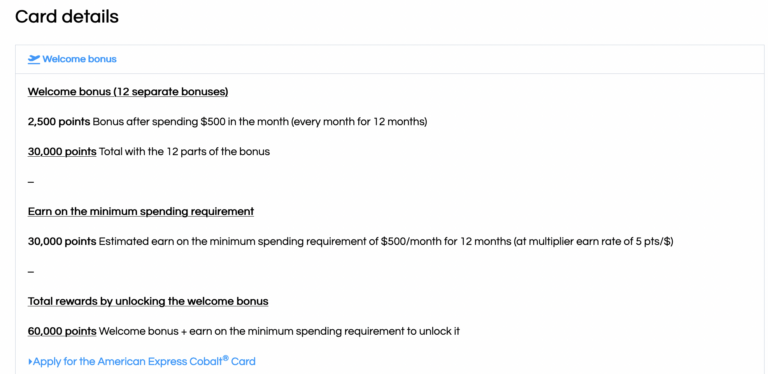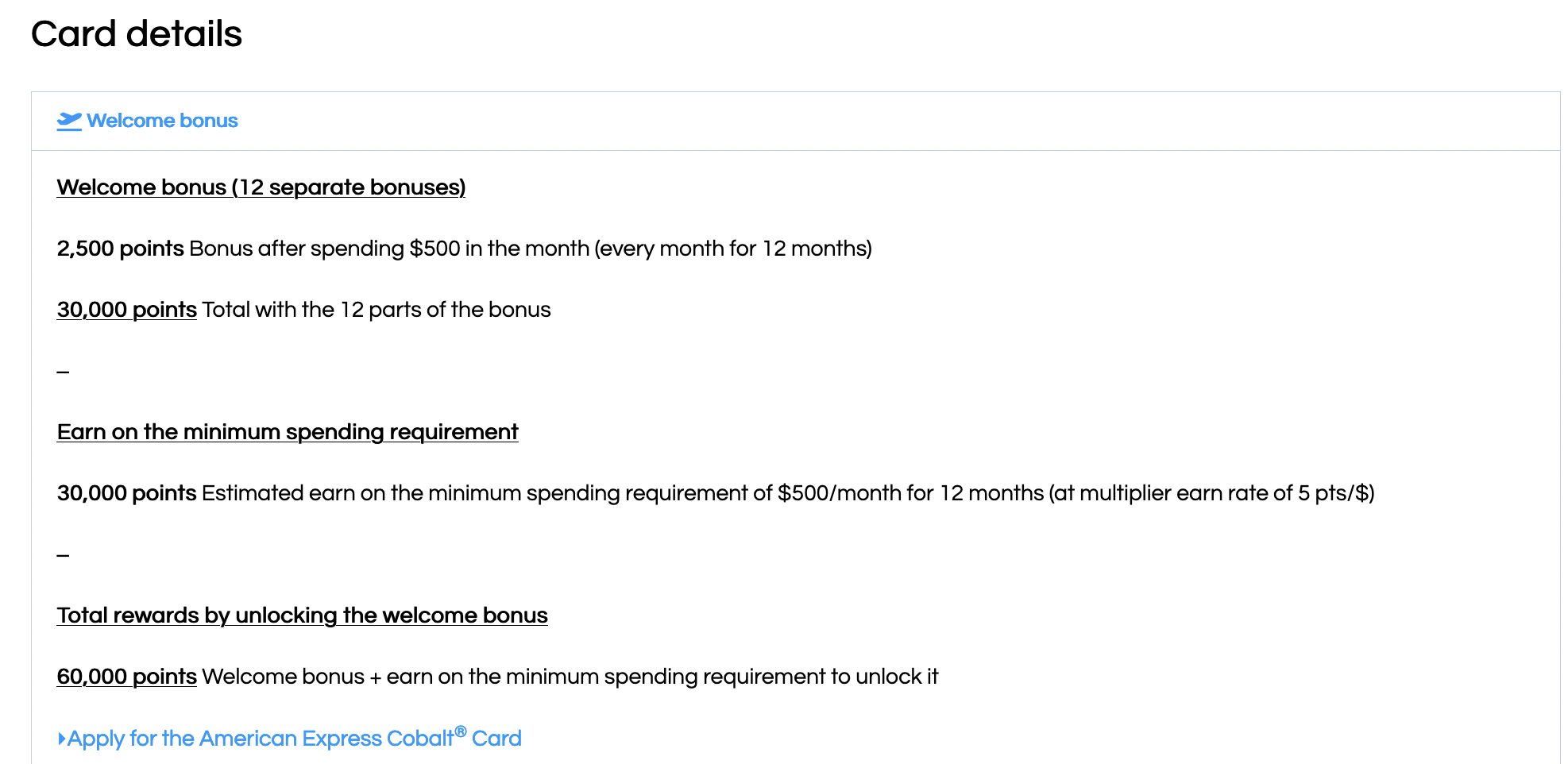 So, I remind you that our Flytrippers Valuation always includes the total rewards you will realistically get by unlocking the bonus, minus the fees if there are any.
With the Amex Cobalt Card, you'll get 30,000 points from the entire welcome bonus and another 30,000 points by unlocking it with your spending in grocery stores (and elsewhere with the gift card trick at the grocery store).
We just don't recommend getting the Amex Cobalt Card if you're going to unlock its bonus by spending at 1 point per dollar elsewhere, it's pretty terrible and requires too much spending for not much at that rate. It's really meant to be maximized at 5 points per dollar, hence our estimate in this particular case.
Our estimate varies depending on the offer and the characteristics of each card, because all offers are different and all cards are different.
For most other cards, we assume you spend the amount required for the welcome bonus in any spending category, either because:
The rates are not different enough as opposed to 1X to 5X with the Amex Cobalt Card
The amount to do is too big to do it all at the grocery store
I'll give you an example for each.
The CIBC Aventura Visa Infinite Card and the CIBC Aventura Gold Visa Card require spending just $1000 in 4 months, so in our estimate, we put that you spend that anywhere (not just the grocery store). Because for just $1000, that gives you $10 at the base earn rate, or $15 at the multiplier rate. Not a big enough difference.
(Whereas with the Amex Cobalt Card, the difference between 30,000 more points and 6,000 more points is huge! It's a difference of ≈ $360 in free travel, since Amex points are worth so much!)
The National Bank World Elite Mastercard requires spending $5000 in 3 months, that's $385 in groceries per week, which is not very realistic to do at the grocery store alone, unless you're feeding a huge family. So we used the base earn rate of 1 pt/$ for that one!
(Whereas with the Amex Cobalt Card, $500 a month in groceries is just $115 a week and that's easy for almost everyone!)


And again, it's all written right there on each card's resource page if you want to adjust your math a bit (depending on your personal situation)! It's vital to know how to do the math and to take the time to do the math in the world of travel rewards.
Was there an error on the National Bank World Elite Mastercard welcome bonus?
If you go to the National Bank World Elite Mastercard resource page, and you go to the "Welcome bonus" tab, you'll see that under the title, it says "INCREASED OFFER EXCLUSIVE TO DIGITAL PARTNERS."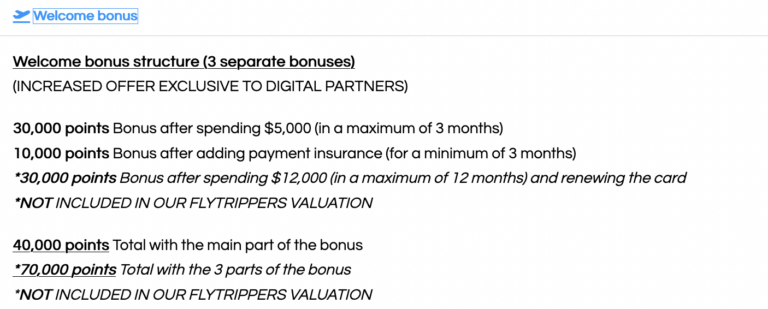 If you go directly to the National Bank website, you'll get a lower welcome bonus (without supporting Flytrippers too).
So it's very important to use our links, because our welcome bonus information is always up to date, but most importantly, sometimes we have higher exclusive offers just available through our links (or if not, it's always at least the same offer as the public site, never less).
So there is no error on our page, but if you go back later to apply on their site directly (without going through our links again), that's the error.
It's what's causing you to not get the right welcome bonus. So just keep our best credit cards ranking bookmarked and always start from there for all your card applications throughout the year.
I had written a detailed article explaining our exclusive Flytrippers offers recently.
Was there an error in the eligibility requirements for the RBC Avion Visa Infinite Card?
If you go to the RBC Avion Visa Infinite Card resource page (the increased offer ends April 30 if you're interested), and you go to the "Card & offer eligibility" tab, you'll see that it says that in order to get the welcome bonus, "You must not currently have the RBC Avion Visa Infinite Card."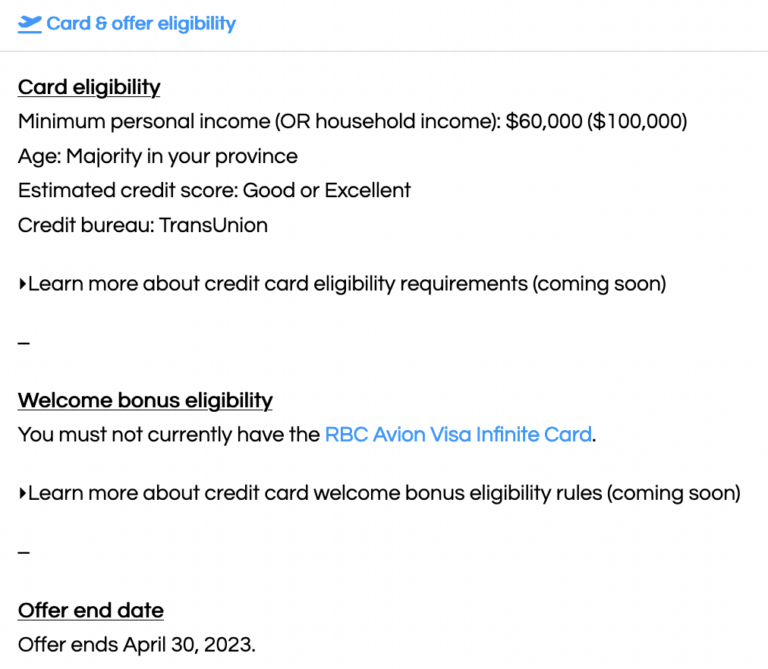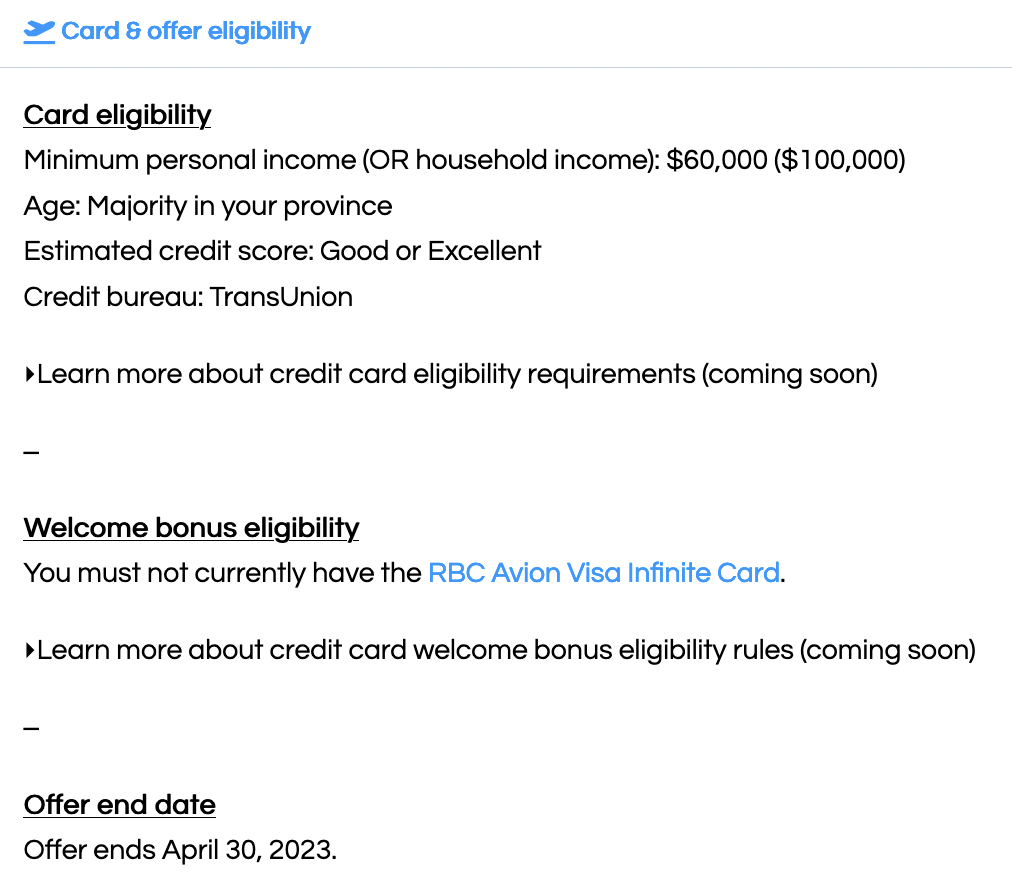 However, it's actually true that when you read the official terms and conditions, it says the opposite. It says that you must not currently have any RBC card.
It's a special situation. We wrote this eligibility requirement because RBC has officially confirmed that it's really just those who already have the RBC Avion Visa Infinite Card who are not eligible (it must be their lawyers who wrote overly restrictive terms on the page).
I can confirm that I myself got the RBC Avion Visa Infinite Card again during this record-high offer and even though I had another old RBC card (I had just downgraded the RBC Avion Visa Infinite Card that I had gotten again last year) and I did get the offer as indicated on our resource page.
If you insist, here's our email exchange, with RBC's initial comment in blue, my response in red, and their final response highlighted in yellow.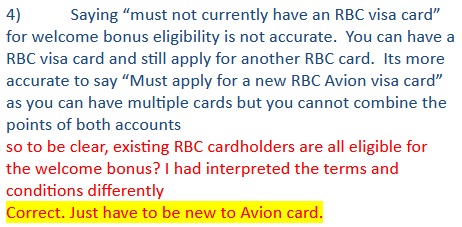 But this one is a case where the reader did very well to double-check with us! Because logically, 99% of the time, the official terms and conditions of the offer on the offer page supersede everything. But this example is the exception that proves the rule.
So this very alert reader who takes the time to read the terms and conditions (a very good reflex; even if it's not mandatory, it can never hurt) had already read our resource page but was right to ask the question since he was in doubt because of what the RBC site says.
How do I use the points from the RBC Avion Visa Infinite Card?
If you go to the RBC Avion Visa Infinite Card resource page, and go to the "Reward redemption examples" tab, you'll see an introduction to this vital question (one that we're going to answer better very soon).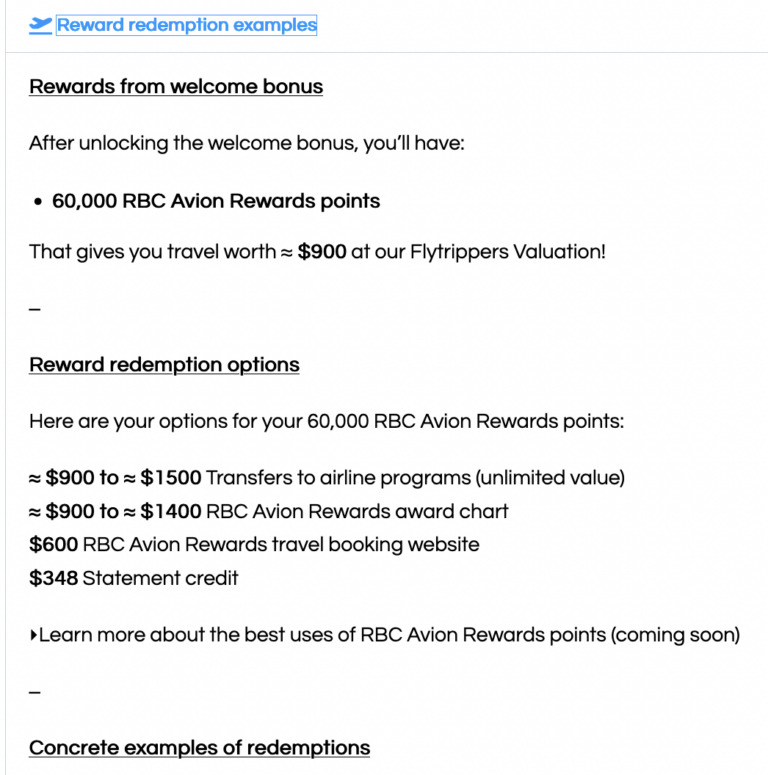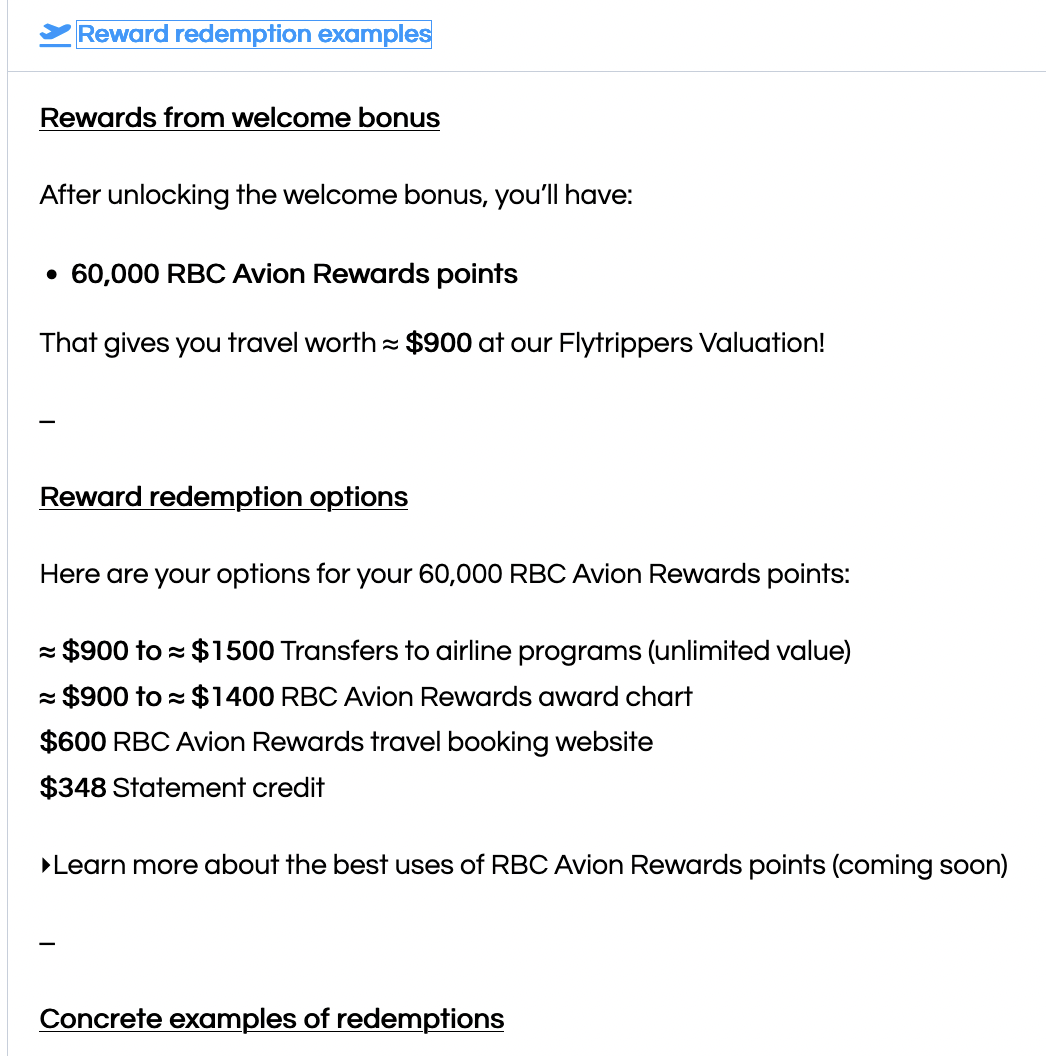 But in the meantime, there's at least the beginning of an answer that gives you the essential examples.
And often a link for a little more detail while we wait for our ultimate guides for each program, with videos.

The RBC Avion Rewards program guide is going to be the first one this week as we're doing a special feature for the end of this very high offer (the highest ever on the RBC Avion Visa Infinite Card in fact).
Don't miss it this week!
Want to get more content to learn how to earn free travel?
Summary
Here are some answers to a few questions we often get, but more importantly how to find the answer to all the very similar questions, which is on our resource page for each card. Those are always accessible through our ranking of the best credit cards.
What would you like to know about travel rewards? Tell us in the comments below.
See the deals we spot: Cheap flights
Explore awesome destinations: Travel inspiration
Learn pro tricks: Travel tips
Discover free travel: Travel rewards
Featured image: Kebumen, Indonesia (photo credit: Dikaseva)
Share this post to help us help more people travel more for less: