So many countries to visit, so many things to see in every one of them. But each country has ONE attraction that can't be missed, a must-see. Here they are according to TripAdvisor rankings, all on one cool map.
Here at Flytrippers, we spot amazing flight deals every day, so you can explore many destinations all over the world… at half the price. And whatever your favorite destination is, or whatever your favorite type of trip is, it's always useful to know what the most popular attraction in a country is.
By using TripAdvisor rankings, folks at VoucherCloud and Thomson Vacations in Europe have created this very interesting map that tells you every country's most popular attraction.
We had already shared the map with every US State's most popular attraction, in case you want to plan a trip closer to home. And if you love roadtrips like we do, you can also check out this epic itinerary that brings you to each and every one of the 48 Continental US States in one trip.
Here is the map, and details on how to read it.
Every Top Attraction Is Categorized
The map is color-coded and also shows you what category of attraction every top site falls into. There are 4 types:
Light green: Historic attractions (Great Wall, China)
Pink: Natural attractions (Geiranger Fjord, Norway)
Olive green: Religious attractions (Church of the Savior, Russia)
Purple: Tourist attractions (Museum of Anthropology, Mexico)
The Cool Map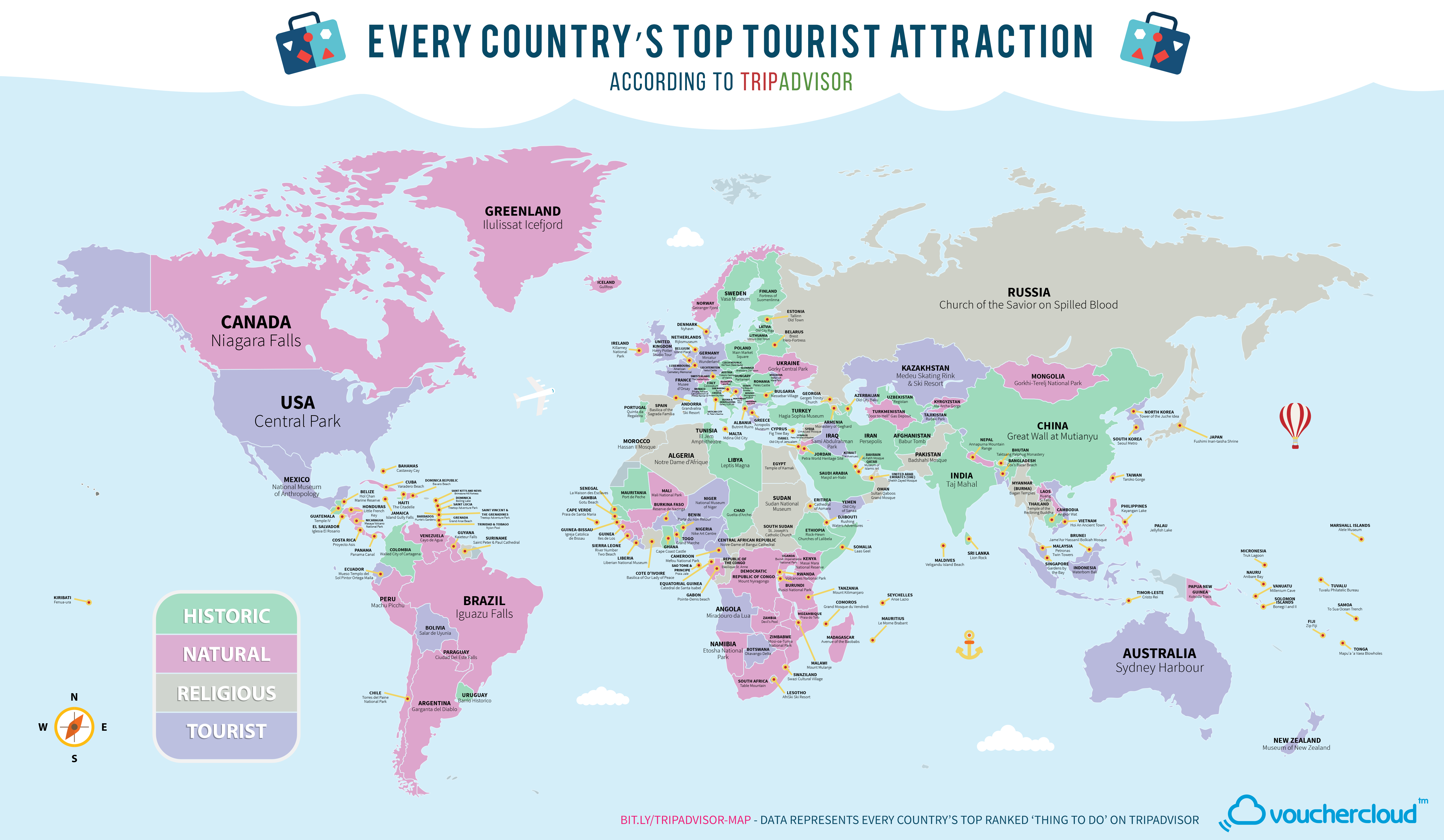 Click here to see the full-sized map
What Are The Popular Attractions Close To Home?
In Canada, the most popular attraction is a classic: Niagara Falls (the Canadian side is the best right). South of the border, the most popular attraction is another one that is easily accessible to those living in Eastern Canada: Central Park, in New York City.
If you want to visit either of these attractions, don't forget to check our flight deals page but you can also use our main flight search tool if you have specific dates… or read our instructions to find the cheapest dates for your destination.
Which attractions have you visited? Let us know in the comments below!
Help us spread the word about our flight deals and travel tips by sharing this article and most importantly bookmark Flytrippers so we can help you navigate the world of low-cost travel!
Advertiser Disclosure: Flytrippers receives a commission on links featured in this blog post. We appreciate if you use them, especially given it never costs you anything more to do so, and we thank you for supporting the site and making it possible for us to keep finding the best travel deals and content for you. In the interest of transparency, know that we will NEVER recommend a product or service we do not believe in or that we do not use ourselves, as our reputation and credibility is worth far more than any commission. This principle is an essential and non-negotiable part of all our partnerships: we will never give any third-party any control whatsoever on our content. For more information on our advertiser disclosure, click here.
H/T: Map published by VoucherCloud and Thomson Vacations with public data from TripAdvisor.