A "hack" is an uncommon trick that isn't widely known but is super useful. "Life hacks" are more popular than ever, because humans naturally want the easiest way to do something—and they can also help make traveling easier and more convenient.

A while back, we shared a hotel curtain hack on Facebook, which you all seemed to like!
We are so happy to know that many of you learned something, and we hope that it comes in handy on your next hotel stay.
Now, we have yet another hotel hack to share with you! It's not as great as the curtain one, but it can still be useful. We also want to ask for your input on more hacks to include in a roundup article, so please share your best hotel room tips!
A Hack For Hygiene
When you go to a hotel, what do you usually do with your toothbrush?
Ideally, you could get a $2 toothbrush cover, a cheap travel toothbrush case, or even a fancy eco-friendly bamboo case. But what if you don't have these? Or if you want it to dry out a bit?
Do you just leave your toothbrush on the counter? Or do you pack it away in your bag after each brush just to dig it out every time you use it?
Either way, it's a nuisance. As much as we'd like to trust the hotel's ability to keep a counter really clean, we can never be 100% sure of it.
There has to be a better way…
Luckily, someone came up with this: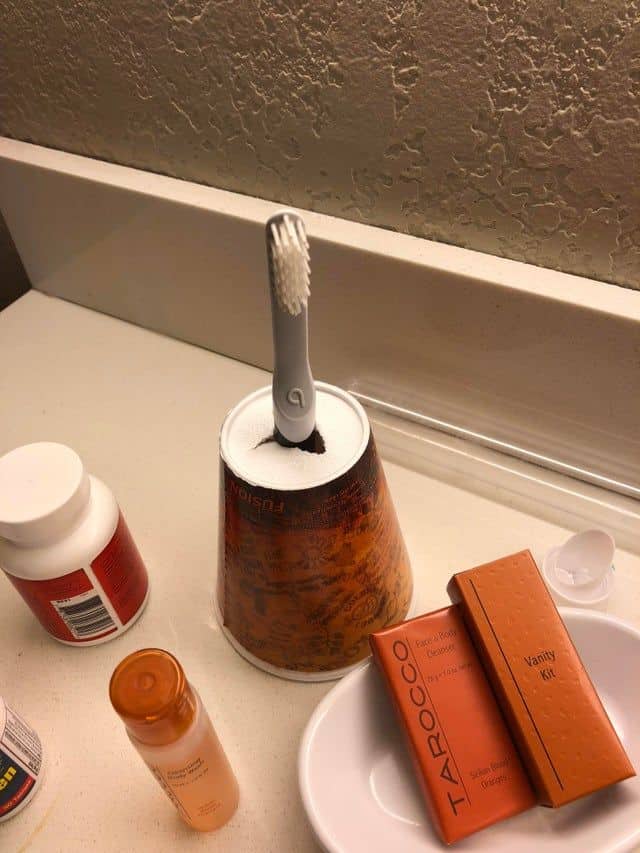 It's so simple, yet so inventive! Just poke the toothbrush handle through the bottom of the cup that is often provided, place it upside down on your counter, and, voilà, you have yourself a nifty little toothbrush holder! How neat?
But it can sometimes be hard to find a paper or Styrofoam cup in your hotel room (which is good that hotels are becoming more environmentally friendly).
So, if you don't have one in your room, check by the ice machine or in the dining hall. Once you get your hands on a cup, you can easily make sure that your toothbrush stays clean.
We recommend keeping it for your whole trip, not to waste too many cups. It can be brought along without taking too much space.
We're always open to learning more hacks from our readers. We each have our own tricks when it comes to traveling, even a couple that we may think that everyone knows about already. But, perhaps, that's not true.
So, what are some hacks, tips, and tricks that you could share with us? How do you make your hotel stays better?
Our mission is to help you travel, so in addition to bringing you the best cheap flight deals, we like to make sure that you get all of our pro tips to make traveling easier.
Want more travel hacks?
Summary
A hotel bathroom hack doesn't have to be complicated! This one is as simple as poking a hole in a cup, and you can level up your toothbrush hygiene.
What do you think about this hotel bathroom hack? Do you have any more to share with our readers? Write your tips in the comments!
Want to see our current discounted plane tickets?
Click here to see our flight deals
Want more travel tips and inspiration?
Click here to see the blog homepage
You'll probably enjoy this article:
Travel Hacking: Free Travel (really)
Help us spread the word about our flight deals and travel tips by sharing this article and, most importantly, bookmark Flytrippers so we can help you navigate the world of low-cost travel!
Featured image: Hotel bathroom (Photo Credit: Andrea Davis)
Advertiser Disclosure: Flytrippers receives a commission on links featured in this blog post. We appreciate it if you use them, especially given it never costs you anything more to do so, and we thank you for supporting the site and making it possible for us to keep finding the best travel deals and content for you. In the interest of transparency, know that we will NEVER recommend a product or service we do not believe in or that we do not use ourselves, as our reputation and credibility is worth far more than any commission. This principle is an essential and non-negotiable part of all our partnerships: we will never give any third-party any control whatsoever on our content. For more information on our advertiser disclosure, click here.
Share this post to help us help more people travel more for less: