There are a lot of details that can be very useful to help you better plan your own trips, that
you might not know if you aren't a flight booking pro
. For example, many do not know what is the difference between a layover and a stopover, yet those are completely different things.

I'll explain those important differences and next week we'll share 4 pro tips on how each can help you visit an additional city on your trips for free (which is awesome and something those who love to travel usually want to do).

The Important Distinction
So what is the difference between a layover and a stopover?
Layovers are:
simply a connection

under 24 hours in length

included by default in your tickets

included in the price (and flights with layovers are usually cheaper)
stops that can't be "selected", apart from the options that search engines offer you
Stopovers are:
not just a connection
over 24 hours in length
never included by default (you have to create it yourself specifically)
not the same price, in most cases (see below)
stops that can be selected and customized entirely
Layovers
Most cheaper flights have layovers, and you've definitely had a connection before if you've flown at all. You know these. If you check out our cheap flight deals page regularly, all the deals we spot are either direct or with layovers; there are never stopovers.

You can sometimes use layovers to visit your connecting city, with the longer layovers. The longer, the better. But to be clear, what we call long layovers, long connections, or long stops still aren't stopovers. Yes, they allow you to visit the city (briefly), but they still meet all the criteria to be a layover.

Even if long layovers aren't as great as stopovers, they can be very interesting: I've used countless long layovers to discover cities I would not have otherwise visited yet. Not only is this a free additional city, in fact, it's even better: it usually saves you money, because flights with long layovers are usually cheaper (as most people prefer convenience over value).

But the long ones are rare, unfortunately, as most layovers are usually just long enough to switch planes (and too short to visit the city). Internationally you'll more often find longer layovers amongst your flight search engine results, but even then, they are rarely close to 24-hour maximum.

Layover example:
You search for a roundtrip Toronto-Budapest flight.

You'll see flights with different connection options in different cities (Istanbul, Lisbon, Brussels, Vienna, Munich).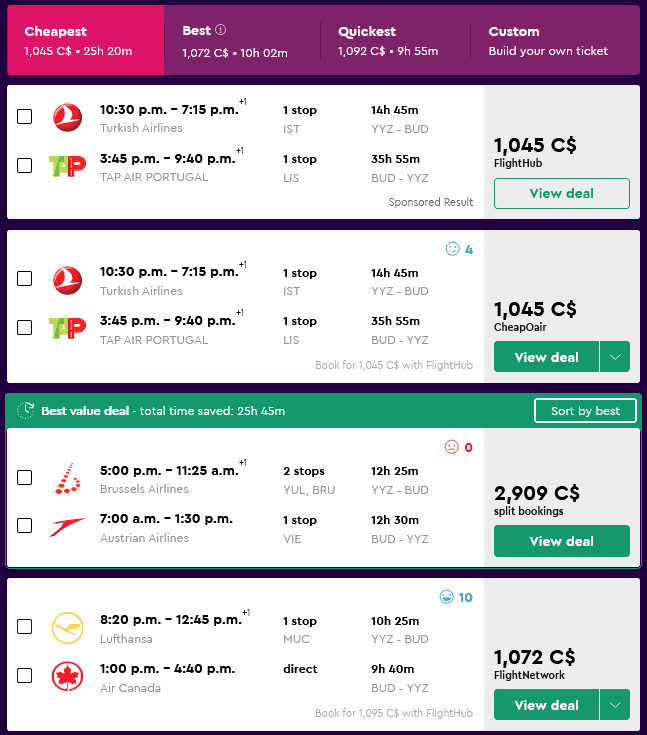 Those stops are layovers.
By the way, as a reminder, please don't buy $1,000 flights to Europe if you want to travel for less: there is a much better option (see the last section for the tip).
Stopovers
Since stopovers are never included by default, you have to book them specifically if you want one. Flights with stopovers are also known as multi-city or multi-destination flights.
Multi-city or multi-destination flights are still bought as one same plane ticket, so it is not to be confused with our multi-ticket itinerary technique, which is combining two completely separate tickets to save money (and create a long stopover as an added bonus).

Unfortunately, tickets with a stopover are often more expensive than regular roundtrips because most people are willing to pay more to spend extra time visiting an additional city (which makes sense, because it's awesome) and for the convenience of having it all on one same ticket.

But there are ways to get stopovers for free, which I'll get to in a minute.
Stopover example:
You select the multi-city or multi-destination flight search option to choose a Toronto-Madrid-Budapest flight if you want to spend a few days in Spain.

You'll see results combining specifically a flight to Madrid and a flight to Budapest.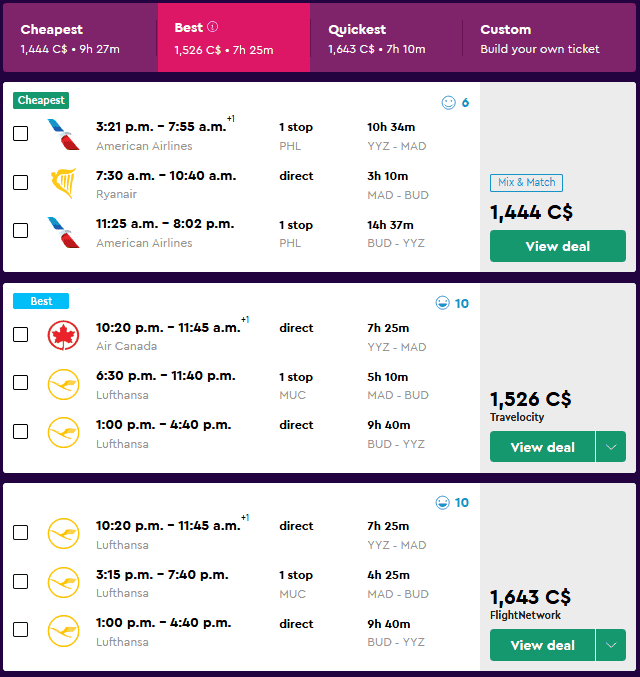 Those stops are stopovers.
Again, this is not the cheapest option if you care about traveling for less (for this tip, you'll have to come back and read the next article).
Tip To Avoid Paying $1,000 To Go To Europe
In the first example above, flying from Toronto to Budapest was $1,000. But there is such an easy tip that more people have to know about.
Instead of buying that flight on one ticket for $1,000 roundtrip, just find the cheapest destination in Europe for your dates. In that example, Toronto-London was under $600 roundtrip! Then buy London-Budapest, that's often $100 roundtrip or even less.
That's $300 in savings very easily. That $300 can cover all of your expenses for a full week in many Eastern European countries if you are in budget-travel mode, or even all of your expenses for almost 2 weeks in even cheaper countries.
La nuit à Paris va te coûter un peu plus chère qu'à Budapest (ce n'est qu'un surplus, tu l'aurais payé quand mêmeà Budapest) mais on peut classer ça comme dépense très raisonnable pour la chance de pouvoir passer une journée à Paris en bonus. Se promener dans les rues parisiennes, il y a pire que ça dans la vie non?
The night in London will cost you a bit more than in Budapest (it's just a little extra, you would've paid for the night in Budapest) but you can consider that as a very low cost to get the chance to spend a day London as a bonus stop on your trip. There are worse things in life than walking around London streets right?
Want to make sure you get the next part of the article?
Summary
Hopefully, you now understand the difference between a layover and a stopover. And more importantly, come back next week to know how to use these to visit an additional city on your next trip!

Have a question about layovers and stopovers? Have you used these in the past to explore a new city? Tell us in the comments!
Want to see our current discounted plane tickets?
Click here to see our flight deals
Want more travel tips and inspiration?
Click here to see the blog homepage
You'll probably enjoy this article:
Travel Hacking: Free Travel (really)
Help us spread the word about our flight deals and travel tips by sharing this article and, most importantly, bookmark Flytrippers so we can help you navigate the world of low-cost travel!
Featured image: Budapest (Photo Credit: Patrick Robert Doyle)

Advertiser Disclosure: Flytrippers receives a commission on links featured in this blog post. We appreciate it if you use them, especially given it never costs you anything more to do so, and we thank you for supporting the site and making it possible for us to keep finding the best travel deals and content for you. In the interest of transparency, know that we will NEVER recommend a product or service we do not believe in or that we do not use ourselves, as our reputation and credibility is worth far more than any commission. This principle is an essential and non-negotiable part of all our partnerships: we will never give any third-party any control whatsoever on our content. For more information on our advertiser disclosure, click here.
Share this post to help us help more people travel more for less: