Here is a pro tip that could save you a lot of money when you can't find a great deal for your chosen destination, especially when the ticket seems very expensive at first glance: multi-ticket itineraries.
As you probably know by now, every day we publish the best deals we can find (often up to 50% off) for dozens of destinations, on our flight deals page.
However, as explained in the article "Why Only Certain Cities Are Featured on Our Deals Page", you may not always be able to find deals for your specific destination on your specific dates, especially if have no flexibility. Why? Simply because they don't always exist.
What can you do when you have to buy a ticket that is not discounted? This article, along with the others on this blog, will help you save money when you have to buy a plane ticket that is not on our deal pages–and how to successfully book multi-city flights in Canada.
Of course, it all starts with our flight search tools. It compares dozens of booking sites for your exact dates and destinations. You should always use such an aggregator to look for tickets that are not on our deal pages (preferably through our links, we appreciate the support – and it is at absolutely no cost to you).
Here's one of our best tips to save money, our pro tip about multi-ticket itineraries. Warning: this is a very detailed article for you to really understand how to use this trick… as there are important rules to know.
Multi-City Flights in Canada Itineraries
What exactly are multi-ticket itineraries? Simple: it's an itinerary where you have to buy tickets separately, instead of buying it all at once. Why should you do that? To save money, of course.
Obviously, this trick doesn't work 100% of the time. Then again, no tip that we will give you will work in 100% of cases, that's simply impossible in the world of travel.
Plane ticket prices are extremely complex. So each and every search and each and every destination will be different, there is no magic recipe that applies to all situations. Sometimes it'll work, sometimes it won't.
However, you should still try each of our tips before buying a ticket at regular price: there is a good chance you will save money, often up to hundreds of dollars.
Last year, I paid only $360 for an itinerary that would have cost $1,200 if I had bought it on a single ticket. That amounts to a saving of nearly $1,000 per ticket, simply by purchasing separately. It's worth it. Imagine if there are two of you saving hundreds of dollars. It adds up quickly.
Why It's Cheaper… and When
Again, it's a complex subject. In short, flight prices are a function of the markets that are served. The fare is based on how much people in the market you are leaving from are willing to pay to go to the destination you are going to. And may I remind you that prices have nothing to do with the distance traveled… or any form of logic for that matter.
That's why sometimes it pays to trick the airlines and circumvent their pricing mechanisms by combining two tickets.
But it takes a bit of extra effort and it's a bit more complex. Otherwise, everyone would do it right? We'll walk you through it right away, but don't forget to read the last section below to know the very important rules regarding the use of multi-ticket itineraries.
Obviously, it's simpler and more practical to buy everything in one itinerary. So sometimes, it'll be more expensive that way. You pay for the convenience of having a single transaction, a single airline, a single ticket, a shorter stopover, no complexity, etc.
And it really is true: in many situations, it could cost you hundreds of dollars more to buy everything on one same ticket.
But not always. If the ticket is under $400-500, this trick probably won't work. Same thing if the price is already a little lower than the regular price.
In fact, in most cases, this thing may not work. But if checking if it does takes you twenty minutes and allows you to save $200, it's a good investment to at least try it.
The multi-ticket itineraries are an especially advantageous option for those who are looking to go to Europe, and sometimes Asia if your final destination is expensive… or for closer destinations that are very expensive for whatever reason (at the last minute, during peak season or when you have less flexibility on dates for example).
So, in these situations, you should consider multi-ticket itineraries.
The 3 Main Types of Multi-Ticket Itineraries
There are three main ways to save money by combining separate tickets. I'll summarize each of them in two lines below, and then we'll get into more details about each one.
I'm not sure there are any formal names so I'll name them as best as I can:
1. Positioning Flight on Arrival: instead of buying Montreal-Bulgaria, you'd buy Montreal-Stockholm and Stockholm-Bulgaria roundtrips separately (you land at a different place than your final destination – in this case Stockholm)
2. Positioning Flight on Departure: instead of buying Montreal-Thailand, you'd buy Montreal-New York and New York-Thailand roundtrips separately (you leave from a different place than your departing city – in this case New York)
3. Two One-Way Tickets: instead of buying a Montreal-Reykjavik round-trip ticket, you buy Montreal-Reykjavik and Reykjavik-Montreal separately as one-way tickets
Here's how each of those techniques works, but don't forget to also read the last section of this article to find out important rules for multi-ticket itineraries.
1. Positioning Flight on Arrival
Especially convenient for Europe and Asia, but could also work elsewhere.
Europe really is the best destination to apply the multi-ticket itineraries. We already shared a complete article on the subject. There are always super cheap flights on ultra-low cost airlines from Montreal & Toronto to any of the following cities in Europe (often around $400 round-trip): London, Paris, Berlin, Stockholm, Amsterdam, Dublin, etc. If you're not leaving from Montreal or Toronto, the same rule often works with the cheapest flight from your city to anywhere in Europe (often the same cities as above). This is the best feature of multi-city flights in Canada–they allow you to see the world while still saving money.
No matter where you go in Europe, it's almost always worth taking one of these cheap flights, and then buying another one to your destination separately. Because in Europe, flights are ridiculously cheap. One of my flights on Ryanair cost me $9 (one-way) this winter, I saw plenty at around 5 Euros … and there was even a deal with tickets at only 49 cents. I repeat: flights in Europe are really cheap. ESPECIALLY if you are traveling light. As always, those who travel light save the most!
ALSO READ: The Best Credit Cards for Travel Hacking in Canada
As an example, look at the prices of deals on our new Flytrippers Paris website…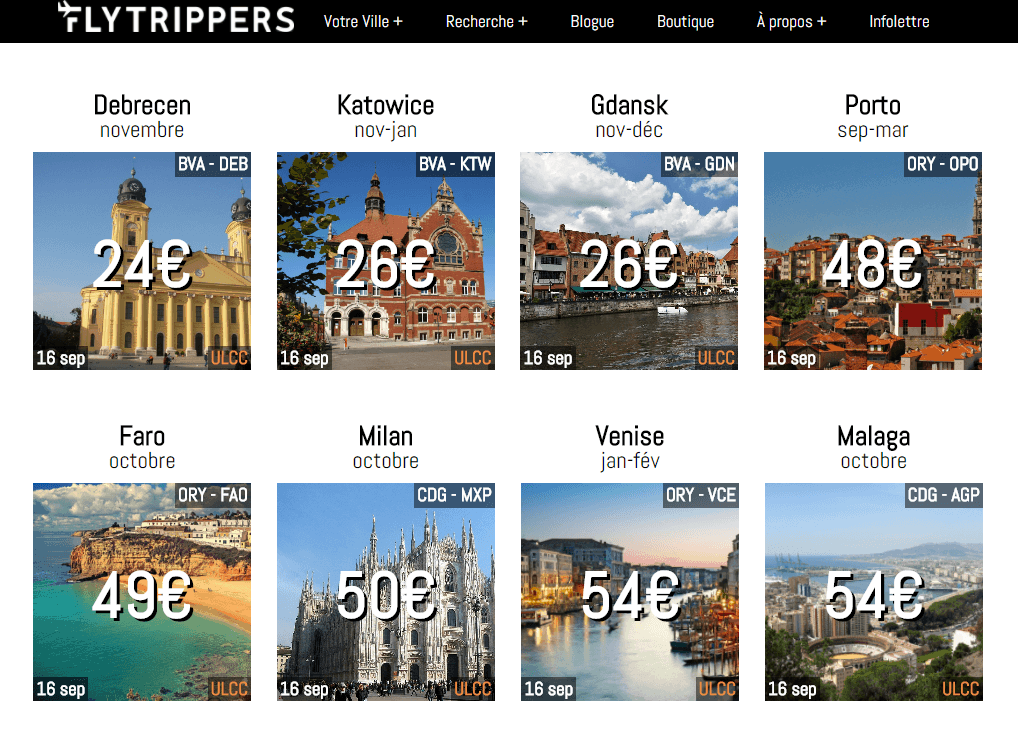 Cheap round-trip flights from Paris are very common, to almost everywhere within Europe and even to some parts of Northern Africa and the Middle East. Just combine a Canada-Paris flight to a flight from Paris to where you want to go.
Here's a tangible example. So, you buy a Montreal-Stockholm ticket and once you get to Stockholm for $450 round trip (very frequent), the round trip to Bulgaria could cost you only $100 more. This applies to many destinations, almost every city in Europe in fact. In total, you go to your destination for about $550, let's say it even costs you $600 to be conservative. Do you know how expensive Montreal-Bulgaria flights are on one single ticket? Over $1,000 all year round.
True story: I literally saved over half the price, just by splitting my ticket into two segments. It also allowed me to visit another city (Stockholm is beautiful by the way, blog post to come) completely free, saving $500 while doing so. In fact, I saved more than $500, because my specific trip cost me $360 and the round trip on the same dates, from Montreal to Bulgaria on one itinerary was $1,200. I saved almost $1,000 just by buying tickets separately.
These kinds of savings are possible for most European destinations, which are excessively expensive when you buy them from Canada on one ticket (and they'll often have layovers anyway). Take the cheapest ticket that crosses the ocean, and you will often get to your final destination for less with an extra European flight AND you get to visit another European city for free! This is one of the reasons why we love long stopovers.
When it comes to choosing the cheapest city for your stopover, it'll depend on your final destination, but in general, London is usually a good choice for most destinations in Europe, but each case is different. To find out which is the cheapest ticket to cross the ocean (and then to your final destination), use our advanced search tool to find the cheapest destinations for your dates.
You can also replace the additional flight with trains, which are frequent, fast and affordable in Europe. I've tested them in several countries, and even if I am an extreme AvGeek who loves to fly (sometimes I even add unnecessary stops just for fun if it's the same price), there are some situations where taking the train can be worth it to save even more.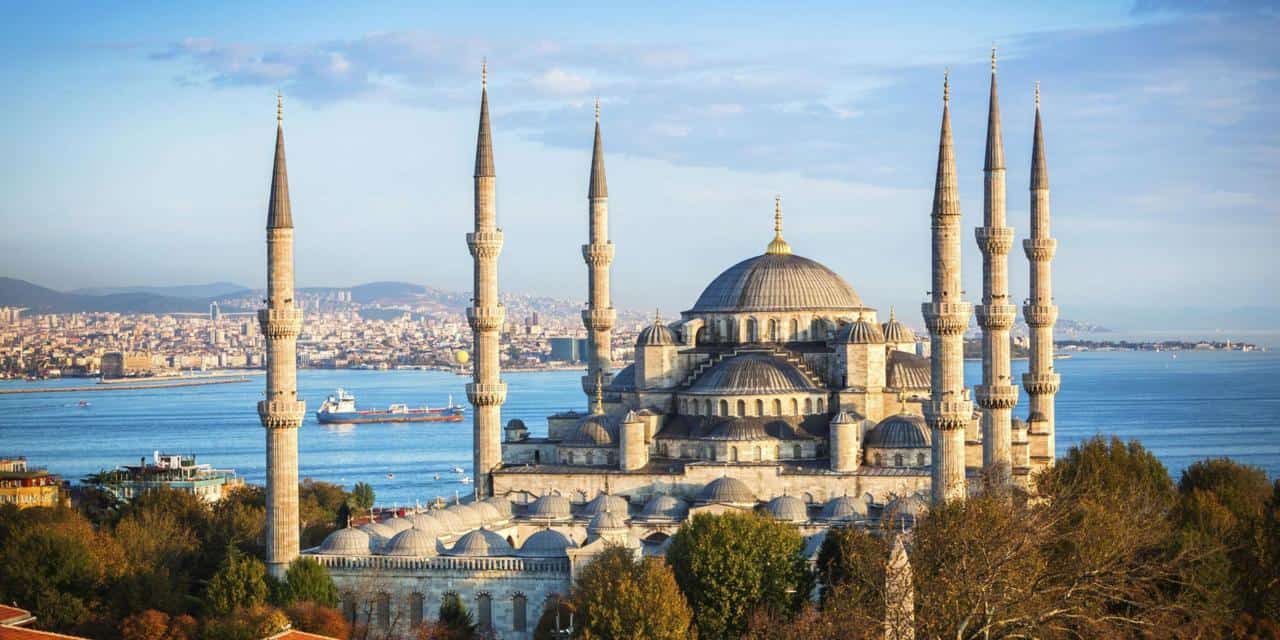 We did it for our trip to Turkey also: on one ticket, Istanbul from Montreal was around $1,100. We got there for less than $600 with trains, buses, and flights in Europe… which allowed us to visit Amsterdam, Cologne, Sofia and Kyiv on the way. We also got to experience a unique sleeper-train ride between Bulgaria and Turkey (blog post coming soon). Saved money and visited four extra countries: that's how we like it.
For Asia, it doesn't work as often, but it is still worth looking into if your specific destination is $1,200 or so. Kevin just booked a flight to Indonesia this way: going directly to Bali was $1,400 from Montreal but Taiwan was only $700. And Taiwan to Indonesia? Under $200 roundtrip. So he saved $500 per ticket just by splitting it up into two tickets.
2. Positioning Flight on Departure
Works mostly with nearby US airports. Sometimes the flight to your chosen destination is so much cheaper from New York, Boston, Los Angeles or San Francisco that it'll cost you less to pay for that flight AND an extra flight from your departing city to the US city, rather than just buying the flight in one piece directly from where you are. And it is even more profitable if you drive there, especially if you are traveling in a group of two or more and it's within reasonable driving distance.
Flights in Canada are much more expensive than in the United States, as you all know now. But sometimes the price difference is big enough to justify a multi-ticket itinerary. Probably not to the United States, but definitely to other international destinations. As a general rule, the more expensive the ticket is from your city, the more it may be worthwhile to leave from another airport.
This is not to be confused with flights departing from nearby US airport to catch domestic US flight. Like Plattsburgh for the Montreal market, Niagara for the Toronto market & Bellingham for the Vancouver market. Going to one of these airports is almost always worth it but that's not a multi-ticket itinerary, they're only 45 minutes to 1h drive away, so they're considered secondary airport for your own city, they're not considered another departure city.
Regular prices to almost everywhere are often cheaper from bigger cities like New York City or Los Angeles…. and if it's very expensive in where you live, it can be worth looking at prices over there. Also, since New York is a gigantic market, there are also many more deals (prices are shown in USD on Flytrippers' US pages), which means you have more chance of getting one.
There can be crazy sales, for example from New York to Thailand for about US $400. Convert it back to Canadian dollars, it's still around $600. Knowing that Thailand is oftentimes $1,400 from Canada… do the math. If you are travelling as a couple, you could save over $1,500 for two tickets! Obviously, this is an extreme case. But that's why it's worth at least checking. You'll find the same kind of savings for many other destinations from other places in the country as well, this is only to give a concrete example with numbers for a specific city.
Most of the time, the Montreal-New York round-trip flight usually costs around $250, so the savings must at least be equal to that amount to be worth it (and even more from other Canadian airports).
Want to save even more? Buy the flight from New York, then get there by bus or train to reduce the price even more if you're not in a hurry. Or combine a train/bus departure and a plane return. That way you save a little more, but you arrive faster at the end of your journey when you can't wait to get back home.
I did it this winter (to take advantage of a deal in New York and try out Norwegian Air's Boeing 787 Dreamliner), and I can tell you that the Montreal-New York train ride along the Hudson River is sublime. One-ways cost about $90 CAD. On the way back, I took a one-way flight from New York for less than $100 CAD. The savings on my flight was $300 so I saved only $100 overall, but I wanted to test the Amtrak trains, to (re) visit New York and wanted to try a new airline that isn't in Canada yet. Depending on your dates, it could be worth the savings.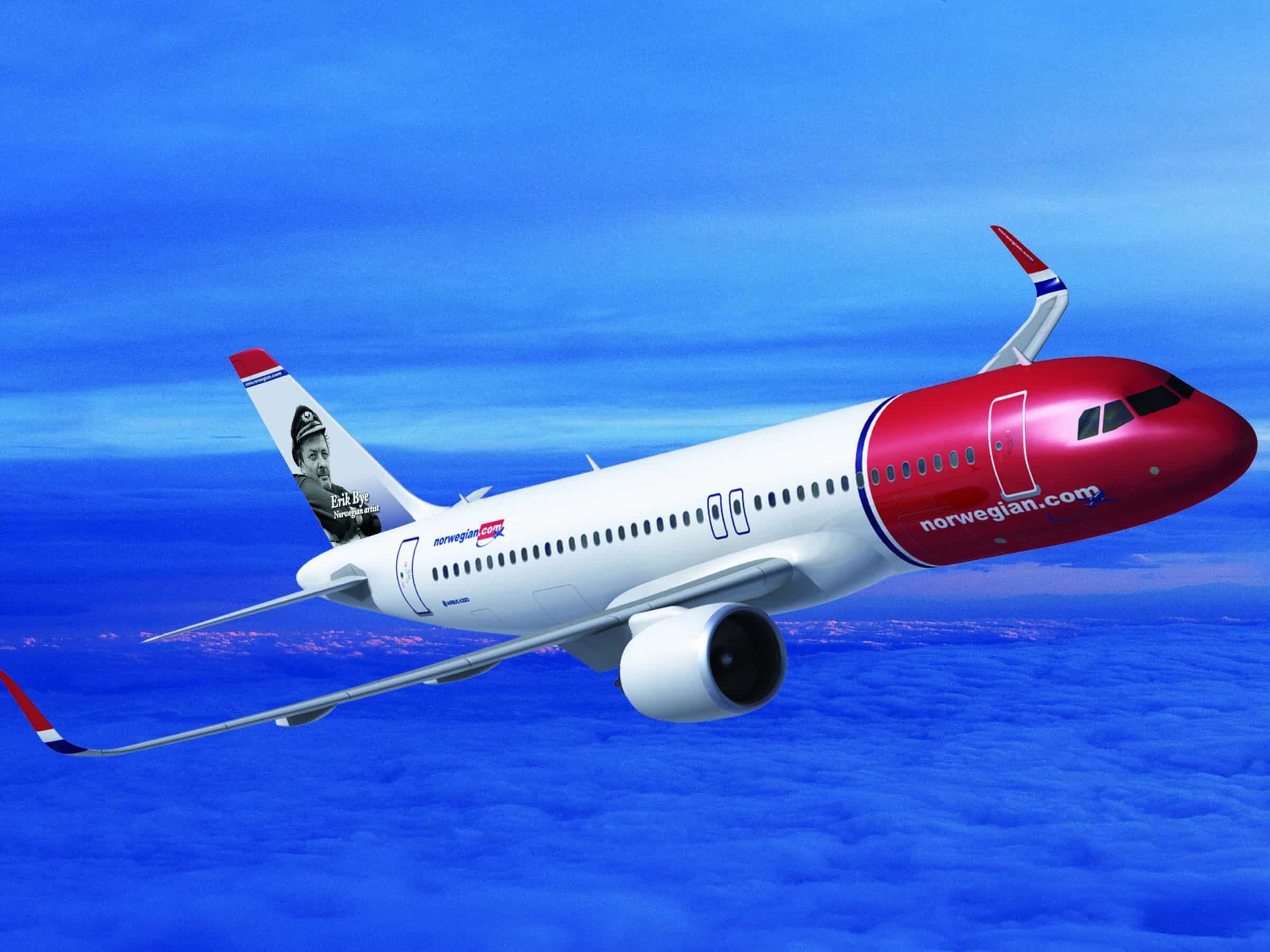 If you choose to drive to a US airport, whether it's to save even more as a group while driving to a secondary airport or simply to go take a local flight, a great option for parking is Park Sleep Fly. You can read more about it here, but essentially, it allows you to get essentially a free one-night stay in an airport hotel the day before your flight (or the day of the return) instead of paying for parking at the airport, as you leave your car at the hotel and a free shuttle takes you to and from the airport.
Finally, you can even make a great double multi-ticket itinerary, combining the #1 tip and the #2 tip. That's what I did starting from New York instead of Montreal directly, and landing in Stockholm instead of Bulgaria directly. That allowed me to save almost $1,000 for a single ticket… and to visit lots of new cities. And if you don't like visiting new cities, why are you even traveling?
3. Two One-Way Tickets
By far the rarest multi-ticket itinerary. It doesn't work very often, but sometimes the cost of two one-way trips can be a bit cheaper than the same round trip in one piece. Especially (in fact, almost only) with ultra low-cost airlines.
So, again, it may be worth it to at least check it. The cheapest price we've ever seen for Europe, $190 round trip, was only possible by buying two separate one-ways. There was a $75 one-way sale to Europe, but the return flights were a bit more expensive than usual. It was avoidable by booking a separate one-way to fly back and get a better price.

Quickly check this option before booking if it's on an ultra low-cost carrier and the price is not discounted, it can maybe work. Use our search tools and select your points of arrival and departure as one-ways to see if you can save this way, although keep your expectations low, unlike the two first tips, this one only rarely works.
The 3 Rules That You MUST Know about Multi-City flights in Canada
That's it, you've almost made it through the entire article. As you can see, the savings can be pretty huge! But it involves very very important rules that must absolutely be respected if you combine multiple tickets!
1. Always Book the Most Expensive Flight First
If you are well prepared, have done your research, and are ready to book online quickly, you should not have any problem. But it's always possible that by the time you book the first flight, the price of the other segment changes (it never happened to me and if you make your two reservations quickly, it should be okay). But by booking the most expensive first, the impact will be much less significant if you get very unlucky.
For example, if like in my example above you take advantage of the deal from New York to Thailand at C$600 and, in the meantime, the corresponding Montreal-New York flight changes… well it will not change by much. It could go from $250 to $300, maybe $350 if you are really unlucky. Just $100 more, it's not so bad. Much less damaging for your wallet than if the flight to Thailand goes from $600 to the regular price of $1,000 for example… and you'd be stuck with a $250 flight to New York for nothing (and flights are usually non-refundable).
2. Allow A LOT Of Time Between Flights
This is actually the most important rule. Give yourself a lot of time between your flights. I recommend a full day personally: take the opportunity to spend a day in another city to visit and explore.
Many people are really stressed because of short connections when they buy a ticket. If you buy a normal ticket, on the same airline and same itinerary who cares if your connection is too short. It'll be the airline's fault if you miss the connection and they will rebook you for free on the next flight (and if you pay for your tickets with a travel credit card, you will also be entitled to $500 for free for hotels and meals if the delay is over 4 hours).
BUT THIS IS NOT THE CASE WITH A MULTI-TICKET ITINERARY.
If you miss your connection, it does not matter who you are, you will have to buy another ticket to replace the one you missed, at your expense. Because your tickets are with different airlines, now it's your problem. So you have been warned!
Under no circumstances should you take the riss. Give yourself a full day, why not even two days, to discover the city of your stopover and make it a 2-in1 trip for (less than) the price of one! It will be safer.
If you like to play with fire, the bare minimum (and I really say the absolute minimum and it's still very dangerous) would be to give yourself six hours between your flights for a self-connection (if it's the same airport of course). It leaves you a bit of time for a delay of a few hours if there's something wrong with your first flight and it will give you the time to go back to the baggage counter and thru security if you make the two common mistakes of inexperienced travelers, which is to check a bag or not check-in online?.
ALSO READ: The Perfect Daypack That EVERY Traveller Should Have
Remember that most cities in Europe have several different airports. So if you play with fire, and in addition, you have to change airports, it could cost you a lot. While if you stay there for a day or two, it won't matter if you leave from an airport or another.
And check your arrival and departure times, because with the time zone differences, often if you leave Canada on the 21st, and you only arrive in Europe on the 22nd, so you have to account for that in your calculations as well.
3. Check Each Company's Baggage Policies
Check each company's baggage policies on your itinerary and remember that if you use ultra low-cost airlines, you will have to pay a baggage fee both ways. So as always, this is an especially beneficial trick for those who travel light!
Bottom Line
Multi-ticket itineraries can make you save hundreds of dollars if your original plane ticket is very expensive. So it's worth taking the time to use our flight search tool to compare other options.
Any questions? Ask us in the comments below.
Don't want to miss another great tip? Join the other 26,000 Canadians who've already subscribed to our newsletters!
Help us spread the word about our flight deals and travel tips by sharing this article and most importantly bookmark Flytrippers so we can help you navigate the world of low-cost travel!
Advertiser Disclosure: Flytrippers receives a commission on links featured in this blog post. We appreciate if you use them, especially given it never costs you anything more to do so, and we thank you for supporting the site and making it possible for us to keep finding the best travel deals and content for you. In the interest of transparency, know that we will NEVER recommend a product or service we do not believe in or that we do not use ourselves, as our reputation and credibility is worth far more than any commission. This principle is an essential and non-negotiable part of all our partnerships: we will never give any third-party any control whatsoever on our content. For more information on our advertiser disclosure, click here.
Share this post to help us help more people travel more for less: