Unless you really don't have a choice, you should not go on vacation during the summer. If you want to travel more, it makes no sense at all, because just moving your holiday up (or back) a few weeks can save you hundreds of dollars: enough for another trip honestly.
As you know, we spot great limited-time flight deals on our main page, that's our main focus. A lot of people ask us why we don't post deals during the summertime that often. Well, that's easy: there just aren't many deals during the summer. Everyone is on vacation at the same time, so prices are exponentially higher.
So this year we launched a special "peak period deals" page, which you can access via the large orange square on your city's deal page. These prices aren't as low as the really great prices you'll find for dates outside of peak periods (the rest of the year) on our cheap flights deals page, but these are still prices that can be considered a deal compared to regular prices in summer (and don't miss our article next week with tips for those who really need to travel in the summer).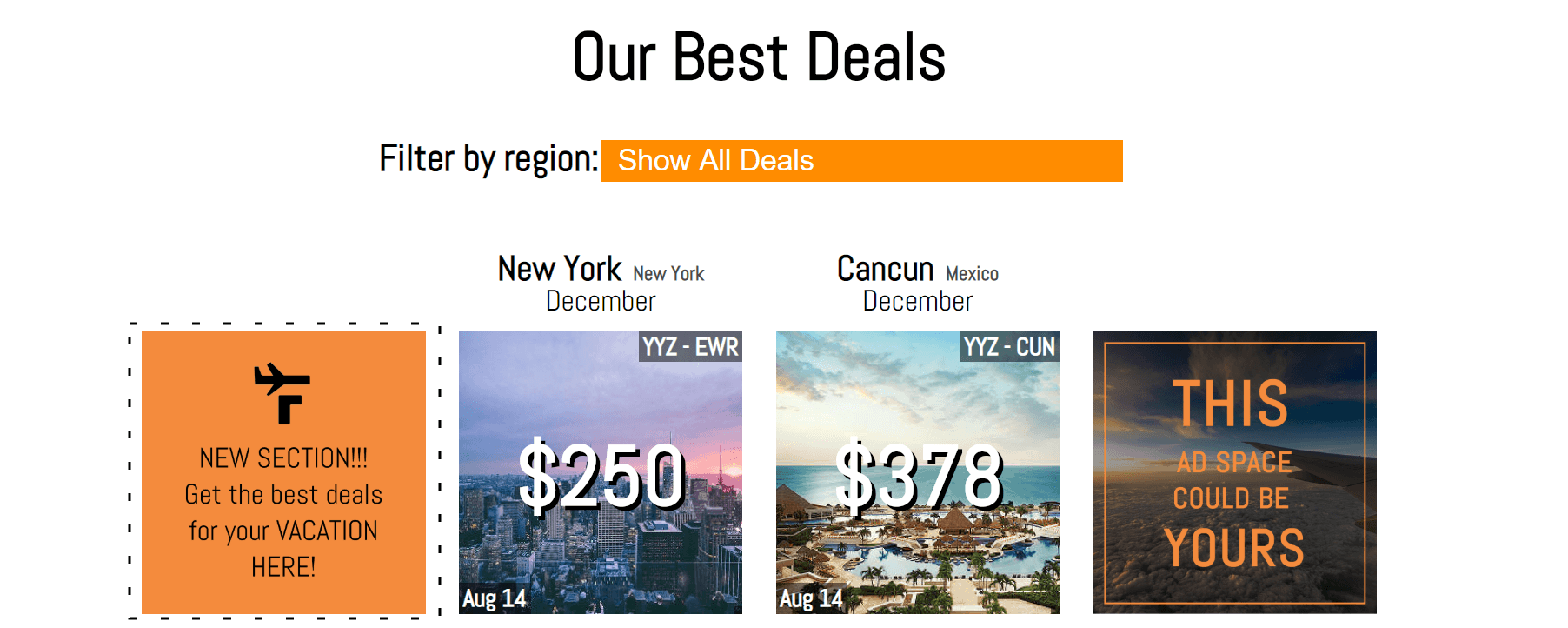 So in short, many readers have messaged us to say that they want to travel during the summer. That's normal, everyone is used to going on vacation at that time, so many (wrongly) believe that this is a good time to travel.
Yet, unless you really do not have a choice, it's completely illogical to go on vacation in the summer. I know a lot of people who ask me for tips on how to save on their flights and who are disappointed that there isn't really an easy way to save money or find a bargain when it comes to flights in the middle of July… but the saddest part is that many are friends or acquaintances who have absolutely no reason to go on vacation in July.
So clearly, we need to talk about it, because there are far too many people who do not realize how much of a huge difference it can make. Prices during the summer are 2 times, 3 times and even often 4 times more expensive than the rest of the year. For the plane ticket (which is the travel expense whose price will vary the most of course) but also for accommodation, the other big expense, which will obviously be much more expensive in summer (again, that makes sense).
I will give you concrete examples below.
But first, to help you save for next year at least, here are the only 2 valid reasons for you to go on vacation during the peak summer season:
you have children, so you do not have a choice
your employer really does not give you the choice to go on vacation at another time
All others, so anyone who does not have kids and who isn't 100% obligated to take their vacations in the summer because of their work: you should not do so unless you want to pay 2 times more than you should. Personally I am addicted to good deals, and I hate to pay more. So I do not go on vacation during the summer. Never did in 10 years working full-time! It just doesn't make sense.
You should do the same if you want to keep your money and travel more often! Clearly, a lot of people still choose the summertime to go on vacation even if they don't have to, not even realizing that it's a bad idea that will cost them hundreds of dollars more. Not to mention being stuck with hordes of tourists everywhere they go, a problem that isn't nearly as bad in May or September.
In addition, the 3 months of summer are about the only time when the weather is nice in Canada (in most parts at least), so there is no need to go somewhere else. Take advantage of your weekends to enjoy nearby activities and keep your vacation for the end of August (the best week for your summer vacation) or until September. That month is just as beautiful as summer in many destinations.
The small sacrifice of spending July and August without a holiday will literally give you almost 2 trips for the price of one, so it's worth it.
Examples
To illustrate the whole situation and make sure you understand that it does not make sense to go on vacation during the summer when you have the option not to, here are some of the best deals we've spotted for flights (from Montreal for the example, but the same logic applies to every one of our 9 Canadian cities that often feature deals just as good):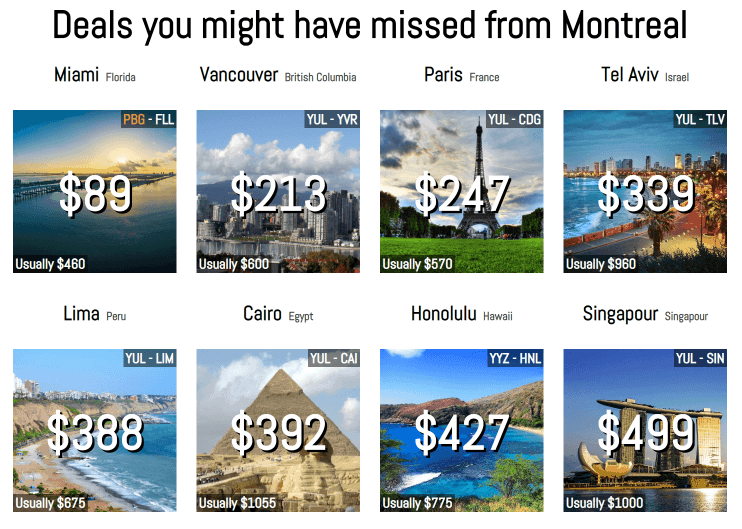 Florida for $89 roundtrip (the only one that is from Plattsburgh and not Montreal proper) …  in the summer we're talking ≈ $450 (about 5 times more)
Vancouver for $213 roundtrip (rare, but more and more often in the $300s) … in the summer it's ≈ $700 (about 3 times more)
Paris for $261 roundtrip (rare, but often $389) … in the summer it's ≈ $1,000 (about 3-4 times more)
Tel Aviv for $339 roundtrip (or even Egypt for $392) … in the summer it's ≈ $1,500 (about 3 times more)
Peru for $388 roundtrip (it was in late August, I bought it myself) … earlier in the summer it's ≈ $1,100 (about 3 times more)
Hawaii for $427 roundtrip (often available the last week of August) … in the summer it's ≈ $900 (about 2 times more)
Hong Kong for $460 roundtrip (or even Singapore for $499) … in the summer it's ≈ $1,500 (about 3 times more)
Dubai for $496 roundtrip … in the summer it's ≈ $1,600 (about 3 times more)
Now you see what we mean… I don't know about you, but I would hate to pay 3 times the price for exactly the same thing. I don't like it and I do not find it logical at all. At least for those who have a choice, as I've been saying all along this post.
Finding a half-price deal by having flexibility with your destination and especially your dates (by avoiding summer travel) will always be the best way to travel at a low price, since plane ticket prices can vary so much. I'll talk more about flight deals again in the last section.
For accommodation, there are thousands of options and deals are almost nonexistent (which is why we do not find that part of the trip for you), and it is about the same principle for prices in the summer. For those who want to travel like us (that means really cheap), traveling in summer is just an all-around bad idea.
To give you just one other example, during our recent Facebook Live Q&A, someone asked a question about one of my blogs where I said that even in Chicago, an expensive city, I found a hostel for $20 a night. He said he only saw hostels starting at $50, which is quite a difference (yes, it's 150% more). Well, this is the best example of how much of a difference it can make to travel in the high season. If you more than double your nightly accommodation budget, that's pretty awful, right? For exactly the same thing.
So you should avoid traveling in the summer if you can.
Flight Deals
Back to our specialty, flight deals. Are there any good deals during the summer? No.
In fact, sometimes there are sometimes prices that are a bit lower… but no deals at really low prices like the rest of the year. Again, since everyone (or almost everyone) wants to travel, this is the most expensive time of year for flights, along with the Christmas holidays or Spring Break.
Airlines will fill up their planes without discounting seats, so it makes sense that there are no deals. More people than usual want to fly… and airlines don't have more planes in the summer. They basically have the same capacity as the rest of the year. More passengers, same number of seats: the result is that tickets are much more expensive. It is very simple: it is basic economics, supply and demand.
There are a few possible solutions, but unfortunately it's clear that you're probably not going to find a crazy deal, like our half-price flights every day on our flight deals page.
So, you can start by checking out our new "peak period deals" page mentioned earlier, but more importantly, there are some very simple tips to save money. We will talk about these next week. Don't forget to subscribe to our free newsletter so you do not miss our deals and tips.
Bottom Line
Traveling during the summer is very expensive, so avoid it at all costs. That will enable you to travel more often the rest of the year, for the same price. Next week, don't miss our tips to travel during the summer at a lower cost for those who don't have a choice, so you can start planning ahead for 2019 (scoop: planning ahead is the key for peak travel periods).
When is your favorite time to go on vacation? Let us know in the comments!
Help us spread the word about our flight deals and travel tips by sharing this article and most importantly bookmark Flytrippers so we can help you navigate the world of low-cost travel!
Advertiser Disclosure: Flytrippers receives a commission on links featured in this blog post. We appreciate if you use them, especially given it never costs you anything more to do so, and we thank you for supporting the site and making it possible for us to keep finding the best travel deals and content for you. In the interest of transparency, know that we will NEVER recommend a product or service we do not believe in or that we do not use ourselves, as our reputation and credibility is worth far more than any commission. This principle is an essential and non-negotiable part of all our partnerships: we will never give any third-party any control whatsoever on our content. For more information on our advertiser disclosure, click here.
Share this post to help us help more people travel more for less: