In 2017, I chose a long connection for my flight, as I always do whenever I can if it's the same price, since I like to travel. This allowed me to spend a full day in Kyiv. Vladimir Putin was already not very popular, as you can see in the picture I took, because of the annexation of Crimea among other things.
Since it's already the 1-year anniversary of the invasion of Ukraine, I'll share memories of my day there in 2017 with you. Flytrippers' other co-founder, Kevin, talked about the week he spent in Kyiv much more recently (in November 2021) and had mentioned a bit of this daytrip too.
So here are my 12 pictures of Kyiv, Ukraine.
I was able to go there for free (not for free with travel rewards, that is obviously easy; for free free!). By applying 4 of our best tips to save on flights, which I'll detail in a separate logistics post soon. I promised a teaser to 2 tips, so that's the first: learning to save on flights can be very worthwhile. To be continued.
In fact, we'll have a lot more content to help you stop overpaying for travel like so many people do. It honestly fascinates me how much money many of you pay for travel, it's terrible… at least download our free ebook with 100+ travel tips that has the top 7 most important pro tricks to travel for less!
On the way to Kyiv's city center (and a top tip to travel for less)
The first thing we notice on the way from the airport to the city center is how modern it is.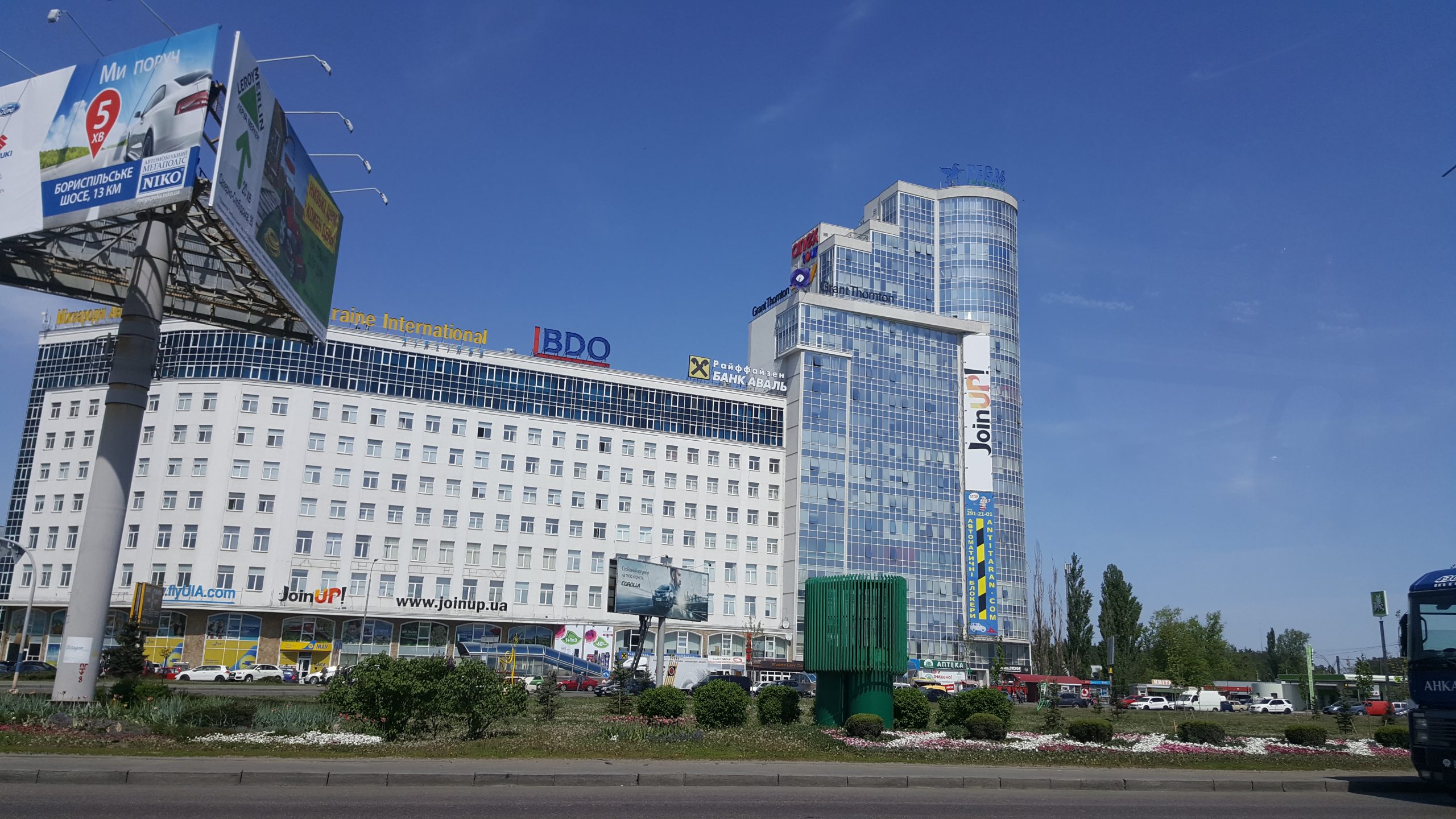 And that's despite the cost of living being extremely low; it really isn't true that things are ugly and crooked in affordable countries! It was the same thing in Central Asia in May 2021 and in Southeast Asia in 2019, 2 places where traveling cost me way less than C$30 per day in total!
Here's the 2nd tip I'm sharing to give you a but of added value while you wait for our upcoming content.
One of the very best tips to travel for less is so simple: go to countries that are more affordable!
No wonder most travelers believe in the myth that travel is expensive! It's worth repeating, especially now with many travelers who complain about inflation… but who still only travel to the expensive countries!
In the dozens of affordable countries, it's just as beautiful and way more authentic too! Fewer tourists is literally always a good thing. We'll discuss this more in future posts, but this tip is not rocket science either.
For example, in Europe, Albania is so beautiful and one of the best-kept secrets on the continent. Exceedingly cheaper than Croatia or Greece nearby. Pretty much just as beautiful.
(And just as "safe", for those who are very scared of everything… a year ago when Ukraine was invaded, some travelers even wanted to cancel trips to Croatia, a NATO member that has nothing to do with the conflict…)
Anyway, to get back to Kyiv's modern buildings, that's precisely what seems to make the war in Ukraine more "shocking" to many people — at least compared to the many other deadly conflicts constantly going on around the world that nobody talks about and that nobody seems to ever care about — it really looks like home there.
It's a war in a "Western" and modern country.
Having said that, I'll just add that having been to 67 countries… there are really modern buildings everywhere.
When I went to Iraq just before the pandemic, I took pictures that could easily look like they were taken in countries that are popular with the typical tourists who always stick to Western Europe or North America.
That's actually one of the things that strike me the most about my journey around the world and my quest to go to every country. Everything is becoming more and more similar everywhere, and that's why I, for one, am looking for a change of scenery and a culture shock above everything else (like in Transnistria, a non-existing "country" I recently introduced you to, which is sadly perhaps the next one on Putin's list).
Every day that goes by, it'll become more and more challenging to feel that shock, unfortunately.
So don't waste time and start traveling more! We'll help you do that, and it's honestly easy when you know all the pro tips!
The view of the river and the large park
The large park surrounding the Motherland Monument has a lot of greenery and offers a beautiful view of the Dnipro River, the Pivdennyi Bridge, and a bit of the cityscape.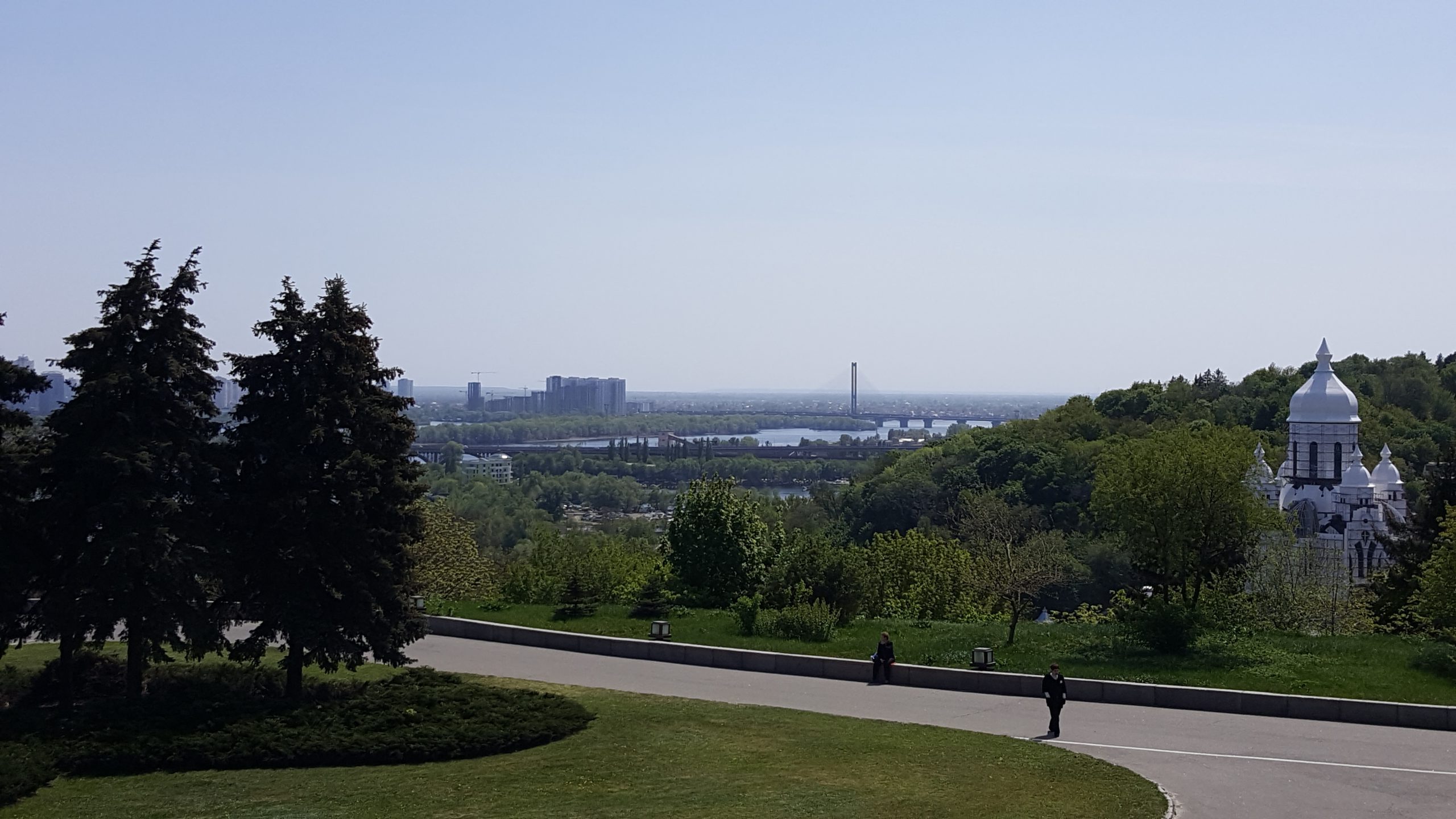 But the most impressive thing to see in this place, and probably in the whole city, is really the huge statue.
The first thing to know is that female statues are rare in the world, so it's a must-see. And this one is really imposing, too.
Here it is with me in the foreground to put its size in perspective and show you how big it is.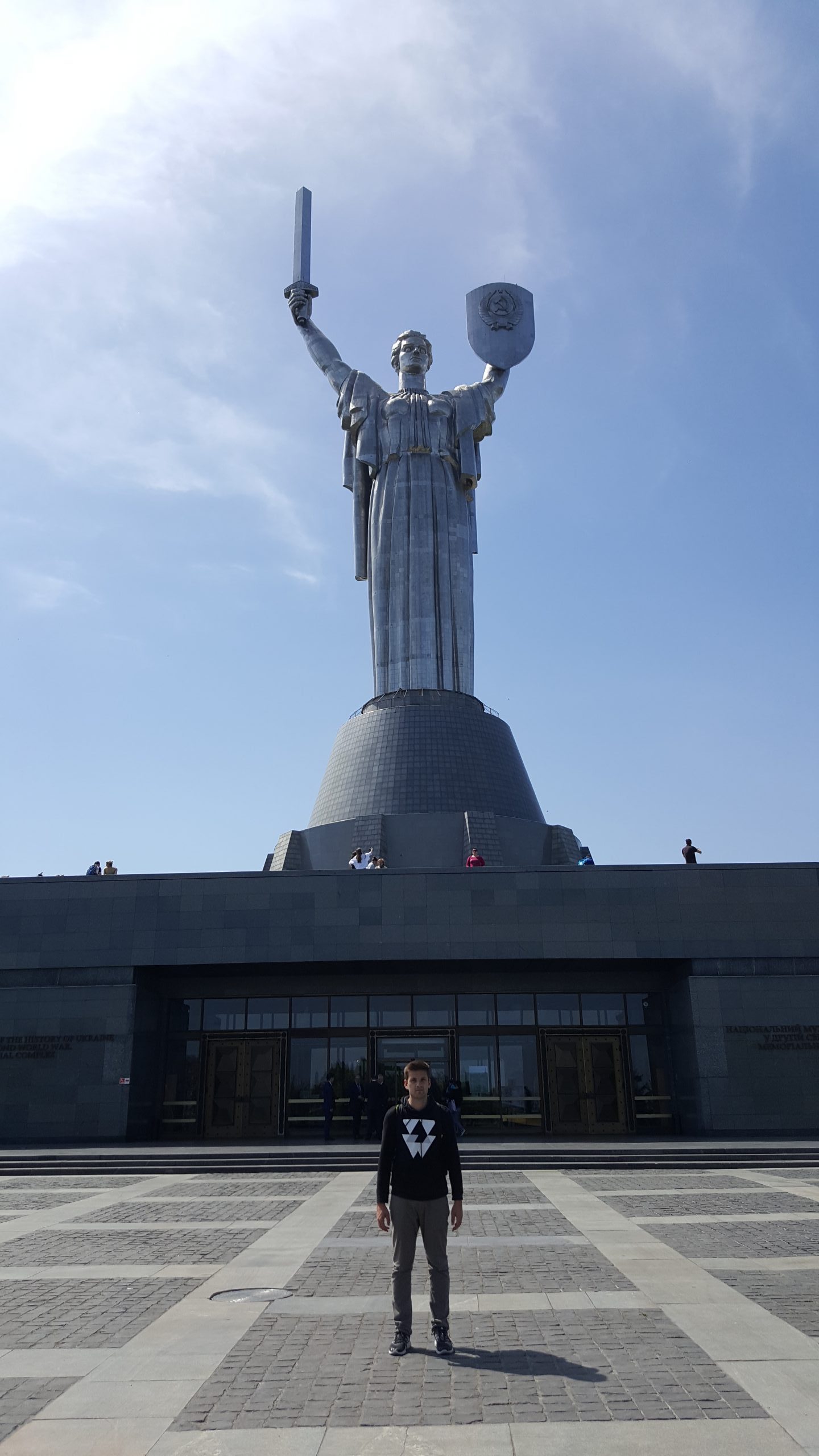 To stick with the military theme, I also took this picture of me on a tank bearing the colors of the Ukrainian flag.
The several Russian tanks Ukrainian farmers have managed to steal from the soldiers in the current war (or all the foreign tanks sent in aid to Ukraine) might be added to this site when this is all over.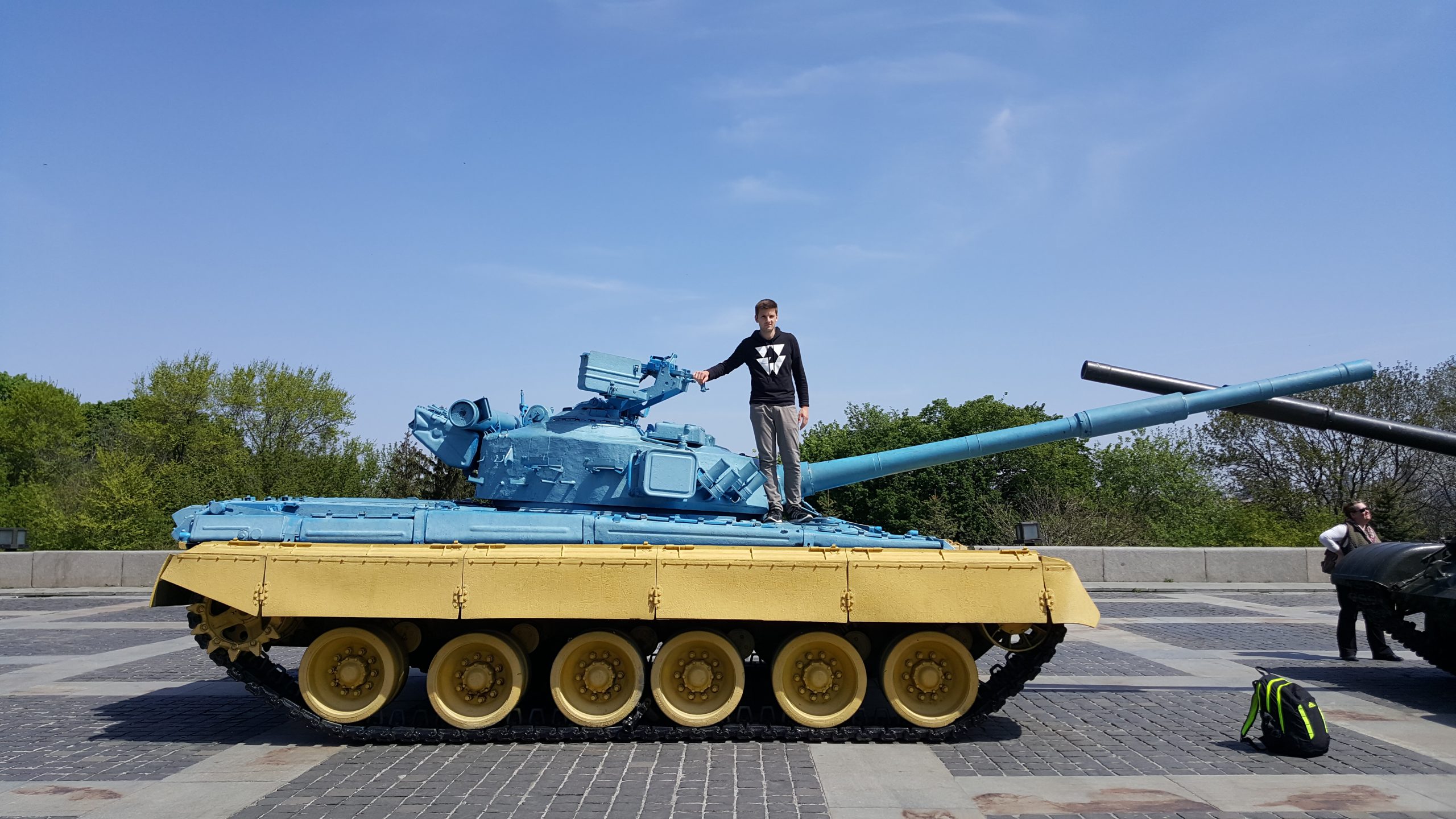 Other tip: that small backpack was all I had for those 3 weeks of travel, for those who really think it's impossible to travel with carry-ons only (which means a big 50L backpack AND that small backpack too) — and who are obviously very wrong.
That was much, much smaller! We'll soon have an article on how to travel light (we did a teaser already), so make sure to sign up for our free newsletter so you don't miss it. It's okay not to want to travel light, but it's not okay to say it's not doable.
Back to Kyiv… it gives me shivers to think that this bullet-riddled car could be joined by hundreds of others now, in 2023. To think of this beautiful country, now riddled with bullets…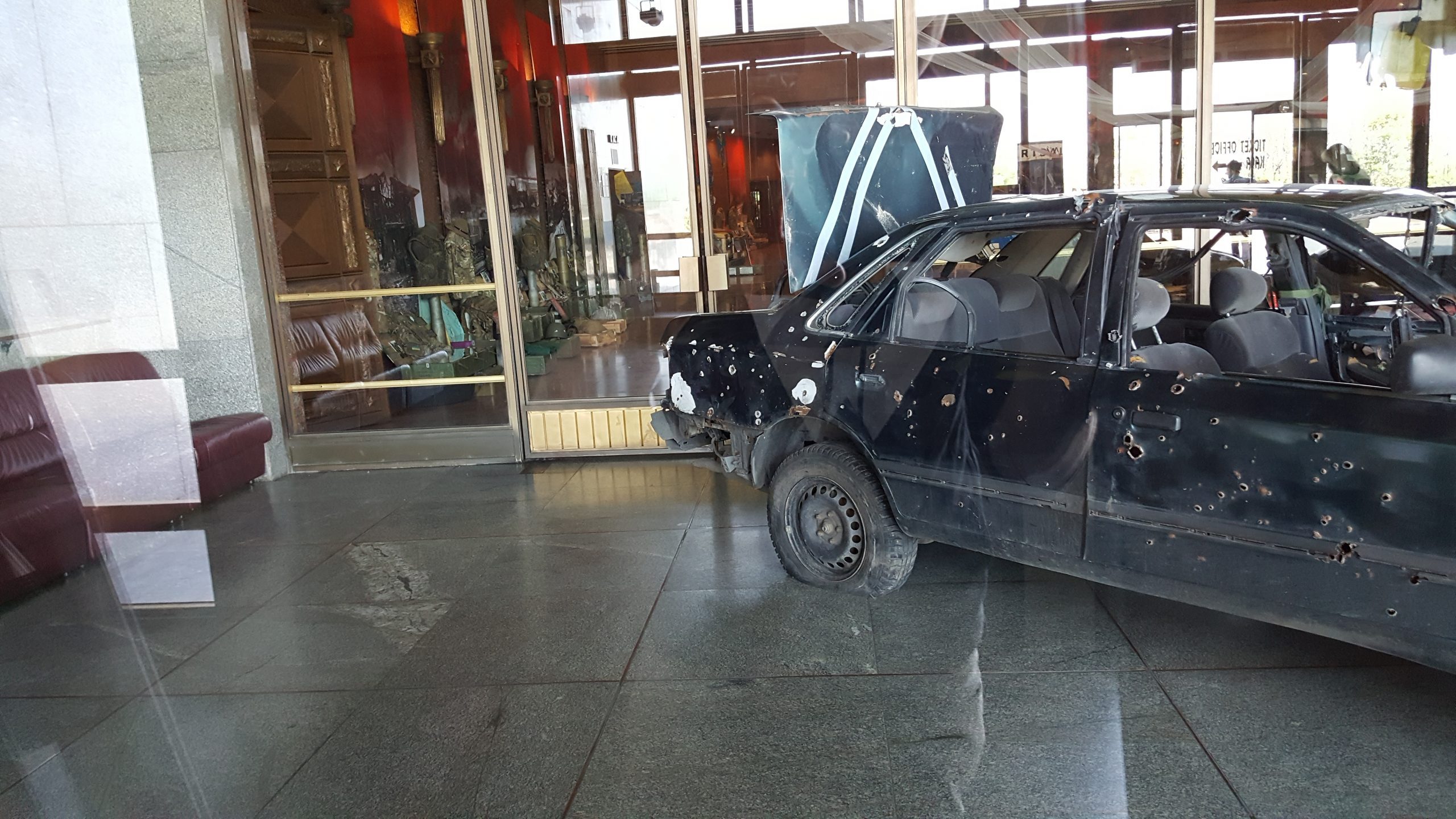 When I see all these war monuments and structures, I can't help but think how stupid it was that people killed each other in the past…
But the worst thing is that it's still going on; it's not just in the past!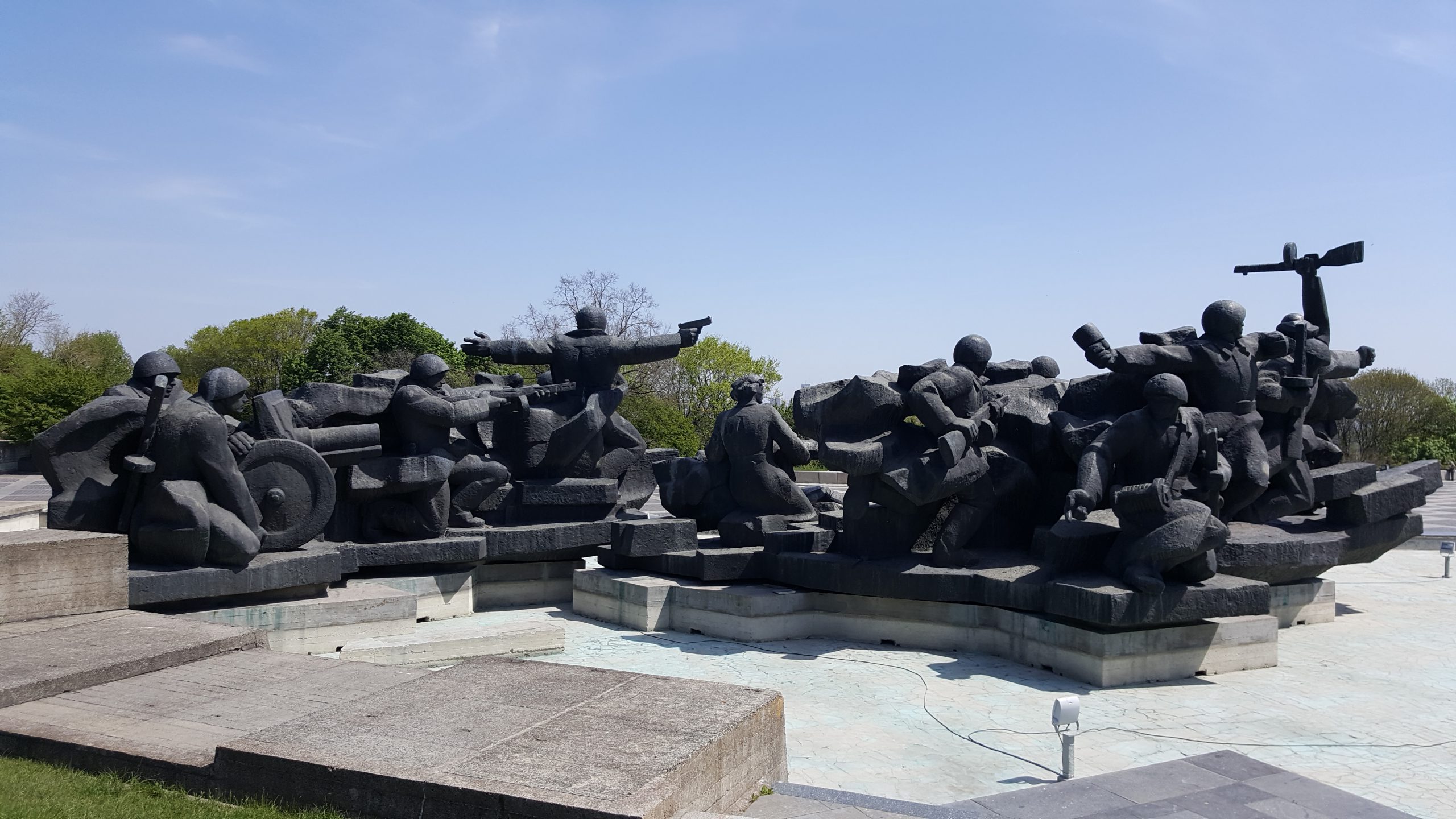 But anyway, this site also has artillery exhibits, which is not necessarily the most interesting thing to see for many travelers.
But to each their own, as they say.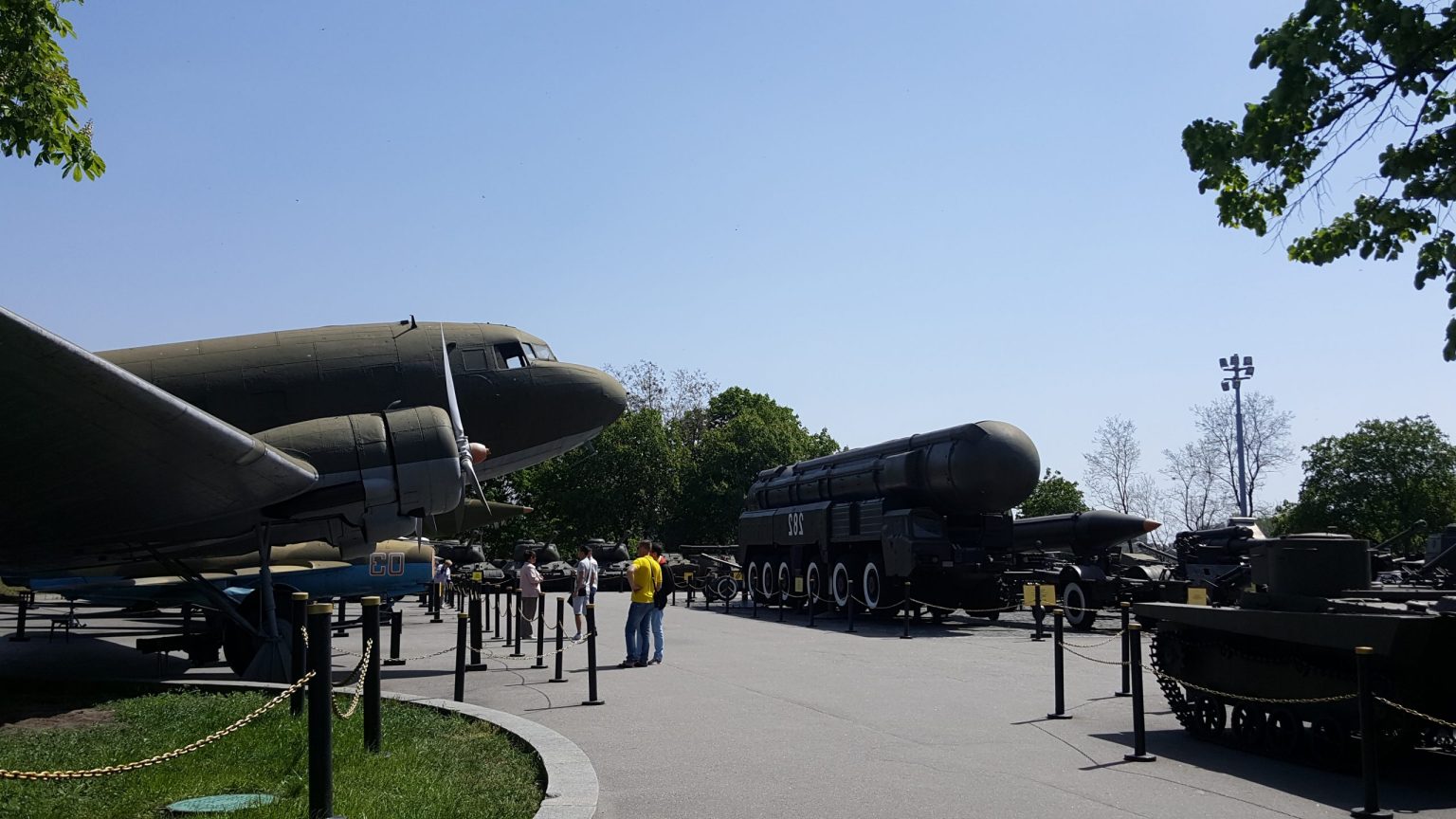 Kyiv's historic sites
Nearby, you can discover many beautiful buildings in the historic city center.
The famous egg near the Kyiv Caves Lavra is quite unique.
The orthodox architecture typical of this region is really pretty.
(At least in my opinion, as an architecture lover!)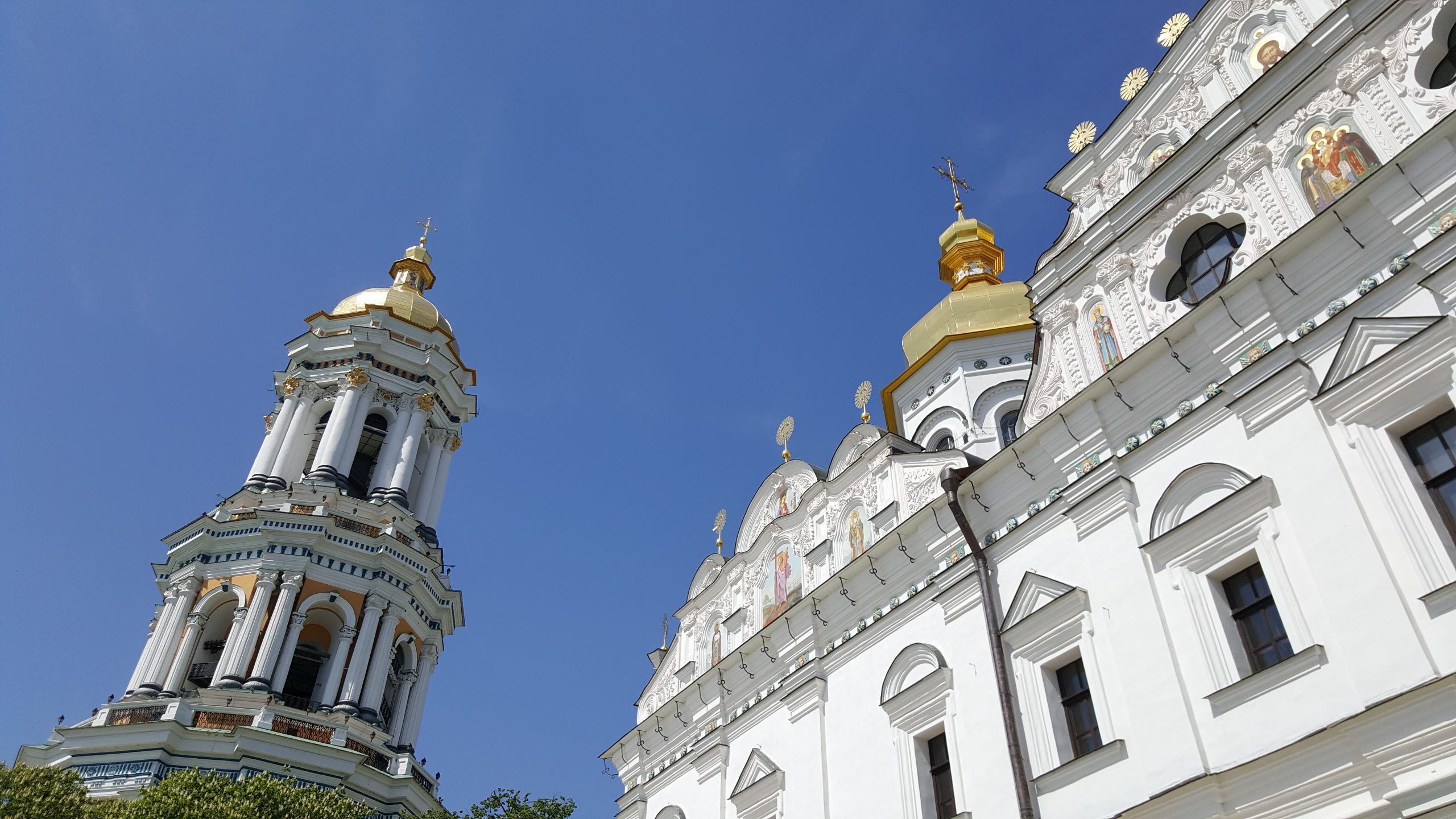 It really is beautiful.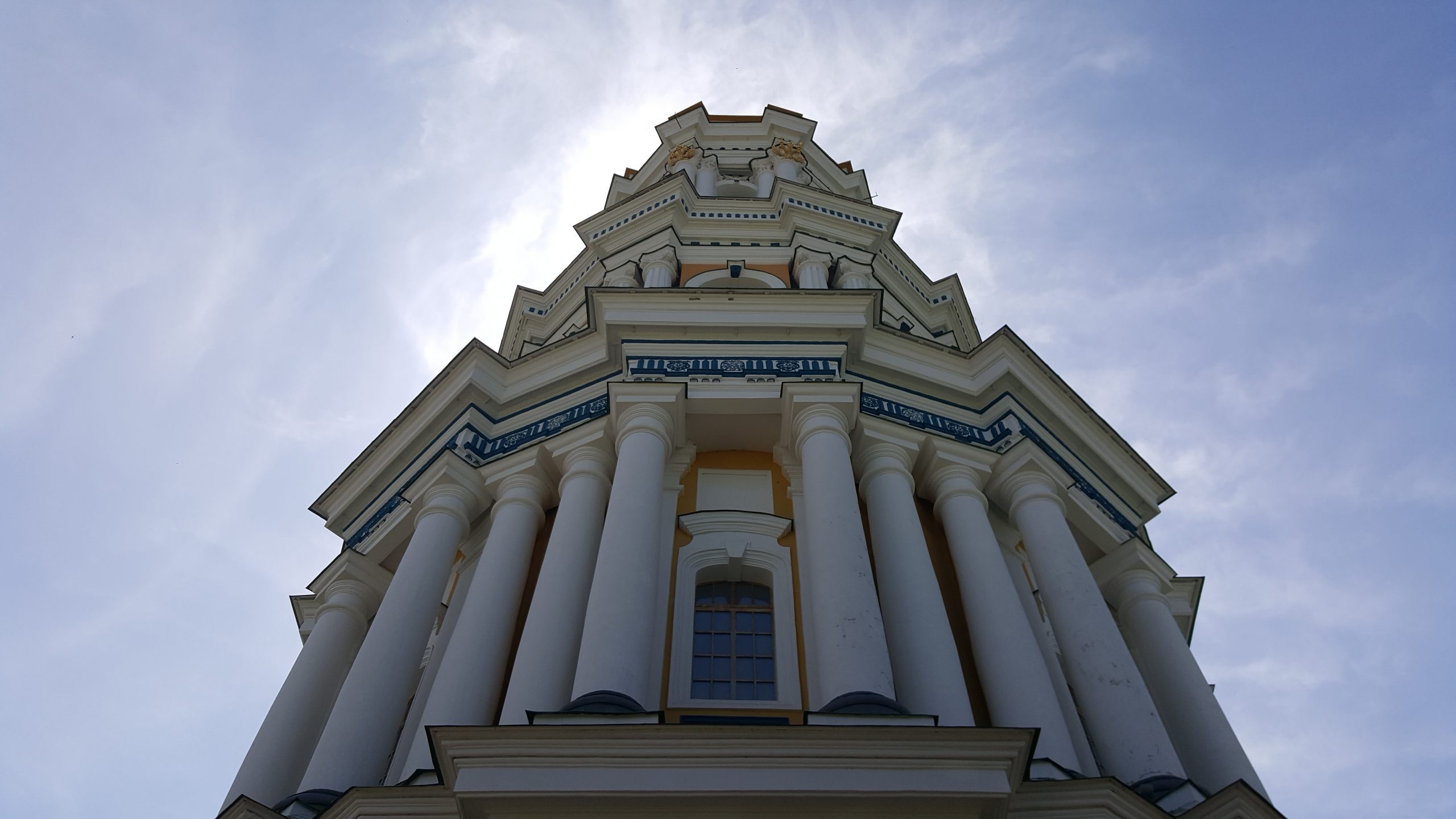 Of course, as in most places, religious sites are often very well preserved.
(It helps that these usually had way bigger construction budgets than other sites back then, too!)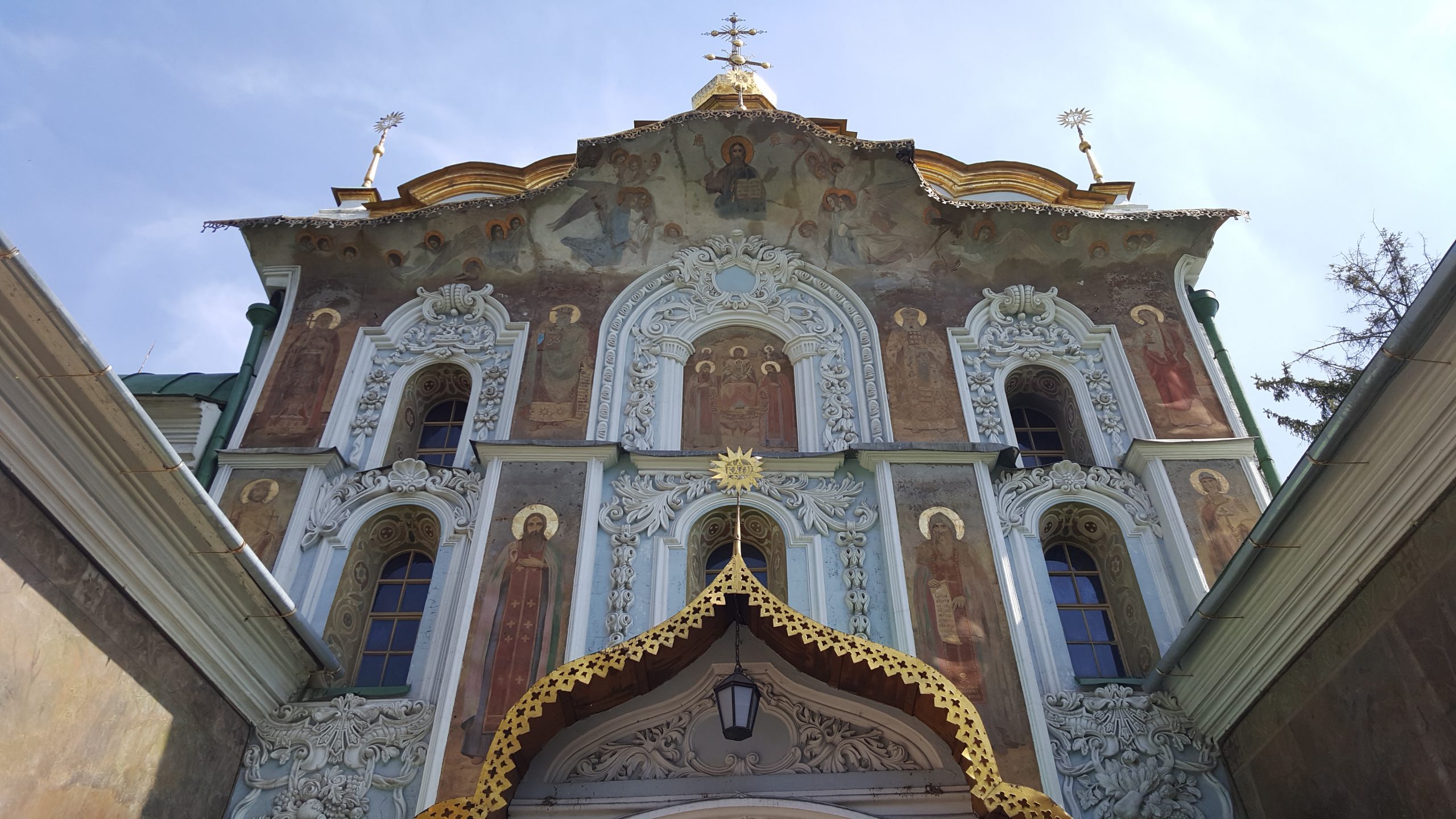 Finally, since Flytrippers loves to give you more for your money and add bonus points to our lists, I'm adding a 13th picture just for fun.
I thought it was funny that they confused the Canadian and Polish flags — seriously they're really nothing alike; not the same ratio, not the same orientation for the bands, not the same number of bands, one has bands only and the other doesn't…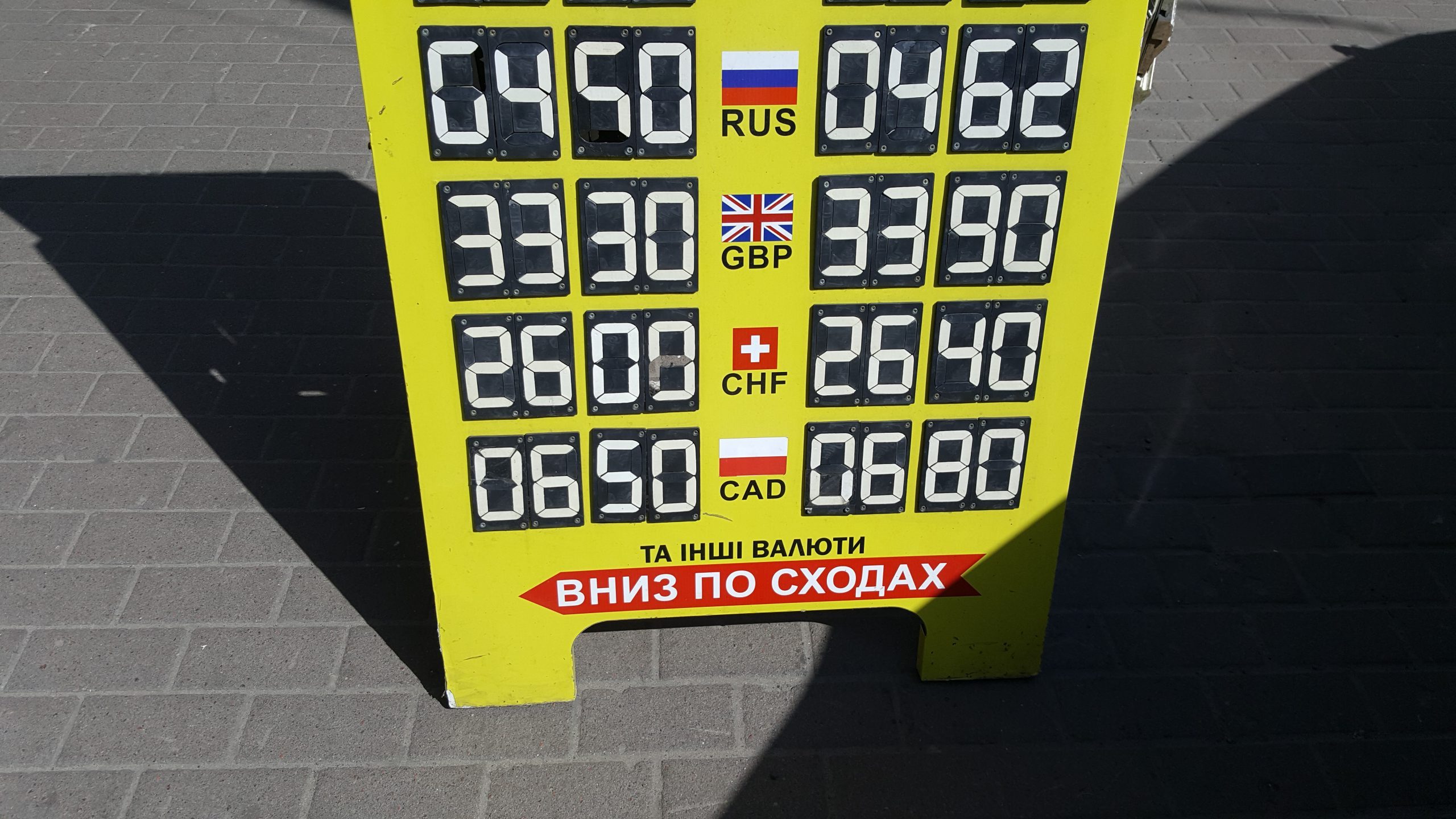 Many of the current invasion's refugees have gone to Poland, so maybe they'll now recognize the neighboring country's flag.
Want to get tips on how to travel more for less?
Summary
Kyiv is a beautiful city that I was lucky enough to visit during a long stopover in 2017 and was eager to discover again. Let's just hope the raging war ends, for their sake first, of course, but also for that of travelers.
What would you like to know about Kyiv? Tell us in the comments below.
See the deals we spot: Cheap flights
Explore awesome destinations: Travel inspiration
Learn pro tricks: Travel tips
Discover free travel: Travel rewards
Featured image: "fuck u Putin" sticker in Kyiv in 2017 (photo credit: Andrew D'Amours/Flytrippers)
Share this post to help us help more people travel more for less: