Last November, when I was slowly making my way back from Central Asia, I booked the cheapest westbound flight I could find, which brought me to Kyiv, in Ukraine. It was my second time there, and I enjoyed it so much that it validated my desire to go back for a third time in the spring.
Now, seeing what's happening there, I thought I'd share my impressions of this beautiful city that's currently being destroyed.
How I ended up in Kyiv
I actually spent almost half of 2021 in former Soviet republics with this short trip to Ukraine, a few months in Georgia, and a month in Central Asia (Kyrgyzstan and Uzbekistan; those 2 posts are from Flytrippers' other co-founder Andrew who went there in 2021 too).
I don't write as much as he does, but I did write an introduction on how to become a digital nomad, because I've been living abroad for the better part of the last 3 years.
While in Tbilisi, Georgia, I had met a friend who was from Ukraine, and we decided to meet up again with other locals while I was in Kyiv. They gave me a private tour of their city and took me to a few of their favorite spots, which was great.
We went out to a couple of different bars, like to the Drunken Cherry for some traditional Ukrainian warm cherry wine, to a Mexican place to have margaritas, and even to an underground bar for some Latin dancing. It really was a nice "normal" city.
I had already visited Kyiv for a few days on a long layover with Andrew in 2017. If you've been following us for a while, you know how much we love long layovers.
They're really awesome, for 2 main reasons:
They help you save a lot of money:

flights with layovers are usually much, much cheaper than direct flights (think half the regular price)! And saving money = traveling more

They help you visit more places in one trip:

I think we can all agree that it's better to see a city for a few hours than to not see it at all, right? And visiting places = the definition of travel
Even with some restrictions remaining in certain countries, it's still possible to take advantage of long layovers. I just did another one last week in São Paulo, Brazil, where I stayed 1 night and 1 day on my way to Buenos Aires, Argentina where I am now.

I paid for that ticket with my Aeroplan points, so long layovers are possible whether you pay with cash or with travel rewards.
All you have to do is to make sure you follow that country's travel requirements, of course (it's easy if you do a long layover in the 81 countries that don't require tests), in addition to normal visa rules (if any). Our ultimate guide on the 190 countries and territories where Canadians are allowed to travel can help you with travel rules.
Anyway, even though we didn't stay in Ukraine for long in 2017, we had a full day to visit major attractions like the Kyiv Pechersk Lavra, considered one of Ukraine's 7 wonders. This monastery is the holiest site in the country, with a series of underlying caves where mummified monks are still preserved (by cold air only) to this day.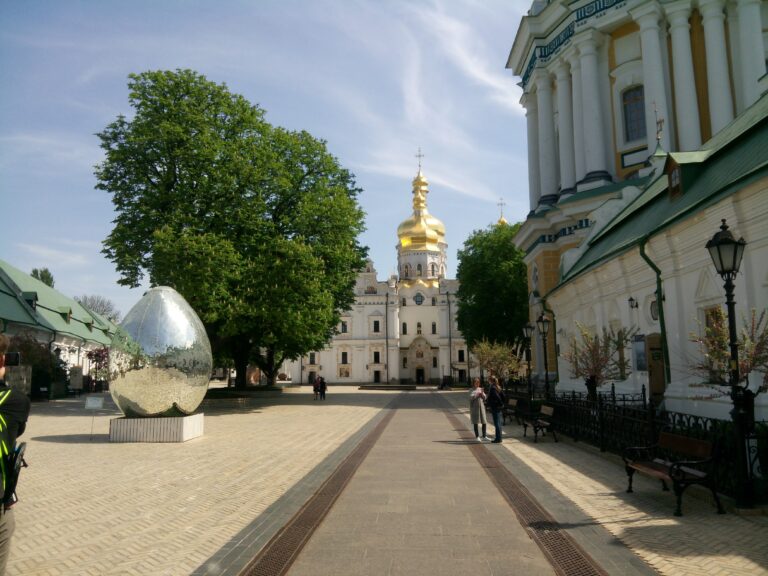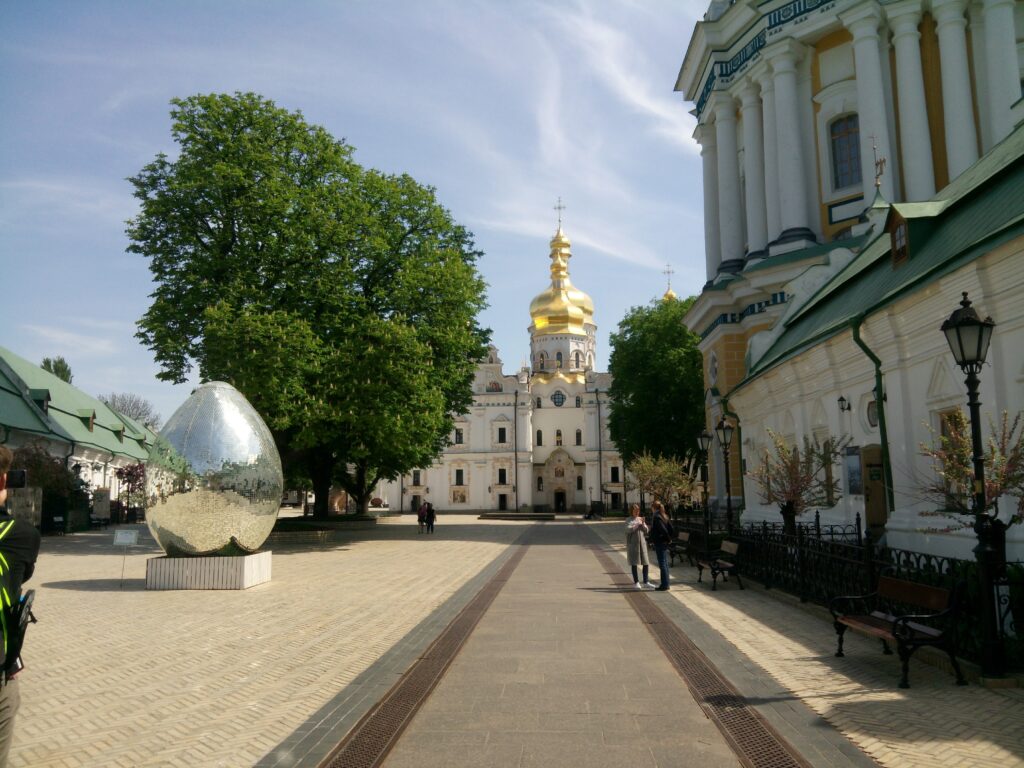 We also visited the Ukrainian Motherland Monument, a symbol of the people's heroic accomplishments during World War II.
It's very impressive.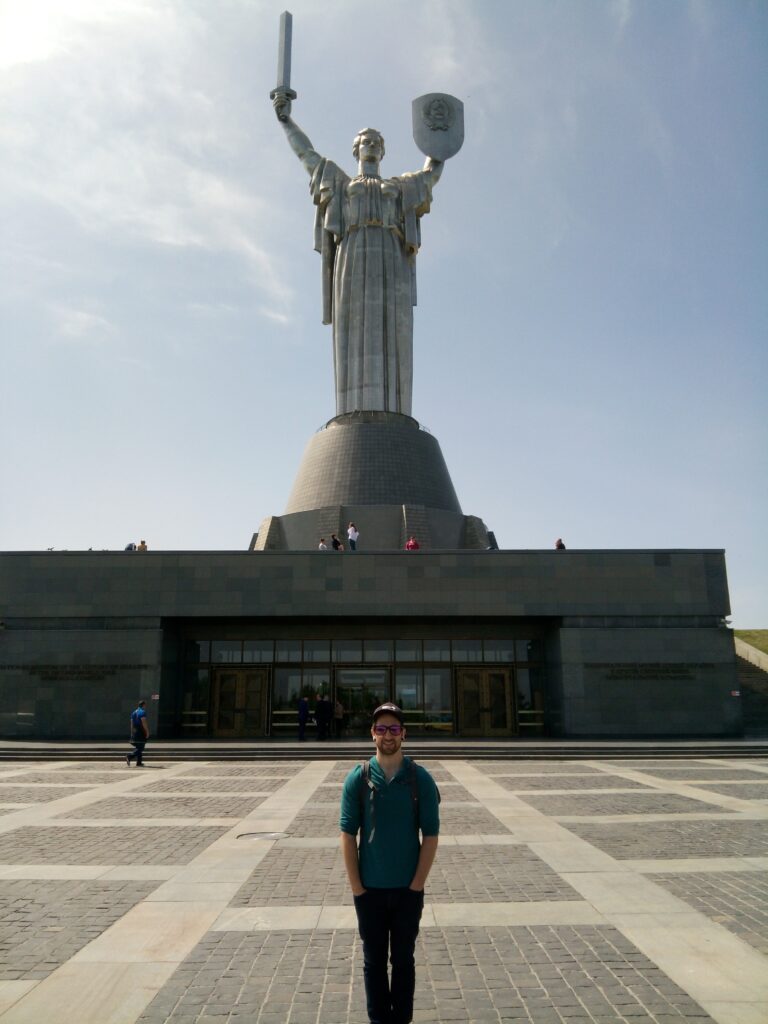 Both are located within walking distance of each other, so it's really convenient even if you don't have a lot of time on your hands (when you only have one day to visit a city, you need to plan strategically and prepare well to maximize your time).
This past November, though, I was able to experience the beautiful city of Kyiv for a little longer. I stayed there for a full week before continuing on to Poland on a separate ticket to eventually make it back to Canada in time for the holidays (with a 10-day buffer before Christmas just in case I was selected for the arrival test and tested positive, but I was not selected — those arrival tests have changed recently by the way).
Just like long layovers are great to save money, buying separate tickets for long or expensive journeys also can save you half the price! Andrew will write up a post about our separate tickets trick soon, it's really one of the best ways to save money on flights!
Living in Kyiv
I loved staying in Kyiv! Just before I got there, I had booked a relatively cheap Airbnb where I stayed for the week to experience life as a local.
I usually prefer those to hotels for longer stays — unlike Andrew who never stays in Airbnbs and prefers hostels and hotels (both of us travel differently enough that we can help out all types of travelers with our experience).
But by staying at Airbnbs, I like that I don't have to always go out and buy food 3 times a day: I can cook something at home too. My Airbnb was C$35 per night, which is not among the cheapest at all. That's because I booked the day I arrived (last minute is almost always more expensive), since I didn't really plan ahead for this stop in Ukraine.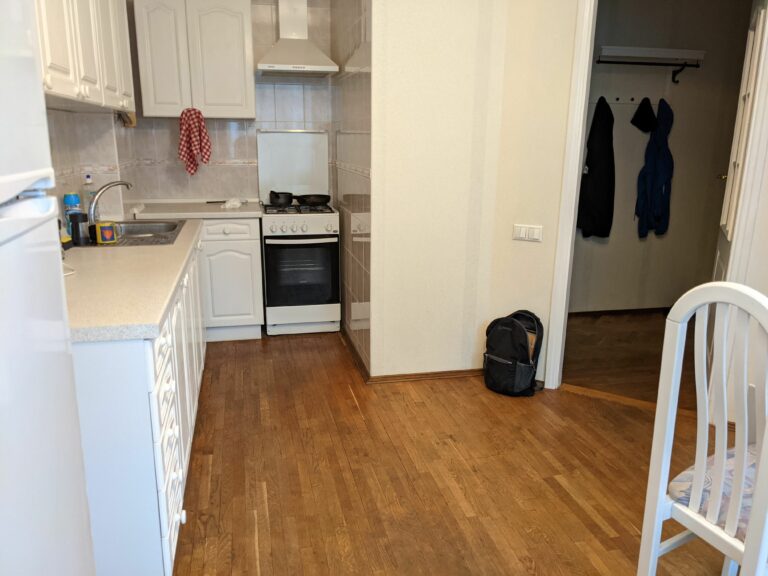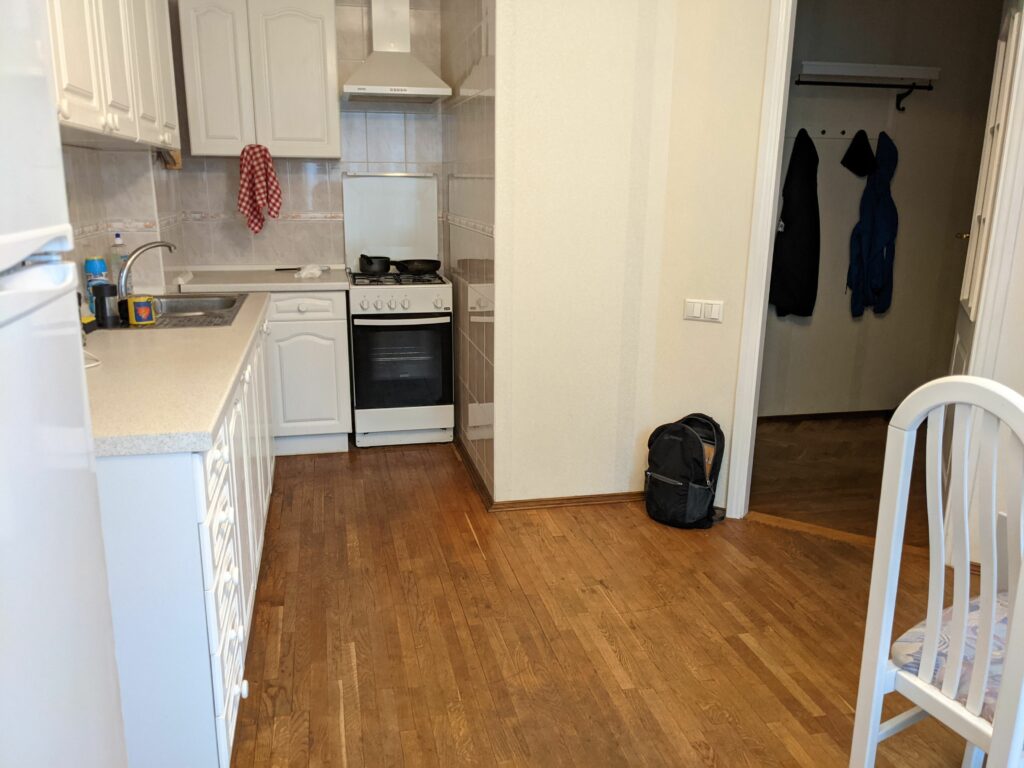 By the way, a lot of people are booking Airbnbs in Ukraine for the upcoming nights with no intention of going there, just as a way to support Ukrainian hosts and give them money. Others are donating to help accommodate refugees in Poland and other neighboring countries. We'll have more details on that in a separate post.
I wasn't able to visit as much as I would have liked because I was working most of the time (that's also what being a digital nomad is all about), and because I honestly was very serious about returning for a longer stay in the spring (better weather than in November).
But I walked around the city a lot. I'm not sure what my expectations of the city were before getting there, but I found Kyiv to be a really modern city. The cost of living there is also obviously a lot cheaper than what you get in western European countries.
My highlights
I think what struck me the most about Kyiv was the mix of old and new. After spending 3 months in Georgia and one in Kyrgyzstan/Uzbekistan, I was surprised to find so many cool cafes, hip restaurants, and modern buildings in a city that's also filled with old Ukrainian and Soviet architecture.
There are many places worth seeing in the city, of course, but here are a few highlights of my most recent trip.
St. Michael's Golden-Domed Monastery
Originally built in the 12th century, it was torn down by the Soviets in the 1930s and then restored and reopened after Ukraine gained independence from the USSR.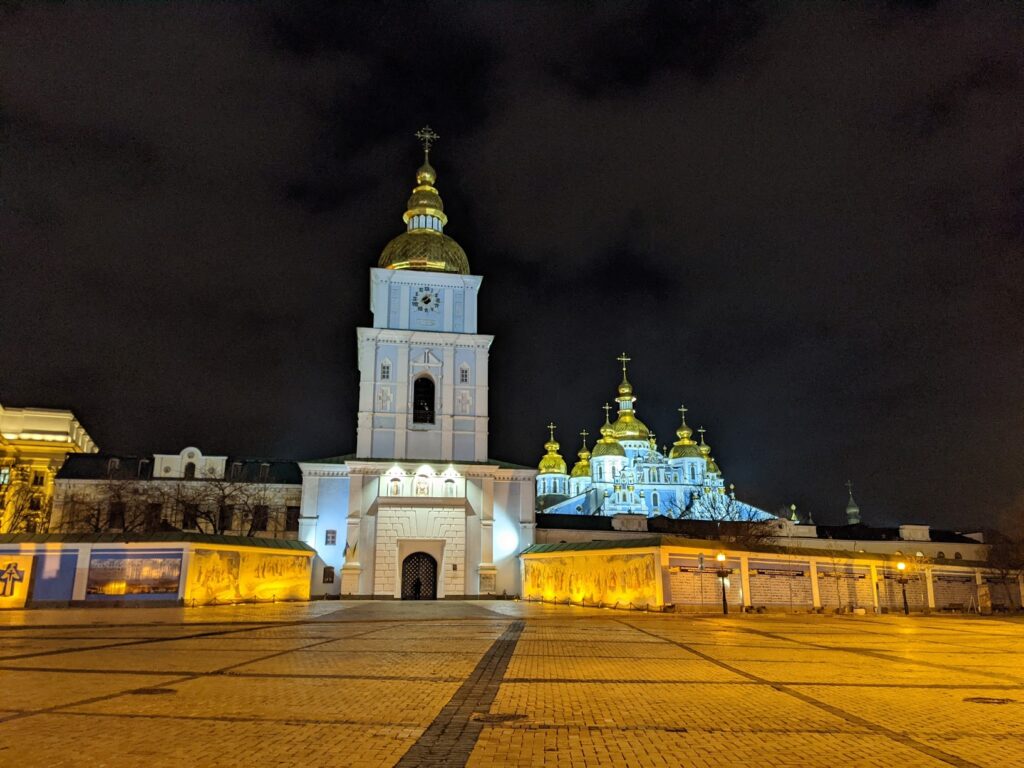 St. Sophia's Cathedral
This is the city's oldest church, known for its preserved frescoes and mosaics. It's a perfect example of typical Ukrainian architecture.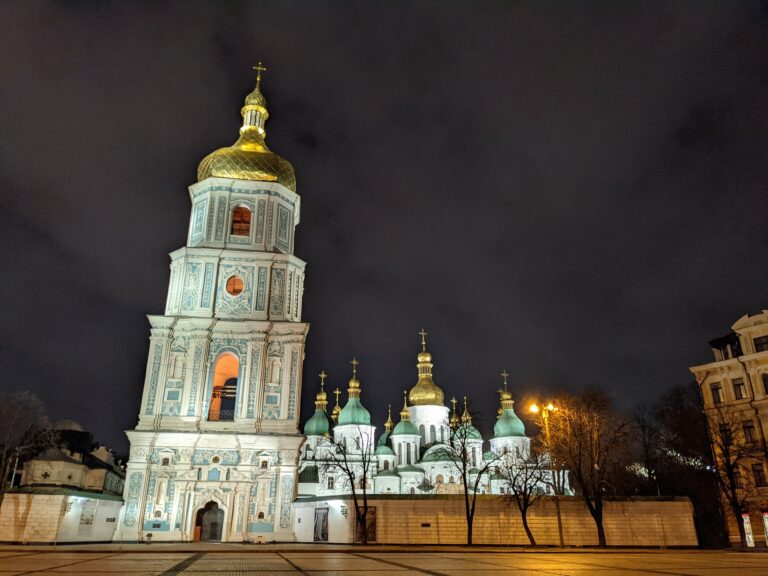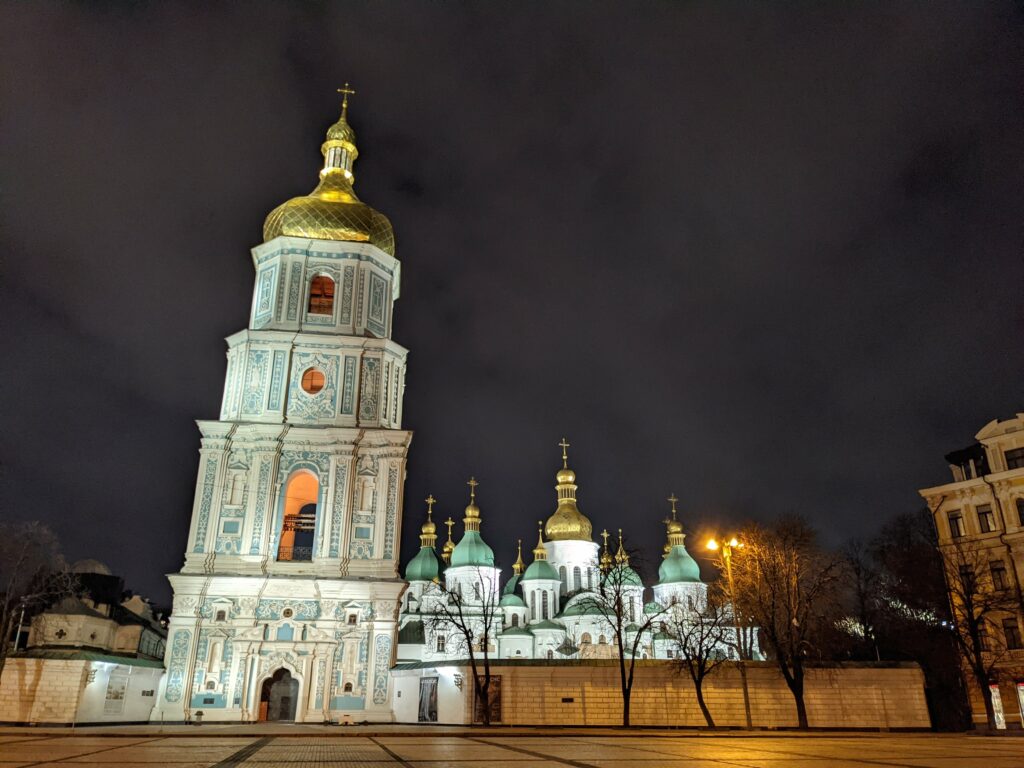 St. Andrew's Church
This colorful Orthodox church was designed by the same Italian architect as the famous Winter Palace in St. Petersburg, and it offers a great view of Podil, Kyiv's historic neighborhood.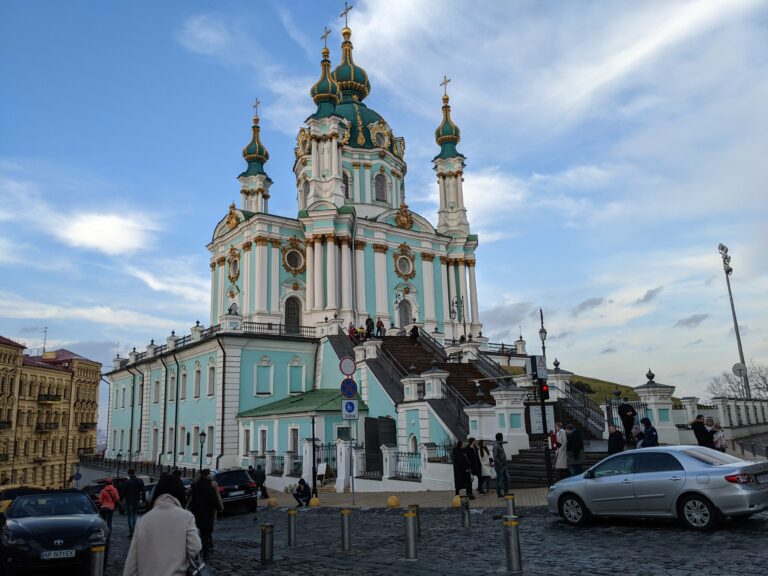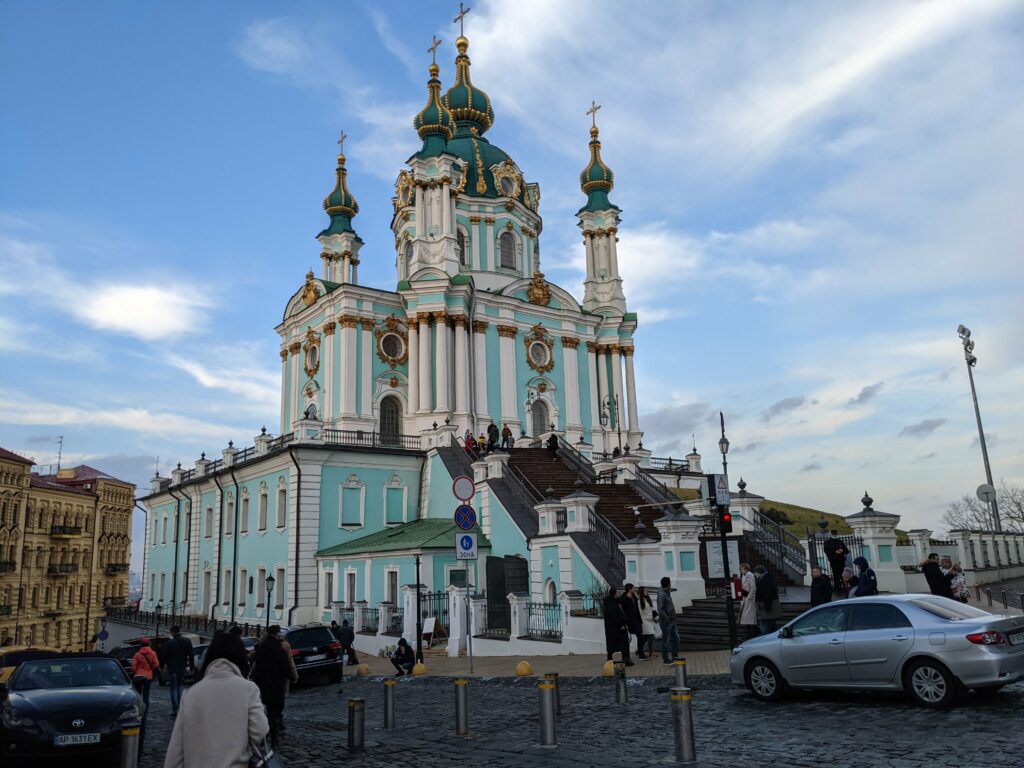 Golden Gate
Once the main entrance to the city and part of its defensive wall complex, the gate was restored in 1982 to celebrate the city's 1,500th anniversary.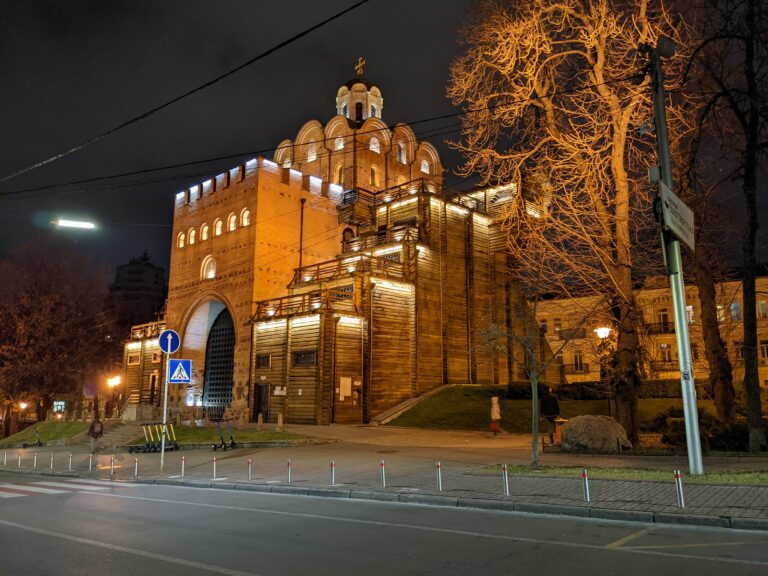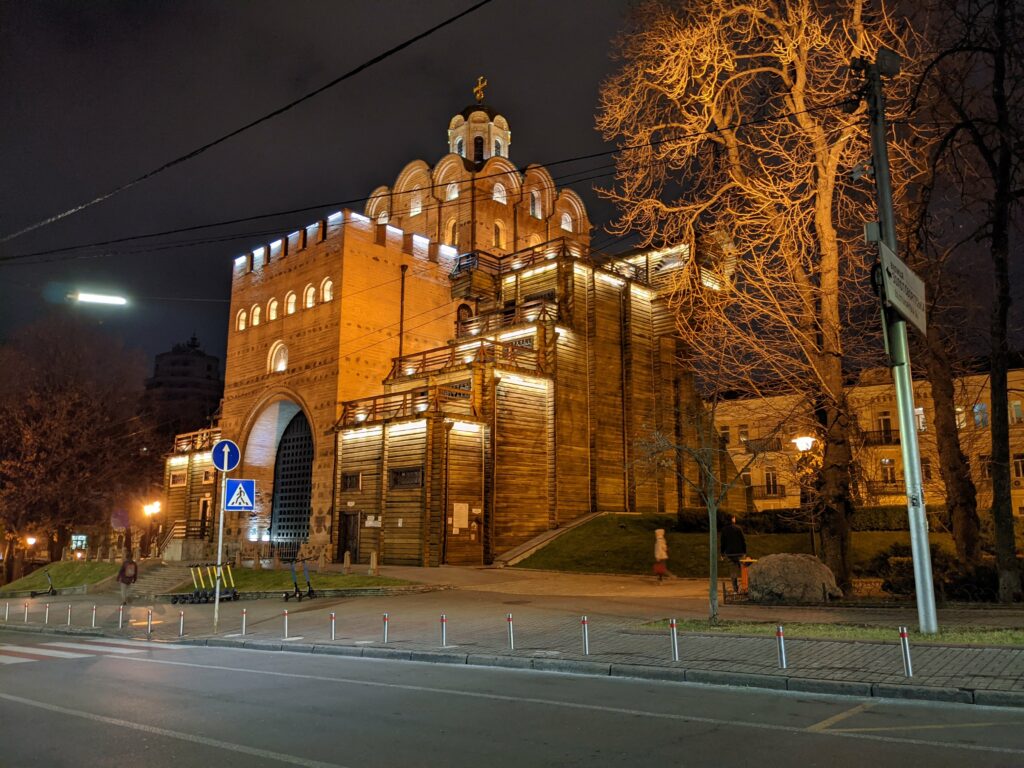 Obelisk of the hero city of Kyiv
This monument, which celebrates the defense of the city during World War II, is located in Victory Square, at the crossing of many historic streets.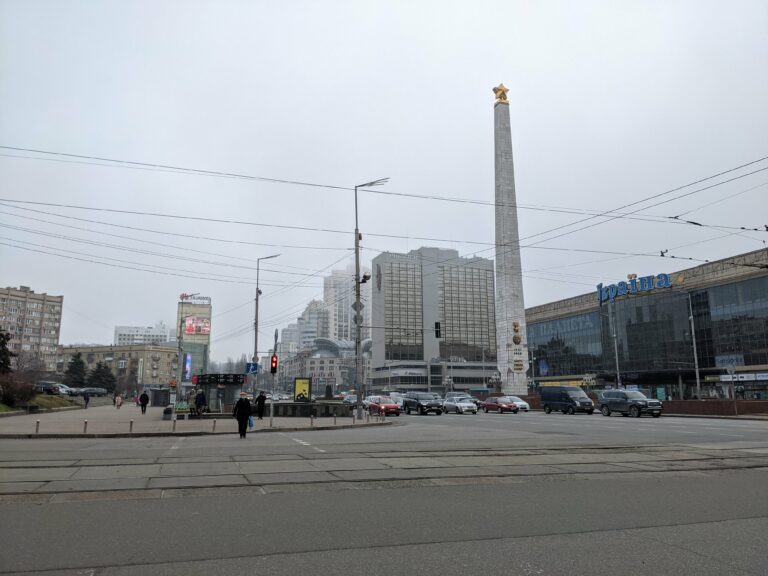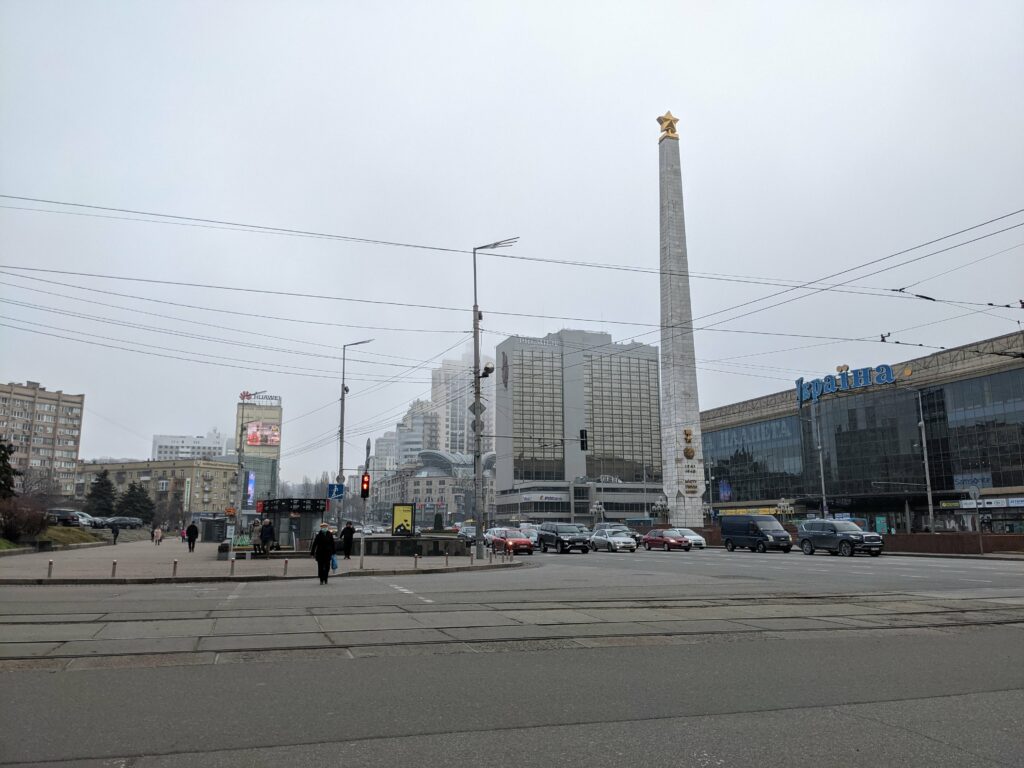 As I said, I was so confident that I would be back in 2022 that I didn't see as much of the city as I would have liked. But what I saw was more than enough to make me want to go back for a third time.
Let's hope that despite the current events, Kyiv will remain a beautiful city that blends elements of modernity with a rich heritage and unique architecture from its past as a Soviet republic.
Kyiv will come back stronger. Hopefully, this senseless war will end soon…
Want to get more content to discover awesome destinations?
Summary
Visiting Kyiv this past November was an opportunity to discover an incredible mix of modernity and tradition, with many hips cafes and restaurants as well as very rich architecture. Ukraine is a country that's definitely worth a visit… or 3.
What would you like to know about this destination? Tell us in the comments below.
See the deals we spot: Cheap flights
Explore awesome destinations: Travel inspiration
Learn pro tricks: Travel tips
Discover free travel: Travel rewards
Featured image: St. Sophia's Cathedral (photo credit: Kevin Gagnon/Flytrippers)
Advertiser Disclosure: In the interest of transparency, Flytrippers may receive a commission on links featured in this post, at no cost to you. Thank you for using our links to support us for free, we appreciate it! You allow us to keep finding the best travel deals for free and to keep offering interesting content for free. Since we care deeply about our mission to help travelers and our reputation and credibility prevail over everything, we will NEVER recommend a product or service that we do not believe in or that we do not use ourselves, and we will never give any third-party any control whatsoever on our content. For more information on our advertiser disclosure, click here.
Share this post to help us help more people travel more for less: