An acquaintance of mine became the first Canadian to win the North Pole today. I chatted with him about all this before he left, because I find it very interesting. The physical and mental aspect of running a marathon at the North Pole is obviously quite a feat in itself. But as Flytrippers is a travel site, I wanted to talk more about the travel angle.
A few years ago, this amateur Canadian athlete ran 7 marathons in 7 days… on 7 continents (yes, yes 😱!!!) and even 10 marathons in 10 days in all 10 provinces!
The North Pole is almost as unique a journey.
Here are the details of his trip gathered during the interview I did with him before he left for his most recent adventure.
Background of his trip to the North Pole
I met Patrick Charlebois about 10 years ago, as we're both from the city of Trois-Rivières, Québec.
He's a financial planner by profession, but he's also an impressive and inspiring marathon runner. He also finished 1st in the Volcano Marathon in Chile's Atacama Desert last year, so he's not just in these events for fun!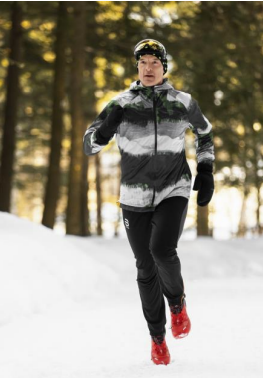 This time, he ran a marathon directly at the North Pole.
He did it to raise money for a good cause, cancer research (in memory of 2 of his friends who died of cancer within 24 hours of each other last summer).
In fact, you can make a donation as I did, on the Cancer Research Society's official website under the Rose Lunettes Italia campaign (he just joined friends' campaign, the money's all going to the same place), if you have the means and want to support him and the cause. You'll get a tax receipt too.
(I'd like to state that 100% of the money donated goes to charity, he's not using it to finance his trip!)
But also, this marathon allowed him to become the 2nd Canadian to run a marathon at the North Pole, and the 2nd Canadian to have ran a marathon on all 7 continents AND at the North Pole (that's called the Marathon Grand Slam Club). As mentioned, he's the 1st to win!
It's fascinating to be the first to do anything in 2023. Especially something so intense!
Basics of the North Pole Marathon
The one-of-a-kind event is called the North Pole Marathon.
It takes place at the Geographic North Pole (at the 90th parallel), as the name suggests. They use "the coolest marathon in the world" as a marketing tagline.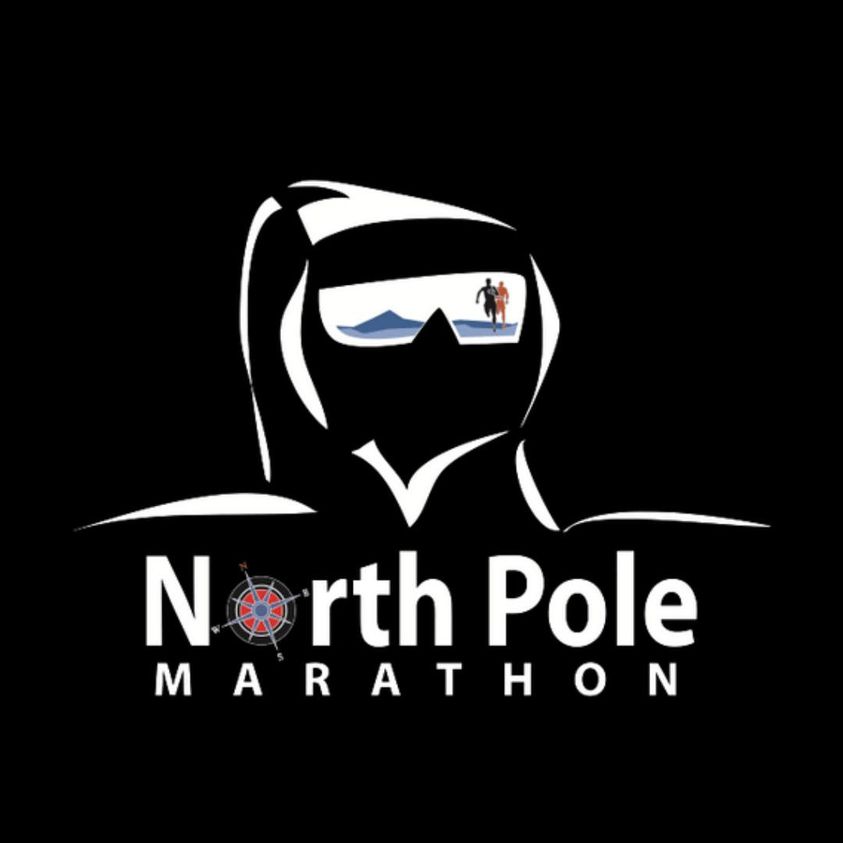 The North Pole is a very isolated place. One of the most remote in the world, even. It's unique. It's also timeless in a way: at the North Pole, the time is all the times at once (all time zones converge there).
Usually, the marathon is held in April (for the first 17 editions). Usually, an airstrip is erected on the Russian base of Barneo for everyone to arrive by plane.
Since 2019, apparently because of the conflict with Ukraine, this runway is not available. So there's no way to get there by plane.
So it's been 5 years since anyone's been able to do the North Pole Marathon. I'll talk about the race itself below, after the travel angle.
Travel logistics for the North Pole Marathon 2023
This year, the organizers came up with an original solution to relaunch the marathon: participants boarded a ship bound for the North Pole.
There are only a few ice-breaking ships in the world capable of making this journey.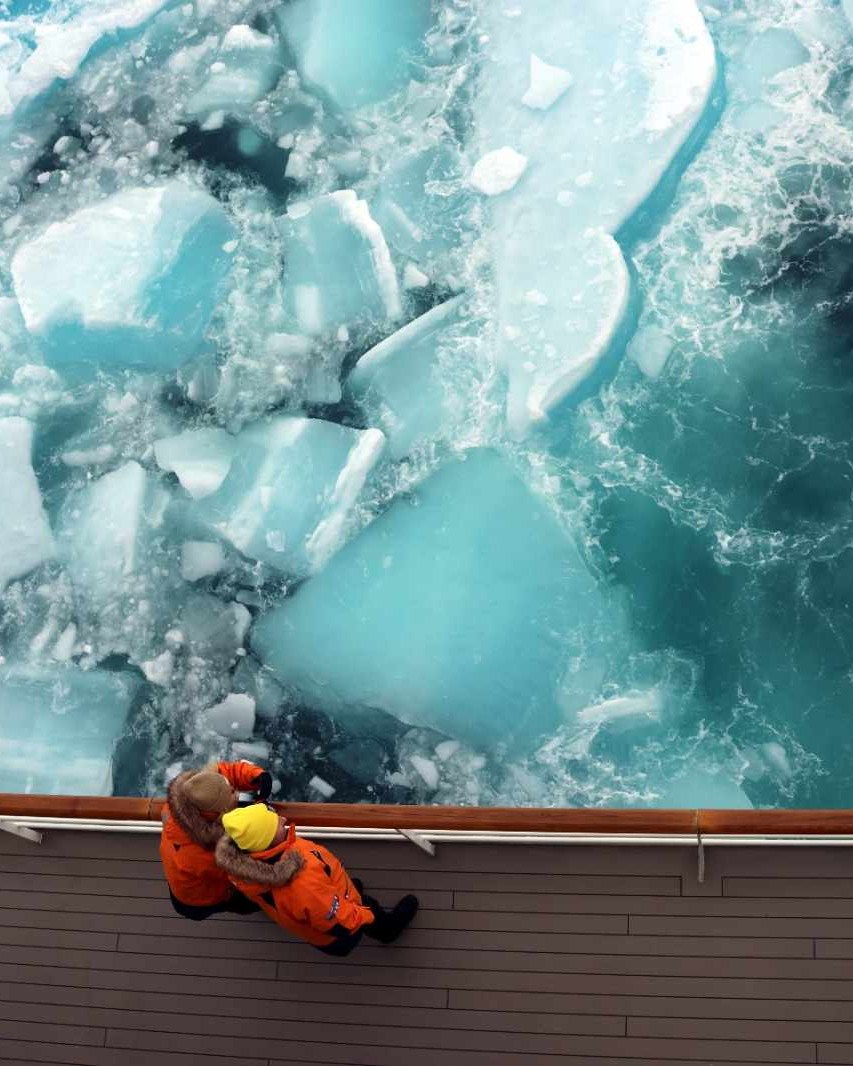 When I read that at first, I was imagining the experience I've always wanted to have as a fairly adventurous type of traveler: a truly unique journey on a cargo ship.
That's not quite it.
Participants in the North Pole Marathon 2023 used a very luxurious cruise ship designed for polar exploration. It's the Commandant Charcot, the first hybrid electric polar exploration vessel powered by liquefied natural gas. It's designed to minimize the environmental impact of polar exploration.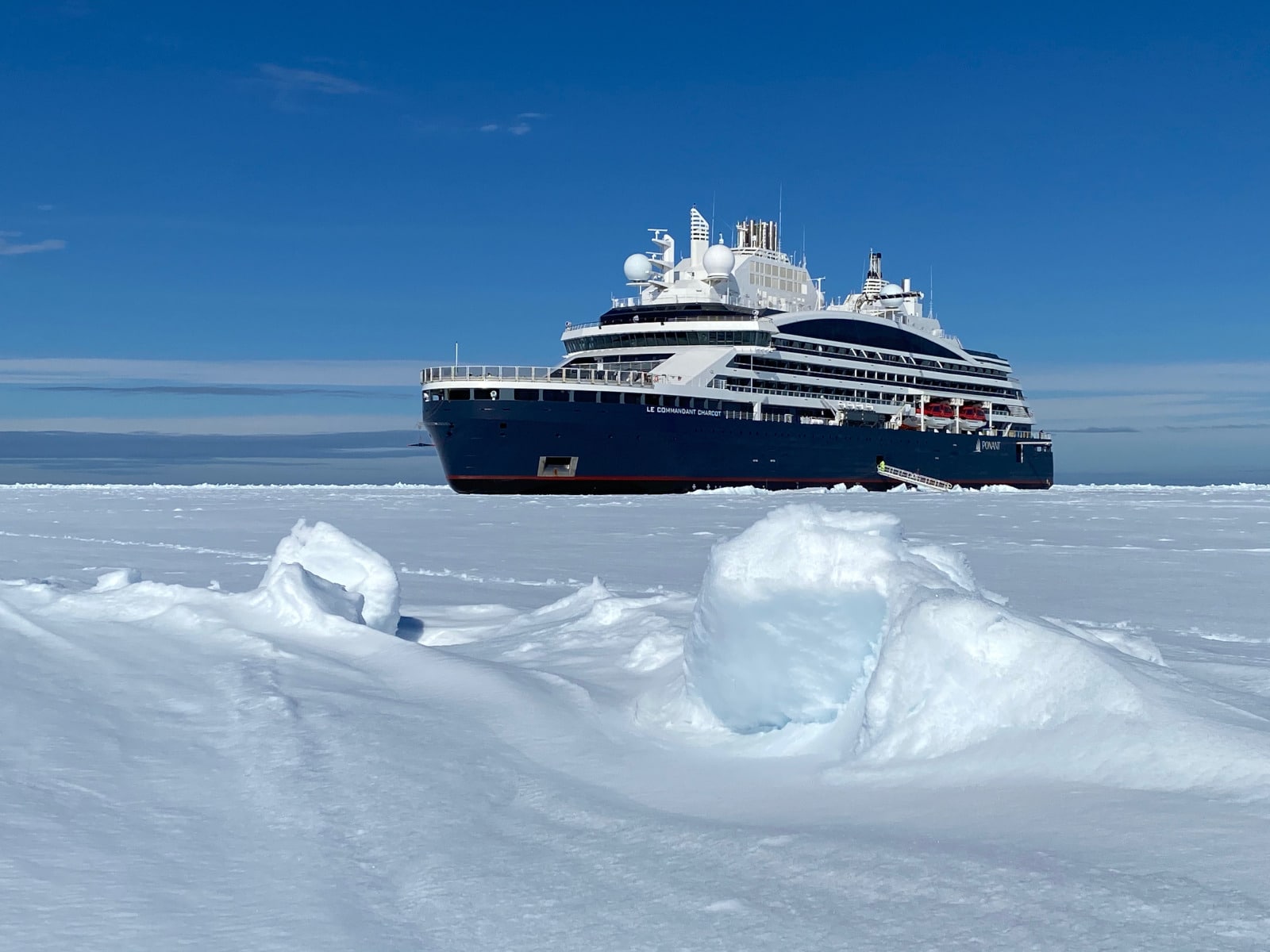 This 160-passenger ship completed in 2021 is used for excessively high-end cruises.
For example, here are some prices for various cruises on this ship, from European cruise operator Ponant.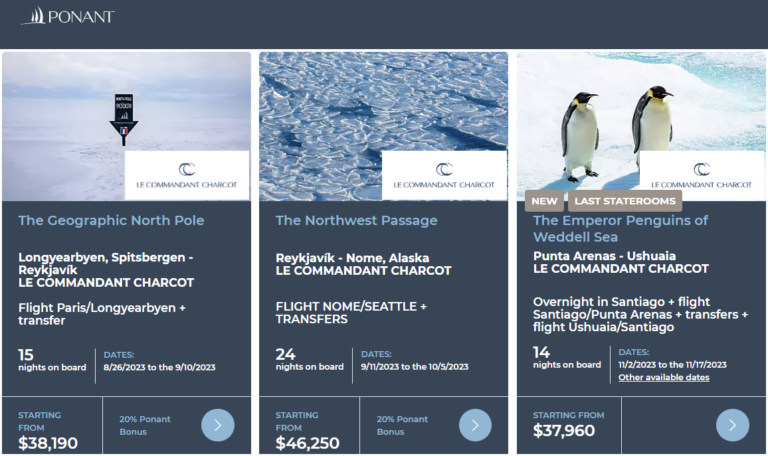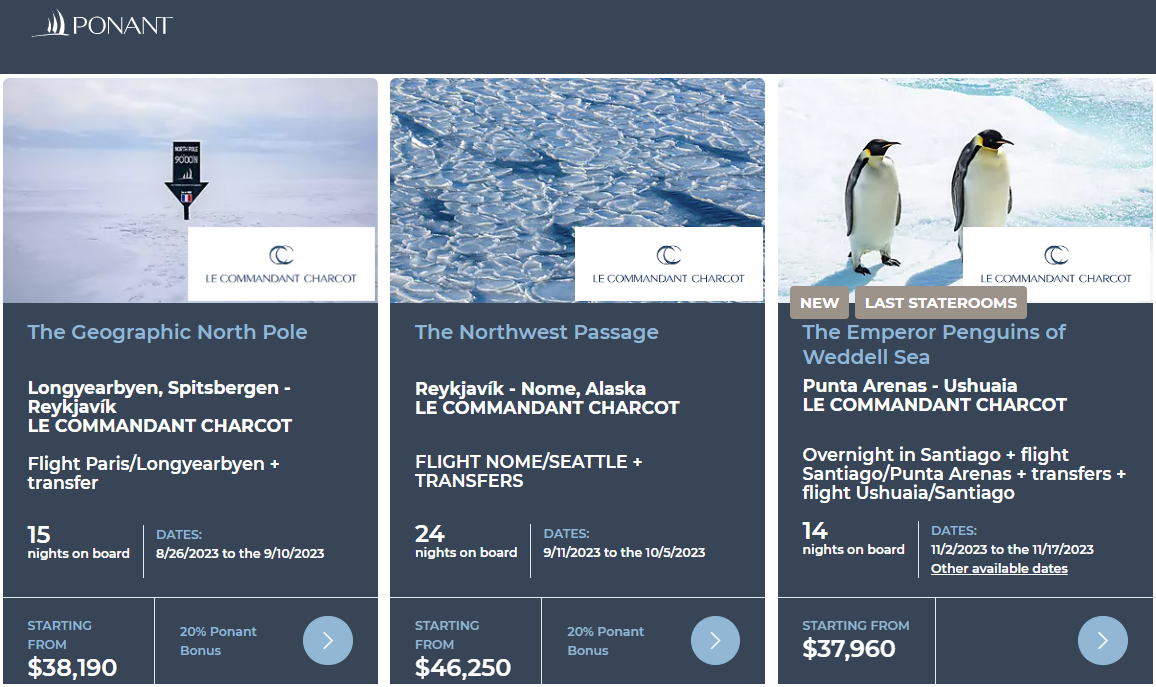 In short, these are very exclusive experiences.
It's even more exclusive to embark on one to run a marathon. There were only 12 people doing it this year (there are usually many more when it's by air only).
There are "normal" passengers onboard too; the marathon runners are simply getting a lift!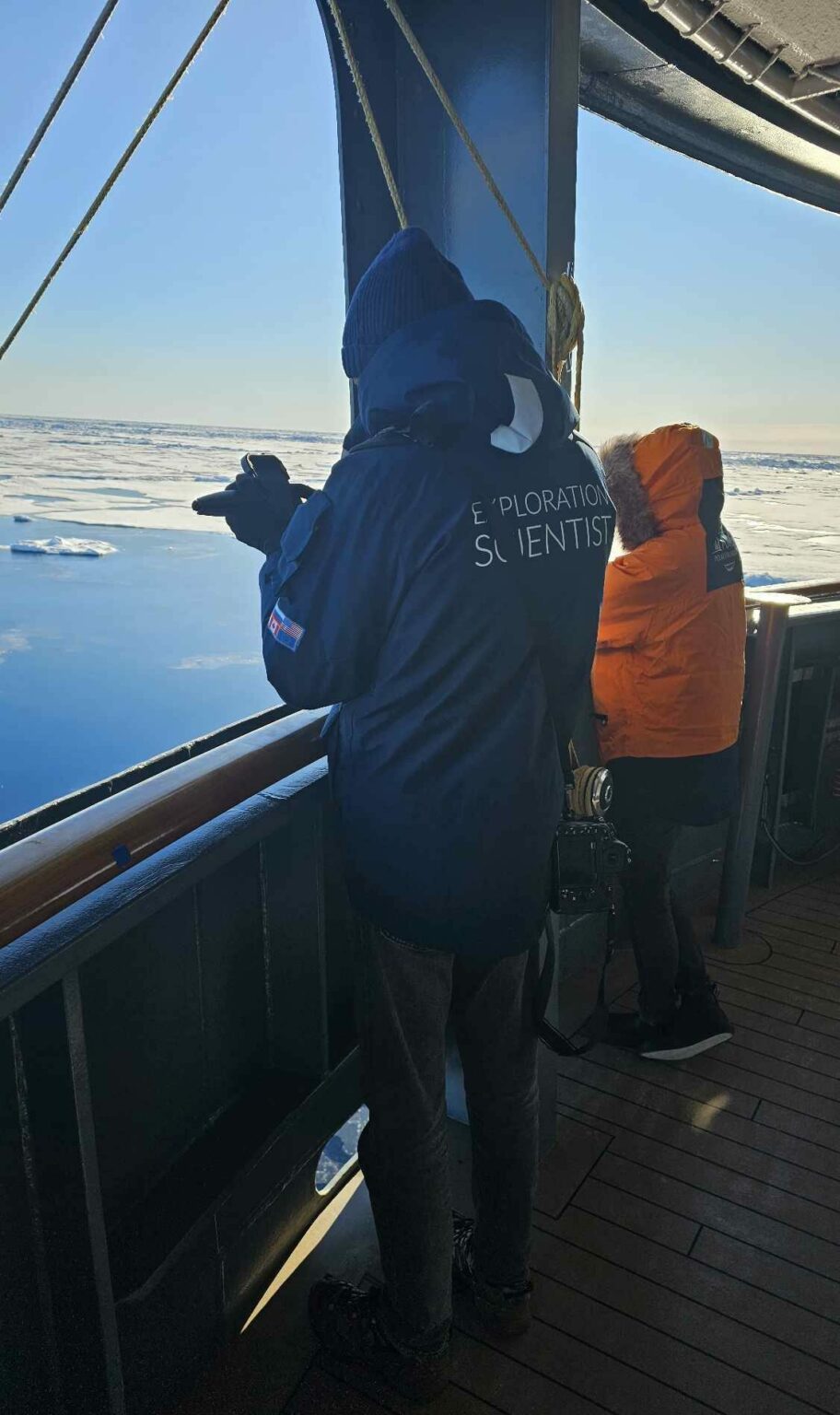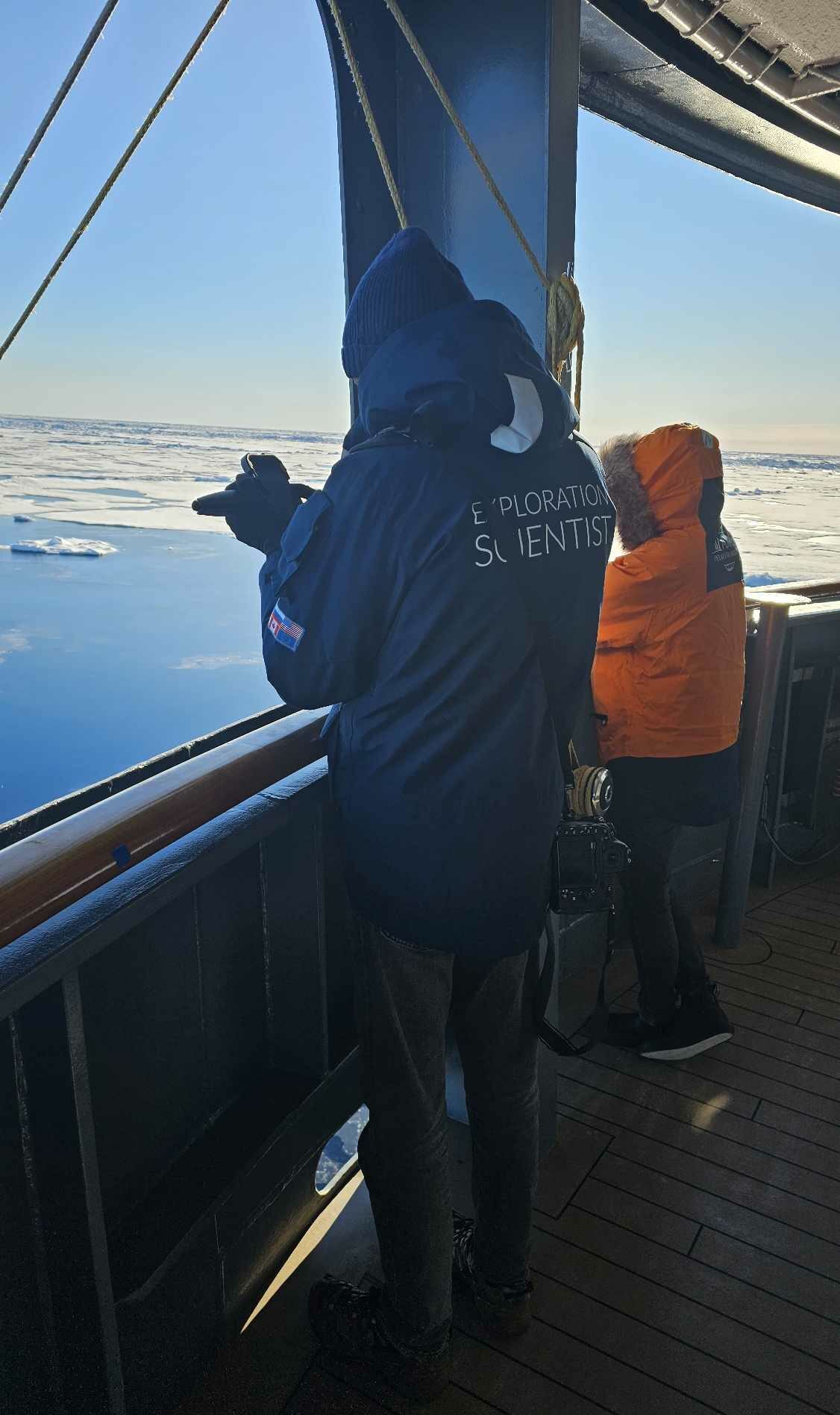 It's the 1st time in history that anyone will take a boat to go run a marathon at the geographic North Pole.
So Patrick Charlebois took a Montreal-Paris flight, followed by a Paris-Svalbard flight. I forgot to ask him, but he almost certainly used our self-transfer tip to save on ticket prices (because very few airlines serve Svalbard, a very northern Norwegian archipelago)!
He then boarded the cruise ship and got to the North Pole after 5 days at sea.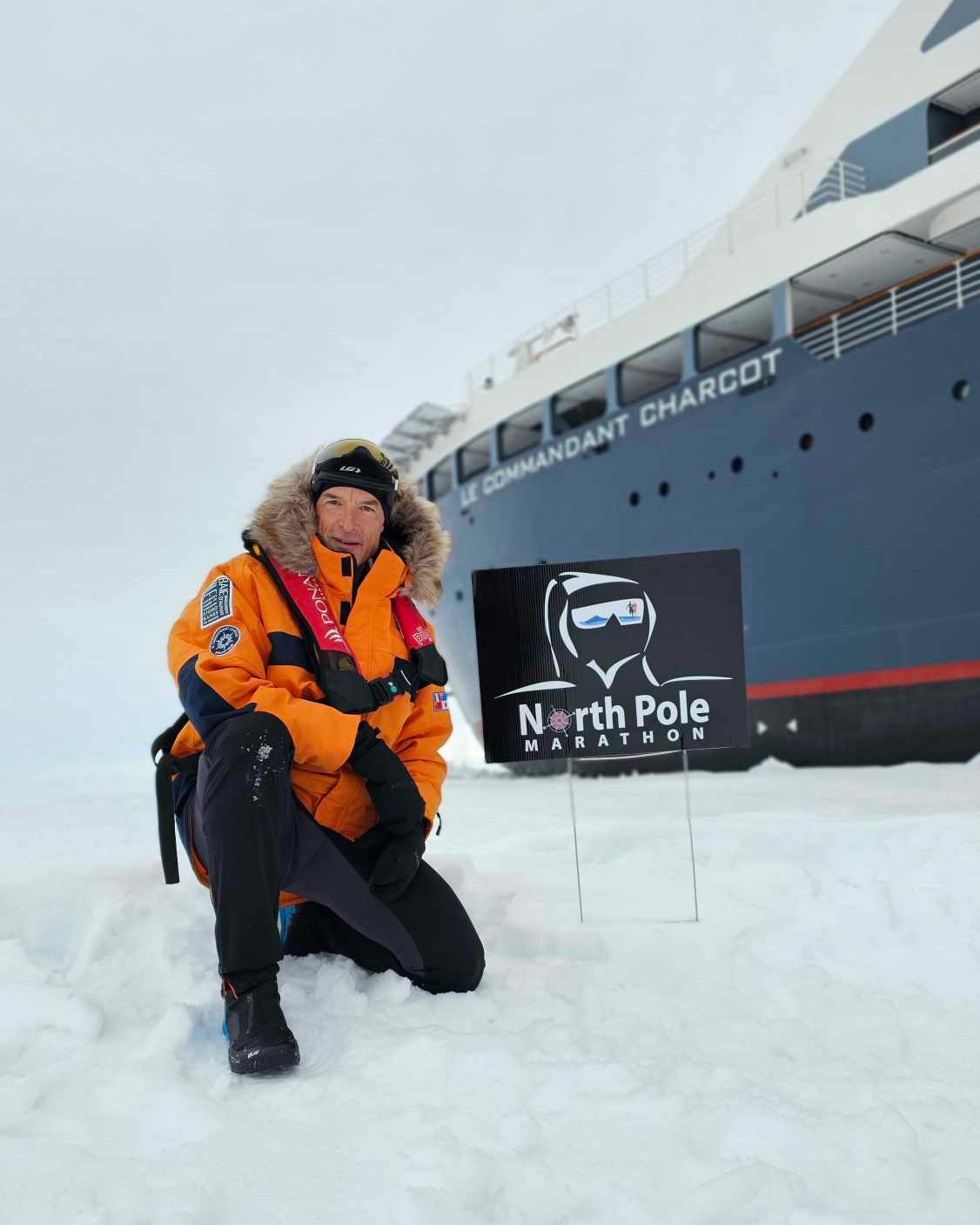 These logistics are excessively simple for him. He's been through far worse, in 2017 when he took part in the World Marathon Challenge: 7 marathons in 7 days on 7 continents. This included Antarctica, the most difficult continent to visit (which was even less visited 6 years ago than it is now). He finished 4th in that marathon, by the way.
Even more impressive: he had flown 36,000 kilometers (22,000 miles) in those 7 days, without even having a business class lie-flat seat to rest in between the 7 marathons. Apparently, people who do this now get a little more comfort.
Speaking of complicated logistics, his 10 marathons in 10 days were quite something. Doing 1 in every Canadian province every day is a lot of travel. He even crossed the final finish line alongside Terry Fox's brother, all the while raising money for the Terry Fox Foundation.
Logistics of his race (and his thoughts on travel)
Doing the marathon in August also greatly affects the race itself. In spring, the ice cap is thick. In the middle of summer… not so much.
For those of you who aren't as passionate about geography as I am, let me remind you that the North Pole isn't located on land (unlike the South Pole), but rather in the middle of the Arctic Ocean.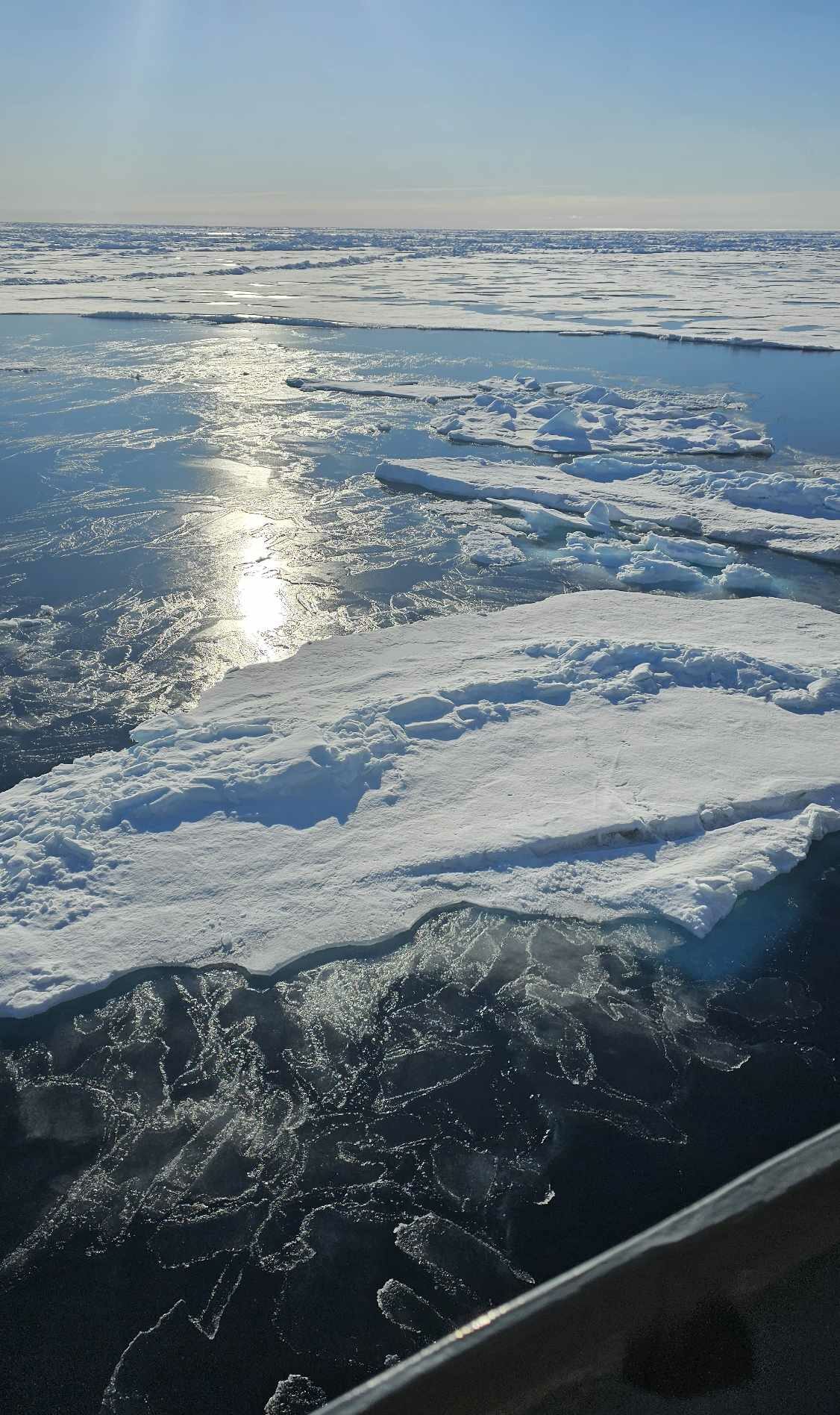 The race is therefore directly over the 6 to 12 foot thick ice cap. That's all that stood between Patrick Charlebois and the 12,000-foot-deep Arctic Ocean.
Many people think the temperature at the North Pole is freezing year-round, but it's only -5 to 0 degrees Celsius in mid-August. You might think that's better than cold weather for running a marathon, but it's not.
When I spoke to him, he said cold would have been much better (he ran a marathon in the desert literally, so clearly he can cope with any temperature haha).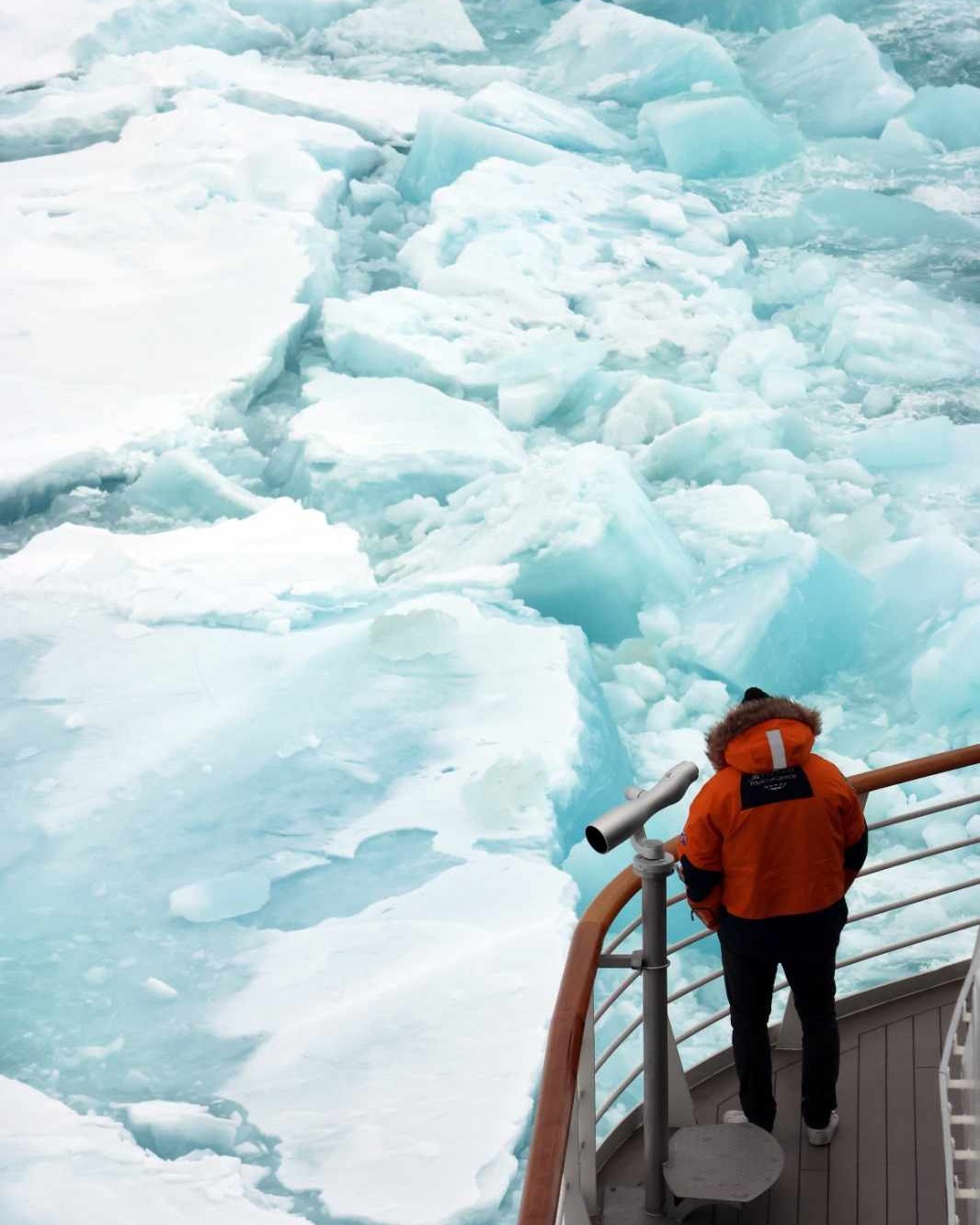 It's just that he might have had to run in slushy snow because of the temperature. Training to run on a slushy ocean isn't easy. An unstable ground is more demanding on the ankles and calves.
Another alternative was to possibly have to run the marathon at the North Pole, but directly on the boat stationed at the North Pole. This could not be ruled out, for safety reasons.
Such a unique project is obviously highly dependent on the weather. It's outside of anyone's control.
Finally, the marathon really took place on the water. The temperature was 3.9 degrees (felt like -1) so he had to wear a life vest all along, as a safety precaution in case the ice gave out.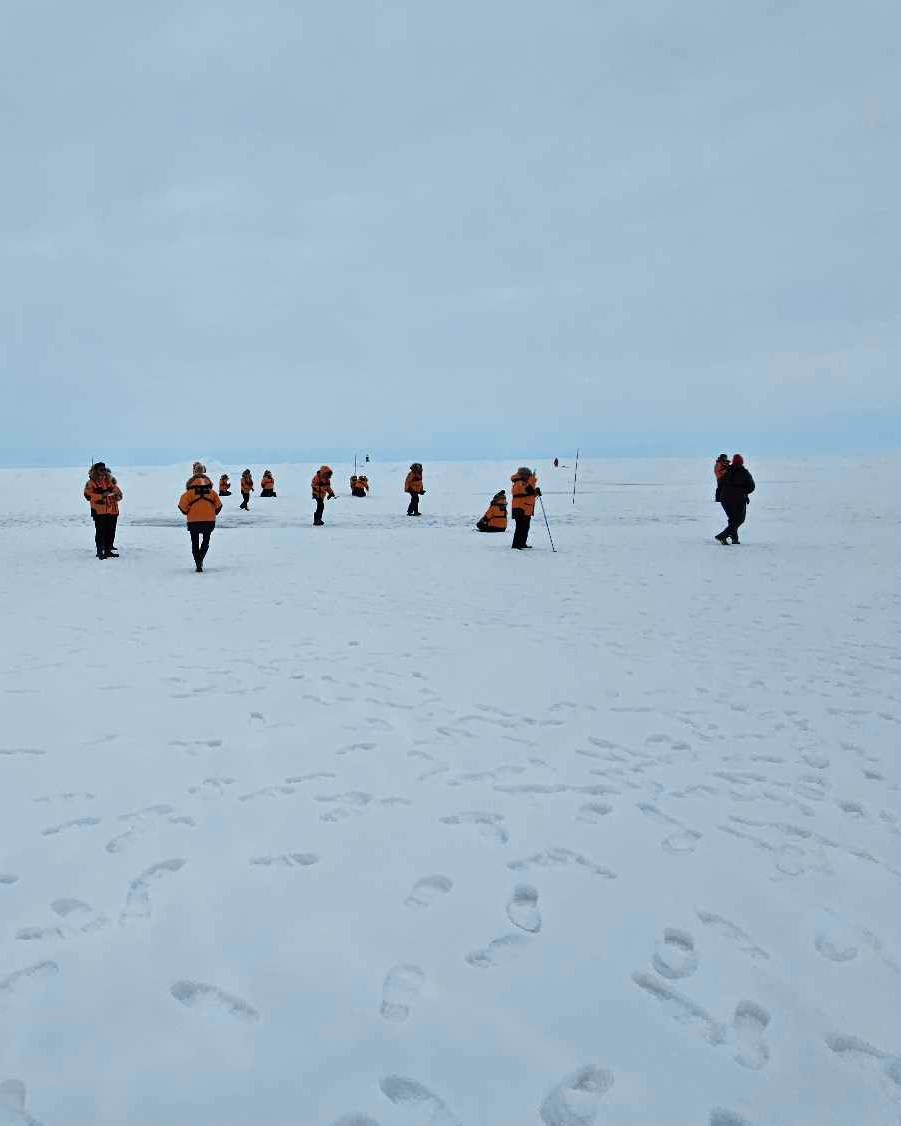 The marathon took place today, whereas it was originally scheduled for the 18th, so I deduce that a weather-related window of opportunity opened up and the organizers have adapted.
The marathon runner himself told me that he would adapt to the conditions, as he had no choice. The only certainty was that he was going to run 42 kilometers at the North Pole. The rest is just detail.
Everything in life is that way in fact. It's a great lesson I take from this, and one that all travelers should learn from. Go with the flow, as I always say. Be flexible. Stop fussing. Relax.
Travel is about learning to open your mind, broaden your horizons, and become a better human being. This necessarily includes learning to be better at living with uncertainty and the unknown, of course. It's possibly even one of the best reflexes to develop.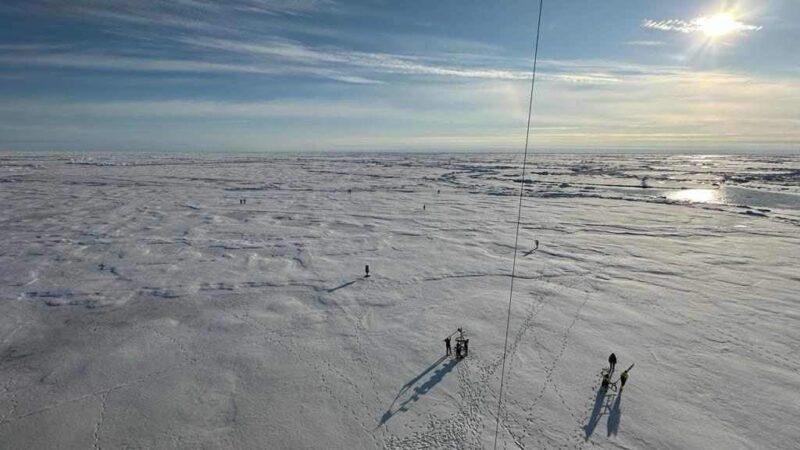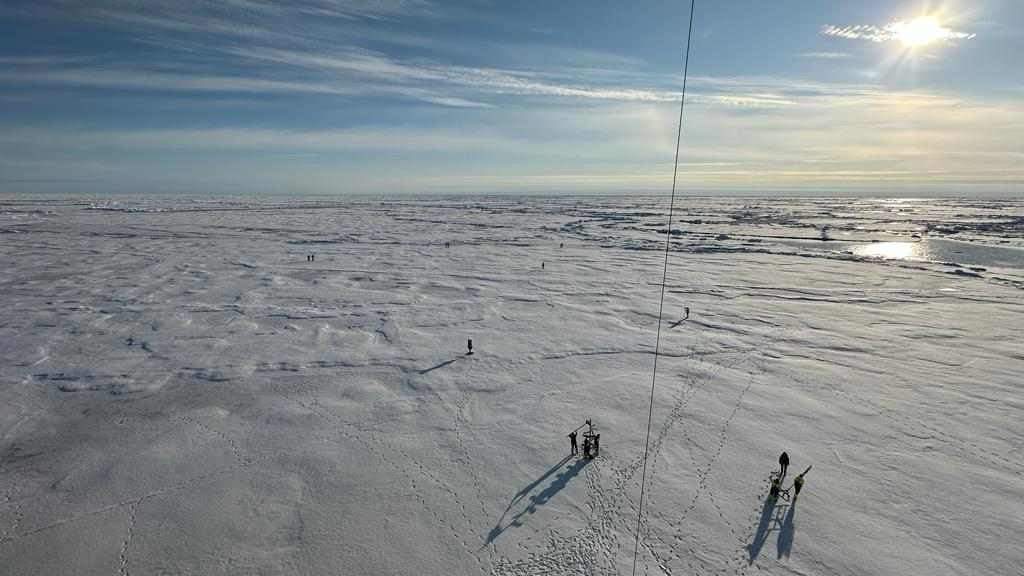 Frankly, I find it incredibly impressive to run marathons in the Atacama desert and at the North Pole in all cases… but even more so at 53, which is older than my age (and yet I'm not in that good of a shape unfortunately).
So I'm inclined to place a very high value on what Patrick Charlebois says, personally.
And he insisted that I mention that he strongly encourages everyone to travel as much as possible. He is a firm believer in travel being the best way to stay young — and he's pretty much the most perfect example that everyone can be young.
To wrap things up, I asked him about his approach to travel and he told me that he's been traveling for years. Marathons are a pretext sometimes (he's completed the 6 World Majors), but he travels just to travel too. He has 4 children and they try to do 2 big trips together every year, to Europe for example. He's thinking of maybe going to Africa soon.
Because this trip to the North Pole isn't a normal trip: it's really just to run the marathon!
Want to get more content about unique trips?
Summary
The North Pole Marathon is an uncommon event at the North Pole, one of the most isolated places on Earth. And an amateur athlete from Canada won the 2023 edition thanks to an epic journey on an icebreaker, an incredibly unique travel experience.
What would you like to know about the North Pole Marathon? Tell us in the comments below.
See the deals we spot: Cheap flights
Explore awesome destinations: Travel inspiration
Learn pro tricks: Travel tips
Discover free travel: Travel rewards
Featured image: En route to the North Pole (photo credit: Patrick Charlebois)
Share this post to help us help more people travel more for less: