Many of you have asked for more content about our own trips and as a full-time traveler, I sure have a lot of destinations to share insights about. So here's an update about my first 8 months of 2023 and my itinerary and plan for the rest of the year!
Now that we're already well past the mid-year point, this is the follow-up to my article about my first 6 months of travel of 2023 from all the way back in the beginning of the year.
Most of the rest of my year is pretty much all planned out already; that's because of — or thanks to — my girlfriend, as I used to be more of a last-minute planner (or a non-planner, really), a benefit of my flexibility as a digital nomad. Being flexible on everything is the key to traveling for less, it's really that simple!
I thought it was time to update you on my trips, so you can follow along.
First 6 months: Some more details on those adventures
I've now experienced those adventures rather than having just an idea about them (as was the case when I first posted my 2023 plan), so I'll start with some updates, at least for 2 memorable destinations specifically.
Darwin, Australia
Darwin turned out to be more than just a quick layover to make the flight from Wellington (New Zealand) to Dili (Timor-Leste) cheaper with the self-transfer tip.
It was a great experience in Australia's Northern Territory.
For those who want to dive deeper into my experience there, check out my itinerary for 3 days in Darwin.
Timor-Leste
Where do I start with Timor? This place was the most adventure travel I had done in a while.
First, there was the ferry ride, which turned out to be cancelled, so we had to go with the "fisherman's ferry", a tiny boat with way too much people on it for a 4 hour crossing. The main big one was cancelled because the sea was too bad, and almost every local onboard our new ride got seasick.
The unspoiled diving spots on Atauro Island were well worth the effort to get there.
Then, we rented some motorbikes to go around the island to deserted beaches that seemed straight out of a postcard. But we had some adventures with that; let's just say Google Maps isn't always accurate in one of the least-visited countries in the world.
Missing bridges led us to some unexpected river crossings carrying those motorbikes. We also had to cross a make-shift bamboo bridge. Every moment in Timor-Leste was an adventure waiting to happen.
Last 2 months: Recap of my busy European summer so far
One of my goals is to visit every country in the world and this quest got accelerated this summer with a lot of new countries in Europe! Here's where I've been in July and August before sharing my itinerary for the last part of the year.
Vienna, Austria
Austria is where we left off in part 1, so let's pick up from there.
We spent only 2 nights in Vienna, which was enough to grasp its essence and see its impressive architectural buildings before moving on to less crowded destinations.
The summer crowds in Vienna were quite terrible, as expected!
Maribor, Slovenia
We then went to Maribor, Slovenia, for a week to catch up on work and relax in that beautiful wine region of Slovenia (country #71).
We went for a wine tasting experience at Vinag 1847, which was fun, particularly exploring the historic cellars that rank among the largest and oldest classical wine cellars in Europe. The oldest part of the cellar, a series of 2.1 km long underground passages, was built in 1847.
We also went for a sunset hike of Pyramida, a hill very close to town. Maribor was a very nice stop overall!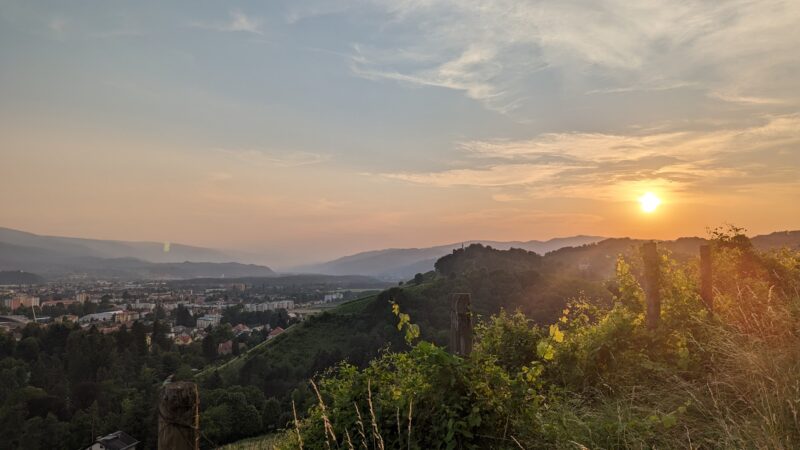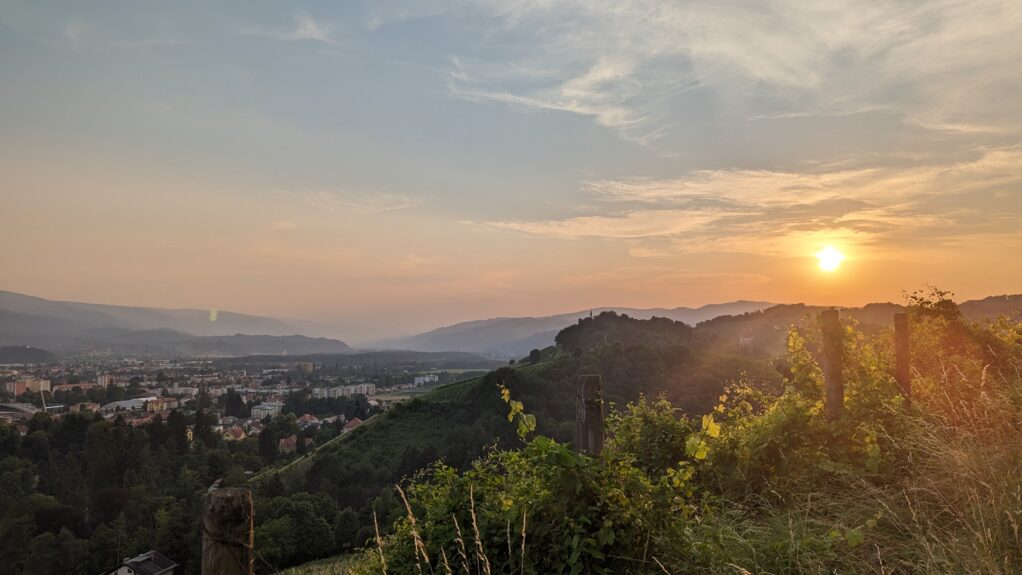 Budapest, Hungary
After this, I split off on my own for a couple of days as my girlfriend had a work event.
I first went to Budapest for 5 days to properly explore this beautiful city, which I had only briefly passed through before.
My 5 days there allowed me to see a lot of the city's nice architecture, but not enough to see everything. I'll for sure need to return, since I only explored Pest and have yet to see Buda. Budapest is actually made up of 2 former cities, Buda and Pest, separated by the famous River Danube.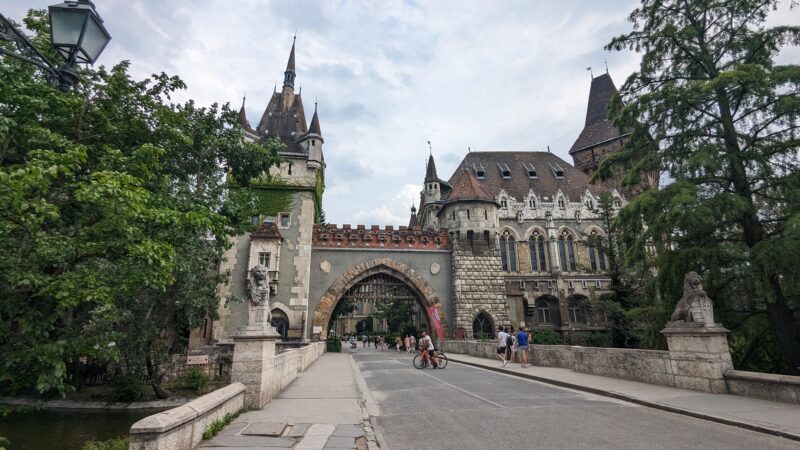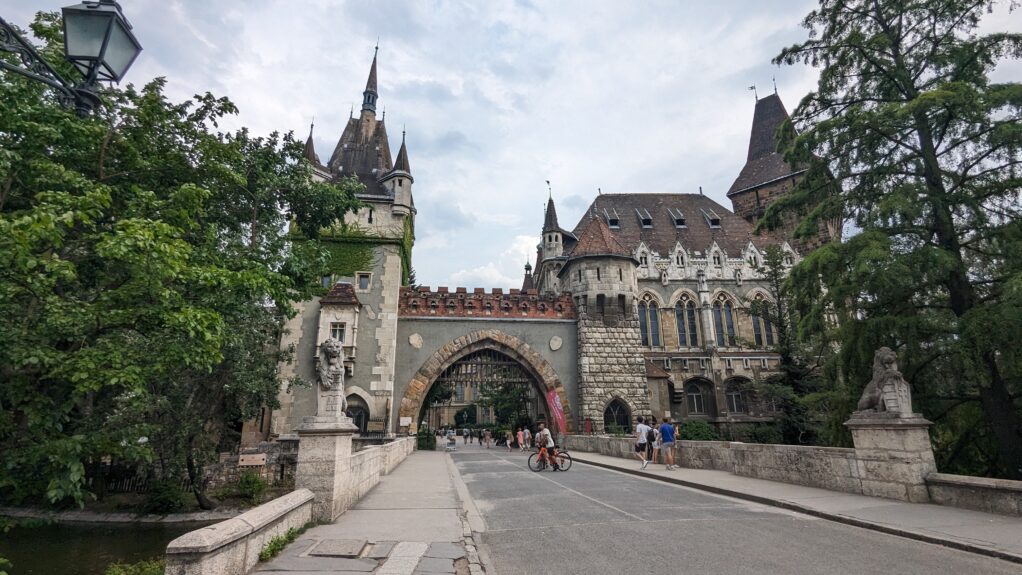 Košice, Slovakia
I then took the train to Košice, Slovakia (country #72).
This was partly to visit a new country, but mainly because I hadn't planned that segment of my trip very well. I needed to go to Brussels next to meet up with my girlfriend, and the only flight which had availability on that day using my airline rewards points was from Košice.
Of course, there were flights from other places available by paying cash, but they were very expensive because its peak summer in Europe and it was last minute. That's when rewards that are of the more valuable type are amazing, because the amount of points required is fixed and can give you literally unlimited value!
Redeeming 7,500 Aeroplan points and paying approximately $100 in taxes, I managed to find a good option without having to do 1-night layover somewhere in Western Europe, which would have more than doubled the price of an already expensive cash ticket. I saved over $300 with just that small amount of Aeroplan points.
You can get a whopping 61,250 points with the increased offer on the TD Aeroplan Visa Infinite Card. Our Flytrippers Valuation of the offer is ≈ $780, but that's conservative and you can obviously also get thousands of dollars in savings with that welcome bonus if you redeem it right: these points have unlimited value.
TD® Aeroplan® Visa Infinite* Card

Flytrippers Valuation
of Welcome bonus (net value)

ends January 3rd





min. income: $60k (or $100k household)

spend $7,500 in 12 months

Terms and conditions apply. Flytrippers editorial opinion only. TD is not responsible for maintaining the content on this site. Please click "Apply Now" to see most up-to-date information.
TD® Aeroplan® Visa Infinite* Card

Flytrippers Valuation
of Welcome bonus (net value)

minimum income
required: $60k (or $100k household)

ends January 3rd

Rewards: ≈ $780*

Card fee: $0

$139

spend $7,500 in 12 months

Terms and conditions apply. Flytrippers editorial opinion only. TD is not responsible for maintaining the content on this site. Please click "Apply Now" to see most up-to-date information.
Aeroplan points are amazing for travelers who love getting a good deal and maximizing value and it's the best airline rewards program for Canadians, by far. It's one of the highest Aeroplan offers ever, and it's also the highest offer amongst all Canadian cards right now.
You can watch our free webinar on the Aeroplan program if you want to learn more about the more valuable type of rewards.
Had I planned that portion more in advance, I could have avoided such scenarios, but I only decided on visiting those 2 countries the week before. Planning in advance is one of the top tips to travel for less, as you can read in our free ebook with 100+ tips.
But it's always great to have the more valuable type of points in those cases.
Regardless, my 5-day stay in Košice was entirely worthwhile. The heart of Košice is its main street, dominated by its majestic cathedral.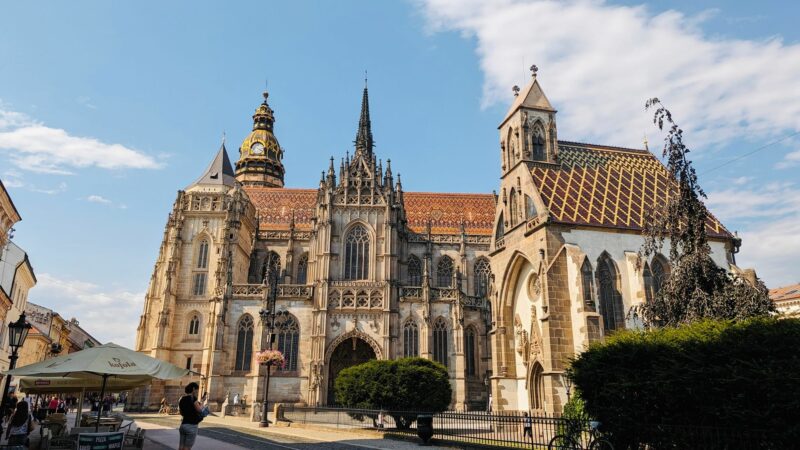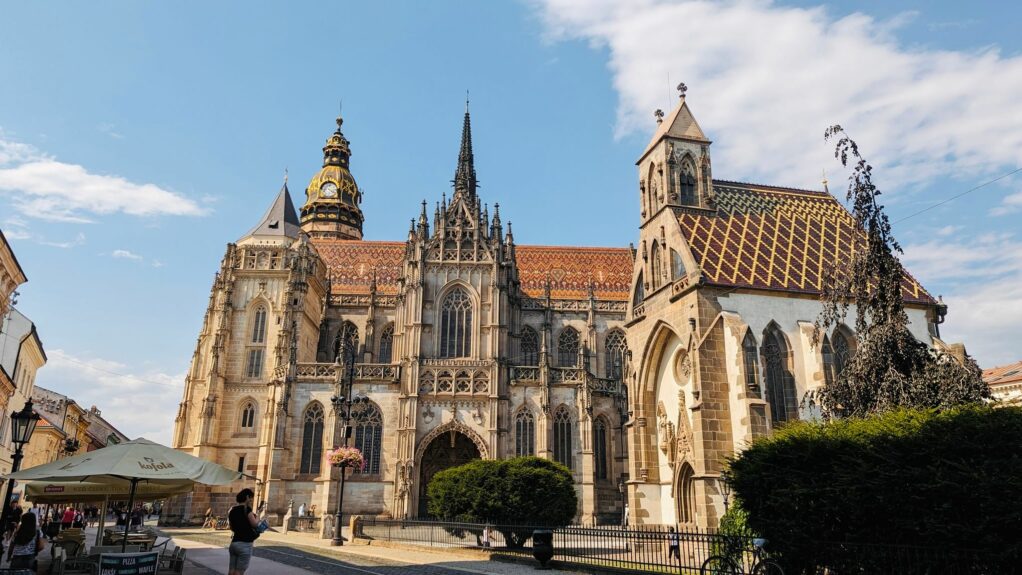 Brussels, Belgium
Then I made my way to Brussels, Belgium (country #73) for a quick visit where I was rejoining my girlfriend and to meet up with some other friends.
We had to try some Belgian fries, waffles, beers, and chocolate. The city streets, with their vibrant atmosphere, added to the charm. We also saw some of the comic strip murals scattered throughout the city.
We used one of our amazing Marriott free night certificates since hotels were expensive. You get a certificate every year with the Marriott Bonvoy American Express Card and the Marriott Bonvoy Business American Express Card (that doesn't require having a business). The only cards in Canada worth keeping every year for every traveler, without any exceptions!
The Brussels Marriott Hotel Grand Place was nice, but not as nice as the one below in Lithuania (everything is always better outside of Western Europe of course). And it definitely wasn't as luxurious as some of my previous stays with my certificates, such as the overwater bungalow in Fiji.
But it was worth close to C$400 per night so it was a good redemption. And the hotel was in a great location in the middle of the action.
It also had a hotel lounge. It's similar to airport lounges but for hotels, and you get access to it with Marriott Platinum Elite status and above, when the hotel has a lounge of course (it's not always the case).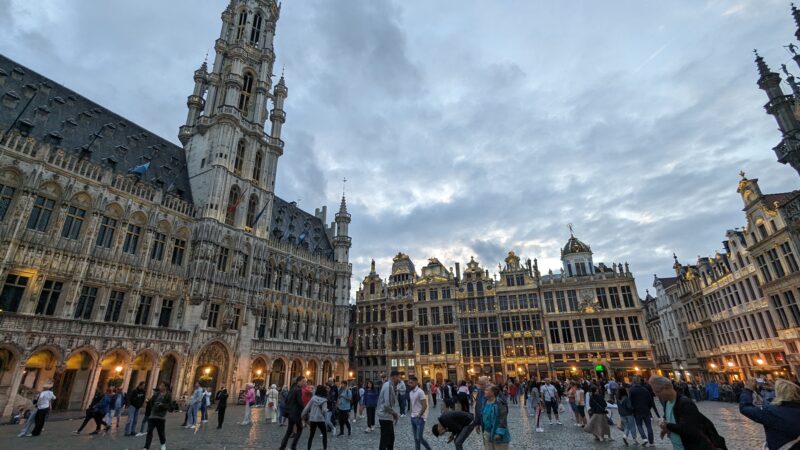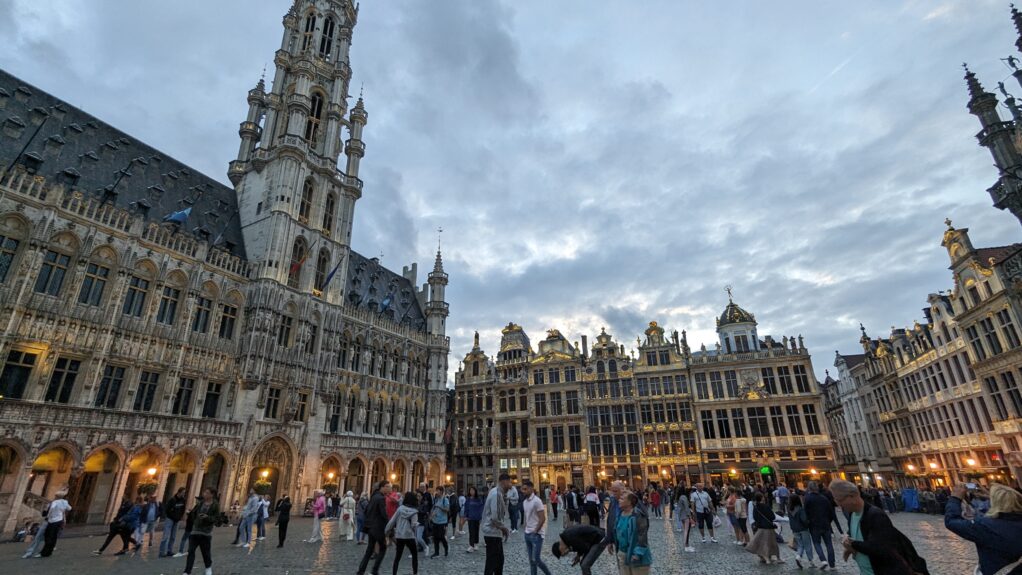 Luxembourg, Luxembourg
Next, we took a brief 2-night trip to Luxembourg (country #74), given its proximity.
The country was beautiful, but if you're planning to visit, I'd recommend basing yourselves in Belgium or France and taking a day trip by train to Luxembourg. This is still convenient but also much cheaper.
Public transit is free within the country, so it is very easy to get around once you're there. It was the first time in years that I only booked a room in someone's apartment on Airbnb instead of an entire apartment, and even that was pricey!
I also learned that it rains on average 182.3 days each year in Luxembourg (London is 156.2 days for comparison), so it was raining or cloudy most of the time.
Then we went back to Brussels to catch our next flight.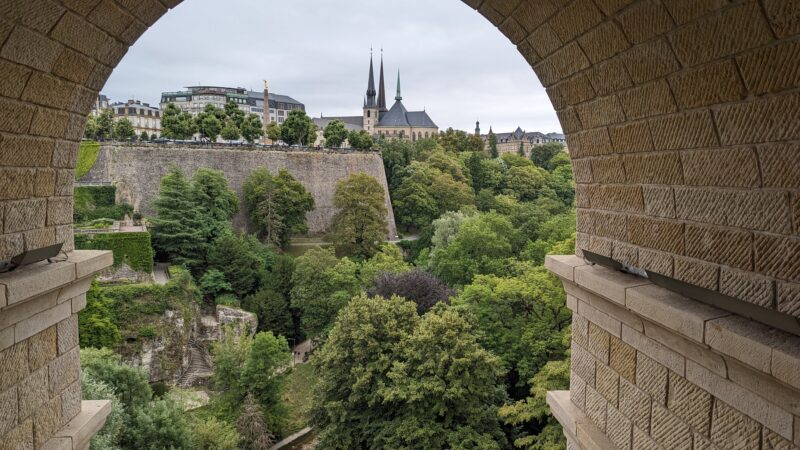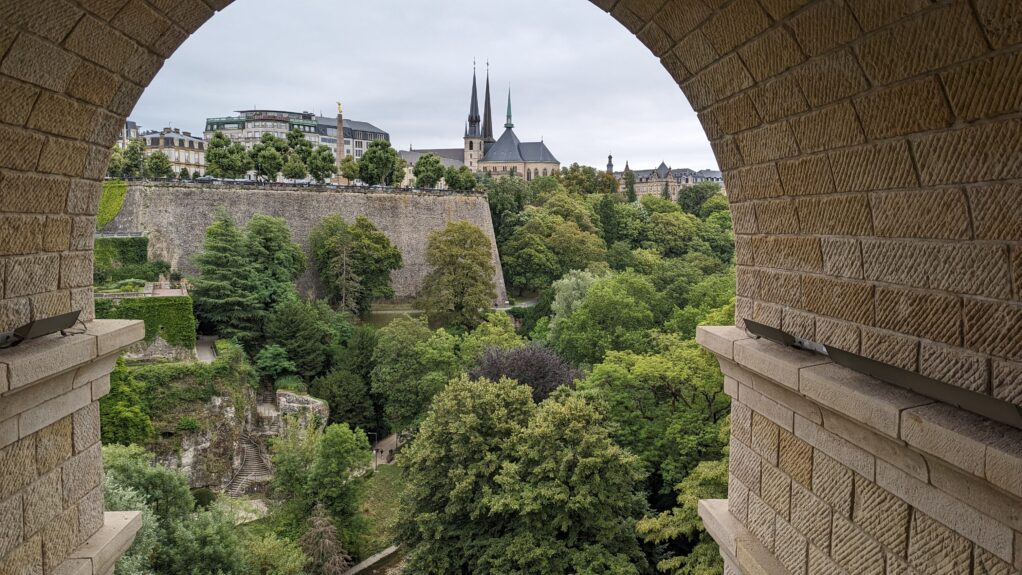 Prague, Czechia
We then headed east to Prague, Czechia (country #75), using points once again and that flight cost us just 6,000 United miles, from my girlfriend's account (she's American).
We stayed at the 5-star historic Augustine, a Luxury Collection Hotel, Prague, using Marriott certificates from American cards that are worth 85,000 points and 60,000 points. That was really useful because this hotel wasn't cheap!
The suite we got would have been over €1000 per night (C$1470) if we paid in cash, and we were there for 3 nights.
When we were leaving, we found out that Canadian superstar The Weeknd was also staying there. We didn't see him, but there was a lot of security, and groupies hanging around outside.
Prague itself was stunning, but it was so packed in August! I'd definitely think twice about going there during the summer peak.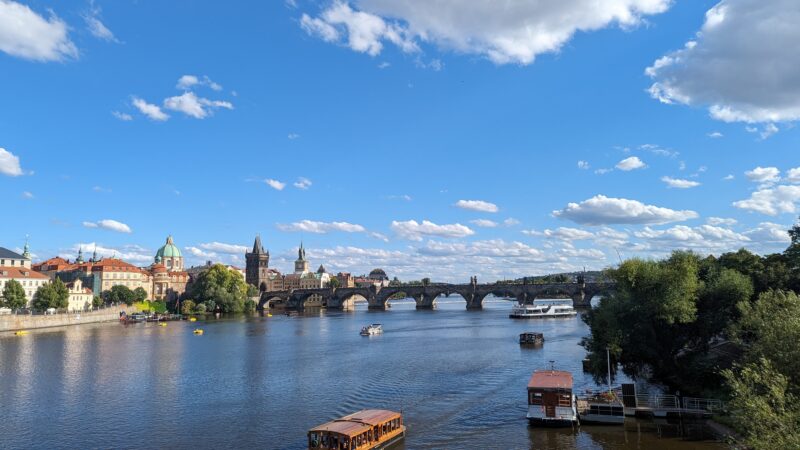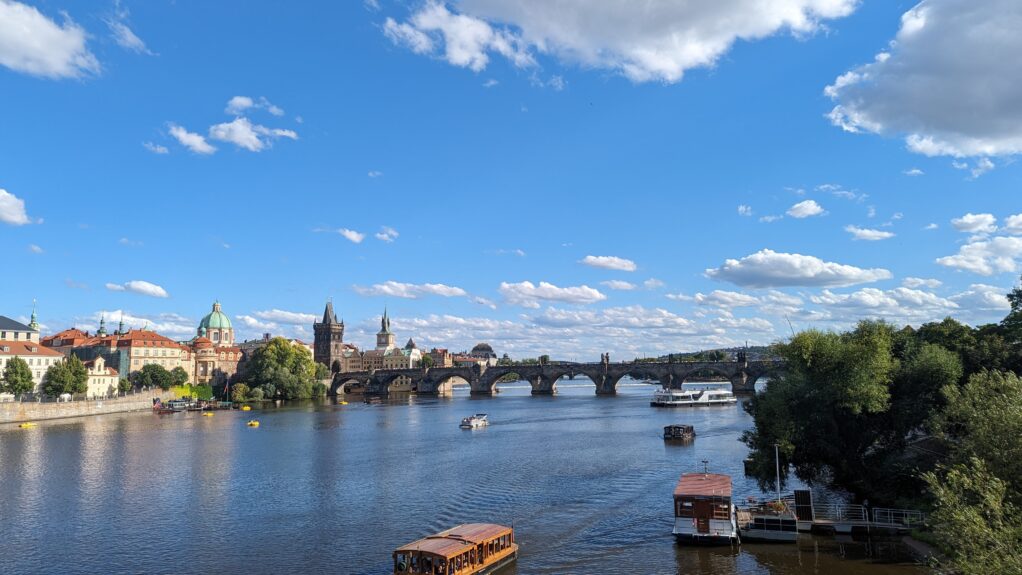 Vilnius, Lithuania
We then attempted to fly from Prague to Vilnius, Lithuania (country #76).
However, due to a delay in our initial flight, we missed our connection in Warsaw. Fortunately, I had booked using my American Express Aeroplan Card, so we had free flight delay insurance (as every traveler should always have for every flight).
We booked the Renaissance Warsaw Airport Hotel and enjoyed a meal at one of the airport's best restaurants, all covered for free by the card's insurance (it covers up to $500).
Ironically, Flytrippers' other co-founder Andrew had an overnight delay at the same place in 2019 and had booked the exact same hotel. Why? It's the most expensive Marriott in the area, so we earned thousands of points for future stays… and it's all reimbursed by the card insurance so easily. It's a shame so many people don't know about this very basic and very easy tip.
If your flight was paid for with cash, it's simple: you need to have paid for the flight with the card to be covered (unlike medical travel insurance that covers all your trips no matter the payment method, contrary to the common myth).
We were traveling on Aeroplan points, so in those cases you need to pay the taxes with a card affiliated with the same rewards program (an Aeroplan card for an Aeroplan redemption) or with one of the rare cards that cover all redemptions from all airline rewards program.
(Another great reason to never pay the taxes with Aeroplan points, as it's a terrible value but also keeps you from getting free insurance coverages!)
We were rescheduled for the next flight the following morning, and, the Marriott in Vilnius kindly permitted us to cancel our first night without any charges (it's always worth trying and asking)!
The whole flight delay claim process was so easy even if it was surprisingly my first time (Andrew has a lot more experience with that having done 13 claims, he's finishing up a guide on the topic soon).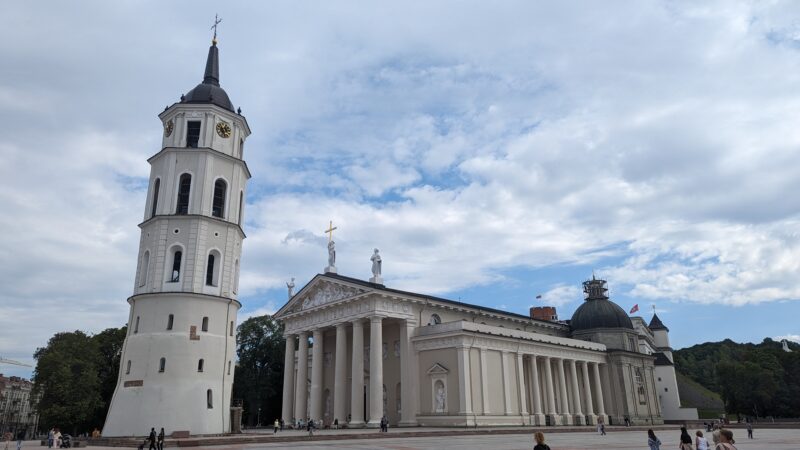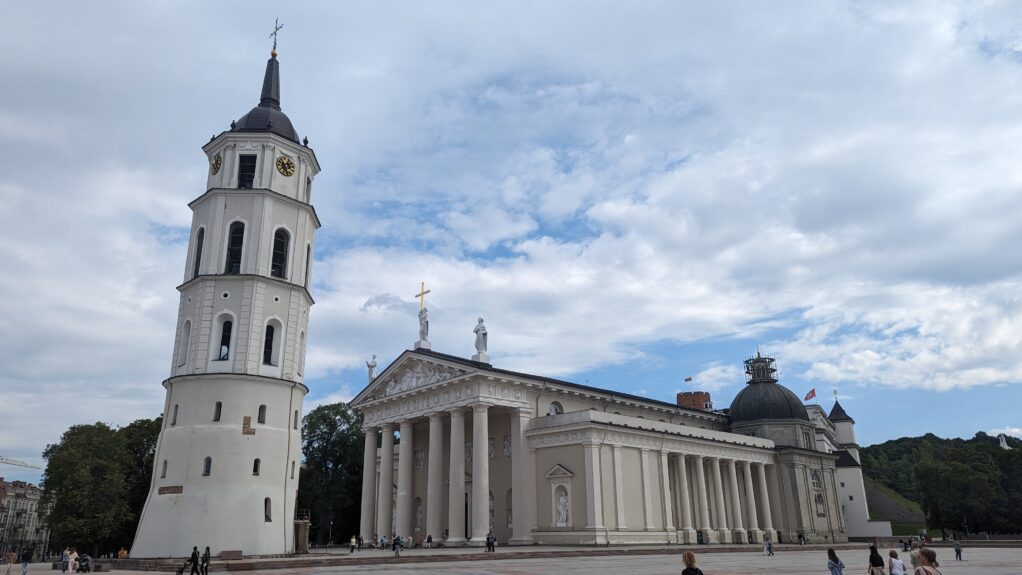 Vilnius was a pleasant surprise, a LOT less crowded than Western Europe during that time of year, and just as interesting to visit.
We stayed at the Courtyard Vilnius City Center, on a cash rate which was surprisingly cheap for a nice Marriott. That's how the more valuable type of rewards works: their value is variable and sometimes it's a good redemption, sometimes it's not! It's that simple in terms of concept, but many beginners can't seem to understand this.
This stay also helped me earn some cheap Marriott elite nights to maintain my Platinum status (once you have it, you don't want to lose it).
For the last half of our time there, we checked into Hotel Pacai, Vilnius, a Member of Design Hotels, one of Marriott's many brands. It was a much more luxurious place with lots of history; Napoleon even gave a speech to the city from its front balcony back in the day!
If you're considering using a 35,000-point Marriott certificate from the Marriott Bonvoy Amex Card or the Marriott Bonvoy Business Card, this hotel offers a much more luxurious experience compared to the one in Brussels (everything is always better outside of Western Europe!).
We also visited a fake country, the Republic of Užupis, an artistic district right in the middle of Vilnius with its own funny "constitution" with things like "12.A dog has the right to be a dog". If you happen to visit on April 1st, you can get a unique passport stamp from this micronation by the border guard only on duty once a year!
Additionally, Vilnius' Old Town stands out as one of the largest and well-conserved medieval old towns in that part of Europe.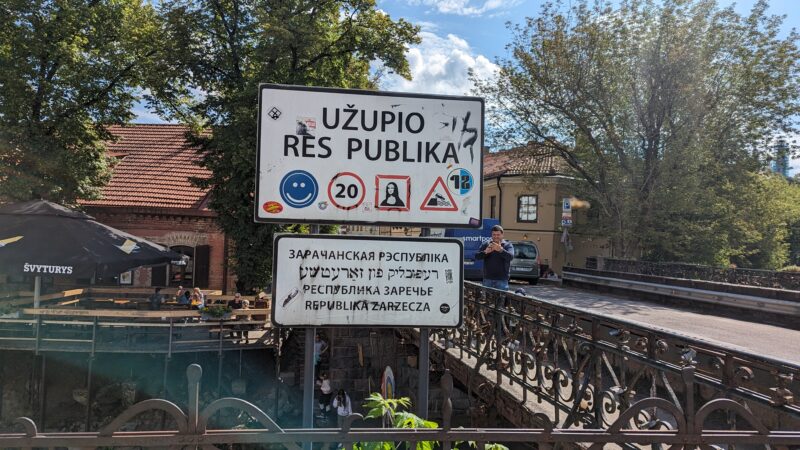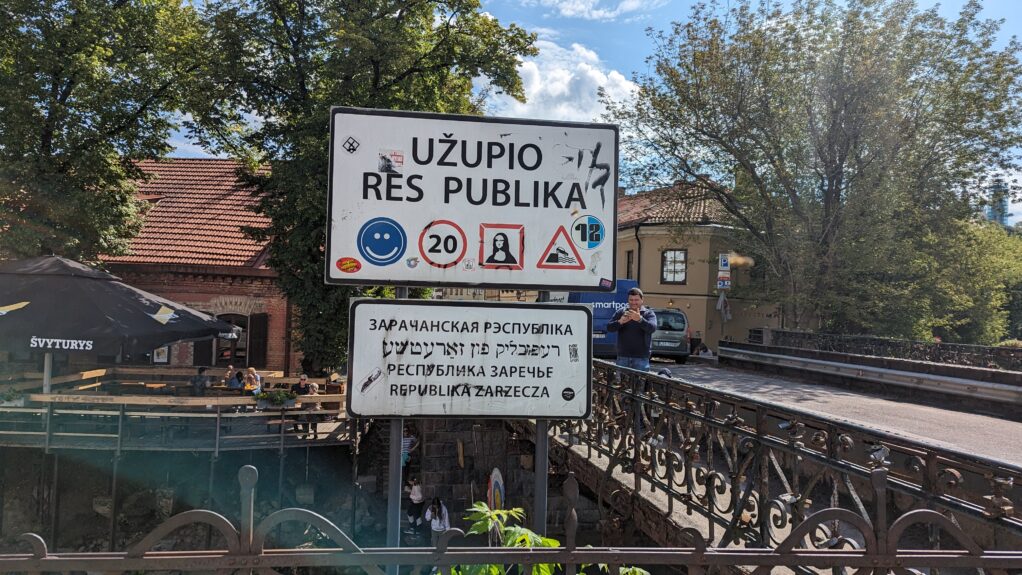 Riga, Latvia
Then we took the bus to Riga, Latvia (country #77) and stayed in an Airbnb a bit outside the city center, which might have been a little too far, but was really cheap.
The old town itself was beautiful and full of history; we even ate at a medieval restaurant in the center that opened in 1293… that's old! We also enjoyed a boat ride on the city's canal.
Riga is renowned for its Art Nouveau architecture of around one-third of all buildings in the city centre. I liked the vibe in Riga a lot and would definitely go back for longer.
In general, the Baltics are much cheaper than I had anticipated. I would place them between Eastern and Western European prices, but definitely cheaper than Scandinavia. I thought it would be closer to a mix of Western Europe and Scandinavia.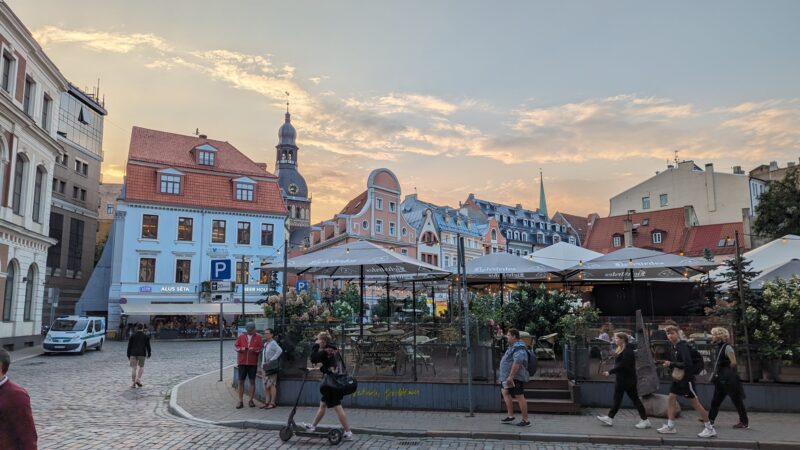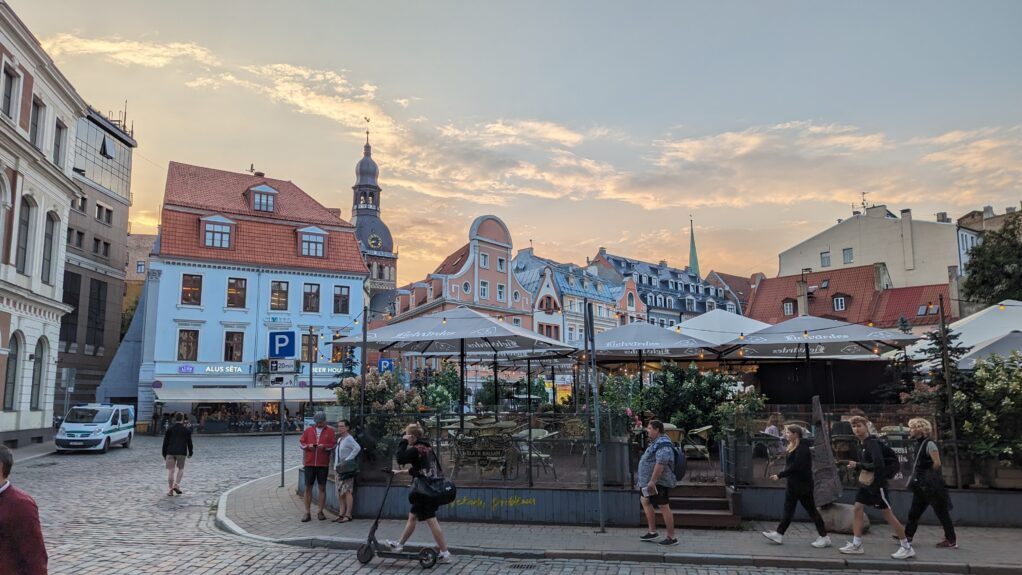 Next 4 months: What is coming for the rest of the year
The rest of the year will be busy, but not as crazy as the summer.
Tallinn, Estonia
After hopping between countries and cities, we've finally arrived in Tallinn, Estonia (country #78) for a month.
It feels good to be in one place for a whole month! Well, almost – we've already planned a weekend trip to Helsinki, Finland (country #79), given it's just a short ferry ride away. Still, it's going to be a month of a slower pace, allowing us to catch up on work and settle into a bit of a routine.
Tallinn is also supposed to be a digital nomad hotspot, and since we already have friends here, I'm excited to explore more. Plus, my girlfriend's mom will be dropping by for a few days, which should be fun.
Doha, Qatar
After we're well rested, we'll fly to Doha, Qatar (country #80) for 2 nights to do a bit of sightseeing on our way to India.
I'm sadly not flying the world's best businesss class that Andrew tried (and that he got for $161 instead of $3800+) by going through Doha on his own trip to India in July.
We plan to visit the Museum of Islamic Art, which is apparently one of the most beautiful museums in the world.
India
We plan to visit Delhi and Agra to see the Taj Mahal. Afterwards, we'll take a long (~20h) train ride to Siliguri in the north, where we've booked a 10-night stay in a nice Marriott for a total of only 63,000 points.
India is a fantastic place to redeem Marriott points and extract exceptional value, no matter if you want to maximize the number of nights you get or maximize the value you get in terms of savings.
Andrew visited India in July and one of his redemptions got him the best value either of us has ever gotten with Marriott points. Stay tuned for a post about his exceptional stay.
Bhutan
Bhutan (country #81) is definitely the most expensive to visit in this part of the world, but also one of the few I'm missing around there, so I had to go at some point.
Our itinerary includes the famed Tiger's Nest and several hikes to see Bhutan's natural beauty.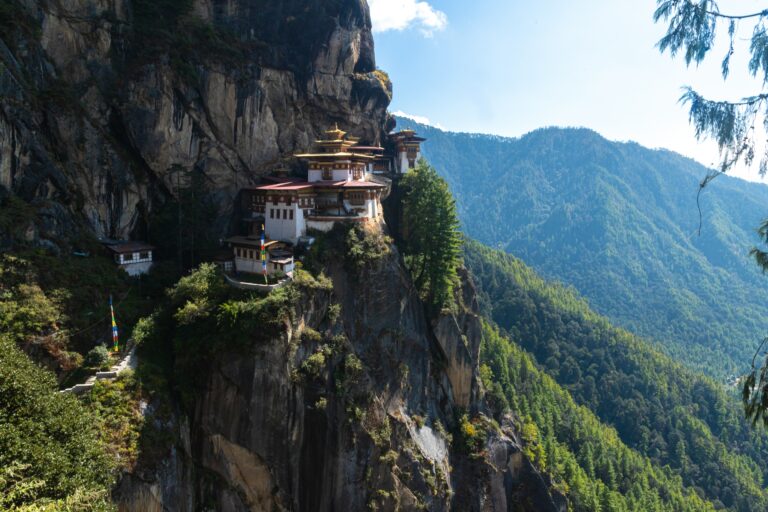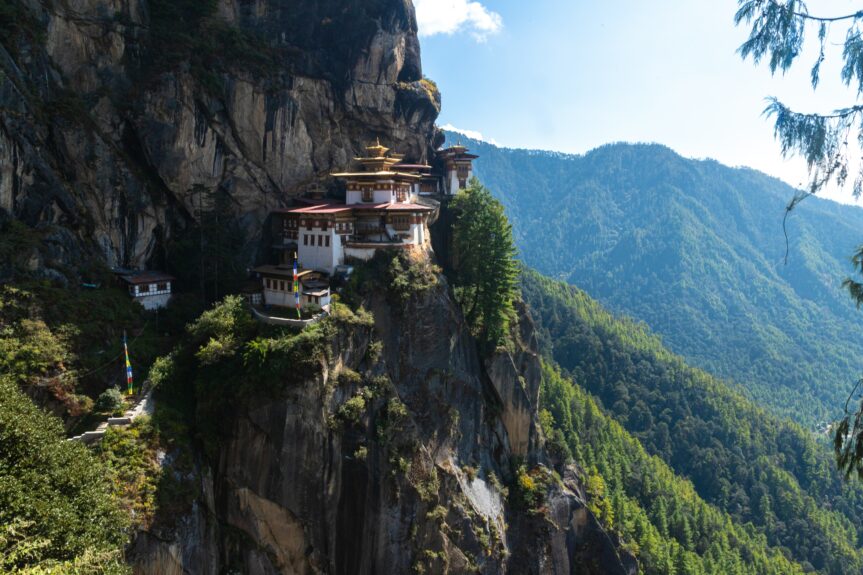 Kathmandu, Nepal
After this busy time exploring Bhutan, Kathmandu in Nepal (country #82) will be a good cheaper stop to catch up on work.
I booked a lovely Airbnb for a little over 2 weeks just outside the main tourist area so I'll also be able to easily go in and explore.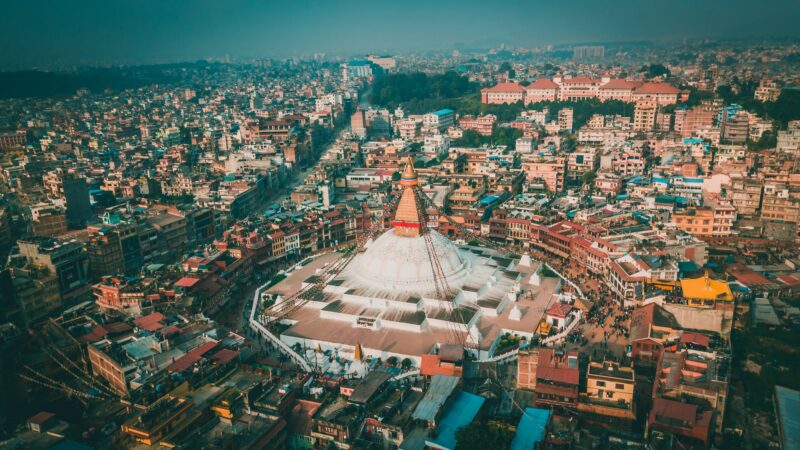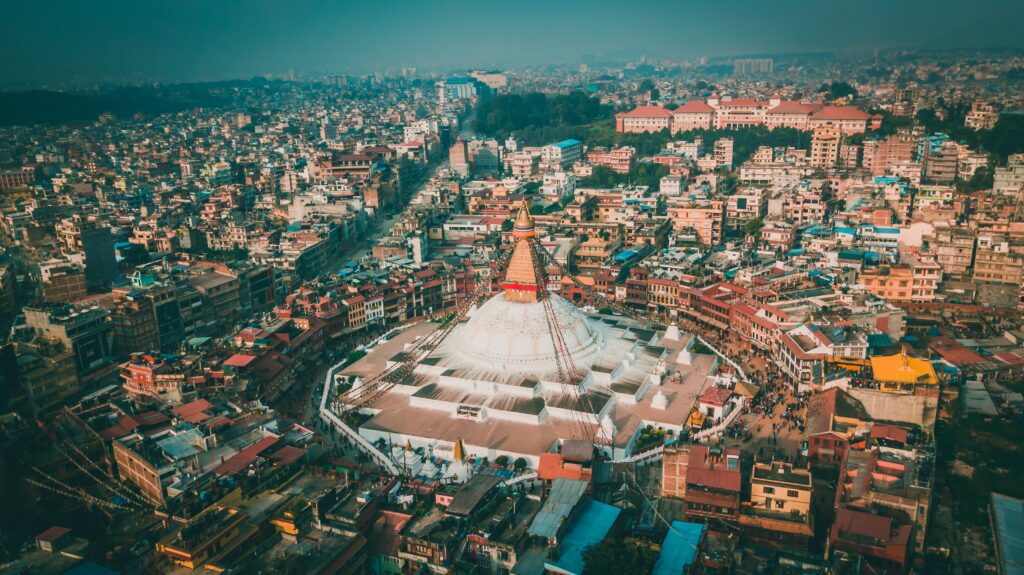 Azerbaijan
We were originally planning on going to Bangladesh after this, but we were invited, along with 40 other travelers, to visit a region of Azerbaijan (country #83) that is currently not open to the public.
So, we had to change our plans and go! I don't usually do group trips, but this one should be fun. Of the 40 people, we represent 28 different nationalities, and 10 of them have visited every country in the world!
United States
We have a week between the Azerbaijan trip and when we need to go back to the USA.
So we'll probably use that to reposition ourselves for a good cheap flight back with the self-transfer tip (so that we don't do like those who don't know the tips to save on plane tickets and overpay by simply entering a departure point and an arrival point without looking at cheaper options).
We were looking at Kuwait that would also be a new country and that we could visit in a short amount of time.
Then we fly to Colorado to visit my girlfriend's family & some friends, then fly to Michigan to see her parents. It will be my first American Thanksgiving so that's exciting!
Canada
We'll finally come back to Canada in December to spent some time in my family for the holidays before heading back to Africa for an even crazier adventure next year!
You can follow the rest of my trip on my Instagram @kevin.flytrippers (and you should also follow @andrew.flytrippers for his trips and @flytrippers for all our content)!
Want to get more content about amazing destinations?
Summary
After sharing the itinerary for my first 6 months of 2023, I wanted to do this follow-up and tell you about my plan for the rest of the year now that we're almost in the last third already!
What would you like to know about our own trips? Tell us in the comments below.
See the deals we spot: Cheap flights
Explore awesome destinations: Travel inspiration
Learn pro tricks: Travel tips
Discover free travel: Travel rewards
Featured image: Gediminas Castle Tower in Vilnius, Lithuania (photo credit: Kevin Gagnon/Flytrippers)
Share this post to help us help more people travel more for less: