This is really incredible and major news: European ultra low-cost carrier PLAY is finally launching flights to Canada, more specifically to the Toronto area, at Hamilton airport (YHM). This is absolutely great because this airline, the successor to wildly popular WOW air, will offer flights from Canada to Europe for as low as $324 roundtrip (taxes included of course, as always).
For those who don't know ultra low-cost carriers ("ULCCs"), fear not: it's Flytrippers' expertise (after all, our mission is to help you travel more for less).
ULCCs are the greatest thing to ever happen in the aviation world, because they make flying infinitely more affordable. They're the ones who made $20 flights so common in Europe.
In fact, across the world, flying has literally never been cheaper in history, and that's almost entirely thanks to ULCCs. And more ULCCs is even good news for those who don't like ULCCs.
Anyway… it's so awesome that a transatlantic ULCC is returning to Canada, finally (better late than never)!
Here are the details.
(And a little intro to ULCCs afterward, because there are so many myths as this model is not well-known and there are so many people—including so-called "experts"—who don't understand that ultra low-cost carriers have absolutely nothing to do with low-cost carriers… they're 2 completely different business models!)
PLAY launching flights to Canada
PLAY, the new-ish European ULCC that has been flying since 2021, has announced its first route to Canada.
We had predicted this, because PLAY is the successor to WOW air… and WOW air executives had told Flytrippers that their Canadian routes were among their best performing.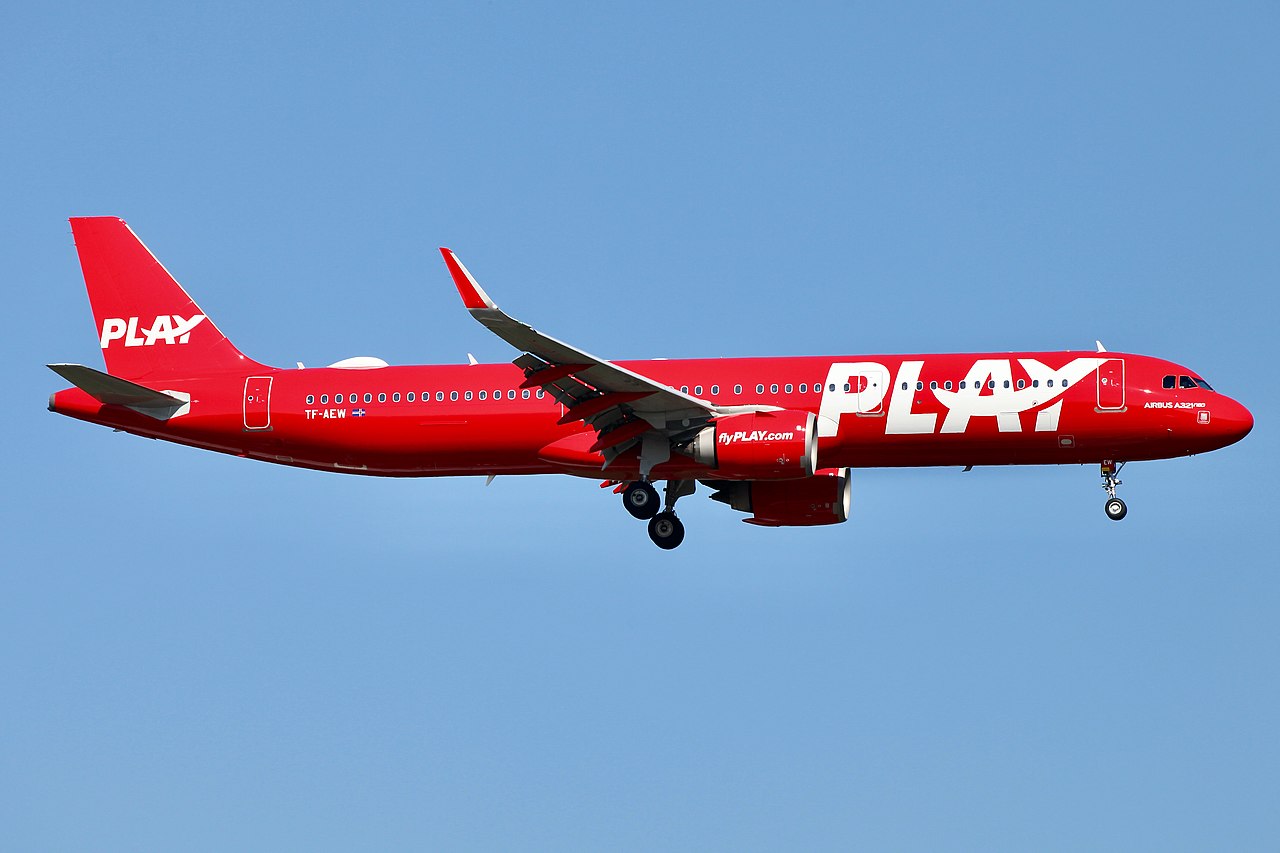 Like WOW air, PLAY is based in Iceland.
Their business model is to funnel all travelers through their hub in Iceland from both sides of the Atlantic. There isn't enough ULCC demand for flights just between Toronto and Athens for example, but there is enough demand from Toronto to all of Europe and from Athens to all of North America.
PLAY's new route will be daily and start June 22nd:
Hamilton (YHM) – Reykjavík (KEF)
Just the fact that PLAY's presence will force all other transatlantic airlines that serve Canada to be more competitive on prices is great news for travelers from all over the country. ULCCs create strong downward pressure on prices, so you benefit even if you don't fly them.
There are now flights from most Canadian cities to Toronto for under $100 roundtrip, precisely thanks to our Canadian ULCCs. So depending on the prices, it might sometimes be worth at least considering these PLAY flights. We'll have more tips on that soon.
It's reasonable to think that maybe Montreal (YUL) will be one of the next PLAY destinations, since WOW air flew to Montreal and had great success there. We'll watch this closely.
Obviously, with that connection in Iceland, you'll be able to fly to 20+ destinations in Europe at a low price.
The PLAY flight experience
PLAY operates 8 all-economy A320neo family aircraft already, with more deliveries scheduled.
Like most ULCCs, has a very modern fleet. Their average age is 3.2 years. As a comparison, Air Canada's A320 fleet has an average age of 20 years.
Short-distance ULCCs have been wildly successful for decades, most are among the top-performing airlines. Long-distance ULCCs are a different thing entirely.
WOW air tried to grow too fast and had to shut down. PLAY is run by former WOW air executives, and they've said they would be deliberate in growing at a safer pace to avoid their previous mistakes.
I haven't tried PLAY yet, but the experience is probably just as great as it was on WOW air or on the 80+ flights on 15 different ULCCs I've taken on 4 continents over the past 10 years.
For example, if you want to fly to Bali to take advantage of the deal for 17 completely free hotel nights, ULCC flights in Asia are often just a few bucks too. That's what we always do to move around in many parts of the world.
No doubt about it: for those who want to travel for less, ULCCs are absolutely fantastic.
PLAY prices starting at $324 roundtrip
Of course, prices constantly change in the world of airfares (I'm repeating this because there are still people who think it's a set price and that it doesn't change) but today for the launch we've already spotted some great prices as low as $324 roundtrip.
For example, I searched for a ticket on the inaugural flight from June 22nd, with a return on June 30th.

The $324 price is not the lowest we've seen for Iceland, as WOW air did go lower than that during certain promos, but it's still very good.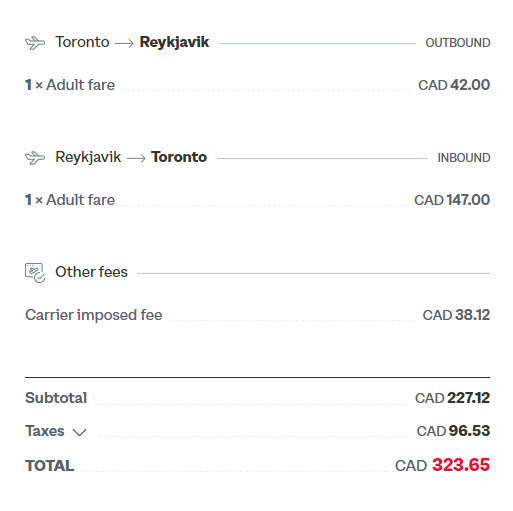 For example, the cheapest direct flight for the same route — well, from Toronto-Pearson (YYZ) — on any other airline is $737 roundtrip for the same dates, more than twice as much.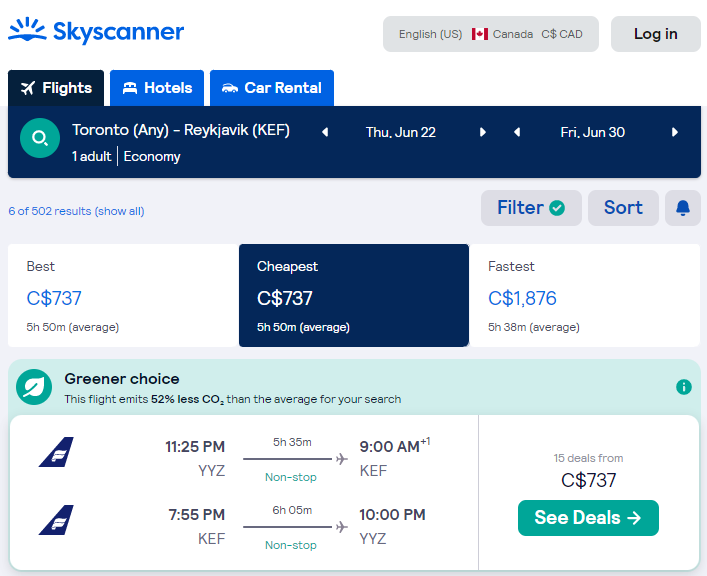 We can't do the turnkey deal post that we usually do for every other daily deal on our main page, because this route is too new and hasn't been loaded into Skyscanner yet.
But thankfully, on PLAY's website directly, there's a calendar feature that lets you easily see the cheapest dates.
Since we spot prices from PLAY's US cities too, we can tell you that these aren't necessarily special introductory prices: there are dates approximately in this price range all the time. If you're flexible, of course. That's really the key to finding deals, as we already explained in our free ebook with 130+ travel tips.
As for connecting flights all the way to the rest of Europe, the cheapest right now seems to be to these cities, but that will obviously also fluctuate every day:
Berlin, Germany (BER)
Copenhagen, Denmark (CPH)
Göteborg, Sweden (GOT)
Brussels, Belgium (BRU)
Paris, France (CDG)
London, United Kingdom (STN)
Dublin, Ireland (DUB)
It's around $450 roundtrip, which is not as great, as we often spot those prices on regular airlines. But these ULCC prices will definitely make other airline deals even more frequent, so it's definitely a positive!
Don't forget our self-transfer pro tip to save a lot of money on flights to Europe, we have a teaser video and it is tip #18 in our free ebook with 130+ travel tips.
How ultra low-cost carriers work
If you don't know about ULCCs, don't worry: you're not alone. Even people who consider themselves "experts" don't understand that ultra low-cost carriers and low-cost carriers are not the same thing.
You can read our ultimate guide to ultra low-cost carriers, but I'll summarize it here too.
ULCCs are airlines whose business model is to reduce the price of the ticket as much as possible and allow those who want to travel for less to do so. Almost all services are optional as extras, to keep the option to travel at the minimum price.
It's important to understand this to know how ULCCs work.
And I'm going to give you a totally amazing pro tip to avoid any extra charges: just decide not to get any extras.
That's it.
No, but kidding aside, so many people say "ULCCs are a scam, there are plenty of extras". That's nonsense. They're all optional extras, so don't choose any and you won't have to pay a penny more.
This means:
Traveling ultra light
Sitting anywhere
Eating before or with your own snacks
Entertaining yourself
That's it.
But even if you don't want to travel ultra light, ULCCs are often cheaper than regular airlines. Double-check for all dates, in fact, it's something you should do every time no matter what: always compare flights with a comparison tool, because no airline can have the best price 100% of the time. It varies literally every day.
But ULCCs are almost always cheaper, especially when you want to travel for less and you make choices accordingly.
It's okay not to want to, but it's not okay to say it's impossible. It is objectively very doable.
If you really want to travel for less, it's not that hard. I've done it dozens and dozens of times. The hardest part is learning to break the habit of bringing way too much stuff on a trip, but once you try it, you realize it's not so hard. See my tips for traveling ultra light here soon.
Another common myth is that ULCCs are less safe. This is even more absurd, as the safety standards are the same regardless of the price of the ticket. It's a highly regulated industry. And besides, ULCCs usually have newer fleets.
The best-known ULCC, Ryanair (in Europe), has been in business for decades and is now literally the largest airline on the continent. The fastest-growing U.S. carriers are Spirit and Frontier, which are both ULCCs.
Canada was just way behind, and finally, there are now 3 Canadian ULCCs: Flair, Swoop, and Lynx.
And even if you're too picky to want to take a ULCC, their growth is great news for you too: the ONLY thing that determines the price of a plane ticket is how much competition there is. Not the distance traveled, not the number of flight segments, not anything else. And with their lower fares, ULCCs are also lowering ticket prices on traditional and low-cost airlines all over the world!
Magically, Air Canada lowered its fares from ≈ $400 roundtrip to $200 roundtrip on the day Flair launched the same routes. Do these flights suddenly cost less to operate? Of course not: the only thing that determines the price of a ticket is how much an airline can get away with charging. It's simple.
Over 33% of the total air passengers in the world fly on ULCCs already!!! This is nothing new or risky…
Our ULCC guide has a lot more content to help you become a pro on ultra low-cost carriers.
Want to get more content to discover awesome destinations?
Summary
European ultra low-cost carrier PLAY will land in the Toronto area in June. This is great news for all travelers who like cheap flights! This will lower all prices to Europe, even on non-ULCCs.
What would you like to know about PLAY in Canada? Tell us in the comments below.
See the deals we spot: Cheap flights
Explore awesome destinations: Travel inspiration
Learn pro tricks: Travel tips
Discover free travel: Travel rewards
Featured image: Iceland (photo credit: Robert Lukeman)
Share this post to help us help more people travel more for less: